This post may contain affiliate links from which I may earn a commission without any cost to you. Read our policy for details.
If you have a baseball card collection and want to know where to sell them, I will tell you about all the best places to sell baseball cards in this article.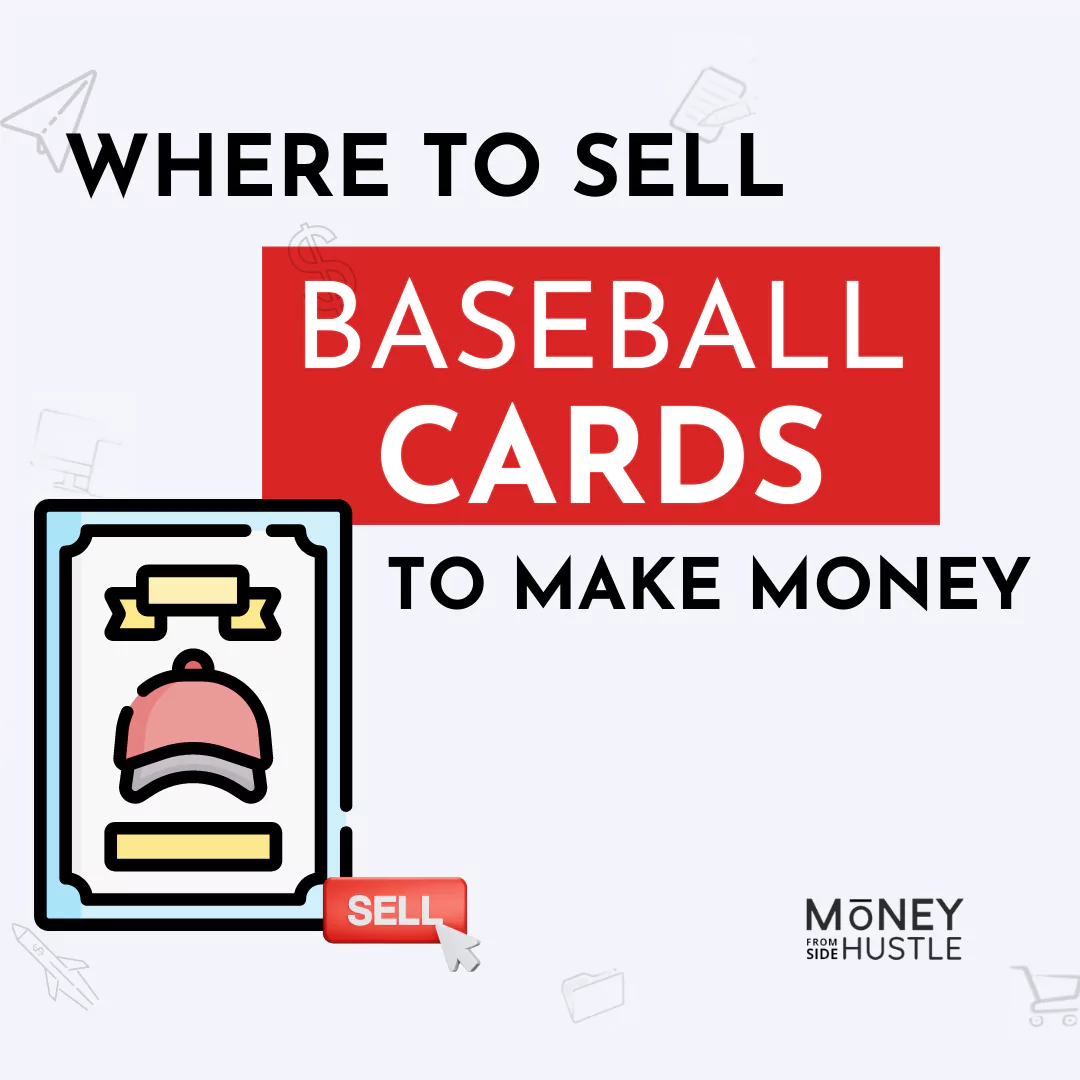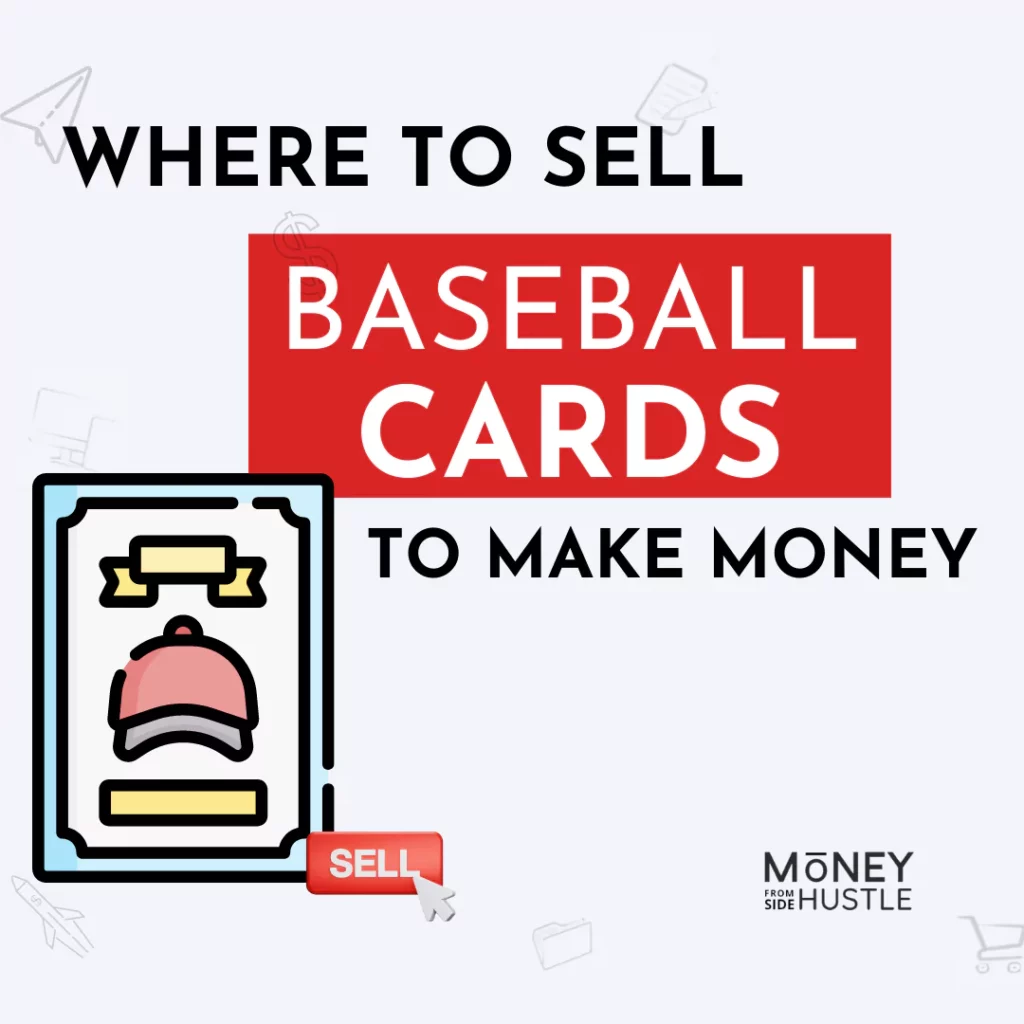 Baseball cards have been popular collectibles for a long time, and a few rare cards even sell for thousands of dollars.
Yes, selling sports cards is a thing! The market for selling cards is huge (valued at 13 Billion in 2021) and is growing with every passing year.
If you have a collection and wondering where to sell baseball cards, I will give you a list of places to sell baseball cards both online and offline so that you can also take a small pie of this market.
You can use many options starting from online marketplaces, specialty websites, and stores to auction houses for selling baseball cards.
Trading baseball cards for cash can also be a lucrative side hustle if you know the right place to do it.
So, if you are ready to know how to sell baseball cards and where, let's get started!
Highest Paying Surveys
Up to $50 per survey
Industry-leading surveys
General Online Marketplaces & Auction Houses
These websites can be used to sell almost anything, and there are buyers for everything. Many people use them to get the best value for their vintage sports cards.
1. eBay
eBay is one of the best places to sell baseball cards online, as you can reach a wide and diverse audience.
Platform is easy to use and provide all the tools for sellers to make a successful sale.
For selling on eBay, you need to:
Create a seller account
Make a listing
Include clear images and detailed description
Include any history or other details
You can set a fixed price or put your cards in an auction listing where people can make a bid for a limited time.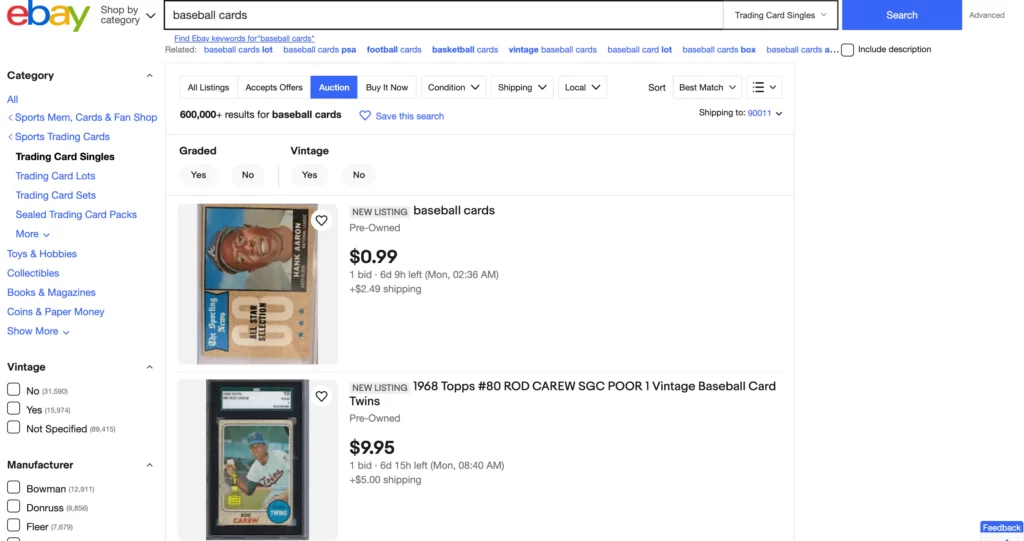 If you have very high-value cards, getting in auctions can fetch you maximum value for your baseball card.
If you are selling a common card with a fixed price, be sure to set a competitive price after looking at similar cards to attract buyers.
Charges: You need to pay a 12.9%+$0.30 fee, but it can be worth it if you can get a good price.
---
2. Amazon
Amazon is another popular marketplace that you can use to sell baseball cards if you sell them regularly.
Similar to eBay, Amazon also have a wide range of audience and there are many people who trust the platform to buy almost anything.
But becoming a seller on Amazon is a bit difficult as they have strict policies in place, and you need to maintain high standards to retain your seller account.
If approved, you can list your baseball cards for sale with images and all other details.
Charges: They charge $0.99 for every unit sold plus a fee of 15% up to $100, 10% for amounts between $100 to $1,000, and 6% for any amount above $1,000.
---
3. Craigslist
Craigslist is an open marketplace you can use to find local baseball collectors near you.
You can list your cards on the platform for free, and people in your local area selected by you can see the listing.
Make sure to include clear pictures and as many details as possible such as year, player, and card condition.
When an interested buyer contacts you, answer all their queries and be ready for price negotiations.
Note: Always keep room for negotiation when pricing your cards, as people love bargains.
When you finalize a deal with someone, make sure to fix a meeting at a safe public place and trade your baseball cards for money.
Don't accept checks, and never invite anyone to your home to see your card collection or otherwise.
---
High earning surveys
Easy-to-use website
Many ways to earn
4. Etsy
There is a growing market of collectors and enthusiasts who are willing to buy more than just handicrafts for whom Etsy is popular.
You can list your collection of baseball cards on your Etsy shop for selling.
Etsy is a visual platform, so you need to make sure you are making an aesthetically good-looking posting with good pictures and all the important details.
You can offer different kinds of offers like free shipping or discount on bulk purchases.
Learn Etsy SEO and be active in the Etsy community to improve your chance of selling cards if you plan on doing it as a side hustle.
Charges: You need to pay a $0.20 listing fee for each item and a 6.5% transactional charge on the total displayed price after the sale.
Related: Easy steps to start a successful Etsy store.
---
5. OfferUp
OfferUp can be one of the best places to sell baseball cards near you.
They are a big marketplace with a large audience. You can sell almost anything, starting from old furniture and clothes to used sneakers, on OfferUp.
After listing, you have two options for selling on the platform.
Sell locally in-person
Ship your cards
If you choose to sell locally, your ad will be shown to only local people, and you can decide to meet after making a deal.
However, in the second case, your listing will be shown nationwide, and anyone can contact you to purchase your cards, which gives you more exposure.
You need to ship your baseball cards once you finalize the sale. Once the buyer confirms receiving the cards, you will get paid.
Charges: If you are using the platform for shipping and receiving payments, they will charge you a fee of 12.9%.
---
6. Mercari
Mercari is another open marketplace you can use for baseball card selling.
You can list your baseball cards with multiple images and all other details.
Selling locally or meeting the buyers in person is not allowed, and you need to ship your cards with their insured shipping.
Once the buyer purchases your cards, you have three days to ship them.
Make sure to do proper packaging according to their guide.
Once the buyer confirms receiving your baseball cards in satisfactory condition, your payment will be released.
Charges: For each sale, they take a 10% fee plus a 2.9% + $0.5 payment processing fee.
---
7. 5Miles
5Miles can be used for selling your collectibles, like baseball cards, online or offline.
They offer both options to meet the buyers and also to ship your cards through post.
Accurately describe your cards with good images to attract more buyers/bidders.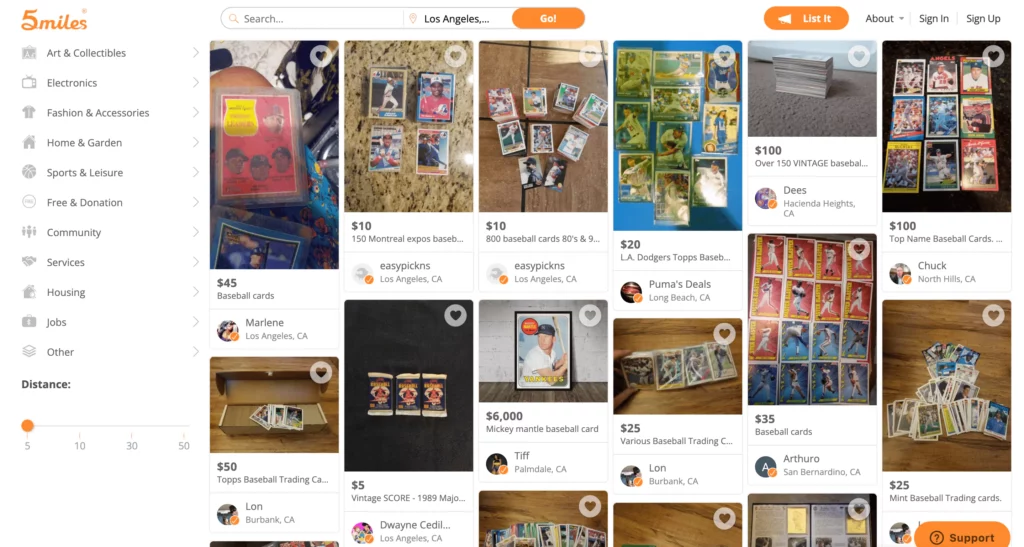 You can increase your chance of making a sale with:
Using features like bump up for higher visibility
Offering bulk deals
Free shipping offer
If you decide to sell locally, make sure to stay safe and follow their guidelines.
Charges: Unlike other platforms, here, you need to pay a listing fee. Plus, they charge a 10% commission on every sale.
---
8. Heritage Auction
Heritage Auction is a well-known auction house that deals with rare and vintage high-value articles.
It can be the best place to sell baseball cards online if you have high-value cards.
They have a large audience of collectors and resellers who are interested in buying high-value vintage collectibles.
Their team of expert appraisers will help you with everything, starting with pricing your cards right to listing, promotions, and handling the auctions.
You can also choose to consign or sell to them. Just send them a few details about your cards, and they will send you an estimate.
After that, you can send them your cards.
Charges: If the cards sell for less than $5,000, they take a 10% fee. With an increase in price, their commission decreases up to 5% on a value above $500,000.
Multiple ways to make money
Low and easy cashout options
Great user ratings on App store
Specialized Websites For Selling & Buying Baseball Cards
These are the websites that deal specifically in collectible cards such as sports cards (baseball and basketball) and other cards like Pokemon cards, Magic: The Gathering cards, and Yu-Gi-Oh! cards.
A few of them offer peer-to-peer selling of cards where sellers and buyers can interact with each other on these websites and make a deal.
Others on this list are the places that buy baseball cards themselves. They buy them from individual sellers to maintain the inventory of cards they sell on their websites.
9. Beckett Marketplace
Beckett Marketplace is a great place to sell your baseball cards online.
They have a large audience base who are interested in buying your cards.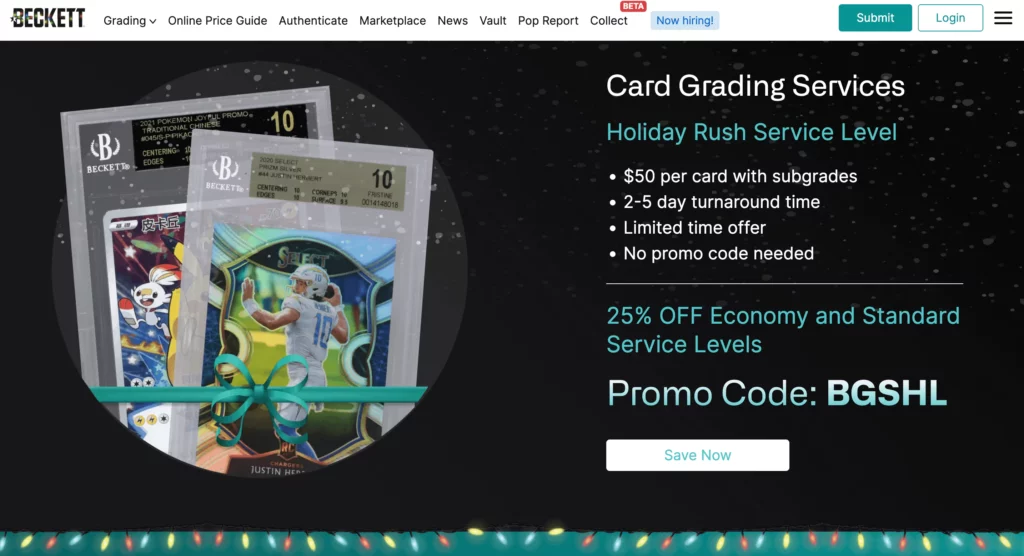 For card flippers who sell baseball cards as a side hustle or main business, it is a great place to be at.
They offer many features like:
Live pricing data
Tracking features
Customizable shop
Secure payment system
free shipping or cards above $50 value
Customer support
Easy to use apps
You can sell your cards at a fixed price or choose to do auction-style selling.
Other than vintage cards, they also buy other collectibles like coins, comics, etc.
Their card grading service is one of the best and is highly popular.
You can also join the forum of the website to interact with thousands of fellow card collectors.
Charges: Features like pricing guides are available for a $14.99 to $40.99 monthly fee, depending on the services you avail.
They also offer grading services for $25 per card to $50 per card based on turnaround time.
---
10. DA Cards World
Dave & Adam's offer to buy your baseball cards for cash or store credits.
They are not a marketplace, and neither do consignments. They buy your baseball cards themselves.
According to their site they accept:
Unopened sports card boxes
Vintage empty baseball displays
Graded cards
single cards older than 1970
For selling baseball cards to them, you just need to contact them through their website or visit their store.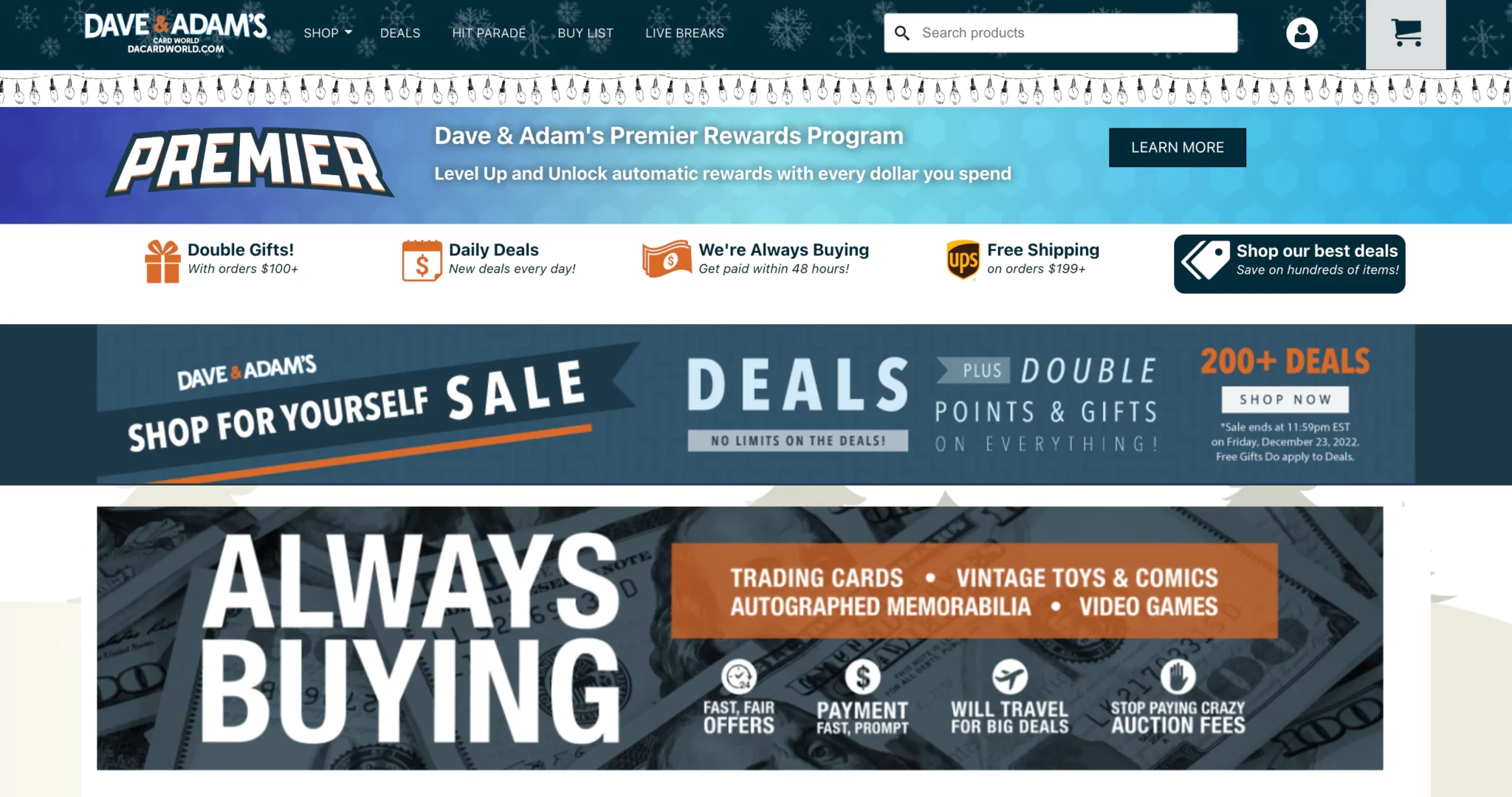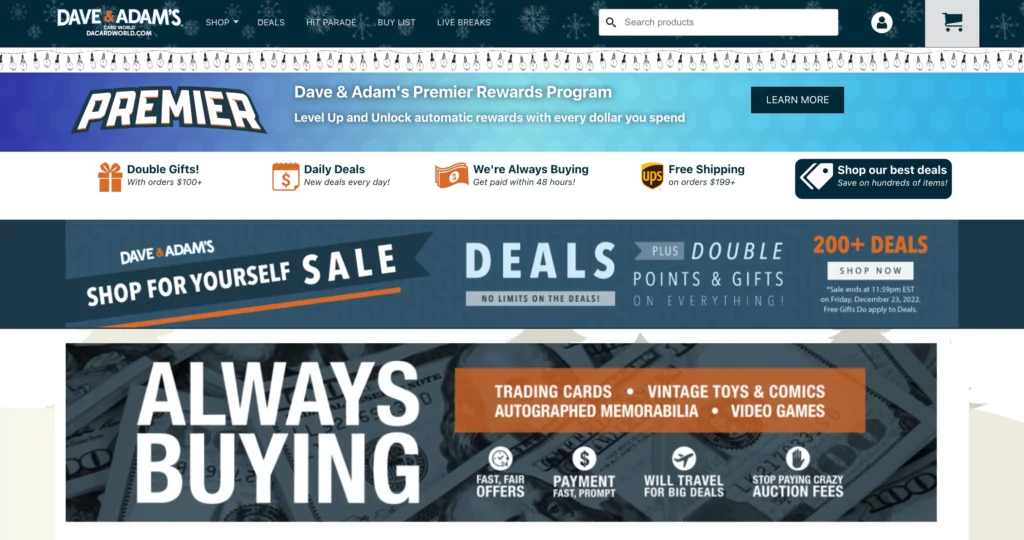 Once you provide all the details about your collection, they will give you an offer.
You can accept or decline the offer.
If you accept the offer, you can ship your cards to them, and they will assess them.
If everything is in order, you can get paid in cash, check, or PayPal.
Other than your baseball cards, you can also sell other sports-related memorabilia, autographs, comics, and vintage toys.
---
11. COMC (Check Out My Cards)
COMC is a Canadian company you can use to sell baseball cards online.
This is one of the best options to sell your cards without putting in any effort.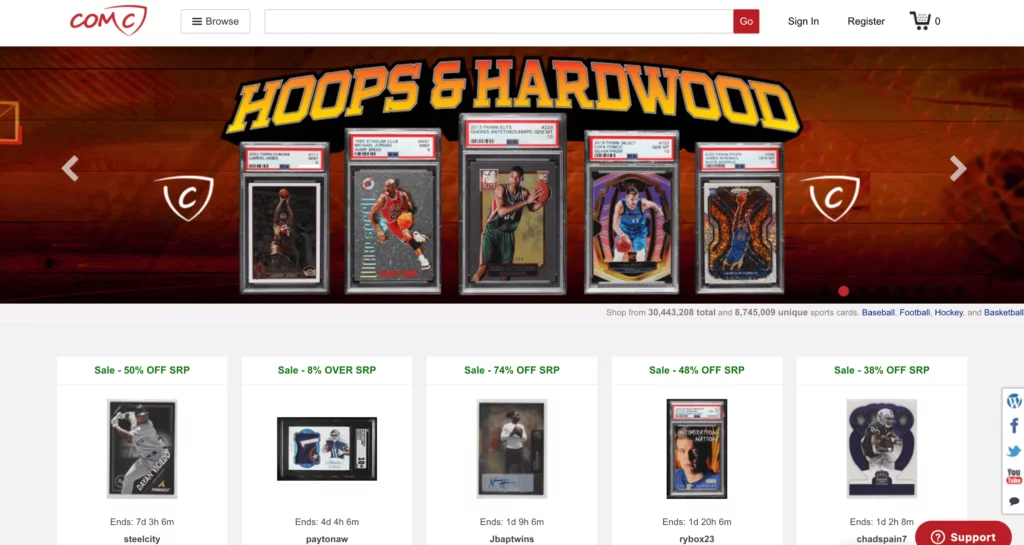 You just need to send them your cards and everything else is taken care of by them.
They take professional images
Do the research about your cards
Make a listing
Ship the card to buyer
Handle all the transactions
They also offer seamless eBay integration to list your cards directly to your eBay account.
Charges: For providing all these services, they charge $0.50 to $2 per card. Plus there is a 5% transaction fee and 3%in cases you go for the auction option.
---
12. Just Collect
Just Collect is a place that buys baseball cards or any memorabilia which have value.
According to their website, they are interested in:
pre-1980 sports cards
Cards featuring stars or hall of famers
T206s vintage collection
Tobacco cards
1952 tops baseball cards
1933 Goudey cards
Bulk collections
In case you have any such cards in your collection, you can reach them for a free appraisal. In case you have doubts, check their guidelines.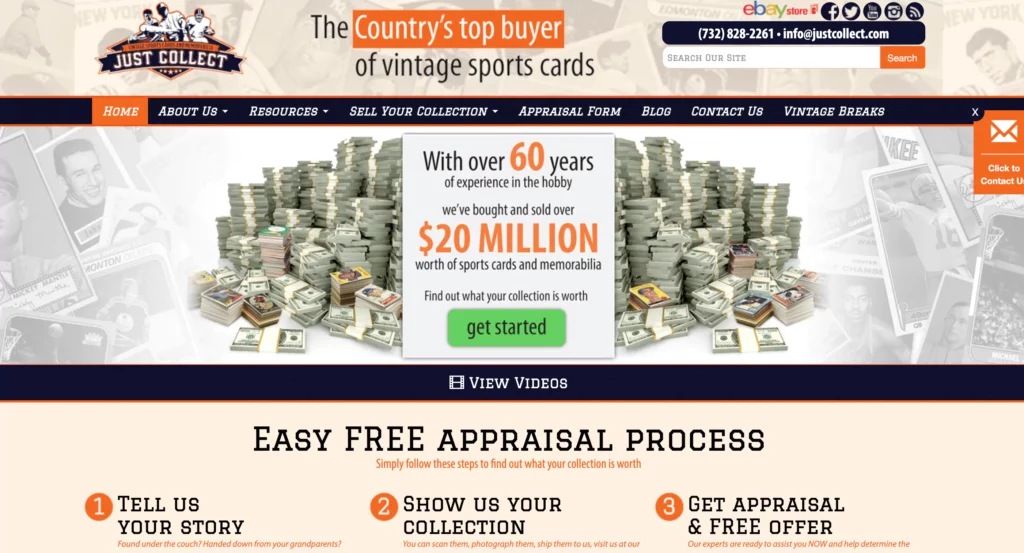 For appraisal, you need to ship them your cards or visit their store. In case you have a high-value collection, shipping will be free or they will come to your home.
They will make you a cash offer within 24 hours, and you can get paid immediately.
---
13. Sports Card Pro
Sports Card Pro is a good marketplace to sell your sports cards directly to buyers.
They offer a free listing and free selling of your cards, which means more money in your pocket.
You just need to pay the PayPal transaction fee.
To become a seller on the platform, you need to have a PayPal business account.
Once you make a listing, buyers can buy the item, and once your baseball card is sold, you get a notification about payment and shipping details.

You need to handle the shipping yourself, which means you need to include shipping costs in your price.
While listing the items, you chose the starting price and the minimum price. If the item is not sold, its price keeps decreasing till it is sold or reaches your set minimum price.
They also provide a tool to check the current and historical prices of any sports cards just by filling in their details.
You can buy their premium account for additional features like sales data.
---
14. Sportlots
Sportlots is another marketplace to sell your baseball cards online.
You can list your cards on the website for free. Listing can be fixed price, or you can enter your baseball card in auctions.
Once you make a listing, interested buyers can make an offer.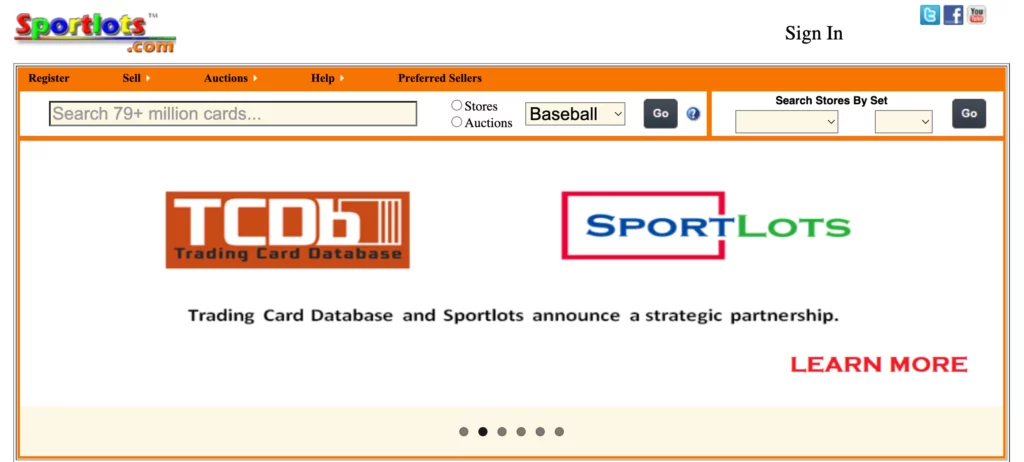 You can choose the offer you like and reject others.
Buyers need to select the shipping plan. There are three shipping options,
Based on the selected option, you need to do the packaging and ship the cards.
In the case of budget shipping, the buyers can not claim a refund based on damaged cards.
Charges: They charge differently depending on price, ranging from 15% to 75%, plus the transaction fees.
---
15. Dean's Cards
Dean's Cards specializes in buying and selling baseball cards, though they deal in other sports cards also.
If you have a collection of baseball cards, you can contact them for trading your cards for cash.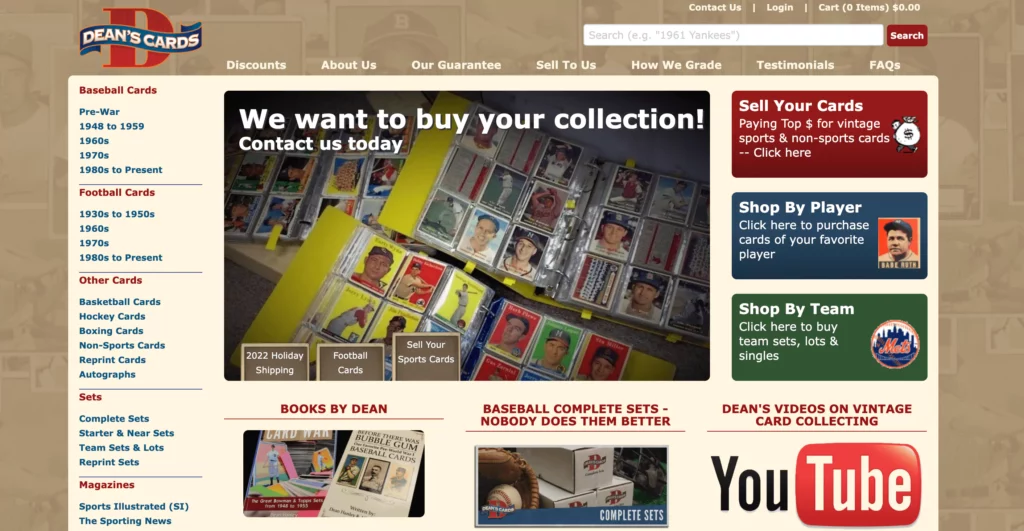 You need to provide some information about your collection, like
Number of cards
Older or new cards
Opened boxes or close
Complete sets or not
Any other details
If they are interested in buying your collection, they will give you an address for shipping your cards.
Once they get the cards, they will assess them and will make you an offer.
If you choose to accept the offer, you can get paid for your baseball cards, if not, then you can have your cards back for free.
---
16. TonyeTrade
TonyeTrade is another baseball card-buying dealer that can broker great deals for your high-value cards.
You need to provide them with the details of your cards, like its number year of print and grading etc.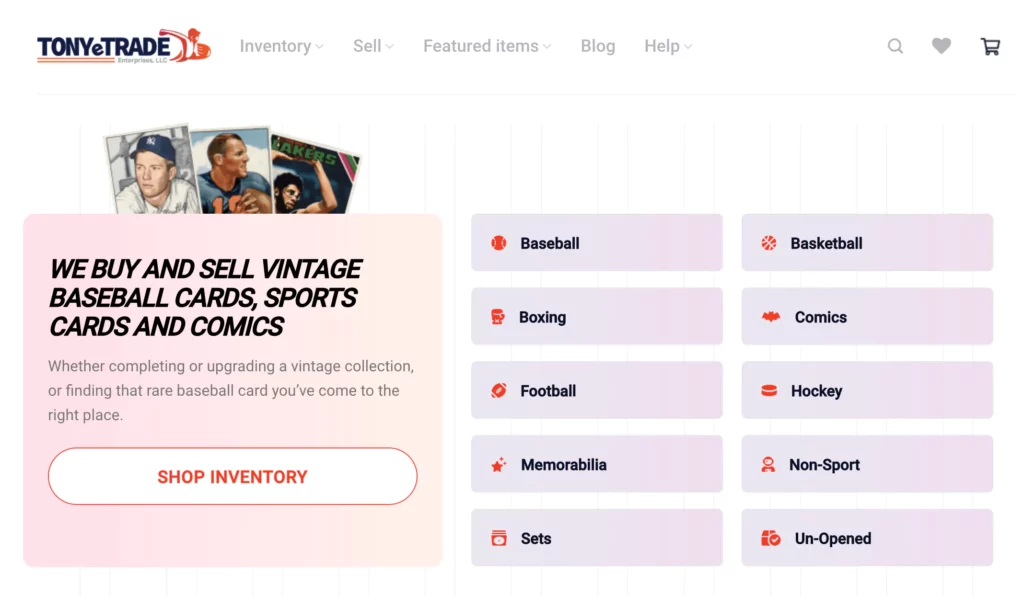 If they are interested they will further evaluate your card physically by sending their employee or you can go to them.
If they like your card, they will offer to buy it for cash, consign your card, or will broker a deal with high-value card collectors.
---
17. Otia
Otia is another place to sell your vintage baseball cards.
You can sell your whole collection to them even if only a percentage of it is rare.
You need to provide them with some information firsthand, along with a few pictures of your collection showing all the cards.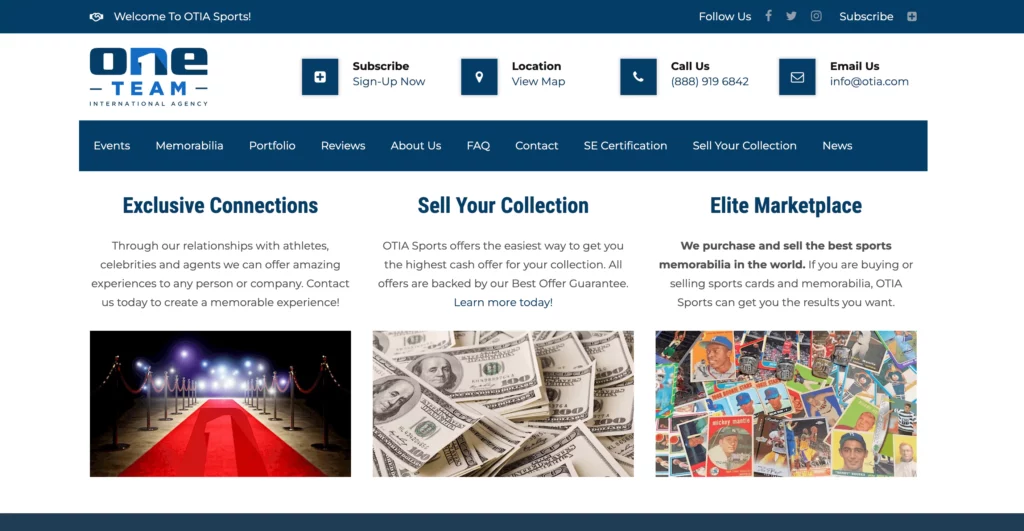 If they want to buy your collection, they will make you an offer.
Their offer stands for 30 days, and they also claim the best price offer guarantee.
This means that if anyone offers more money than them, they will match it.
On accepting the offer, you can ship your cards to them and get paid in check, cash, or PayPal for your baseball cards.
If you have a friend with a baseball collection, you can refer them to Otia, and they will pay you a 10% referral commission.
---
18. The Cardboard Connection
You can use The Cardboard Connection to sell your baseball cards.
They have a connection with a large number of individual collectors and big companies that deal in buying cards.
Just fill in the form here, and either they will contact you or one of their buying partners.
Mostly they are interested in buying old sports cards from the 40s, 50s, or 60s. Here are their top-selling cards
If you have a single card from that time or complete sets, you can contact them for the deal.
---
19. Kruk Cards
Kruk Cards has over 30 years of experience in baseball card buying and selling.
They buy all types of cards from rare ones to common ones.
Here is a pricing guide you can check how much worth your cards are.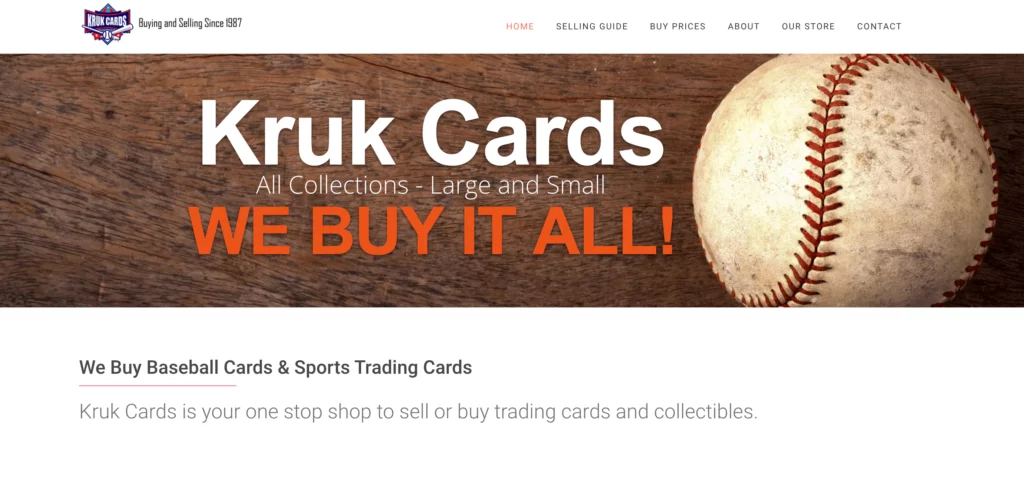 If you want to sell baseball cards with them, just send them some basic information, like how many cards you have and how old they are, along with their conditions.
They will offer you a price and if you like that you can send them your cards collection to get paid.
You can get, on average, $10 to $30 per 5000 cards for your common cards, depending on their year.
Local Places To Sell BaseBall Cards
If you don't want to go through the hassle of shipping your cards and doing the work of listing them on different marketplaces, selling your baseball cards offline can be an easier option.
Though local places pay less money than online marketplaces, you can get money immediately and they are generally a better option to sell your common bulk collections.
20. Pawn Shops
If you want quick cash for you baseball cards, selling them at local pawn shop can be a great idea.
The cards in good condition that are in demand and feature famous players can be easily sold in these shops.
Before going to these stores, I would suggest you do some research about your card so that you know what to expect.
They will inspect your cards and make you an offer. You can either accept the offer or negotiate or decline.
These places generally pay less than online marketplaces as they need higher margins to run physical stores.
If you are ok with getting some less money, then you can get some cash in hand immediately for your baseball cards.
---
21. Consignment Shops That Specialize In Sports Memorabilia
Local consignment shops attract customers that are interested in buying stuff like sports cards.
There is a high probability of getting the right buyer for your high-value cards at these places.
To be able to sell at these places, you need to take your baseball cards to these places and let the staff inspect your cards.
If they are interested, they will offer you a deal, generally a percentage of the final sale price.
Once you agree for the deal, they will showcase your cards in their shop.
Once they are sold, they will send your part of the commission.
Note: It is a convenient way of selling your card, but it will take longer, and you will not get as much money as you will be getting at places like eBay.
---
22. Conventions & Trade Fares
Selling your baseball cards at conventions and trade fares can be fun and rewarding for sports card enthusiasts.
Like-minded people meet at these events and share their passion with each other.
People buy high-quality memorabilia like sports cards at these places and try to fill their collections.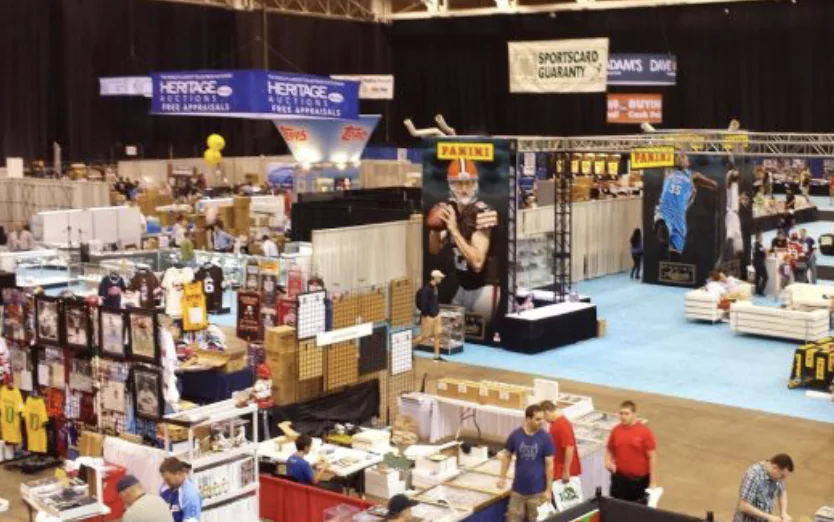 There are booth of many companies that are buying sports cards.
If you have a large collection, you can even make your own booth for selling sports cards, but you need to pay a fee for that.
Other than that, you can make friends at these places and learn new trends and see some rare collections.
---
23. Garage Sales
Garage sales are almost always the best option to declutter your homes and sell any second-hand items, including sports cards.
You need to organize your cards and do a bit of research about them to have the pricing right.
People are garage sale love haggling for prices so be prepared to negotiate and always keep a scope for negotiations in your prices.
You need to advertise your sale in the neighborhood so that any interested people can join you on the day of the sale.
If you are into flipping baseball cards as a side hustle, you can find many bargain deals also in other people yard sales, like the guy.
Social Media And Online Forums
Many social media forums and other forums have users who also have an interest in buying and selling things. Some forums are made for the purpose of buying and selling.
You can use them for selling your baseball cards.
24. Facebook Marketplace & Groups
Facebook is the place where many users go for social interaction. And many people from every place is present on this website.
Leveraging the platform, there are many buy-and-sell groups for each location where people can buy and sell their things like baseball cards.
To be able to post on these groups, you need to ask for the permission of the moderator to allow you to join.
Other than that, Facebook also offers a marketplace where you can sell your baseball cards locally or ship them to countrywide buyers.
Just use your Facebook account and create a listing and make a deal with the buyer.
---
25. Reddit Threads & Forums
Reddit is a popular online forum where people of common interests make groups called subreddits.
In subreddits, like-minded people share their opinion with each other and interact on many matters.
These places are also used to buy and sell things like baseball cards directly from one another.
One such subreddit is r/baseballcards, with over 68k collectors.
There are moderators or admins that maintain these groups and you need to follow rules made by them.
You can join the forum and become a member to list your cards and make a deal if someone is interested.
---
26. Blowout Card Forum
This is another site that has forums about different sports cards like baseball, basketball, and football.
You can become a member of the baseball forum, where thousands of members interact with each other every day.
They share the latest events, trends, and other happening things around baseball cards.
This is also a great place to sell your baseball cards to other members.
---
27. SportsCardForum.com
Another big forum for sports card enthusiasts. the baseball form have over 222k threads and around 2million posts.
People are actively engaged on these platforms, and they also trade their cards for other cards to complete their collection or for cash.
As with any other forum, before posting, just read their guidelines.
What Determines The Price of Baseball Cards
There are a few things that decide the price of your baseball card. Most important of them are:
Featured player: Cards with hall-of-fame players like Mickey Mantle will mostly be more valuable than the cards of less-known players. Rookie cards of famous players are even more valuable
Card rarity: Some cards are rarer than other as they were printed in limited numbers as a part of a promotion or for any other reason. The scarcity of supply can cause an increase in price.
Card's condition: One of the most important factors for the price is the condition of the cards. Cards are graded according to their conditions and near-mint cards always fetch more price than good cards, even if everything else is the same
The demand for the card: A card may be in high demand due to its player or team. Maybe the team won the tournament, or the player was involved in some sensational news. Things like that can lead to more demand and higher price
Card's age: Cards from earlier times, especially the pre-world war era, are generally more valuable. If you have cards from the early 1900s in good condition, you can make a fortune
Special features or inserts: Special inserts like autographs can drastically increase the value of the card if it is of a famous player
Tips For Maximizing The Value Of The Baseball Cards
You can use the following tips to get maximum bucks for your baseball cards.
Maintain them in good condition: Card condition is a crucial factor in pricing it, always keep your cards in pristine condition. Use separate sleeves for cards and don't scratch them or fold them. Protect them from heat and moisture. Less you touch them, better it is
Grade your cards: Many professional companies grade your cards for their conditions. Having them graded by a reputed company increases the confidence of the buyer and increases the price. That being said, you don't have to grade all your cards as it is expensive. Only grade cards you thing are worth more
Do your research: Before selling your cards, it is always a better idea to do your research to find out what people are getting for similar cards. Especially if you are going to sell offline, you need to have an idea of what to expect so that you don't get ripped
Get a professional appraisal: For large collections or high-value cards, having a professional appraisal can give you a better idea of their value. Many companies in our list that buy baseball cards offer free appraisal
Find the right audience: Finding the right buyer for your cards can be key to getting the best price. The collectors who have a collection of baseball cards will most probably understand the value of your cards more than other general collectors. You can even take quotes from multiple places and compare who is offering you a better deal
Turn Those Old Baseball Cards Into Cash Now
There are many places to sell your baseball cards, and each has its own pros and cons.
Evaluate your options, what is best for your collection, and how much effort you want to put in.
If you are ready to sell your baseball cards, start exploring these options without hesitation. If you are still attached to your memories with these cards, you can hold on to these cards for a little longer as they will most likely increase in value.
Here are more options to make money for you:
Sumeet is a Certified Financial Education Instructor℠ (CFEI®) and founder of MoneyFromSideHustle. He is an experienced side hustler who replaced his full-time income with side hustles. His work has been quoted on major finance websites like CNBC, Yahoo! Finance, GOBankingRates, CEOBlogNation, SideHustleNation, and more. He has helped thousands of people find side hustles and is here to help you find your extra source of income. More about him.