This post may contain affiliate links from which I may earn a commission without any cost to you. Read our policy for details.
Do you have coins you want to sell but don't know how to sell old coins and where to sell them? You will find everything related to selling old coins for cash here!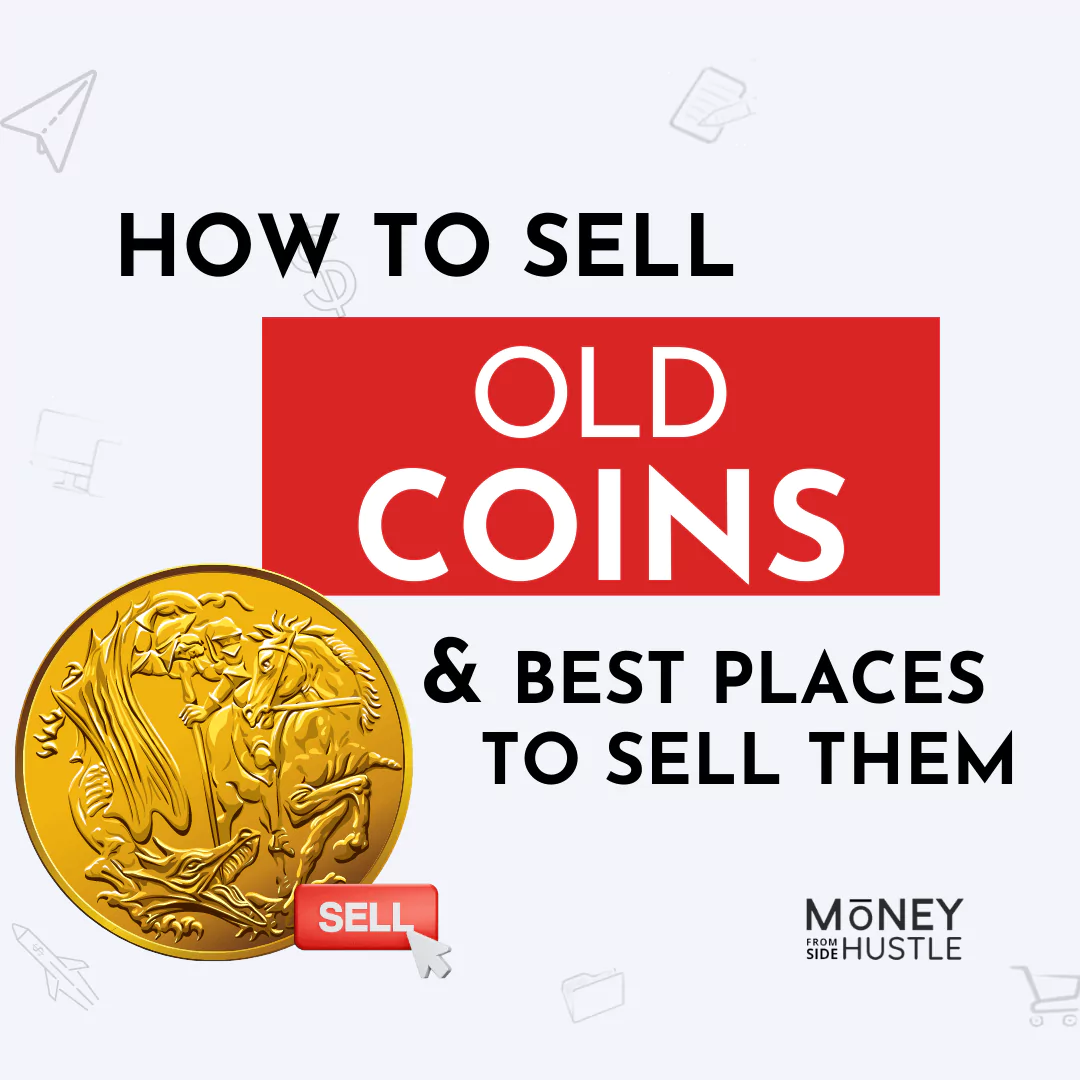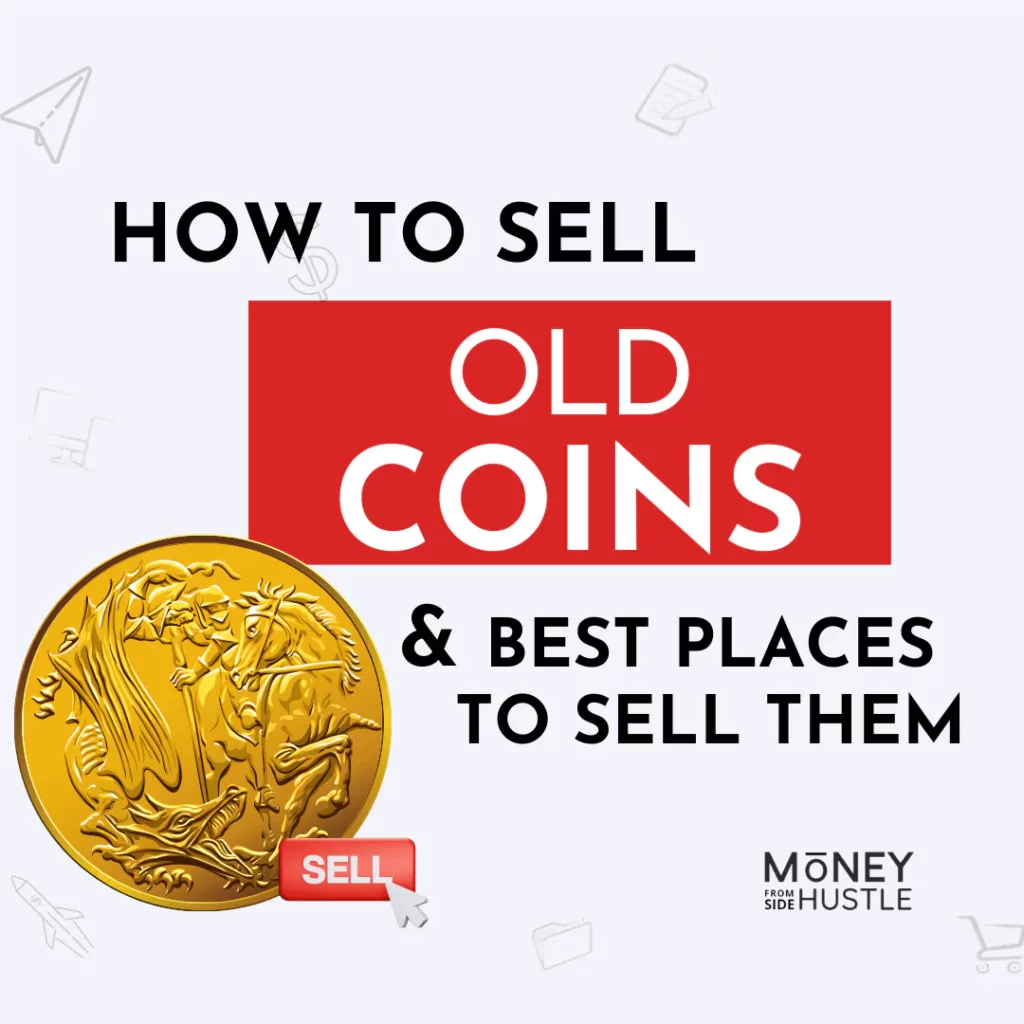 Whether you inherited a collection of coins or you have multiple similar coins in your collection that you want to get rid of, selling them can be a great way to make some extra cash. But for beginners, it is difficult to do, as they don't know the best places to sell old coins.
In this article, I will cover all the places to sell old coins, like online marketplaces and auction houses to coin dealers. You will also find tips to make an informed decision to get maximum value for your coin sale.
Doing some research about your coins and knowing how to prepare them for sale can get you top dollar. If you are ready, let's get started!
Before Selling, Research Your Coins
Before you go finding the best places to sell old coins, it is important to do some firsthand research about your coin. Researching the overall market conditions and trends can help you make more strategic decisions about when to sell and where to sell for maximum profits.
Here are a few things you can research before selling your coin.
Identifying The Coin: At first, research about coin's denomination, date of mintage, country of origin, and any other relevant information that can help you understand the coin's history.
Determining The Coin's Condition: The condition of a coin is one of the major factors in determining its value. Coins in poor condition will be worth much less than coins in excellent condition. You can get a rough estimate of its condition with this PCGS online tool.
Researching the Coin's Value: By researching similar coins on online marketplaces and coin catalogs, you can get a fair idea about the value of your coin. You can consult the "Blue Book," an annually printed Guide Book of United States Coins. This book provides values that are closer to the selling prices. Another easier option is checking online price guides like this one.
Knowing the Coin's Rarity and Historical Significance: The rarity and historical significance of a coin can greatly affect its value. Researching the coin's mintage figures, historical context, and provenance will help you understand the coin's rarity and potential value. Additionally, research on the coin's historical significance, like if it was minted during a specific event or era, can also affect its value.
With your research, if you think you have a coin with some value, investing money to consult with coin experts, such as numismatists or professional coin appraisers near you, will be helpful in determining a coin's value.
Highest Paying Surveys
Up to $50 per survey
Industry-leading surveys
Preparing Your Coins for Sale
A. Cleaning and Preserving the Coins
Do light cleaning of coins, like dusting the obvious dust, but never deep cleaning, as collectors like to buy them in their original condition.
Here are a few things to consider when cleaning your coins before selling them.
Avoid using abrasive materials or chemicals that can damage the coin's surface or patina
Coins made of copper or bronze can develop a green patina over time, called verdigris, which can be mistaken as a sign of age or rarity, but it could damage the coin
For extremely dirty coins, let a professional cleaner handle it
B. Storing and Packaging the Coins
Protect your coins from environmental factors such as humidity and temperature changes by storing them in a cool, dry place
Avoid storing coins in basements or attics, as these areas are prone to extreme temperature changes and humidity. A safe deposit box or a safe is a better long-term storage solution.
While shipping the coins to a buyer, take extra precautions in packaging so that it does not get damaged in transit.
C. Have Them Graded or Appraised
Having your coins graded by professionals will hugely increase their value. But be mindful that these services are expensive, so use them only if you think you have valuable coins.
An appraisal will give you more detailed information on the coin, including historical or cultural significance. It can be used to sell it to museums or collectors who are looking for that kind of information
Choose reputable third-party services that are a member of professional organizations such as the Professional Coin Grading Service (PCGS) or Numismatic Guaranty Corporation (NGC)
D. Creating Detailed and Accurate Coin Descriptions
While selling online, include the coin's denomination, condition, date, grade, rarity, and other relevant information in your descriptions.
Other than being honest and transparent, using high-quality images will also increase the coin's appeal to potential buyers.
Multiple ways to make money
Low and easy cashout options
Great user ratings on App store
Best Places For Selling Your Coins
You can sell your coins online or to collectors near you. Both have their pros and cons, and ultimately it depends on your situation and preferences.
Where To Sell Coins Online
1. eBay
eBay is a great place to sell anything, especially rare vintage items get more value here than at local shops. Through eBay, you can reach a global audience of coin collectors.
To get started, you need to make a seller account and create a listing of your items.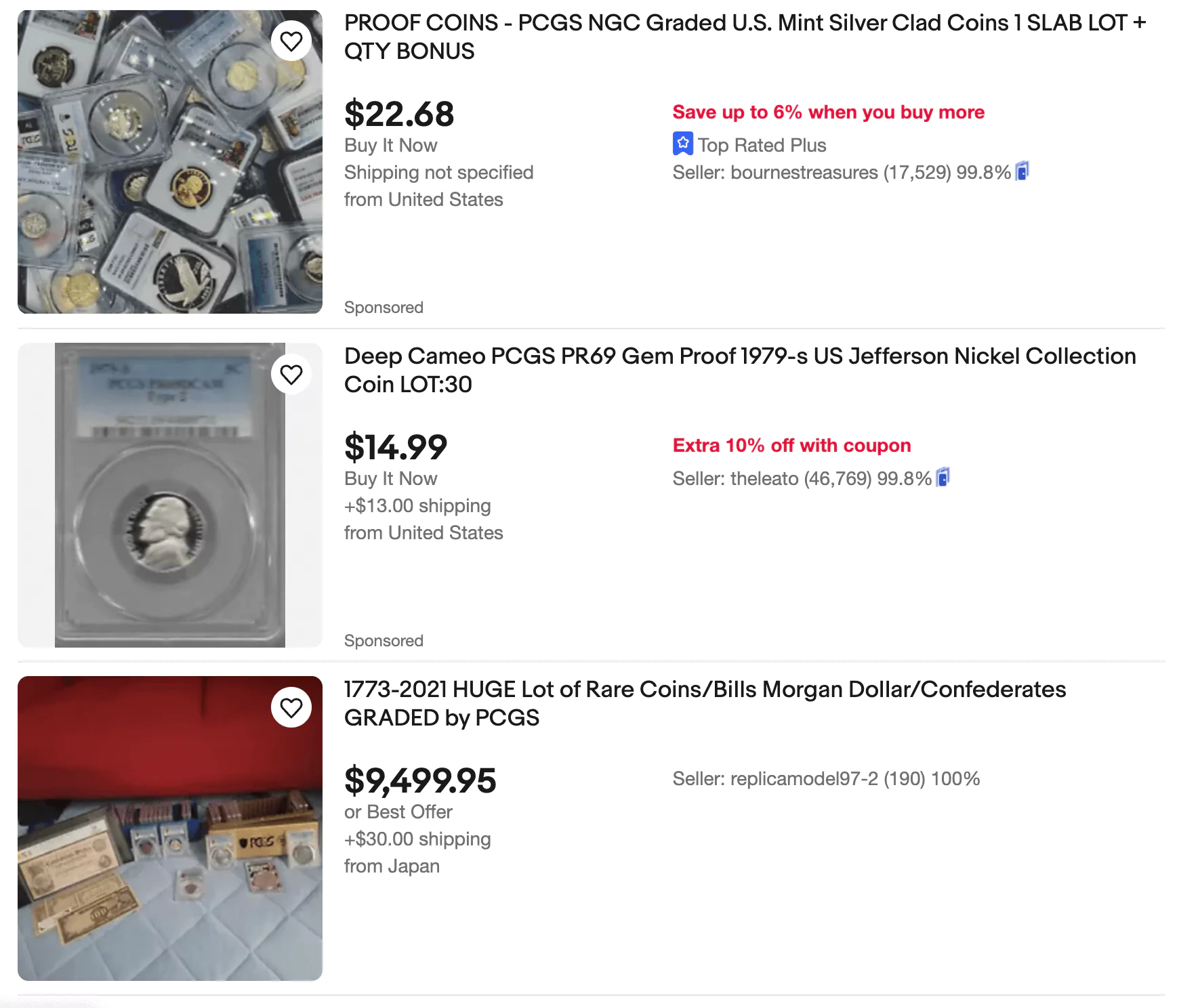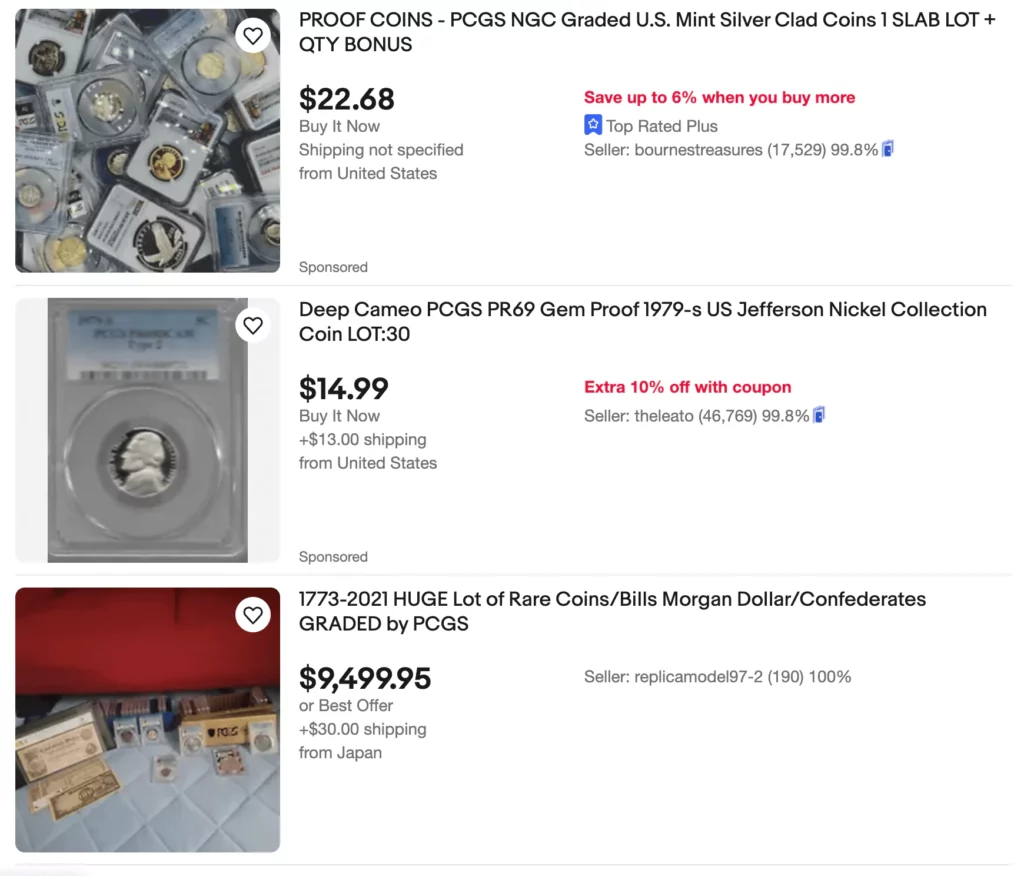 Before making a listing, do market research to set up the base price for your coins. Then take quality pictures for your listing and write all the relevant details to attract more buyers.
Once a coin is sold, you need to handle shipping, so it's better to factor in the shipping costs in the final price.
Charges: Initial 250 listings are free every month; after that, you need to pay $0.35 per listing. When you make a sale, there is a fee of 12.9% on the final price + $0.30.
---
2. APMEX
APMEX is one of the largest precious metal buyers in the US. They buy bullion, rare coins, numismatics, and currency, to name a few.
Over the years, they have bought items worth a billion dollars from small sellers.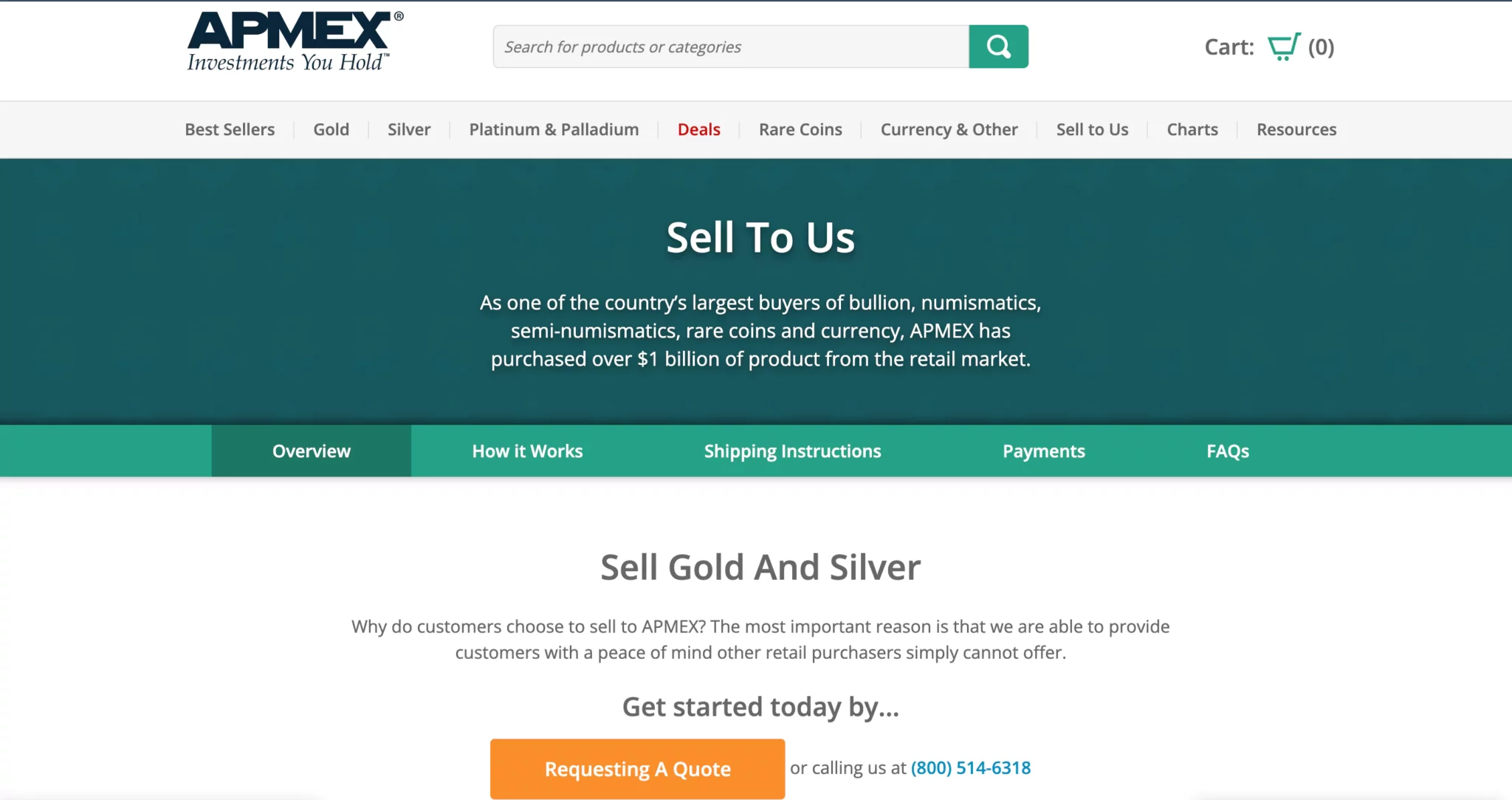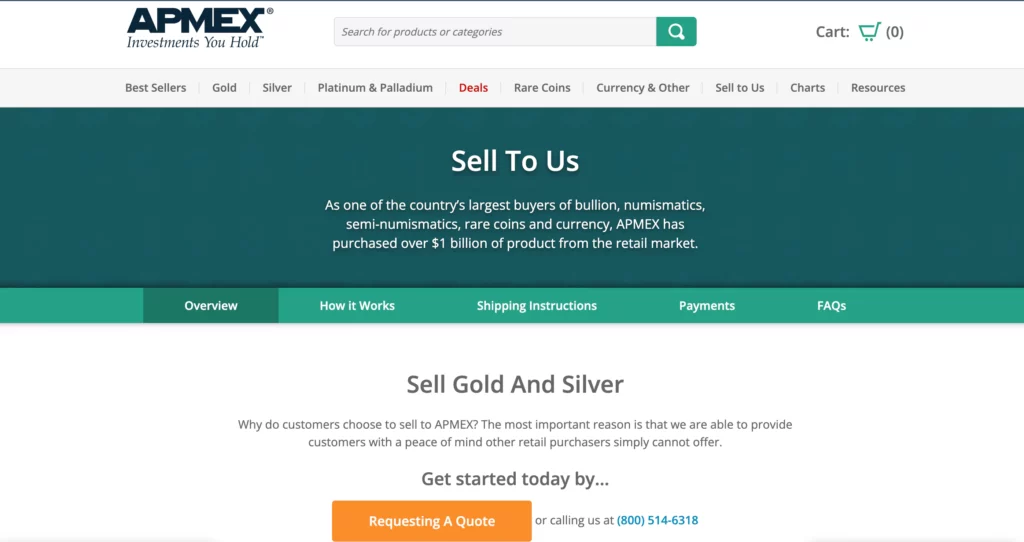 You can fill out an online form or call their purchasing team, and based on your description, they will quote you a price. Price is locked for two days, and you have two days to ship your product if you want the locked price, irrespective of market fluctuations. If you like the price, you can send them your coins through their partnered courier, UPS.
Once they receive your coins and confirm that they are in the same condition as described, you can get paid the same day.
Note: Their minimum buyback criteria are at least a $1000 order, and they don't buy raw ungraded pennies.
---
3. JM Bullion
JM Bullion provides a do-it-yourself tool to sell your old coins. Just go to their website and choose the "sell to us online" option.
Select your item and fill in the quantity along with other details, and they will generate a price for your order. This price can be locked in by placing an order. However, if you cancel the order after placing the order, there will be a charge you need to pay.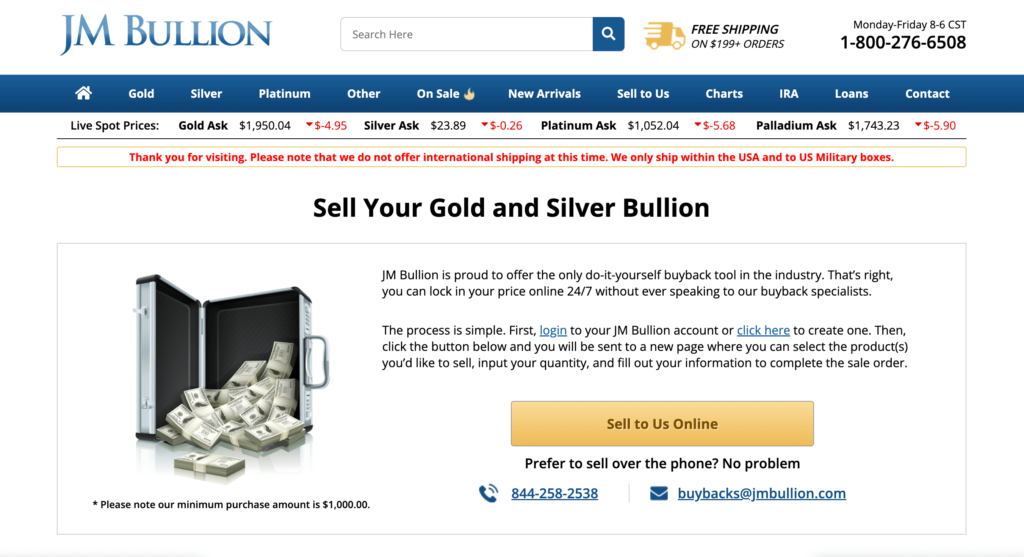 After locking in the price, you will get the shipping instructions, and you can send your items for free through UPS.
Once they receive your products and verify their condition, you will get paid within 1 to 3 days.
Note: Minimum amount should be $1000 to place an order.
---
4. CoinsForSale
CoinsForSale is an online marketplace like eBay where you can sell your old coins for cash. But it has a few advantages over eBay, like:
Dedicated coin marketplace, so there is targeted audience
Lower fees than eBay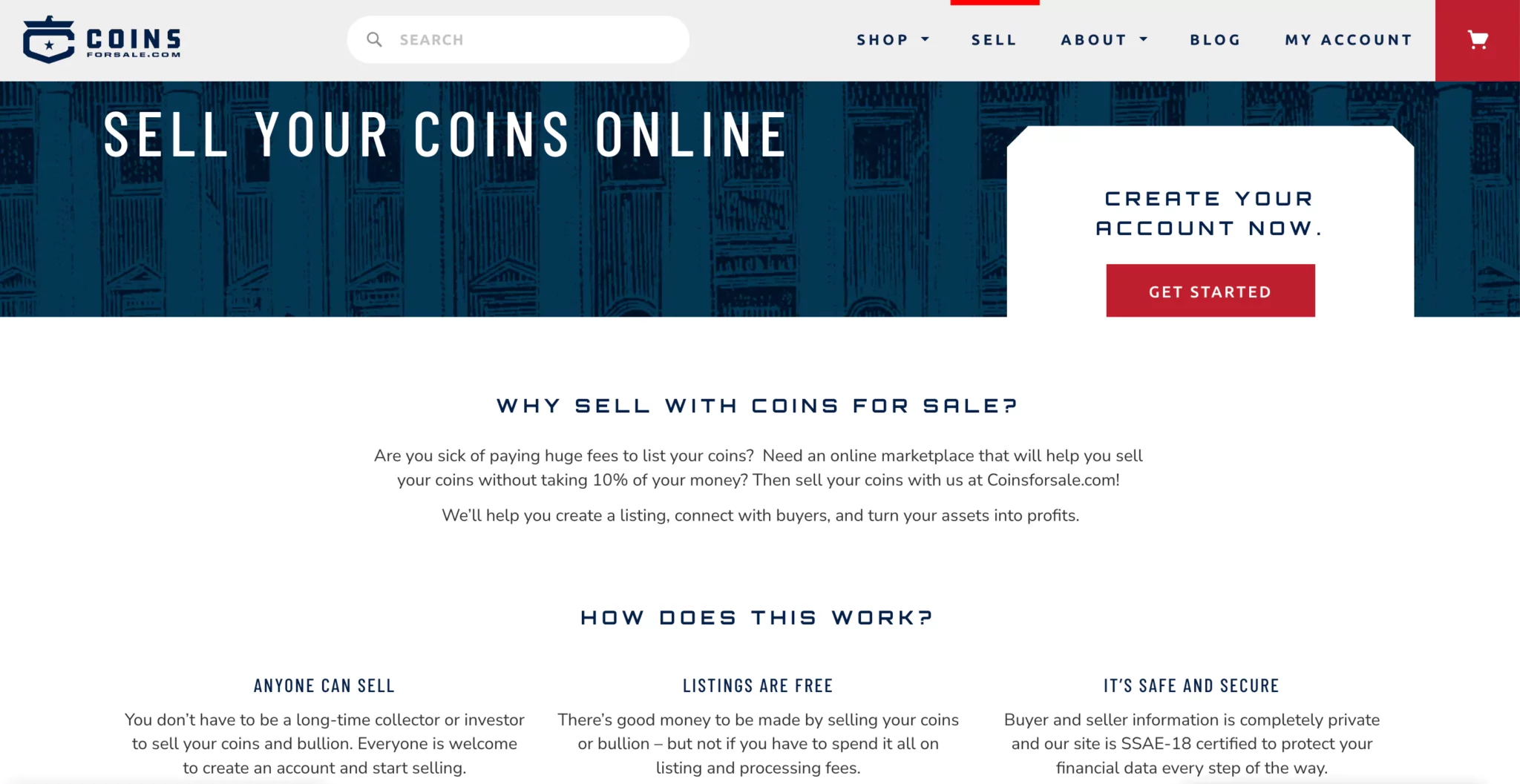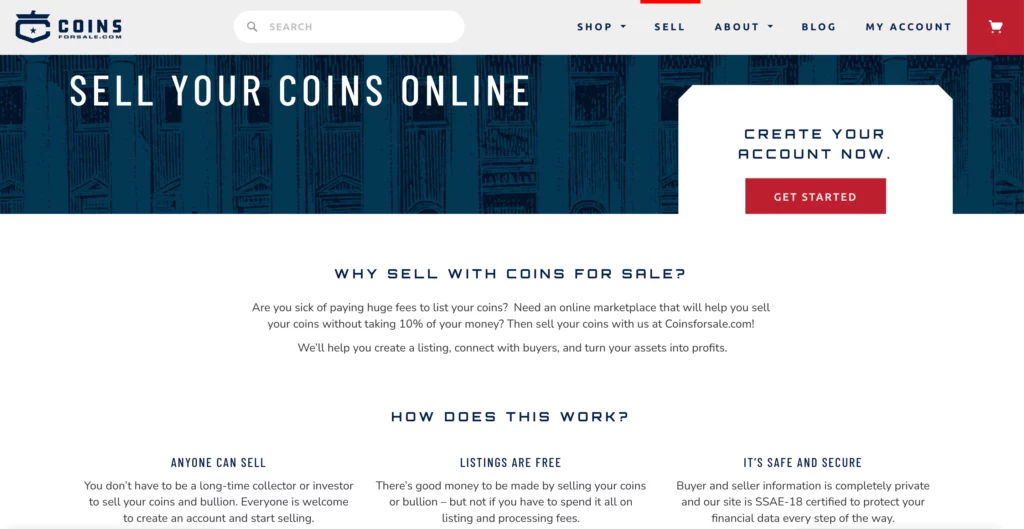 You can start by creating an account for free. After your account is created, it is verified by their team for rules and regulations. Even if you have one coin to sell or a collection, it is a convenient place to sell coins.
Listing your coins is free, and when a buyer is interested in purchasing your coins, you can ship them.
Charges: They take a flat 5% fee on every sale.
---
5. Coinappraiser
Coinappraiser is always buying rare coins; if you are still wondering where to sell rare coins, give them a try.
They have extensive guides with pictures of coins and prices, along with historic prices for your reference. You can also get an appraisal for your coin collection from their experts.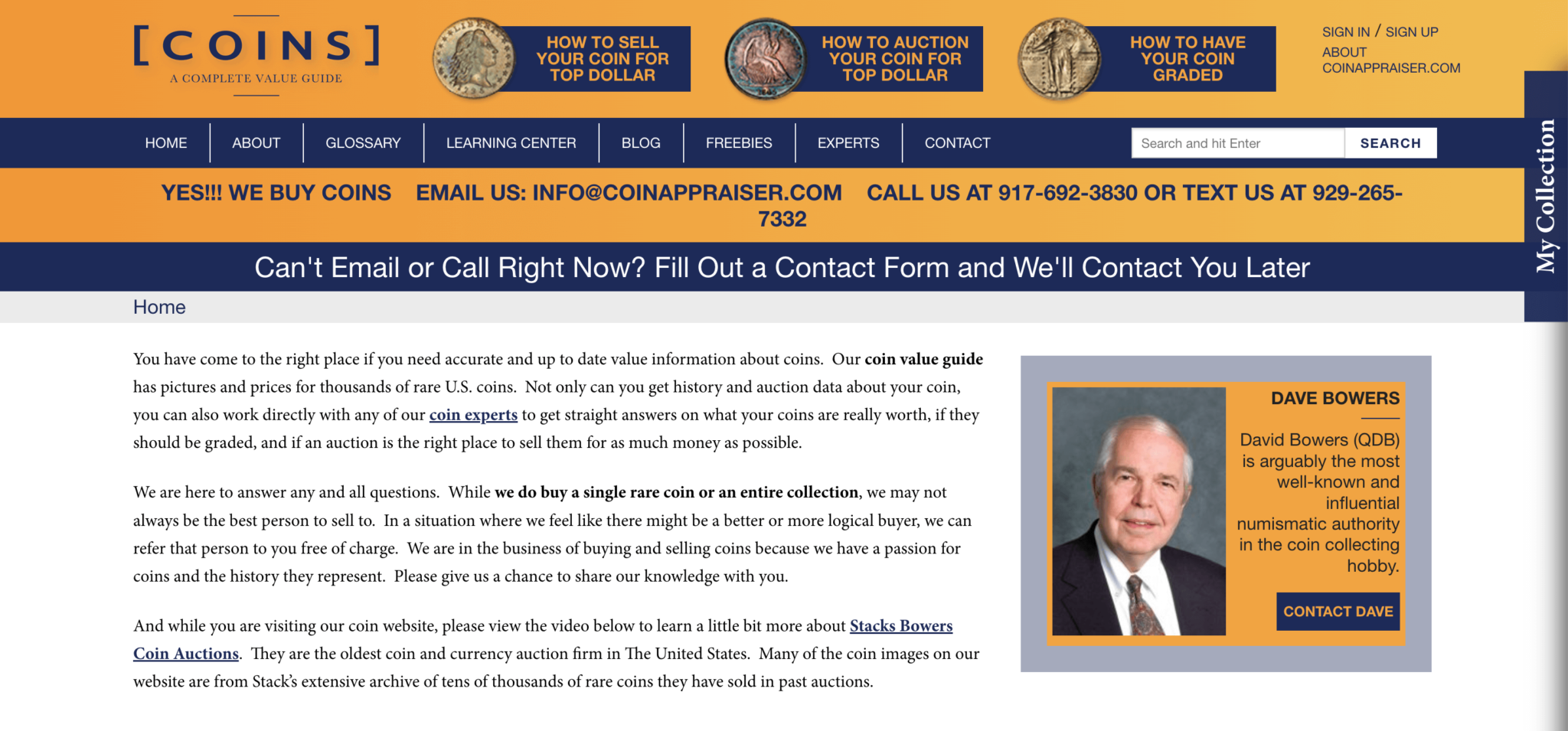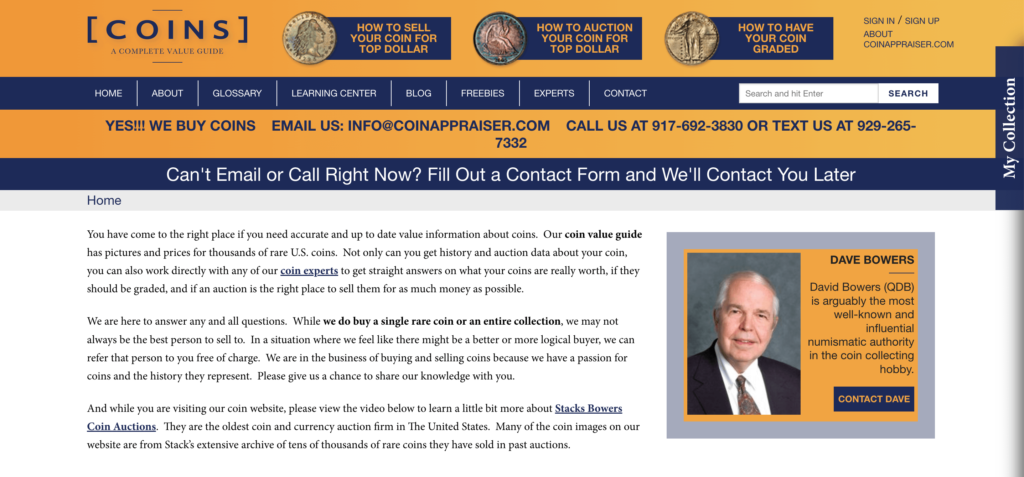 To get an estimate, just fill in the online form or call them. Sending a quick email can also get the process started.
They buy single rare coins or a collection of coins. If they think they are not the right buyers for your collection, they can direct you to the right buyer free of cost.
---
6. Coin World Marketplace
If you want to sell a large collection or trying to start a rare coin-flipping side hustle, Coin World Marketplace can be a good place to start.
This is a marketplace that connects coin sellers with many numismatic collectors around the world. There is no contract for the sellers meaning you can anytime leave the platform if your coins are not selling.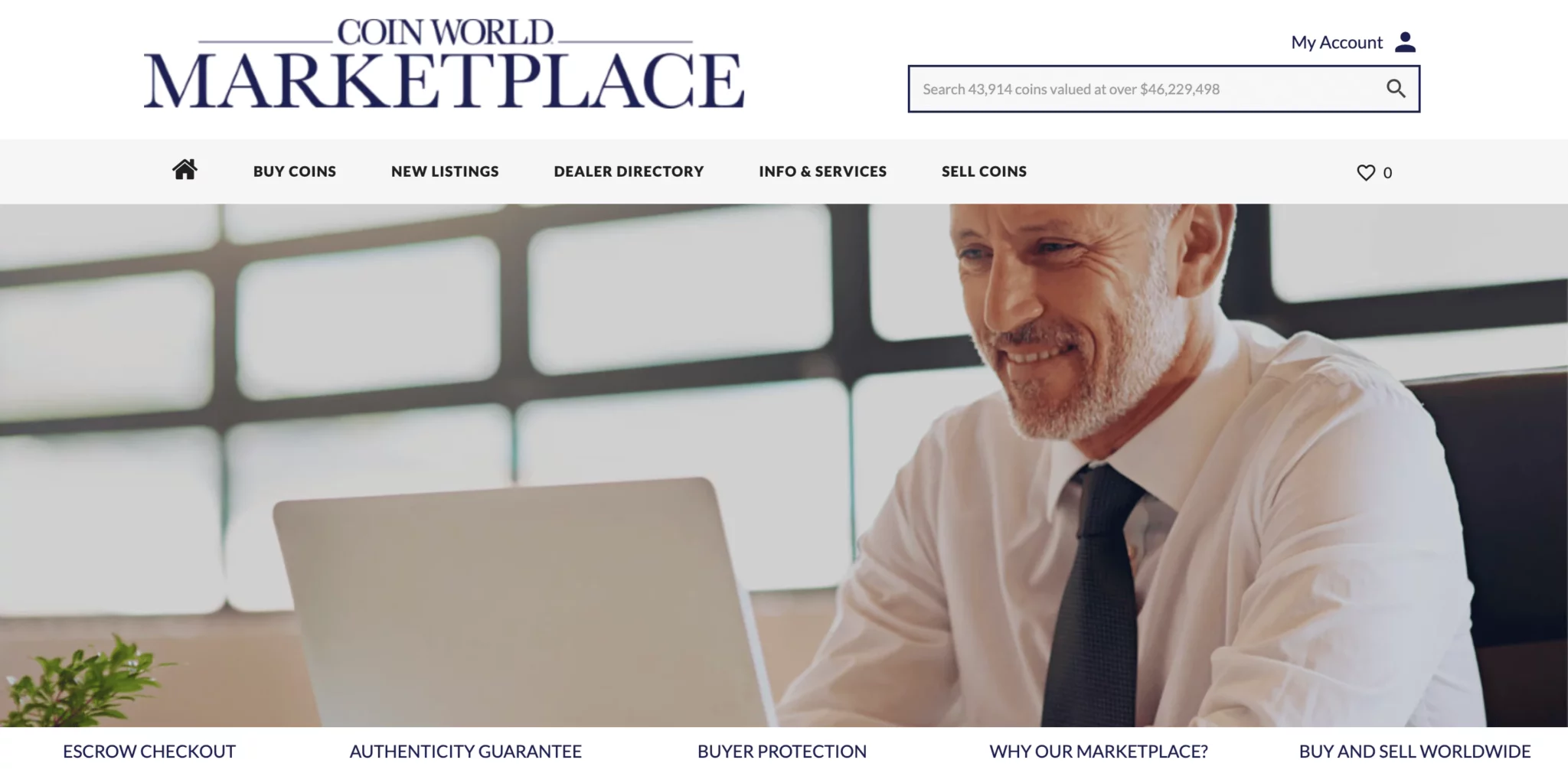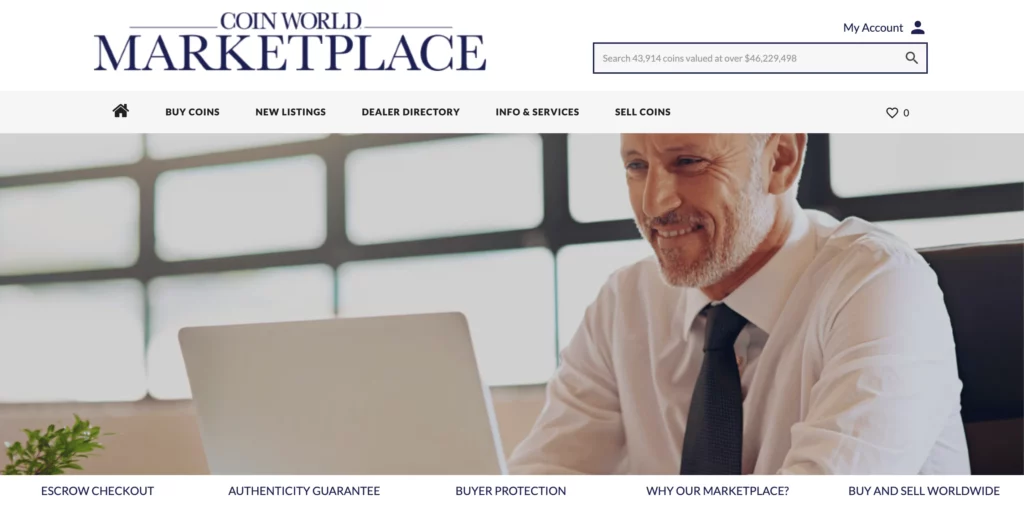 Plus, they offer international transactions seamlessly. They have dedicated customer support. To start selling, just make a seller account and set up a shop with details like payment and other documents.
Charges: They charge differently based on the number of items you offer. You can pay a monthly subscription starting at $25 for collectors (lowest account) to $1,000 for the highest level account. Then there is the final value fee.
---
7. Modern Coin Mart
Modern Coin Mart is another place to sell your coins online. They have been growing rapidly in the coin industry with good feedback from customers.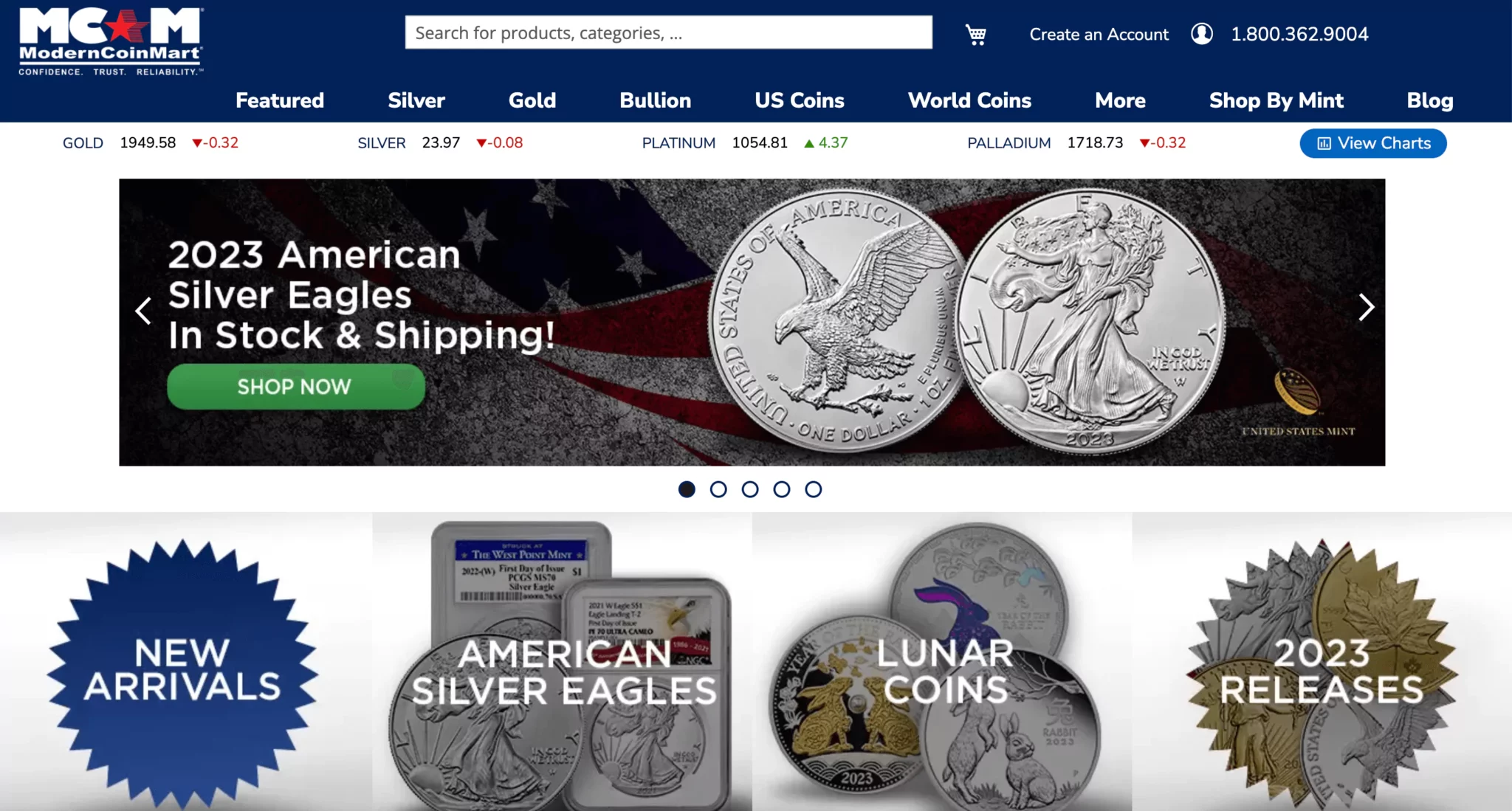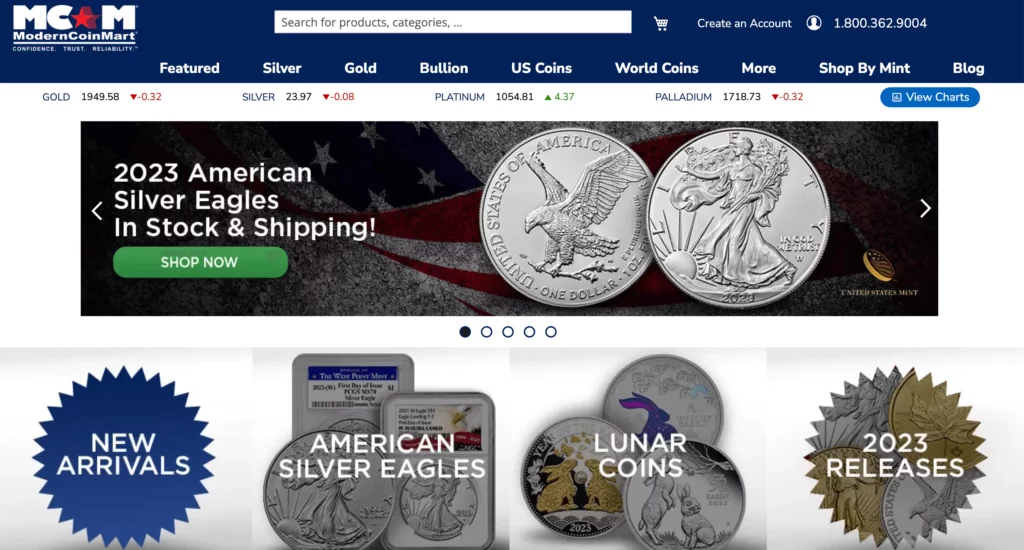 You can give a call to them or send an email to get a rough estimate of your coins. Depending upon the market conditions and their own stocks they will decide if they want to buy your coins or not.
If they are interested, they will give you a rough estimate, and you can sell them your coins for cash.
Auction Houses
8. Heritage Auctions
Heritage Auctions is one of the largest auctioneers in the US that help people sell rare high-value collectibles like vintage stamps, postcards, trading cards, and rare coins, to name a few.
To date, they have sold over 16 billion worth of collectibles through more than 10k auctions.
You can contact them to get a free appraisal and list your coin for one of their upcoming auctions.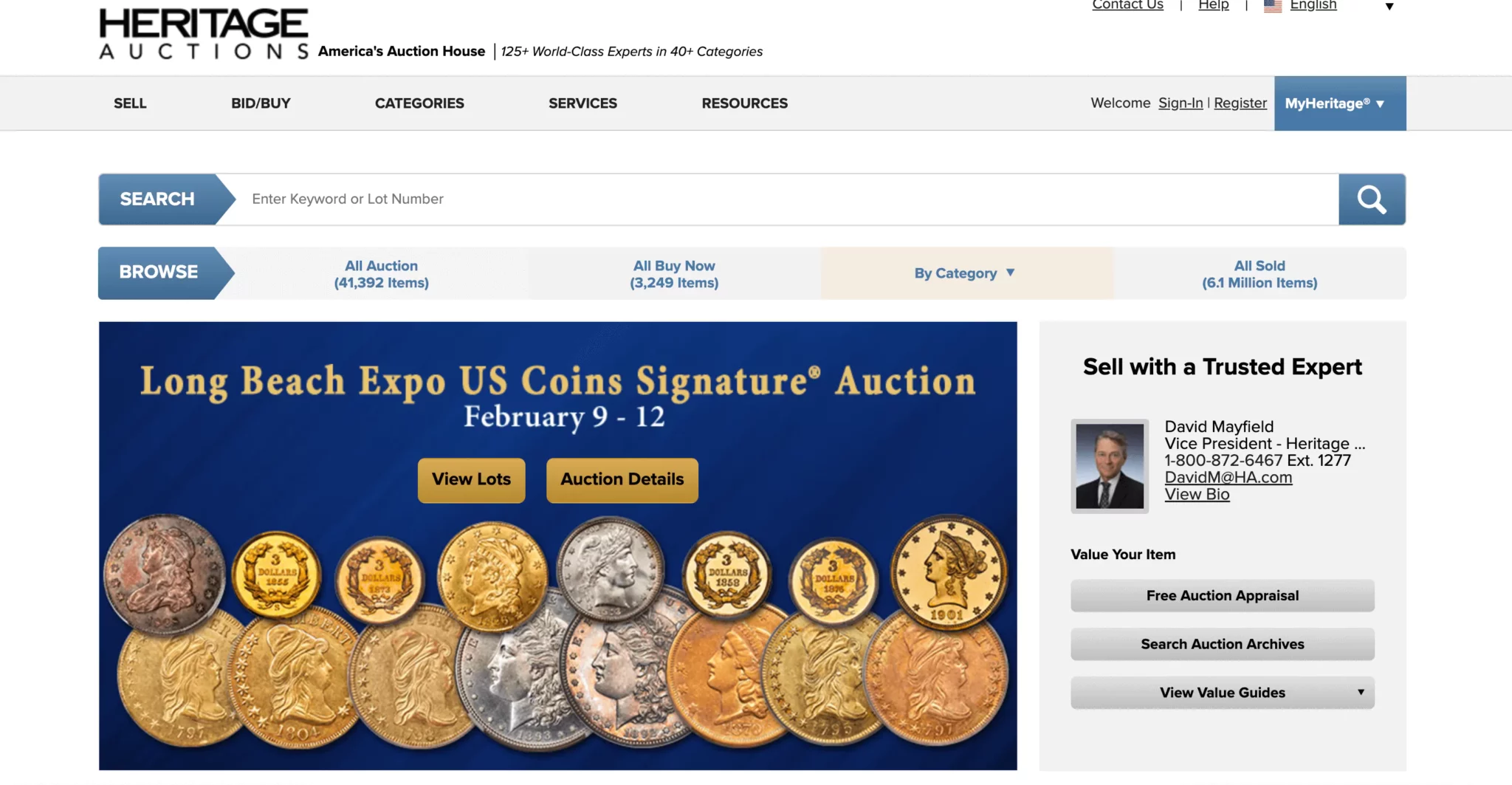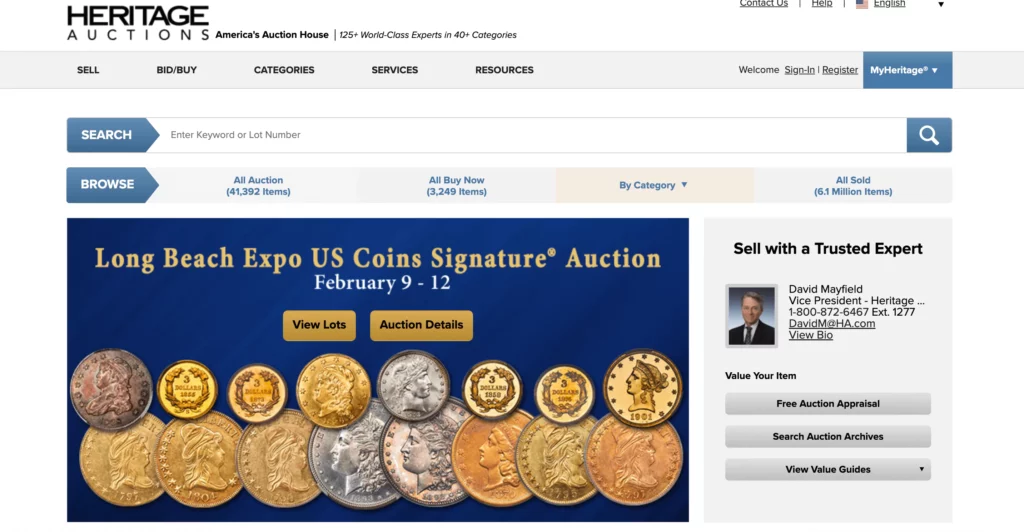 To get a fair estimate, you need to provide all the details and good-quality images to the appraiser. Once they evaluate your coins, they can even give you an option to outright buy your coins without going to auction.
If you are in urgent need of cash, you can even get a certain extent of cash advance on the coins you consign with them.
Charges: They have a fee of 10% if your item sells for less than $2,500, which decreases to 3% if your coin sells for more than a million.
---
9. Stacks Bowers
Stacks Bowers is another well-known auction house that does regular auctions of coins and other collectibles. They have the world record of selling the most expensive coin in 2021 at a whopping 10 million.
With them you have two options for selling old coins:
Sell directly to them
Consign with them for auctions
You can get a free appraisal, either by sending details online or visiting their New York or Philadelphia Offices. If you choose to sell directly to them, you can get cash instantly. If you are not happy with the offered price and want to try your luck at the auction, you can choose to consign.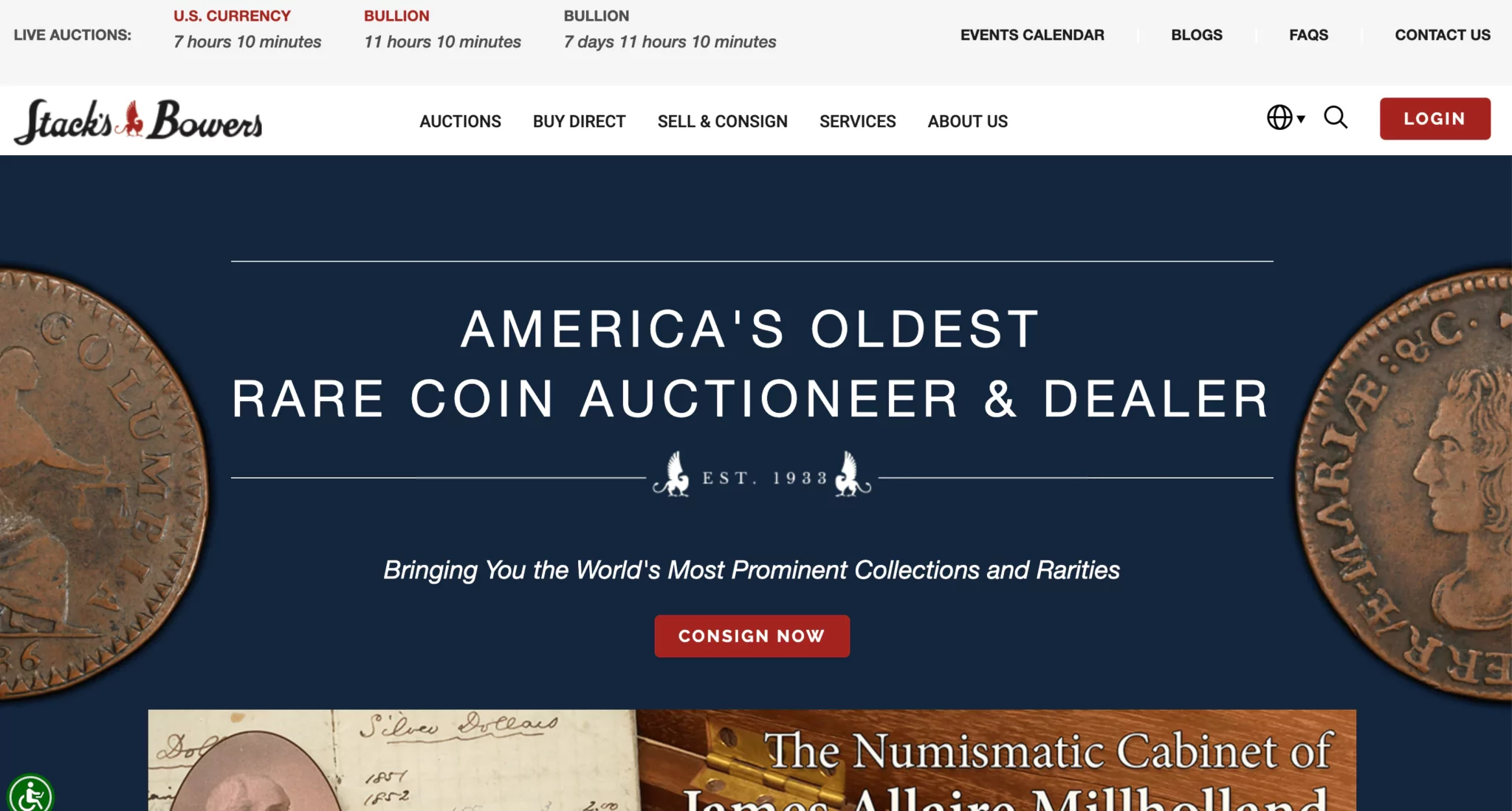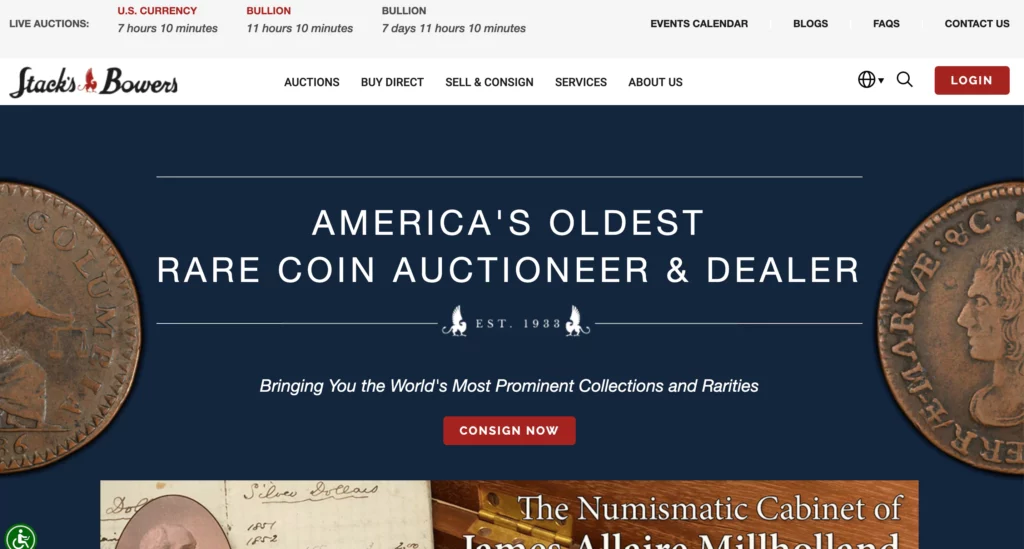 When you consign with them, they do all the work like professional photography, cataloging, and promotions to get the best value for your coins.
When your item sells, they pay you after 45 days after deducting the commission.
Charges: They take a 17.5% fee if your item sells below $50000. Above that, their fee is 15%.
Places To Sell Coins Near You
If you want to get quick money for your coins, selling them locally can be a better option. Though you might not get the best value compared to places like auction houses, but the process of selling to coin collectors near you is much more convenient and fast.
10. Local Coin Shops
Local coin shops are coin appraisers near you that you can use to get instant value for your collection. Before going to local coin shops, it is important to do some research on what to expect from your collection so that you don't get ripped off.
Arrange your coins in a way that the shop employees can easily assess them and give you an estimate quickly.
Tip: If you don't give a good enough look at your collection and offer some money without any inspection, they might not be aware of your coin's value.
It is also a good idea to take any documentation of grading proofs along to show the authenticity of your coins. Be ready to bargain as they will most likely quote less price.
If you are ready with the final price, you can get paid quickly.
---
11. Coin Shows
Coin shows bring together many coin collectors near you. These shows can also be good places to sell coins for cash or exchange them with other collectors.
If you have a large collection, you can register for a booth and display your coins for potential buyers.
Be ready to provide all the information about your coins and answer any questions. Have multiple payment options available to have a good selling experience.
You can even make many friends at these places who share the same hobby as you.
Tips To Sell Old Coins For Maximum Value
Research the current market value of the coin and set a fair price
Consider getting your coins graded to increase its appeal to potential buyers
Use multiple platforms to get quotes or appraisals to find out the best deals
Be prepared to negotiate and be open to reasonable offers
Provide clear and detailed information about the coin, including its history, condition, and any relevant certifications or grading
Be responsive to any questions or concerns potential buyers may have
Be patient and be prepared to wait for the right buyer to come along
Here are a few coin appraisal tips.
What Old Coins Have The Highest Price
Coins have value depending on their rarity and condition. A few of the highest-value coins include:
| | |
| --- | --- |
| Saint-Gaudens Double Eagle | $20,165,100 |
| Flowing Hair Silver Dollar | $13,280,850 |
| Brasher Doubloon | $9,986,500 |
| Edward III Florin | $6,800,000 |
| Umayyad Gold Dinar | $5,405,400 |
| Canadian Gold Maple Leaf | $5,303,400 |
| 1913 Liberty Head V Nickel | $5,250,100 |
| 1894-S Barber Dime | $2,406,200 |
| Lincoln Head Copper Penny | $2,320,200 |
| 1893 Morgan Silver Dollar | $550,000 |
Time To Sell Those Old Metal Coins For Green Paper
If you are ready to sell your coins or collection of coins, now you know where to sell them.
Depending on your preference and the efforts you want to put in, you can choose from a variety of options available. Just make sure to do some research so that you are throwing away coins that may be worth a hundred or even thousands of dollars.
More ways to make money: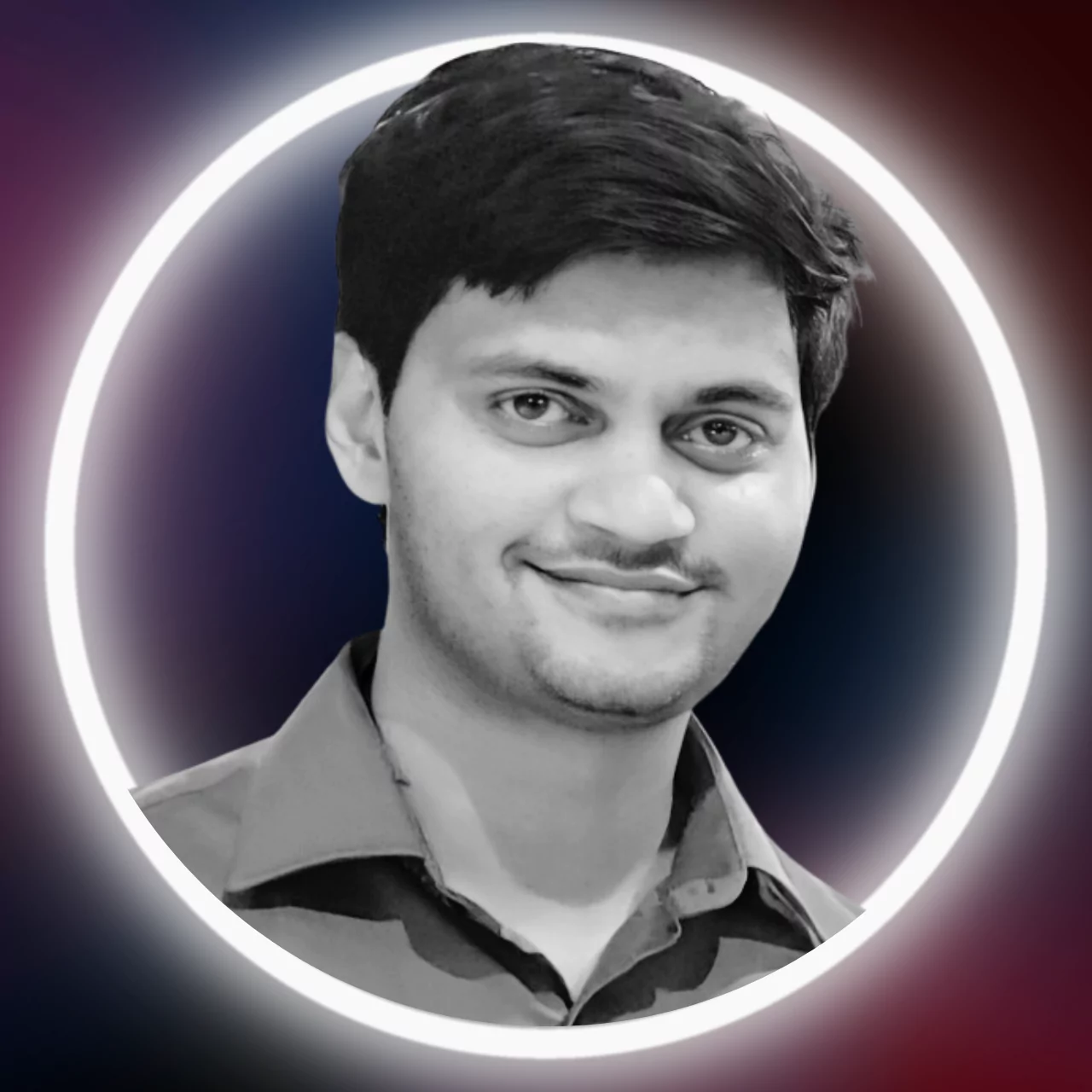 Sumeet is a Certified Financial Education Instructor℠ (CFEI®) and founder of MoneyFromSideHustle. He is an experienced side hustler who replaced his full-time income with side hustles. His work has been quoted on major finance websites like CNBC, Yahoo! Finance, GOBankingRates, CEOBlogNation, SideHustleNation, and more. He has helped thousands of people find side hustles and is here to help you find your extra source of income. More about him.