This post may contain affiliate links from which I may earn a commission without any cost to you. Read our policy for details.
If you are wondering where to sell your old postcards, you are at the right place. Here we will cover all the best places for selling your vintage postcards.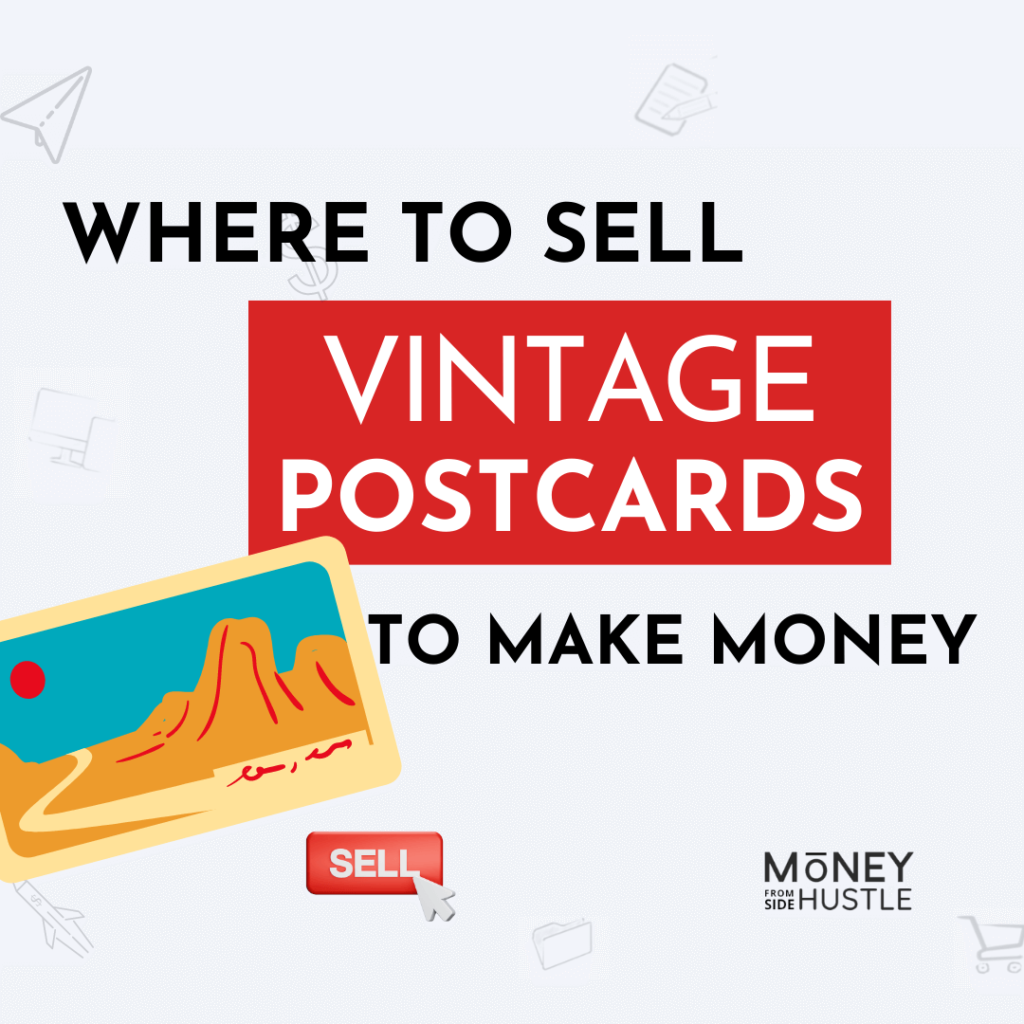 The introduction of the postcard in France during the mid-1800s changed how way people shared their experiences while traveling.
The use of postcards for communication has greatly decreased in recent times, but their collectible value continues to only increase. Not only are these nostalgic postcards reminders of a specific time and place, but a few postcards can also be considered works of art.
A postcard can be a valuable collectible depending on age, subject matter, rarity, and condition. Collecting and study of postcards is a hobby of many and even has its own name, "Deltiology."
If you have a postcard collection that you want to turn into money or you are planning to start postcard flipping side hustle, there are many places where you can sell old postcards for some extra cash. You can sell postcards locally to dealers and at postcard shows, or you can use online marketplaces and social media forums.
Here in this post, you will find all the best places to sell postcards for money. Let's dive in!
Highest Paying Surveys
Up to $50 per survey
Industry-leading surveys
Where To Sell Vintage Postcards
When it comes to selling your old postcards, you have two options, either to sell them online or offline.
Sell Old Postcards Online
While selling your postcards online, you can either use specialty sites where there is a target audience, or you can use auction houses that can fetch you the best price for rare postcards through bidding. Then the other option is using general marketplaces to reach a wider audience.
Specialty Postcard Websites
These are the sites that deal specifically in postcards, so there are high chances of getting the right buyer.
1. Cardcow
Cardcow is a site that deals in postcards. They buy large postcard collections and almost all kinds of postcards.
If you are wondering where to sell vintage postcards, Cardcow can be your first option.
Just give them a call or send an email, and they will give you a basic appraisal free of cost. They ask you to send them pictures of postcards for more accurate estimates, but you can get a rough value appraisal even without sending the pictures.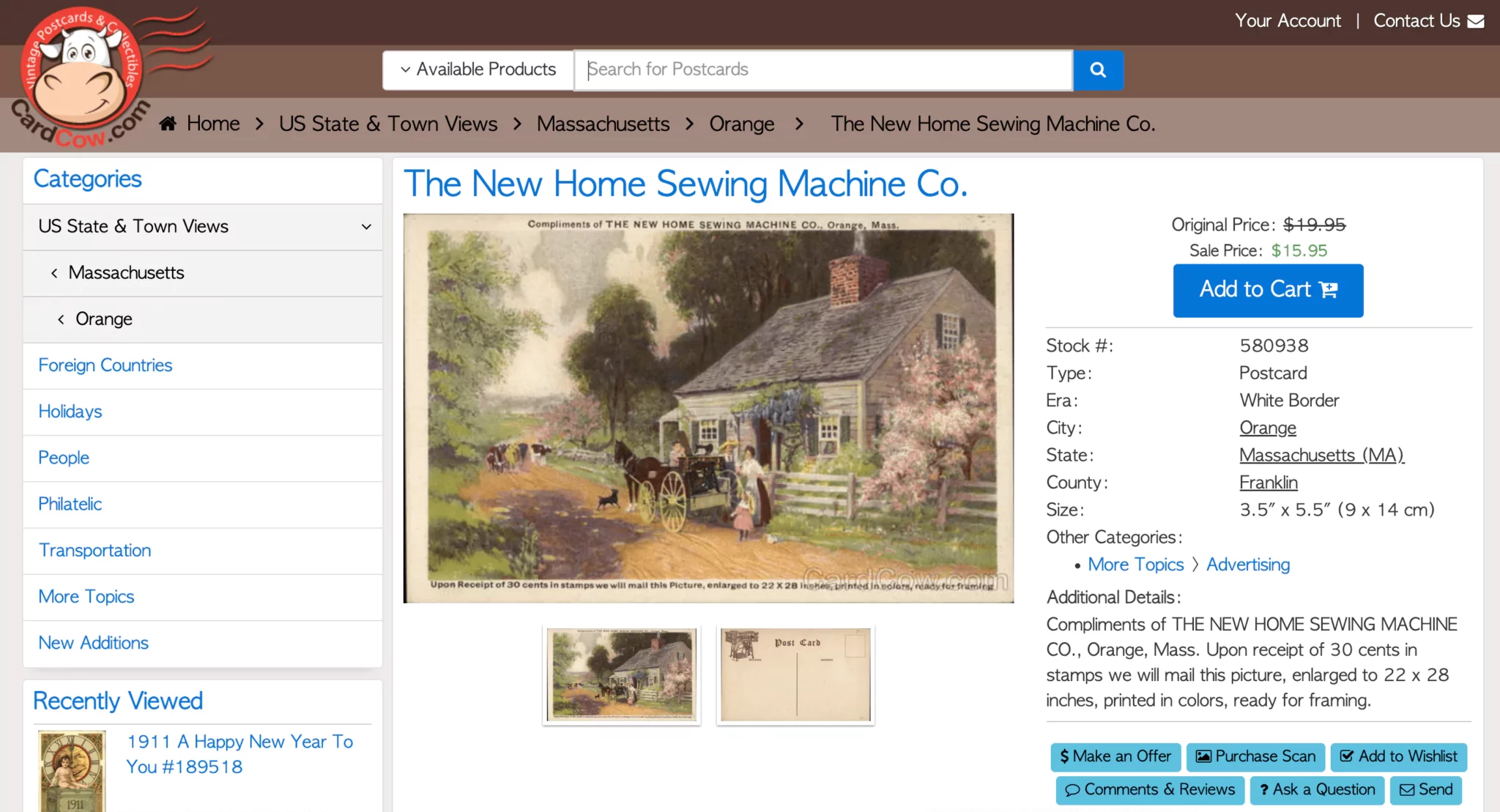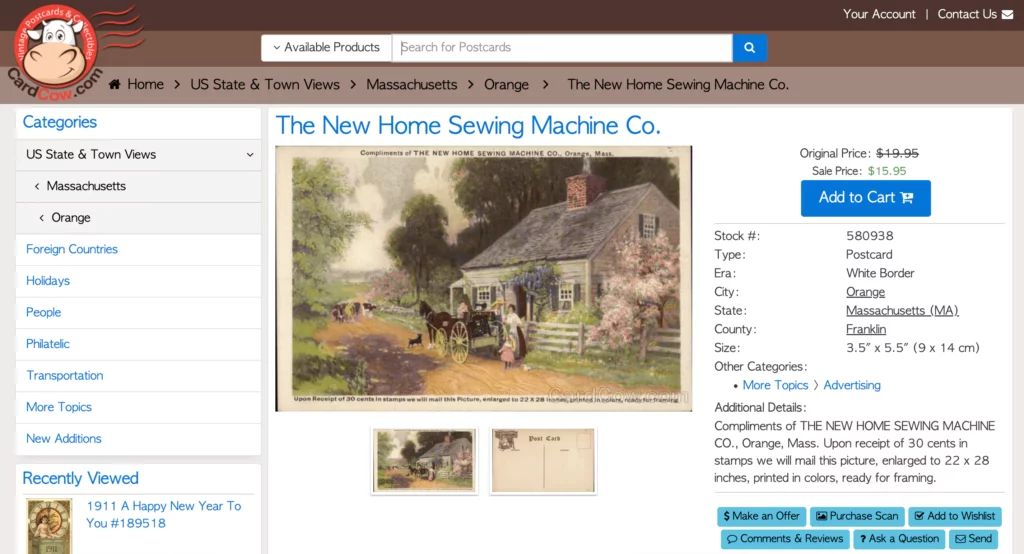 They also offer more detailed official written appraisals for a fee for different purposes like insurance.
Different categories of postcards they take include:
US state and town views
Real photo cards
Advertising
Holidays like Halloween, Thanksgiving, etc.
Foreign countries
Rare and bizzare
Postcard production materials
Modern ones include celebrities, etc.
The topic of note can vary from anything from airlines, banks, and fishing to sports.
Other than postcards, they also buy collectibles like trading cards, coins, and other antiques.
Cardcow can also find you, postcard buyers, through auctions, or they can consign your postcards.
---
2. Cherryland Postcards
Cherryland Postcards have been helping postcard sellers for the last 36 years and will help you get the best value for your old postcards.
You have two options for selling on Cherryland Postcards:
Sell directly to them
Sell through auction
If you don't want to wait for the auctions and want to get your money fast, you can sell your postcards to them. Just fill in the form with all the relevant details or call them to discuss about your collection.
Then send them your postcards, and they will evaluate your postcards. Based on their betting process they will offer you a price. If you like the price, you can get paid through check or PayPal. In case you don't like the offer, you can get your postcards back by paying the shipping fee.
Another option is to sell through an auction. They do all the work from listing to pricing, you just have to send them your postcards.
Cards of value less than $15 will be looted and will be sold in groups, and cards they think will get more than $15 will be individually photographed and described.
These cards are printed in the auction catalog and website and you will be notified in which auction your cards will be sold.
Once the cards are sold, you will get your commission after 30 days.
They keep the minimum consignment value to $500 with a few exceptions.
Charges: If you are selling old postcards through auction, they charge a 30% commission on the final sale price.
High earning surveys
Easy-to-use website
Many ways to earn
---
3. Delcampe
Delcampe is a UK-based collectors marketplace that has been operating for the last 22 years. Currently, they have over 85 million items for sale and around 59 million postcards.
You can also sell your old postcards on this site through the listing, and any interested buyer can place bids to buy them.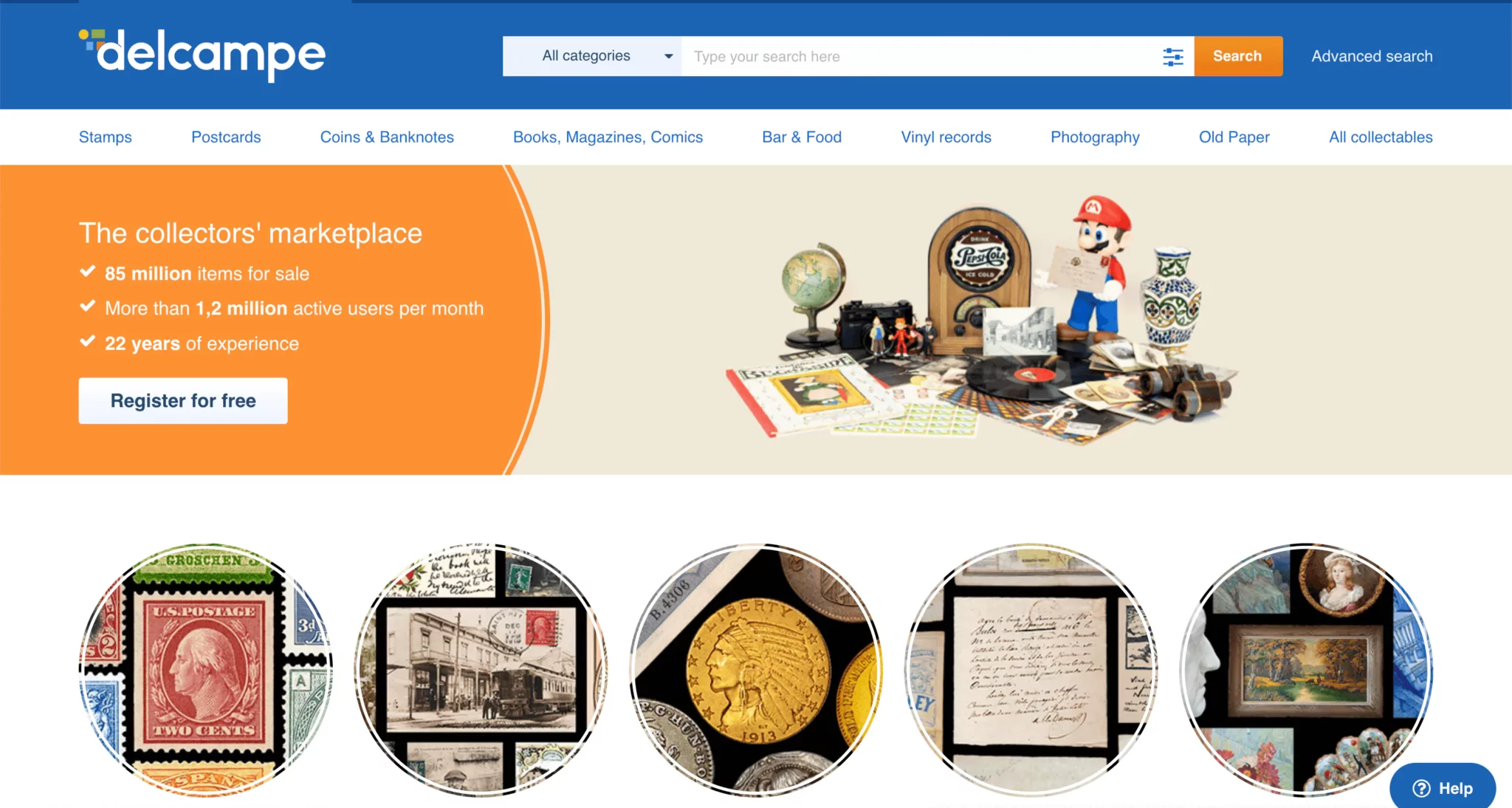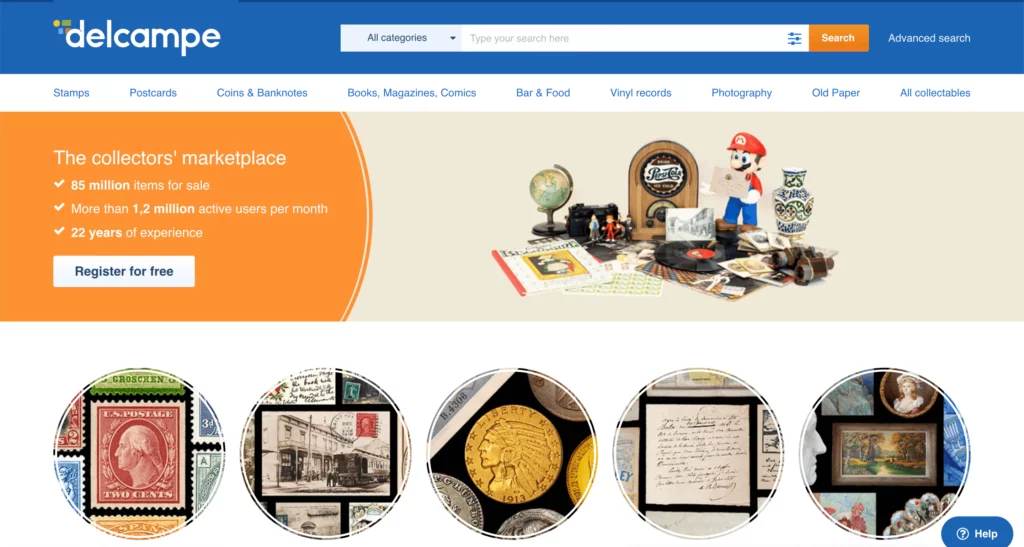 Make a listing of your postcard for free with all the images you can take and a detailed description of the card's history and features.
When a bidder wins the item, you need to ship them the card in secure packaging.
Charges: They combine your monthly sales and charge up to 6.5% of total sales and 0.23 euros per item sold.
Price Range
Commission
€0.00 – €999.99
6.50% monthly total
+ €0.23 per item
€1,000.00 – €2,499.99
6.00% x (monthly total – €1,000.00)
+ €65.00 (commission from the last level)
+ €0.23 per item
€2,500.00 – €4,999.99
5.00% x (monthly total – €2,500.00)
+ €155.00 (commission from the last level)
+ €0.23 per item
€5,000.00 – €9,999.99
3.75% x (monthly total – €5,000.00)
+ €280.00 (commission from the last level)
+ €0.23 per item
From €10,000.00
2.00% x (monthly total – €10,000.00)
+ €467.50 (commission from the last level)
+ €0.23 per item
Auction Houses
Auction houses are your best bet to get top dollar by selling your rare vintage postcards. Collectors who are aware of the value of rare postcards can identify real gems and pay you more.
4. Regency Antique Books
Regency Antique Books auction house specializes in selling used antique books, but you can also sell your used postcards here.
They offer consignment services for selling rare, vintage, and unusual postcards.
Out of them also, they are most interested in photo postcards or RPPC from before the 1930s.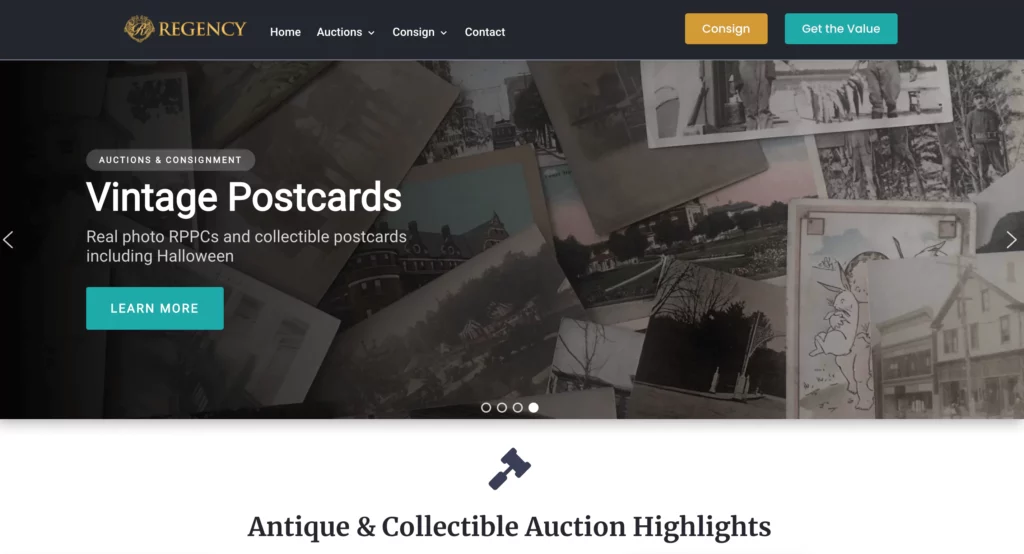 Photos can range from street views to photos of historical moments.
They are also interested in Halloween cards from 1908 to 1930, featuring colorful artwork of witches, ghosts and anthropomorphic figures.
You can check here what other postcards they are interested in.
Then you can fill up their consignment form with all the details, and they will get back to you with further details.
---
5. Sotheby's
Sotheby's is the place to sell your rare, unique, and high-value artwork, including postcards.
It is one of the biggest marketplaces for high-value collectibles, if your postcard is unique and desirable to collectors it may attract high bids.
There are four different ways to sell on Sotheby's:
Consign for auction
Private sales
Buy now
Retail locations
To get started, you just need to fill up their appraisal form with relevant details and photos, and one of their expert will contact you.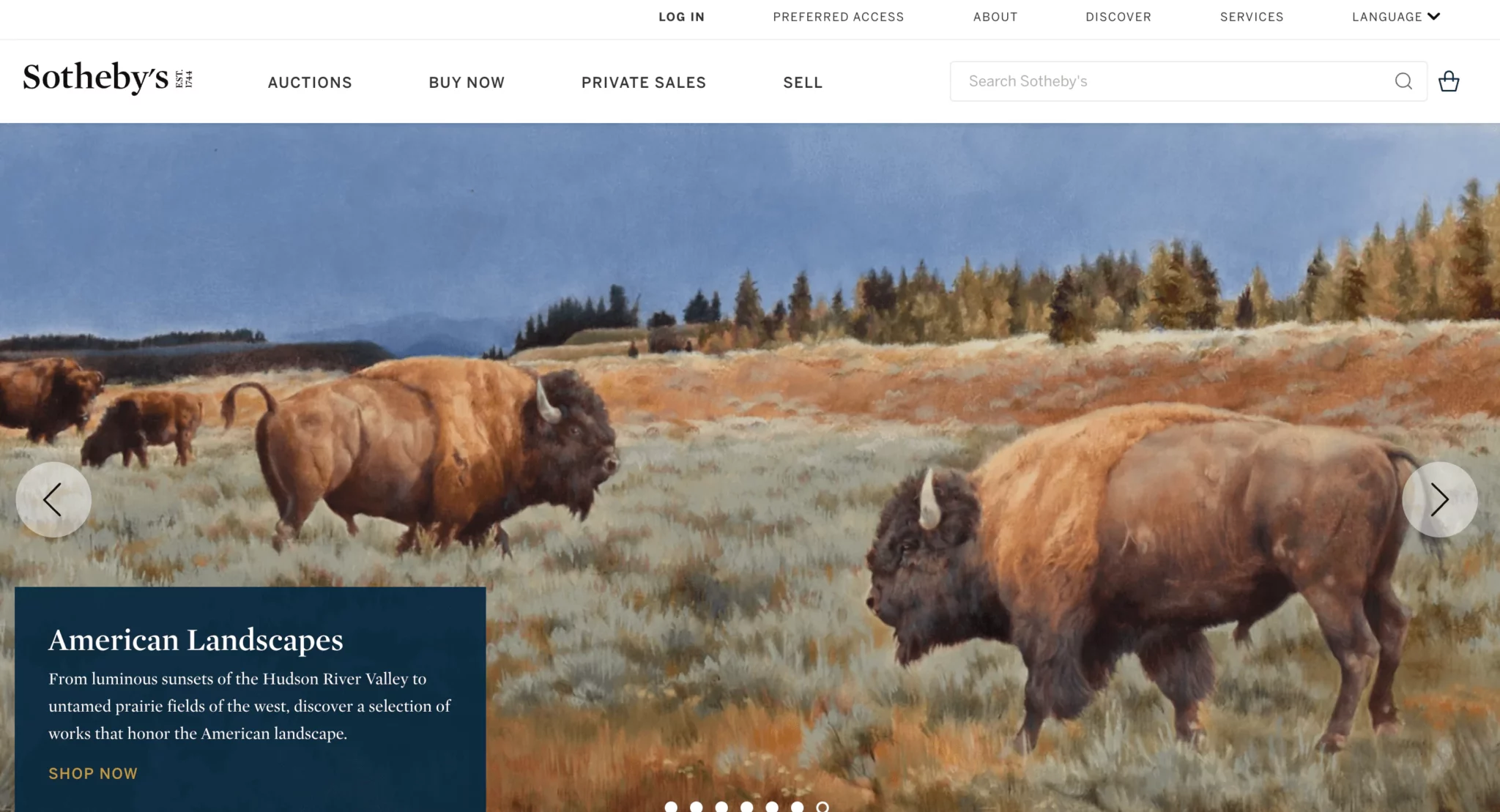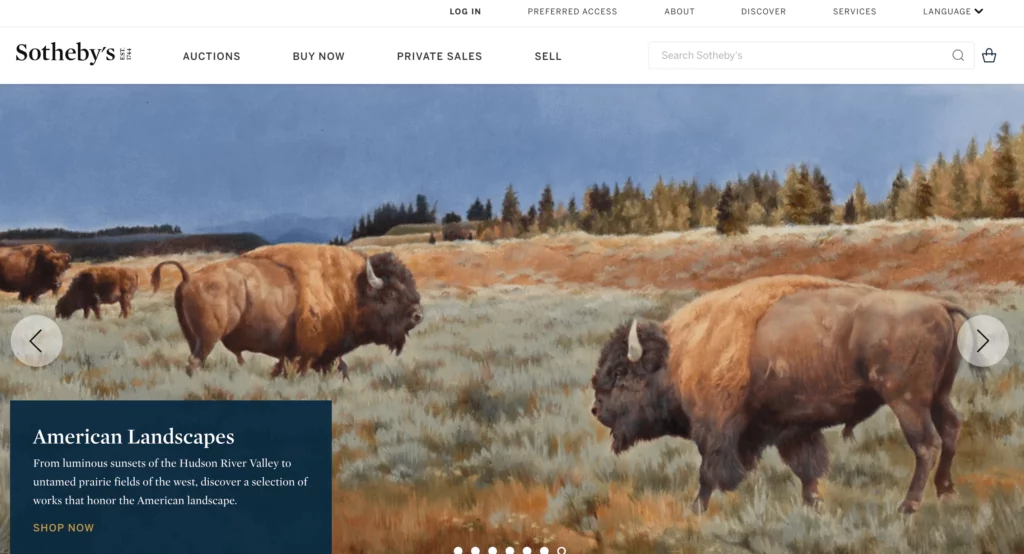 If they are interested in your postcard, they will tell you the most suitable method of selling it and how much you can expect to earn.
These estimates are not final, but they give you a rough idea of what to expect.
---
6. Warwick & Warwick
Warwick & Warwick is a leading UK auctioneer that has been dealing with collectibles since 1958. This is one place you can use to sell postcards online.
They are interested in buying photo postcards from the victorian era to pre-world war 2. Both used and unused postcards can be sold to them.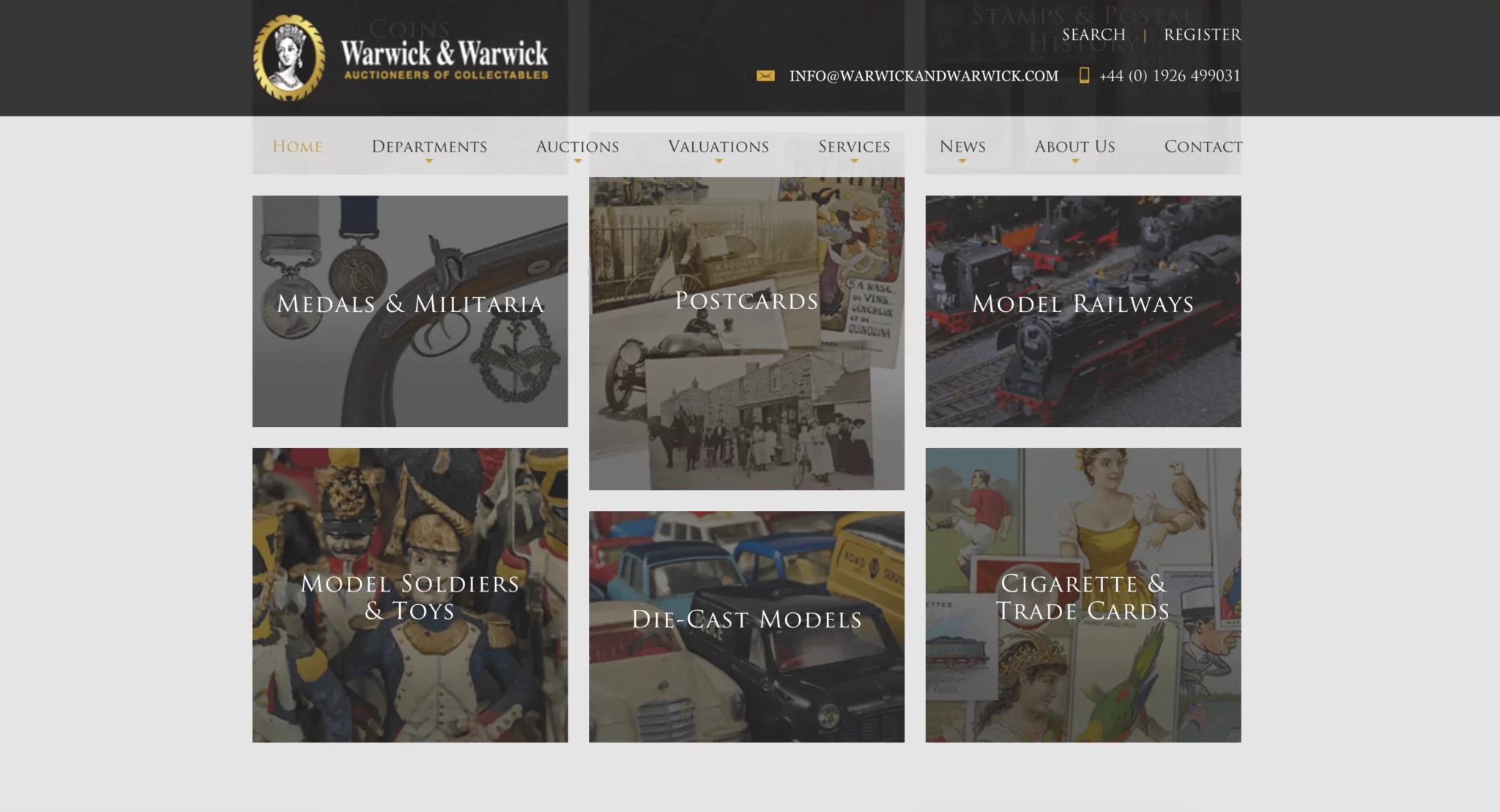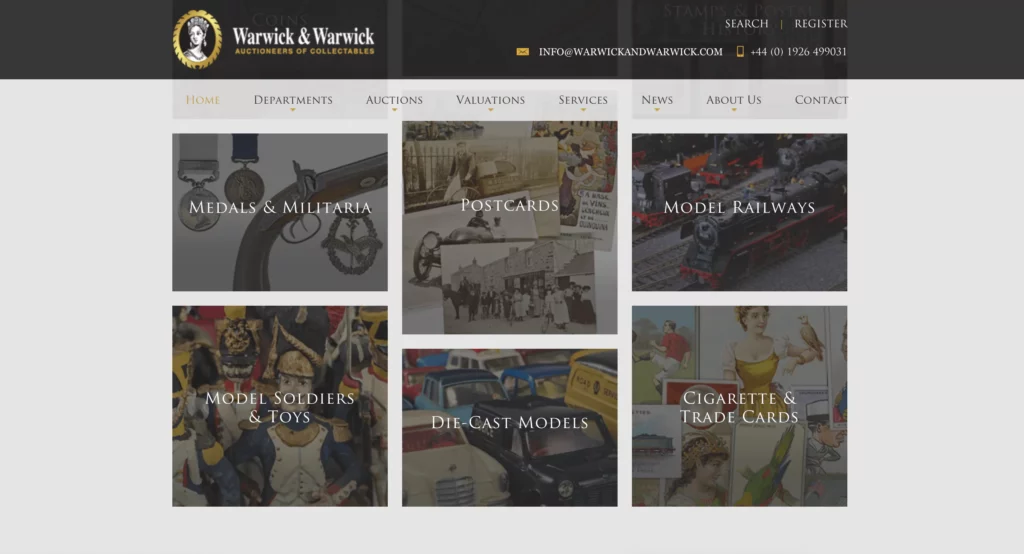 If you are interested in selling your postcards collection or a single one, they can help you.
Just send them the details, and they will give you free advice.
If you like the estimates, you can ship them your cards, and they will put them up for one of their postcard-specialized auctions.
Multiple ways to make money
Low and easy cashout options
Great user ratings on App store
General Online Marketplaces
7. eBay
eBay is one the best place when it comes to selling your common collections or rare vintage postcards.
The platform is hugely popular worldwide and many collectors look for new buying opportunities on the website.
You can start selling on the website simply by making a seller account. After setting up an account, you can list up to 250 items free of cost every month.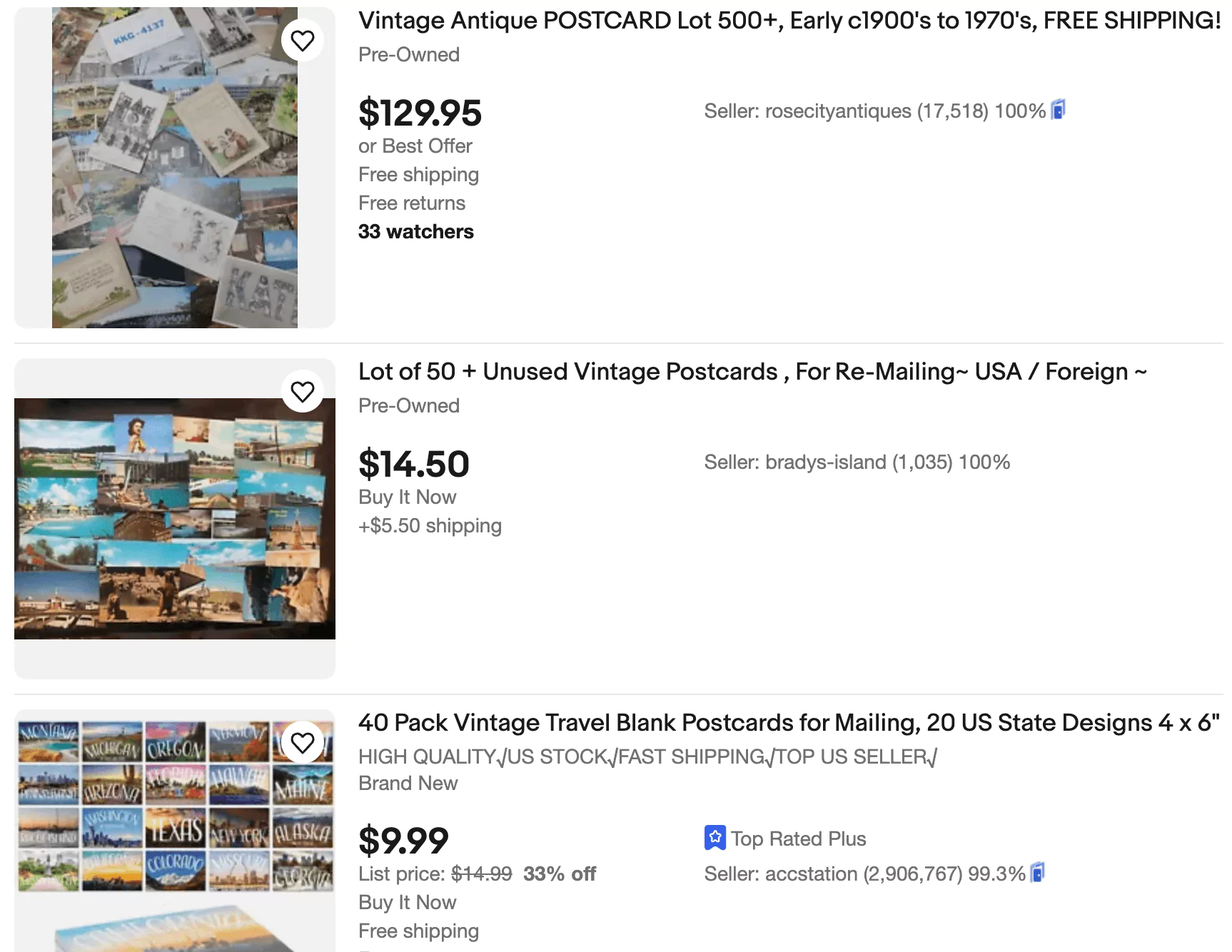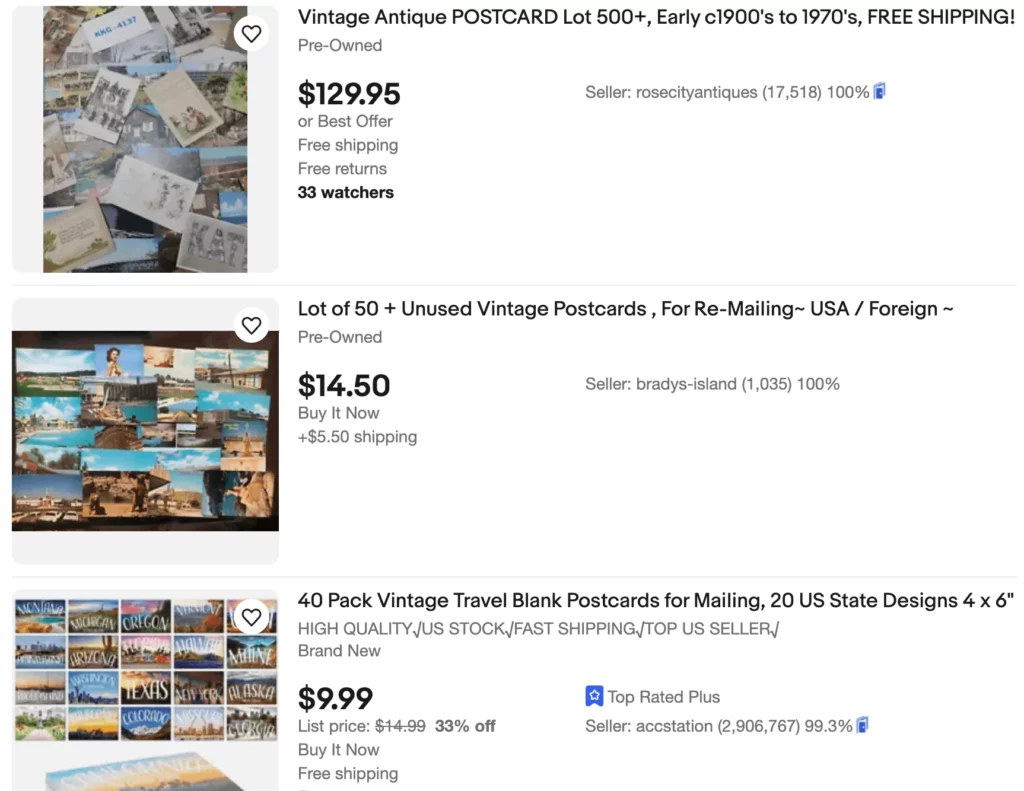 When creating a listing, make sure to include all the possible images and details like age of card and any other historical importance.
You can set up your asking price or put up your postcard for auctions.
When someone buys your postcard, you need to ship it with secure shipping with proper packing.
Charges: After 250 free listings, each listing costs $0.35, and you pay 12.9% of the final price and $0.30.
---
8. OfferUp
OfferUp is an online marketplace you can use to sell your postcards online.
There are two options for sellers on the website:
You can meet the buyers and trade your postcards for cash
Ship your postcards and get paid online
To start with, you just need to make an account and create a listing for your postcard with expected price.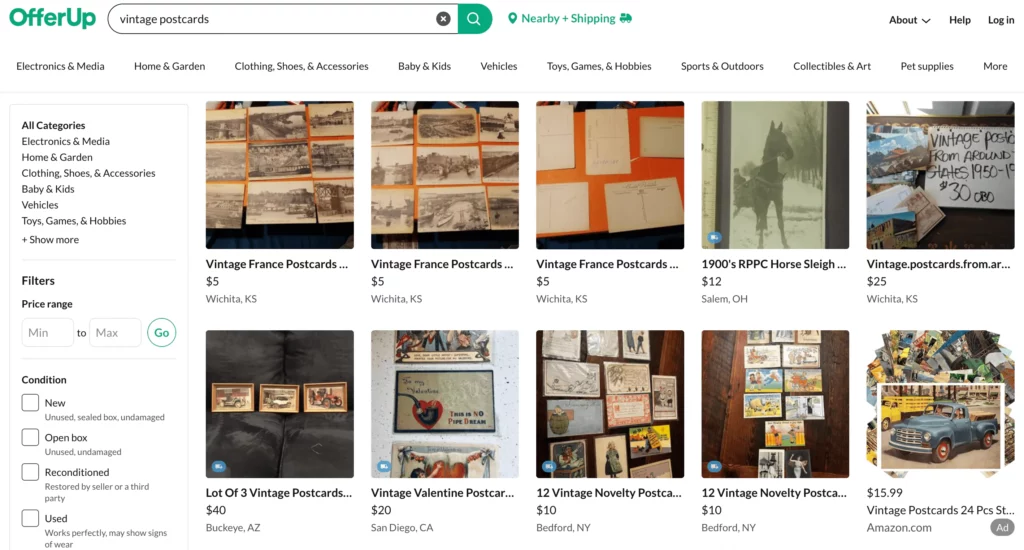 It is important to research the price of other similar postcards to price it competitively and be ready to negotiate with potential buyers.
If you are meeting locally, make sure to follow all safety procedures like meeting at a public place and taking cash only.
For shipping, you will be provided with a pre-addressed label. When the buyer confirms receiving your postcards, your payment will be released.
Charges: For selling on this website, you need to pay a fee of 12.9% on every sale.
---
9. Mercari
Mercari is another platform that you can use to sell almost anything.
Thousands of sellers sell vintage postcards on the platform. You can also take advantage of million of buyers available on the platform and list your postcards for selling.
Using this platform, you can sell your postcards online by listing them, and when a buyer buys them, you need to ship your cards in three days.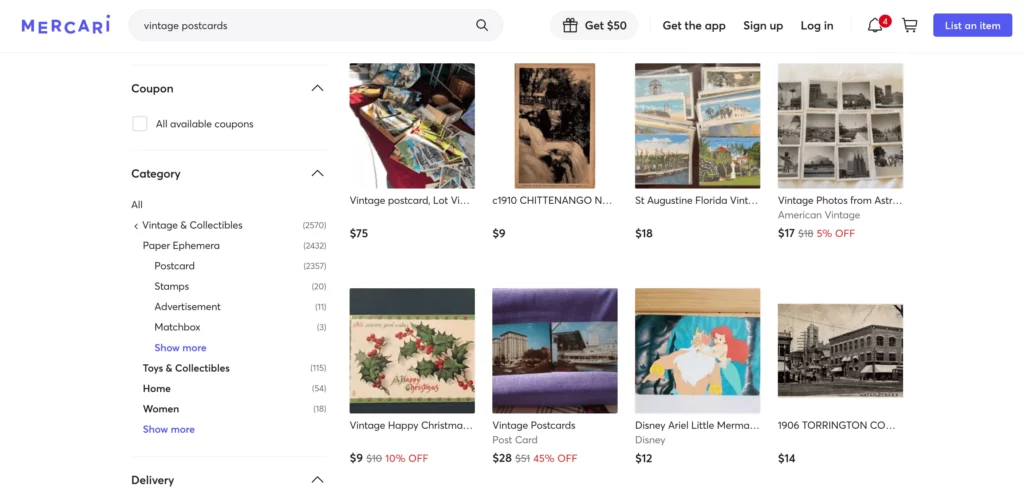 It is important to pack your cards properly so that they are not damaged in the shipping. Otherwise, the buyer may reject the order, and you might lose time and money.
You can get paid to your PayPal account when the buyer confirms getting the postcards in proper condition.
Charges: You need to pay a 10% transaction fee and a 2.9% + $0.5 payment processing fee.
---
10. Etsy
Etsy is an online marketplace where you can make your virtual shop to sell anything.
You can sell your postcard collection here.
Etsy is a visual platform, so make sure to take attractive photos and learn Etsy SEO using the right keywords to attract the right audience to your product pages.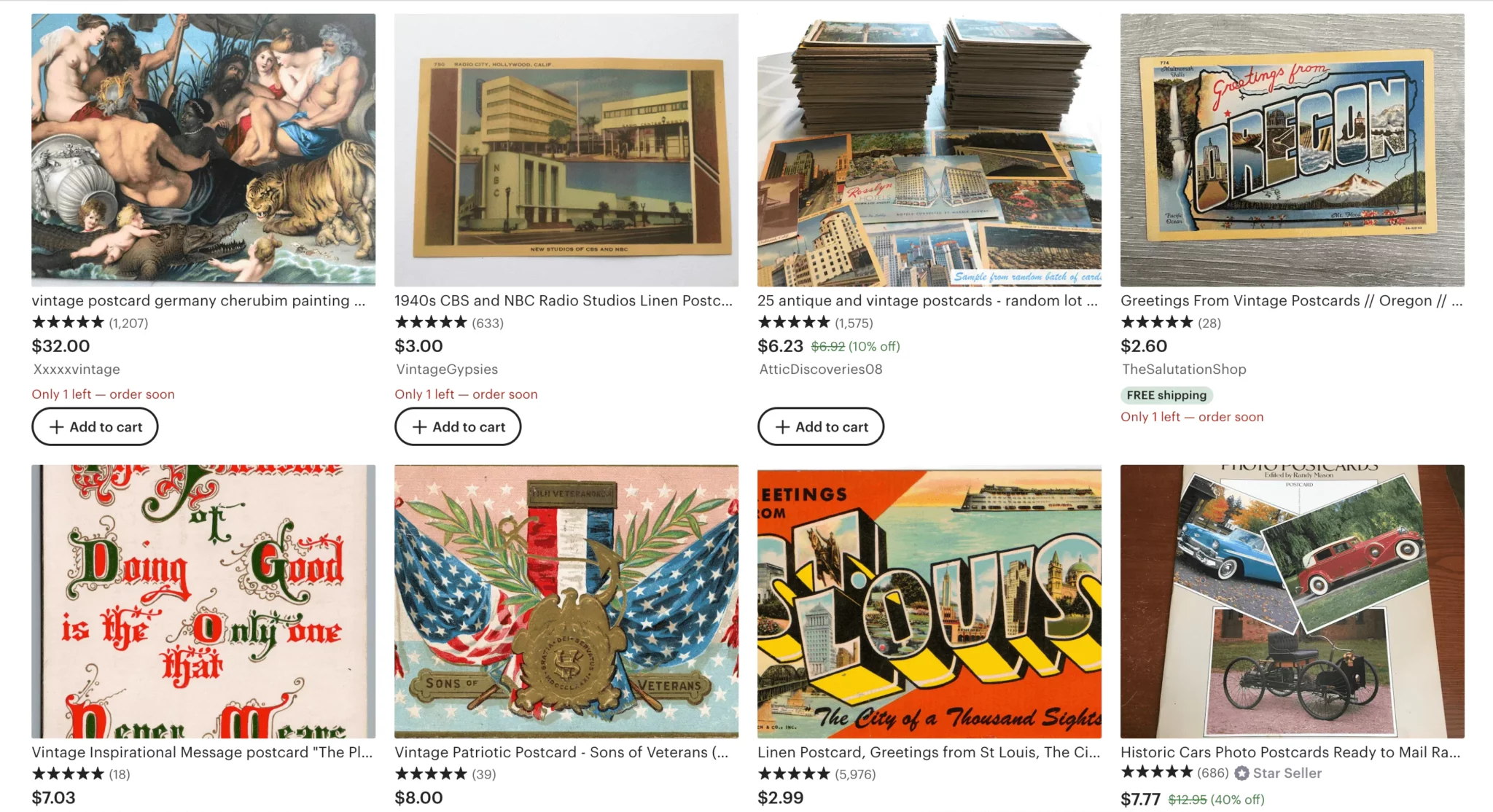 You can boost your sales by offering different kinds of offers like free shipping or discounts on bulk shopping.
Charges: There is a $0.20 listing fee and you need to pay a 6.5% transactional fee on the final price.
Related: Tips to start a successful Etsy store.
---
11. Facebook
Facebook's huge audience can be leveraged to sell you postcards online or locally.
Facebook offer two ways of selling your used stuff,
Either through Facebook market place
Or, local buy and sell groups
The Facebook marketplace can be used to list your items for sale, and you can choose to meet the buyers locally or ship your postcards.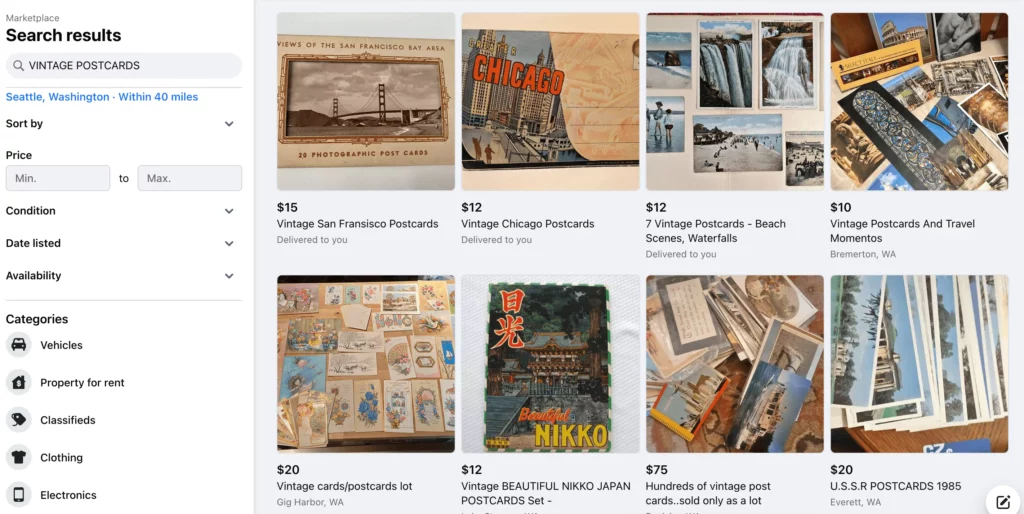 Another option is joining your city's local buy and sell group, where you can find people in your vicinity who are interested in buying your postcards.
Just request the admin to join the group and make a listing of your postcards with the expected price.
Charges: For shipping and getting payment through Facebook, you need to pay a 5% fee or a flat fee of $0.40 for orders below $8.
Best Places To Sell Old Postcards Near You
If you are not comfortable with all the online work of listing and waiting for buyers, you can sell your postcards locally and get cash instantly.
Here are a few places that buy old postcards near you.
12. Pawn Shops
Pawn shops are one of the things that comes to mind whenever we want to sell something unique or collectible locally.
These places buy all sorts of things and sell them for profit.
Before going to the shop, call them to find out if they are interested in buying your vintage postcards.
If they are interested, you can take your collection to them, and they will inspect it and will offer you a price.
If you like the price, you can make the deal and get cash in your pocket. They will always try to undercut you, so research before hand what to expect from your collection.
---
13. Yard Sales
Yard sales can be one of the options to sell your old postcards locally. Many people come to yard sales and local flea markets in search of steal deals like postcards.
If you have a large collection of common postcards, selling them in bulk at a yard sale can be a good option.
For a garage sale, you need to make preparations like sorting and arranging the cards and tagging them with prices.
You can also combine other things you want to sell and have a bigger yard sale that will attract more people.
Advertise your sale beforehand in your locality so that people turn up on the day of the sale. Be ready to negotiate politely, as most buyers will try to reduce the price.
Here are a few tips to have a successful yard sale.
---
14. Private Collectors
Selling to private collectors can be one of the options for getting top dollar for your rare postcards.
There are many groups on social medias you can join and meet local collectors who might be willing to buy your collection.
There are places like consignment shops that can facilitate a meeting between you and private collectors for a fee.
These private transactions can get you to cash fast and save money on transactional fees the auction houses charge. But to go this route, you need to have some connections in the market.
---
15. Flea Markets
Selling your postcards in flea markets can be one of the options if you have a large collection of cards.
Flea markets attract many postcard collectors and there are reasonable chance to make a profit.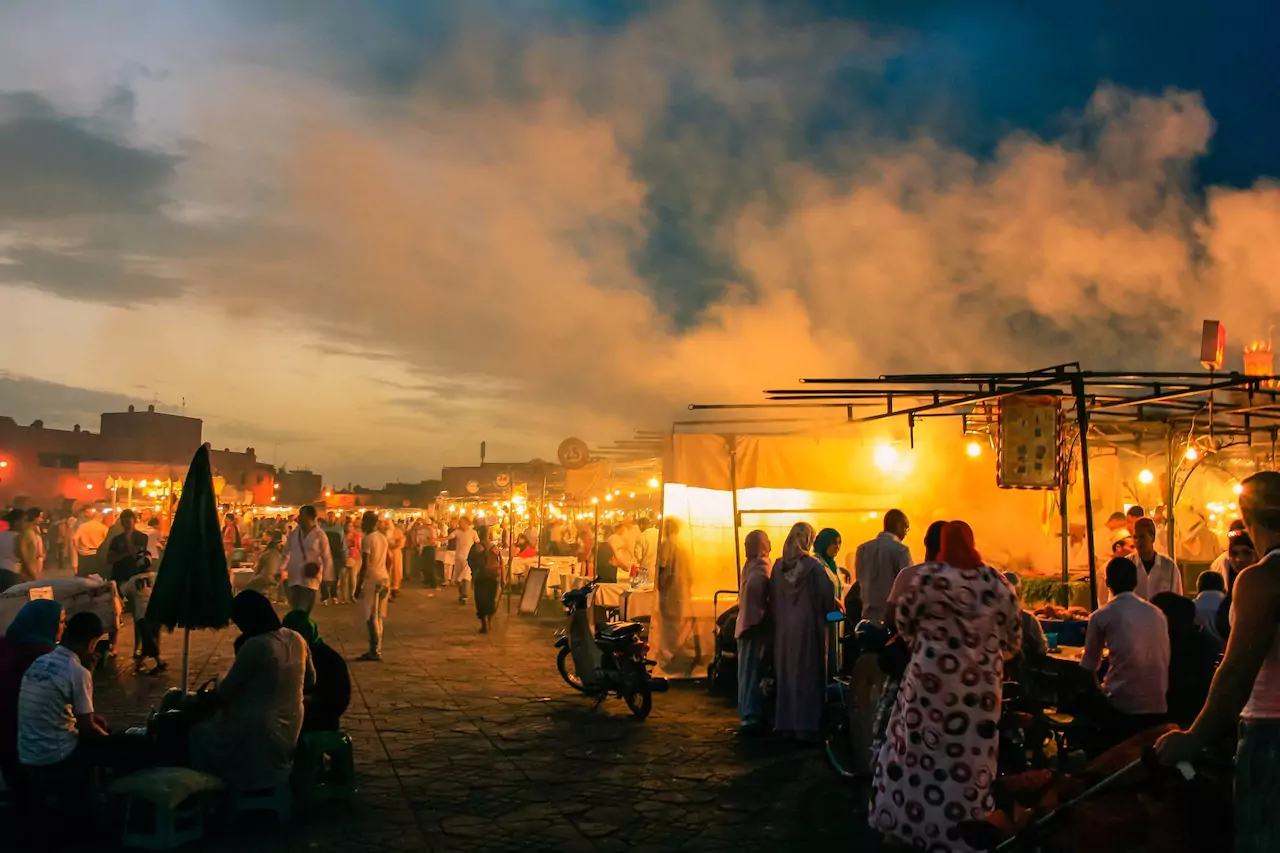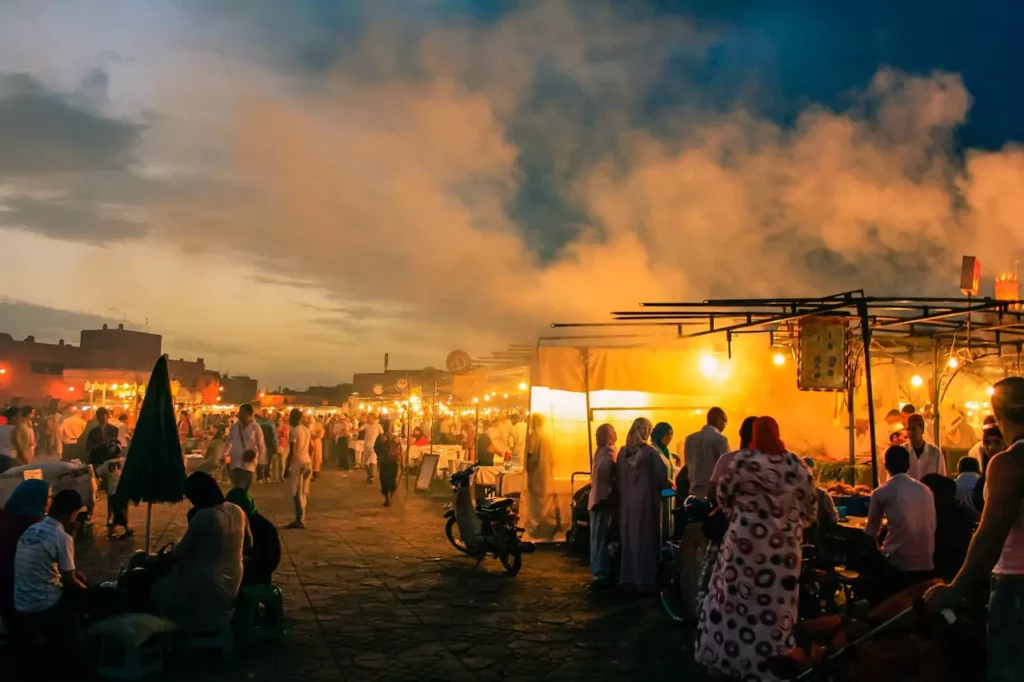 But to set up a booth at the market, you need to pay a fee which can vary from a few dollars to a few hundred dollars depending on the market status.
If you can sell a large number of cards, then paying the fee can be worth it.
Factors That Affect The Price Of Your Postcards
The value of your postcards have depend on a few factors like:
Age: Older cards from the victorian era to the pre-1920s are generally more valuable. Halloween cards from 1908 and 1930 are unique and are highly sort after
Topic/Genre or Location: Photo postcards are more valuable and are in demand. Photos of small-town views are typically rarer than large cities and have high collectible value. Rare topic cards and bizarre postcards are also more valuable than the common ones. Generally the topographical postcards and cards with social history are worth more
Publisher, Artist, or Photographer: If the artist or subject of the card is a famous person and their postcards are rare, you will surely get more for that card
Condition: Clean and mint-condition postcards are most valuable. If the postcards were mailed and had a time stamp, they might be more favorable in some cases. However, folds, rounded corners, creases, and rough edges will decrease the price
Demand: A few groups of cards are more in demand than others due to various reasons like availability or the person on the card or the context of the postcard
Country of origin: A few cards from places where the cards were rarer are more valuable
What Kind Of Postcards Are Worth Money
The postcards that are over 100 year old are valuable and are worth money.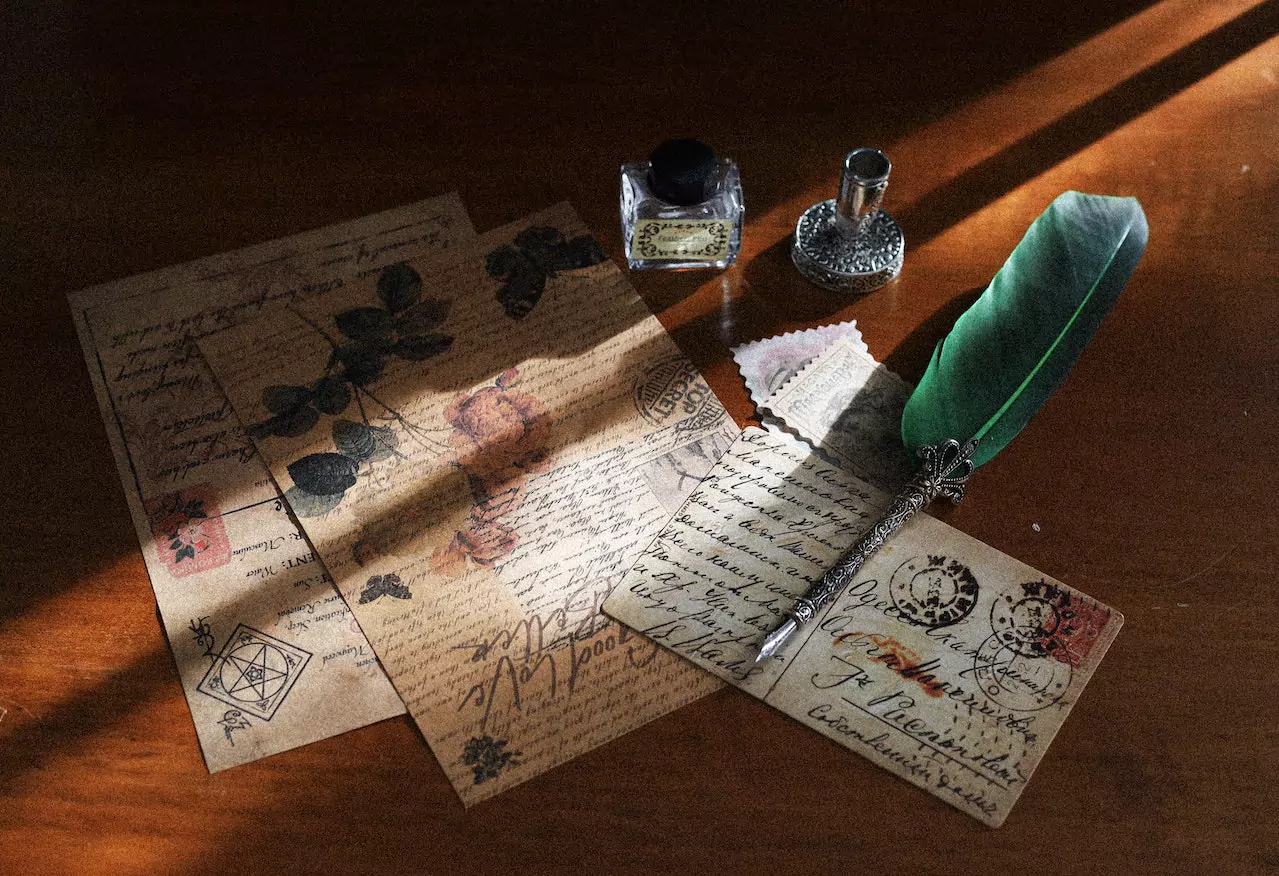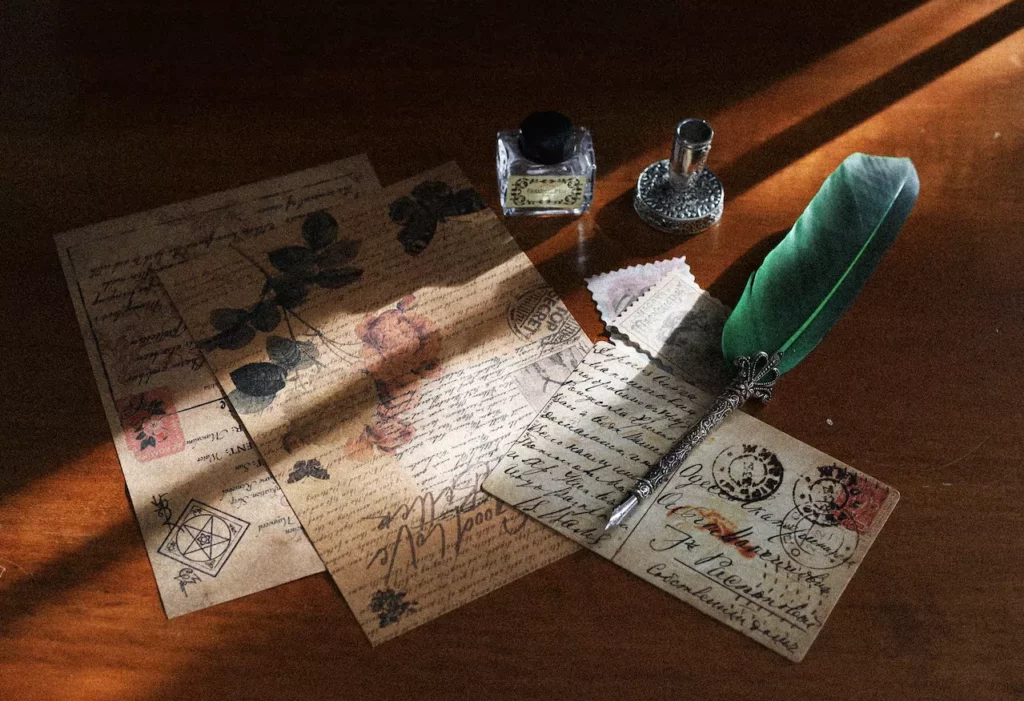 Mostly postcards depicting historical events and unique places like small towns are worth good money.
Postcards with real photos or RPPCs that were created using photographic techniques are rare to find and are more valuable. These include real candid photographs on negatives developed on postcard-size paper. They don't have printed dot patterns but were harder to develop and thus are available in limited numbers.
Other postcards that are worth money include:
Postcards that are part of a series covering some events or locations
Postcards with special features like gold leafs or embossing
Cards that have unique messages
Postcards autographed by famous people
Postcards with special cancellation or other postal marks
Postcards with places that no longer exist or have completely changed
Cards from the era of war or revolutions
Ultimately the value of a postcard depends on the demand. If the collectors are interested in that type of card, you can make money selling it.
How To Sell Used Postcards For Maximum Profit
When selling your postcards, keep these things in mind to get maximum bucks for your collection.
Do the research: As with anything you sell, you need to be aware of the market conditions and how much price similar items are getting. By looking at their sales, you can get a fair idea on what to expect
Take good pictures: Selling online is a visual art, and you need to create eye-catching listings with images that accurately show your postcards
Describe accurately: The postcards with higher values have some history attached to them. If your postcard is unique and has historical significance, make sure to highlight it. Also describe the condition of card accurately with any defects so that buyer is not disappointed when they see the postcards
Set realistic price: When pricing your cards, you need to look at the competition and price your cards competitively. If you price your cards too high, you might not get any buyers
Try multiple platforms: Most of the websites listed above provide a free appraisal. Try to get quotes from multiple places to find out which one gives you the maximum value
Make Some Cash With Your Collection
Selling your postcards can get you some extra cash. Even if it is a small amount, it is better than nothing. If you have inherited a collection and you are not particularly keen on collecting postcards, the above places can be your best bet to get money for selling that postcard collection.
On the other hand, if you are an avid collector and are not yet ready to part ways with your collection, you can keep on holding them. Many collectors pass on their collections as inheritance without selling them. If you are one of them, there is no problem with that.
If they are valuable now, most probably, they will continue to increase in value. You can pass them on and let the next generation decide what to do with them or sell them when you need cash.
Here are more ways to make money:
FAQs
Who Collects Old Postcards
Many people collect vintage postcards for a variety of reasons. These postcard collectors or enthusiasts collect these cards for their historical value, for art, for special persons or places on the card, or for the message written on them. It is a hobby for many people, and a few people even specialize in collecting some particular types of postcards, like from a specific time period, a location, or a theme like Halloween cards.
Do Old Postcards Have Value
Yes, old postcards from earlier than 1930 have value. But not all old cards are valuable. Their value also depends on factors like condition, subject matter, and rarity. A few cards have more demand among collectors and thus high value. The best way to check if your old postcard has value is by consulting an appraiser and getting a value estimate for your postcards.
Why Do People Buy Postcards
People buy postcards for a variety of reasons. A few of these reasons include:
As a souvenir to remember the place or experience
As a hobby for collecting rare and valuable postcards
For investment to increase value in long term
For flipping to make a profit by buying low and selling high
People buy postcards for all of the above reasons, and if you have a collection you want to sell, there is a large audience.
Sumeet is a Certified Financial Education Instructor℠ (CFEI®) and founder of MoneyFromSideHustle. He is an experienced side hustler who replaced his full-time income with side hustles. His work has been quoted on major finance websites like CNBC, Yahoo! Finance, GOBankingRates, CEOBlogNation, SideHustleNation, and more. He has helped thousands of people find side hustles and is here to help you find your extra source of income. More about him.