This post may contain affiliate links from which I may earn a commission without any cost to you. Read our policy for details.
If you have been sitting on a treasure trove of old stamps but are unsure of how to sell them? Look no further. Here I will discuss all the best places to sell old stamps for money.
Stamps have a long history, with the first stamp dating back to the 1840s. The use of stamps has declined hugely due to electronic communication, but still, the world of stamp collection is alive.
Many stamp collectors are always on the hunt to buy valuable and unique stamps. There is even a term for the collection and study of postal stamps, "philatelic." You can find many places and people who buy stamps near you or online.
From online marketplaces to auction houses to local stores, you have endless options for selling your stamp collection. But where to start? In this article, we will explore the best places to sell old stamps and how to sell stamps for maximum value.
So let's get started.
High earning surveys
Easy-to-use website
Many ways to earn
Where To Sell Old Stamps
When it comes to selling your old stamps, you have two options. You can either sell them online for maximum value, or you can sell them locally for quick cash.
Sell Stamps Online On Specialty Stamp Websites
Selling your rare collectibles like vintage stamps online gives you more options and the highest returns. You can either sell on generalized marketplaces like eBay, discussed later in the article, or use specialized sites that only deal in stamps or rare collectibles.
The advantage of using specialized sites is that you get a targeted audience that is already interested in buying old collectibles. On the flip side, the number of eyeballs is less on these sites. These specialized sites either buy old stamps themselves or facilitate transactions between users, and a few of them are auction houses for rare collectibles.
1. West Coast Stamp Company
West Coast Stamp Company is a stamp-buying place that started in 1989 in California. They buy all sorts of stamps, from individual vintage stamps to whole collections.
To date, they have paid 100 million dollars to people for buying stamps.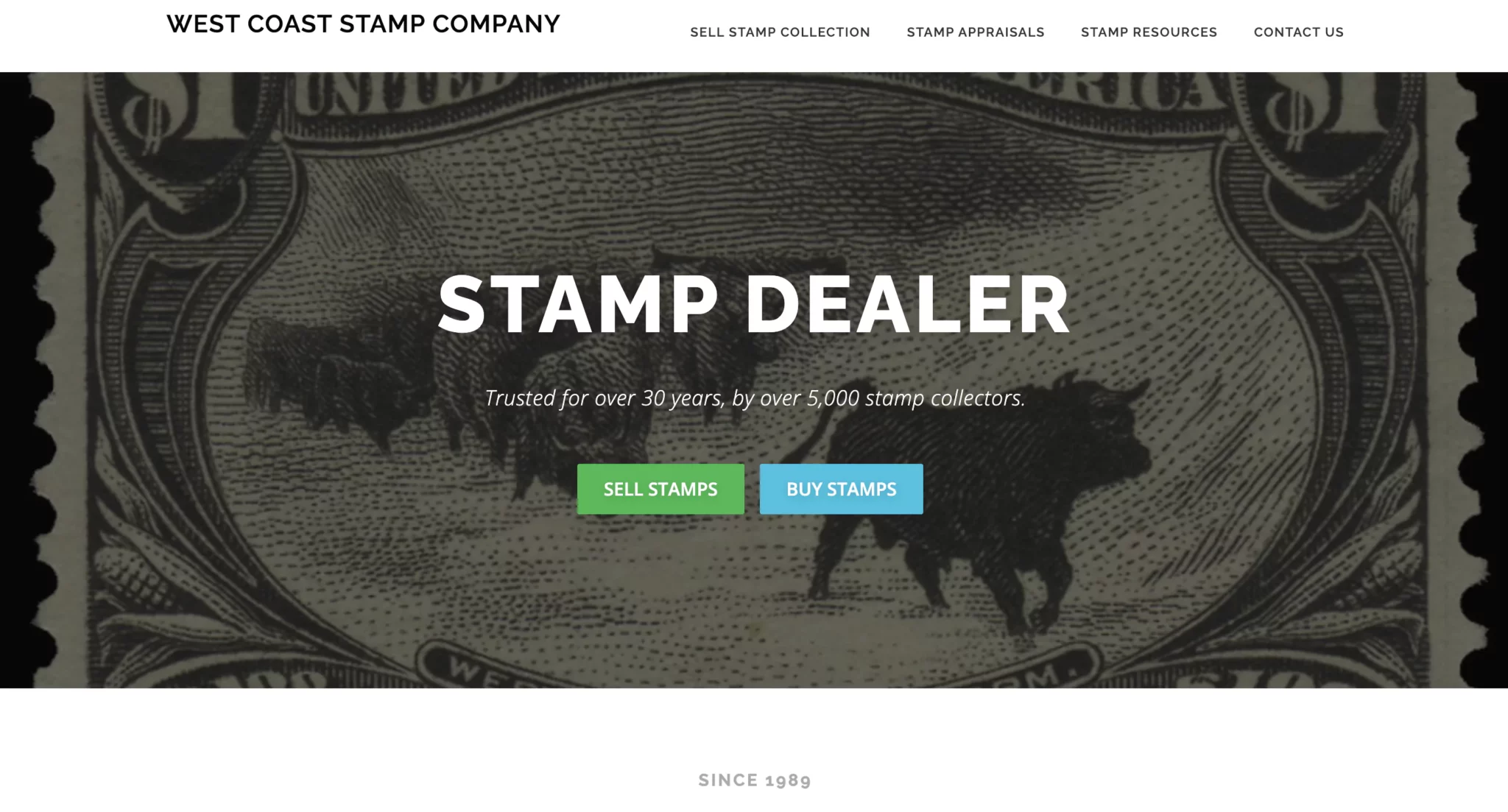 You can get a no-obligation free appraisal from them. That means if you are unsure how much worth your stamps are, just give them a call or fill in the form and they will quote you a price for free. And the best part is you are not bound to sell to them.
If you are interested in selling to them, you can ship your stamps for free with insured shipping. Or they can also arrange home pickup if you have a big collection.
Once they get your stamps and inspect them, you will get paid the same day through a wire transfer.
---
2. Warwick & Warwick
Warwick & Warwick is UK based auction house that specializes in doing auctions of rare collectibles like postcards and old stamps.
They have been in business since 1958 and do monthly stamp auctions with a regular customer database.
If you have rare old stamps you want to sell, just contact them, and they will help you with the process. You can even get a free professional appraisal without any obligation to sell.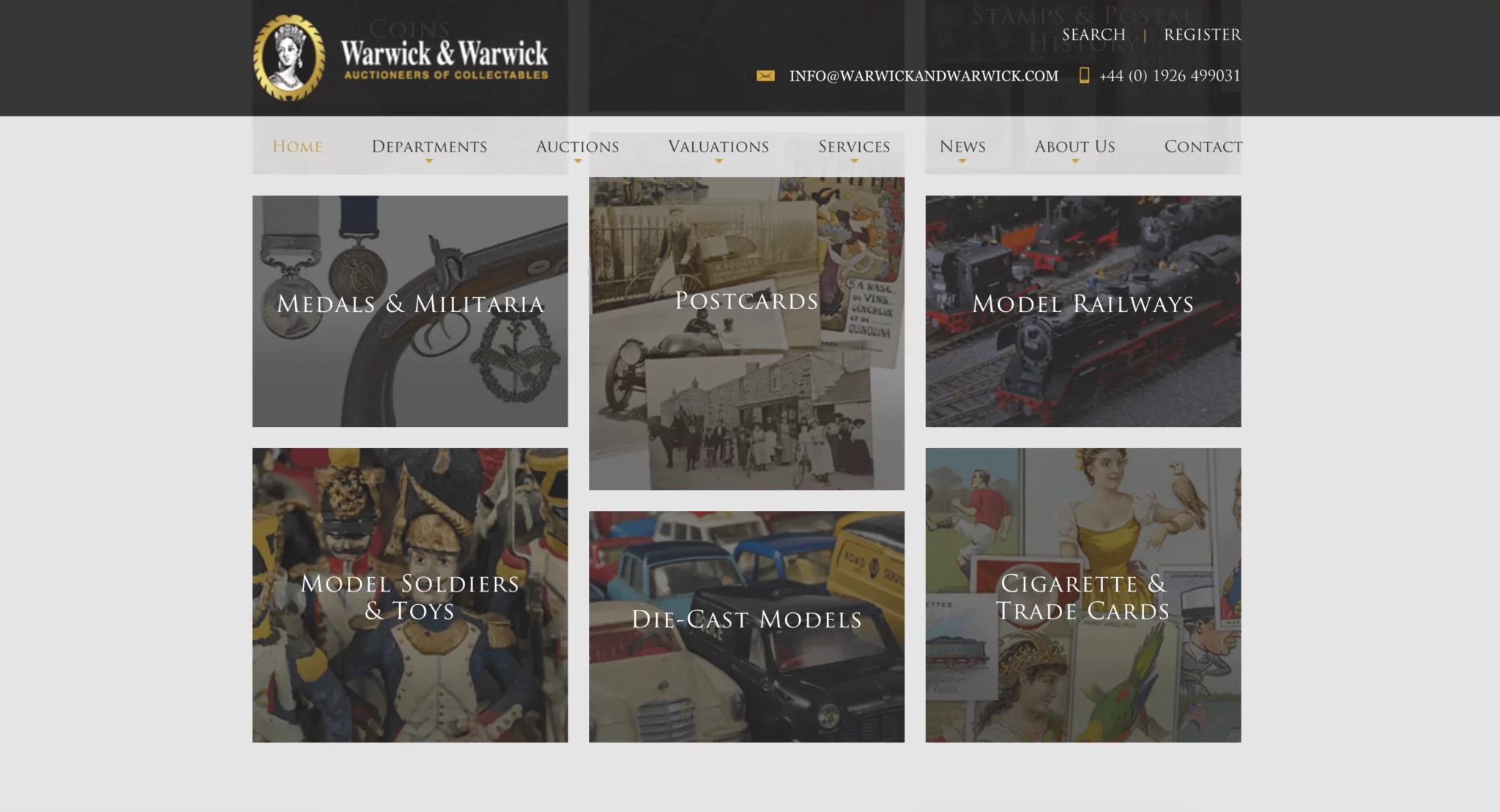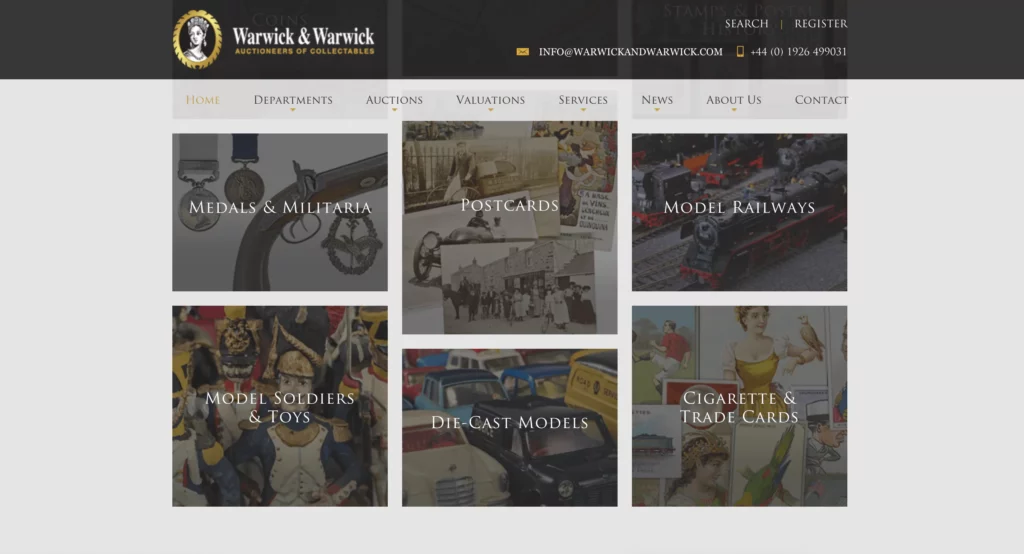 Most famous stamps that sell well on the platform include revenue stamps, fiscal stamps, far eastern issues, and British commonwealth collections, to name a few.
Other than postal stamps, they also sell proof materials, covers, and other postal history items.
You can get the valuation on call or visit one of their offices after the appointment. The big collectors can call their team to home for valuation or selling.
---
3. Mystic Stamps
Mystic Stamps has been in business since 1923, and they are one of America's largest stamp buyers. According to their website, they have paid over 72 million in the last five years.
Both amateur stamp enthusiasts and experienced stamp collectors can use this platform to sell their old stamps.
You can fill up the forms available on their website with all the details about your stamp collection, and they will contact you back with a valuation.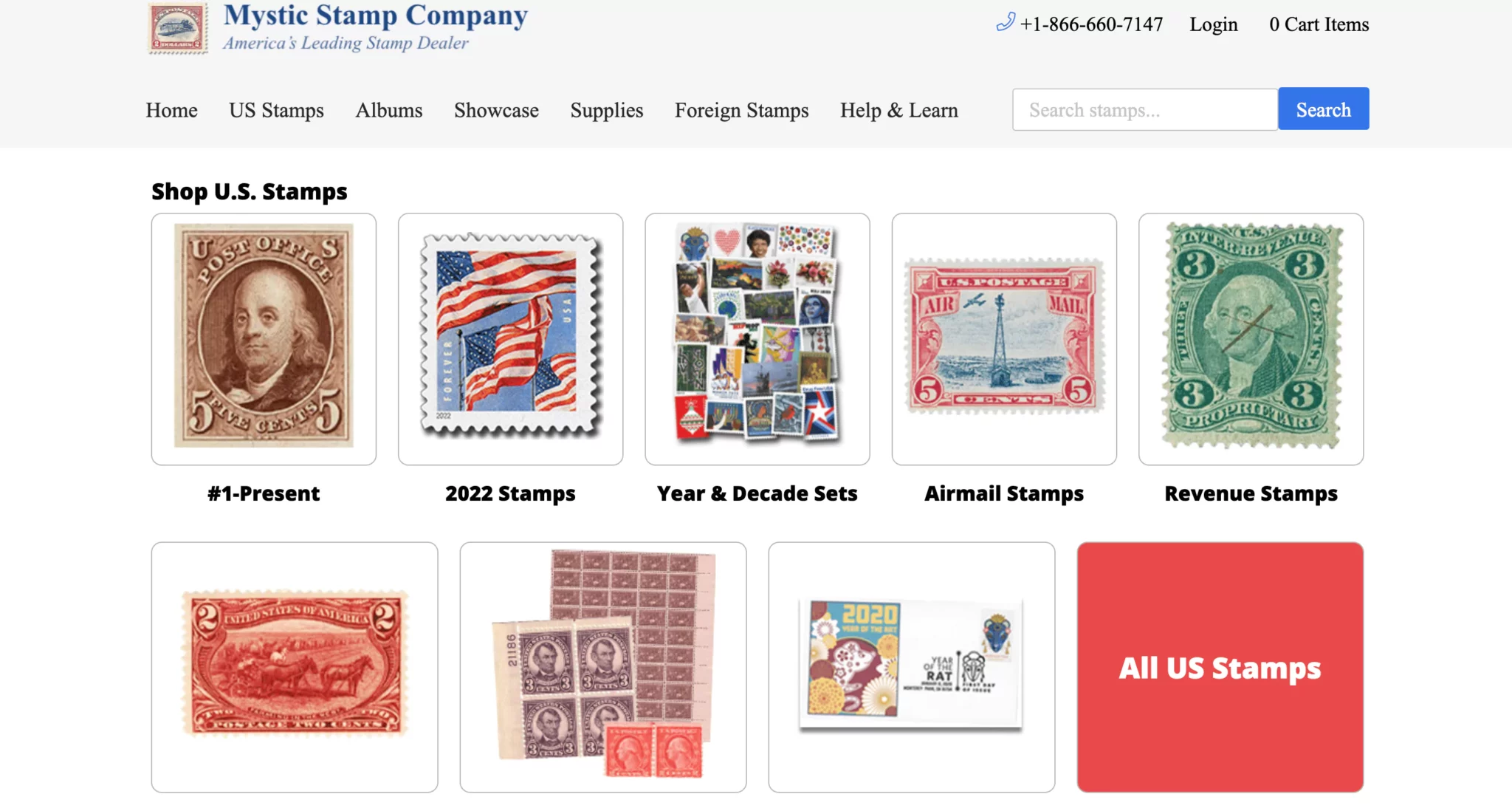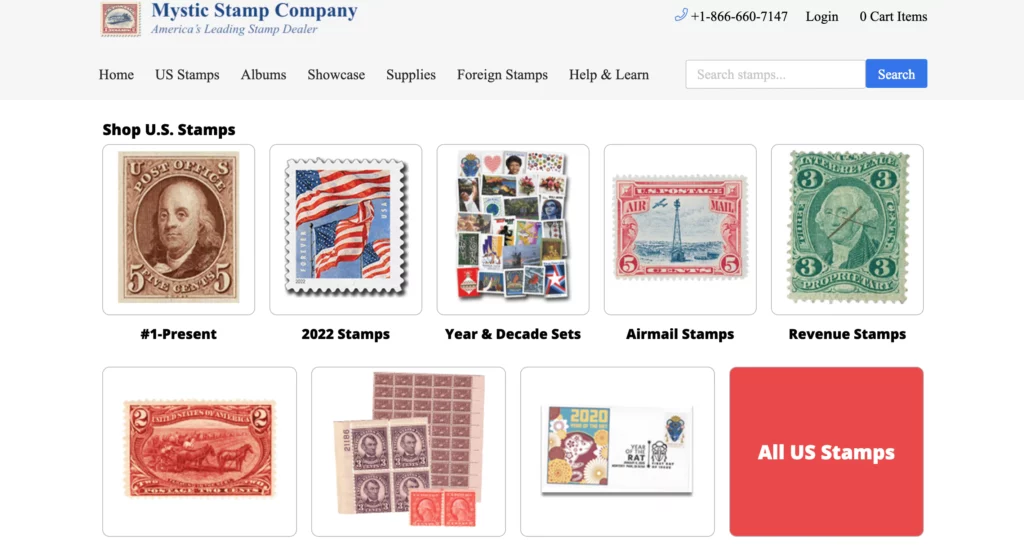 You can ship your collection after careful packaging with a lot of packing material so that there is no damage in transit.
They will evaluate your collection, and if you decide to sell to them, you can get paid. They claim to pay full market value on the spot.
If you are an enthusiast about US history, you can download their app for regular history trivia.
---
4. Sotheby's
Sotheby's is a great place to sell stamps of high value. They specialize in selling rare vintage collectibles. Depending on what you have, they offer four different ways of selling.
Consignment
Private sale
Buy now
Sell at retail place
Just contact their team with all the relevant details asked in the form, like photos and history, and they will contact you for further details. They will advise you which is the best way to get more value for your collection.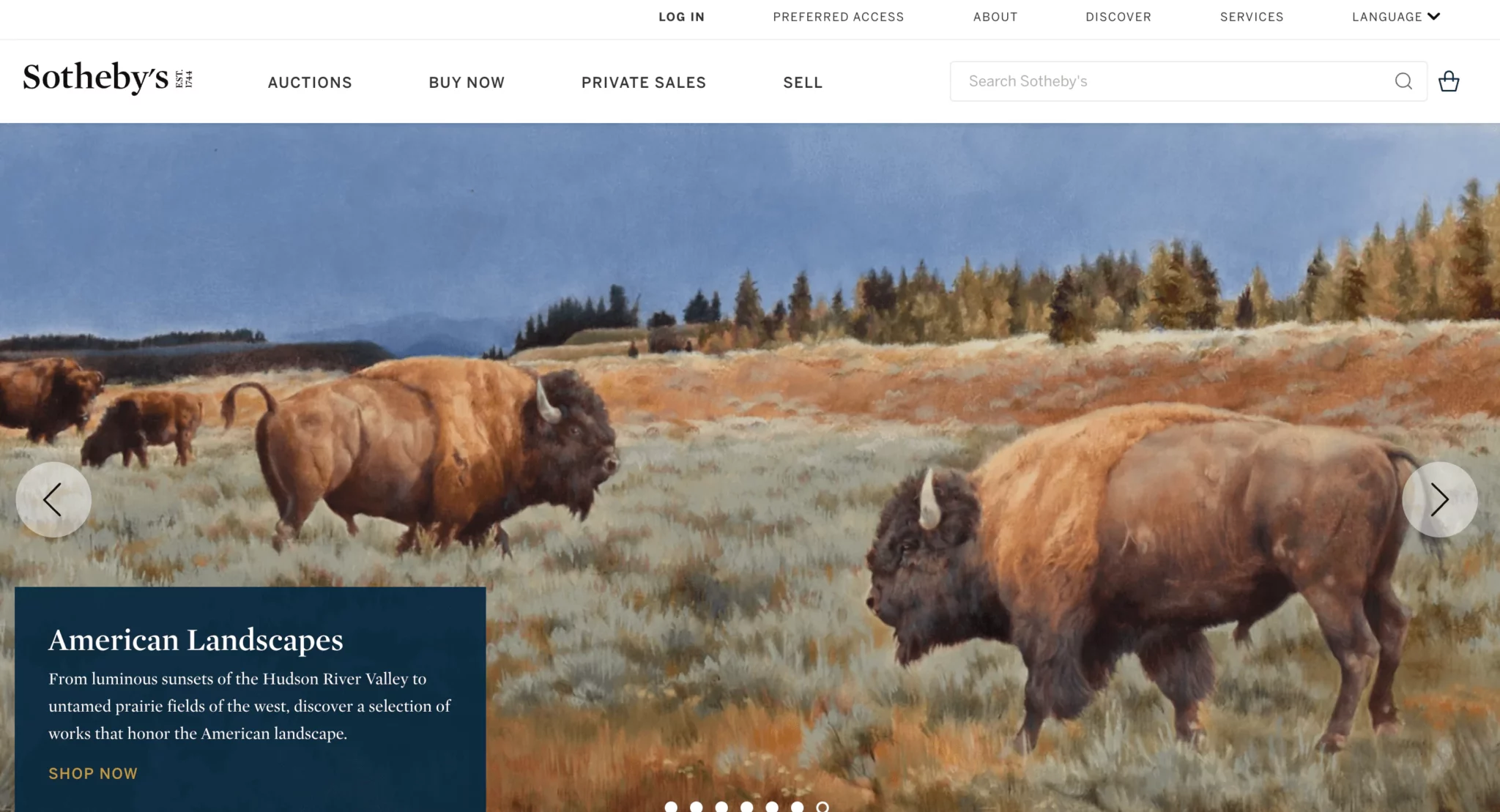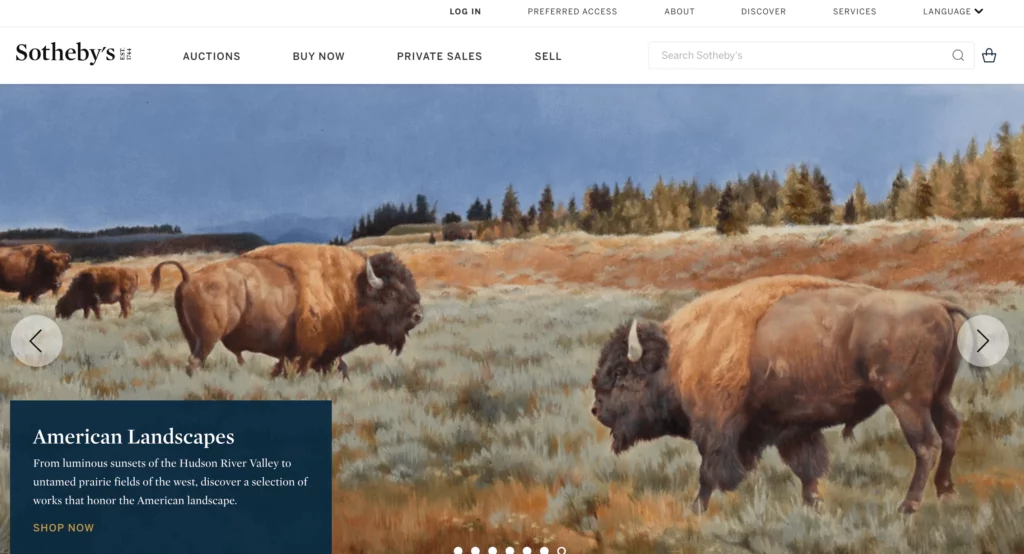 They will also get an estimate for free. If you want instant money, you can just sell to them outright, or if you think the auction is the better option, then you can opt for their consignment service with a fee.
If you are ready to say goodbye to your valuable collection, just ship it to them and get paid.
---
5. Delcampe
Delcampe is another UK-based marketplace for collectors to buy and sell rare and vintage collectibles.
At the time of writing, they had around 85 million items for sale, and out of them, 28 million were stamps. With so much inventory and over a million visitors per month, a large number of stamp exchanges happen on the website.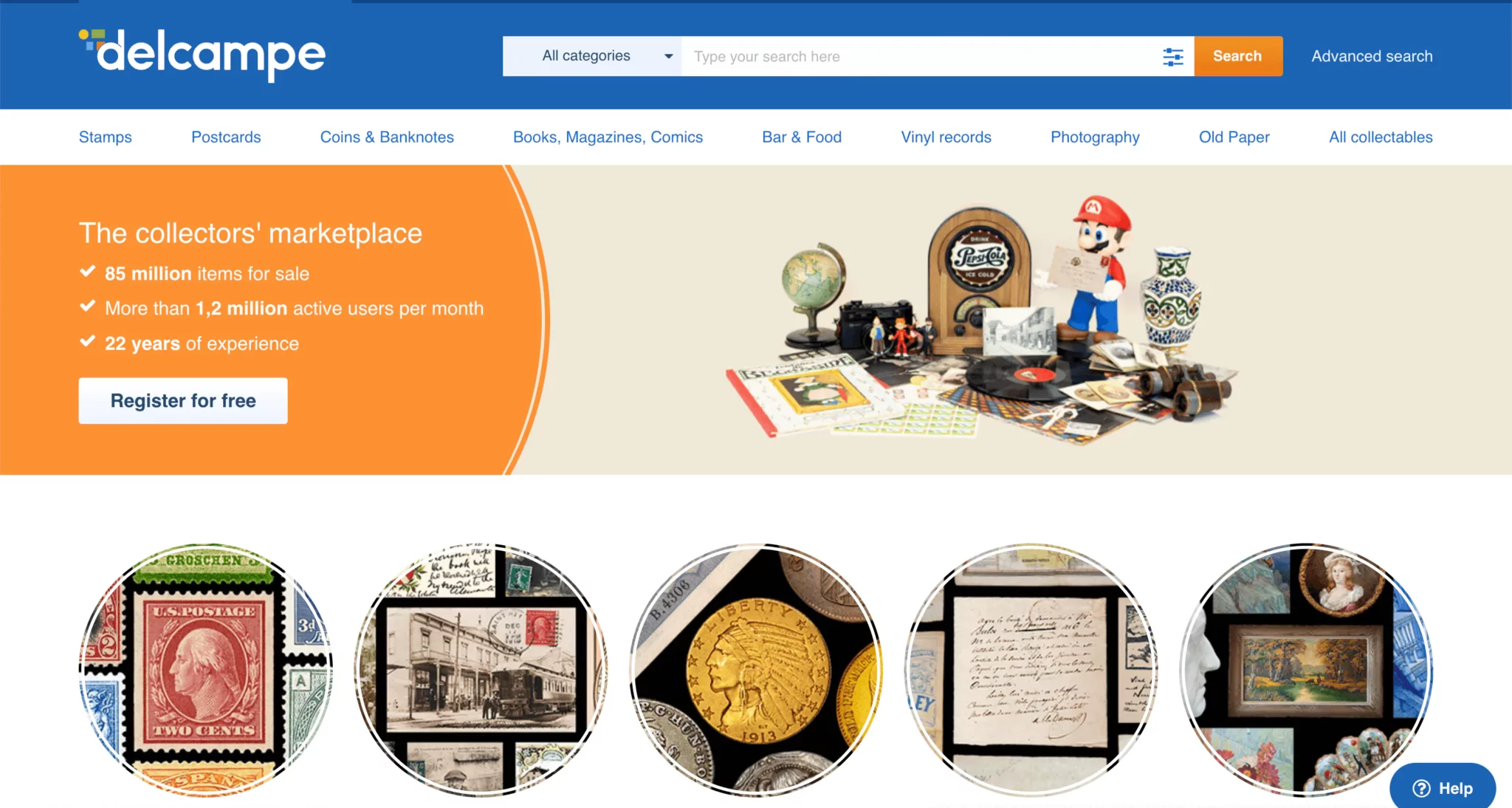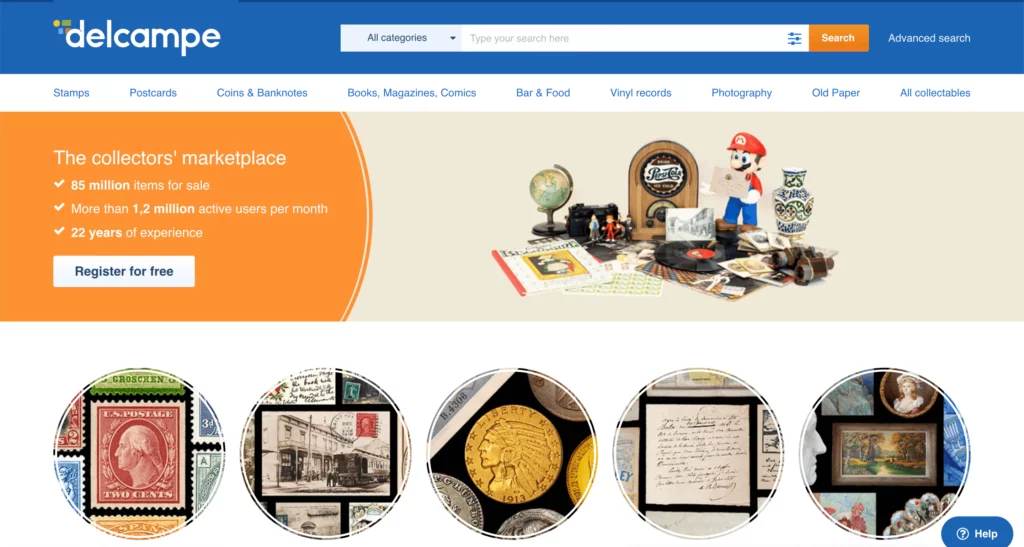 Selling on the platform is simple, you just have to list your stamps with all the details, like photographs and descriptions, and submit it.
Once it is active on the site, any visitor can see it and bid for it. Once a buyer wins an item, you need to ship it within a few days with secure packaging.
Charges: All the sales for the month are combined, and a maximum of 6.5% of total sales is charged in a tiered manner plus 0.23 euros per item sold.
---
6. Apfelbaum
Apfelbaum is a place that buys and sells stamps, and they have been doing it since 1910.
You can contact them for a free appraisal and get expert advice on your collection. Ship your stamp collection for free, and they will pay you the best value once they have evaluated the collection.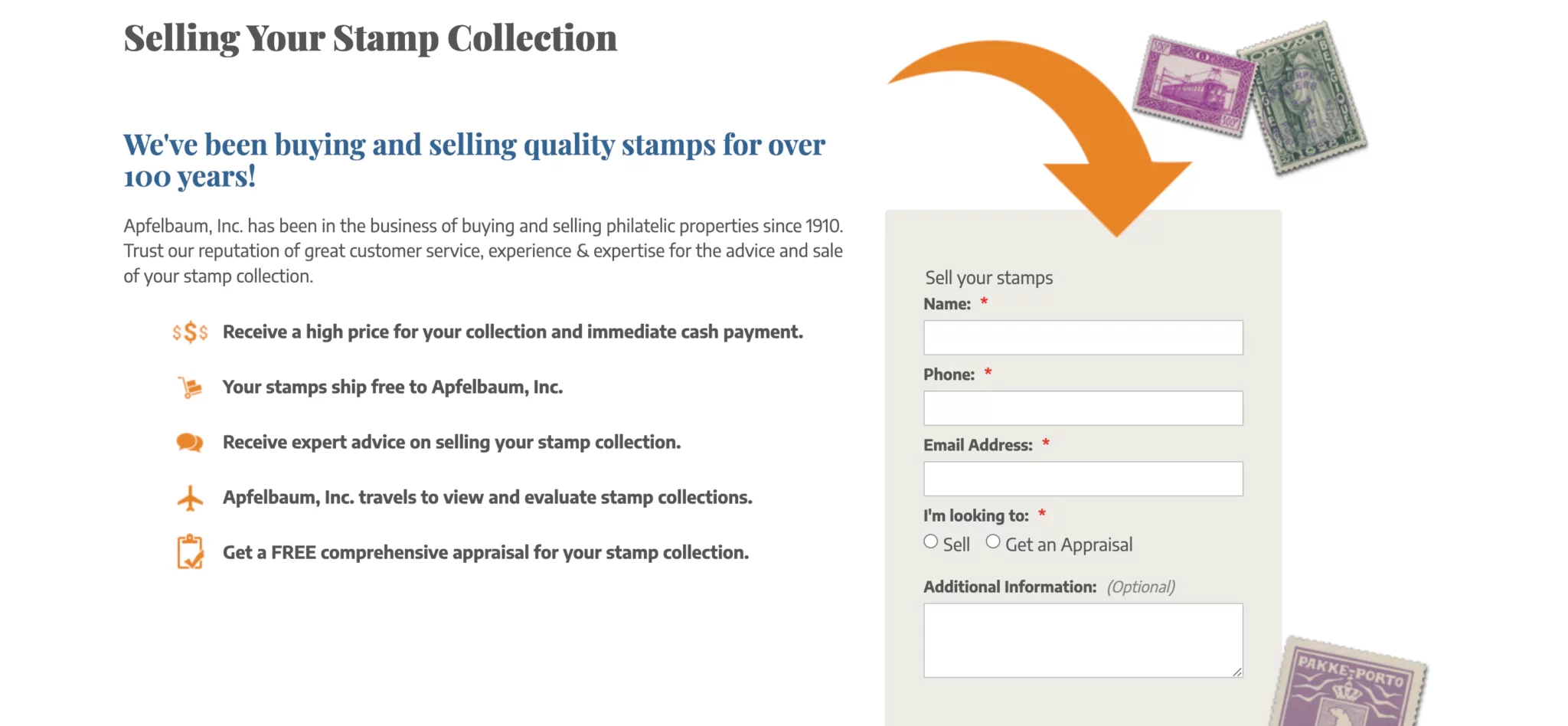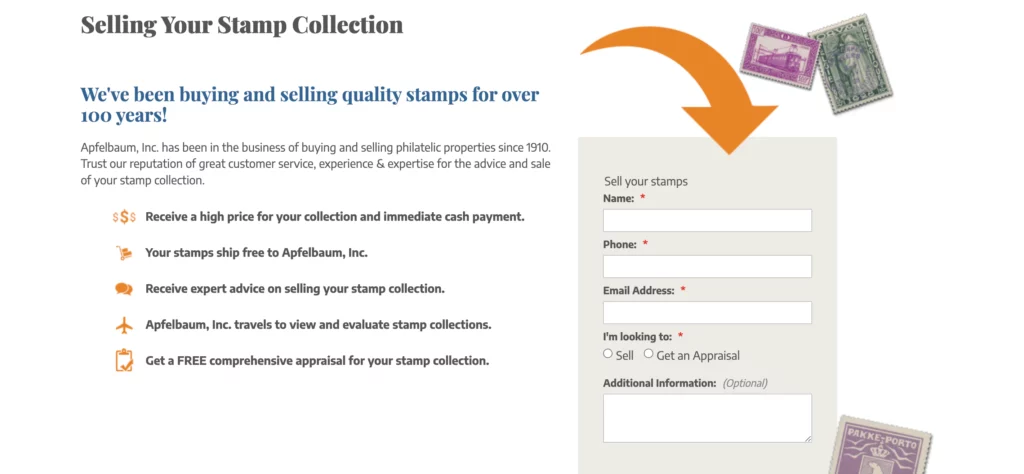 If you have a large collection, they will even travel to your place for appraisal and buying.
Once you are ready to sell with them, you can ship your stamps to them free of cost. Do proper packaging and contact their team, and they will provide you with a free delivery code for UPS postage.
---
7. Sandafayre
Sandafayre is a reputed name in the stamp industry, and you have two different options for selling through them.
Sell to them directly
Consign for auction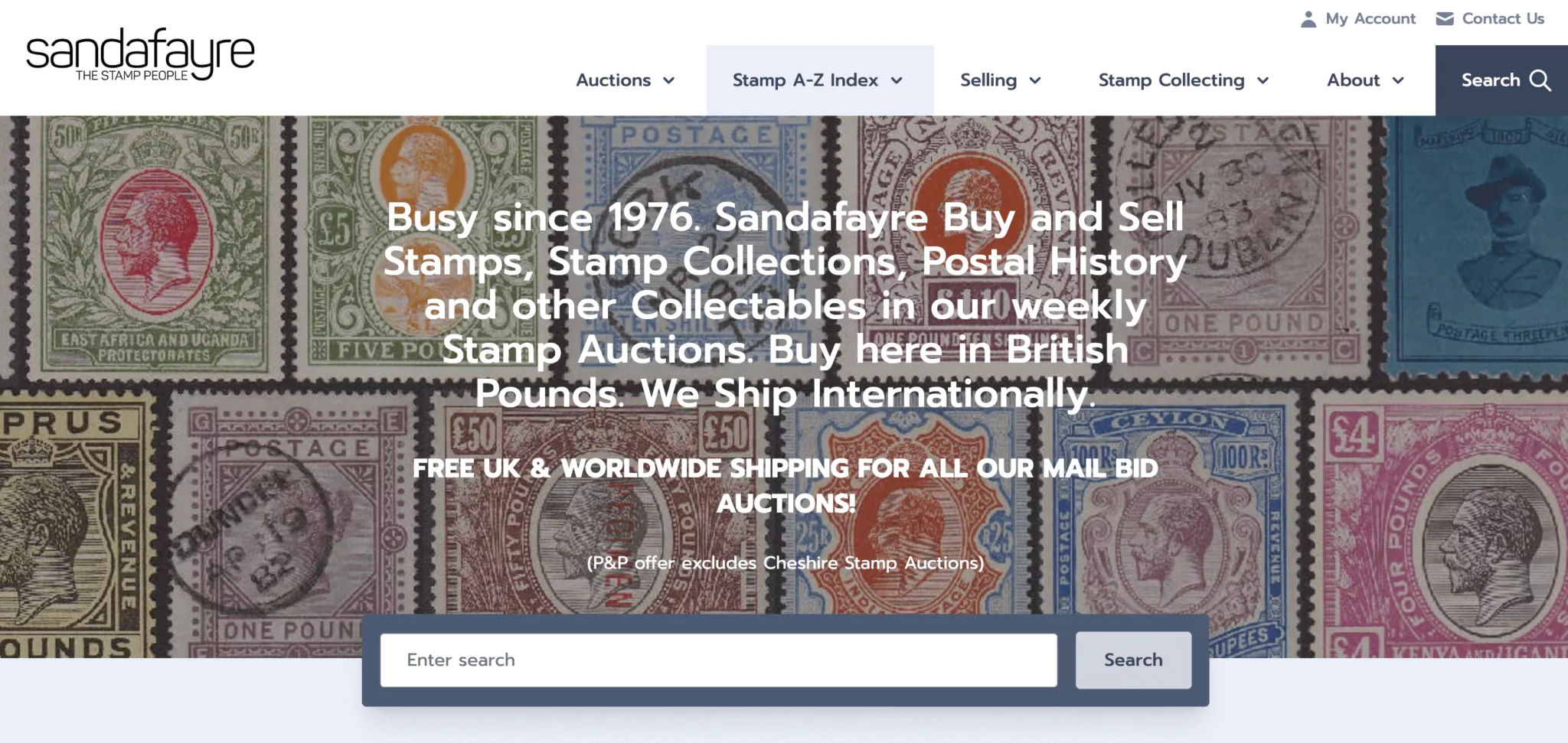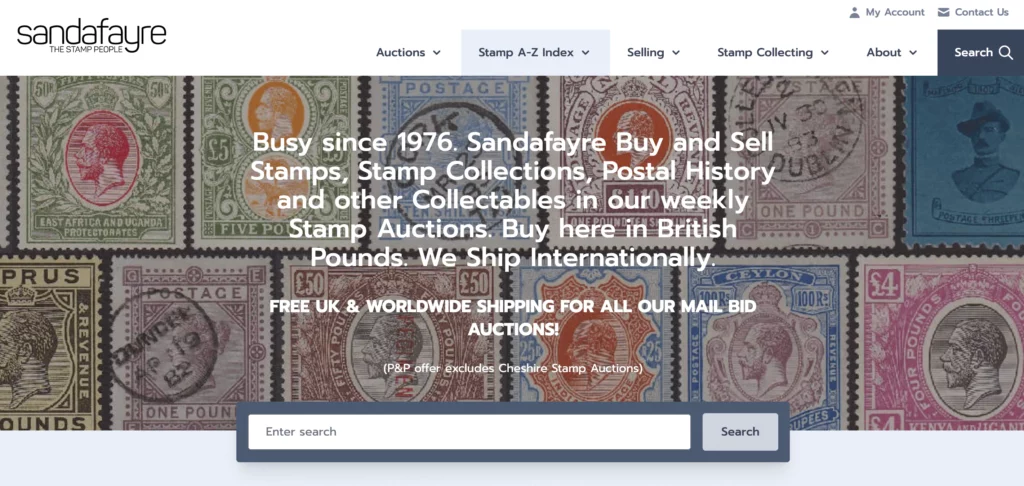 To get started in the process of selling your old stamps, you need to provide details of stamp collection for an evaluation. They provide three options for doing that.
Send your collection images and description to them for appraisal
Ship your stamps and get an evaluation
Take your stamps to their physical office
Either way, you will get an estimate of how much your stamps are worth. Then you can decide if you want to get the money instantly or put up your stamps for one of their regular auctions.
Their philately auctions are done in the UK and also aired online so that anyone can participate in them. Once your items are sold, you get paid after some days, and they keep a commission.
---
9. Miller's Stamp Company
Miller's Stamp Company buys old stamps, and they use Scott Catalogues as a guide. They pay 60 to 65% of retail value for stamps in good condition.
If you want to sell your stamps to them, you can send them the pictures for a free quotation. Or you can ship them your collection after taking the approval. Another way to get your collection appraised for free is by visiting their office after making an appointment.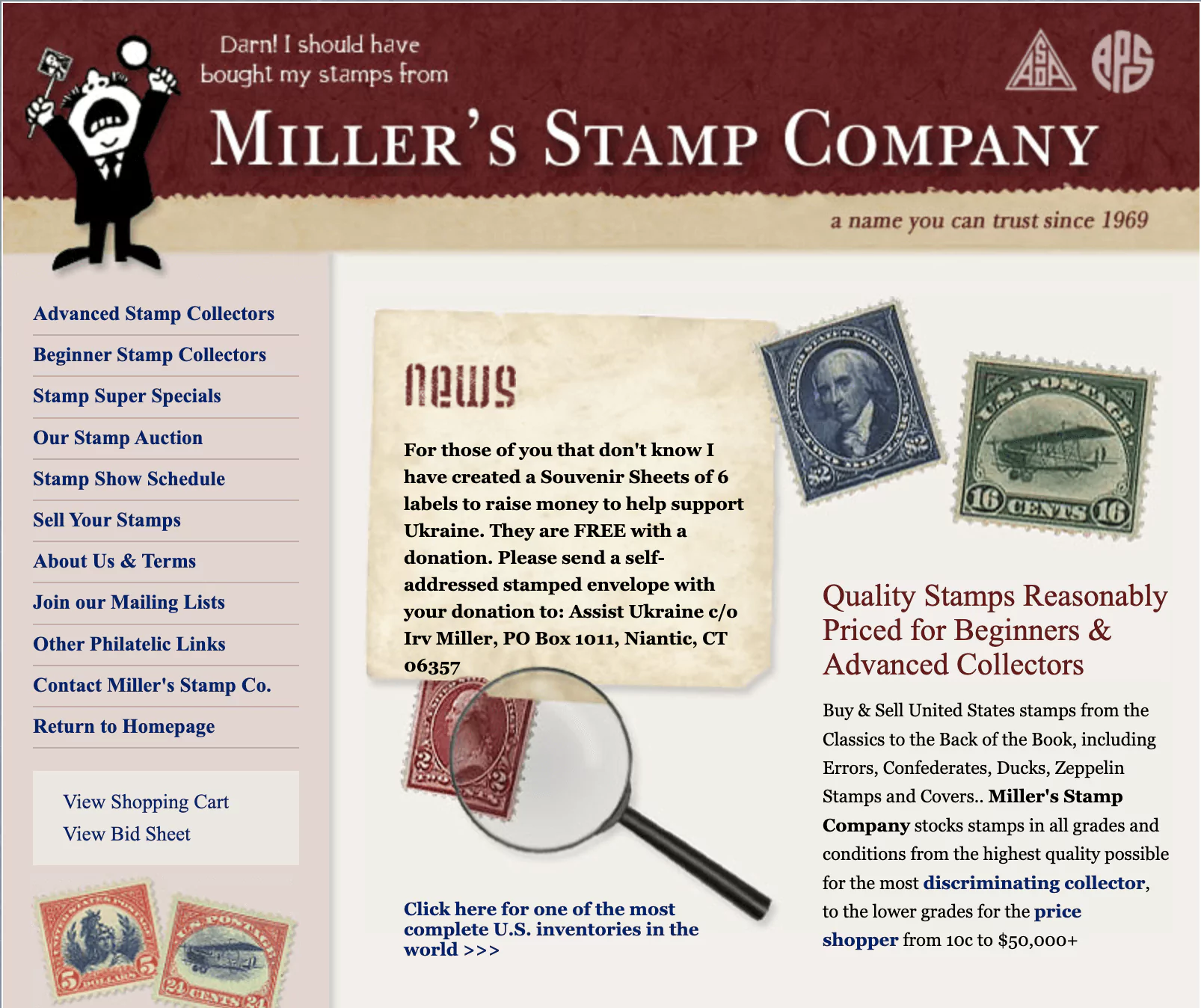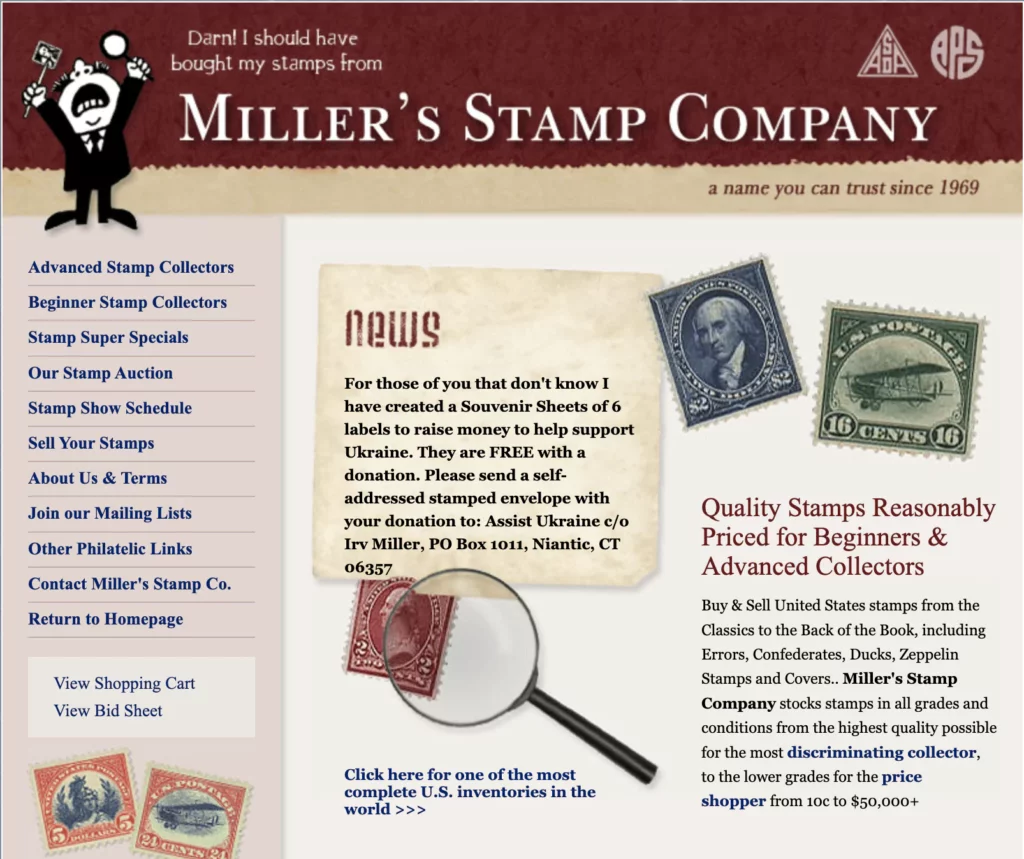 You need to provide details like if your stamps are:
US or foreign
Mint or used
Single or blocks
In album or loose
Their age
Once you provide all these details, they will give you a quote. If you like the price, you can sell your stamp collection to them for instant cash.
General Online Marketplaces
If you want to get in front of millions of people, general online marketplaces like eBay can be your best bet. You can reach a wider audience worldwide to sell your stamp collection.
10. eBay
eBay is one of the biggest names in the online selling world. Anything starting from used electronics, and Funko Pops to used clothes can be sold on the website. There are thousands of categories of things sold on the platform.
So how to sell stamps on eBay?
You can sell your stamps on this website with a little effort. To start the process of selling, you need to make a seller account, and after that, you can make 250 listings for free. as with any online selling platform, you need to use good images that describe your stamps accurately.
Describe your stamp with the right keywords, so that interested buyers can find your stamp.
You have two options to sell your stamps, either through fixed price or by auction. Auction eliminates the need for pricing your item right, you just have to provide the starting price.
Either way, when your stamp is sold, you need to ship your items securely, and when the buyer gets their items, you get paid.
Charges: Most categories of items attract a fee of 12.9% on the final price and $0.30.
---
11. OfferUp
OfferUp is another website that you can use to sell your collection of stamps, either online or offline.
If you choose to sell locally, you can set up a meeting place and exchange your stamps with local collectors near you.
On the other hand, if you choose to ship, you need to handle all the shipping processes and securely package your stamps.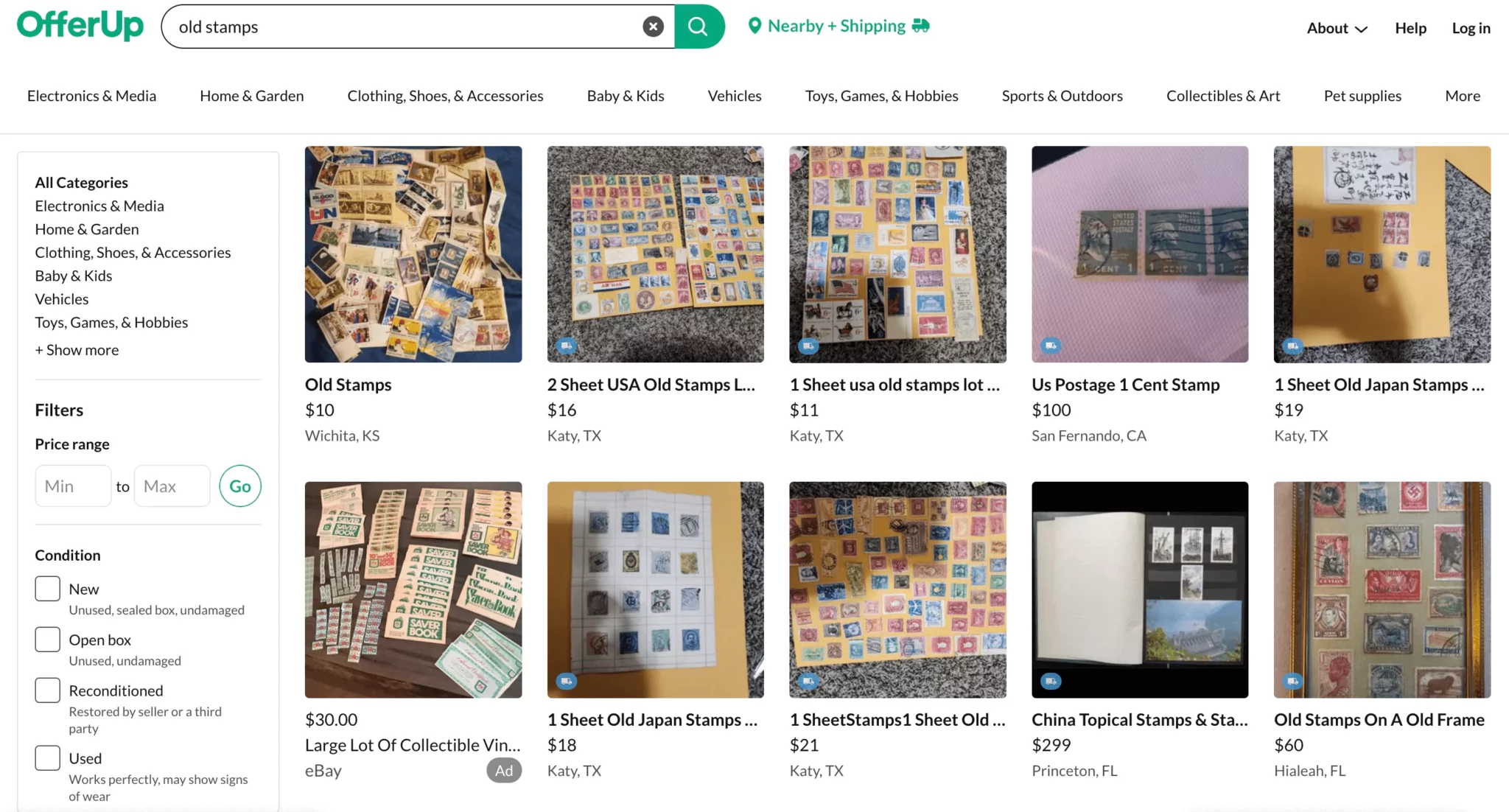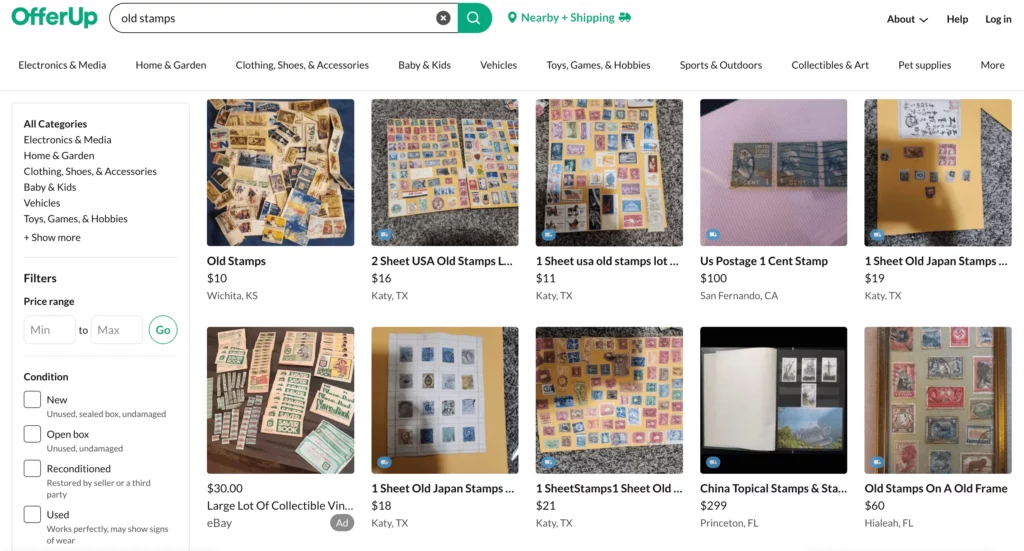 Create a listing on the platform and wait for the buyers. If anyone asks you questions, you should be prompt in replying.
After the deal is done, ship your stamps to get paid. And when selling locally, always accept cash.
Charges: Selling locally is free, but if you are using shipping and their payment services, you will pay a fee of 12.9% on every sale.
---
12. Craigslist
Craigslist is an online classified marketplace where users can list anything for sale. If you are wondering where to sell stamps near you, craigslist can help you find buyers.
Just make a listing with multiple images and all the relevant descriptions, and anyone interested can contact you.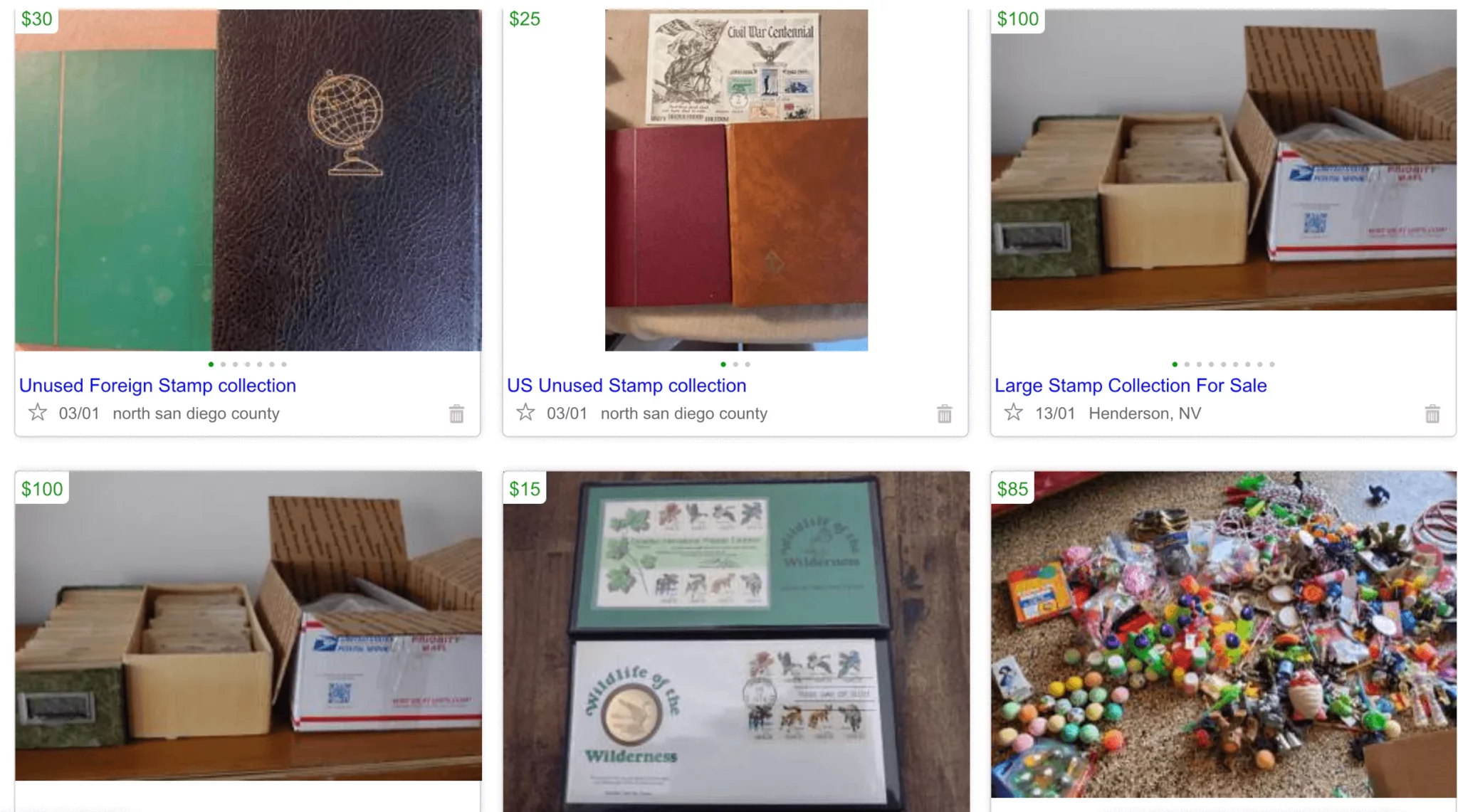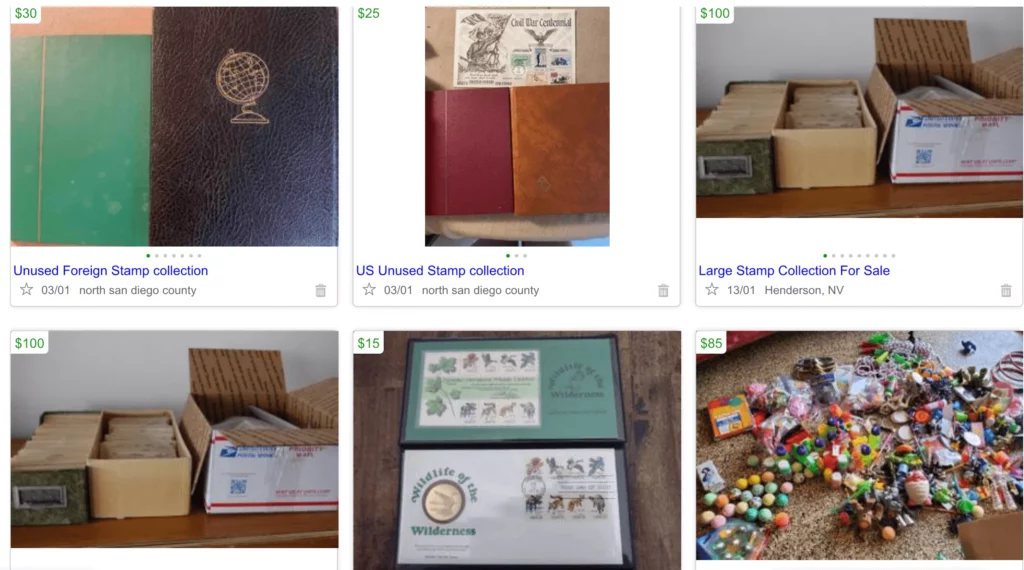 Be prepared to negotiate, as most buyers on this platform will try to haggle on prices. Always keep a scope for negotiations in your prices.
Follow all the safety guidelines when meeting buyers, like choosing a well-lit public place and not accepting checks as payment.
---
13. Mercari
Mercari is another platform that helps you sell stamps online. Over a million buyers visit the website every month, and you can use this platform for easy cash.
There is no option of meeting buyers but only for shipping.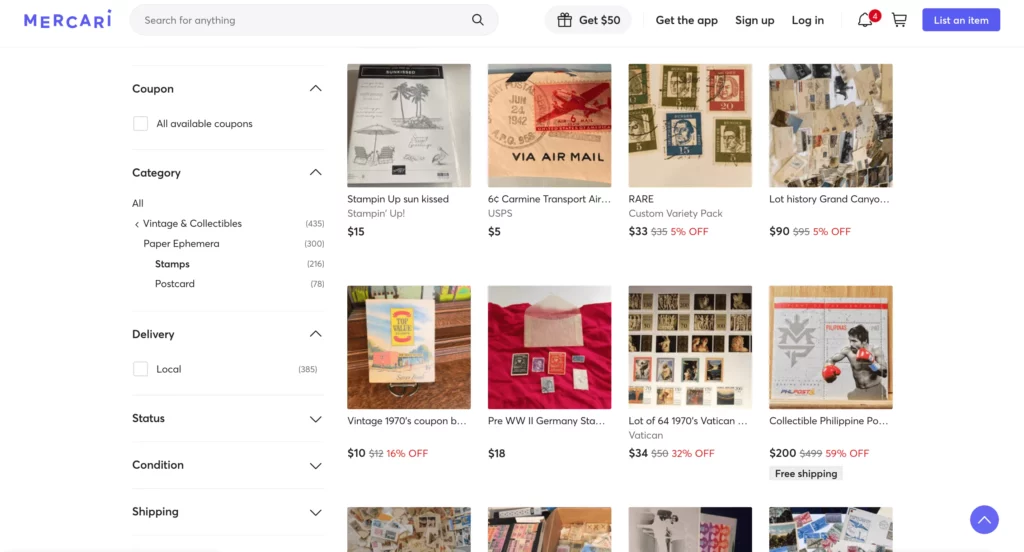 Just create a listing of your stamps and include good-quality images along with a good description.
Once a buyer chooses to buy your stamps, you need to package them securely and ship them within three days. When the buyer receives your stamps and confirms them to be in good condition, you get paid through Paypal.
At the end of it, both seller and buyer get to rate each other.
Charges: For using this platform, you need to pay a 10% transaction fee and a 2.9% + $0.5 payment processing fee.
---
14. Amazon
Amazon is one of the biggest platforms for selling things, and you can leverage its huge user base to sell your old stamps.
To sell on Amazon, you need to have a seller account. Getting a seller account in good condition on Amazon is a little tougher, so it makes sense only if you have a large collection to sell or you are into flipping stamps as a side hustle.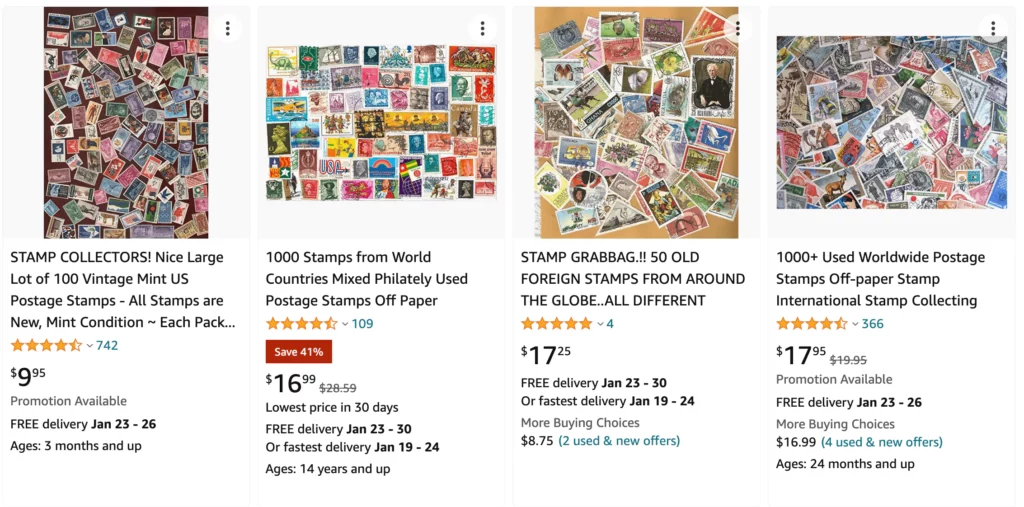 You can also use the Amazon FBA program, where you send all your inventory to Amazon, and they fulfill all the orders, you just need to worry about listing and keeping inventory up.
Charges: They take a fee for warehouse storage and a fee of 15%, plus $0.99 per order sold.
---
15. Facebook
Facebook is a giant social media company with almost every second person as a user. You can use this massive reach to sell your stamps locally or online.
There are two options to sell on the platform.
Use facebook marketplaces
Sell on local buy and sell groups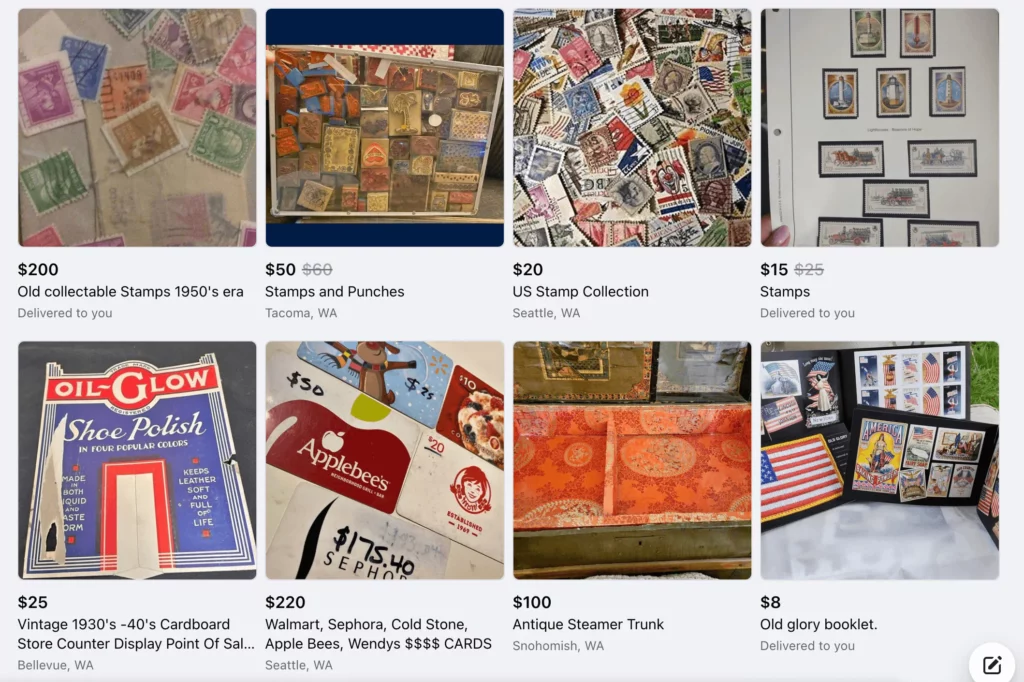 Facebook marketplace is a dedicated place on the website where people list the items they want to sell, and any interested buyers can connect with them. You can find stamp collectors near you, or you can ship your collection.
For making a listing on local buy and sell groups you need to take the permission of the group admins.
Charges: Selling locally through Facebook is free, but for shipping through them, you need to pay a 5% fee or $0.40 for orders below $8.
Best Places To Sell Board Games Near You
If you are not up for all the tasks of listing online and waiting for buyers, or you just want to get rid of a whole stamp collection quickly, selling locally might be a good option.
That way, you can get money in your hand in just a few hours or minutes.
16. Pawn Shops
Pawn shops are one of the places that you should think of when selling anything unusual or collectible. As these shops have different kinds of customers, including postal stamp collectors, they buy such stuff for their inventory.
Though not all pawn shops are interested in buying stamps, so better check before making a visit. If the owner is a collector, then there is a higher chance that they will value your collection.
If they are interested in buying, take your collection to the shop and let them inspect it. After assessing it, they will make you an offer. If you like it, sell them, or if not, try to negotiate or walk away.
They will always try to pay less as they also need to make a profit, that is why it is important to do your research first before going there so that you have realistic expectations.
---
17. Yard Sales
If you have a large collection of stamps, selling them at yard sales is always an option. Many local stamp collectors near you can get a chance to look at your stamps and buy them.
You can organize a yard sale only for stamps, or you can include other items also in the home that you want to get rid of.
Having a bigger yard sale will always have more attention. Before the day, you need to prepare your stamp collection, sort them and price them so that everything goes smoothly.
Offer discounts on bulk purchases to clear out lower value stamps.
---
18. Stamp Fairs
Stamp fairs are places where many stamp collectors and enthusiasts meet from time to time.
Due to the sheer number of such people, these events are organized regularly. You can check if something is happening near your place.
These places give you a chance to meet other collectors and exchange your stamps or sell them to people who still need them in their collections.
If you have a huge collection, you can even set up a booth for a fee and sell your stamps.
---
19. Flea Markets
Flea markets are frequented by many types of visitors, including stamp collectors. If you have a large collection selling it at the flea market can be one of the sure-shot ways to get some footfall.
Though you need to pay a fee to set up the booth, which can be anything from a few dollars to a few hundred dollars, depending on the market popularity.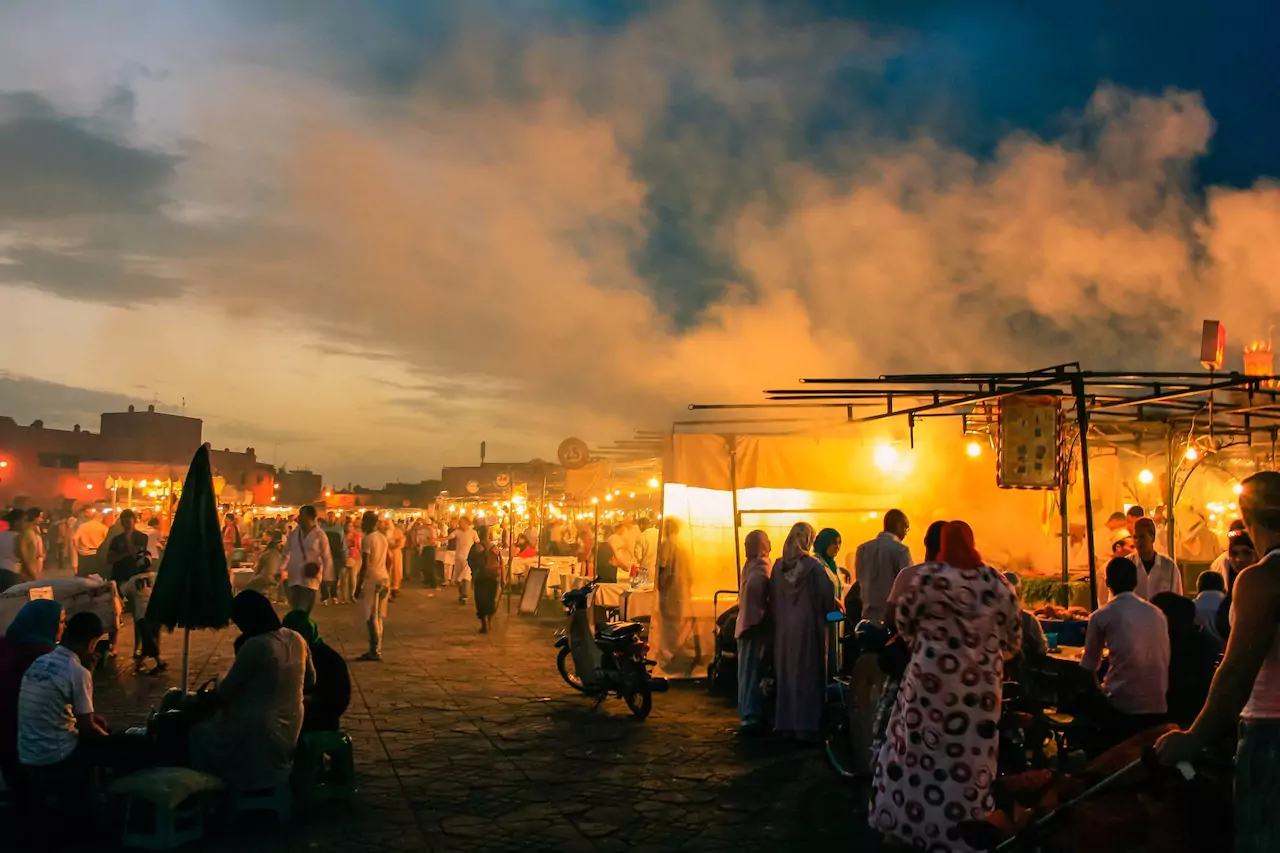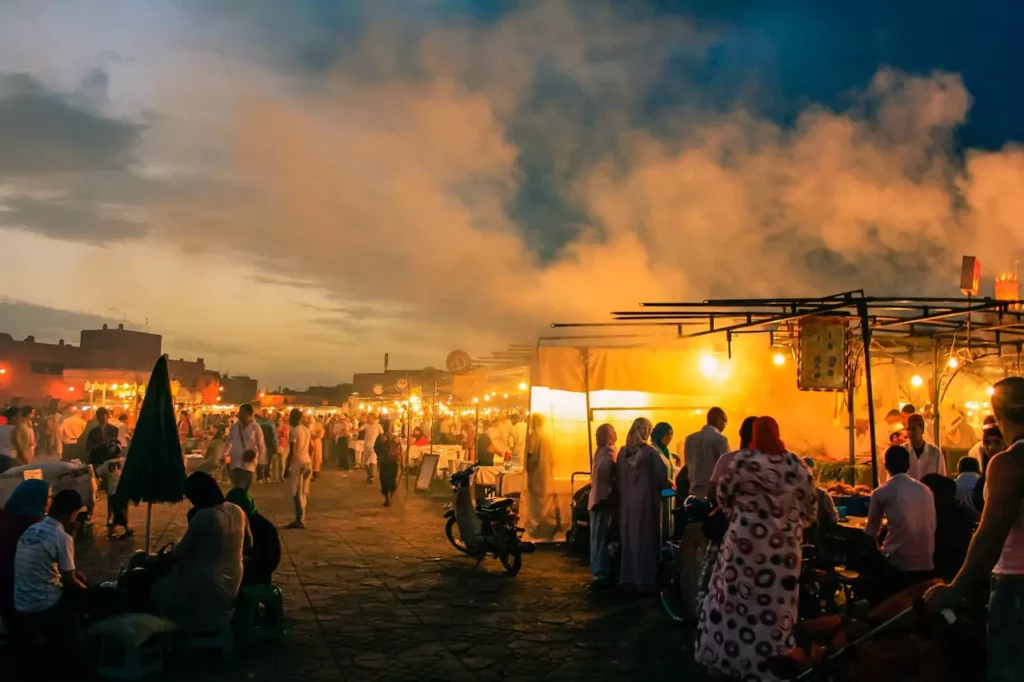 If you decide to set up a boot, make sure to display your stamp collection properly and meet visitors with enthusiasm. Be ready to negotiate and be polite.
Factors That Affect The Price Of Your Stamps
How do I know if my stamps are valuable? There are a few things that decide if your stamps have any value.
Rarity: Mostly, it is the stamps that are rare that get the maximum value. As the printing presses (even older ones) can print millions of stamps every day, only a very few stamps are rare
Condition: A stamp needs to be in good condition of mint or near mint to have value. Folded, creased and torn stamps loose most of their value
Demand: A few stamps are high in demand due to rarity or they are popular with collectors
Age: Age is one of the most important factors in the price of a stamp. Most stamps that are not older than 100 years only have a face value and no collectors value
Country of origin: Stamps from countries with rich philatelic history have much high demand among collectors
Subject matter: Stamps with the interesting or unique subject matter, such as stamps featuring famous people or historical events, can attract more collectors and hence more price
Printing quality: High-quality printing and other features, like intricate engravings or vivid colors, can enhance the value of a stam
The expertise of the seller: If you know the history of the stamp and provide detailed information to the buyer then you might be able to get a much higher price
What Are The Stamps Wanted By Collectors
When talking about stamp value, we need to look at how they are perceived. Generally speaking, stamps are divided into old and new.
In the philatelic world, old means those printed before 1930, and new are printed after that.
Stamps printed after the 1930s are sold at their face value. That means if a stamp says 5 cents, then its value is 5 cents. For unused stamps, you can still use them or sell them at face value, and used ones that have some demand are sold at 60% to 65% of face value if they are in good condition.
Stamps printed before the 1930s are worth more than their face value and can even get you hundreds of dollars. But age is not the only factor, there are other factors that we discuss above, the most important of them rarity and demand. Ultimately it is demand that drives the price, if there is competition among collectors to have a rare stamp, then only they will pay a higher price.
If you think you have one of those rare stamps printed before the 1930s, have them appraised by a professional to get a value estimation.
Here are a few super rare stamps of high value.
Tips To Sell Stamps For Maximum Profit
Keep a few of these things in mind to get maximum value for your collection.
Determine the value of your stamps: The first step in selling your stamp collection should be doing some research about its price. Check how much similar stamps are selling on platforms like eBay. Best places that buy stamps offer free appraisals, if you have a stamp of high value, get appraisals from multiple places
Organize and grade your stamps: Your stamps should be cleaned and stored in perfect condition to get the maximum value. If you have multiple of them, sort them for the country and other categories like theme
Research selling options: There are many places to sell stamps, both online and offline. Research your options on where you can get the maximum value and which requires the lest efforts. Then make an informed decision based on your preference
Present your stamps well: When you are selling anything online, you need to give the buyer a full view of the items with good-quality pictures and other descriptions that are accurate and to the point
Protect yourself: When selling stamps, protect yourself from potential scams. Work with only reputed buyers or when meeting locally, take only cash. In case of shipping, used insured shipping, so that in case anything goes wrong, you get your compensation
Time To Cash Your Your Stamp Collection
If you have been an avid collector and now want to move on, or you are a flipper trying to start a side hustle for profit, all these places offer multiple options to sell your stamps.
Just follow your instincts and choose the best place depending on your preferences. For example, if you have a high-value stamp, using auction houses can be the better option, or if you have a bulk of common stamps, selling them locally in yard sales or pawn shops can be an easier option.
On the other hand, if you are still not ready to part ways with your memories, there is not issue with that. You can use these places to sell stamps anytime when you are ready.
Other selling hustles to make money:
FAQs
Are stamps with postmarks worth anything?
It is necessary that a stamp with a postmark will always be worth something, but in a few cases, postmarks can add value as they indicate date and location. Other factors like rarity, demand, and condition are primary factors for the price of the stamp. But if the postmark is from the last era from machines no longer manufactured or hand cancellations no longer used, then they might be worth something or even hundred of dollars in a few rare cases. Only an expert appraiser can tell you the exact value.
Can you get money for old stamps?
As we discussed in the articles, only stamps from earlier than the 1930s have value and can get you more money than face value. But age is not the only deciding factor for money, as many old stamps from the 1800s that are common do not have any value.
Who buys old stamps?
New stamps are used for face value, and people buy them for postage. But many people buy old stamps from the last century for a variety of reasons.
Collectors buy them for their collections
A few people buy high value stamps as investments
Flippers buy them for reselling them for profit
Whatever the reason, there are still a number of people who buy old and rare stamps.
Will the Post Office buy unused stamps?
The United States Postal Service (USPS) does not buy unused stamps from individuals. However, they take unused stamp donations. They use these donation stamps to give to museums or schools for educational purposes or their own stamp collection.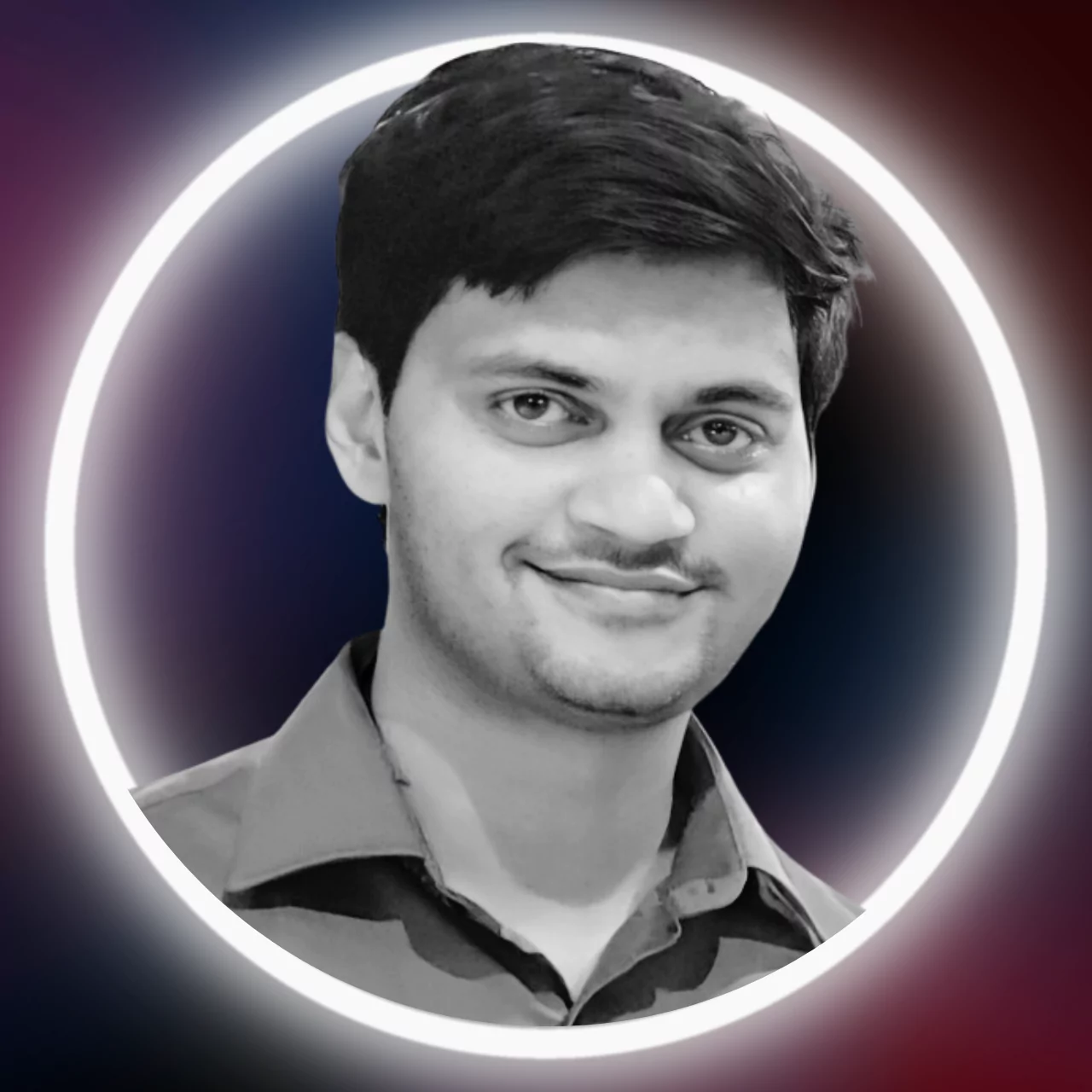 Sumeet is a Certified Financial Education Instructor℠ (CFEI®) and founder of MoneyFromSideHustle. He is an experienced side hustler who replaced his full-time income with side hustles. His work has been quoted on major finance websites like CNBC, Yahoo! Finance, GOBankingRates, CEOBlogNation, SideHustleNation, and more. He has helped thousands of people find side hustles and is here to help you find your extra source of income. More about him.