If you have a collection of books you no longer need and wondering where to sell used books, you are at the right place.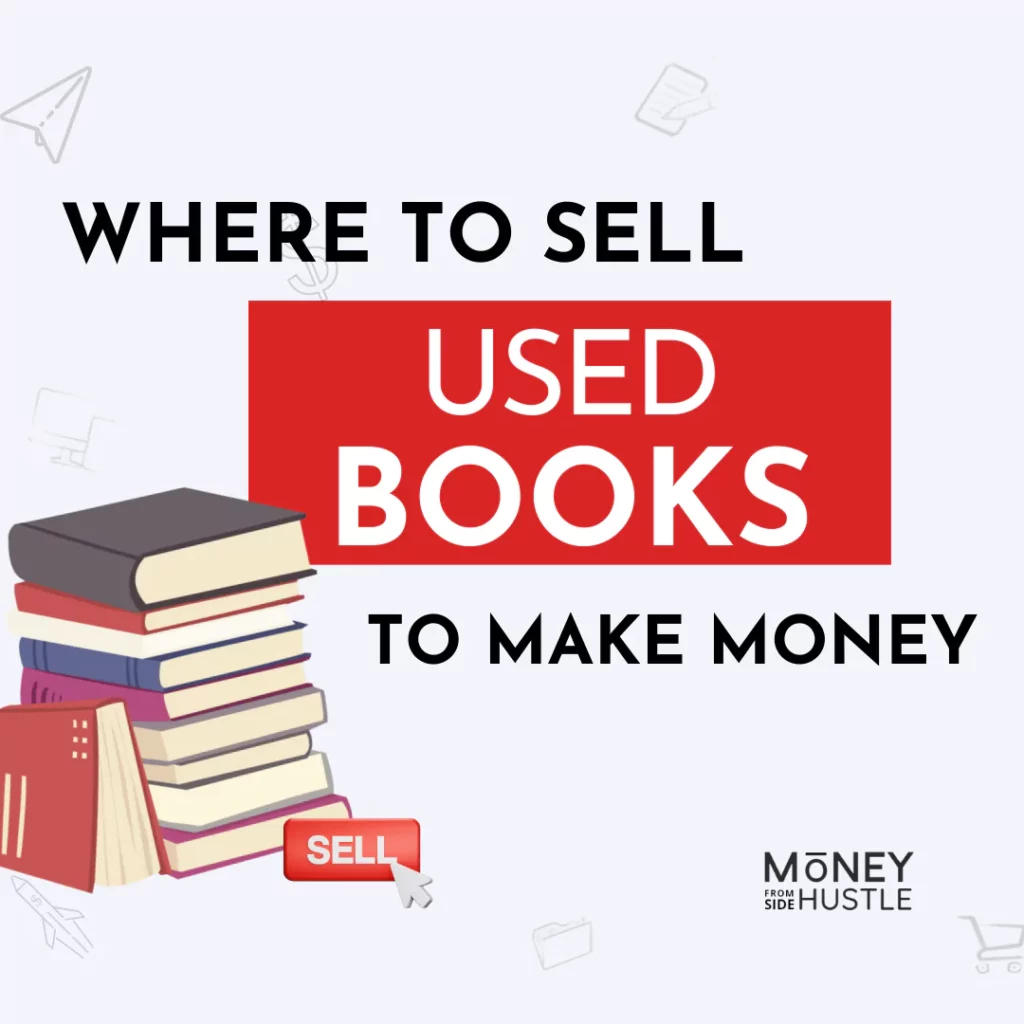 Most books are only one-time reads. Other than a few of your favorite books, you go back to regularly, and others just take space. It is only logical to sell them and get some free space for new books and also earn some easy money.
There can be many other reasons for selling books, like.
Trying to get some money urgently
Want to clear out the clutter
Inherited or found a collection of books you are not interested in
Trying to start a book-flipping side hustle
Whatever your reason, you should get the best value for your novels and other literature. There are many places to sell your books, from online marketplaces to local dealers. The route you choose depends on your convenience, the payout expected, and your preference.
I will cover all the best places to sell old books and a few tips to get maximum value. Let's get started!
Highest Paying Surveys
Up to $50 per survey
Industry-leading surveys
Where To Sell Used Books
When selling old books, there are basically two ways, either go the online route or use local places like bookstores to offload your collection. Both have their pro and cons.
Best Places To Sell Used Books Online
If you decide to sell your old books online, you can either choose the open marketplaces for direct consumer-to-consumer sales, or you can use websites that buy used books directly from you.
1. BookScouter
If you are wondering where to sell used books, Bookscouter can help you decide.
BookScouter is a website that compares the prices from around 30 vendors and lets you compare the best offers, all in one place.
It is a very convenient way of getting the best value for your used books. In my opinion, when you are selling books, it should be your number one place to go, and then decide on which vendor you want to use.
To be able to use the site, your book should have ISBN. Enter this number, and they will show all the buyback offers from different vendors.
Rating from users for each vendor is also displayed so that you know which one is more trusted.
Users have the option of tracking price changes and setting up notifications when a desired price point is available.
Other than selling books, you can also use this app to scan books for buying and renting.
Charges: Using the website is free but if you want to use all the features like hot flip deals, you can buy the pro subscription for $29.99 per month.
---
2. eBay
eBay is a general marketplace that allows users to list anything from used bikes to books for selling online. Other users can see listings in different categories and buy products they are interested in.
With audience in millions, eBay can be just the right place to sell your used books.
To be able to sell on the platform, you need to create a seller account and then you can make your listings.
A good listing needs to have multiple images, a detailed description, a competitive price, and a relevant category so that the right audience can find it.
You have two options for setting your prices.
Fixed price
Auction price
When someone buys your book, you need to handle the shipping and its costs. So keep shipping costs in mind when pricing your old books.
Charges: Listing is free for up to 250 listings every month, and they charge a 14.6% fee on the total price plus $0.30.
Multiple ways to make money
Low and easy cashout options
Great user ratings on App store
---
3. Decluttr
When you are looking to clear old stuff like used books, Decluttr can be one of the best places.
They buy all sorts of books including.
Novels
Children books
College books
School books
And many more
They buy hardbacks and paperbacks and the process is really simple.
Just scan the book barcode with the app or put the barcode on their valuation engine
You get an instant valuation
If you like the price, ship them your books for free with a pre-paid shipping label
Get paid to PayPal or through direct deposit
Note: Keep in mind that your book should be in good condition and there should be no visible damage, discoloration, or missing pages.
---
4. Amazon
Amazon is a great place to sell your books. They used to have a books trade-in program where you could just simply sell your books to Amazon, but that is no longer working.
You can still use the tradition seller way to sell your used books on the website.
First, decide what category of books you have; it only makes sense to put so much effort into creating a seller account if you have a lot of books to sell or you are starting a book-flipping side hustle.
After creating an account, create a listing by deciding on the price of the item and how you will ship your orders. You have two options for shipping,
Merchant Fulfilled Network (MFN)
Fulfilled By Amazon (FBA)
In the first method, you need to do the packaging and shipping yourself, and in the second method, you just need to send your books to the Amazon warehouse, and they will take care of everything.
Charges: You need to buy an individual plan that costs $0.99 per item sold or a professional plan for $39.99 per month. Then there are referral fees of 15% on every order. In addition, you need to pay a warehouse fee if you choose to use Amazon FBA service.
---
5. AbeBooks
Abebooks is an online marketplace where you can sell your used books and collectibles.
They help you reach a global audience with their six international websites. You just need to make a seller account and list your items with all the required descriptions. When a customer purchases your book, you will be shipping them.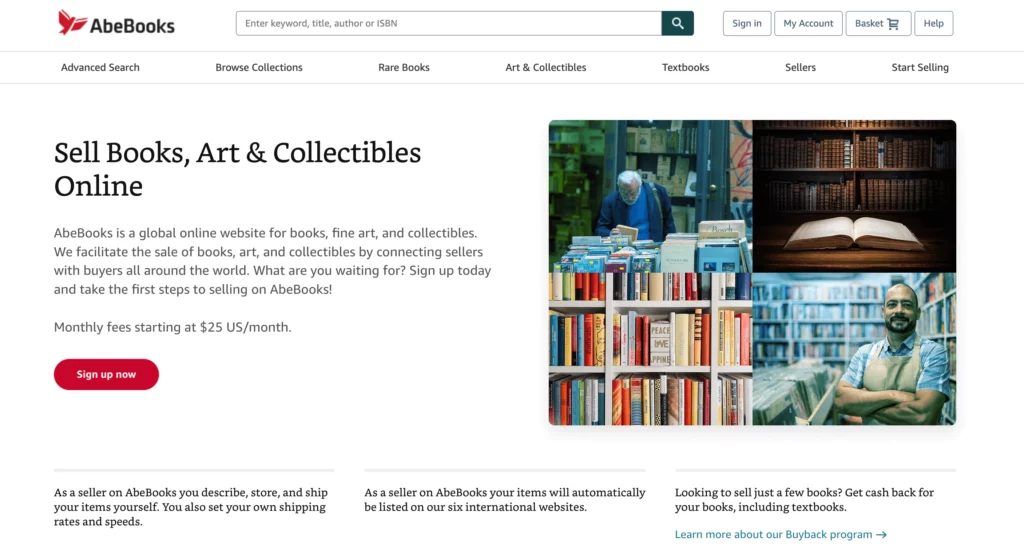 Sellers have the flexibility to decide on shipping rates and speeds.
With Abebooks, you can sell textbooks, rare books, maps, comics, and paper collectibles. You can even sell the books without ISBN (most pre-1970 books don't have it), which most other book-buying websites do not offer.
Charges: Based on the number of listings you have, they charge you a monthly subscription fee (minimum of $25).
| Listings | Monthly Fees (in USD) |
| --- | --- |
| 0 – 500 | $25 |
| 501 – 4,000 | $37 |
| 4,001 – 10,000 | $42 |
| 10,001 – 20,000 | $53 |
| 20,001 – 30,000 | $80 |
| 30,001 – 50,000 | $125 |
| 50,001 – 100,000 | $200 |
| 100,001 – 150,000 | $300 |
| 150,001 – 500,000 | $400 |
| 500,001+ | $500 |
---
6. SellBackYourBook
SellBackYourBook is one of the best websites to sell old books online. Other than selling, you can also buy and rent books on this website.
They claim to offer the best prices and instant payments on receiving your books.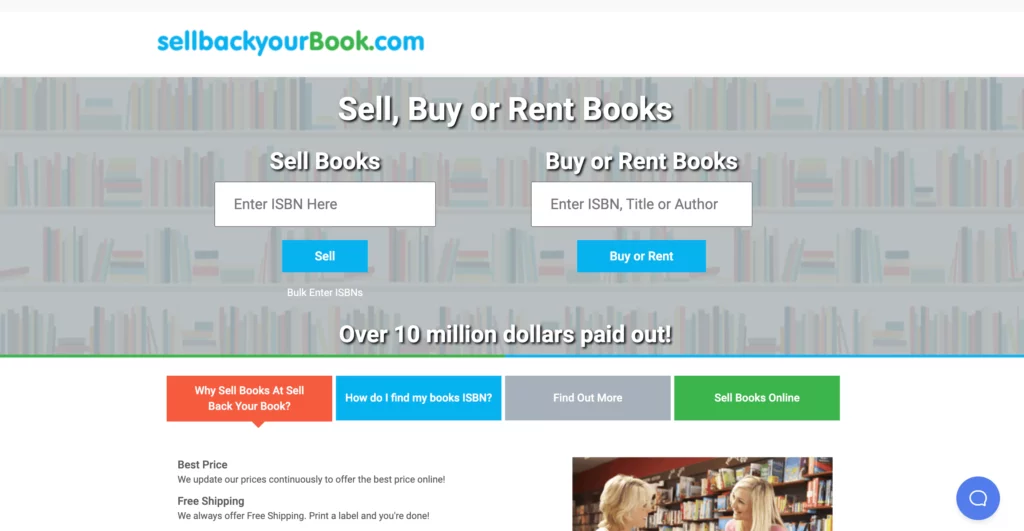 Shipping your books is free. Just enter your book ISBN number, and they will give an estimated price that is updated regularly.
The quote is valid for seven days, and after that, you need to get a fresh quote.
They are an accredited business that has paid over 10 million to users. They have 4.5 ratings on Trustpilot from around 30k reviews.
---
7. Alibris
Alibris is a great place to sell books, music, and movies. There are two options for membership, a basic plan or a professional plan.
Getting started with the website is easy, and you just need an email id and a payment method.
You can add items individually or just upload the database file with all your inventory. Book of any format or condition can be sold on the website.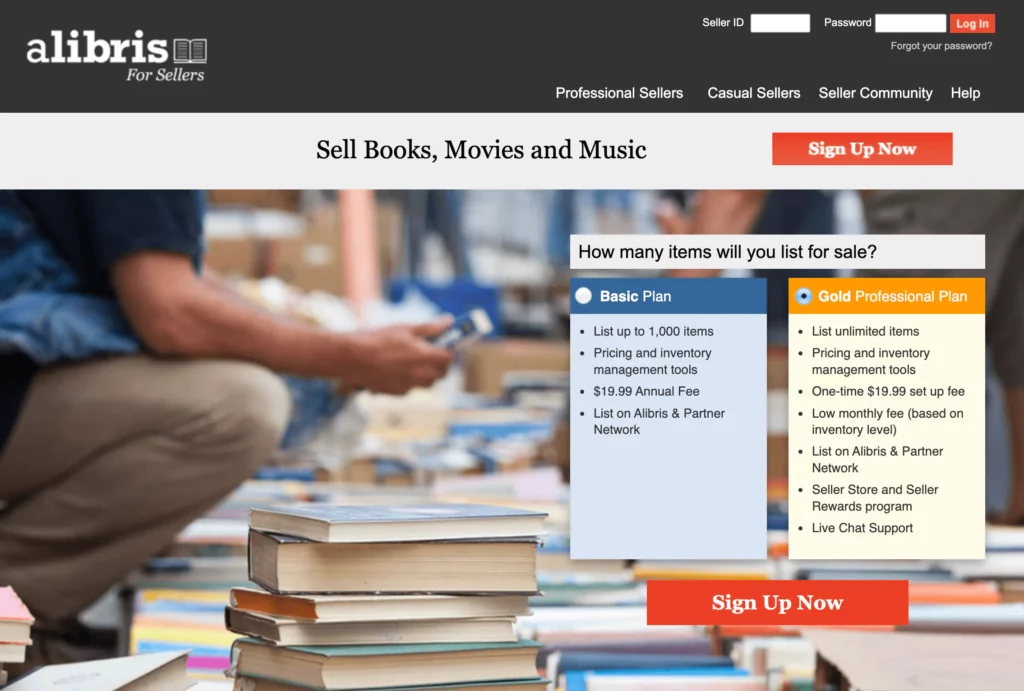 Anyone in the world can become a seller and sell books on this website. You have the option to list your items on a number of partner sites of Alibris.
Charges: The basic plan comes with a $19.99 annual fee with 1000 listings. The professional plan costs one time $19.99 fee and a monthly fee depending on your inventory.
---
8. Powell's Books
Powell's Books is one of the best places to sell used books. You have two options to sell used books on this platform, which include:
Selling books at their stores
Selling books online
They have three physical stores in the Portland area, which are open during the day, but you can only sell books for in-store credit and not cash.
If you want to sell books online, you can just scan the QR code or enter the ISBN code on the books and then box them up for dropping at your nearest UPS location.
When your bid is processed, they will issue you store credits or PayPal cash. Each bid should at least contain 7 books or should be at least worth $9 PayPal credit.
---
9. ValoreBooks
You can rent, buy and sell books on ValoreBooks. Using the website for selling your used textbooks is easy. Just like any other site on this website, you just need to enter ISBN number, and they will provide you with an instant quote.
If you like the price, you can ship your books for free to them. They will receive your books and inspect them.
If your books are in satisfactory condition, you will get paid in PayPal cash.
Different benefits they offer include:
Fast payments
Order tracking
Free shipping
Highest price
High earning surveys
Easy-to-use website
Many ways to earn
---
10. TextbookRush
TextbookRush is another buyer for used books you can use to trade in your old books for cash. They have 4.4-star ratings on Trustpilot with over 15k reviews.
This bookselling website allows you to sell your books conveniently just by filling in your ISBN details.
Based on the information provided, they will give you the quote, and if you accept the offer, you can ship your books to them free of cost.
Once they receive the books and inspect them, you can get paid either through Paypal or store credits if you want to use their website for buying books.
Store credits are always worth more (5%) than the cash they pay, so if you are planning to buy books from them, then it makes sense to get paid in credits.
---
11. BookFinder
BookFinder is another great place for selling your old textbooks. They have multiple partners that buy over a million book titles.
Just enter the ISBN of your book or textbook, and you can access offers from multiple websites. You can compare offers from different book-buying websites like bookscouter and choose the best option.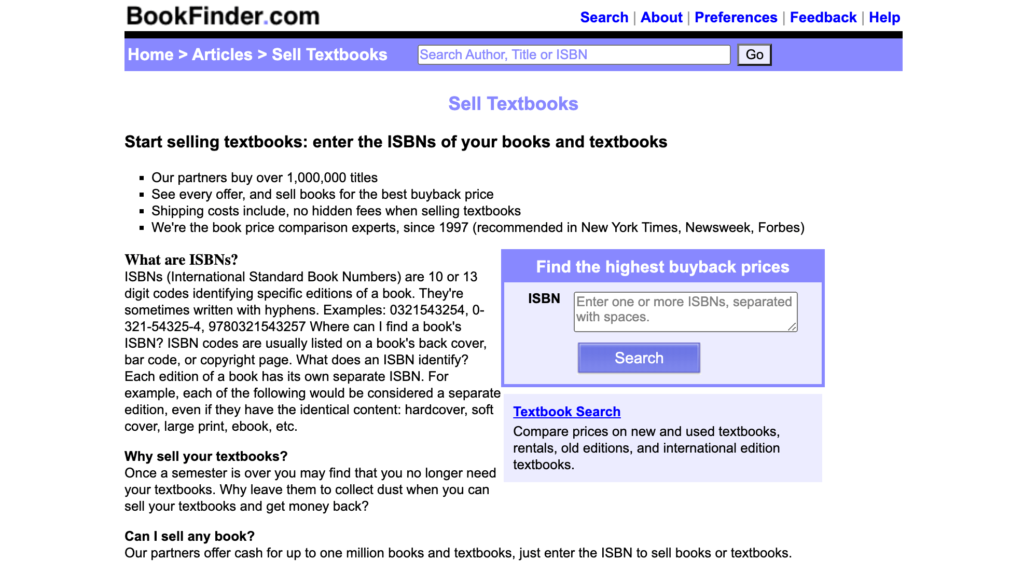 Click on the offer you like, and it will take you to the website. You can follow the process and ship your books for free.
They buy books from US sellers as well as from UK and Canadian residents.
---
12. Textbook Buyer
Textbook Buyer is a website that specializes in buying used books, and you can list your books for sale either individually or in bulk.
They have a price quote chart for reference where you can see the list of books they buy and how much they pay for them.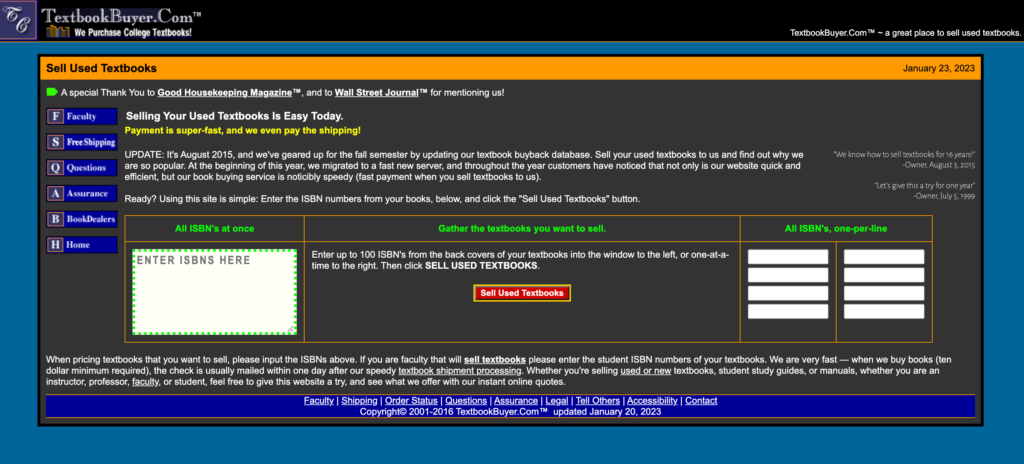 Enter the ISBN number of all the books you want to sell and get a free quote. The combined value of your books should be over $10 to sell to them.
After your shipment is processed, they issue the payment via check within a day.
---
13. Half Price Books
Half Price Books have 120 stores in over 20 states, and you can go to one of these stores to sell your old books. You don't have the option of selling books online here.
The seller must be present in the store to get an estimate and you should have a government id. If you are under 18 years of age, you should go with an adult.
Once they evaluate your books, they will pay you cash on the spot.
---
14. BooksRun
If you are still wondering where to sell your books, BooksRun is another place to look at.
Just simply put in your old book ISBN and they will provide you with a quote. If you want to sell your books to them, they will provide you with a printable label to ship your books for free.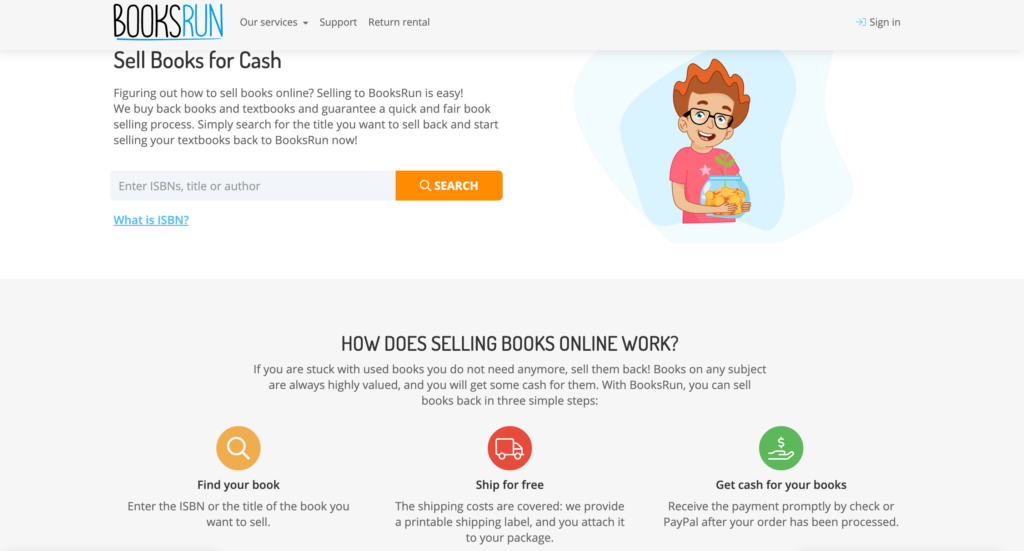 When they process your order, you can get paid quickly through check or PayPal cash.
They are a good place they sell your old books as they offer fare prices, fast processing, and dedicated customer support.
---
15. BookMooch
BookMooch is not exactly a place to sell your old books for cash, but if you are a book lover who frequently buys books, you can use this platform to earn points by trading your books.
Type in the books you want to give away, and if someone is interested, they will request to ship the books.
In return, you will get the points, and you can use these points to pay for future buying at BookMooch. So, it is kind of a book lover's community where you can trade used books amongst yourselves.
---
16. CampusBooks
CampusBooks is another comparison site that scans various book-buying sites and offers you the best options. As with any other online book-buying website, you need to enter the ISBN code of your book, and they will show you the best options.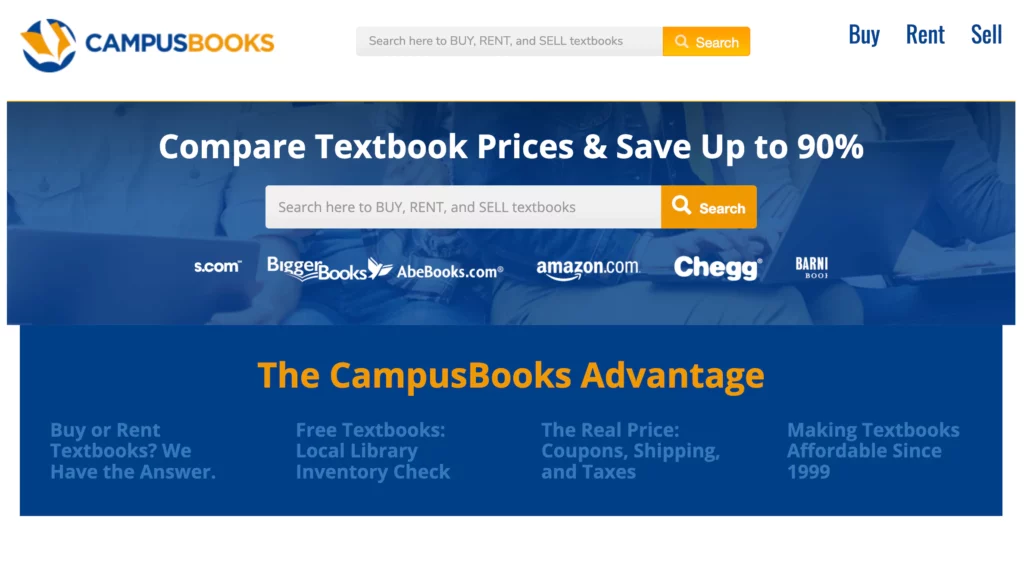 Make sure that your books are in good condition and you can get top dollar for them. Always remember to include all the supplemental material for the best prices.
Other than selling your old textbooks, you can also buy and rent textbooks here.
---
17. Bookbyte
Bookbyte is not a place for casual booksellers. But if you are a retail bookseller or sell a large number of books and want to go online to sell your inventory, you can try Bookbyte.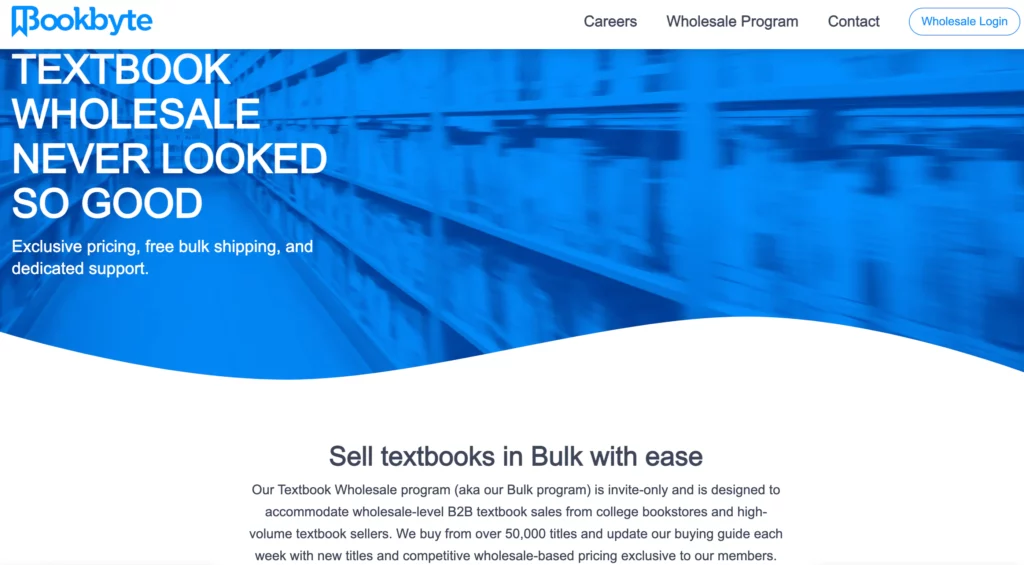 They offer bulk buying for books. It's an invite-only website, and they are open to working with sellers who sell books worth more than $1,500 every month.
They buy over 50k titles at wholesale prices and offer free bulk shipping, bulk uploads, and dedicated support for the sellers.
---
18. Ziffit
Ziffit is another US-based website where you can sell your used books for money. Start by scanning your book's barcode or by entering the ISBN code.
You also have the option of entering in bulk if you have a large number of books to sell. They will generate a quote based on the input data.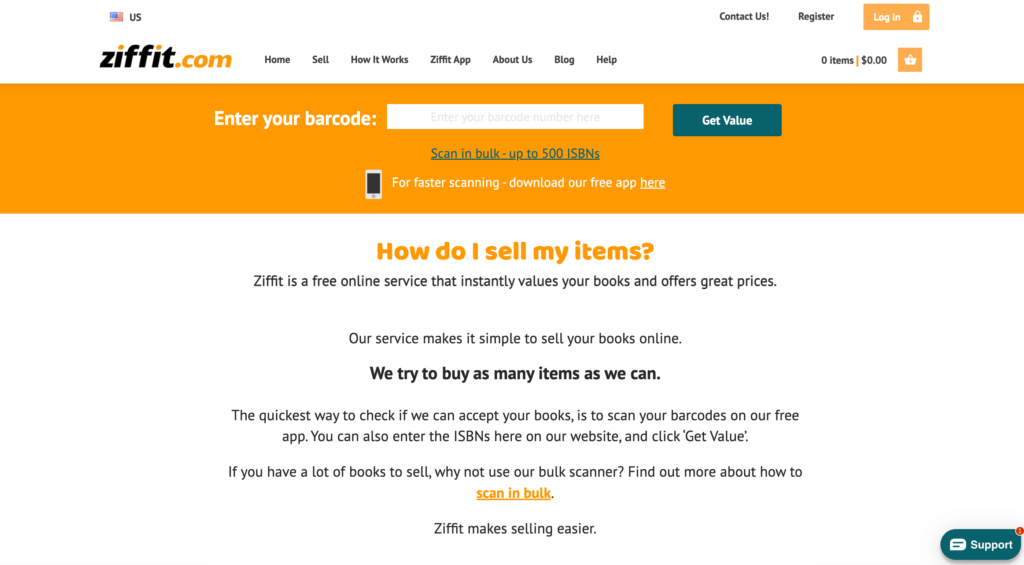 If you like the offer and want to sell books to them, you can pack your books and send them the package through FedEx drop-off.
Upon getting the books and inspecting them, they will pay you through a bank or check as per your preference.
---
19. WeBuyBooks
WeBuyBooks is a great place to sell unwanted books or CDs, and DVDs for cash.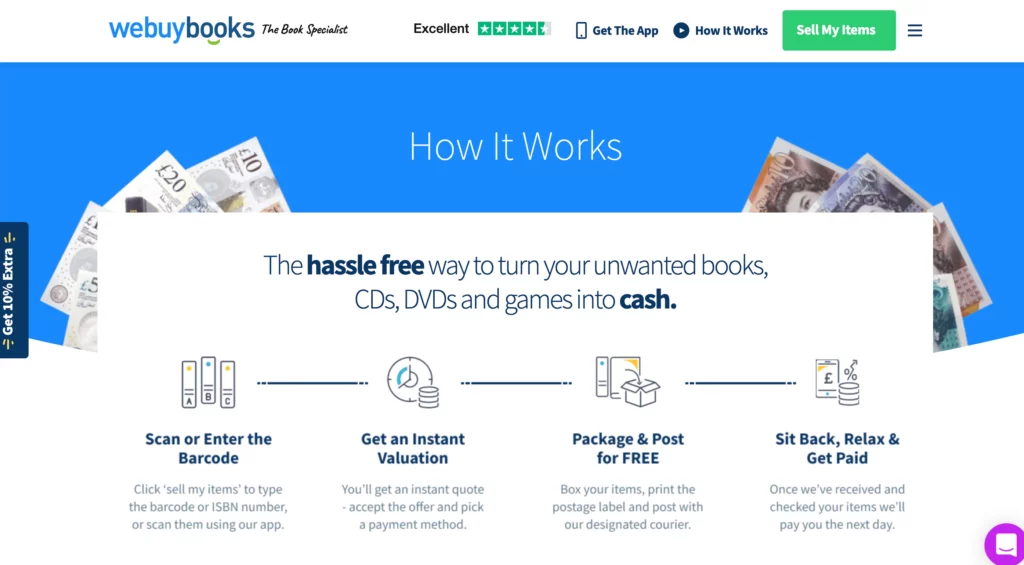 Here is how it works:
Scan the code
Get the instant valuation
Ship your books for free
Get paid the next day
If you are selling books worth more than £25, they will offer you a 5% bonus. You can use their app to sell used books conveniently.
They have a good reputation among users, with 4.5 ratings on Trustpilot with 13k reviews.
---
20. Cash4Books
Cash4Books can be used to sell your used textbooks by simply entering your 10 or 13 digit ISBN code.
Based on the code, they will give you an estimated quote, and then you can ship your items for free with a prepaid shipping label.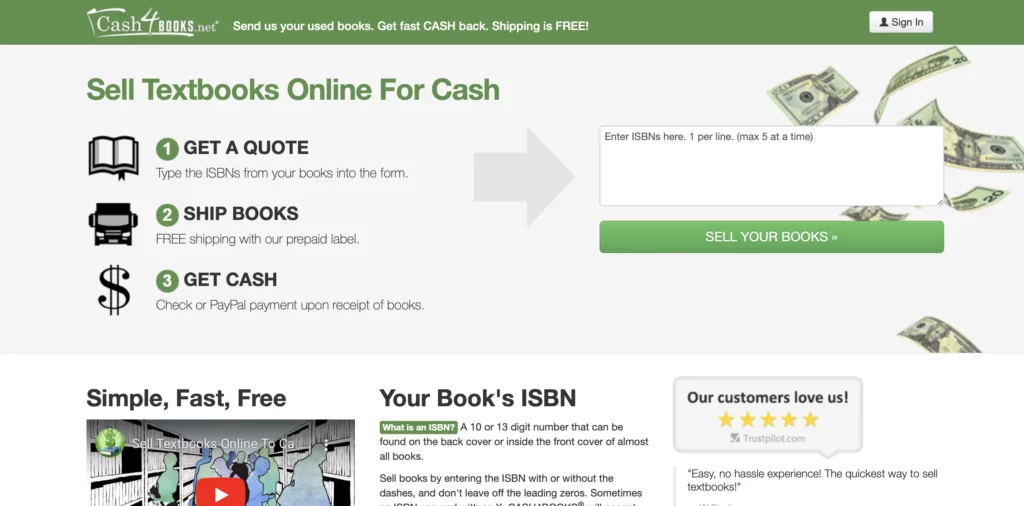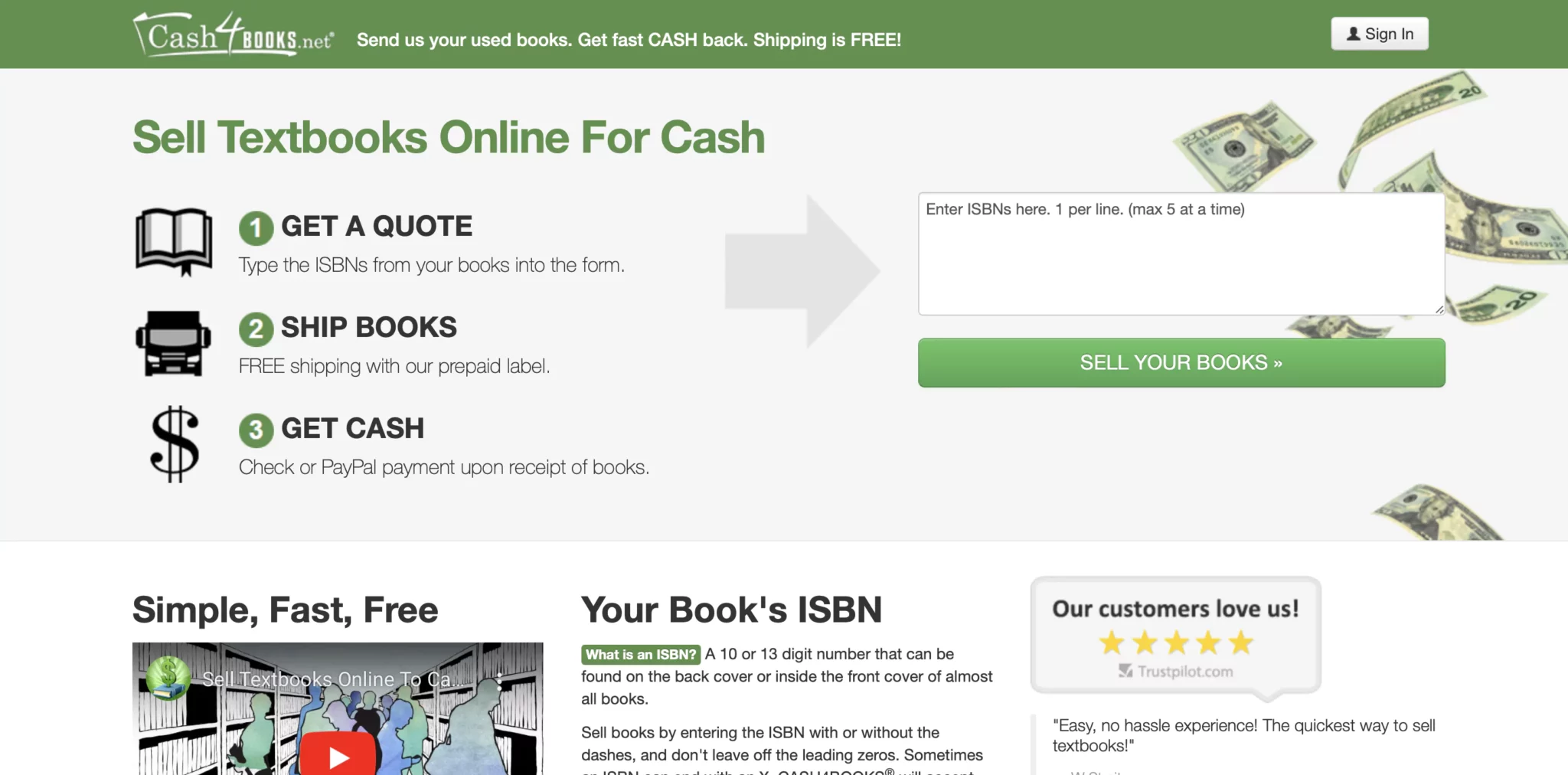 When they receive your books and inspect them, you can get paid for your used books the same day.
---
21. BookSellBack
BookSellBack is another option to sell your used books, and the process is simple like any other site on this list.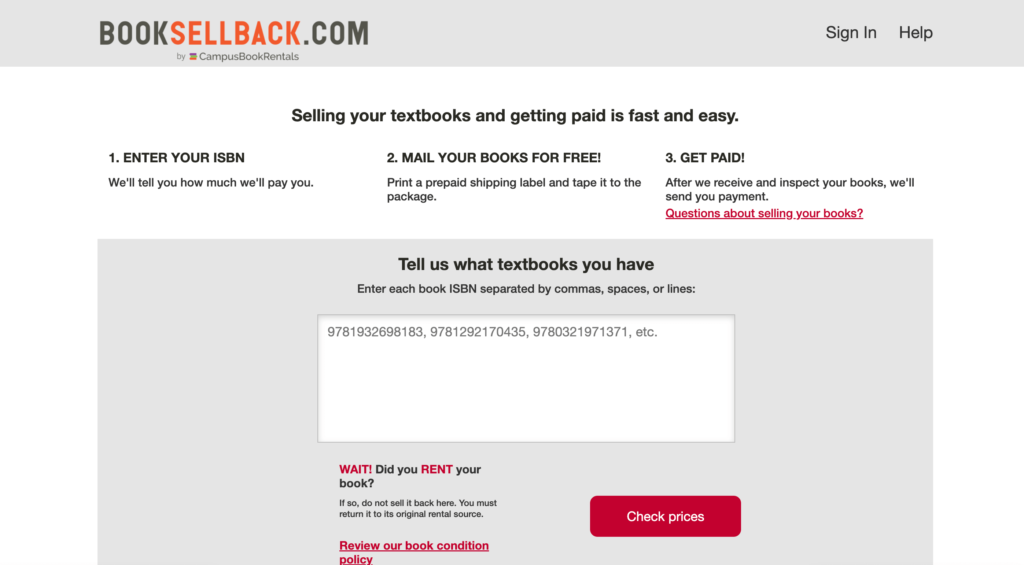 Enter your book ISBN code and get a free valuation for your used old books. When you ship your books with a pre-paid shipping label, you can get paid through PayPal or check.
---
22. Barnes & Noble
Barnes & Noble is a reputed bookseller that also has a buyback program to buy your used old books.
They offer to buy your books online if you have books worth more than $10. For orders above $40, they provide free shipping.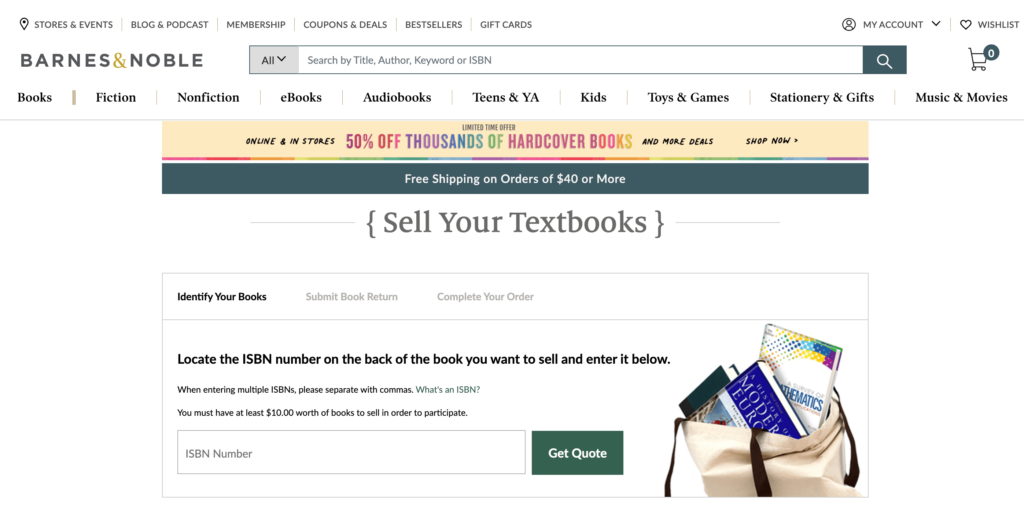 Fill in the ISBN details, and they will give you a quote. If you like the price, send them your books and if they find your books acceptable, you can get paid in check.
Local Options For Selling Used Books
If you don't want to ship your books and wait for the check to come, you can sell them locally to buyers. There are a few options to sell your used books in person.
23. Facebook
If you want to sell your used books offline, one of the best places is facebook.
You have two options for selling your old books.
Facebook marketplace
Local buy and sell groups
Facebook marketplace allows you to list anything for sale, and anyone interested can contact you to meet up and exchange books for money.
Then there are groups in every place where people from local areas can post items for sale. You need to ask permission from the admin to join them and post your books for sale.
---
24. Craigslist
Craigslist is online classified marketplace where anyone can post to sell anything.
People can contact you after watching your listing and ask for price negotiations. If you make a deal, you need to set up a meeting and trade books for cash in person.
Make sure to meet a decent and safe place to avoid scammers.
---
25. Used Bookstores
There are bookstores at every major marketplace and most of them also sell used books.
You can contact the bookstore near you to find out if they are interested in your old books. If they say yes, you can tale your books to them, and after inspection, they will offer you a buy price. Most times, you can negotiate a higher price as they start with a minimum offer.
If you are satisfied with the offer, you can get paid at the moment.
---
26. Library Book Sales
Libraries conduct book sales from time to time, and a few of them also allow others to sell books. You need to contact your library to see if you can sell your used books at one of their next sales.
Each one of their own rules and regulations, like you may need to pay a table fees or need to manage your books during the sale yourself.
Check with your nearest library about their guidelines. It might be a good way to sell your bulk collection to book lovers.
---
27. Yard Sales
One of the last resorts to sell anything old is garage sales. You can sell anything from used clothes, furniture, and shoes to used books at these sales.
If you have a large number of books, you can make a book-only sale. Otherwise, you can combine multiple things you want to get rid of and sell them at a yard sale.
You need to prepare for the sale by making labels and setting the prices. Advertising is also important so that people know about your sale in the neighborhood.
Places to Donate Used Books
If you are not trying to make some bucks for your books but instead want to find the next readers for your book collection, there is always an option of charity. There are a few places you can use to sell your used books.
Local libraries
Schools and universities
Homeless shelters and women's shelters
Hospitals and senior centers
Charitable organizations such as the Literacy Council, Reading is Fundamental and Books for Africa
Community centers and recreational centers
Non-profit organizations such as Goodwill and the Salvation Army
Prisons and correctional facilities
Tips to Sell Books For Maximum Cash
Keep books in good shape: Websites usually only buy books in good condition, meaning no torn pages, broken spines, or coffee stains. Some will buy damaged books, but they'll offer less money.
Look into different options: Many companies buy used books, so check out websites like Bookscouter before you sell. Don't sell your books at your college bookstore or the first website you find.
Sell lots of books at once: You can usually sell many good-condition books at the same time on these websites. You can also look for local buyers who might buy all your textbooks for a good price.
Describe your books honestly: Be clear and honest about your books' condition when you list them. If you don't describe them accurately, you might get returns or negative feedback.
Include extra materials: If a book came with extra materials, include them when you sell the book. Some websites pay more for books with these materials, and some won't buy books without them.
Sell when demand is high: If everyone sells their books at the end of the semester, there will be too many books and not enough buyers, so prices will be low. If you wait to sell your books when the new semester starts, you might get more money.
How Much Can You Sell Used Books For?
Many factors decide the final price of your used books.
Consider the book's condition: As mentioned before, a book in good condition will sell for more than a damaged one.
Consider the edition: Some editions of a book might be more popular than others, and these can sell for more.
Consider demand and supply: Bestselling books and high-demand textbooks often sell for more. You might find more local buyers for textbooks if the book is for a popular course.
Consider the book's significance: Historically, culturally, or personally significant books can sell for more. For example, first editions of famous books signed by the author can go for thousands at auctions.
Clear Your Bookshelf For Some Cash
Selling those books that were collecting dust can make space for new reading and also get you some cash. Plus, you are helping the environment, and someone else is getting to read the book for a much less price.
So, if you have a lot of books you know you are never going to read again, sell them at these best places to sell used books for extra cash.
Even if you don't need that cash, put that forward for a new book purchase and start a new reading.
A book reader should always be reading!
More ways to make money: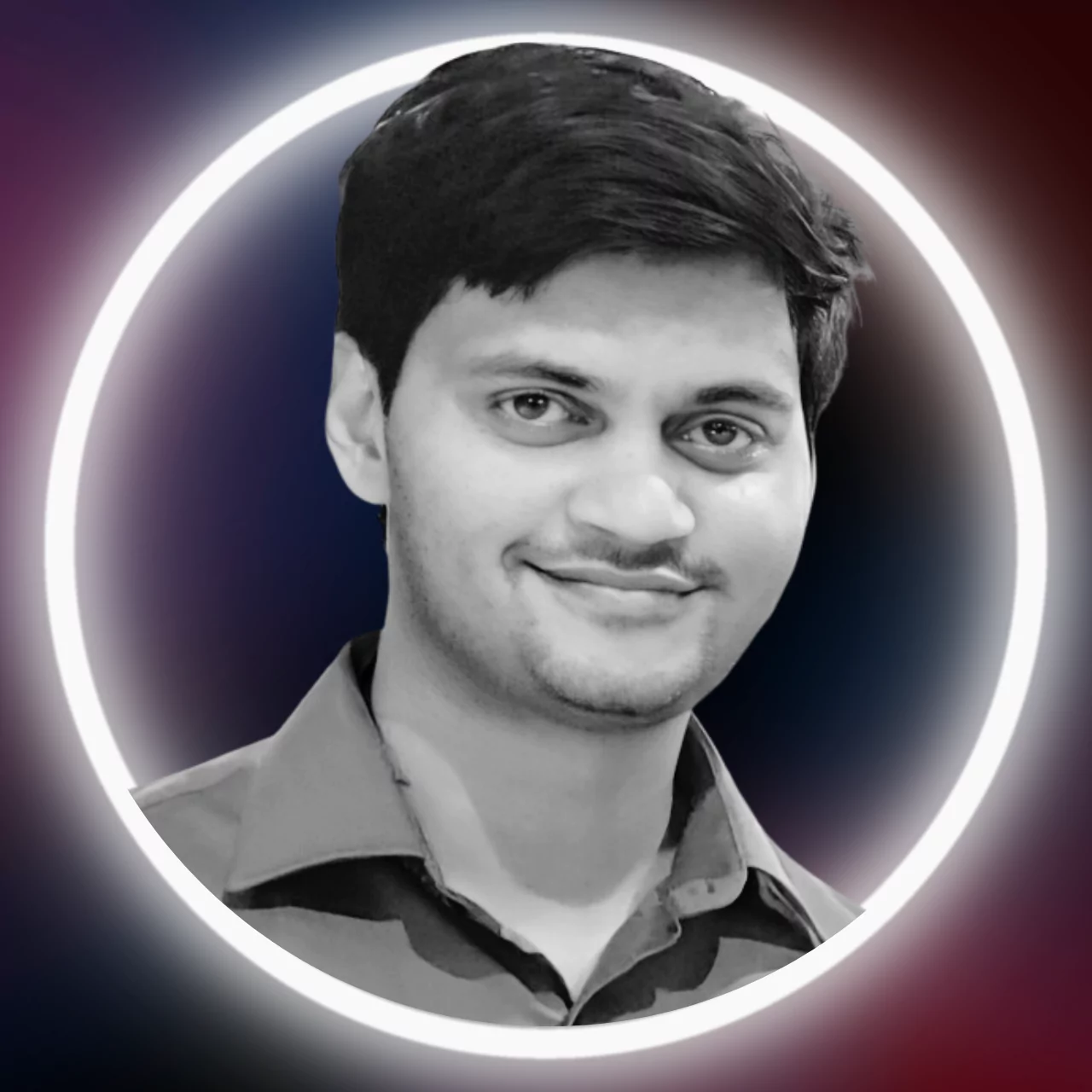 Sumeet is a Certified Financial Education Instructor℠ (CFEI®) and founder of MoneyFromSideHustle. He is an experienced side hustler who replaced his full-time income with side hustles. His work has been quoted on major finance websites like CNBC, Yahoo! Finance, GOBankingRates, MSN, Nasdaq, AOL, and more. He has helped thousands of people find side hustles and is here to help you find your extra source of income. More about him.