Are you looking to sell Yugioh (Yu-Gi-Oh!) cards but don't know where to start? There is nothing to worry about, you will learn everything about selling Yugioh cards here!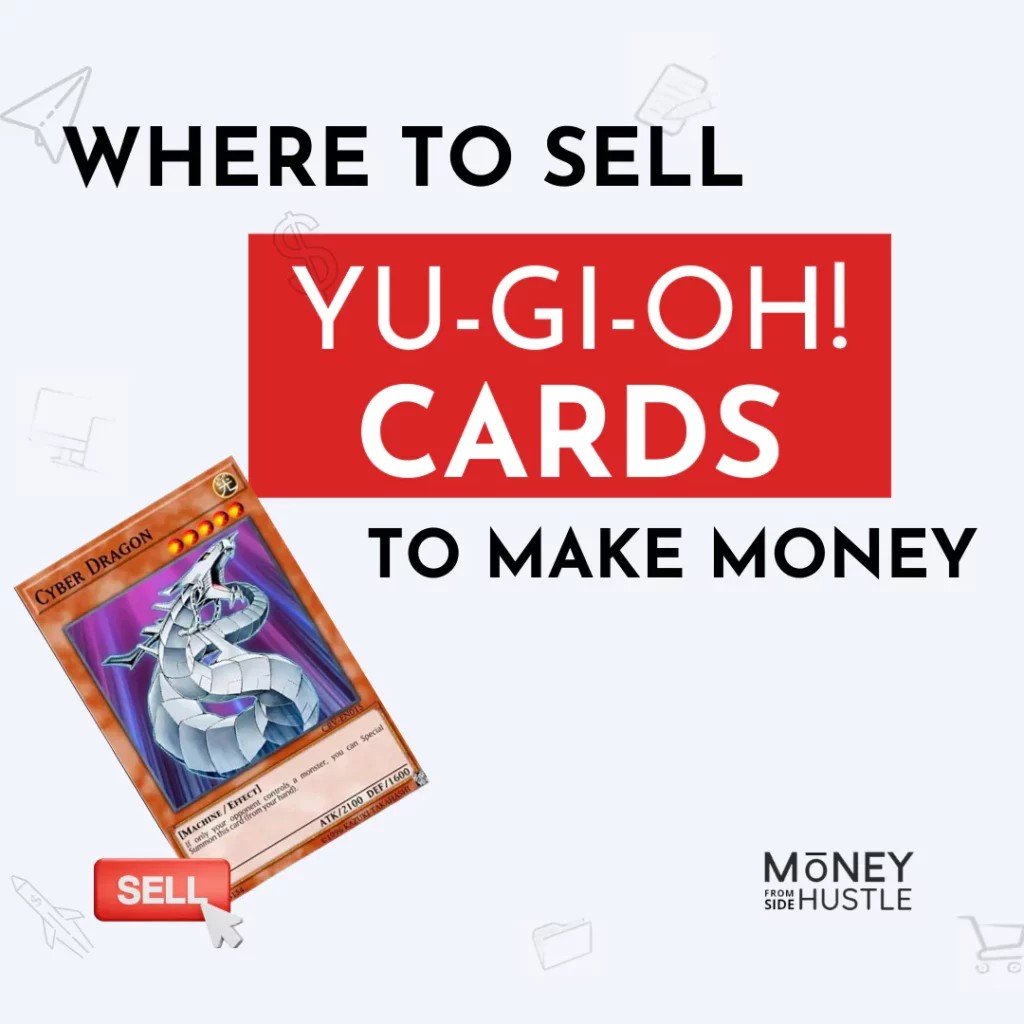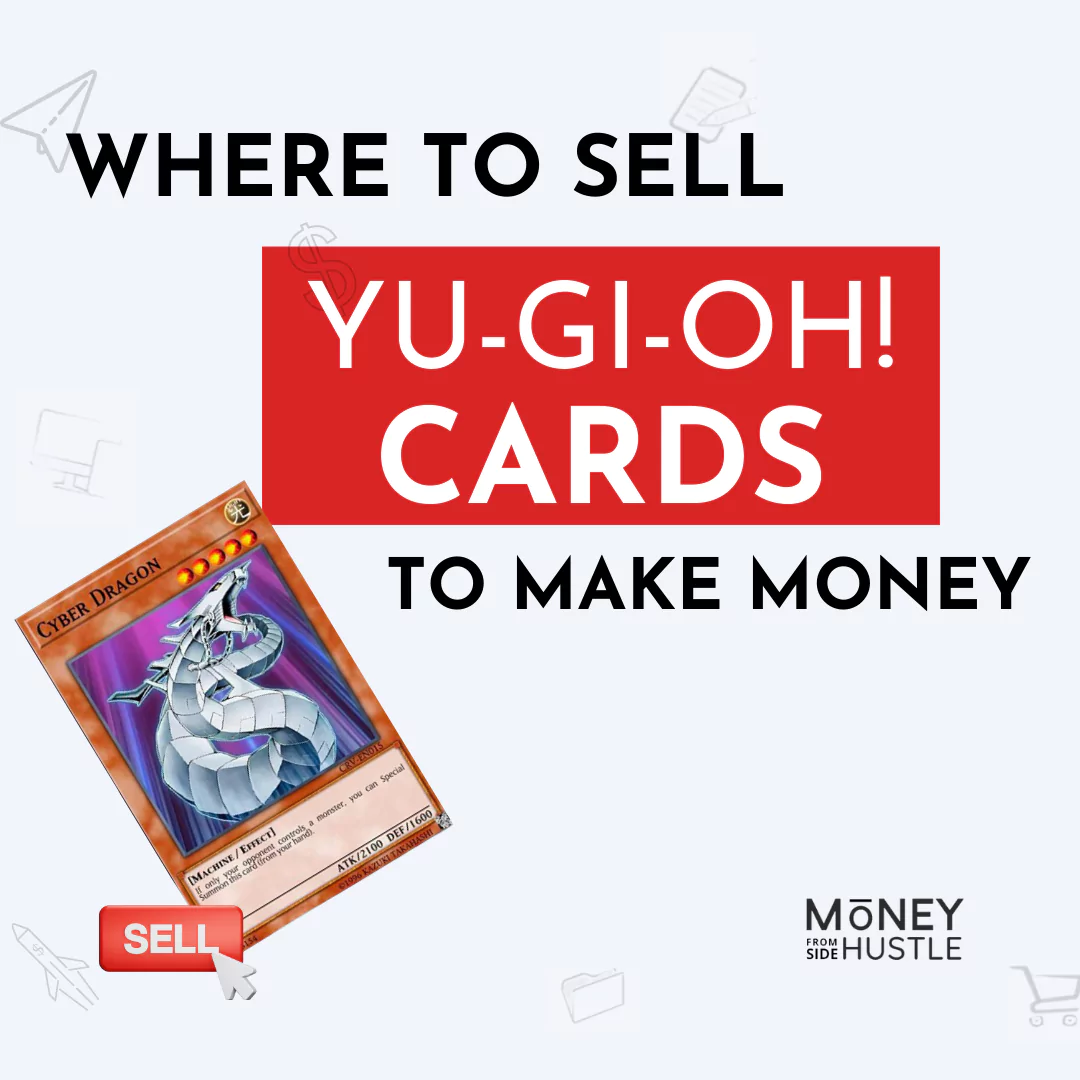 Yugioh collectible card game was originally created in japan in 1999 but gained popularity in the 2000s worldwide.
Yugioh trading card games (TCG) are not that popular now compared to those days, but it is still not obsolete by any means.
In fact, if you are a collector from starting days of the game, you might be sitting on a good pile of cash as many old rare cards have increased in value, and the Yugioh cards market has become huge.
There are many Yugioh card buyers, and you can make money selling cards if you have any.
Anyone with a collection of cards can make one-off money by selling Yugioh cards. But many people also make regular cash by flipping Yugioh cards.
A very few people buy old cards for the purpose of playing, mostly do it for collection or flipping purposes.
To get top dollar for your cards, you need to find the best websites to sell Yugioh cards. In this article, I will show all the places online as well as offline where you can sell your Yugioh cards.
Read on to learn about how to sell Yugioh cards and what are the things that affect how much money you will get.
Best Places To Sell Yugioh Cards
You decided that you want to make some cash from your collection, the next question is where to sell Yugioh cards.
You can sell your Yugioh cards online or offline. If you want to get the best value for your cards, you may want to use online card marketplaces, though it may take some time.
Selling your Yugioh cards online will be best option of you care rare and high value cards.
On the other hand, if you are in urgent need of cash or just want to get rid of your cards fast, selling them locally can be a great option, as you can get cash on hand instantly.
Though you will have limited options when selling your cards locally, and you might get less value for your cards.
Where to Sell Yugioh Cards Offline
If you have a bulk collection of Yugioh cards that you want to sell, going the offline route can be a good option as you don't need to ship the cards, and you can get the money fast.
Here are a few offline places to sell Yugioh cards you can try.
1. Sell On Facebook
Facebook marketplace is always a good option when you want to sell something locally as they have a huge number of users everywhere.
You can be sure that you are dealing with a real person who is traceable through their accounts.
There are two options available:
Facebook marketplace
Local buy and sell groups
In local buy and sell groups that are almost available at all locations, you can ask the admin to add you.
After that, list your cards with images, descriptions, and asking prices.
Similarly, you can list your Yugioh cards for selling on the marketplace and either choose to show your listing locally or globally.
When someone shows interest and wants to buy from you, set up a meeting and trade Yugioh cards for cash.
In the case of the marketplace, you can also sell your cards globally and ship them.
Charges: Listing is free, but in case you are using shipping cards and using their payment method, you will be paying 5% of the selling price or $0.40 flat for orders below $8.
---
2. Craigslist
Craigslist is a global online marketplace where you can sell anything, starting from used sneakers to your Cards collection, like Pokemon and Yugioh cards.
To be able to make a listing on the platform, you need to create an account.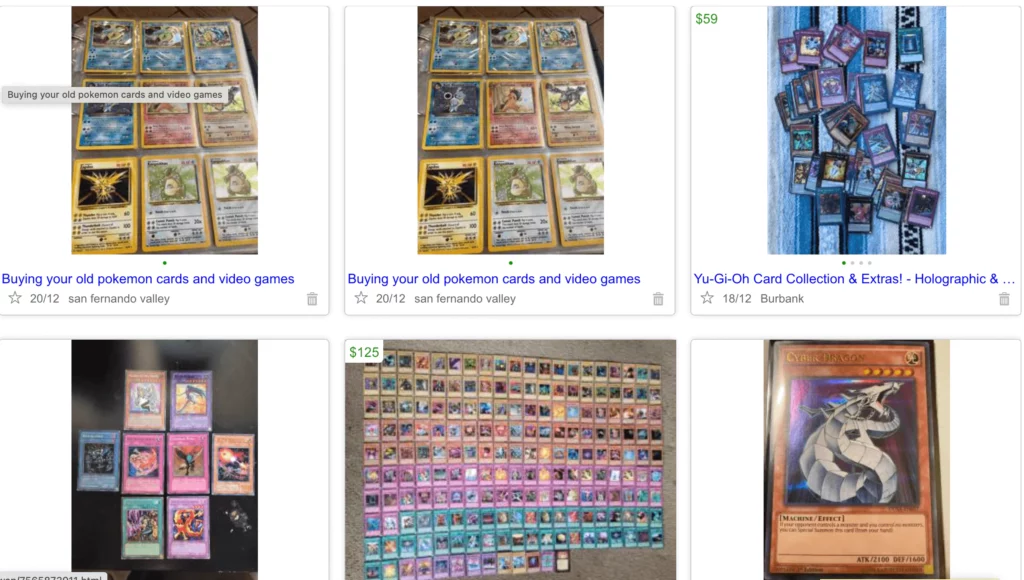 After making an account you can create listing by:
Posting multiple photos
Providing detailed descriptions
Set asking price
When your posting is live, anyone in your area can enquire about it.
Be prepared to answer any question and negotiate the price.
The users on Craigslist are not verified, so you need to be aware of the fraudsters. Always choose a public place for meeting with people around and take cash and not check before handing over your cards.
---
3. Local Consignment or Pawn Stores
Consignment stores sell a variety of things, including collectibles such as sports cards and Yugioh cards.
But not all pawn stores will be knowledgeable or interested in your Yugioh cards.
It will be better to call and enquire if any store around you is interested in buying Yugioh cards.
To go this route, you need to have some basic understanding of your card's value.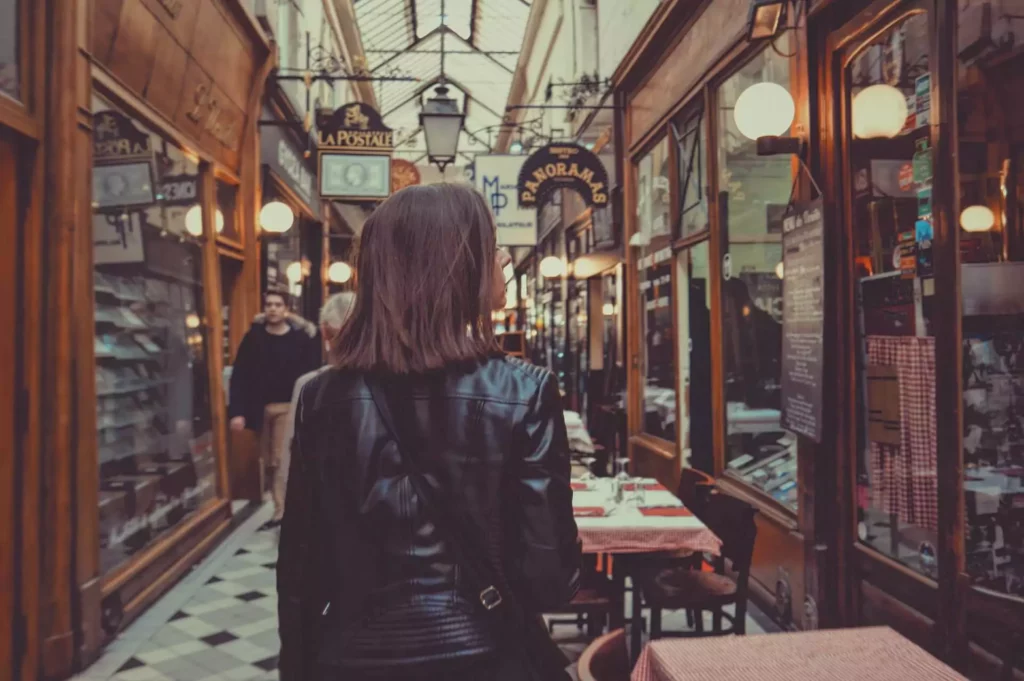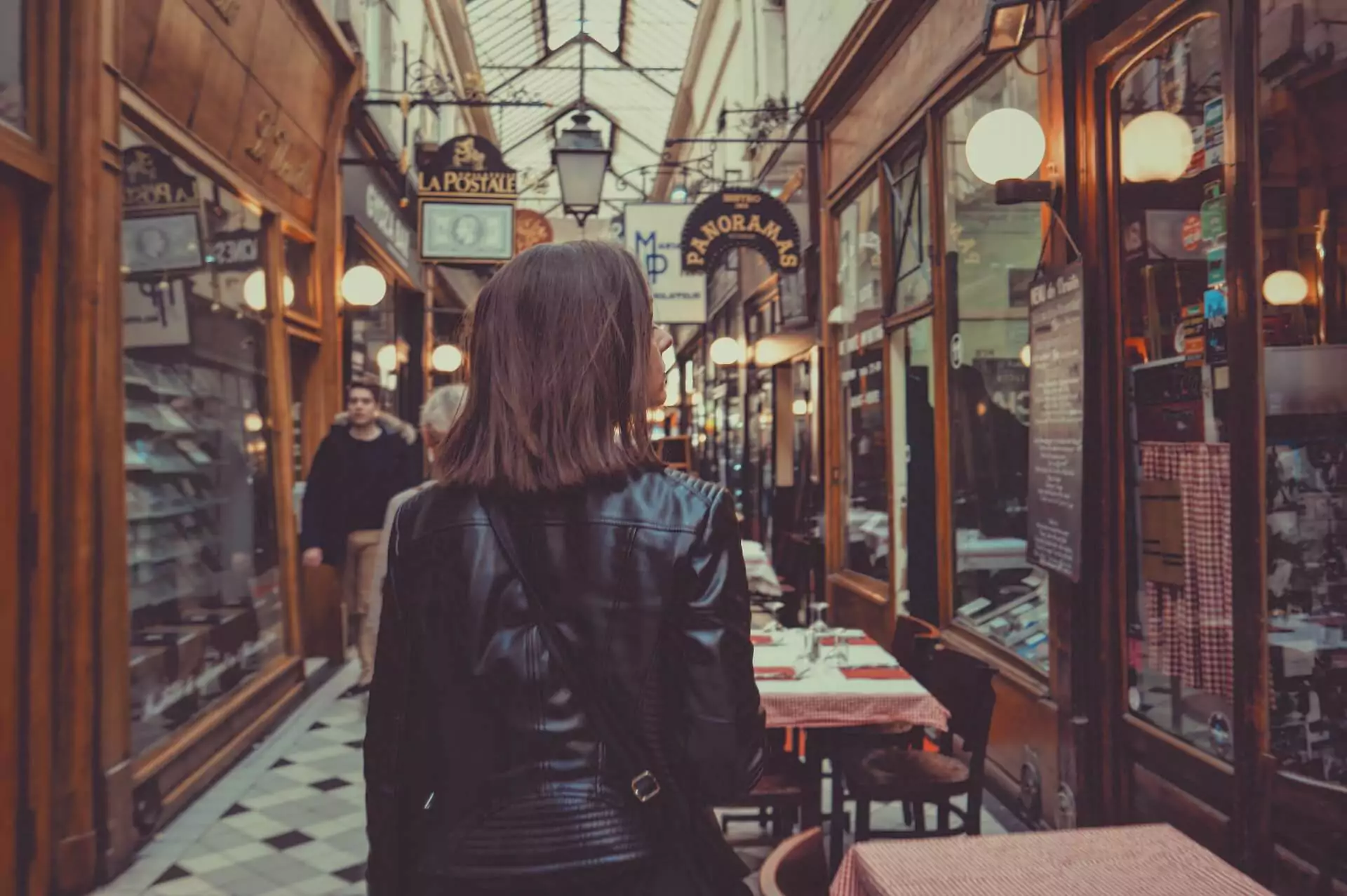 There are many things like condition and rarity that affect the price, which I will discuss later in the article.
If any store is interested in selling your Yugioh card, you need to bring the card, and they will evaluate it.
Based on the commission decided, they will keep their share after a sale and give the remaining to you.
You can sell your cards to Pawn shops, and they can buy your card themselves and give you money immediately.
---
4. Trade Shows & Conventions
Trade shows and conventions are not only great places to meet like-minded people but are also great for selling your Yugioh cards.
It is a paradise for people who are passionate about TCG, where they can attend so many gaming-related events and watch a few of the rarest cards.
You can also set up a booth and sell your cards if you have multiple cards or meet other people who might be interested in buying your cards.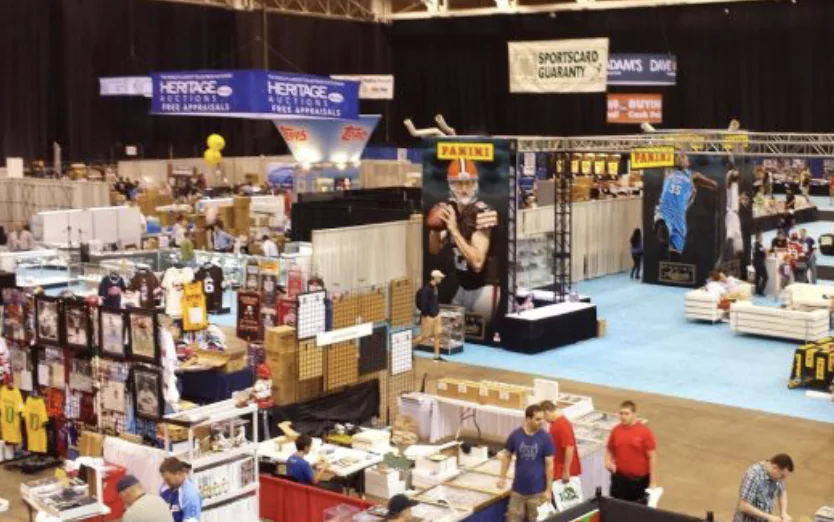 Make sure to take into account the fees for attending these shows and setting up booths, if that will be worth it.
Here are a few popular card game conventions:
Gen Con: Gen Con is a large annual gaming convention in Indianapolis which includes various card games.
Yu-Gi-Oh! World Championship: The Yu-Gi-Oh! World Championship is an annual event organized by Yugioh card publishing company Konami.
Similar to the world championship, Konami also arranges American, Europian, and Asian championships.
You can also look for local trade shows and conventions for card-selling opportunities.
---
5. Comic Book Places
Comic book stores can be another local place where you can sell your Yugioh cards for cash.
There is a very good chance that the comic store near you might have a good idea about TCG, like Yugioh, and since they buy and resell collectibles, they might buy your card.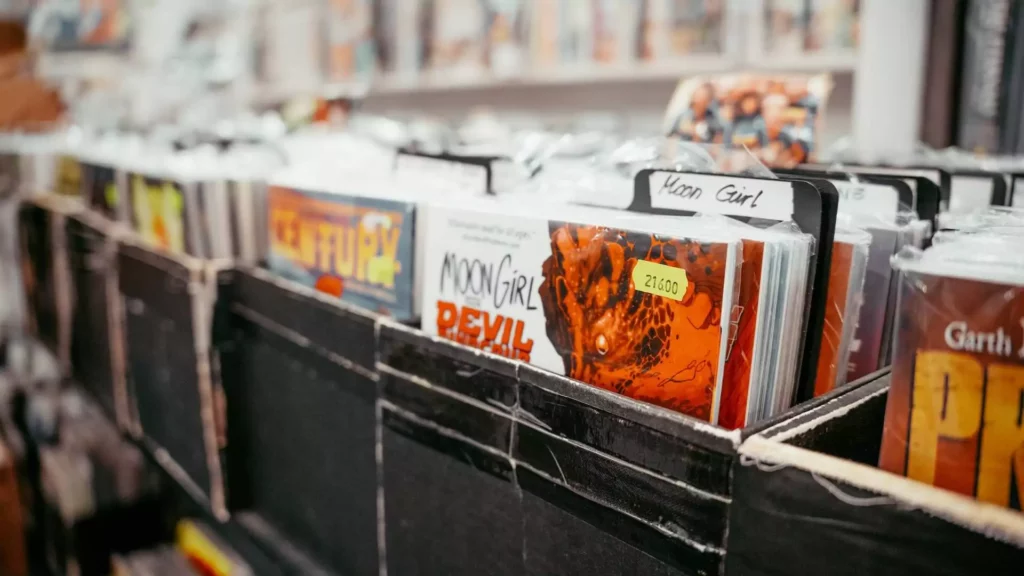 They will always try to underprice all your cards, so be sure to have some idea about your card's worth before going to them.
But if you are in need of urgent cash and do not want to go through the hassle of selling online, it can be a good option.
---
6. Reddit r/YGOMarketplace
Reddit is a social platform where people can interact with each other and make communities of subreddits of like-minded people.
r/YGOMarketplace is one such subreddit where many people who are interested in buying, selling, and trading Yugioh cards interact with each other.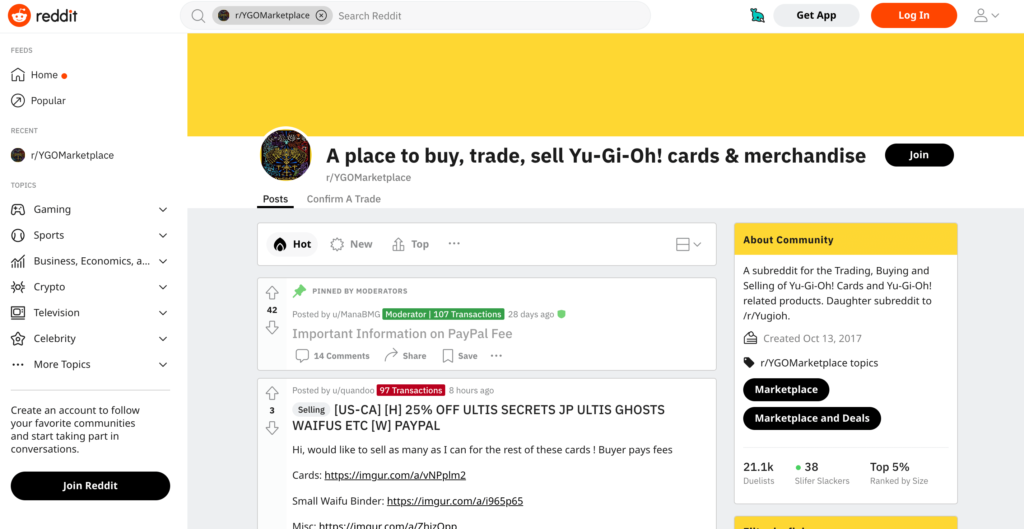 You can post your cards as a member and connect with an active community of over 21k duelists who might want to do a transaction with you.
Members can also rate each other and show how many transactions they have completed, giving credibility to reputed buyers and sellers.
There are many threads to help new members, and you can also ask the community any question, like the value of your rare cards.
The best part is there is no app commission or transaction fee, as all the transactions are direct.
---
7. OfferUp
OfferUp is another great place to sell Yugioh cards.
The website is a classified marketplace like Craigslist, and you can list anything you want to sell, from clothes to furniture.
To make a listing on the websites, you need to create an account and then add all the details with good-quality images.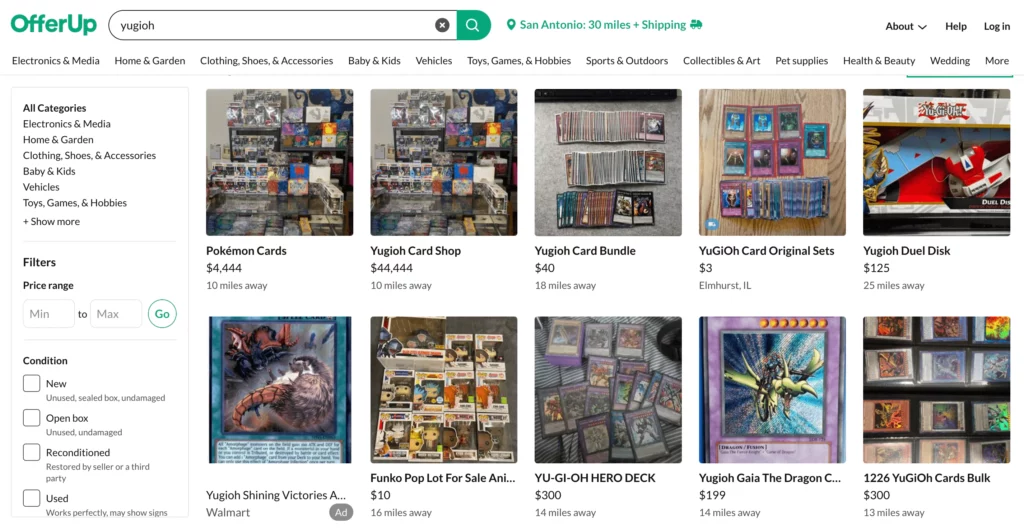 List of prices and choose to sell your cards locally or ship them nationwide.
Any interested buyers will contact you with their questions and offer prices. You can choose to meet the buyer at the place of your choice and trade Yugioh cards for cash.
You also have the option to ship your cards through OfferUp and receive online payment, but then you need to pay a fee.
Charges: A fee of 12.9% is collected by the app if you decide to ship the cards and get payment online.
---
8. 5Miles
5miles is a major online marketplace for selling automobiles, but now you can sell almost anything on it.
When I last checked, thousands of people had listed their rare to common Yugioh cards on 5Miles, which means there are enough buyers there.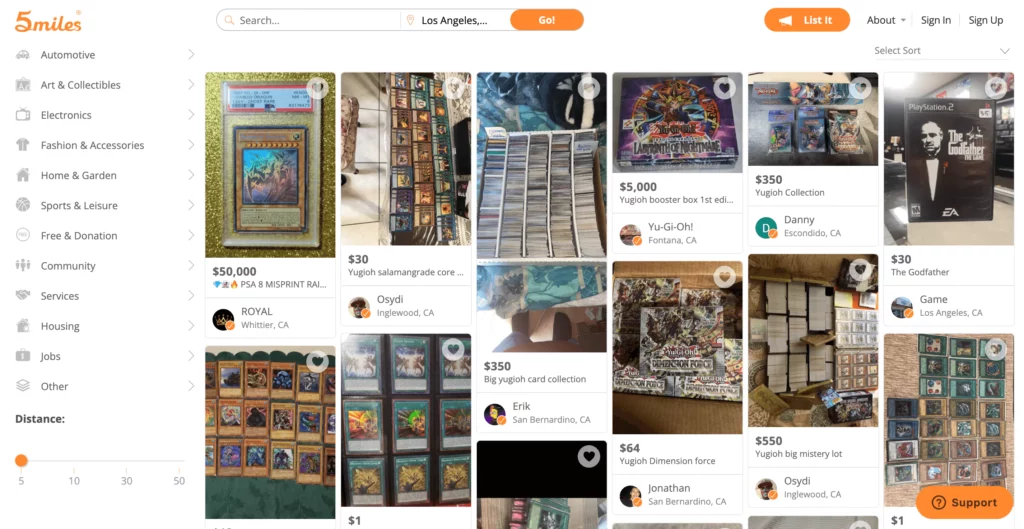 You can create an account for free and list your cards with all the images and detailed descriptions.
You can decide to sell locally or online on the platform.
The bids on the platform have a serious bid guarantee meaning only serious buyers will enter the bidding as there is a $5 penality for backing out.
Charges: They have a listing fee on the platform, unlike other platforms, and on sale, they take a 10% commission.
Where To Sell Yugioh Cards Online
If you want to get the best value for your Yugioh cards selling them at online marketplaces will be the better option.
Here are the best online stores to sell your cards.
9. TCG Player
If you are looking for where to sell Yugioh cards online, TCG Players can be your best bet.
TCG Player is one of the oldest players in the card trading market. They provide all the tools for card sellers to be successful on the platform.
Ranging from Pokemon cards and Magic to Yugioh, you can find everything on this website.
They have live pricing data for thousands of cards which will help you price your Yugioh card just right.
You can make an account on the platform for free and list your cards. Their app helps you scan your cards and post multiple of listings on the go.
If you want to know how to sell Yugioh cards in bulk, give this app a try.
They also provide seller protection so that you are 100% protected in case of any mishappening.
Charges: They have a tiered fee structure starting from 8.95% to 10.25% on each sale plus 2.5% and $0.30 transaction fees.
---
10. eBay
eBay is a marketplace you can use to sell your Yugioh card collection.
The platform has a huge user base from all over the world. Many vintage card collectors visit the website to purchase cards for flipping or completing their collections.
You can make a seller account on the app for free, and the first 250 listings are free.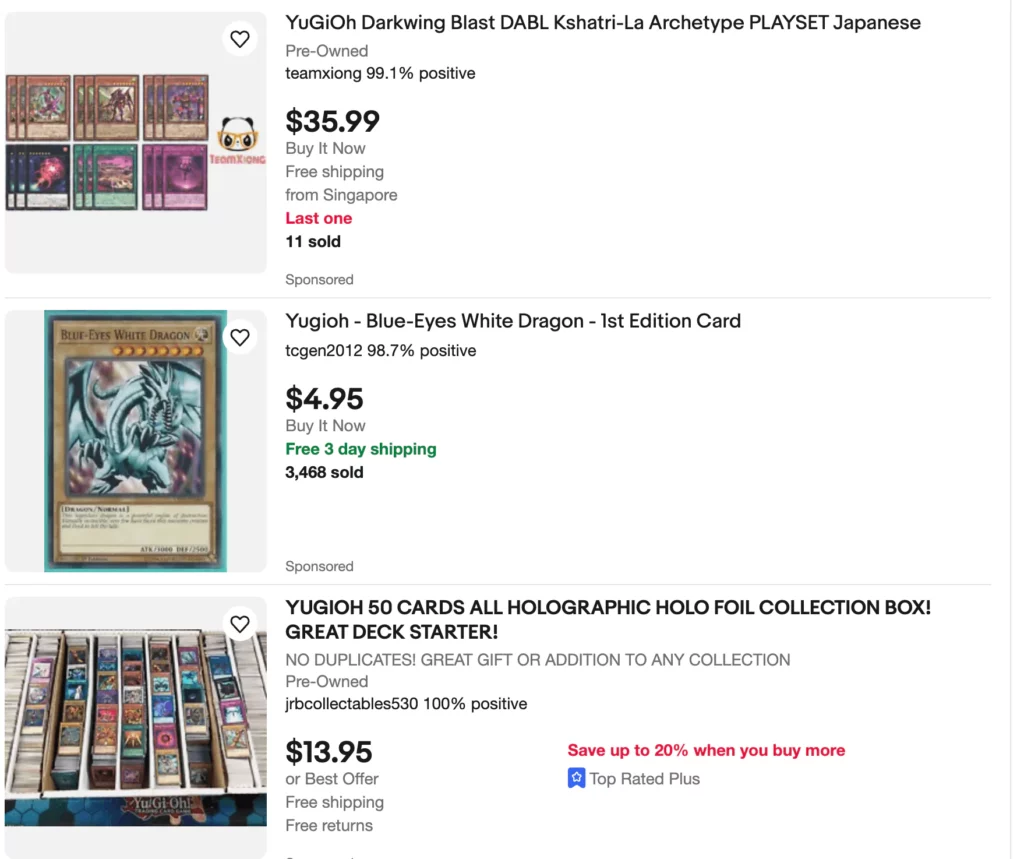 Make a listing of your cards with images and detailed descriptions.
You can do a fixed price listing
Put up your card for an auction
If you have rare and high-value cards or a set of cards to sell, you can get a good price from eBay auctions.
For fixed-price listings, any interested buyers can reach you for questions and price negotiations.
Note: Keep a wiggle room for price negotiations, as buyers love to have some discounts on price.
Charges: If you have only a few cards to sell, you can list them for free. Trading cards come under 12.9%+$0.30 for every sale.
---
11. Card Market
Card Market is primarily a European card market, but users all over the world buy and sell cards on this platform.
You can put up your Yugioh cards for sale on this website.
There are over 40 million cards sold on Card Market. Other than Yugioh cards, you can sell other trading card collections like Pokemon, Magic, and Digimon, to name a few.
Different cards have different pages, and you need to put up your card under the correct page.
Appropriately select your card page and add all the details like card condition like excellent, near mint, or lightly played, to name a few.
Grading should be strict, and if in doubt, they advise mentioning the lower grading.
Choose your price, which will display alongside your card details.
Reply to interested buyers in a timely manner and send the shipping at the earliest in a single package with safe wrapping.
Charges: Selling your Yugioh cards on the platform attracts 5% fees plus a 3% currency conversion rate in case of foreign currency.
---
12. Heart Of The Cards
Heart Of The Cards is another good site to sell your Yugioh cards if you don't want to put in the work yourself.
They buy Pokemon cards also but rare and vintage ones only.
For buying Yugioh cards their conditions are:
Near mint or at least slightly played cards
Only English cards excepted
Give them cards without sleeves
They use TCG Player price point as a reference and give card sellers 40% of the market price in cash.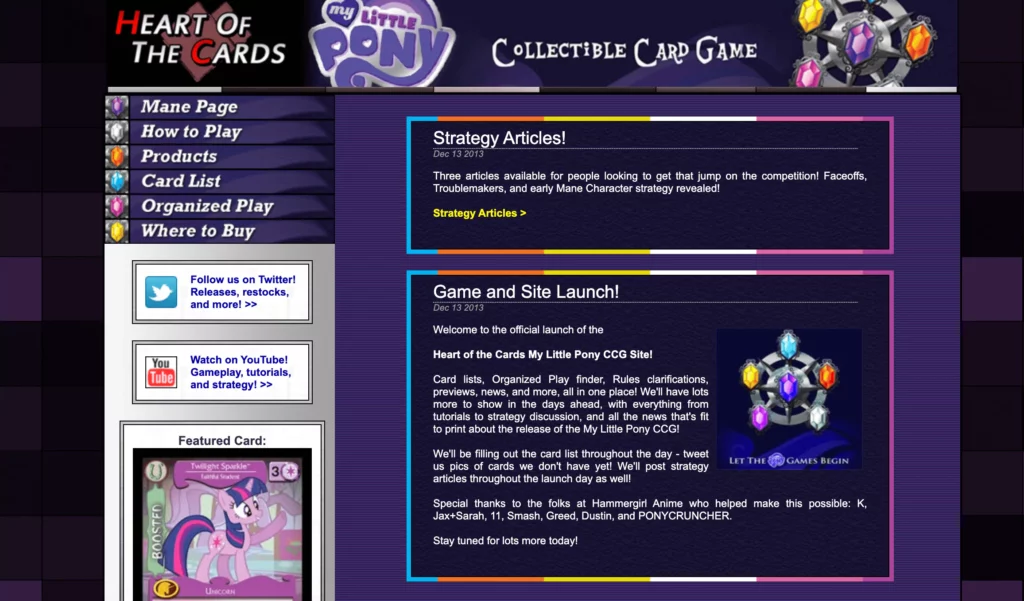 If you choose to get store credits, they will give you 50% of the market price.
As there are many foil Yugioh cards, they are very picky about the condition of these cards. They buy cards legal in advance for Yugioh cards.
So, obviously, you will be making much less than at other places like eBay, but it is an easier way to sell Yugioh cards, especially your bulk collections.
---
13. Troll And Toad
Troll and Toad can be used to sell your Yugioh cards as they buy single and bulk orders.
Selling in the website is pretty easy.
You need to make an account and choose the cards you want to sell from their dropdown options.
Once you have made a list and added all the cards you want to sell to the cart, an invoice with the expected price will be generated.
This is not the final price you will get, but it gives a good idea. Your card prices will be locked at the time of making a list unless the card's condition is different than what is mentioned.
Then you need to ship your cards to them within 10 days. They will assess your cards and issue you a payment based on your preferred method.
Note: Make sure to arrange cards according to your list otherwise, they will cut sorting charges of $15 per hour.
Your order value should be $30, and in the case of bulk orders, at least 15% of cards should be uncommon.
Payments are made in the form of store credit if the order becomes less than $30 due to deductions. Over $30 if you choose store credits, you will earn a 30% bonus. Getting paid by check is free but takes time, while PayPal payments are faster, but you need to pay 2.9% and $0.30 transaction fees.
---
14. Sell2BBNovelties
In TCG, Sell2BBNovelties is a very old name, doing business since 1999.
They buy toys, collectibles, action figures and many other things other than Yugioh cards.
You can check the list of Yugioh cards they buy on their website with the expected price you can earn.
Vintage HOLOS will fetch you $0.20 for each card, and vintage rare can earn $0.06. Common cards are worth $0.01 for each card.
You can sell in two ways:
By adding individual cards to the basket
Selling in bulk at a flat price
Your cards should be in mint condition and in English language.
You need to send them your cards, and you already know how much you can expect to earn.
If your order is above $30, the shipping is free and they will send you a prepaid label.
The cards they buy are resold to collectors or to other wholesalers.
You get instant payment without much effort and work.
---
15. Mercari
Mercari is another unexpected place where you can sell your Yugioh cards.
The marketplace is open to sell almost anything and many people sell their card collections on this platform.
You can list all your cards from common to rare on this website.
Just make sure to make a good-quality listing after making a seller account.
Add all the relevant details, like your card's condition, and decide on a price point.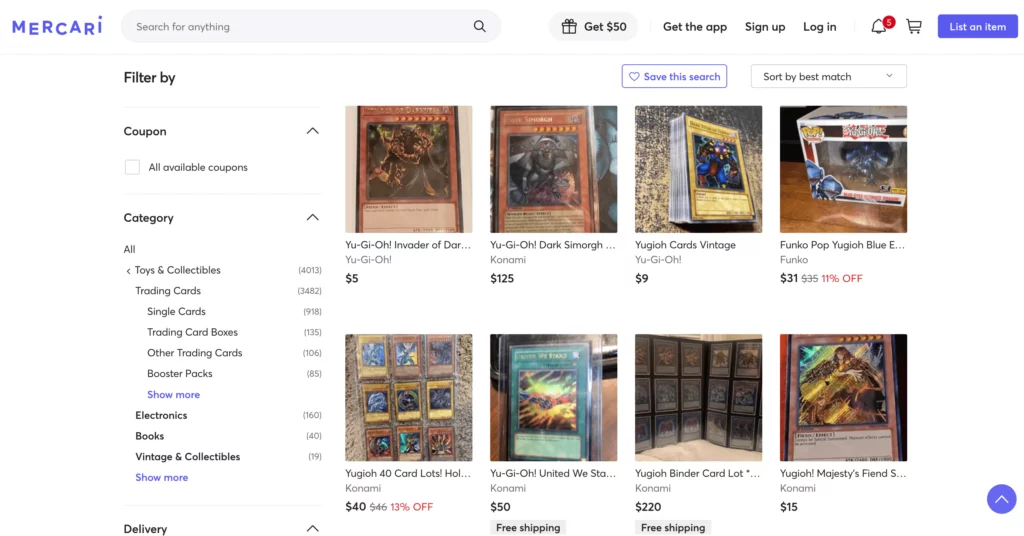 Note: Price competitively after looking at other listings of the same card.
Once a buyer purchases your cards, package them carefully and ship them within three days. Mercari will provide you with a prepaid shipping label.
Once buyers confirm that they have received the item and you rate the buyer, you get paid.
They also offer:
Seller protection
Shipment insurance upto $200
Charges: Listing your cards on this site is free. You need to pay a 10% fee plus a 2.9% + $0.5 payment processing fee when you make a sale.
---
16. Dave and Adam's
Still wondering how to sell Yugioh cards, you can use Dave and Adam's website.
The kinds of single Yugioh cards they buy are:
Super
Ultimate
Ultra
Secret rares
You can see on their buy list if they are interested in buying your card.
Select the cards you want to sell and make a list and ship them the cards within 7 working days with careful packing.
After assessing your cards, the payments are generally made within 24 hours.
They also give you free gifts like cards on orders above $100.
If you have a collection to sell, they are always buying. They also buy sports cards, Magic cards, memorabilia, and other trading game cards.
Things That Decide The Price Of Yugioh Card
You have found the deck of old Yugioh cards in your attic, but don't get excited just yet.
You may make thousands of dollars or nothing at all depending on a few things. If you are new to selling cards, understanding these things will help you price your cards just right and don't undersell them.
The value of cards has increased over time, but not all Yugioh cards command the same price. Here are a few important factors that decide the price of your card.
I. Rarity And Age
A few cards are rare than others hence more in demand due to low supply.
Especially 1st edition and limited edition cards that are released in small numbers are rare to find and command higher prices, for example, the "Gold Rare" version of the "Dark Magician" card.
Cards released for special events, tournaments, or subscriptions like "Shonen Jump" are also more valuable.
The Rarety of a Yugioh card is categorized into 9 different levels.
Common
Super rare
Ultra rare
Ultimate rare
Secrete rare
Ghost rare
Startfoil rare
Mosaic rare
Duelist league
Here is a visual guide.
II. Condition Of Cards
The condition of your card is another important factor that decide its price.
Two exactly same cards but in different physical condition will attract different price.
Perfect near-mint condition cards are more valuable than other categories. Here are the categories a Yugioh card you are selling can be put in:
Mint: Those are still in original packing and not handled. They are most valuable.
Near-mint: These are opened but, to the naked eye, look almost like Mint. Only a professional grader can tell the difference. They are almost the same price as mint unless they are very expensive ones.
Lightly Played: These have been used for playing and have light wear and tear from use. The value dramatically decreases from near mint to lightly played cards.
Heavily Played: These cards are used multiple times in playing and have a lot of wear and tear. They are usually worthless.
If you have an expensive, very rare Yugioh card, to sell it at the best price, you need to have it graded with professional services like PSA grading. A higher grading will attract more buyers with much better prices.
III. Playability
In the case of Yugioh cards, their playability is also a factor in price.
Some cards have much more impact on the game, and they have high demand, leading to higher prices.
A few cards have more power in the context of present game strategies called metagames, which leads to an increase in their prices.
For example, "Special Edition Cyber Stein" can be used to summon fusion monsters and is very popular with players commanding up to $5,000 price.
In tournaments, some cards are even forbidden, and you can not use them. Check the list of the card you are selling is in it.
IV. Card Set
The company has released a number of sets and boosters over the years.
If you have a complete set, you might sell it at a better price. A few sets like first edition sets or sets with rare edition cards are more valuable.
The sets released during strong metagames might be more in demand than others.
What Yugioh Cards Are Worth Money Now
There are many Yugioh cards that are worth money.
You can even check the estimated price for any given card on the website yugiohprices. Just enter the card name or set number there, and you will get the estimated current price and price history.
Price history lets you decide if you want to sell now or let it continue to increase in value.
Here is the list of a few top-priced Yugioh cards you can sell.
Tournament Black Luster Soldier: This promotional card given to winners of certain tournaments
Armament of the Lethal Lords: Available through a special offer only
Blue-Eyes White Dragon: An iconic monster card valuable for high attack and defense points
Red-Eyes Black Dragon: Another monster card with high attack and defense points
Exodia the Forbidden One: This powerful monster card can instantly win a game for player
Dark Magician: This iconic monster card is a popular and powerful choice
Dark Magician Girl: A variant of the "Dark Magician" card and is highly valuable
Harpie's Feather Duster: A spell card to destroy all spell and trap cards on the field
Black Luster Soldier – Envoy of the Beginning: This powerful monster card can banish other monsters from the field
Card Destruction: With this spell card player can discard their hand and draw new cards
Heavy Storm: Another powerful spell card for destroying all spell and trap cards on the field
Gravekeeper's Spy: This card can summon itself from the graveyard
Graceful Charity: Using this card a player can draw three cards and then discard two cards
Raigeki: Another highly sort after powerful spell card to destroy all monsters
Sinister Serpent: This one has the ability to return to the player's hand during the end phase of each turn
The value of specific Yu-Gi-Oh! Cards can change over time as the metagame evolves, and there is a need for certain card changes.
It is always a good idea to check the current trends and prices.
Most Rarest Yugioh Cards
Here is a list of a few rarest Yugioh cards that also sell for very high prices.
Tyler, the Great Warrior: This rare Yu-Gi-Oh! card is a custom-made card made for cancer survivor Tyler. He was offered $150,000 but he chose not to sell it.
2002 LOB Blue-Eyes White Dragon (1st Edition): The 2002 LOB version of this card is the first edition of the card, making it the most sought-after collectible. Priced over $100,000.
2002 Legend of Blue Eyes Dark Magician (1st Edition): Another classic and iconic Yu-Gi-Oh! card featuring a powerful monster with a high attack and defense value. Value over $100,000.
2007 Shonen Jump Championship Series Crush Card Virus: This Crush Card Virus is a powerful trap card that can destroy all of the opponent's monsters with an attack value of 1500 or more. Originally released as a prize in the 2007 Shonen Jump Championship Series, only a few copies were produced, making it highly valuable. Priced over $45,000.
1999 Perfectly Ultimate Great Moth No Red DDS Promo: This promo version of this card is very rare, as it was only given out to only a few as a promotional item. Last sold for $29,999.
2004 Shonen Jump Championship Series Cyber-Stein: Released as a prize in the 2004 Shonen Jump Championship Series, only a few copies were produced. In good condition, it can fetch good money. Sold over $11,000 last time.
2002 LOB 1st Edition Exodia The Forbidden One: 1st Edition version of this very sought-after card makes it very high value. Last one sold for $35,000.
2008 Shonen Jump Championship Series Doomcaliber Knight: Released as a prize in the 2008 Shonen Jump Championship Series and is the best level 4 monster, it has been known to sell for high prices. Last sold for $15,000.
2002 LOB Red-Eyes B. Dragon: This iconic Yu-Gi-Oh! card is the first edition of the Red-Eyes Black Dragon, making it a highly sought-after collectible. Lat sold at $10,000.
2007 Gold Sarcophagus Ultra Rare Shonen Jump Prize Card: This powerful spell card was originally released as a prize in the 2007 Shonen Jump Championship Series. Last sold at $17,500.
Many more Yugioh rare cards pop up from time to time. For example, recently "Tournament Black Luster Soldier" card given to first ever Yu-Gi-Oh! tournament winners was reportedly sold at a 2 million dollar price.
Tips to Sell Yugioh Cards For The Best price
Here are a few things when looking for how to sell Yugioh cards for maximum profit.
I. Do Your Research
It is important to do your research about your card's condition and history of the card. You need to know the aproximate value of your card to make the right decision.
If you can determine that your card might get you over $500, you can decide to get it graded and list it at auction sites rather than negotiating at a local pawn shop.
Start by looking at PSA pricing guides and yugiohprices.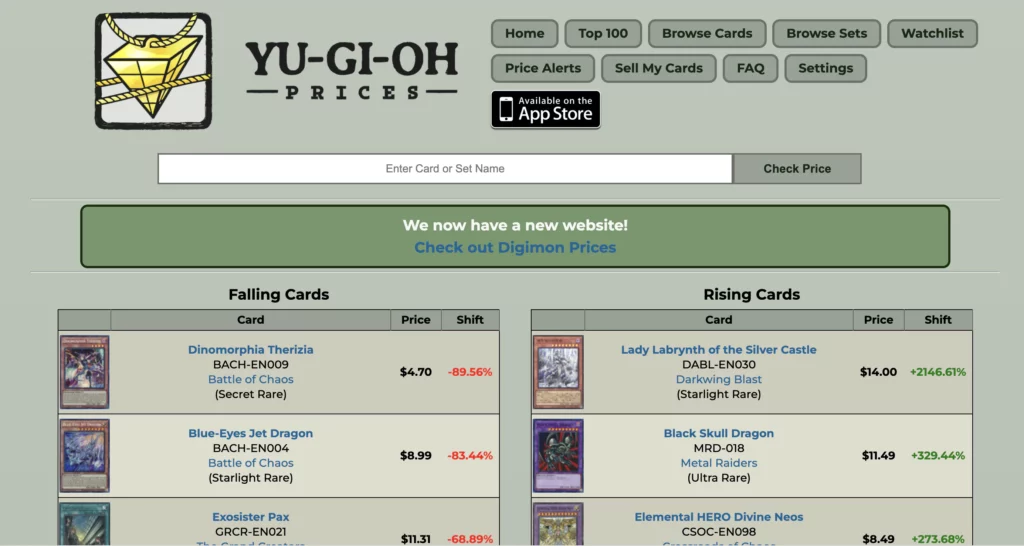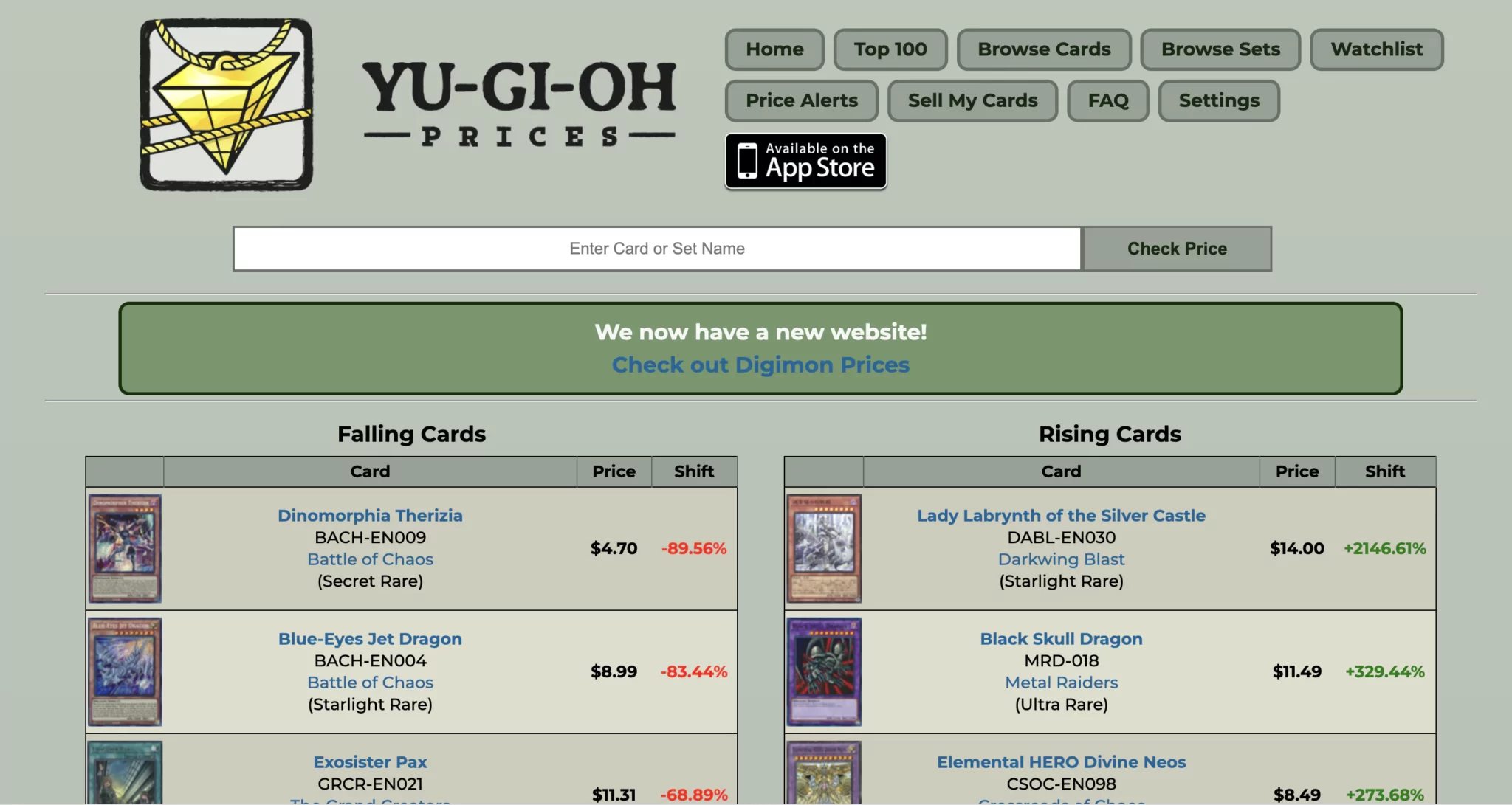 II. Get Your Expensive Cards Graded
If you know that the card at hand is expensive, it makes sense to have it graded with professional service.
Having a graded card with good rating can invoke confidence in buyers and get you more price.
On the other hand, it does not make sense to grade common cards because a single card grading costs $20 to $50.
III. Sell At The Right Platform
Choosing the right platform can make a ton of difference in the final amount you get. A few sites get more commission than others but get you more money and eyeballs. Places like Dave and Adam's only give a fraction of live pricing but are less hassle.
You need to decide what you want. If you are looking for the best price, posting your rare card at the eBay might be your best bet.
It is also a good idea to get quotes from different Yugioh card market places.
If you are selling common cards in bulk, going the local route might be an easier option.
IV. Be Transparent With The Buyer
When you are dealing with a buyer, always mention all the relevant information, like if there is any stain or other thing they need to know.
Most of the sites provide buyer protection, and if the buyer rejects the order, it will be a double hassle for you.
Sooner or later they will know, so it make sense to reveal everything.
If you are a frequent seller, then having clear communication with a buyer will help you get positive reviews.
V. Sort Your Cards When Selling In Bulk
Selling cards in bulk can be difficult for buyers as they need to go through all the cards.
Most wesbites that buy cards in bulk, ask you to sort them beforehand and make a list.
If they have to do all the sorting, then you need to pay a sorting fee of around $15 per hour.
Choose The Best Place For Selling Yugioh Cards According To Your Needs
So, now you know every place you can sell your Yugioh cards at.
Make sure to choose the best one according to your needs and convenience. If you have been postponing selling those cards for long, now can be the time to do it.
On the other hand, if you are still not emotionally ready to let go of your memories, there is no need to rush, as most cards will most likely continue to grow in value.
Here are more ways to make money for you: