This post may contain affiliate links from which I may earn a commission without any cost to you. Read our policy for details.
SAVING MONEY ON SHOPPING WAS NEVER EASIER THAN NOW. LET'S SAVE A FEW HUNDRED OF YOUR HARD-EARNED DOLLARS!
We are here to find out about the apps that save money for you when shopping.
You don't have to pay the total price; discount deals are always around the corner.
You have to just find it.
Unfortunately, not all websites out there are ideal for helping you find the right discounts for the product you are looking to buy.
Since most of you do shopping online for the majority of purchases. You don't have to waste your time finding discount deals on the vast web.
I have made it easier for you by cataloging the websites that help you get discount deals. You have to just go on to these apps that save money and find out which is best for your purchase.
I guarantee that you will definitely find a few discount deals you won't believe can be true. At the same time will also save your hard earned money with just a few clicks, as each penny saved is a penny earned.
Check out these websites and register to get the discount now or later when you plan to buy.
1. Befrugal
Befrugal is one of the highest cashback paying sites. When you sign up with them, you get a $10 sign-up bonus.
They offer cash backs of up to 40%. Though you won't get that high cashback often, you can definitely get 5 to 10% very often.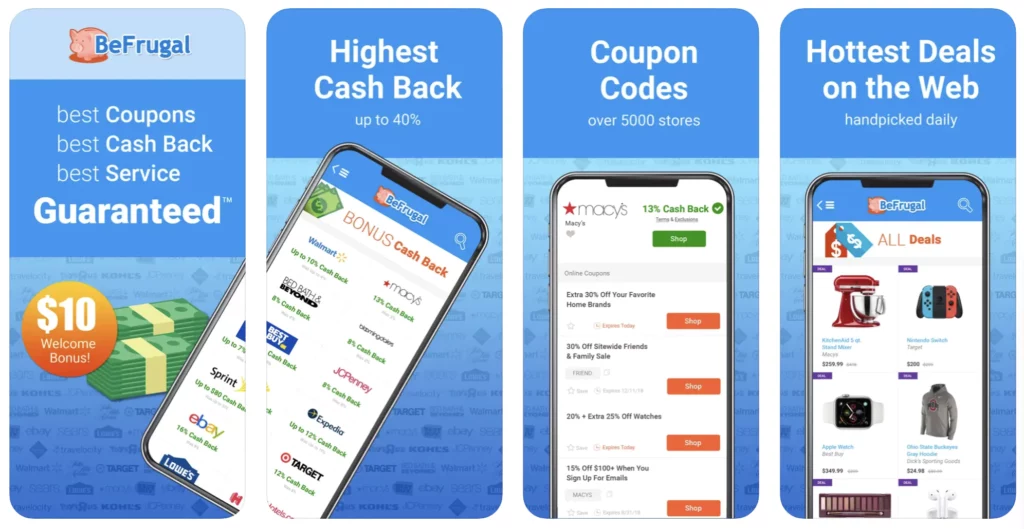 Once you are a member, you can refer others and get a referral bonus.
You can also print coupons for restaurants like Red Lobster and Burger King and get discounts.
When you shop online, you can get discounts on up to 5,000 stores.
2. EBates/Rakuten
When it comes to online cashback shopping, Ebates is the pioneer. It's a marketplace like your personal agent to bargain discounts for you with multiple shopping stores.
Just imagine it, you got extra discounts for shopping on sites like Nike, where you were going to buy Jordans anyway. Ebates rewards you for shopping through their site.
They partner with hundreds, if not thousands, of merchant stores from which you can earn up to 25% cashback on your purchase price. Even if you get a 5 to 10 % extra discount, that's not a bad deal.
Plus, a referral system pays you $25 for every referred friend if they make purchases totaling $25 in the specified period. So you get paid again to help your friends get discounts.
This is one of the best apps that save money for you on almost all your shopping; everyone should try it at least once.
3. Swagbucks
Another such app to save real cash is Swagbucks, a highly reputed program for offers and discounts.
All it takes is a few minutes for that initial registration, then whenever you want to shop online, simply login to your account, type in the store you want to shop from and click the link. Everything else stays the same.
For doing this little extra clicks, you got that sweet cashback. Do check this website out.
4. ibotta
ibotta is an excellent cashback app like ebates.
The benefit of joining more than one such app? You got coverage of more stores.
Some stores are not covered in one or another. When you are partner with maximum, you have more probability of getting discount everywhere you spend your money.
They have paid more than 680 million dollars in cashback; you can save a few hundred or even thousands.
Signup here and get a $20 bonus for joining.
5. Woot!
Woot! was bought by Amazon a few years ago, and now numerous discount deals are available to save money online.
It features deals each day, and people are allowed to discuss opinions about these deals. If you want to get involved, you don't have to sign up – just use your Amazon ID to log in.
6. Honey
Honey is a browser extension that simplifies finding online coupons and applying them to your cart.
You don't have to visit the website or app to save money.
You can install this free add-on on your browser, then whenever you are on a checkout page, you click on Honey, and it will automatically apply up to 10 latest coupons for that particular site/store to find the one that gets you the lowest price.
This is the easiest way to save some money, in my opinion. Try this out; it can't get easier than that.
7. Bens Bargain
This is top-rated among apps that save money with plenty of deals and update deals all the time. The newest ones are always listed on top.
You can find discount deals for almost any store you can think of – Macy's, Gap, Old Navy, Amazon, Best Buy, and The Home Depot.
8. Dealnews.com
This comprehensive deal website has incorporated several other deal sites throughout its history.
There is a higher concentration of electronics and clothing discount deals. Plus, you can enrol for surveys to get some extra cash.
I would recommend you choose Ipsos-iSay. Ipsos is the most fun and well-paying panel. Give it a try to see how you like it. It is free anyway!
You can search directly for what you want to see the deals in your area of interest and also see which ones have recently expired.
9. Offers.com
Offers.com includes thousands of different retailers. And it is updated daily, and you can search by the store or the brand for goods in various categories.
The best part is that it also includes local coupons and promo codes for brick-and-mortar stores around you.
10. Brad's Deals
If you want to get discount deals on items of regular use, check this website.
You'll find deals on things like clothing, toiletries, and jewellery. You can get your deals either online or, in some cases, with a printable coupon that you can take to the store.
11. Slickdeals
Slickdeals is another app that will save you money with shopping deals. Deals are continuously coming and going in slickdeals on all top merchants. Lots of the codes come from the active community that Slickdeals attracts.
12. CouponSherpa
CouponSherpa offers hundreds of printable coupons and promo codes on its site. For people who love coupons, this is one of the best apps to save money on shopping online or offline.
13. Groupon
At Groupon you can buy the coupons by paying and avail discounts online or at the stores.
Once you have purchased at Groupon, you will receive an email with a link to print your coupon for yourself or as a gift.
All the coupons have a due date. If you are afraid you won't be able to use it on time, you ask for a refund, and your coupon will be cancelled. You can also refer friends to Groupon, and when they sign up, you will receive a $10 Groupon credit.
14. Shopeathome
ShopAtHome, similar to Groupon, provides coupon codes for significant online savings and printable coupons from thousands of stores offering cashback.
Once you make a purchase, you can earn up to 30% of cashback on every dollar you spend.
The website offers to install a kindly toolbar that will analyze every site you visit and determine if there are any coupons, deals, or cashback rebates available.
15. RetailMeNot
One of the largest coupon code sites is RetailMeNot.com. It has more than half-million offers from thousands of retailers and manufacturers.
As mentioned above, it also includes exclusive coupon codes, specially negotiated through its partnerships.
16. FreeShipping.org
FreeShipping.com is the site you need for your shipping needs, as it lists free shipping coupons for more than 4000 retailers, including big ones like Best Buy.
So we have reached the end of our list of apps that will save you real cash. I am sure you have already saved some of your hard earned money using the above apps.
I agree that finding the best deal online takes a lot of time (trust me, I know).
But with this list, I have already done a significant part of your work. Now you must check out only these few websites/apps and register to get the deals and satisfaction of saving money you can't get elsewhere.
Want to Earn More, Try These Resources:
---
If you are planning to start a new blog or running a blog but still not making any money, here is my step by step guide for starting a blog. I will show you everything you need to generate a passive source of income.
---
Check out all the best resources I use! These resources have helped me immensely in my journey and I am sure they will help you as well.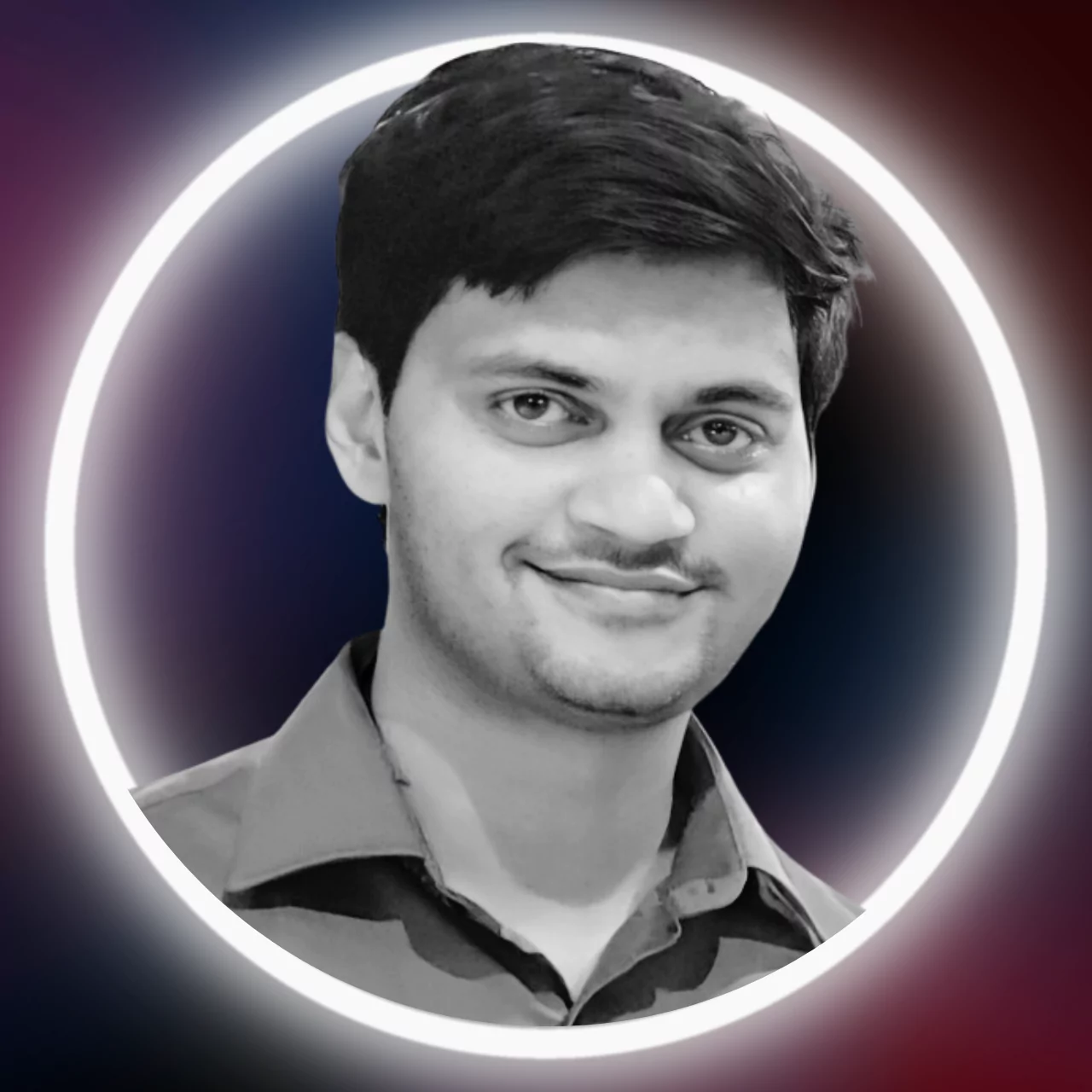 Sumeet is a Certified Financial Education Instructor℠ (CFEI®) and founder of MoneyFromSideHustle. He is an experienced side hustler who replaced his full-time income with side hustles. His work has been quoted on major finance websites like CNBC, Yahoo! Finance, GOBankingRates, CEOBlogNation, SideHustleNation, and more. He has helped thousands of people find side hustles and is here to help you find your extra source of income. More about him.