This post may contain affiliate links from which I may earn a commission without any cost to you. Read our policy for details.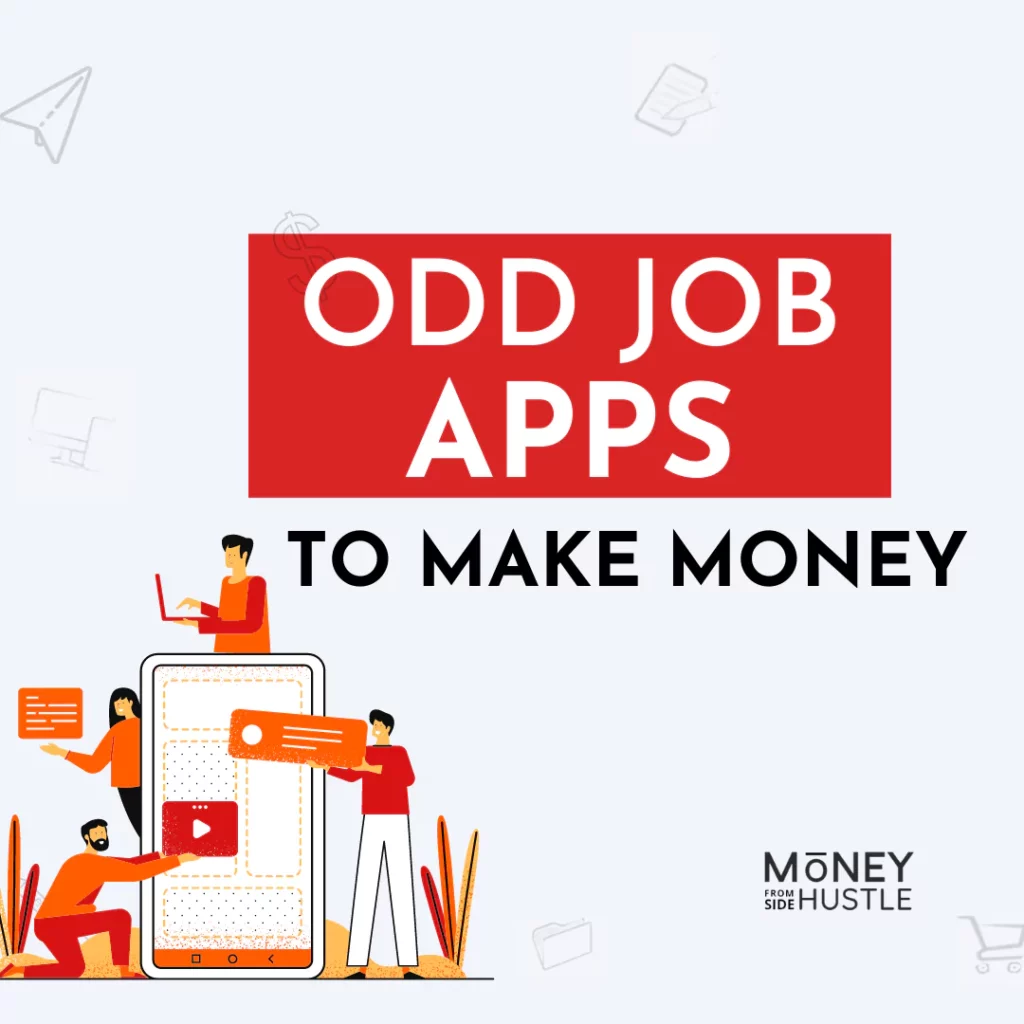 If you are looking for an odd jobs app to find some quick gig near you, you are at the right place. We will cover all odd job apps and websites to find your next hustle.
Whether you want to provide a handyman service or want to deliver food for extra cash, there is an app or website that will help you find that job in minutes.
At some point, all of us have turned to side hustles or odd jobs (other than your regular 9 to 5 jobs) to get some extra cash.
You might be in need of extra money for some unexpected expense or just want to make a saving pool for rainy days.
These part-time odd jobs can help you get that money fast in your spare time on weekends or end of the day.
If you are not sure what kind of odd jobs you want to do other than those discussed in the below apps, we have listed more of them at the end of this article.
Without any further ado, let's dive into apps for odd jobs.
Best Odd Job Apps
In this gig economy, it is easier than ever to find your favorite side hustle. This list of websites and apps will make it even easier.
Odd Job Apps For Online Gigs
If you are looking for easy odd jobs from home, here are your best options.
1. Swagbucks
Swagbucks is one of the best and oldest odd jobs app online to do a variety of tasks to earn cash.
They claim to have paid over 450 million to their users over time.
They have a good rating of 4.3 from more than 30k reviews on Trustpilot, which shows that people actually make money here.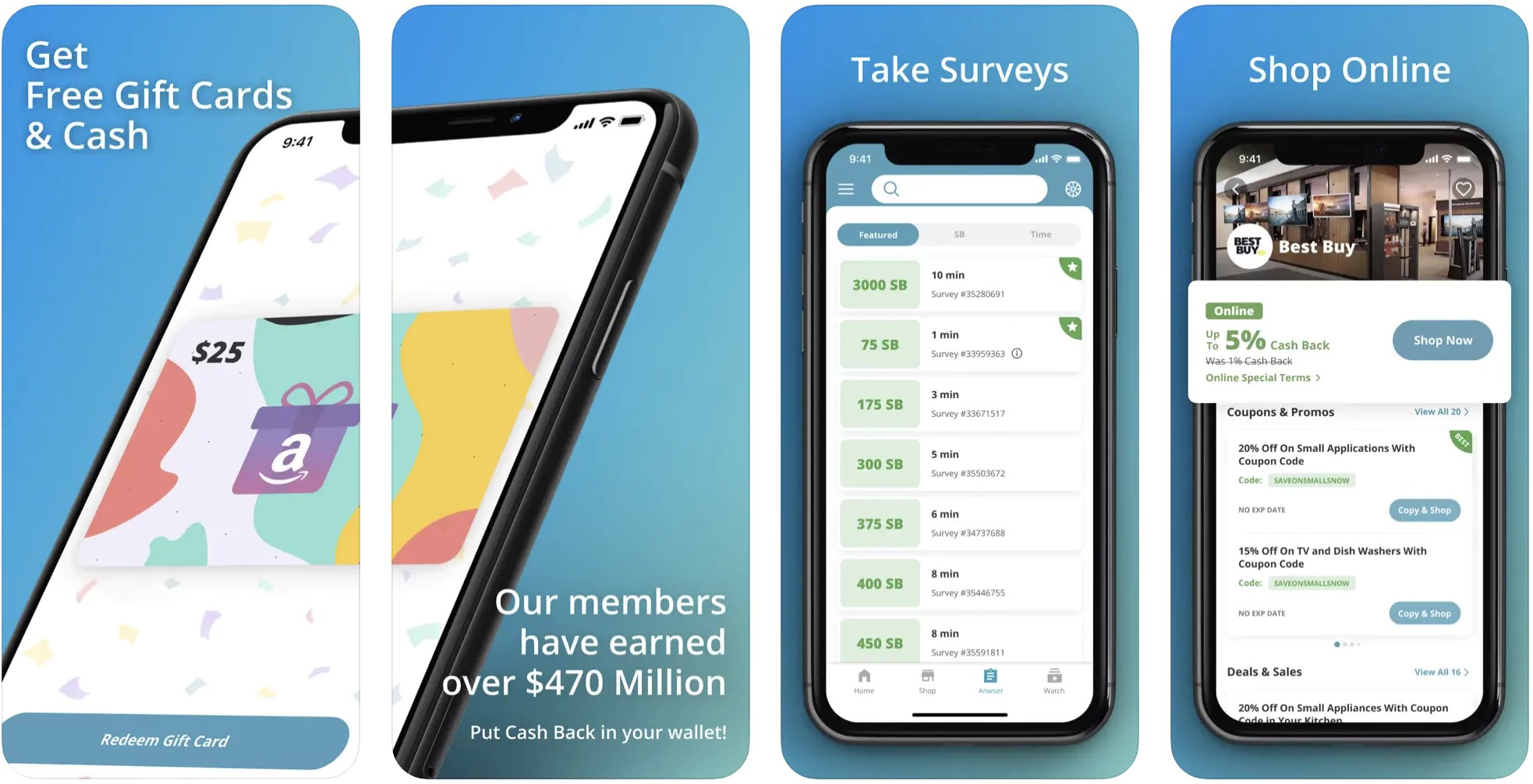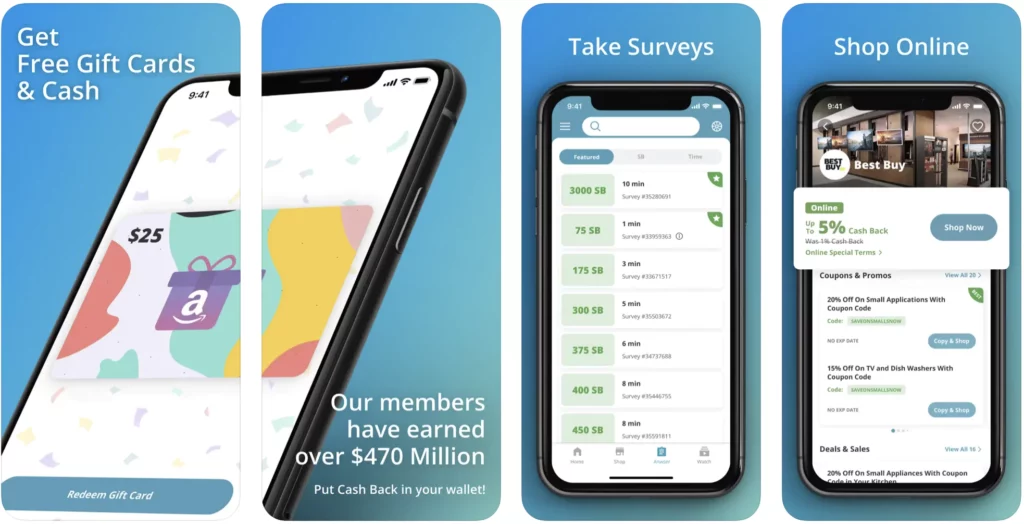 The jobs are not high paying, but are at the same time basic and do not require any qualification.
Here are different tasks you can do on Swagbucks to earn extra bucks.
Joining Swagbucks will give you a signup bonus of $10 as a new user on your first shopping.
As soon as you reach 500 SB points or $5, you can payout to your PayPal account or as gift cards to your favorite stores.
On top of that, you can earn more money by referring your friends, which will fetch you their 10% earnings.
Earning potential: You can expect to make $2 to $5 per hour for your efforts. This is not much, but considering you can earn this in your free time, having fun makes it worthwhile for many people.
Read our Swagbucks review here to explore all earning opportunities.
---
2. Fiverr
If you are looking for any kind of odd job online as a freelance worker, the first place to look is Fiverr.
They connect freelance contractors like you who are looking for work with clients.
The jobs on Fiverr are called gigs, and the minimum pay for any gig is $5.
Freelancers and job providers have profiles on the platform which other people can see. It is important for new freelancers to make a strong profile with sample work.
When jobs are posted on the platform, you, along with others, can bid on them. Then based on your profile and reviews, clients select applications for the projects.
Different kinds of odd jobs online you can find on Fiverr include:
Graphic designing
Video editing
And many more
When beginning a new career, you might have to work low-paying jobs. But make sure to do a good job even at lower rates to earn good reviews and make good relations.
Good reviews will enhance your profile and help you get more work. With experience, you can also raise your rates, and people will be happy to pay you, as they know with your experience, you will do a good job.
One thing against this odd job app is that they take 20% of the payment as commission. But overall, it's a great platform for beginners to find part-time side jobs.
Or if you are thinking how can I make extra money from home in the evenings, Fiverr can help you with that.
---
3. Fancy Hands
If you want to work from home, you can work as a virtual assistant and make money. Virtual assistant jobs give you the flexibility to work on your own schedule and at your own rates.
Surely it will be difficult to get started, but with some experience and training under your hood, you can make good progress doing different odd jobs as a virtual assistant.
This app for odd jobs at home allows you to work for clients worldwide.
There are many different tasks you can do as a virtual assistant. You can specialize in different things, which will help you gain experience and command higher rates.
Here are a few things you can specialize in:
Finance
Customer service
Writing
Project management
Email marketing
Social media management
If you have any kind of educational or work background in any of these fields, you will find it easier to get started.
Downside of this odd jobs app is that you need to pay a subscription fees to apply for the jobs.
Earning Potential: Different jobs vary in compensation on this app for quick jobs, but on average, you can make $3 to $7 per task. In the US, a virtual assistant makes around $28 per hour after some experience.
---
Highest Paying Surveys
Up to $50 per survey
Industry-leading surveys
4. FlexJobs
FlexJobs is a great site to find side jobs that you can do from home.
It's a kind of job board to find odd jobs online. You can find full-time or part-time, flexible jobs here.
Many remote and work-from-home jobs are regularly posted on the platform.
This is a reputed old website with A+ Better Business Bureau Rating.
To search for jobs on the platform, you need to pay for the membership. But the benefit of joining FlexJobs is that they screen jobs themselves before posting, so there is less chance of scams.
You can filter for different types of jobs based on:
Your location
Experience required
Type of job
Part-time or full-time
And more
You can even take the help of career coaches on this odd jobs app to advance your career.
So if you are looking for options without the risk of getting scammed, trying a FlexJobs subscription is worth it.
They are so confident about their service that they even offer a 30-day money-back guarantee if you are not satisfied with this odd job-finding website.
---
5. Amazon Mechanical Turk
Amazon Mechanical Turk, or mTurk, is a great website or app for odd jobs. It is a legit place to find low-skill work-from-home jobs and is hosted by Amazon.
On the platform, people called "Requesters" from 49 countries can post different kinds of tasks that need to be done. These tasks are called HITs or Human intelligence tasks.
Mostly these requesters are Universities, businesses, or researchers who want to outsource many small tasks at affordable prices.
Tasks on this odd job app can include:
Taking surveys
Making spreadsheets
Data entry
Capta recognition
Data processing/ cleaning
Transcription
And more
When you sign up with them, you will immediately start getting jobs to do, but more of them will be very low paying.
Once you have completed a certain number of "HITs," you will start getting high pay jobs.
Earning potential: Most of the jobs on the platform are very basic and do not involve any skills; hence the payments are also very low. In starting, you can make $5 to $12 per hour. With some experience and after completing a certain number of tasks, you can easily earn $18 to $25 per hour.
---
6. FriendPC
Another odd job in the town is becoming a virtual friend, and FriendPC is a website to find this odd job.
Yes! Becoming an online friend can be a job and can earn you real cash.
Like all other work from home jobs, this is also a flexible part-time job that you can do whenever you want to.
It's not kind of a dating app!
This app is for more like platonic friendships for people who want someone to talk to. However, you can also choose to become a virtual girlfriend or boyfriend and earn more money.
There are many kinds of friendships people look for on these platforms, like:
Gaming friends, who can play multiplayer games together
Career friends, to discuss day to day struggles someone is going through
Only listening friends, so that they can share whatever they are feeling without any judgments
Life coach, someone to guide and advice in tough times
You need to make a profile and list all your likings and hobbies, and things you are interested in so that people whose interests align with you can contact you.
You can screen through the requests and choose with whom you want to talk.
The platform is safe to use, and they don't reveal your identity. However, after becoming friends, it is up to you if you want to stay just online friends or want to meet personally.
This odd jobs app is free to join, and they charge a commission (~10%) for every transaction. If you love talking, you will make money doing nothing but talking.
Earning potential: you can charge as per your own wish, however, finding the sweet spot will take some time. You can start with $10 to $20 per hour and slowly experiment with pricing.
---
7. Respondent
Respondent is an app that lets you find the odd job of giving feedback. These are not just your regular surveys that pay pennies.
If you get selected for a study, you can make $50 to $200 per study, which lasts for less than 2 hours mostly.
Many researchers and companies use Respondent to find people who can participate in their studies.
These studies include a group of people that give detailed feedback about a product or service.
There is generally a moderator in such studies to make sure that everything goes smoothly.
After the completion of the study, you get in your PayPal account or gift cards.
The pay rate is amazing in these studies, but the problem is most studies require a very specific group of people, and you will get rejected from a lot of studies, wasting a lot of time.
I suggest applying only to studies that are highly relevant to you. For example, if you are a nurse, only apply for studies that demand that profile.
You might find very few studies to apply for, but when you find one, there will be less chance of rejection and hence less time wasted.
Here are more focus group companies to find such studies!
---
8. UserTesting
UserTesting is another app to get odd jobs of testing software and apps for bugs.
This is not your regular job, as each job comes with a different set of conditions and requirements.
Major websites test all the data with real users before releasing any major change or update.
Same is the case in the case of apps, where developers want to make sure that everything is working smoothly and as intended.
To apply for a job, you need to give a screener test, and most of the time, you will get rejected as most tests have very specific requirements.
Once you are selected for a test, you can complete the test and submit your video and report to get paid.
You will get paid in your PayPal account.
Earning potential: Most of the tests pay $10, and a test takes around 30 to 45 minutes. So, you can expect to make $15 per hour working on these jobs online.
---
Multiple ways to make money
Low and easy cashout options
Great user ratings on App store
Apps For Odd Jobs Near Me
Other than online side jobs, there are plenty of offline odd jobs that you can do on a part-time schedule for your immediate cash needs.
These jobs can be service-related or driving jobs.
Best Odd Job Apps For Driving Gigs
If you are of legal age with a driving license and own a vehicle with valid insurance, you can make some extra cash by delivering stuff or driving others.
9. DoorDash
Doordash is a food delivery app where you can work as a dasher to deliver food from local restaurants.
The job is pretty simple and does not require any qualifications other than driving.
You just need to sign up on this odd jobs app and make an account to get started. After that select the area you want to serve, and you can start accepting orders.
The money you earn will depend on:
Your location (few cities have higher rates than others)
Time of the day (peak meal times have rush for orders and higher pay rates)
Distance of the delivery
Amount of tip you get
You can select the time slots when you want to work, giving you flexibility.
If you want to do it for a few hours, you can work during dinner time when there is a higher demand for dashers.
Any tips you get during the delivery are all yours to keep.
Here are other options to deliver food for quick cash!
Earning potential: You can make $14 to 16 per hour for delivering food on your vehicle. Make sure to calculate your mileage also before calculating profits.
---
10. Instacart
Shopping for others is quite an odd job to do, but with apps like Instacart, it has become one of the popular jobs to make money fast.
Instacart hires freelance contractors like you to deliver grocery orders placed on their app.
Using this odd job app, you can work on your own schedule and make quick cash.
There are three options for you:
Just shop for the order
Just deliver the order
Do both shopping and delivery of grocery order
If you are going to shop for your own groceries, you can take some shopping orders and make money without spending much extra time with the help of this odd job app.
Earning potential: If you chose to do either shopping or delivery, you would make at least $5 per order. For doing both, you can make $7 to $10 per order.
Related: Earnings of Insta shoppers per week!
---
11. Uber
With your vehicle, another job you can do is driving other people with Uber. This is now not that odd job after Uber transformed this space.
Earlier you would not have thought of doing this job for a couple of hours on weekends. This job was reserved for taxi drivers.
Now anyone can share their vehicle with other for the time they want to and get paid for that.
Just register with Uber with these requirements:
21 years of age
One year driving experience
A valid driving license with a good record
And a good vehicle
They will do a background security check on you for passenger safety and some inspections, and once approved, you can start taking rides.
Earning potential: Driving for Uber, you can make $19 to $25 per hour, but is also dependent on your city and route.
---
High earning surveys
Easy-to-use website
Many ways to earn
Apps For Manual Odd Jobs
You can offer to do different kinds of odd jobs like changing bulbs, cleaning boats, moving furniture to fixing a wooden chair.
And there are apps for these odd jobs. Find which one suits your work more and fetch you more money.
12. TaskRabbit
Taskrabbit is a huge marketplace for freelancers to get all kinds of jobs and this is one of the best odd jobs app in its category.
You can make a profile on the platform and fill in the details like your location, your skill set, tasks you are interested in doing, your rates, and availability.
Service mostly offered on the platform comes under these categories:
Handyman
Cleaning
Delivery
Personal assistant
Apps like TaskRabbit are great platforms to reach more people when getting started and make a client base in your area.
They will process the payments on their secure platform, and you will get the quoted price, whereas the client will pay the service tax.
Taskers need to pay a one-time non-refundable fee of $25.
---
13. Handy
Handy is an app to do jobs for money. They offer many home-related services, and freelancers can join the platform to do such jobs.
The type of services offered on the platform includes:
Home cleaning
Assembly, like furniture
Plumbing
General handyman
Painting jobs
Moving assistance
Home improvement
Elecrical jobs
Delivery jobs
And many more
If you can offer any home-related service, you can make an account and offer your service on this app for odd jobs.
After the application, they take a quick video interview to accept you on the platform to become a Handy pro.
Earning potential: Working on the platform, you can make $12 to $35 per hour, depending on the job you offer.
---
14. Thumbstack
Thumbtack is another popular odd jobs app for finding jobs online.
They also offer home-related services like Handy where homeowners can hire people for doing different tasks at their homes.
They charge you per lead. Hence you can be assured that you will be charged only if you get work from them. You can make a cap on how many leads you accept each month.
The different popular services you can offer on the platform are:
Painting jobs
Furniture assembly or moving
Junk removal
Electrical repair
Handyman
Plumbing
Lawn care
Personal training
Massage and many more
It is a great place for professionals who charge higher rates to advertise their businesses and get leads.
Since you are charged per inquiry-based, there is always a chance that someone will not book your service, but you will still get charged for the lead.
That is why for higher-rate businesses, these small fees can be worth it but not so for low-paying jobs.
---
15. Wonolo
Wonolo is a great app to do jobs for money on flexible shifts.
You can offer different kinds of jobs on the platform and make money.
Here is how the app works:
You sign up for the platform after downloading app
Create a profile with all your details like experience
Find jobs based on your location and job type
Apply for the jobs or accept the job
Complete the work and make money
Many popular services like delivery, food production, cleaning, warehouse operations, manufacturing, and event staffing are available to name a few.
This app for quick jobs is present in major US states and is still expanding its operations.
---
16. Airtasker (Previously Zaarly)
Airtasker odd job app allows taskers to become their own boss and work on their own time.
To get started on the platform, just make and account with a complete profile and start screening for the available jobs that suit you.
Here is how you can filter out jobs:
Based on location
Distance from your home
Online or offline job
Skills required and other keywords
Once you find the job you like, you can apply with an offer at the price you feel is right for the task.
If selected, complete the task and get paid.
Both the tasker and job poster can review each other profiles. Make sure to do a good job so that you can improve your profile to get more work.
Payments are secured by the platform and once the job is done, they keep a cut for themselves.
According to Airtasker, their top 50 taskers earn a median income of $2500 per month.
So, you can join other 160k taskers to provide services like handyman, moving, home cleaning, delivery, etc.
---
17. Jobble
Jobble is one of the largest staffing marketplaces for gig economy workers.
Though full-time jobs are available on the platform, they mostly match businesses with short-term workforce needs with suitable candidates.
You can find any type of local jobs from the Jobble job board.
Businesses regularly post jobs on the platform that you can search based on keywords and your location.
Different category of jobs available on the platform are:
Hospitality
Healthcare
Events
Retail
Delivery
Warehouse
And more
You can choose your favorite job and select if you want a single-day or multi-day job. After completing the job, you get paid on the same day directly to your bank account.
Note: Turn on your job alerts and get notified when your desired job is posted.
---
18. TaskEasy
TaskEasy odd jobs app allows private contractors to offer their lawn care and snow removal service.
You just need to make an account, and then you can go through all the available odd jobs in your area.
They are available in over 12,000 US cities.
You just need to provide them with your work hours and preferred route, and they will provide you with a well-planned work route that will involve less travel.
There is no bidding and negotiations on the tasks.
Everything is well optimized for both home owners and contractors.
---
19. Gigwalk
Gigwalk is an app for odd jobs like taking pictures or checking running offers.
You can become a Gigwalk contractor and find jobs of your choice in your local area.
Here is how app works:
Download the app
Sign up for new account
Make your profile
Link your PayPal account
Apply for the jobs
Complete job and fill report to get paid
Gigs can be anything ranging from checking inventory, tasting food, checking discounts, staff behavior, and many other such things.
Here is a video of Lasean who make $30 per hour doing it.
You can decide when you want to take the job and how much you want to work.
Gigs can range from $3 to $100 depending on the complexity and time required.
---
20. Easyshift
Easyshift is another odd job app for mystery shopping jobs.
You need to do different tasks in your city. Basically, you get paid to explore your own city.
Tasks you might be asked to do are:
Shopping
Price checking
Inventory checking
Staff knowledge check
Food tasting
Customer feedback, etc.
Tasks are easy to do and are basically fun if you are an outgoing person.
After doing the task, you need to fill in a detailed report of things you found. You might have to submit pictures in a few cases.
If you were asked to shop for something, you would get reimbursed for that, albeit you provide the receipt.
Earning potential: By doing these mystery shopping gigs, you can earn up to $24 per hour.
---
21. Field Agent
Field Agent is one of the top names in the growing mystery shopping industry.
This app for odd jobs offers jobs to freelancers to earn extra money in their spare time.
Many businesses use their services to audit their stores, generate reviews, and perform other such tasks.
As a agent your jobs might include:
Price checks
Display audits
Availability checks
Policy audits
And more
You might be asked to do some specific tasks and provide a complete report of your visit.
There are no qualifications required for the job, but in a few cases, they may ask for particular age group agents, like in case you have to pose as a college student.
---
22. Care.com
Care.com is a website for finding care-related odd jobs.
These jobs can include:
Child care
Elderly care
House keeping
Pet care
Daycare
Tutoring, etc.
You just need to make an account and get verified.
Then you can look for the available jobs in your area and apply to the ones you like.
They are one of the largest places for care-related jobs, but jobs are not verified.
You need to do your own diligence so that you get paid and don't get scammed.
---
23. Rover
Rover is one of the best odd job apps to find work related to pet care.
Pet owners need different kinds of services that you can offer.
Here are the service you can offer:
Pet sitting
Pet walking
Pet grooming
Pet fun outings
Poop collection
You can offer these services individually or as packages.
Rover is the go-to app for pet-related odd jobs, you can also join them, to find part-time side jobs.
Earning potential: By doing pet care jobs, you can earn $15 per hour. Pet groomers, can earn more as it takes more effort.
Related: Other dog-walking apps to find gigs!
---
What Kind of Other Odd Jobs You Can Offer
The definition of odd jobs will vary from person to person. A job that is a full-time job of a person may seem like an odd job to someone else.
For example, being a virtual assistant is a full-time job for many but for other people scheduling meetings of clients sitting on another side of the globe may seem like an odd job.
But we can consider a few jobs odd, based on their lesser popularity or oddness of nature. Here are such jobs other than those listed in the above odd job apps.
Watering plants
Removing weeds in garden
Folding laundry
Cleaning refrigerator
Cleaning out gutters
Dating ghostwriter
Washing windows
Driving elderly
Voice-over artist
Personal shopper
After party cleaning
Beer taster
Billboard installer
Soil scientist
Elevator inspector
Some of these jobs are fun, while others may be just a way to make a living for some people.
So Which Odd Jobs App You Are Going To Try?
These apps for odd jobs provide us with so many options to make money online in this gig economy. Some of these jobs even pay cash in hand under the table if you are in urgent need of cash.
I am sure you will certainly love one of these apps. If you haven't tried them yet, it's time to give them a go and find out if you can earn some extra bucks.
If you were unsure how to turn your hobby into money, one of these apps could give you the medium to do so.
To earn more, check out these money making options:
FAQs
How to make money on odd jobs?
You can earn money through odd jobs by selling unused items on platforms like eBay, offering freelance services on Upwork or Fiverr, delivering food via apps like DoorDash, taking online surveys, or reviewing mock trials on sites like eJury.
How do I find someone to do an odd job?
You can find individuals to do odd jobs via platforms like TaskRabbit, Thumbtack, or Handy. These platforms connect you with local professionals for various tasks from cleaning to gardening or repairs.
What odd job makes the most money?
Earning potential varies based on location and skill set, but lucrative odd jobs can include legal bank robbers (penetration testers! Seriously), ethical hackers, professional golf ball divers, or art therapists.
Is there an app where you can work a different job everyday?
Yes, apps like Wonolo, Shiftgig, or Snagajob offer a variety of on-demand jobs in different industries, allowing you to work a different job each day.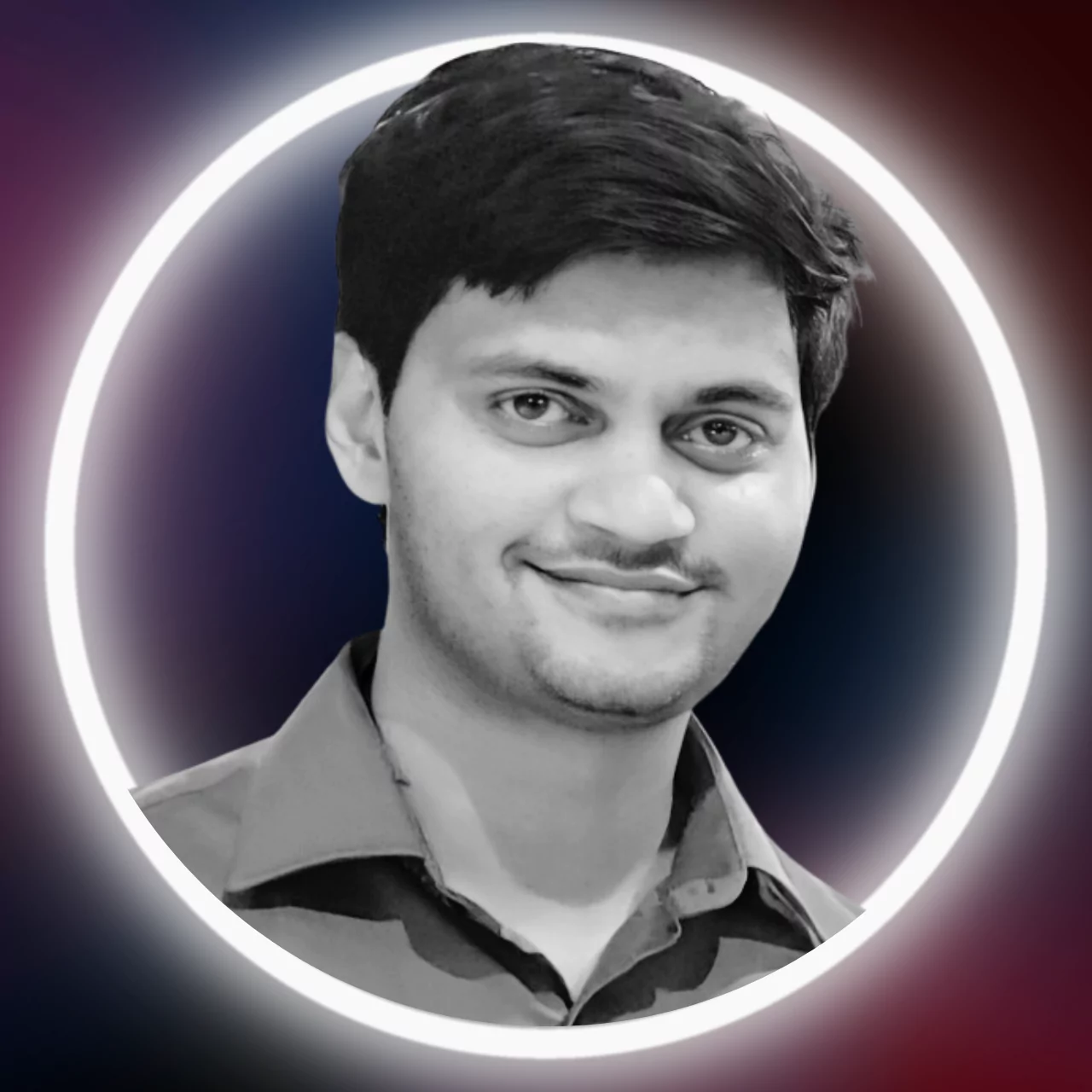 Sumeet is a Certified Financial Education Instructor℠ (CFEI®) and founder of MoneyFromSideHustle. He is an experienced side hustler who replaced his full-time income with side hustles. His work has been quoted on major finance websites like CNBC, Yahoo! Finance, GOBankingRates, CEOBlogNation, SideHustleNation, and more. He has helped thousands of people find side hustles and is here to help you find your extra source of income. More about him.