This post may contain affiliate links from which I may earn a commission without any cost to you. Read our policy for details.
If you are looking for the best places to sell your board games, you will find all the details here!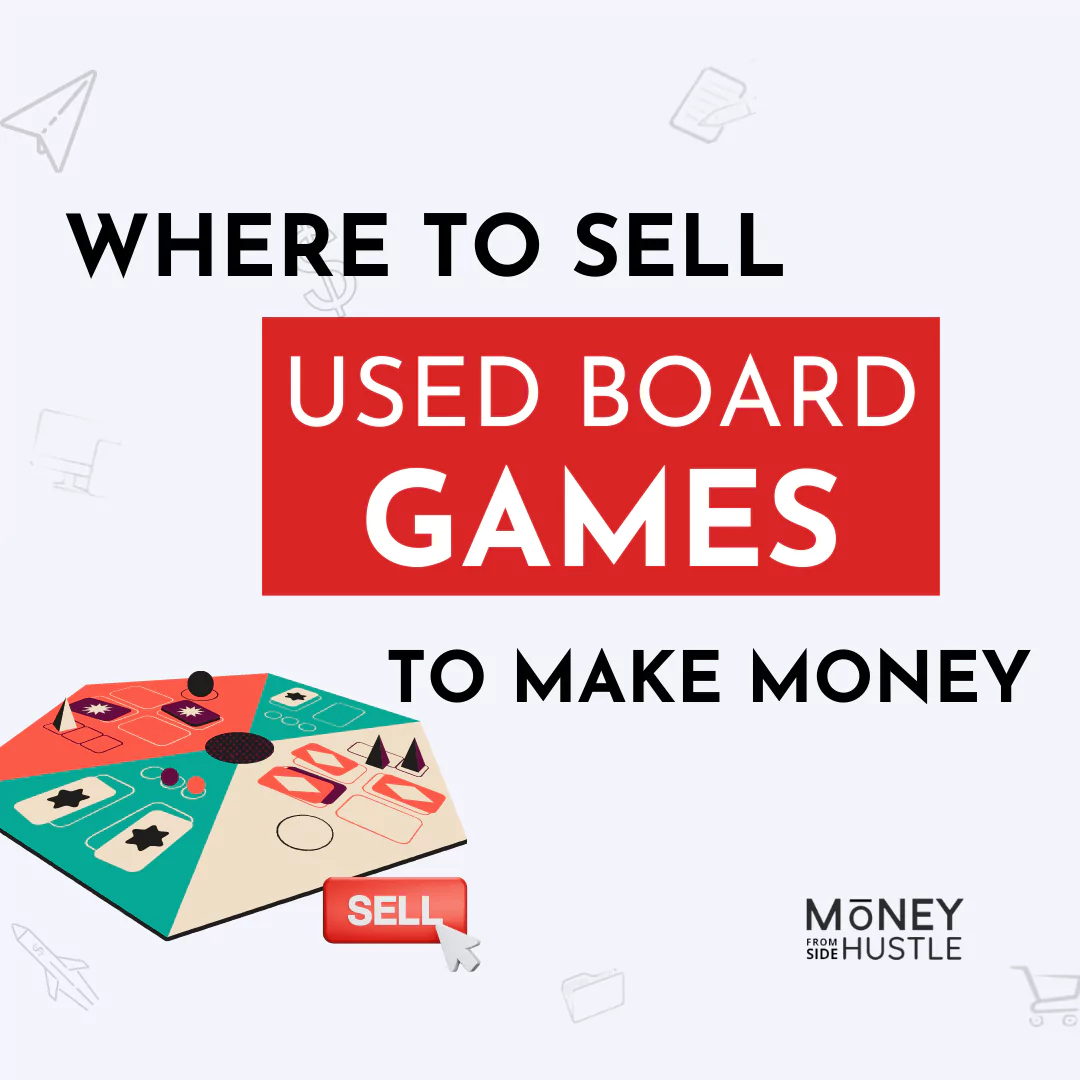 If your beloved collection of board games is collecting dust on shelves, it might be time to say goodbye and make some cash.
There are many places to sell your board games for cash. From online marketplaces and specialized board game websites to local stores, you got many options.
Whether you want to declutter your home or just want to make some cash, you can sell board games online and locally.
Many people even do it as a side hustle by finding bargains at local yard sales and turning a profit by selling board games.
Whatever your reason, when deciding where to sell used board games, a few things took the front seat, like the convenience and expected profit.
In this article, I will cover the best places that buy board games and different ways to sell board games for maximum profit.
So, if you are ready, take the dice, and let's get rolling!
High earning surveys
Easy-to-use website
Many ways to earn
Where To Sell Board Games
You got two options: either sell board games online or sell board games offline.
Both options have their pros and cons, and ultimately what method you choose will depend on your personal preferences.
While selling online gives you a wider audience and maximum profit, but you need to deal with listing your items and the hassle of shipping.
To sell your board games locally, you will have limited options and lower profit, but you can quickly sell your items and get cash in hand instantly.
General Online Marketplaces
These websites allow you to post ads for selling any used item like clothes, electronics or board games.
Using these websites, you can either meet the buyers locally or ship your games. These websites provide a large audience for your used items.
1. eBay
eBay can be a great place to sell anything, including used board games, if you are up for some effort.
They have a huge audience worldwide where people buy all sorts of things.
You need to create a seller account and post a listing. For a listing, you need to:
Take clear images
Write detailed description
Set a price or put it up for auction
When an interested buyer shows up, you need to answer all their queries and be ready for price negotiations.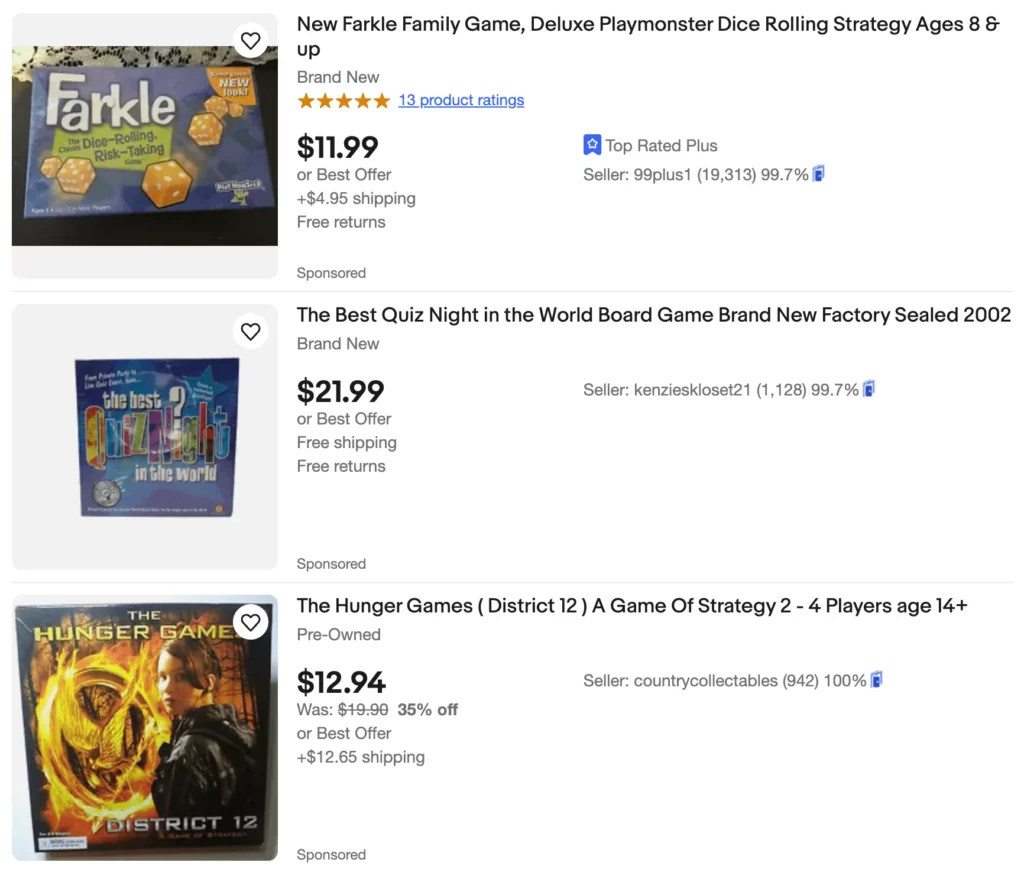 You need to handle all the logistics of packing and shipping your board games.
Tip: Include shipping costs into the price of the item, that way, potential buyers are not repelled by looking at shipping costs. I would personally buy an item for $55 and free shipping than an item at $50 plus $5 shipping. That is how human psychology works, as paying for the shipping looks like an additional expense.
Charges: For every sale, you need to pay 12.9% of the final price and $0.30.
---
2. OfferUp
OfferUp is an online marketplace you can use for selling board game collection.
To sell on the platform create a free account and follow these steps.
Take good, clear images of your board games
Create a listing with those images
Include all the details in the listing, like special features
Price competitively after researching other such items on the platform
Respond to buyers queries
Make a deal to sell locally or ship
If you choose to sell board games locally through OfferUp, meet the buyer at a public place and trade your game for cash.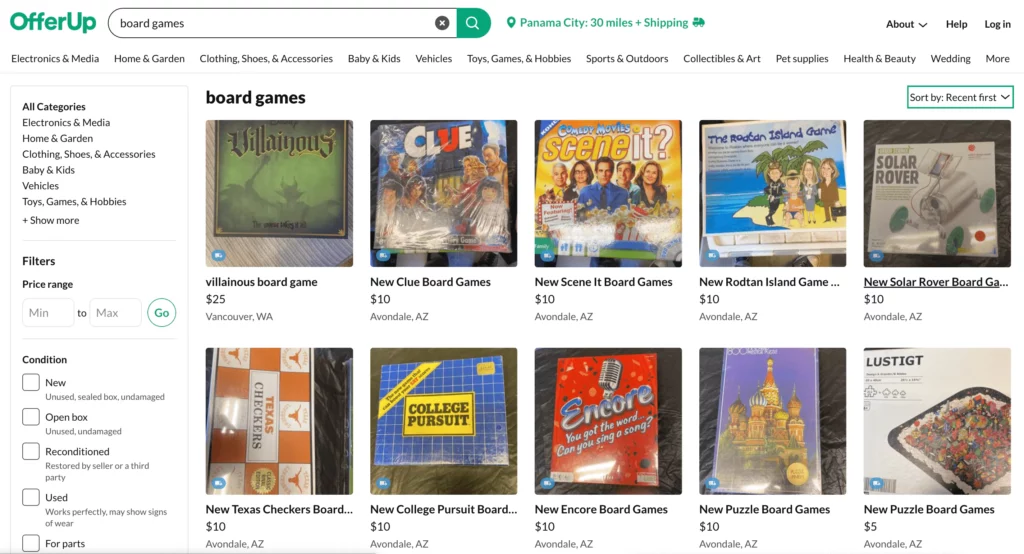 In case of shipping, you need to ship the game within the timeframe with tracking details, and once the buyer confirms receiving the product in the desired condition, your payment is released.
Charges: Listing is free but they charge you a fee of 12.9% on sales.
Highest Paying Surveys
Up to $50 per survey
Industry-leading surveys
---
3. Craigslist
Craigslist is a classified marketplace where people post ads for things or services they want to sell.
You can sell your board games locally using Craigslist, as your listing is visible to people in your locality.
As with other problems, you need to provide clear and accurate images for your products along with relevant descriptions so that interested buyers can see what they are buying.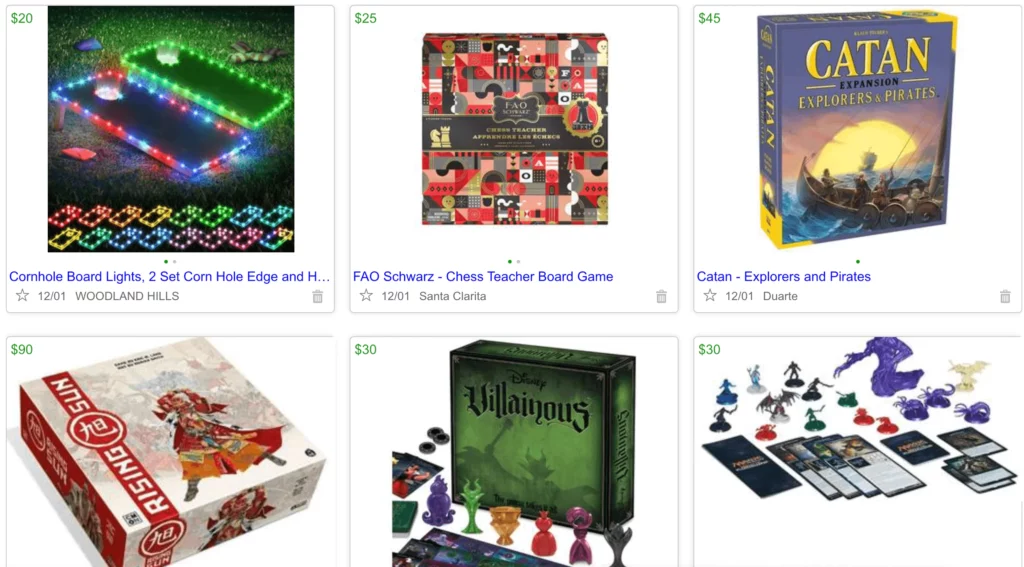 Any interested buyers can contact you for queries or price negotiation.
If you finalized the deal, decide on a place of meeting for exchanging your board games for cash.
Be aware of the fraudsters on the platform and always meet at a public safe place.
Listing and selling on the platform are free other than job listings.
---
4. Mercari
Mercari is another open marketplace you can use to sell your board games online.
Here you don't have the option of selling locally but you can reach wider audience with a higher chance of sale.
You need to create an account and list your board games for sale on the platform with images and all the details.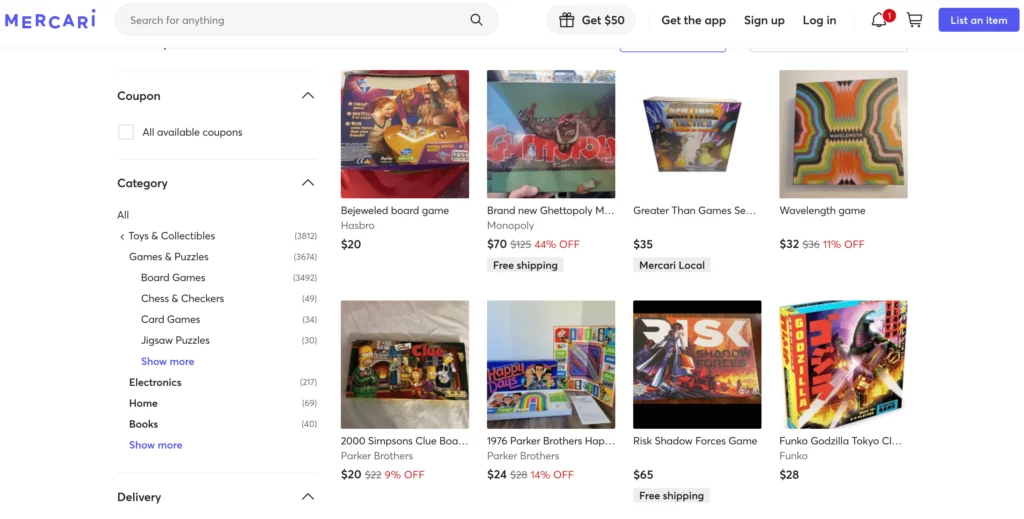 Once the buyers agree to buy your games, you need to ship the items within three days. Make sure that you properly pack your games in cardboard boxes so that there is no damage in transition.
When buyers confirm getting the games in agreed-upon condition, you get paid through PayPal.
Charges: Mercari takes a fee of 10% and a 2.9% + $0.5 payment processing fee.
---
5. 5Miles
5Miles is a primarily known marketplace for selling used automobiles, but they help people sell other things like collectibles, used furniture, and clothes, as well as board games.
You can sell board games locally as well as online on this platform.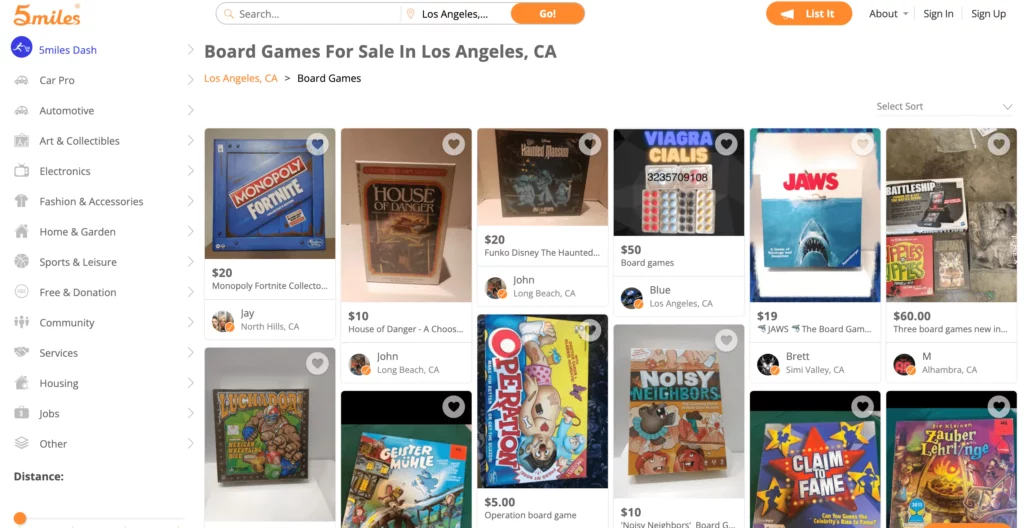 Just place your listing for board games on the app and buyers or bidders can bid for buying it.
They offer many features to help sellers for increased sales, like guaranteed bidding and bump up for your listings.
Charges: They charge a listing fee and a 10% commission on every sale.
---
6. Amazon
Amazon is one of the largest online marketplaces, with millions of users worldwide. You can use this platform to offload some of your board games for cash.
You need to become a seller on the platform to sell your board games.
Amazon FBA can be used to sell your collection of games or start a board game flipping side hustle.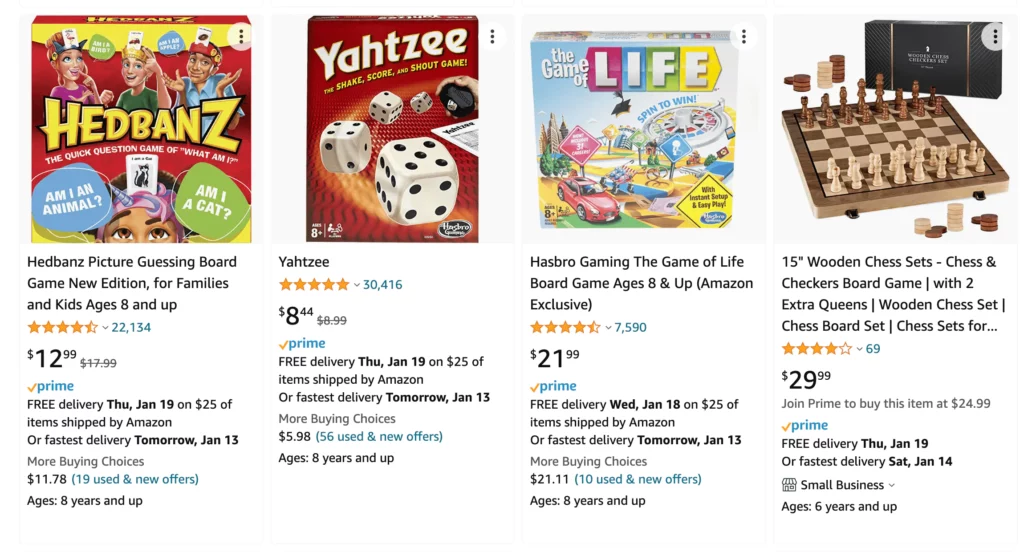 You can list your items on the platform and send the inventory to Amazon warehouses, where they take care of everything, starting from packaging to shipping.
Though to use the platform, you need to pay storage fees for the warehouse per item.
Charges: You need to pay $0.99 per unit and a fee of up to 15%.
Specialty Board Game Websites
Unlike the general marketplaces, these websites specialize in selling and buying card games, so you get a targeted audience who are particularly looking to buy board games. This increase the chance of a sale.
But on the flip side, you will get only limited options for selling your games.
7. BoardGameGeek
BoardGameGeek market is one of the best ways to sell board games. There are thousands of board game enthusiasts on this website who are looking to buy and sell board games.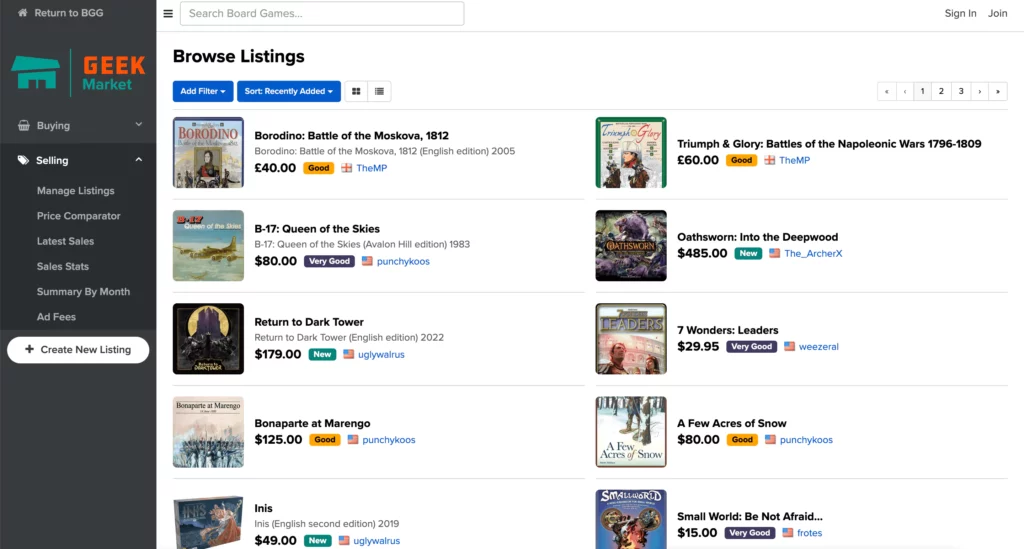 You can start selling on the platform simply by:
Creating a new account by providing email
Verify you email address
Search for your games in searchbar
When you find you game, select " Sell Yours Now"
Fill the sell form with info like price and shipping
Submit your listing
When your listing is live, anyone can look at it and contact you for further details. If you decide to sell to someone, you can get the address and arrange for shipment and transaction directly.
Once your board game is sold, mark SOLD on the listing so that others don't waste time looking at it.
Charges: Listing is free, but on sale, they take a 3% advertising fee on the base sale price.
---
8. Noble Knight Games
Noble Knight Games is a website that sell used board games, and they buy them from the users to stock up their inventory.
If you are asking questions about where to sell used board games, Noble Knight Games can be your answer.
There are a few conditions while selling to them.
They don't buy loose dice and miniature without packaging
There should be not water, mold or smoke damage
Item should be complete with all the parts
If you have such games, you can make a list and send it their way. You can use their template to make a list.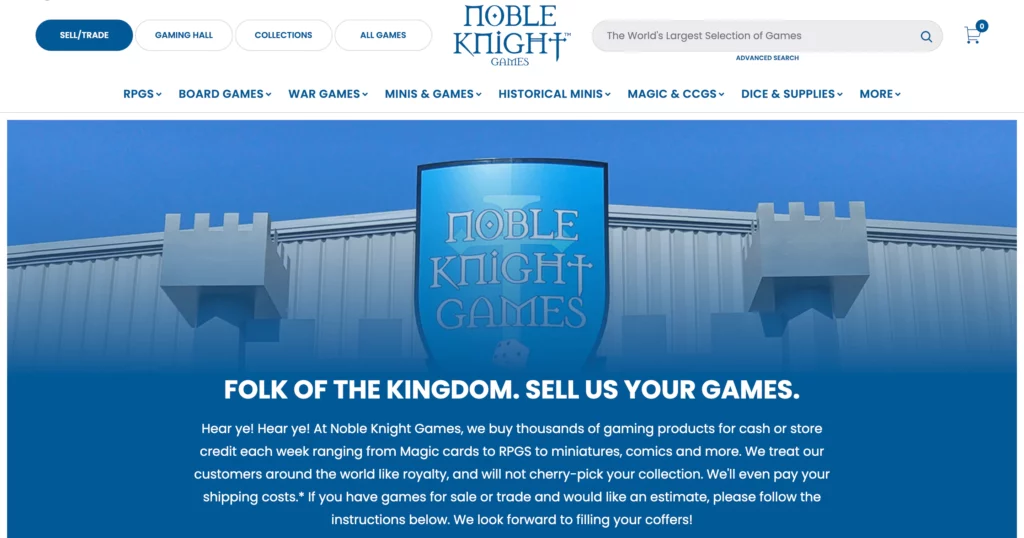 Upon getting the list, they will provide you with a quote of the estimated price within a few days.
If you like the price, you can ship them your board game collection on a prepaid FedEx shipping label if the total value is over $149.
Once they receive your games, they will process them and issue you a payment. You can either get paid in cash or store credits which are always worth more.
---
10. Delcampe
Delcampe is a collectors marketplace based in the UK where you can sell vintage collectibles like stamps, coins, and postcards. You can also sell used board games on this website.
It is a 20-year-old website with over a million monthly visitors.
You can register for free and put your items for sale on your shop without a listing fee.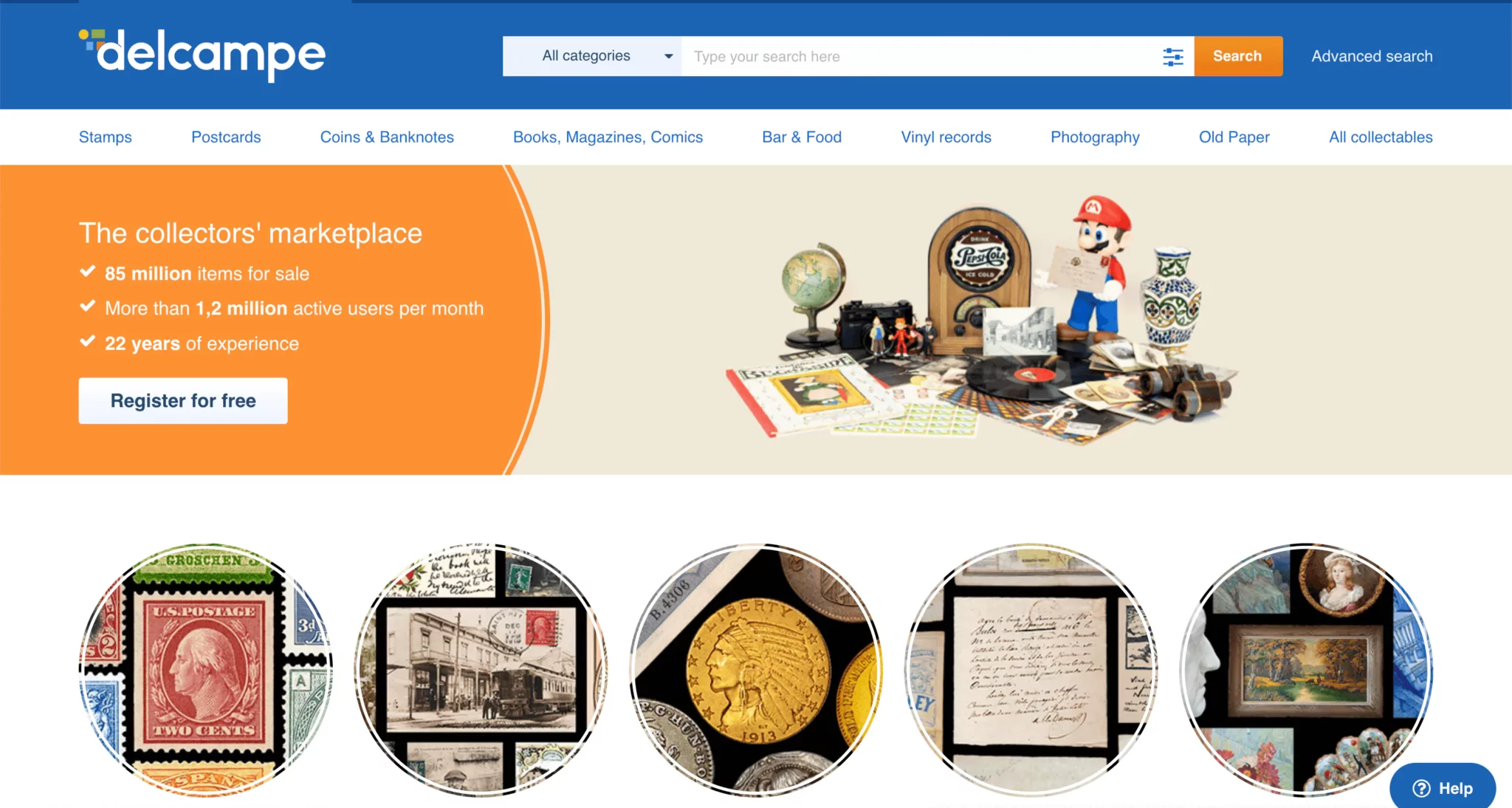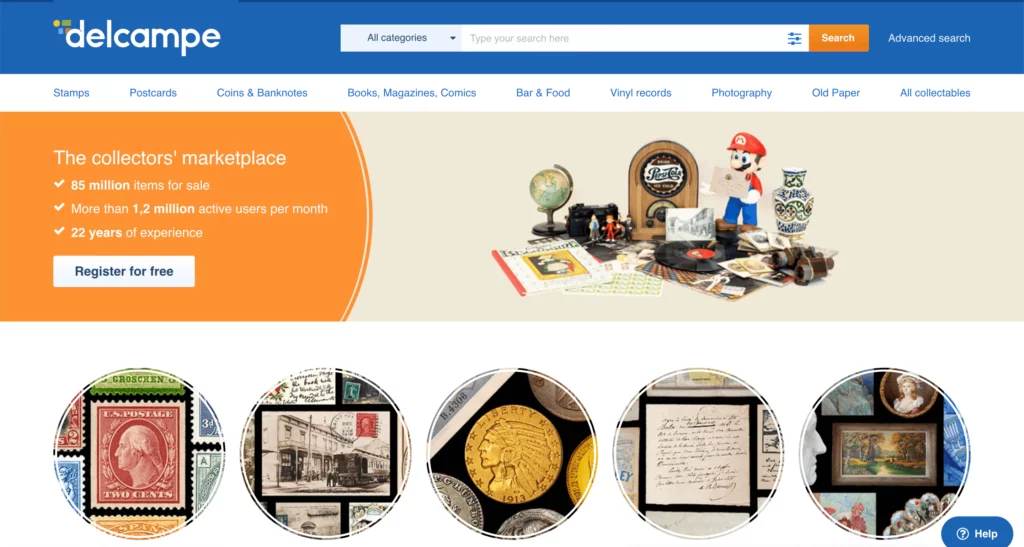 Use clear images to showcase your product, and you can use up to 99 images for your item.
When your items go live on the websites, interested buyers can place bids, and when a buyer wins an item, seller will ship it.
After delivery of the item, both seller and buyer evaluate each other, and payment is released to the seller.
Charges: You only pay if you sell something. At the end of the month, all the sales are combined, and they charge up to 6.5% of the sale and 0.23 euros.
Price Range
Commission
From €0.00 to €999.99
6.50%of the monthly amount
+ €0.23 per item sold
From €1,000.00 to €2,499.99
6.00% x (monthly amount – €1,000.00)
+ €65.00 (commission for the previous level)
+ €0.23 per item sold
From €2,500.00 to €4,999.99
5.00% x (monthly amount – €2,500.00)
+ €155.00 (preceding levels commission)
+ €0.23 per item sold
From €5,000.00 to €9,999.99
3.75% x (monthly amount – €5,000.00)
+ €280.00 (preceding levels commission)
+ €0.23 per item sold
From €10,000.00
2.00% x (monthly amount – €10,000.00)
+ €467.50 (preceding levels commission)
+ €0.23 per item sold
Social Media Platforms/ Forums
Social media and online forums can be used for selling your used items like Board games.
10. Facebook
Facebook is one of the easiest places to sell board games. There are tons of people on Facebook, and you can leverage its inbuilt audience to sell your stuff.
You have two options of selling on Facebook.
Use Facebook marketplace
Join local buy and sell groups
Either way you need to make a listing with all the required details.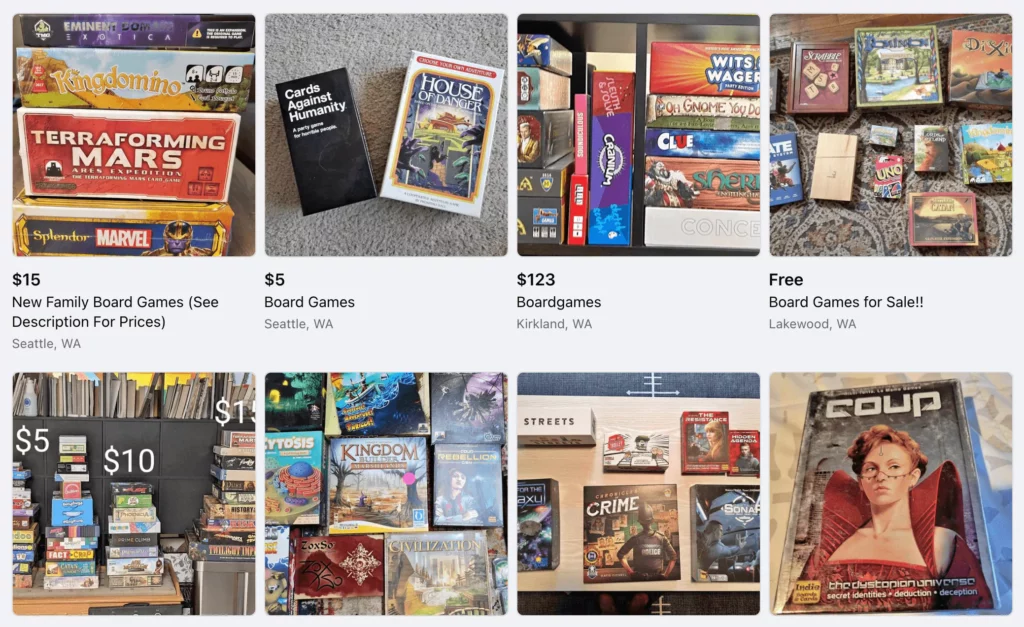 To sell on the marketplace, you need to choose if you want to sell board games locally or you are open to shipping your items.
If you choose to sell locally, you need to set up a meeting and trade your board games for cash. Or you can ship nationally and ship your games.
To be able to list your games on your local buy and sell groups, you need the permission of the group admins.
Charges: Selling fees are 5% per shipment or a flat fee of $0.40 for orders below $8.
---
11. Reddit
Reddit is an online forum where many people with similar interests make smaller groups called subreddits.
If you are interested in selling your board games, you can join /r/BoardGameExchange.
Here the 26k members are discussing board games. You can trade, buy or sell your used board on this subreddit.
The admins of each group enforce some rules and regulations, you before posting your thread, look for the guidelines on how to sell board games.
When you make a listing, other members can show interest, and you can arrange for delivery and payment among yourself without any fees to a third party.
Best Places To Sell Board Games Near You
If you want to get instant cash by selling your board games, then selling them locally or offline may be better option.
You may get less value for your games, but you can quickly finish the trade and move on.
12. Local Game Shops
Local game shops can be the ideal place to buy your used games as they sell a variety of games and will most likely take your games that are in good condition.
First, contact your local game store if they buy used board games. If they want to buy your game, take the game along with all the original packaging to the shop.
They will evaluate your games and will offer you a price if they are interested.
If you like the price, you can sell your game for cash.
Note: Be prepared to negotiate, and most likely, they will offer less price than places like eBay as they need to make a profit. Do your research beforehand so that you know what to expect.
---
13. Yard Sales
Still wondering where to sell board games near you, Yard sales can be good option for you.
People use yard sales to clear out a variety of things.
If you have a large collection of board games, you can organize a yard sale focused on games. Otherwise, you can combine other things in the home you want to get rid of.
To have a successful garage sale, you need to clean all the games and organize them along with tagging them with a price.
Then advertise your sale in the neighborhood so that people know about it. On the day of the sale, welcome all the visitors and be ready to negotiate the prices.
---
14. Flea Market
Flea markets can be one of the last resorts for selling your board game collection if you have a huge one.
You can set up a booth and display all your board games for sale, along with price tags.
Set up your booth early and be welcoming to the visitors for more interactions. People will always try to negotiate, so keep room for that while pricing your games.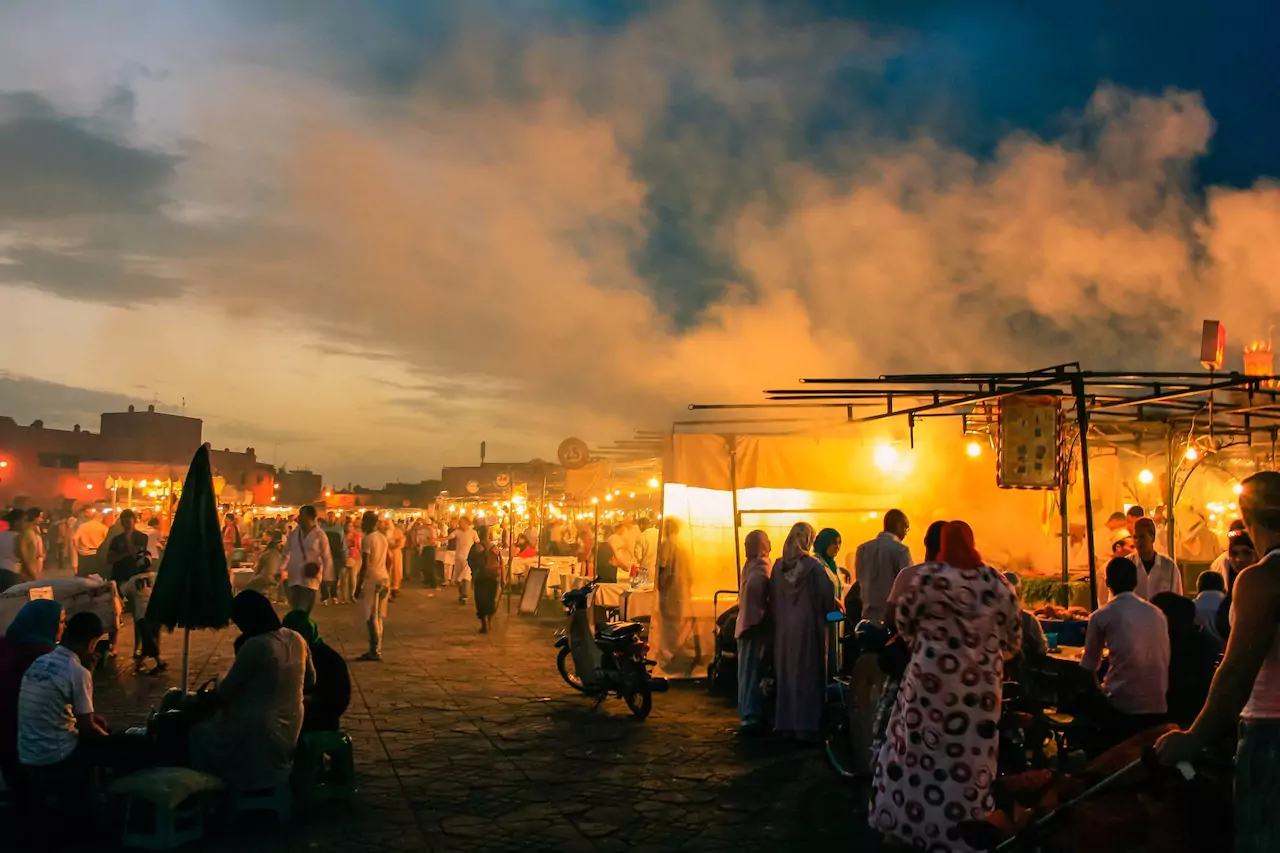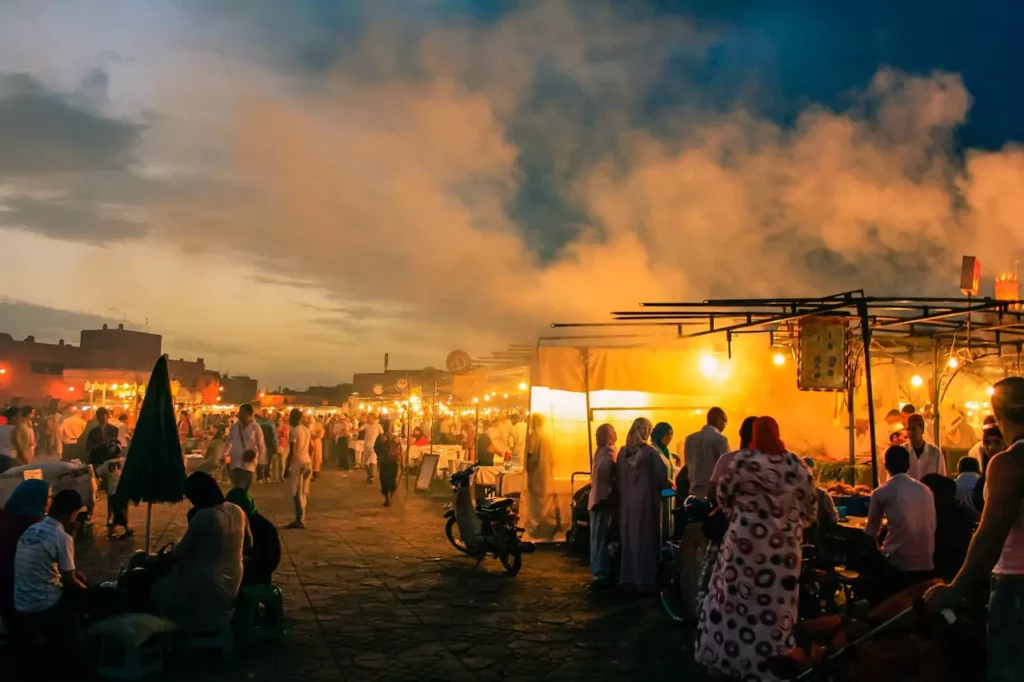 Make note that to be able to set up a booth, you need to pay a fee. Fees can vary from $10 to $500 depending on the popularity of the market and the services they provide, like chairs and lights.
---
15. Board Game Conventions & Events
Many gaming conventions and events happen throughout the year at all the places.You can check if there is any event near your place.
Sell your board games at these places to the company booths, or you can set up your own booth for a fee if you have a large collection of games.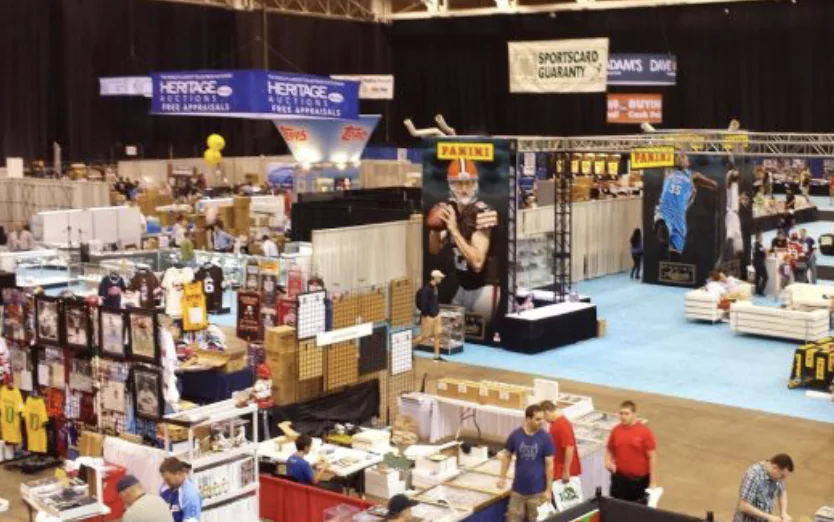 You meet so many gaming enthusiasts at these places and can make friends. You can also find individual buyers for games for cash or other games that you want to try.
Factors That Influence The Price Of Board Games
Here are a few things that effect the price of used board games.
Condition: The price you can get for a used game mostly depends on its condition. If the game or its box shows signs of damage or wear, the price will be lower. A game in a condition similar to new will fetch a higher price than one that's been heavily used.
Popularity and demand: You can usually sell popular games for a higher price, even if they're second-hand.
Original MRSP: If your game is handmade and features custom artwork, it was probably expensive when new, and this will increase its resale value.
Editions & Upgrades: Special editions like collector's or limited editions usually keep their value well when resold. Games that have been upgraded with custom pieces or new cards also have higher value in the market.
Availability: Rare games, including older and vintage ones, are sought after by collectors and might sell for a higher price, especially if they're no longer being produced.
Here are a few valuable board games that sell well.
Things To Consider When Choosing A Selling Platform
Here are a few things you should keep in mind when choosing the right place to sell your board games.
Audience: General marketplaces reach a wider audience, but if you're selling on a platform that specializes in board games, you're more likely to find interested buyers.
Fees: Different platforms charge different fees, so compare the costs of listing, selling, and shipping. Some platforms offer free shipping, which can help you make more money.
Ease of use: Some websites are easier to use than others. If you find a website difficult to use, you might not be able to fully use its selling tools.
Payment options: It's crucial to use a platform that offers secure payment options when selling online.
Support: Good platforms should provide you with support in case you have questions or run into problems.
Tips For Success When Selling Used Board Games
Here are a few things that will help you get the best buck for your games.
Accurate description: It's important to describe the condition of the item truthfully when selling anything used. Mention any damage or wear and tear, and whether the original packaging is included. This will help avoid returns and disappointments.
Take good photos: Good photos are essential when selling online. Make sure your images are clear, well-lit, and show the item from different angles.
Price competitively: Research the market before pricing your game, and see what others are asking for the same game in a similar condition.
Offer free shipping: Build the cost of shipping into your prices. This can encourage more sales. You could also offer combined shipping if someone buys more than one game.
Be responsive and professional: Responding professionally to potential buyers' questions can help you close deals.
Pack well and ship with tracking: Make sure to pack all the game components carefully to avoid losing pieces and ensure they arrive safely. Use a shipping service that offers tracking for added security.
Take cash when selling locally: If you're selling your used board games in person, it's better to accept cash. Don't accept checks, as they can bounce.
Make Some Cash For Clearing Your Space
Many places buy your used board games or connect you with the right audience.
Where you sell your used board games will depend on your preference and convenience. If you want the best value sell them online, if you are looking for quick cash without hassle, sell them locally.
Either way, you can make some quick cash and empty your space at the same time.
Here are more ways to make money: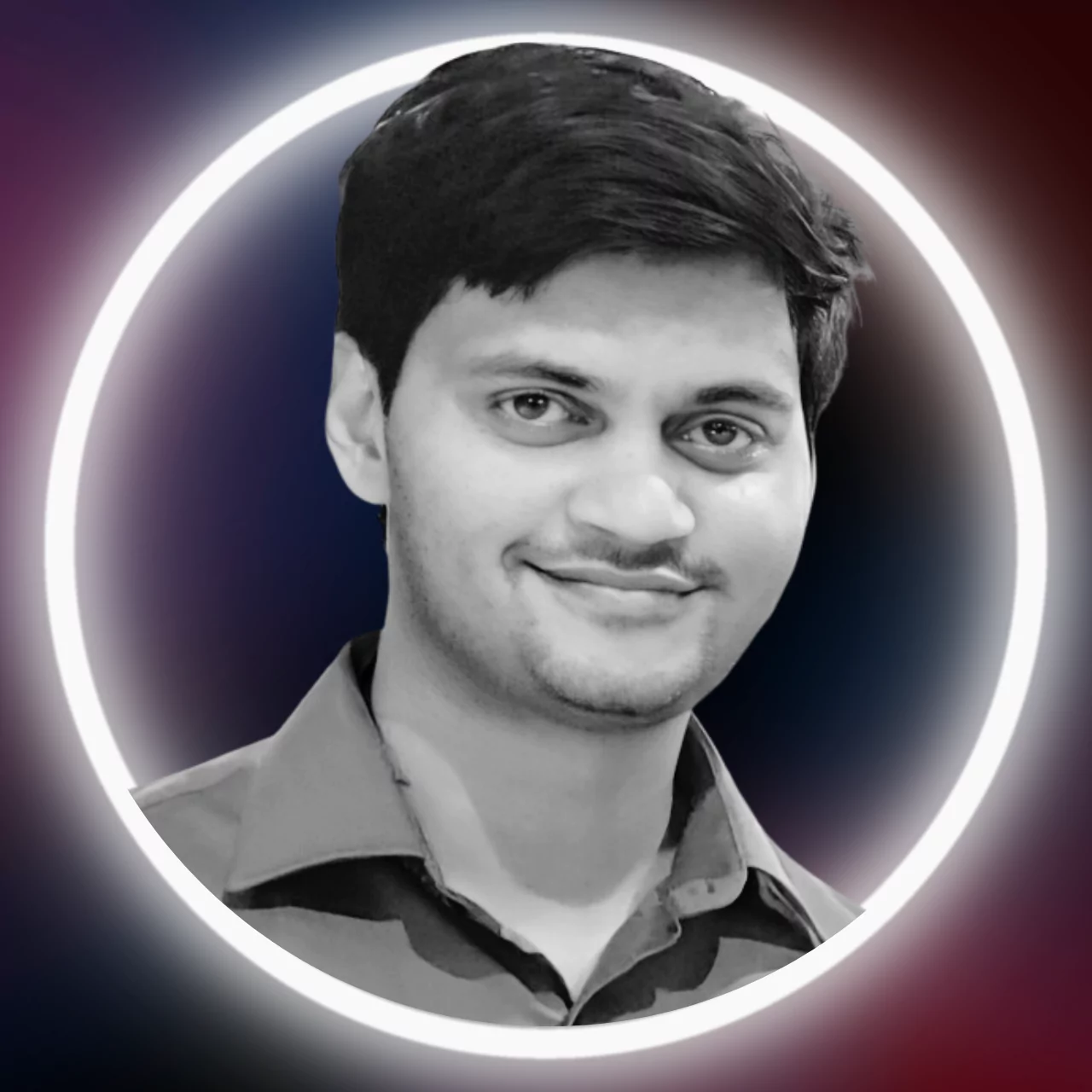 Sumeet is a Certified Financial Education Instructor℠ (CFEI®) and founder of MoneyFromSideHustle. He is an experienced side hustler who replaced his full-time income with side hustles. His work has been quoted on major finance websites like CNBC, Yahoo! Finance, GOBankingRates, CEOBlogNation, SideHustleNation, and more. He has helped thousands of people find side hustles and is here to help you find your extra source of income. More about him.