This post may contain affiliate links from which I may earn a commission without any cost to you. Read our policy for details.
If you have a collection of old Disney VHS tapes, you might hear about the hype around them selling for thousands of dollars and wonder where to sell Disney VHS tapes. Here I will discuss all the best places to sell Disney and how much you can sell them for.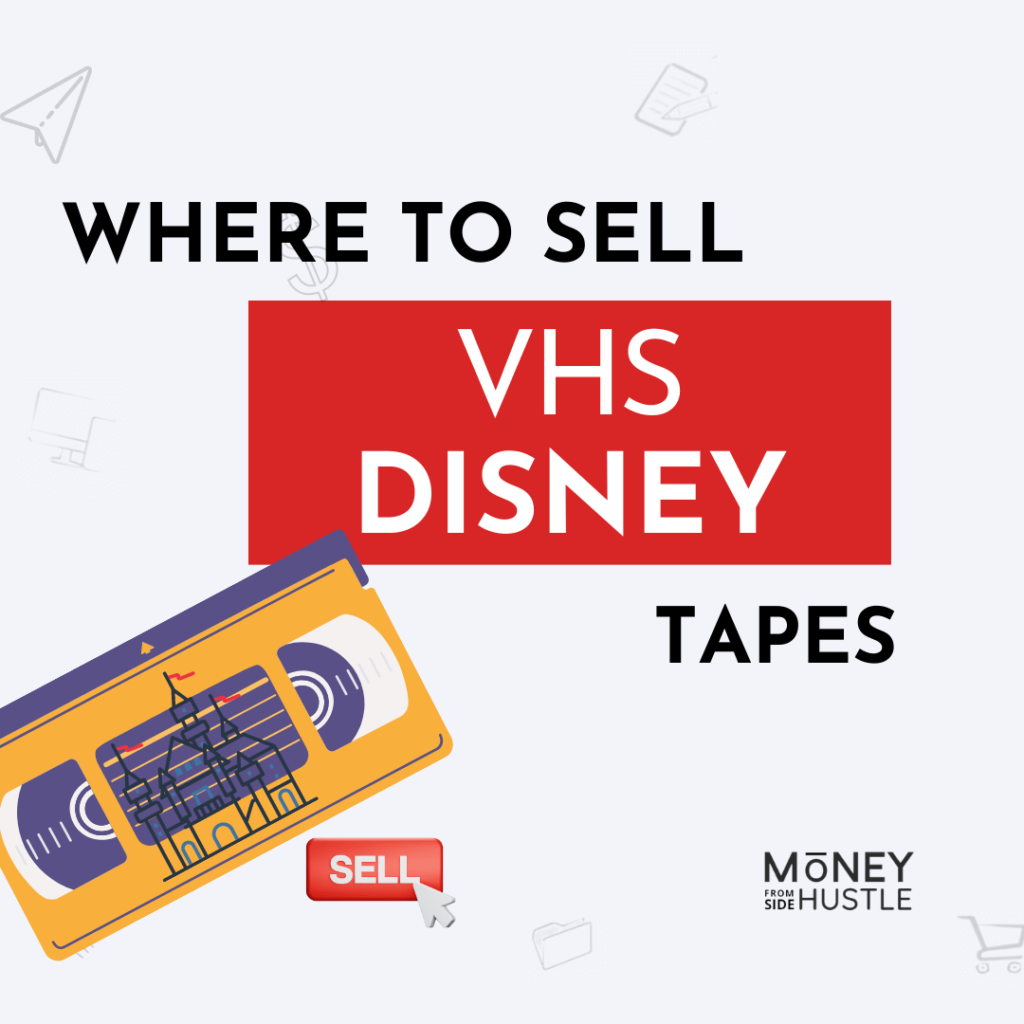 The rise of the internet and streaming services ended the era of VHS tapes, and "almost" nobody uses them. At least I don't know anyone who has a working VHS player. But for many of us who have watched Disney in childhood, these tapes bring nostalgia.
Many collectors buy Disney VHS tapes as collectibles. Whether you found a collection in your attic or trying to flip Disney VHS for cash, you can find Disney VHS tape buyers online and offline.
Note: Disney VHS tapes are not worth thousands of dollars as hyped by a few articles, but nevertheless, you can make a few dollars selling them.
Let's find out where to sell Disney VHS tapes and how to get the best value for them.
If you have other VHS tapes, read this article.
Multiple ways to make money
Low and easy cashout options
Great user ratings on App store
Best Places To Sell Disney VHS Tapes
When looking to sell your Disney VHS tapes, you have multiple options, both online and offline.
1. eBay
eBay is one of the premier online marketplaces for selling collectibles like VHS tapes. You can put up almost anything from coins to postcards and Disney VHS tapes with a bit of effort.
You get to decide the price, shipping and how many items you are offering.
To start, create a listing that has multiple photos and an informative description to attract buyers. Then choose whether to list them in an auction or at a fixed price.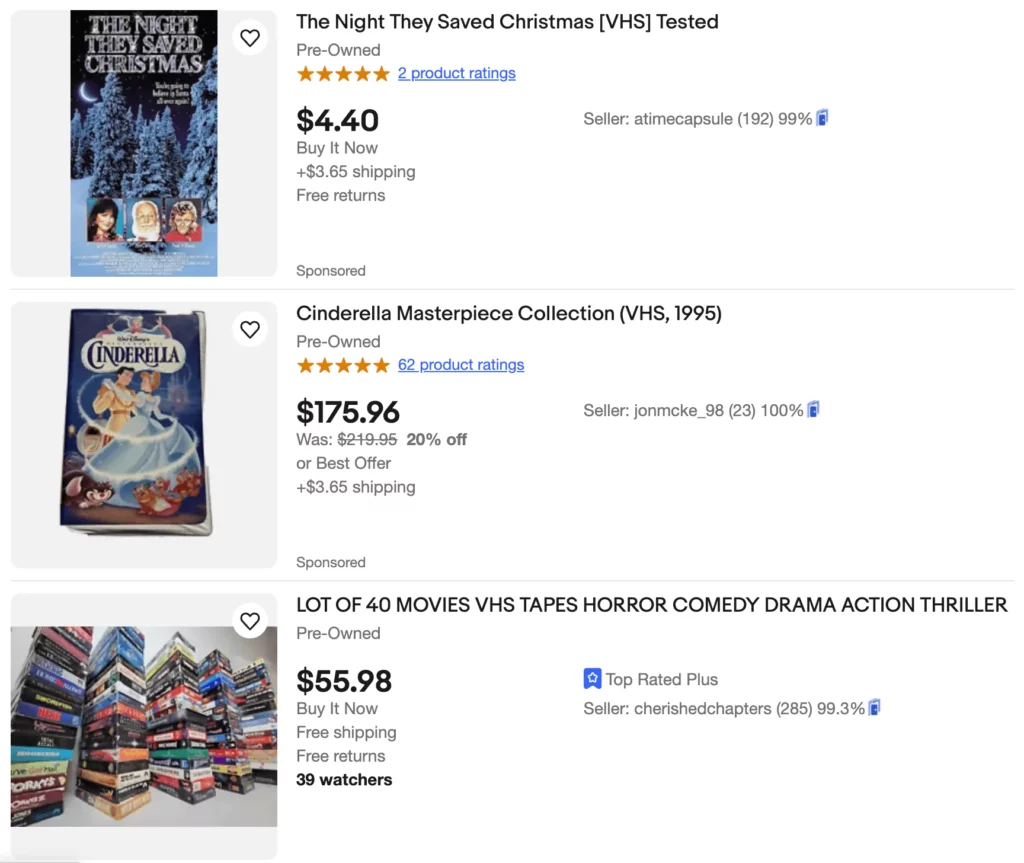 When a buyer expresses interest, you can discuss the item's details and negotiate the price. Remember to factor in shipping costs when setting your final price, as you will need to cover the shipping fees.
Charges: Listing is free for up to 250 items, so unless you are selling a large amount, the cost of the listing should not be an issue. However, when a sale is made, you need to pay 12.9% plus $0.30 for eBay's fees.
---
2. Craigslist
You can try using Craigslist to sell your Disney VHS collection. There could be several people close by who are into collecting such tapes. This platform helps you to connect with them and trade your tapes for cash.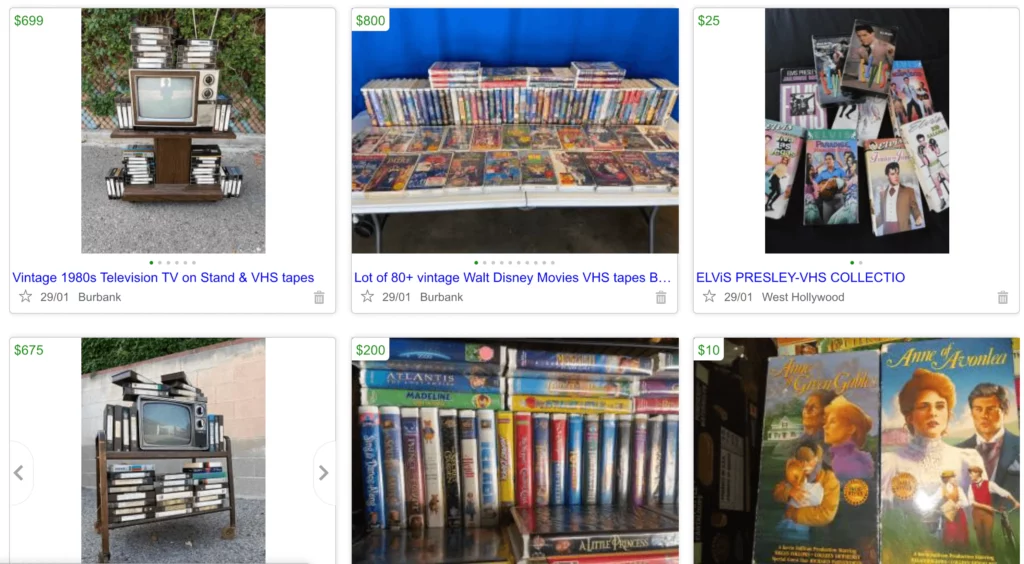 You can post an advertisement without any cost on this classified website. People post different items for sale here, ranging from old shoes to trading cards. It is essential to create a listing with all the necessary information, and those interested can contact you via the portal. People will try to bargain over the price, so be prepared for that.
When the arrangement is finalized, it is necessary to decide on a meeting spot. Make sure that you are taking all the safety measures, like meeting in a brightly lit public area. Don't invite strangers to your house, and never accept checks as payment.
Highest Paying Surveys
Up to $50 per survey
Industry-leading surveys
---
3. Amazon
Amazon can be an option to sell the Disney VHS tapes collection. It has an extensive client base that purchases anything from books to gadgets.
Many people also buy Disney VHS tapes on Amazon, as there are already many sellers doing business here. Start selling by creating a seller account and listing your items.
If you want to avoid the hassle of shipping, you can use Amazon FBA service, and they will manage the shipping and returns on your behalf, though at a higher fee.
Charges: You need to pay a 15% fee plus $0.99 per order.
---
4. Facebook Marketplace
The Facebook marketplace is an ideal place to look for potential buyers of those old Disney VHS tapes of yours.
With the vast reach of Facebook, you can easily find people who are interested in buying your tapes. All you need to do is put up a listing and wait for responses.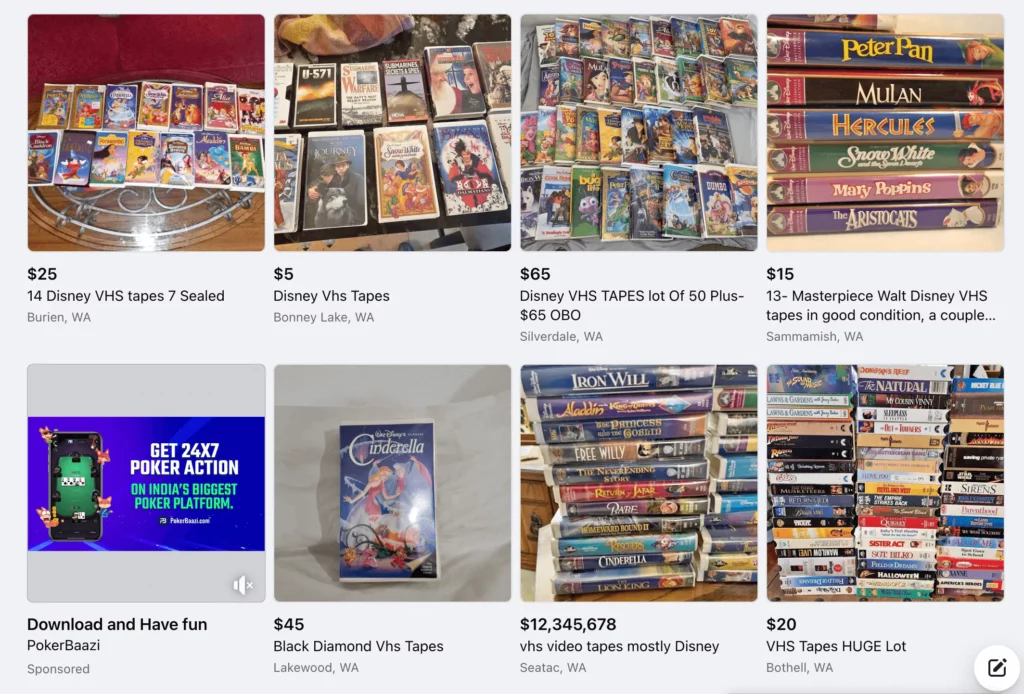 You can either arrange a meet-up or ship your tapes for convenience. Another option is to join local buy-and-sell groups on Facebook, like Disney Online Yard Sale.
Most cities have their own groups that you could join. All you have to do is contact the admins and make a request to join. After that, you can post your listing and wait for offers.
You can then negotiate pricing and payment details with those interested.
---
5. Mercari
Mercari is an alternative online market where you can list your Disney VHS tapes for sale. It gives you the opportunity to showcase your collection to a larger pool of customers throughout the nation.
To list an item, just take multiple images and write a good description. Multiple buyers can view it and make you an offer.
You can accept the offer if you are satisfied with the price. When the item is received in satisfactory condition by the buyer, your payment will be released.
Charges: There will be a 10% transaction charge and a 2.9% + $0.5 payment processing fee for the seller.
High earning surveys
Easy-to-use website
Many ways to earn
---
6. OfferUp
OfferUp can be used to sell your old Disney VHS tapes collection. This website allows both online and offline selling. You can either choose to ship your tapes or meet up with customers locally.
If you choose to ship, you will have more potential customers, and this would lead to faster selling.
On the other hand, if you are not comfortable with shipping and all that hassle, you can meet the local Disney VHS buyers after finalizing the deal.
After the meeting, you can trades your tapes with cash.
Charges: You need to pay a 12.9% fee with a minimum of $1.99.
---
7. Etsy
Etsy is a platform for selling handmade crafts, but you can also sell collectibles like Disney VHS tapes here.
You need to create a shop and list all the items you want to sell with good-quality images and descriptions. Use the website to promote your listings and find buyers.
Charges: They take a $0.20 listing fee and a 6.5% transactional fee on the final price.
---
8. 5Miles
5Miles is another good place to sell your Disney VHS tapes. This platform was known for selling used automobiles, but over time people can sell anything here.
There are thousands of listings for anything you search. VHS tapes are not an exception, there are number of listing for them and a few of them also include Disney VHS tapes.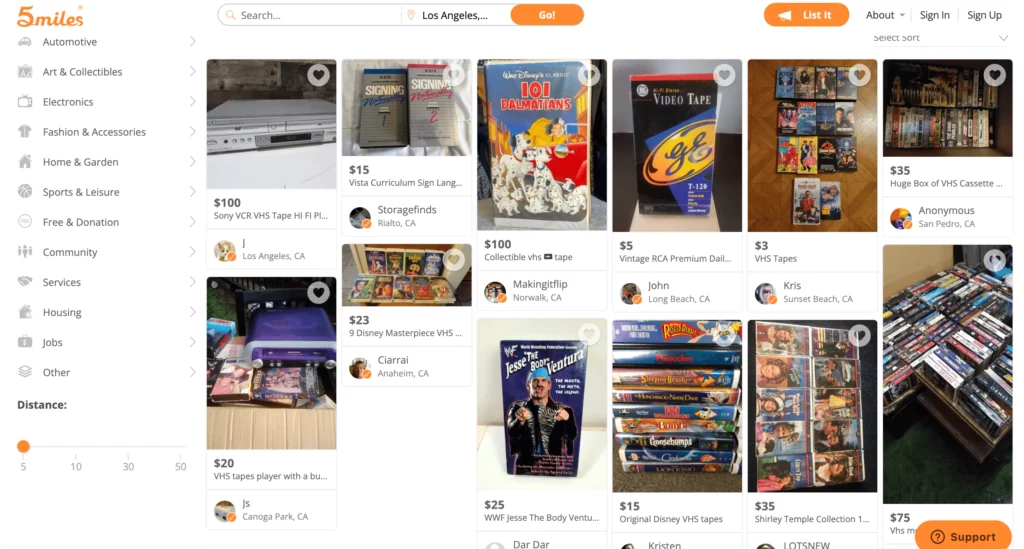 When you are making a listing on one platform, you have images and descriptions ready. Better list them in multiple places and increase your chance of making a successful sale.
Charges: Here, you need to pay a listing fee and a 10% commission on every sale.
---
9. Pawn Shops or Yard Sales
If you don't have high-value Disney VHS tapes, it might be better to sell them locally. You can go to your local pawn shops if they are interested in buying them. You might get a sale quickly and get cash in hand.
If you have a particularly large collection of Disney VHS tapes, you can organize a yard sale where local Disney VHS tape collectors can buy them from you.
In a yard sale, you can also include other things in your home your want to get rid of.
Just make sure to set a date and promote it. Before the date, make all the arrangements like arranging and marking tapes with prices.
Which Disney VHS Tapes Are Most Valuable?
Disney VHS tapes from the rare Black Diamond Edition series are the most valued, with Beauty and the Beast having the highest value, at up to $15,000.
Other sought-after titles include The Fox and the Hound, Aladdin, The Little Mermaid, Lady and the Tramp, 101 Dalmations, The Lion King, Bambi, and Cinderella.
These classic Disney films are beloved by fans of older Disney movies and collectors. Having an original VHS copy from the Black Diamond Edition series can be of real value.
On average, Disney VHS tapes from the 1990s can give you around $10 to $150 per tape, depending on popularity and other factors listed below.
What Factors Decide The Price Of Disney VHS Tapes?
Here are a few things that decide on the price of Disney VHS tapes.
Condition of tape: The price of any Disney VHS tape is largely dependent upon its condition, with pristine tapes often fetching higher prices than those with minor damage or wear.
Age: The age of the tape is also a factor, as older tapes are more likely to be valuable.
Special edition or features: Special edition tapes or those with added features, such as a special cover or bonus material, can also increase their price. Misprints can also increase the value of these tapes.
Rarity: The rarity of the tape also plays a major role in determining its value, as some movies were only released in limited numbers, making them highly sought after in the collector's market.
Fan base: The popularity of the movie or series featured on the tape is also important, as certain titles remain more sought after than others.
Tips To Get Maximum Value For Disney VHS Tapes
Keep a few things in mind when selling old Disney VHS tapes to get maximum value for your collection.
Research the tape's worth: Before selling your Disney VHS tapes, research their estimated value. The worth of each tape can vary depending on its age, condition, and whether it is a special edition or collector's item.
List the tapes on an online marketplace: Creating an online listing for your Disney VHS tapes is the best way to reach potential buyers. You will likely get the most value for your tapes if you list them on eBay, Etsy, or a specialized Disney collector's group.
Accurately describe the tapes: When listing your tapes, accurately describe their condition, age, and any special features. This will help potential buyers determine their worth and make sure you get the maximum value for the tapes.
Offer to bundle tapes together: You can also increase the value of your Disney VHS tapes by bundling them together. For example, if you have two or more of the same movie, consider offering them as a set.
Consider local buyers: If you'd like to avoid listing fees and shipping costs, you can try to find a local buyer for your Disney VHS tapes. You can post an ad on Craigslist or a local Facebook group.
Get Some Cash For Your Collection
If you have stumbled upon old stack of Disney VHS tapes, you might have found some cash source.
Though you will not make thousands, each tape can sell for a few dollars giving you some quick bucks.
Few dollars for selling them is always better than throwing them away.
Here are more ways to make money: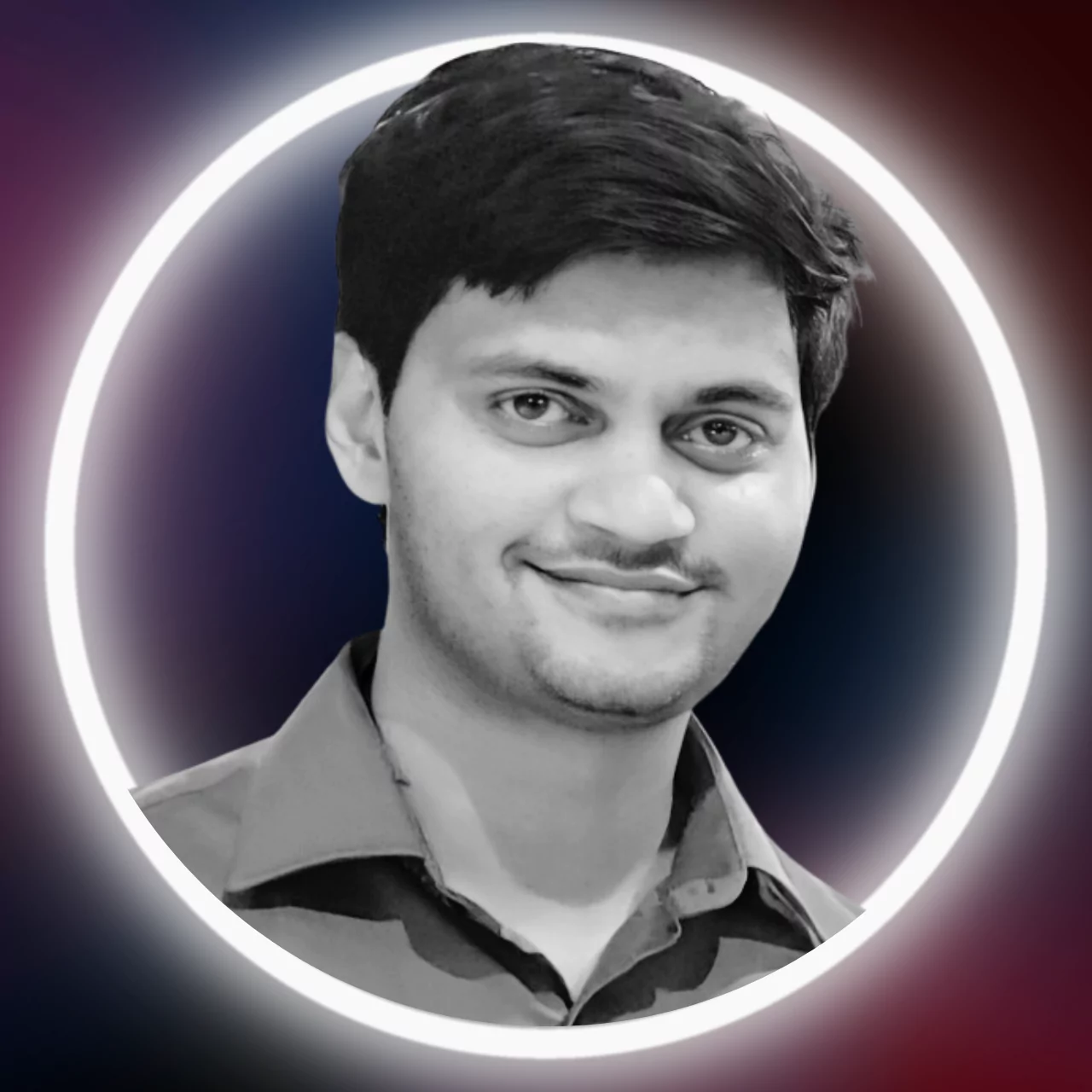 Sumeet is a Certified Financial Education Instructor℠ (CFEI®) and founder of MoneyFromSideHustle. He is an experienced side hustler who replaced his full-time income with side hustles. His work has been quoted on major finance websites like CNBC, Yahoo! Finance, GOBankingRates, CEOBlogNation, SideHustleNation, and more. He has helped thousands of people find side hustles and is here to help you find your extra source of income. More about him.