This post may contain affiliate links from which I may earn a commission without any cost to you. Read our policy for details.
If you want to know about the best places to sell basketball cards you have, this post is for you!
As someone who loved collecting sports cards in childhood, I can tell you it is a fun and exciting hobby. It can be lucrative also; with millions of fans and collectors, there is always demand for vintage and rare basketball cards.
If you happen to have a collection of basketball cards you want to trade for cash or trying to start a side hustle of flipping basketball cards like many others, there are many places to sell basketball cards.
You can use general online marketplaces like eBay or use specialized card sites like COMC, plus there are options to sell your basketball cards on social media forums. If you are someone who loves selling things face to face, you can use local stores like pawn shops for selling cards.
In this article, I will tell you where to sell basketball cards online and offline and a few tips for maximum profit. Let's get rolling!
Highest Paying Surveys
Up to $50 per survey
Industry-leading surveys
Best Places To Sell Basketball Cards
You have two options to sell basketball cards! Online and offline. Depending on your preference and collection, you can choose any of the methods listed below.
Online Marketplaces
If you want to get maximum value for your card collection, selling them online is the best option.
You can use general online marketplaces to list your basketball cards, and people can get the cards through shipping or by meeting locally.
1. eBay
eBay is a great place to sell almost anything.
Many people use eBay to sell their basketball cards. It is the preferred choice for selling high-value cards, as with bidding in auctions, you can get maximum value for your cards.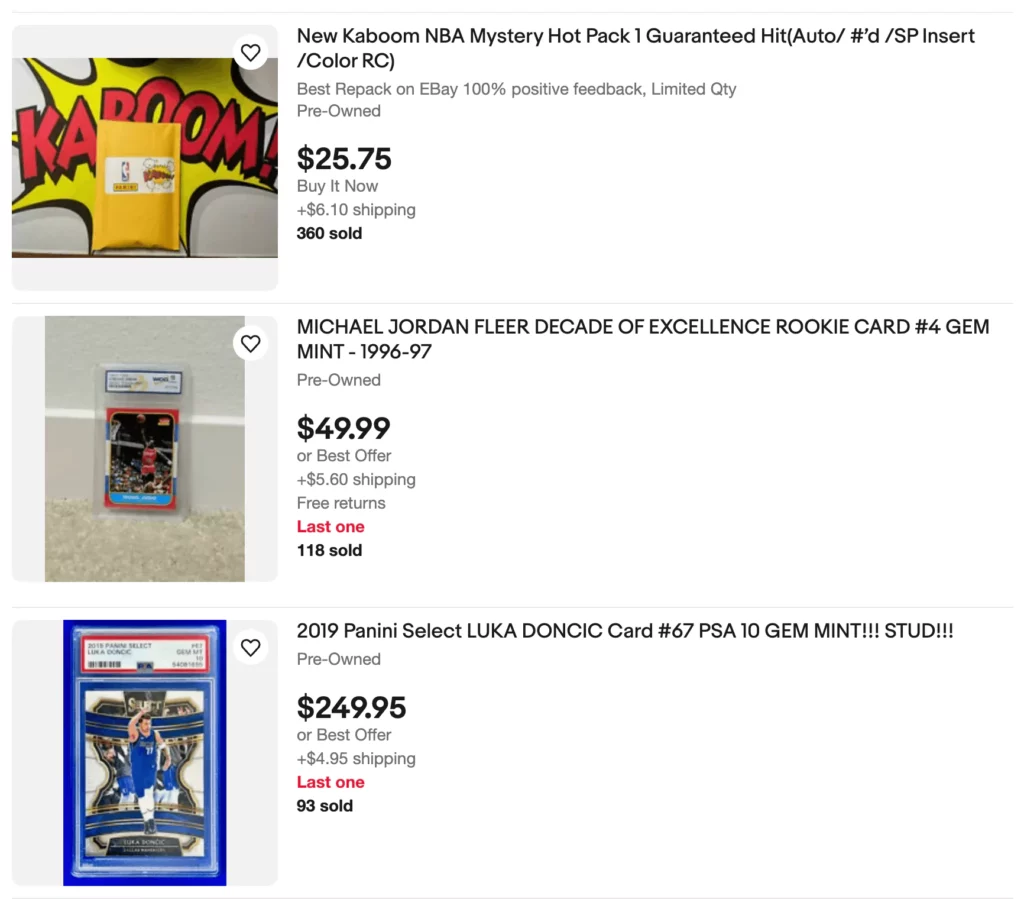 To be able to sell on eBay, you need to create a seller account.
Then make a listing with good quality images and description.
You have two options for listing.
Fixed price listing
Auction
Before finalizing the price of your cards, check other similar card prices and price competitively.
Charges: First 250 insertions or listing every month are free after that, you need to pay $0.35 per listing. The base fee for selling cards is 12.9% plus $0.30.
---
2. Amazon
Amazon is another great place to sell your basketball cards in front of a huge audience.
You can make a seller account and list your cards.
While eBay is perfect for both single-time sellers and regular card sellers, Amazon is better for people who want to sell cards regularly.
You need to get approved as a seller and, after that, keep track of your inventory and update that regularly.
If you provide good service to your buyers, you can accumulate positive ratings over time and grow your business.
Charges: A fee of 15% up to $100, 10% for $100 to $1,000, and 6% for any amount above $1,000 is charged plus $0.99 per order.
---
3. Craigslist
Craigslist is a classified ad space where you can put anything for sale.
The website is present in every city and many people interested in buying and selling frequently visit it.
If you have some common basketball cards you want to sell, Craigslist is a good place to find interested people.
Post your card images with all the required details, and anyone interested in your area can contact you.
Be ready to negotiate and keep your prices with the scope of negotiation.
If you find a buyer, arrange a meeting in a well-lit public place and take along your friend if possible.
Allow them to inspect your cards and accept payment upfront. Don't accept checks, as there are many cases of fraud checks being used.
---
High earning surveys
Easy-to-use website
Many ways to earn
4. OfferUp
OfferUp is a big marketplace you can use to sell your baseball cards.
You can sell basketball cards for cash near you using their local meet-up feature.
You can also choose to ship your cards.
In either case, you need to make a listing and when someone shows interest, make a deal with them.
In the case of local selling, you need to meet the buyer, and you can get cash immediately.
For online selling, you can ship your cards, and when the buyer confirms receiving your cards, the company will release your payment.
Charges: For using the platform for the online selling of basketball cards, they charge you a fee of 12.9%.
---
5. 5Miles
5Miles is famous for selling used automobiles, but people can also sell other used items like sports cards, magic cards, and Pokemon cards.
Similar to OfferUp, you can choose to sell locally or ship your cards to interested buyers.
To make a good listing, you need to upload multiple good quality images and provide all the details.
You can further use features like a bump-up to make your listing visible to more people.
Charges: They charge you a listing fee and a 10% commission on every sale.
---
6. HA Auction
HA Auction is a reputed auction site for high-value vintage and rare collectibles.
If you have high value baseball cards, sending them to HA auction is a better idea.
To get started, you need to fill up a form with your card details and one of their expert appraiser will contact you.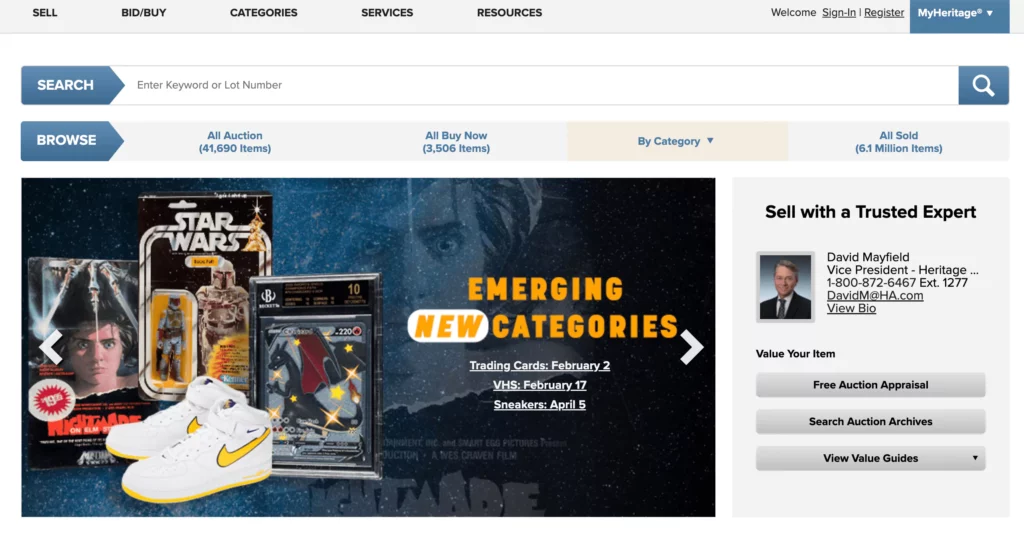 If they are interested in your cards, they will offer to buy your card or put it up for auction in one of their many upcoming online auctions.
Since they have a name in the auction world, many high-net-worth investors and collectors participate in these auctions.
Charges: They take a fee from 5% to 10%.
| | |
| --- | --- |
| Price | Fee Percentage |
| less than $5000 | 10 % ($25 minimum) |
| $5000 – $9999 | 9% |
| $10,000 – $24,999 | 8% |
| $25,000 – $99,999 | 7% |
| $100,000 – $499,999 | 6% |
| $500,000 and up | 5% |
Specialized Sites For Selling Basketball Cards
These sites deal specifically in buying and selling cards.
A few of them are marketplaces to do peer-to-peer transactions, and others are those who buy basketball cards themselves.
Most of them sell cards on their websites, and they buy from individual collectors to keep up their inventory.
7. Beckett Marketplace
Beckett is a well-known player in the card market. Their card grading service is one of the best in the industry.
You can also sell your basketball cards on the Beckett marketplace.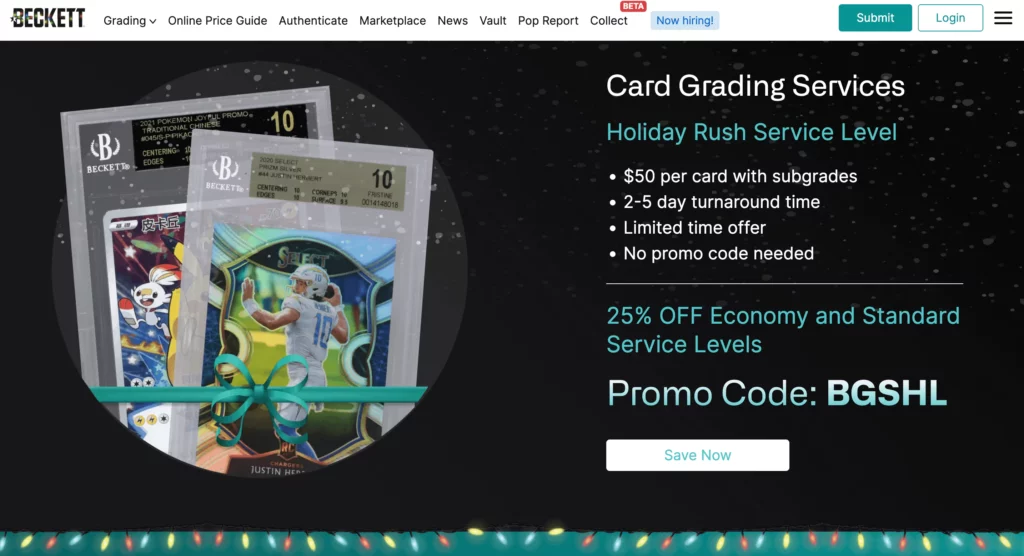 For people who are into trading basketball cards regularly, they offer many features.
You can become a dealer and take advantage of their customizable stores, inventory management, help with pricing data, and customer support.
They also deal in:
Other sports memorabilia
Comic books
Vintage coins
You can sell your cards here for a fixed price or put them in auction style.
Use their forum to interact with fellow card enthusiasts and grow your knowledge and business.
Charges: They take a $14.99 to $40.99 monthly fee, based on your selected services.
---
8. COMC
COMC is a service provider that helps you sell your basketball cards without any effort.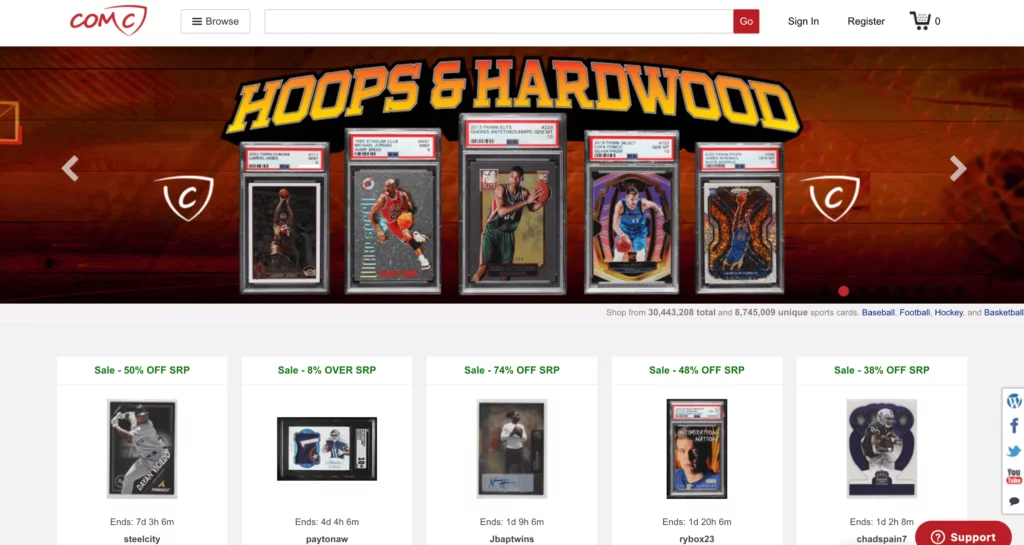 You just need to send your cards to them, and everything else is taken care of by them.
They do the market research for your cards
Take good quality images
Make listing at the relevant places
Handle all selling questions
Ship the cards and handle payments
Once the cards are sold, you get paid minus their commission.
Charges: For doing all this work they charge $0.50 to $2 per card and a 5% transaction fee.
---
9. Kruk Cards
Kruk Cards is a place that buys basketball cards, both rare and common.
You just need to prepare a list of all your cards with details like
Unopened boxes
Key rookie cards
Complete sets
Any memorabilia like autographs
Estimate number of common cards
And highlight the valuable cards
Once you send them the list, they will give you an estimated offer. If you chose to accept the offer, you can send them your cards.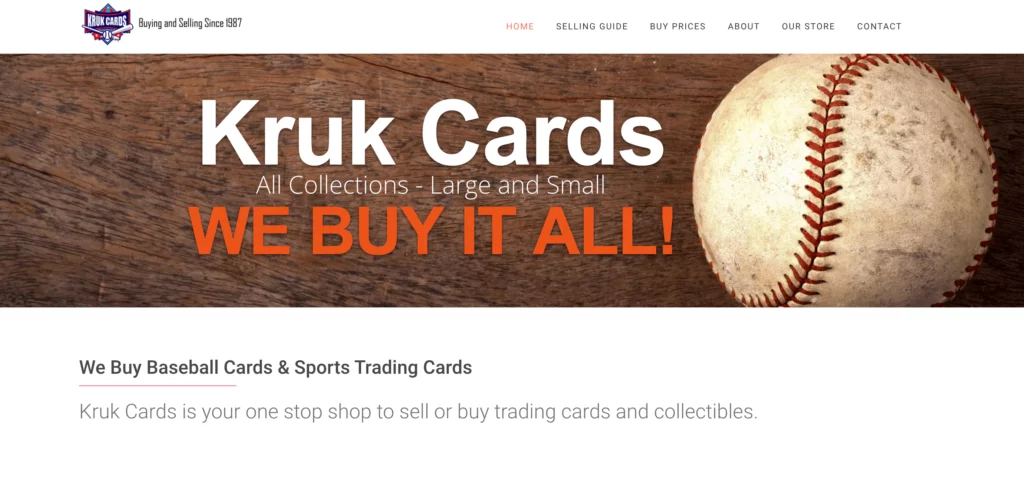 Upon receiving your cards and verifying them, they will pay you.
You can also go to their store and sell your basketball cards instantly, though you need to take a prior appointment.
---
10. Dean's Card
Dean's card is one of the best places to sell basketball cards and other sports cards.
To get started, you just need to provide them with a list of all your cards, including details like number or cards, any special cards, unopened boxes, etc.
Based on your list they will decide if they want your collection or not.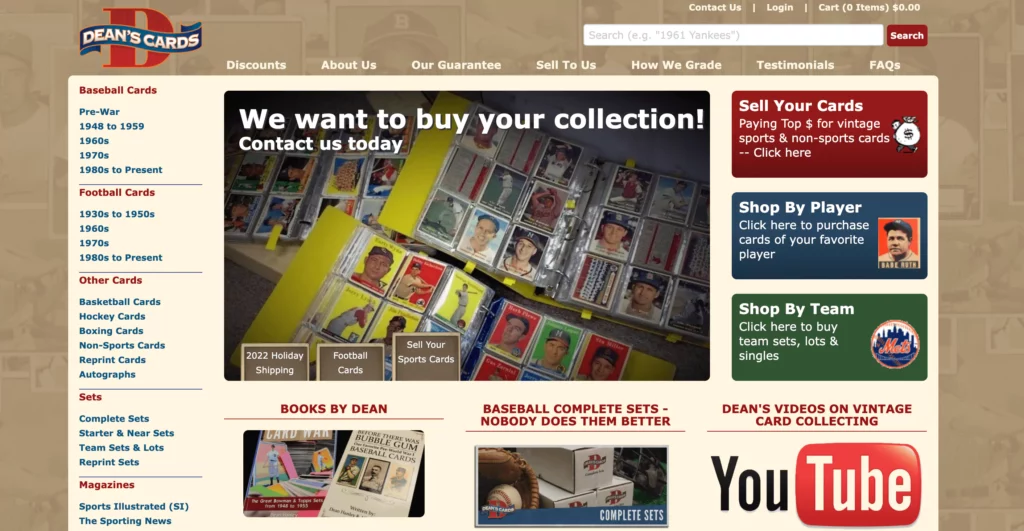 If they are interested, they will give you an address to ship your cards.
Upon receiving your cards, they will evaluate them and will make you an offer.
If you like the offer, you can get paid by check or PayPal. If not, they will return your cards free of cost.
---
Multiple ways to make money
Low and easy cashout options
Great user ratings on App store
11. Dave & Adam's
As with all these websites, Dave & Adam's website is also a place that sells sports cards. To keep their inventory, they offer to buy basketball cards from people like you and me.
Obviously, they will be interested in buying only cards that they think they can sell for profit.
Here is their buylist for the cards they are interested in with prices.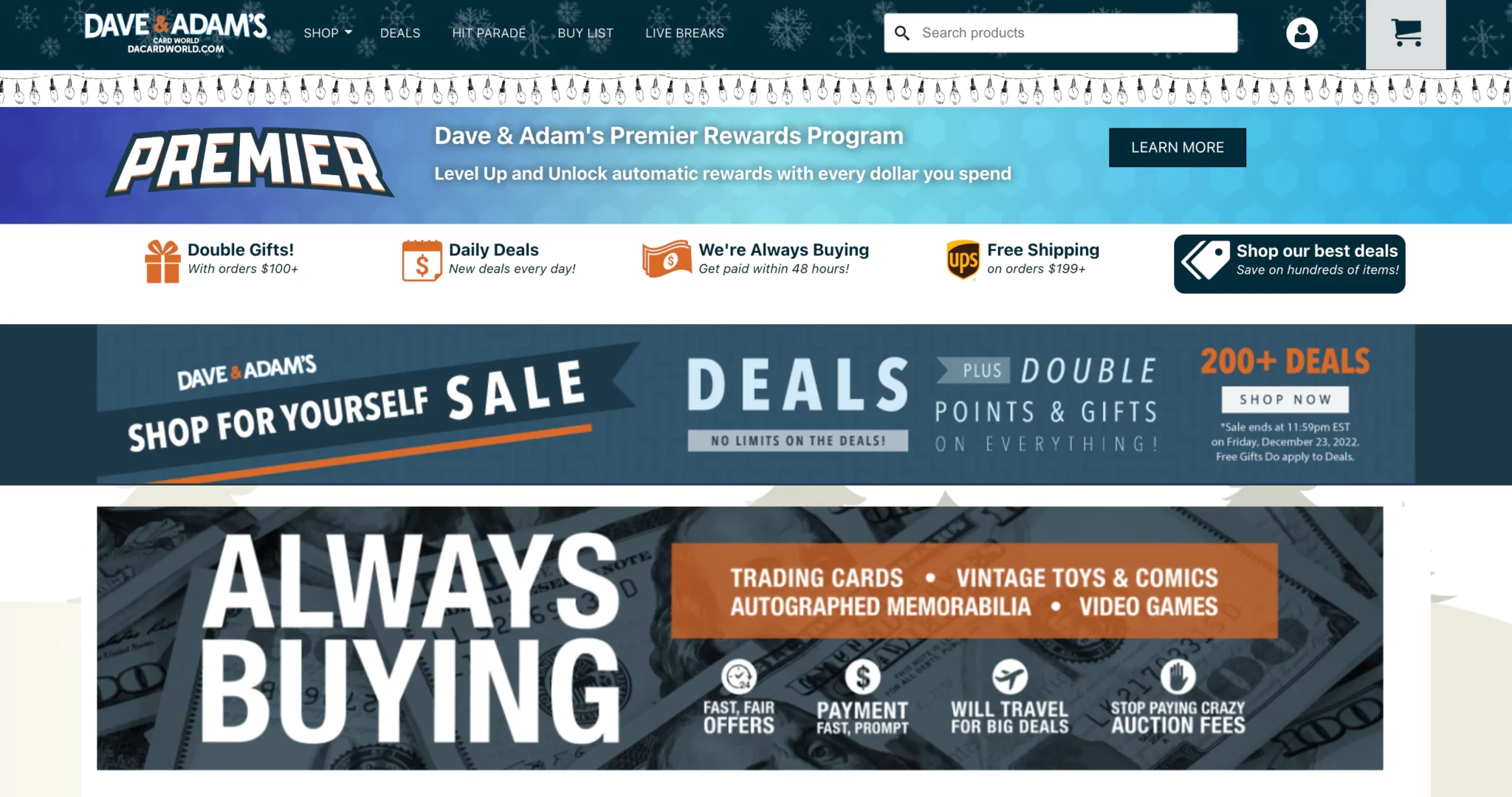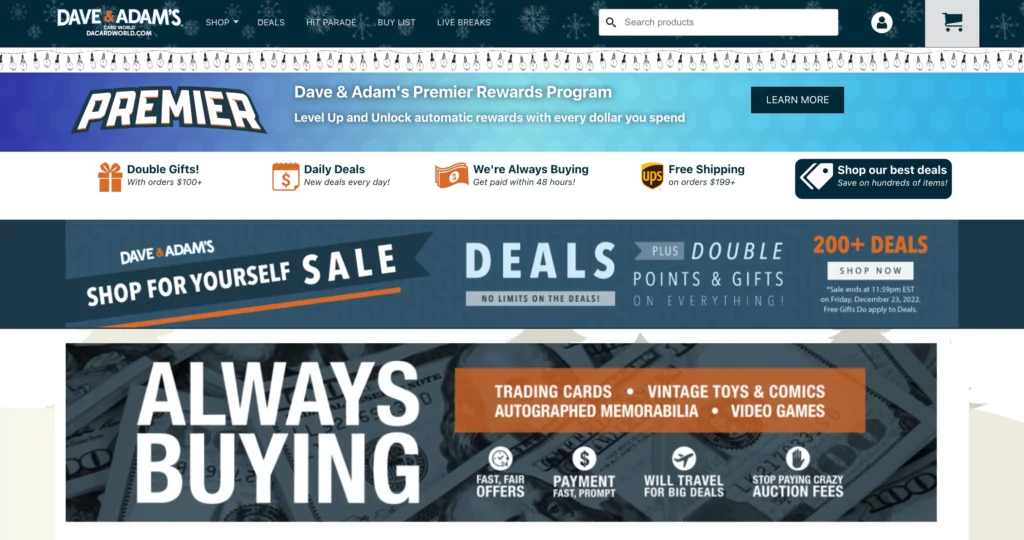 You need to send them a list of all your cards with details, and they will make an offer based on that.
If you like the cash offered, you can send them your basketball cards.
Upon inspection, they will pay you through PayPal, direct deposit, or check.
Other than basketball cards they also buy:
---
12. Sports Card Pro
Sports Card Pro is a marketplace you can use to sell basketball cards, but it is unlike other marketplaces.
Here you don't have to pay any listing or selling fee.
Only transaction fee by PayPal is charged to the seller.

So, you need a PayPal business account to become a seller on this website.
But the disadvantage is they don't provide any help in shipping, you need to handle it yourself and factor in your shipping costs in price of your cards.
When making a listing on the website, you are asked a current price and minimum price.
The price of your listing goes on decreasing until it is sold to the point of your chosen minimum price.
---
13. Otia
Otia is a great place that buys basketball cards in whole collections, even if it includes mostly common cards.
Send them pictures of your collection giving them some idea and provide other details like number of cards, how many rookie cards etc.
Based on this information, they will make you an offer if they are interested in buying.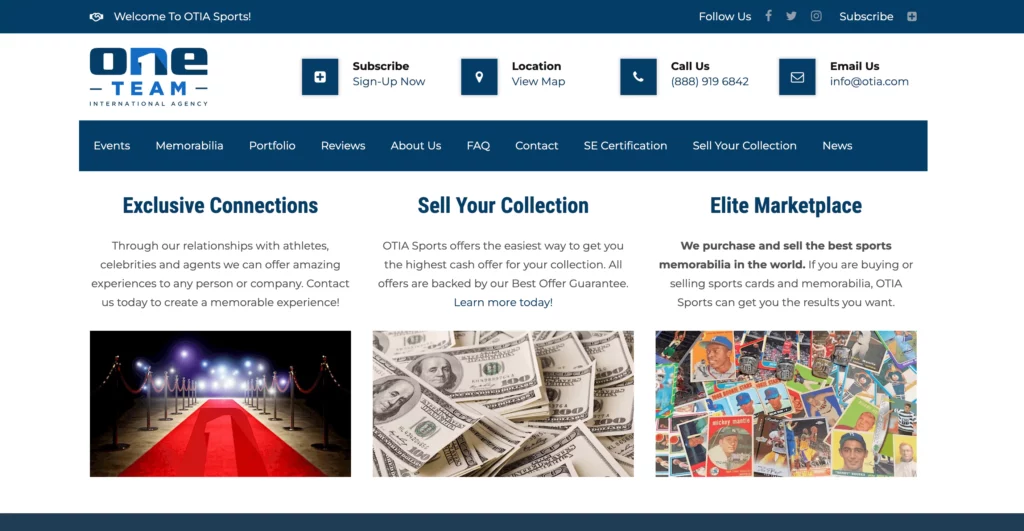 They offer a maximum price guarantee, and their offer is valid for 30 days.
They will even arrange home pickup if you have a large enough collection. Or you can ship your cards to the provided address.
Once they get the cards and evaluate them, you can get paid through PayPal or check.
---
14. Just Collect
Just Collect main business is baseball cards, but they also buy basketball cards.
They even do a free appraisal, and you can do that online by filling out this form.
Based on the information provided and appraisal, they can make you an offer.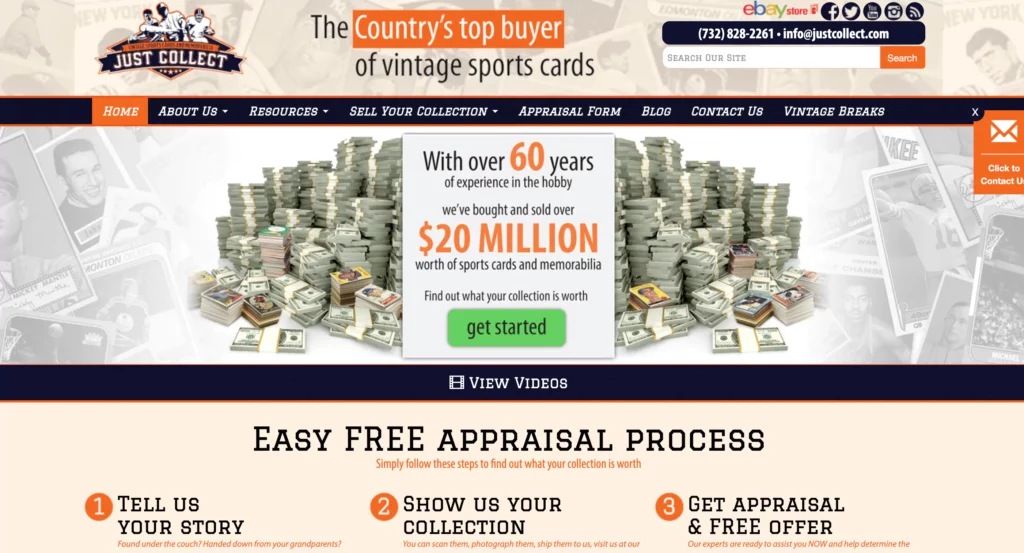 If you agree to the offer terms, you can ship your cards to them to get paid.
You can also go to their office to drop off the collection and get an appraisal within 48 hours. If you agree, they will send you a check.
Social Media Platforms/ Forums
Social media platforms can be used for more than just peeping into other people's lives. You can do business by leveraging these giant social media networks. People of similar interests can come together and trade in things like basketball cards.
15. Facebook Marketplace
Facebook Marketplace is one of the biggest online places to sell and buy things locally.
You can meet thousands of people in your locality through Facebook to sell basketball cards.
For selling basketball cards on Facebook, you have two options:
Facebook marketplace
Local buy and sell groups
You can list your cards for sale on the Facebook marketplace and show them to local buyers and meet them locally. Or show your listing to people nationwide, and when someone buys your cards, you need to ship them.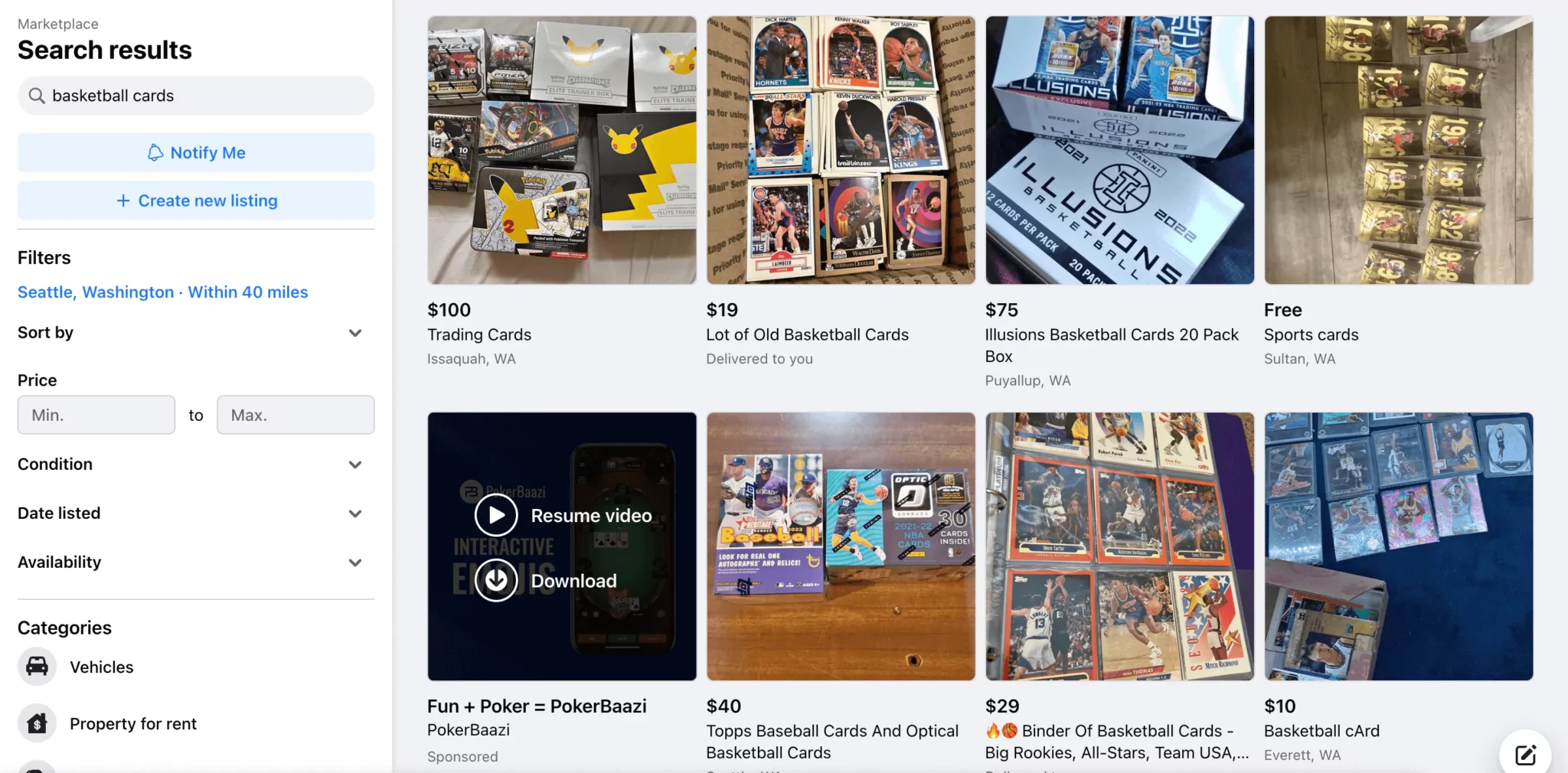 You can also join your local buy and sell groups. To list your cards for sale there, you need to ask for the permission of the moderators.
Once your listing is live, many local basketball collectors near you can show interest, and you can fix a meeting.
Charges: Using the platform is free, you only need to pay a fee if you are using Facebook for payment collection and shipping help.
---
16. Reddit
Reddit is an online community forum where many people join sub-groups called subreddit.
These subreddits are made based on common interests.
There are many subreddits for basketball card collectors, where many basketball card enthusiasts share their interest with each other.
One such subreddit is r/Basketballcards, with over 45k members who discuss everything about the basketball cards.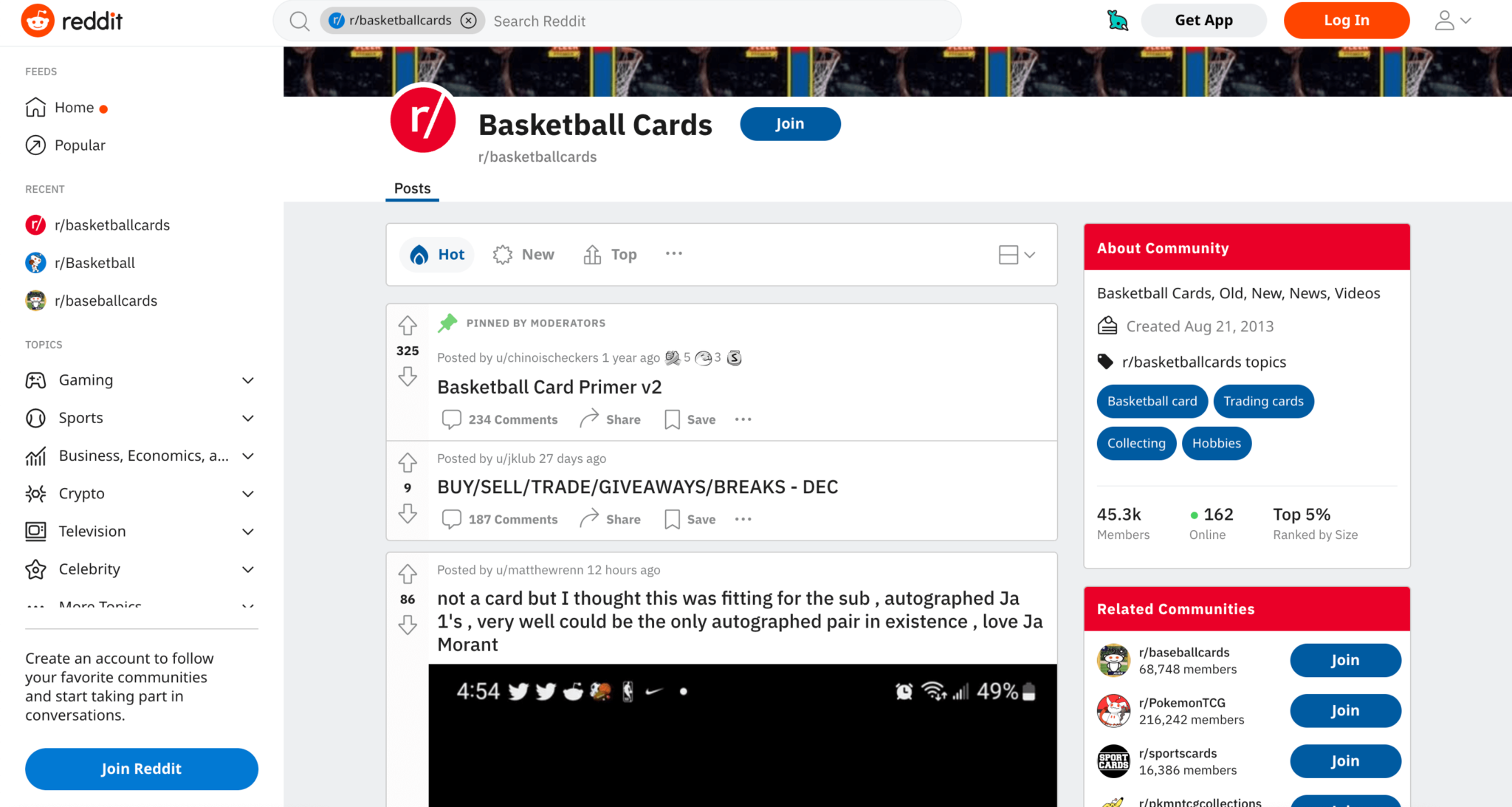 There you can post your cards for selling, and other members who are interested can buy them.
Transactions are one-to-one, so there is no platform fee.
Local Places To Sell Basketball Cards
If you are not an online selling person and prefer to sell one-to-one, there are a few options for you as well.
This way of selling basketball cards is convenient, especially if you have a large collection of common cards. Though, you will more likely make less money than selling your cards online.
17. Pawn Shops
Local pawn shops can be a easy way to sell you basketball card collection.
Pawn shops buy just about anything in demand. If you live in a city with an NBA team, there probably will be demand for basketball cards.
You can call and check if your local pawn shop is interested in buying your cards.
If they buy sports cards, you can take your collection to them to have a look.
They will inspect your cards and will offer you a price. Most of these place will try to haggle on price, so you be better prepared to negotiate.
It will be a better idea to do some research beforehand so that you know what to expect.
If you like the price, it is an easy way to get paid fast.
---
18. Conventions and Card Events
From time to time, communities of card enthusiasts and card companies organize conventions and events where many card collectors come together.
You can search if any such event is happening near your where you can sell your basketball cards.
You can also meet similar-minded people and even make new friends with a similar hobby.
There are many booths that buy sports card collection and you can try selling yours.
Plus, you get to see some rare and exclusive collections firsthand.
---
19. Yard Sales
Yard sales can be one of the best places to sell basketball cards if you have bulk collection of common cards.
With garage sale you can find basketball card collectors near you who might be interested in buying.
Many people use garage sales and flea markets to offload the things that are not high value.
For a yard sale you need to put in work.
Arrange all the cards
Research for the optimal price
Make price tags
Promote your sale in neighborhood
On the day of the sale, you need to be ready to negotiate with a lot of people.
You can combine other things you want to sell in your home and have a bigger yard sale to attract more people.
Factors That Decide The Value Of Basketball Cards
Here are a few things that affect the price of the basketball card.
Rarity: Cards produced in limited numbers, like a card featuring a rookie player that was only included in a limited edition set, might be more valuable
Condition: The cards which are in excellent condition, without any wear or tear are always more valuable than the same card with some damage
Demand: There is more demand for some teams and players due to various reasons like status, news or some scandal, which can lead to higher prices
Player: Cards featuring famous players who have won multiple championships usually command higher demand and price
Age: Vintage cards are more than often more valuable, for example, pre-war era cards are hard to find and are considered more historically significant
Grading: Cards that are professionally graded by a third party are more valuable as they brought more trust in the buyers about authenticity and condition
How To Sell Basketball Cards For Maximum Value
Here are a few things you can keep in mind while selling your basketball cards online.
Do market research: Before deciding to sell, learn more about the cards you have and how much value they have by looking at online stores and auction houses and getting an appraisal
Take good images: When selling online, it's important to have clear, well-lit images as that is only visual information available to buyers
Write an accurate description: When listing your cards for sale at online marketplaces, other than images, you need to write a good description with all details like a team, history and everything
Package your cards properly: When you are sending your cards to the buyers, it is important to package them properly so that they are not damaged on the way. Any damage can lead to returns and lost value of your cards
Consider all selling options: There are several ways to sell basketball cards, including online marketplaces, card shops, and collectors' forums. Look at the pros and cons of each option and take quotes from multiple of them to look at who gives best value
Be prepared to negotiate: When selling on marketplaces, buyers will always try to negotiate. So, be ready for negotiations and always keep some wiggle room for price decrease
Here are a few more tips:
Turn Your Basketball Cards Into Green Bills
So, as you saw, there are multiple options in front of you when you are trying to sell your basketball cards.
You need to look at your collection and decide how much effort you want to put in and make a decision on the best place to use for selling basketball cards.
If you are yet not ready to part ways with your collection and memories yet, you can wait for more time, as these cards will most likely keep appreciating in value.
Just make sure to keep them in safe condition without heat and moisture, and always handle them with care.
More ways to make money for you:
Sumeet is a Certified Financial Education Instructor℠ (CFEI®) and founder of MoneyFromSideHustle. He is an experienced side hustler who replaced his full-time income with side hustles. His work has been quoted on major finance websites like CNBC, Yahoo! Finance, GOBankingRates, CEOBlogNation, SideHustleNation, and more. He has helped thousands of people find side hustles and is here to help you find your extra source of income. More about him.