Trying to figure out where to sell Funko pops for extra money? Don't worry, I got you covered in this article.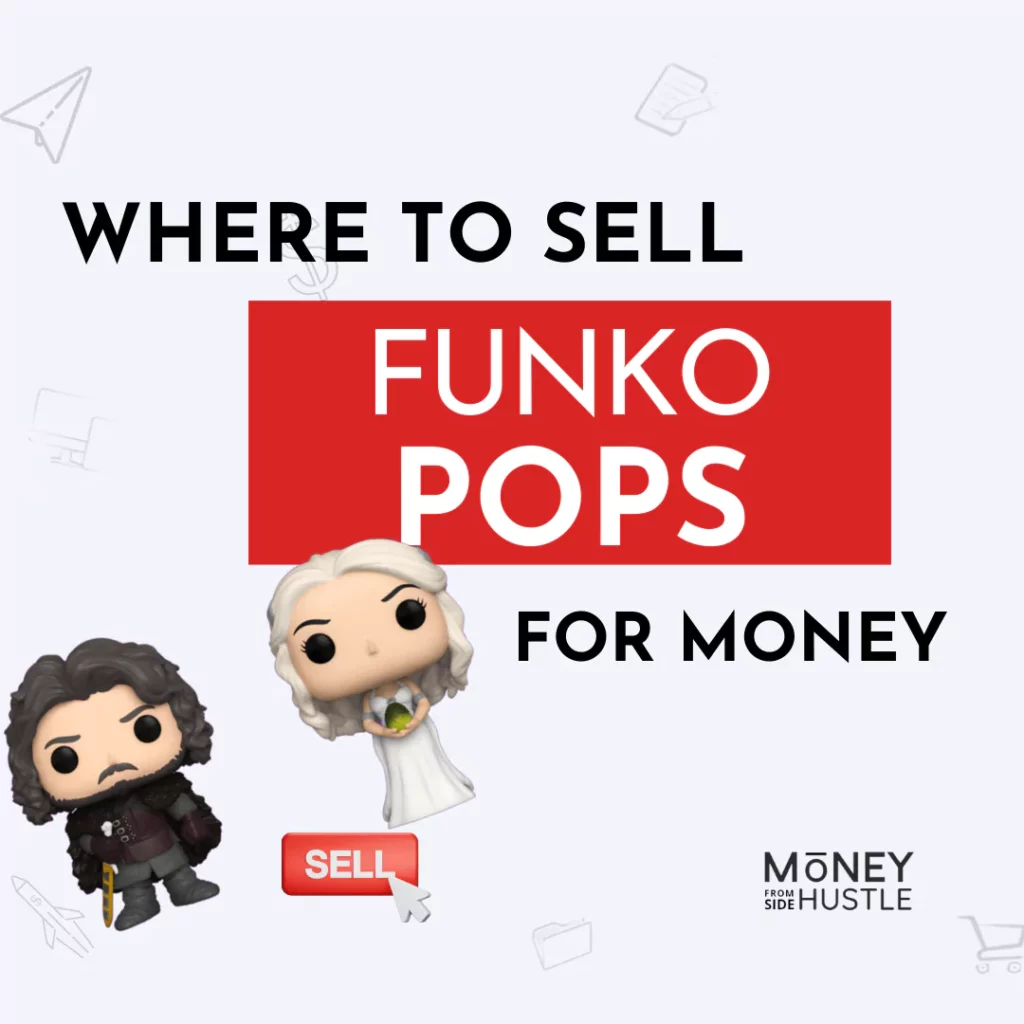 Funko Pops have been a popular collectible among fans of cartoon characters, comic books, superheroes, and video games since their introduction.
If you have a collection of Funko Pops taking up space or you want to make some cash from your Funko Pop collection, there are many places to sell them.
You can sell Funko Pops online at eBay, OfferUp, or specialty stores like 7 Bucks a pop. Other than that, you can sell them locally at pawn shops or attend conventions to do that.
Here in this article, I will discuss all the best places to sell your Funko Pops and a few tips to get the best value for selling your Funko Pops.
So let's get rolling!
Become an Official Funko Reseller
Not a great way to sell your personal collection, but if you want to make a living selling Funko Pops or start a side hustle doing it, becoming a Funko official reseller can be a good option.
To be able to do it, you need to have a verifiable brick-and-mortar store or your own online selling website. There are a few other conditions.
Minimum opening order of $3,500 of Funko products
The minimum annual sale revenue of more than $50,000 directly through Funko
If you are interested, fill up a form with all the required information, and they will assess your information.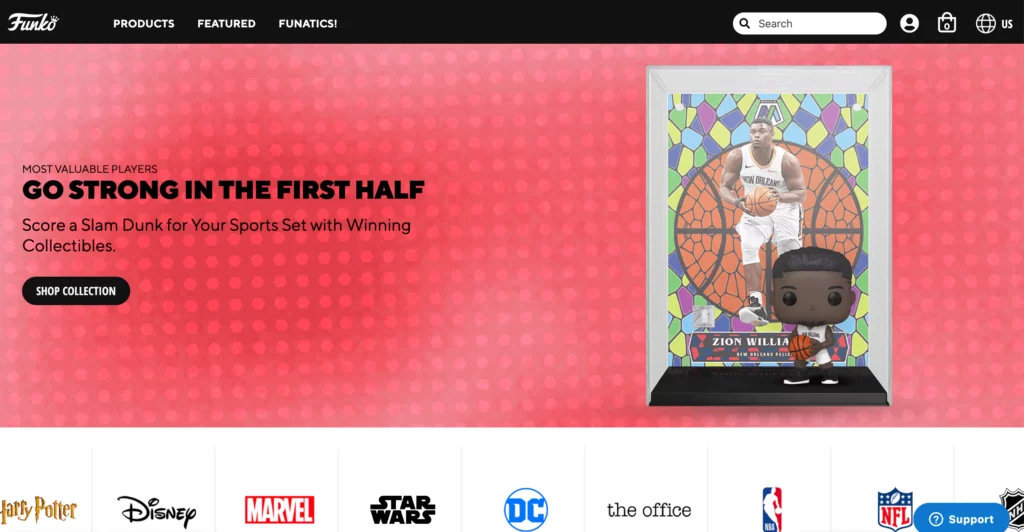 You will be provided with all the required licensing, like a reseller and business license if you qualify.
People in Europe can also become official resellers and need $2,500 worth of first orders. If you do not qualify to become a reseller, you can work with one of their premium resellers listed on the site.
Where To Sell Funko Pops
For selling your Funko Pops, you have both online and offline options available.
1. eBay
eBay is a great place to sell anything. There is a huge audience for everything on this platform. You can sell your Funko Pops here, especially if they are rare.
To be able to sell here, you need to make a seller account and make a listing with multiple images. Provide all the details, like if there is anything special in your figurine.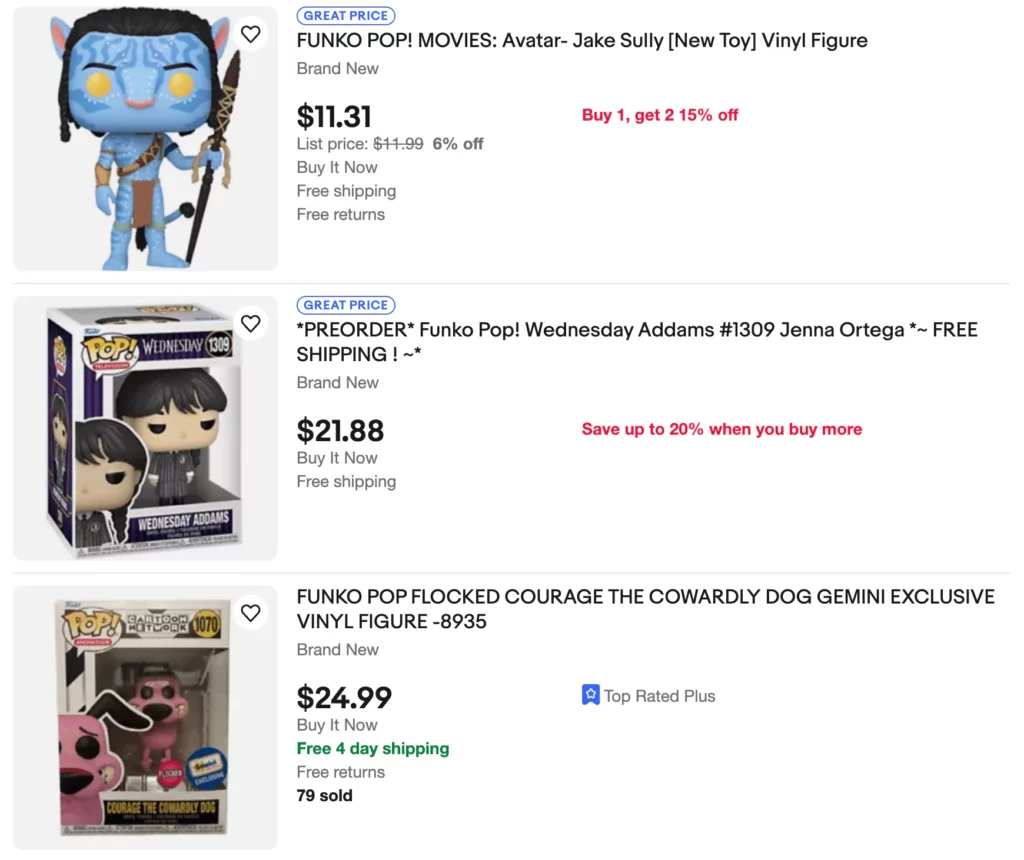 For the extremely rare ones, you can set up an auction with a high probability of getting a bidding war among collectors.
You can set a fixed price for common ones, and when someone interested contacts you, negotiate a deal.
Charges: eBay takes a fee of 12.9% on the final price plus $0.30, and the listing is free for up to 250 items every month.
---
2. Mercari
Mercari is a marketplace for selling things online. You can list your collectibles like Yugioh cards, vintage postcards, and Funko Pops here for selling.
As with all online marketplaces, here, you also start with making a listing with images of your item. Give a detailed description so that people can find it through search and when they read it, they could get a proper idea of what they are buying.
Set a price, and when someone buys your Funko Pops, you need to ship them within a timeframe through a prepaid shipping label provided by Mercari.
Shipping is insured for up to $200 for lost and damaged. When the buyers confirm receiving your item in described condition, you get paid instantly.
Charges: Mercari takes a 10% selling fee and a 2.9% + $0.50 payment processing fee.
---
3. OfferUp
OfferUp is another great place like eBay to sell your Funko Pops. The better part is you have two options for selling your Funko Pops. You can either ship your items or meet local Funko Pop buyers near you.
For either of them, you need to make a listing with all the descriptions and images. Then select a price and choose the selling method, either local or shipment.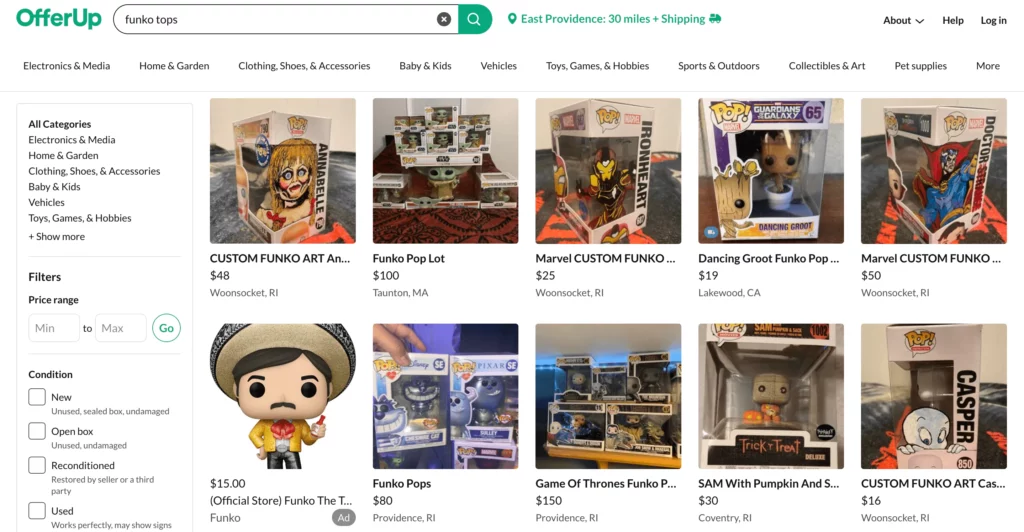 Buyers will be able to contact you for any questions related to the item, and they will also negotiate on the price.
When someone contacts you, be polite and answer all the questions.
For meeting locally, follow all the security measures and allow them to inspect your items before taking cash. Remember to choose a safe public place for meeting and take cash only.
When shipping, use their prepaid shipping label, and the app will process the payment.
Charges: They take a 12.9% fee of the final price with a minimum of $1.99.
---
4. 5Miles
5Miles can be used to sell a variety of things like Funko Pops. This app allows sellers to list a variety of things, and there is a huge audience on the platform supporting a large number of sellers.
Make a listing with multiple images, set a competitive price, and wait for the buyers. Promoting your listing on social platforms like Facebook can help in selling your items faster.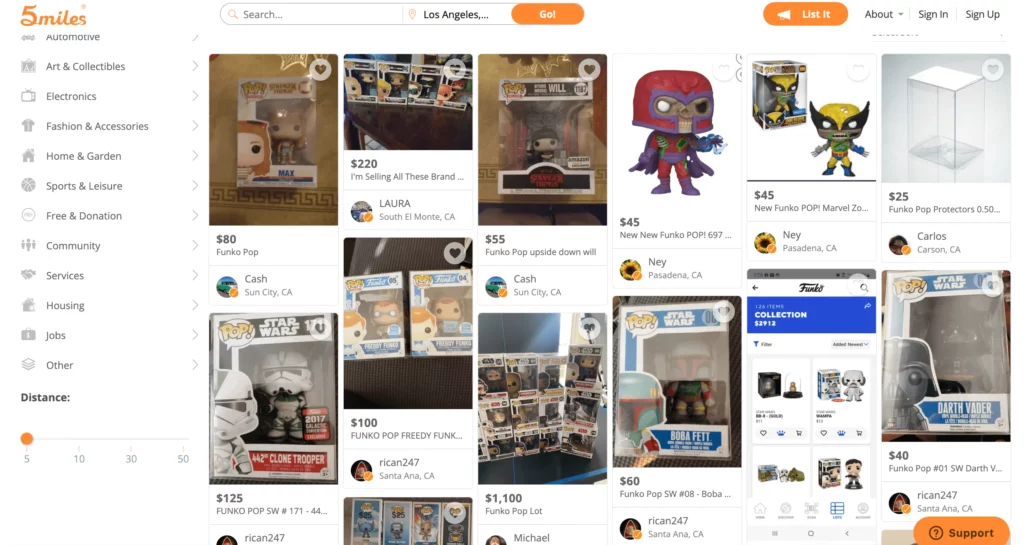 When someone is interested in buying your Funko Pops, they can contact you through in-app messaging. After finalizing the deal, decide on the meeting place to trade Funko for cash.
You can accept the pay online option for secure transactions.
Charges: The platform has a listing fee and a 10% commission on every sale.
---
5. Craigslist
Still wondering where to sell Funko Pops near you? Use Craigslist to find local buyers to resell them for some quick cash.
People list anything on here from their services to old stuff they want to sell.
Just make a listing as usual with images and descriptions, and anyone who is interested in buying near you can see the listing and contact you.

Once you have finalized the price and made a deal, set up a meeting place. Craigslist users are unverified, hence it is important to take safety precautions when meeting strangers.
Note: Never invite anyone to your home to show your collection or make a deal.
---
6. VarageSales
VarageSale is like a virtual garage sale where you can sell your used items for cash. You can list as many items as you like on the platform.
It is available as an app on both iOS and Android and you can sell your Funko Pops on the go. When you list an item, people interested in buying can contact you on the app. You can answer all the questions and finalize the price.
You can reserve the item for the buyer till the deal is done.
After that, decide on the meeting place and complete the deal. Both buyers and sellers are encouraged to rate each other to help other users on the platform.
---
7. Facebook Marketplace
Facebook Marketplace is another popular place to sell Funko Pops. When you are planning to sell anything, it is of of the first places that come to mind. They have a huge audience that you can leverage to find the right buyers.
List your Funko Pops for free on the Facebook marketplace, and anyone interested can buy them from you.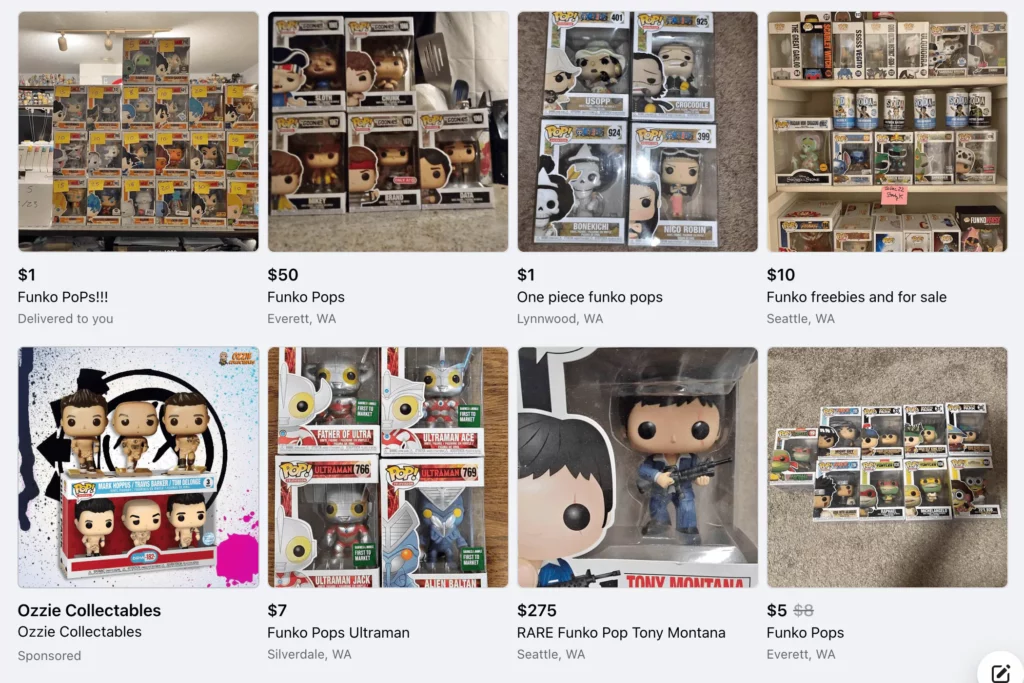 You have two options of selling.
Sell locally
Ship your Funko Pops
If you decide to sell locally, you need to meet the buyer personally and exchange your Funko figurines for cash. Or you can ship your product and get paid through Facebook. In this case, you need to pay a fee.
You can also join many groups where the audience is particularly interested in Funko Pops, increasing your chance of selling. To post in these groups, you need to join them with the permission of the admins.
Charges: They is no fee for selling locally, but if you choose to ship, there is a 5% fee per shipment with a flat $0.40 below orders of $8.
---
8. Reddit
Reddit is a social platform where people of similar interests make groups. These groups are also used for selling and buying things of common interest, like Funko Pops.
These subgroups are called subreddits, and one such group is r/funkoswap/ with 41k members. It is an official trading community for Funko.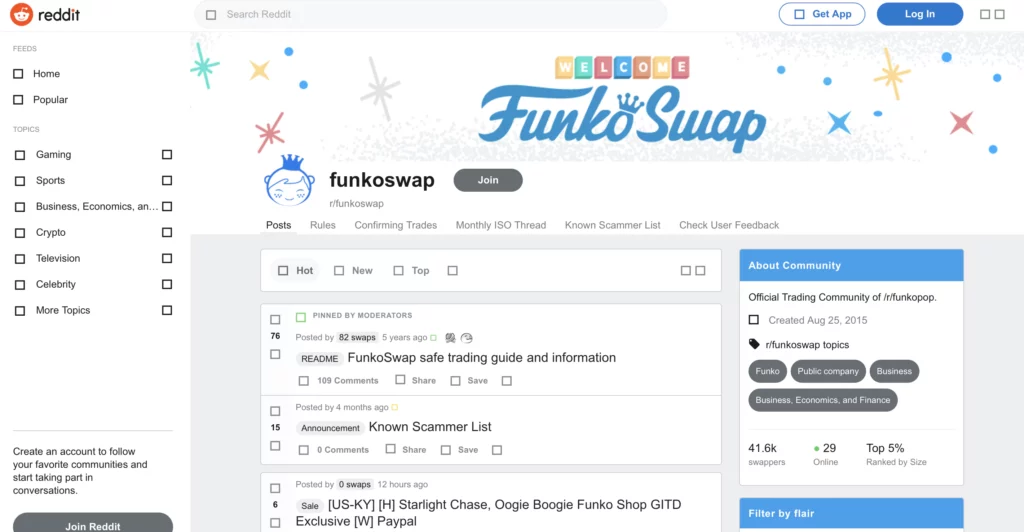 Just make sure to read all the rules and regulations made by administrators before posting your Funko for sale or trading.
This is a peer-to-peer community, and there is no transaction fee. Payments are made through PayPal to avoid any fraud.
---
9. BuyBackWorld
BuyBackWorld is a great place to sell Funko Pops if you don't want to deal with listing or meeting people.
Just select your product, and fill up a form on the platform with the details about the Funko figurines you want to sell. They will give you an instant quote, and if you like the price, you can ship your items for free with a pre-paid shipping level.
And you get paid instantly when they receive your Pops in good condition.
The quote they provide is valid for 30 days.
---
10. 7 Bucks A Pop
7 Bucks A Pop is another great place to sell your large collection of Funko Pops. It is not the right place to sell your personal pops as there are a few requirements to sell to them.
Have 75 or more pops to sell
Your collection include some high value pops (above $100)
Stored in a smoke-free environment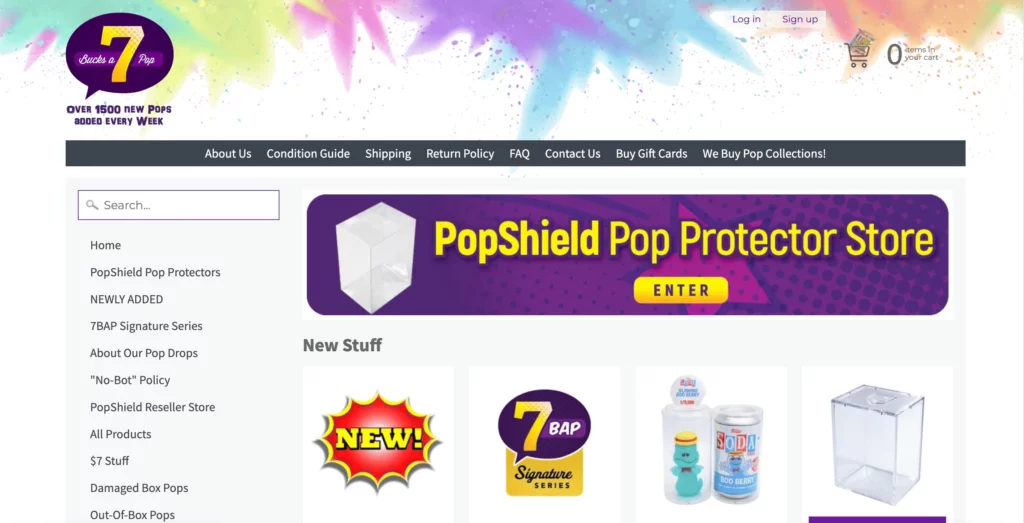 Just fill in the form with all details, and they will get back with a quote. If you like the price, they will give you all the packing instructions and pre-paid shipping label.
You also get paid through PayPal instantly for Funko selling.
---
11. Sell2BBNovelties
Sell2BBNovelties is another platform you can use to sell Funko Pops and make money. They sell these figurines on their website, and there are over 10k active listings there. To keep up the inventory they buy them from local sellers like you.
For selling to them, your Funko Pops should be in near new condition. They don't buy figurines that have been played with regularly. If you have stored away Funko Pops, you can sell them easily.
You have two options of selling on the site:
Sell each Pop individually
Sell in bulk
For selling individually, you can select each item by searching the barcode and ad them to the cart individually.
You can also choose to sell in bulk your whole collection at a flat rate. You can sell Pop! Figures of Regular size for $1.50 and oversized at $2.50 each.
---
12. WeBuyGames
WeBuyGames is another great place that buys Funko Tops. You can download their app and just scan the barcodes of your Pops, and they will give you an estimate.
Another way is to enter the barcodes manually or select your figurine from their list.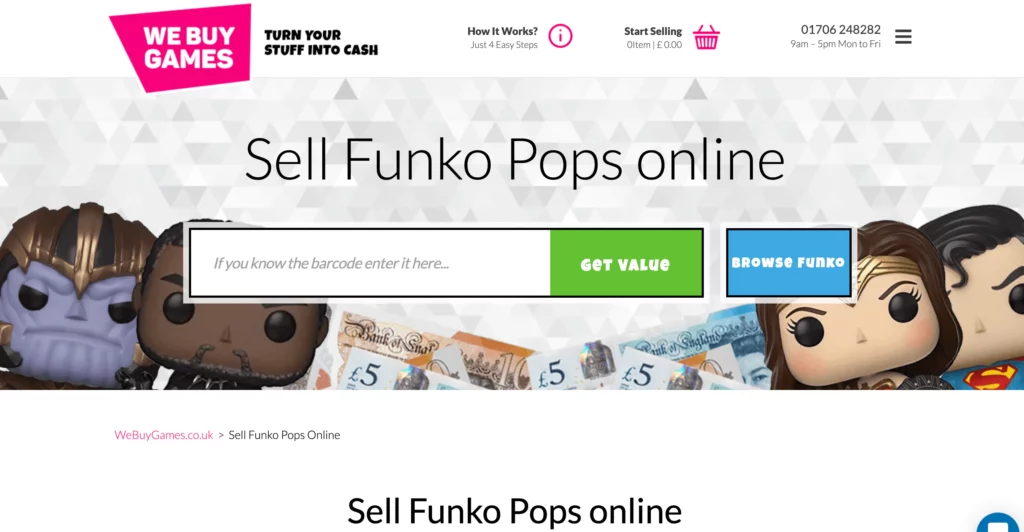 Whatever way you choose, select the Funko Top you want to sell, and they will give you an instant quote. If you like the price, you can send them your collection through pre-paid shipping label free of cost.
This is the best way to sell your Funko Pops if you want fast cash, as they pay the next day. But keep in mind you will get a little lower price than market value or places like eBay because these websites resell these items, and they need to make a profit to keep operating.
---
13. Pawn shops/ Comic Books Store
Pawn shops can be found in every place, and they buy different kinds of stuff that they have an audience for.
You can check at the local pawn shop if they are interested in buying the Funko Pops. If they say yes, take your collection to them and they will inspect them and offer you a price.
Most of the time, they will try to underprice you. So always do some research beforehand through online selling sites on what to expect. With some knowledge, you will be able to negotiate a better deal.
If you like the final offer, you can sell your Funko Pops for instant cash.
Another place to sell your comic character figurines is comic shops. As comic book fans regularly visit these shops, there is a very high chance of them selling these Pops. You can contact them to find out if they are interested.
---
14. Yard Sales
Garage sales can be used to sell anything you have extra at your home. If you have a large collection of Funko Pops, you can sell them at a garage sale.
You can even include others items you want to get rid of in the sale and attract more customers.
For a garage sale to be successful, you need to advertise it and prepare the items for sale beforehand by sorting the items and listing their prices.
On the sale day, be courteous and ready to negotiate the prices.
---
15. Conventions
If you have a large collection of Funko Pops, it might be worth them selling at a convention.
There are many collector's conventions and other fares like comic book fares where people of similar interest gather to celebrate their culture.
You can take a booth at one of these conventions to sell your Pop collection and get attention if many eyeballs that have an interest in such collectibles.
Taking a booth costs money, so it will be worth it only if you have a large collection to sell.
What Makes Funko Pops Valuable
Different Funko Pops have a different values. Most expensive ones cost $1800 but not all sell at that price. Here are a few things that decide if your Funko Pop is worth $1 or $100.
Limited Edition: Funko Pops that are released in limited editions are rare and highly sought after, thus commanding higher prices.
Condition: When you are selling old Funko Pops, they will attract buyers only if they are in good condition. Pops in mint or near-mint condition without defects or damage typically command higher prices. Plus most buyers demand Funko Pops be in smoke-free environments.
Exclusives: A few Funko Pop are released at special events or in certain stores, making them exclusives and limited in availability.
Variants: Occasionally, Funko Pop are released in variants or special versions with features like a different color or design. These variants can be highly sought after and command higher prices than regular releases. For example, Chase Pop Vinyl are rare and limited Funko Pop figures and command higher prices.
Popularity: One of the most important factors is the popularity of a character or franchise for determining the value of a Funko Pop. Popular characters from movies, TV shows, and video games have higher demand and get higher prices than lesser-known characters.
Authenticity: The authenticity of a Funko Pop is another important factor when determining its value. Counterfeit and bootleg Pops are often sold on the secondary market, so buyers should be sure to only purchase from reputable sources.
Here are a few most expensive Funko pops:
Tips To Sell Funko Pops For Maximum Value
Here are a few things you can do to get maximum value for your Funko Pops.
Clean and Package Properly: Before selling or taking pictures, make it a point that Funko Pops are clean and look their best. Also, properly package them before sending them to a buyer.
Use Multiple Selling Platforms: Consider listing your Funko Pops on multiple selling platforms, such as eBay, Amazon, and local classifieds. This will increase your chances of getting a higher price for your Funko Pops. You can also get quotes from multiple sites that offer free quotes to find the highest-paying buyer.
Set Competitive Prices: Do your research on what similar Funko Pops are selling for and set your prices accordingly. To sell more, you should be offering competitive pricing and good value for money.
Offer Bulk Deals: Offering discounts for bulk orders of your Funko Pops. This can help you move more products quickly and make more money.
Make Some Space & Cash Selling Funko Pops
Selling your Funko Pops can be a good source of some quick cash. Follow the steps listed here to make sure that you are getting the best value for your collection.
Most collectors and fans have a few favorite Funko Pops, and others they buy on the whim. It's ok to resell the Funko Pops you don't like much, and they are just taking up space.
Here are more ways to make money: