This post may contain affiliate links from which I may earn a commission without any cost to you. Read our policy for details.
Looking for the best places to sell your VHS tapes collection? You are at the right place, here, you will learn everything about selling VHS tapes.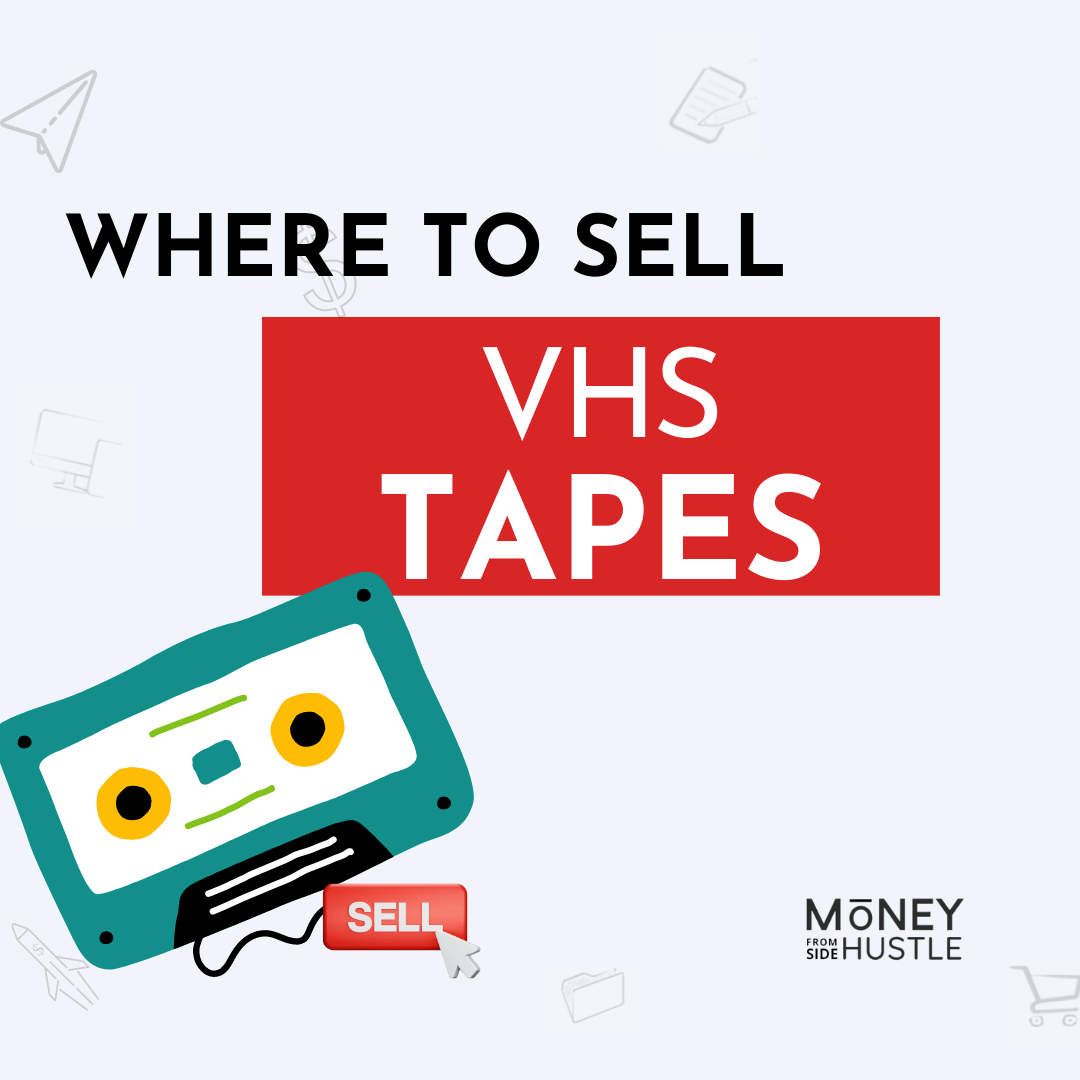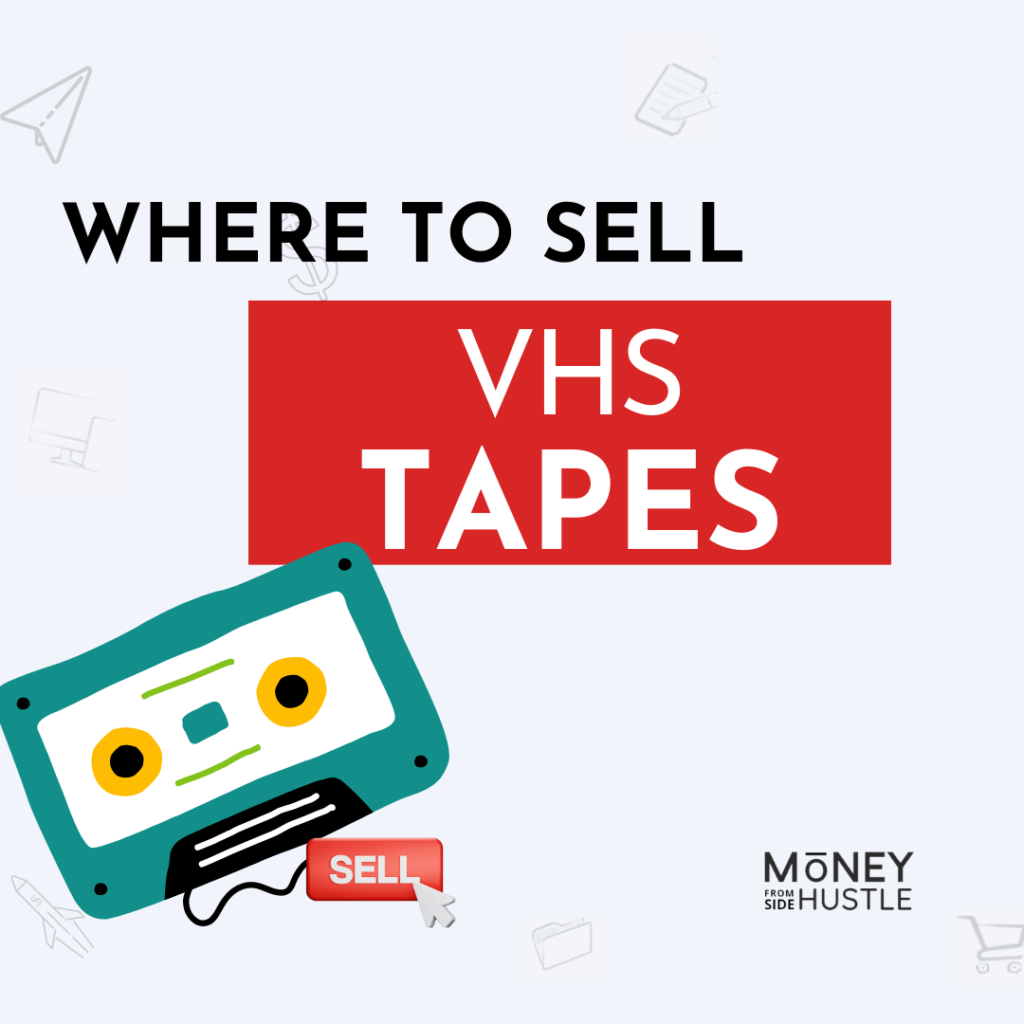 In today's digital age, the use of digital media, such as VHS tapes, has become obscure. But there are still people who enjoy these classics from old times, and they love to collect them.
Maybe you stumbled upon your parent's collection, but there are higher chances you don't have a working VHS player or any interest to watch these tapes. You might think the only option is to throw them away. But wait!
VHS tapes have become collectibles, and you can make some cash by selling your collection of VS tapes. You won't make huge money selling these VHS tapes, but if you have a large number of VHS tapes, you can certainly make some quick cash, and it is certainly better than throwing them away.
This article will cost the best ways to sell VHS tapes and give a few tips. So, let's get started!
Highest Paying Surveys
Up to $50 per survey
Industry-leading surveys
What VHS Tapes Are Worth Selling
But before we start looking for the best places to sell old VHS tapes, first, you need to understand not all VHS tapes will sell, and few are worth more than others.
When you are selling collectibles like VHS tapes, there are a few factors that will decide if you will get a better value for your collection:
Audience/ fan base for that tape type
Rarity
Historical significance
Brand new/unopened
The most important factor is there should be a fan base that is willing to buy those tapes for their nostalgic memories. For example, the fans of sports games that were recorded will pay for a tape that has some significant game recorded.
Similarly, there is a huge fan base for the Wrestlemania games. If you have the VHS tapes of earlier matches, you can get some good cash. Disney VHS tapes (especially rare Black Diamond releases) are another popular category of tapes that sell well due to the huge number of fans worldwide.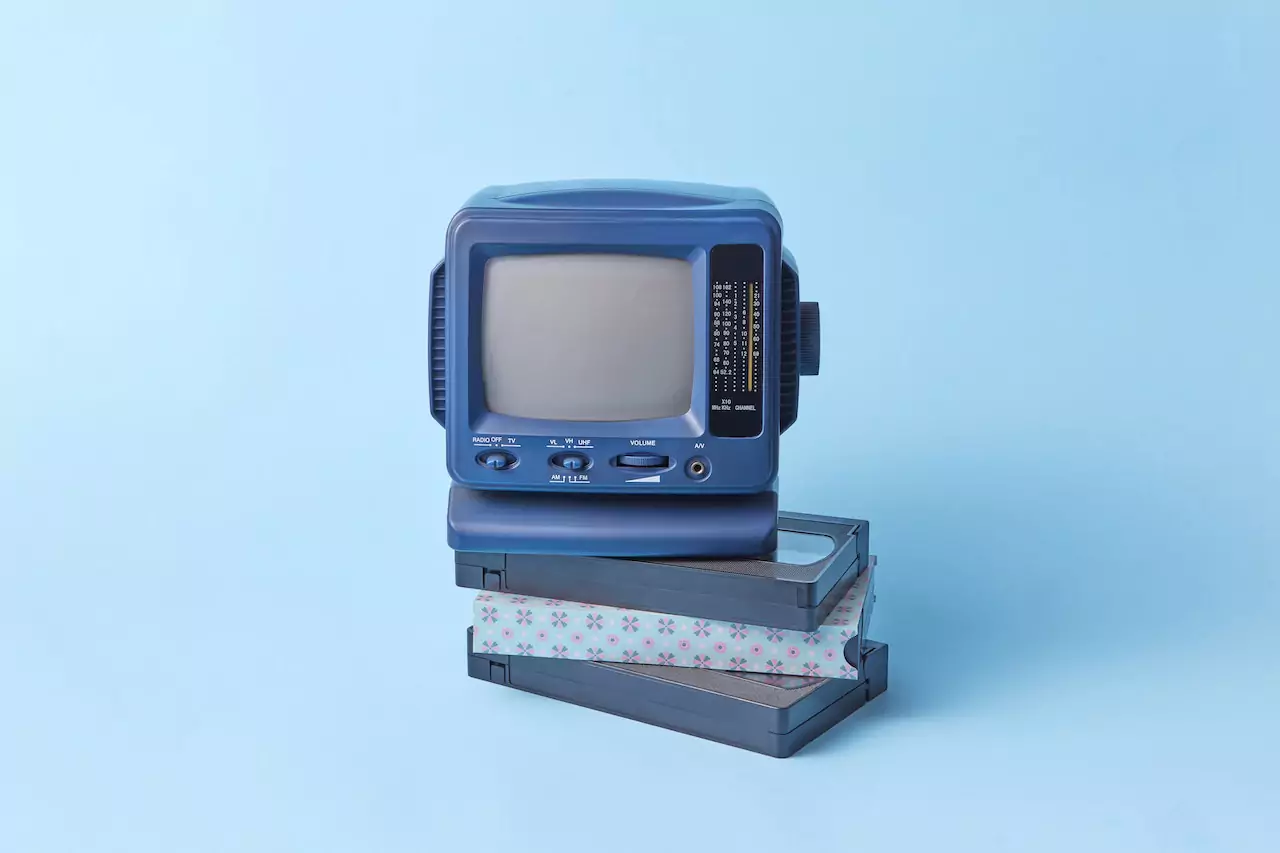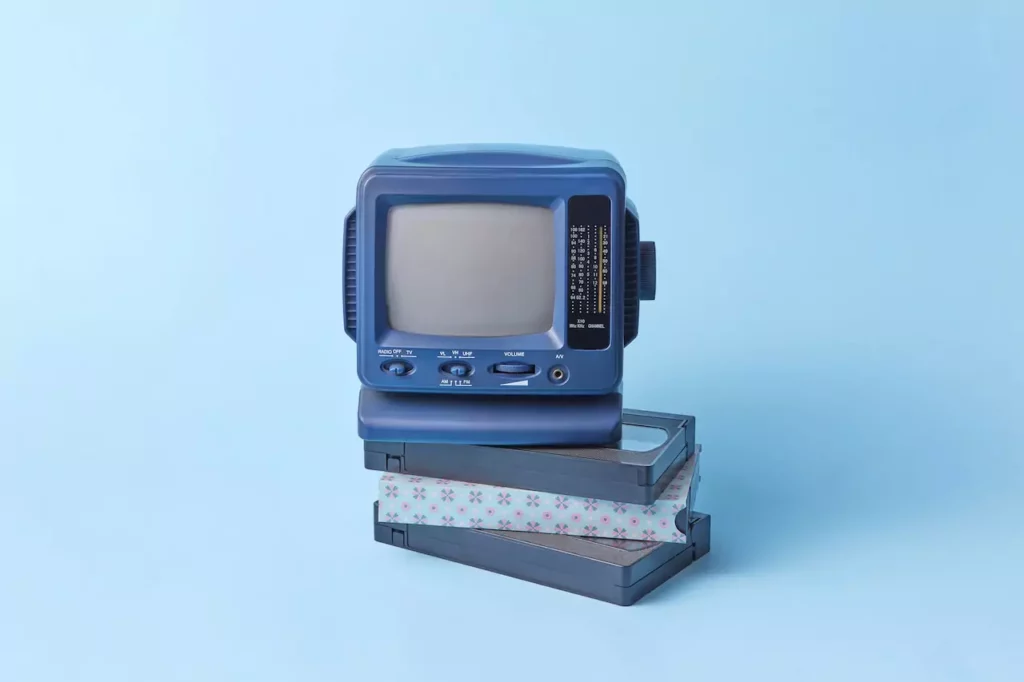 Other things that determine if you get a couple of dollars for your VHS tapes or a few hundred are the historical significance and rarity. The Westermania matches have a few recordings left, or if you have the recording of a banned movie or some historic moment, live performance by a famous musician, or documentary, you can get a much higher price.
If you find a VHS tape similar to a VHS tape that has already sold for a huge amount, like an unopened VHS tape of the movie Topgun that sold for $8,200, you can put it for auction and get even thousands of dollars.
Now let's take a look at the places you can use to sell these old VHS tapes.
Multiple ways to make money
Low and easy cashout options
Great user ratings on App store
Best Places To Sell VHS Tapes
When you have figured out what kind of VHS tapes you have, the next question is where to sell VHS tapes to get maximum value. You can use both online and offline options according to your preference.
1. eBay
eBay is one of the best places to sell collectibles like VHS tapes. You can sell anything from rare coins to postcards and VHS tapes here with a little effort.
The best part is most things are in your control, you can decide the price, shipping and the number of items you want to sell.
You can start by creating a listing with multiple images and all the required description that paints a good picture to the potential buyers.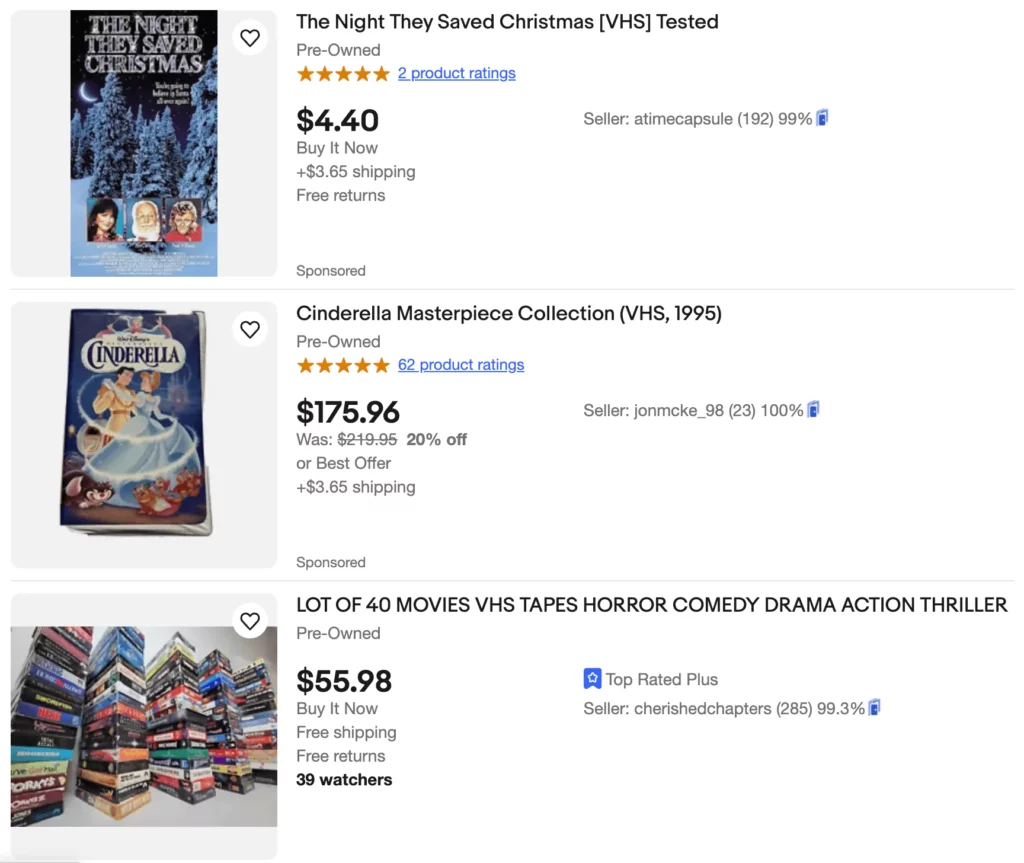 Then either choose to put your VHS tapes in the auction or sell them at a fixed price. Potential buyers can contact you about item details and price negotiations.
Always consider shipping costs in your final price, as you need to pay the shipping charges.
Charges: Listing is free for up to 250 items, so if you are selling an individual collection, the listing should not be a problem. However, when you make a sale, you need to pay 12.9% plus $0.30 as a fee to eBay.
---
2. Facebook Marketplace
Facebook Marketplace is a great place to meet people who buy VHS tapes near you. Most people are on FB, and you can leverage Facebook's reach to find buyers for your old VHS tapes.
Facebook marketplace lets you post anything you want to sell, and anyone interested can contact you to buy. You have two options, either set up a physical meeting or ship your VHS tapes.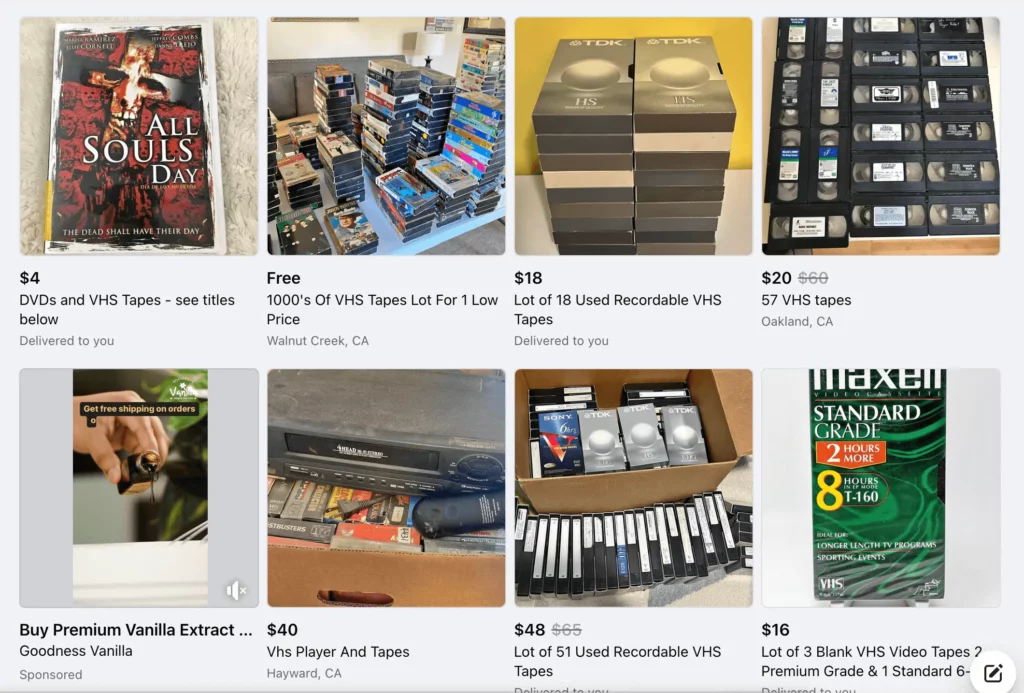 Another way to sell on FB is through local buy-and-sell groups. Each city has its own Facebook groups for buying and selling, and there are multiple at certain places. You can request to admins to add you to these groups.
After joining, post your listing, and anyone interested can contact you for further discussions on pricing and trading VHS for cash.
---
3. Craigslist
You can use Craigslist to sell VHS tapes locally. There may be many VHS collectors near you to whom you can sell your collection. Craigslist helps you connect with these VHS collectors and exchange VHS tapes for money.
You just need to put up an ad for free on this classified website. People list all sorts of things to sell here, like old sneakers, furniture, clothes, trading cards like Magic cards, and sports cards like basketball cards.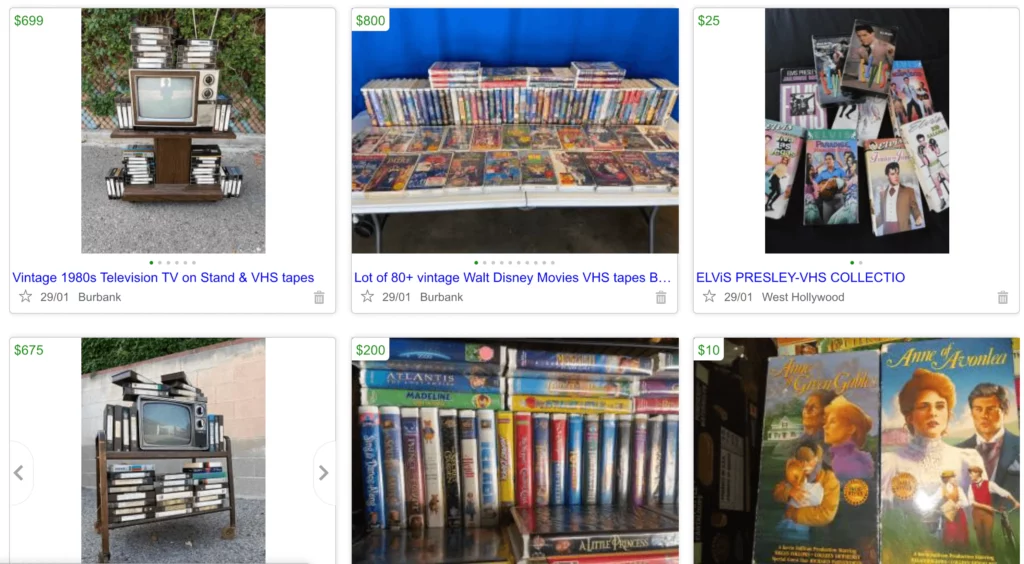 You just need to create a listing with all the details, and anyone who is interested can contact you through the website. Most people will try to negotiate the price, so be ready for that.
When the deal is finalized, you need to set up a meeting place. Make sure that you are following all the safety guidelines, like meeting at a well-lit public place. Don't invite anyone to your home, and don't accept checks as payment.
---
High earning surveys
Easy-to-use website
Many ways to earn
4. OfferUp
OfferUp is an online marketplace to sell almost anything, like eBay. You can either ship your VHS tapes after selling through them or set up a local meeting to meet the local VHS collectors near you.
To get started, you need to make a seller account and create a listing with multiple images. Include all the details about the tape and its content to make it appealing to the audience.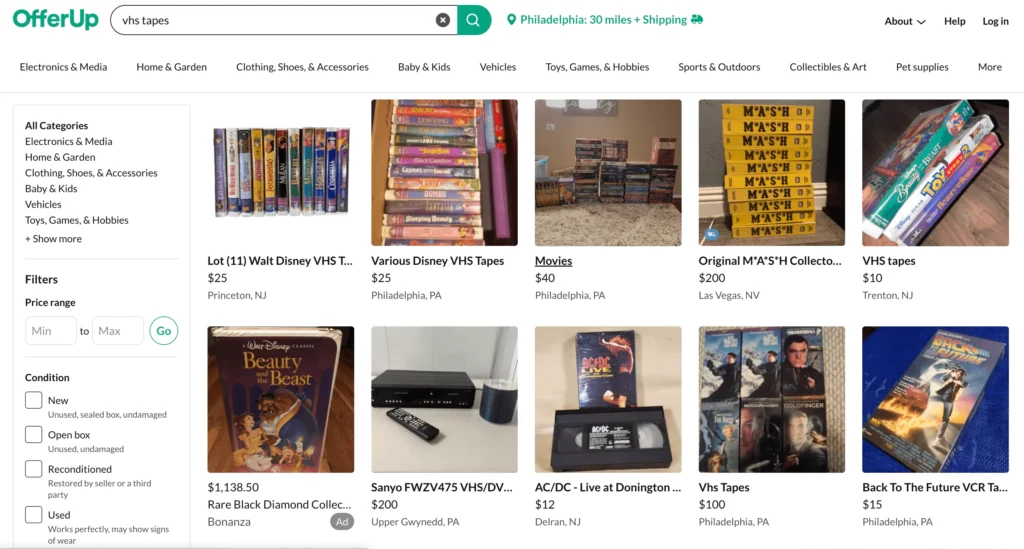 Use the right keywords, like the singer's name and year, for a live concert tape so that it can reach the right audience who is looking to buy that kind of stuff.
If you have chosen the option to ship, your listing will be shown to people nationwide, giving you a higher scope of selling. If you have selected on local selling option, people near your location can see your listing and contact you.
Charges: OfferUp charges a fee of 12.9%, similar to eBay, and a minimum fee is $1.99.
---
5. 5Miles
5Miles is another platform you can use to sell your VHS tape collection. As with OfferUp, here also you can choose to sell locally or ship your items.
5Miles is known for selling used automobiles, you they have expanded into every horizon and people sell almost everything here.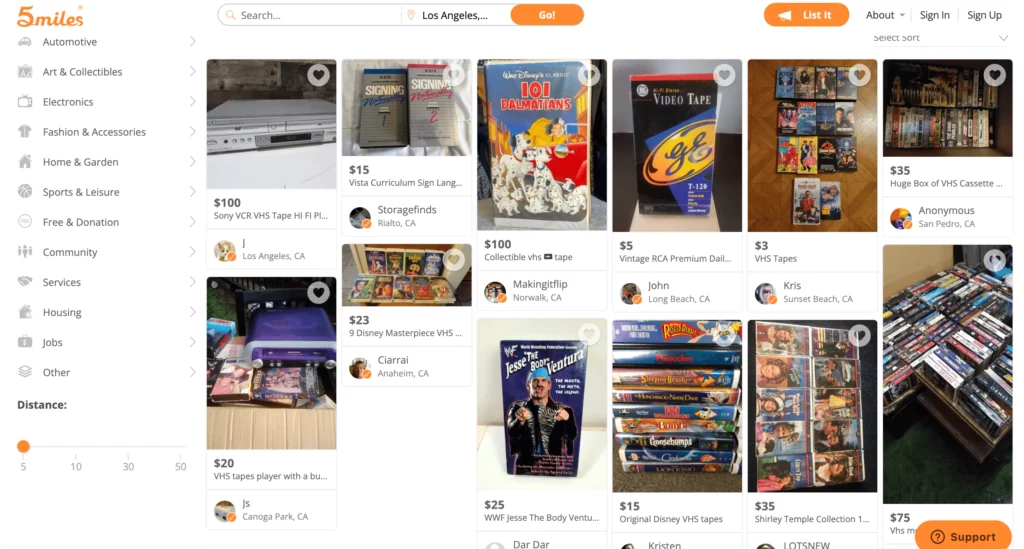 Just make an appealing listing with clear images and descriptions and wait for the right buyers to show up. They also provide multiple options to sellers to increase their visibility, like bump up and ads to get more people looking at your items.
Charges: Unlike other platforms, you need to pay a listing fee and a 10% commission on every sale.
---
6. Mercari
Mercari is another online platform you can use to sell your VHS tapes. Here you don't have the option to meet buyers locally, but you can get more exposure online nationwide.
When you create a listing, multiple people can access your listing and buy it from you.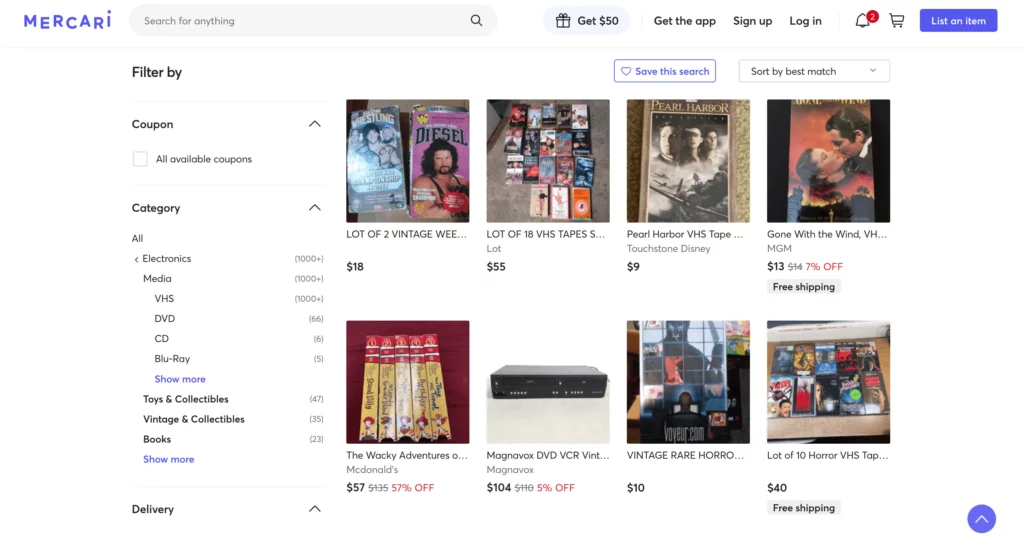 If you like the price they offer, you can decide to sell them. You need to ship your tapes in a secure package within 3 days.
When the buyer confirms receiving your items in good condition, your payment is released.
Charges: Sellers are charged a 10% transaction fee and a 2.9% + $0.5 payment processing fee.
---
7. Amazon
Still wondering where to sell VHS tapes, Amazon can be your place of choice. Amazon has a huge audience that buys everything ranging from books to clothes.
There are people who will buy VHS tapes on Amazon, and many people already sell VHS tapes here. You can also offload your VHS tapes on Amazon.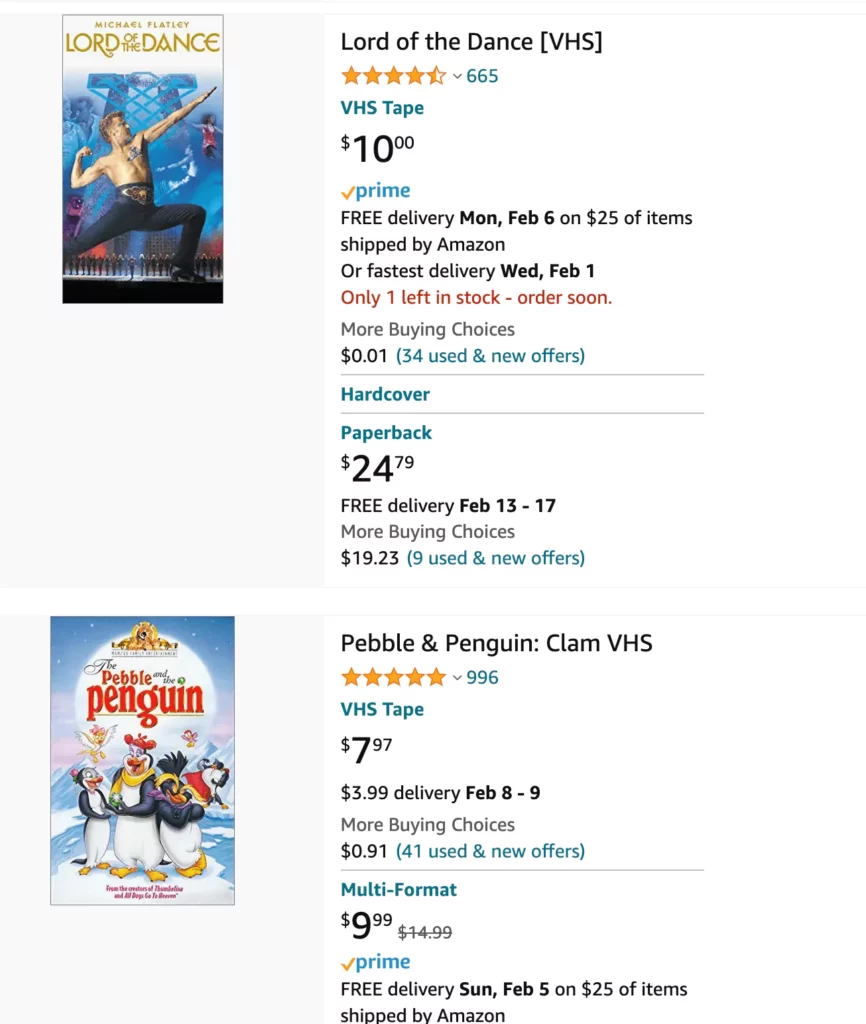 To get started, you need to make a seller account and list your items. If you want less hassle of shipping, then you can use Amazon FBA facility, where they take care of your product shipping and returns. You just need to make a listing and provide them with your products. Of course, there are extra charges like warehouse storage charges, but it is much less work on your part.
Charges: A fee of up to 15% is charged plus $0.99 per order.
---
8. Etsy
Etsy is a well-known platform for selling handmade crafts, but you can also sell things like VHS tapes as many collectors visit Etsy stores.
With some effort and promotion, you can reach the right audience. The most important part is using the right keywords to describe your tapes so that it reaches the audience who is searching for them.
Clicking a good picture is also a major part of selling on Etsy, so make sure to spend some time clicking nice photos for your listing.
There are over 15k results on search VHS tapes, which means people are selling and buying VHS tapes on the platform.
Charges: You need to pay a $0.20 listing fee and a 6.5% transactional fee on the final price.
---
9. Garage Sales
Last but not least on the list is garage sales. These sales are good for offloading almost anything. You can sell your complete VHS tape collections in one of these garage sales.
If you have a huge VHS tape collection, you can just make a garage sale specifically for VHS tapes so as to attract all the VHS tape collectors near you. If you don't have large number of VHS tapes to sell, you can combine them with other things in home you want to get rid off.
You need to prepare for your sale before hand by cleaning, pricing, and organizing all your stuff. Promoting your yard sale to a maximum number of people is also important for it to be successful.
Tips For Selling VHS Tapes For Maximum Profit
When selling VHS tapes for cash, here are a few tips you should keep in mind.
1. Research the Value of Your Tapes: Before starting to look for places to sell your VHS tapes, you need to do some research about the value of your tapes and how much similar tapes sell for. This research will equip you to better negotiate with the buyers and get more value for your collection. For example, a simple google search can tell you how many copies a particular movie was made and other similar stuff.
2. Clean and Test Your Tapes: The condition of tapes is one of the primary factors in their cost. Make sure your tapes are clean from dust and do not have excessive wear and tear. The tapes that are used multiple times with visible scratches will get you less money than the sealed, unopened VHS tapes.
3. Use the Right Platform for Selling: You need to use multiple platforms to assess the price you can get for your tapes. One platform has different users than others, and you might find a suitable buyer at one platform but not the other. So it is better to test multiple platforms to find what gives you maximum value.
4. Use High-Quality Photos: When listing your VHS tapes, be sure to use multiple high-quality photos. While selling online, a buyer has to take cues from the images about the condition of your tapes. A good quality image will increase the confidence of the buyer.
5. Be Honest and Accurate: Along with good images, you need to make sure that you are providing a detailed description along with any history, if available.
Clear Your Space For Some Cash
If you have decided to move on from your VHS tapes collection, or you just want to get rid of tapes you found, there are many places to sell them online.
Try multiple options to find the best value for your VHS tapes. Even if you get a few dollars bey selling VHS tapes, is is better than throwing them away.
More ways to make money:
FAQs
How much can I get for my VHS tapes?
VHS tapes are usually worth only a few dollars, but collectible copies can fetch higher prices, up to $50 or more. Truly rare and unopened VHS tapes with studio watermarks can even be sold for thousands of dollars. Some specific titles, such as Disney classics and horror movies from the '80s, maybe even more valuable.
Who buys old VHS tapes?
Many people purchase VHS tapes for nostalgia, reminding them of childhood memories. Others collect them as collectibles since there are a variety of titles available from different genres and eras. Some rare, unopened VHS tapes can be very valuable, making them a good investment option for some.
What VHS tapes sell most?
Cult favorites and beloved Disney movies are some of the most highly sought-after VHS tapes. A few of the highest-sold VHS tapes are Beauty and the Beast and Top Gun. These kinds of rare and unopened tapes of beloved movies and VHS tapes of low-budget movies released in limited numbers are some of the most in-demand VHS tapes.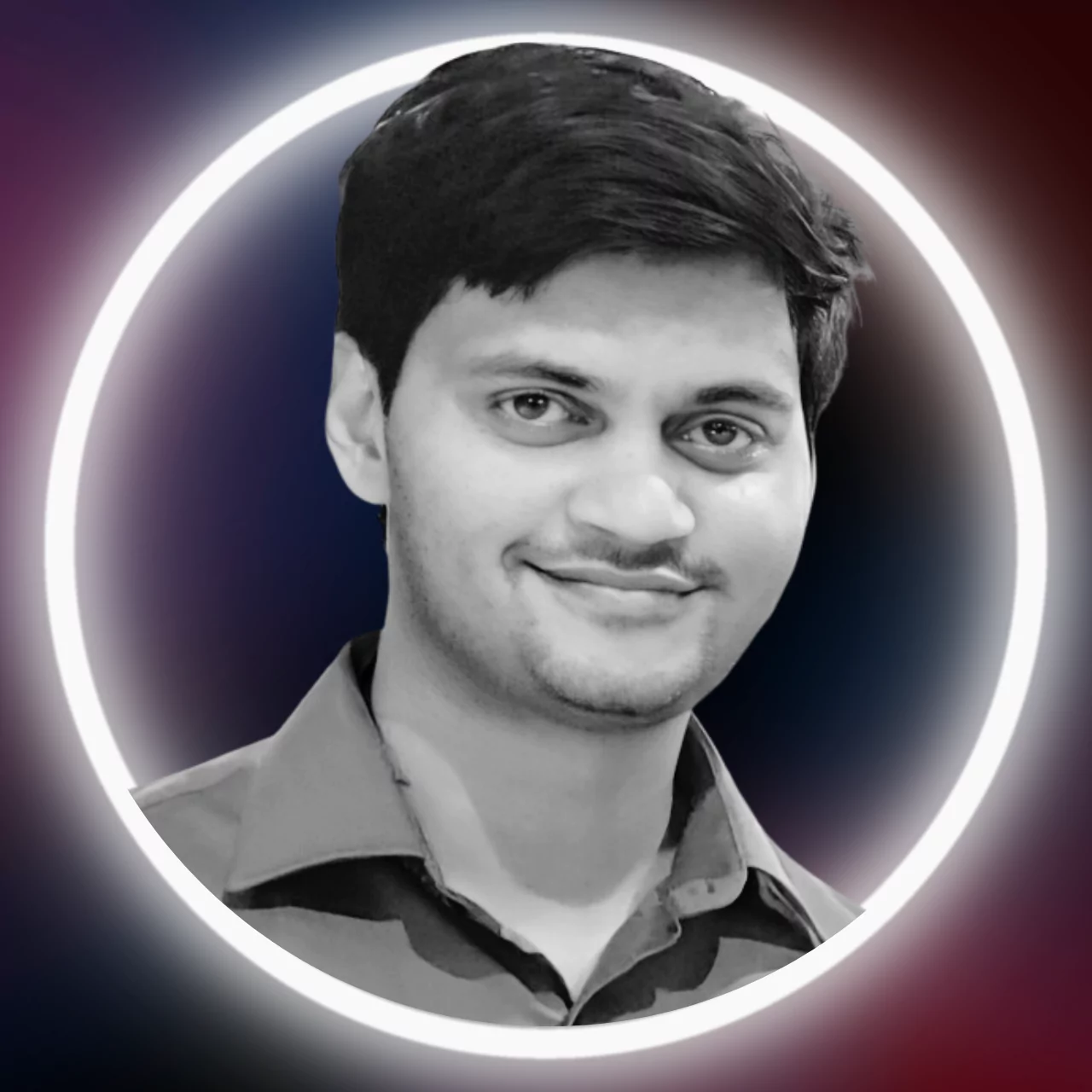 Sumeet is a Certified Financial Education Instructor℠ (CFEI®) and founder of MoneyFromSideHustle. He is an experienced side hustler who replaced his full-time income with side hustles. His work has been quoted on major finance websites like CNBC, Yahoo! Finance, GOBankingRates, CEOBlogNation, SideHustleNation, and more. He has helped thousands of people find side hustles and is here to help you find your extra source of income. More about him.