This post may contain affiliate links from which I may earn a commission without any cost to you. Read our policy for details.
Looking for the best places to sell used sports equipment? This article got you covered!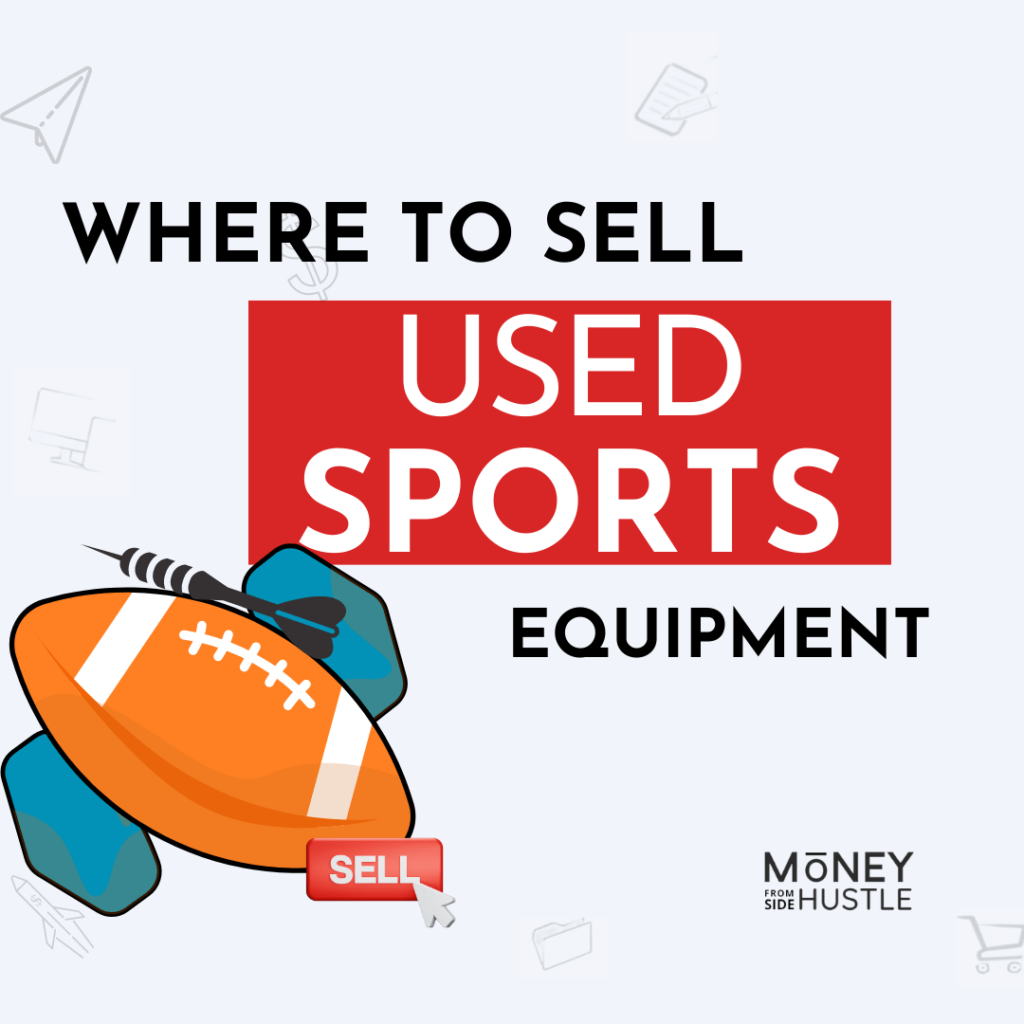 Sports equipment can be quite expensive, and they take up quite some space in the garage. If you no longer play sports or have upgraded your equipment, you can actually sell your old sports gear for some quick cash.
There are plenty of places to sell used sports equipment both online and locally.
Let's find out where to sell used sports equipment and how to sell them for maximum profit.
Highest Paying Surveys
Up to $50 per survey
Industry-leading surveys
General Online Marketplaces
General online marketplaces give a chance to sell anything owing to the huge audience they have. You can use these places to sell almost anything, be it used shoes, collectibles like postcards, or used sports equipment.
Here is how they work.
1. eBay
eBay is one of the largest online marketplaces used by millions globally. You can leverage their vast reach to sell your sports equipment.
You can either set a fixed price for your items or choose to sell in auctions where interested buyers can bid.
Either way, you need to start by making a seller account and creating a listing with relevant images and all the details.
Your listing should clearly show and describe the condition of your sporting gear and how old it is. If anyone is interested in buying, they can contact you for further questions or price negotiations.
Once you make a deal, you need to ship your item. You will be handling the shipping costs, so always include that cost in the final price.
Charges: You can list 250 items for free, and when you make a sale, you need to pay a 12.9% fee plus $0.30.
---
2. Amazon
Amazon can be used to sell anything. Though it started as a book-selling site, now people buy everything from groceries to their electronics from this website.
There is also a huge market for used stuff available at discounts like your sporting gear that is in good condition.
This is especially a good option if you have a large number of items to sell or you want to get into the flipping hustle.
You can become a seller and list your items for sale. You can even use the Amazon FBA program to save yourself from the hassle of shipping and returns.
Charge: Amazon charge a premium for using their FBA program, plus you need to pay for every order. You have an individual plan that costs $0.99 per item sold or a professional plan for $39.99 per month. And you need to pay referral fees of 15% on every order.
---
3. Craigslist
If you want to find local buyers near you to sell your used sporting gear, Craigslist is a great option.
This website is used by many to sell their stuff through online classified ads. You can make an account for free on this website and list your sporting gear for sale with good images and description.
Set a competitive price and keep a little room for negotiations. When an interested buyer near you sees your ad, they can contact you for further information and price discussion.
Once you reach a deal, select a safe place to meet to exchange your used sports gear for cash. Always follow all the safety precautions while meeting strangers and accept only cash.
---
4. OfferUp
OfferUp is a good online marketplace to sell your sports gear. This also works like other websites in the sense that you need to create a seller account and post a listing with images and details. Then you set up an asking price.
Here the difference is you can choose two different options for selling:
Sell locally
Ship your gear
If you select the first option, you need to meet the buyer and hand over the equipment in exchange for cash as in case of Craigslist.
However, if you choose the second option, you can sell your gear nationwide and when a buyer confirms the deal, you need to ship your items to them.
Shipping cost is handled by OfferUp and they provide you with a prepaid shipping label. But you need to carefully package the items so that there is no damage in the transit.
Once the buyer receives your items and confirms them to be in good condition, your payment is released by OfferUp.
Charges: They take a 12.9% fee with a minimum of $1.99.
---
5. Mercari
Mercari is a good platform to sell your stuff online, including used sporting gear. Like eBay, here also you can list your items for sale in minutes and sell them online.
There are millions of users on the platform, which makes selling easier. Unlike OfferUp here you can not meet the buyers locally. You only have the option of shipping your gear.
Take the photos of your sporting gear and post them on the website with description and set a price.
When someone buys your item, you need to ship it within three days. They will help you with shipment with the prepaid shipping labels, and the shipment is insured for up to $200.
Charges: They take a 10% fee and a 2.9% + $0.50 payment processing charge.
---
High earning surveys
Easy-to-use website
Many ways to earn
Specialized Stores
6. SidelineSwap
SidelineSwap is a great place to sell your used sports equipment to a targeted audience.
Listing your items for sale is very easy. You can either start from scratch or choose from the listed items. Include as many pictures as possible and write some details along with a asking price.
If you are unsure about the price of your sporting equipment, you can use their pricing guide.
Buyer can pay the asking price or place a lower offer. It's upto you if you want to accept that offer or not.
Once you select an offer, you will be provided with a prepaid shipping label, and you can send your sporting gear to the buyer. The money will come to your dashboard but will be available for withdrawal only when the buyer confirms the product or 72 hours after delivery.
Charges: They take a 12% fee for up to 5 items. If you have sold more than 5 items, then they charge 9% fee and 2.9% +$0.30 payment processing fee.
---
7. Sportsexchangeaz
Sportsexchangeaz is operational since 2004, and they buy and consign your used sports equipment.
They give you three options for making cash from your sports gear:
They buy your gear
You can consign with them
Trade your old gear with new
You just need to take your items to their store and choose either of the options. Consigning your item will pay you the highest, but it takes time.
If you need money fast, then selling your items directly to them would be the best option. They will evaluate your sporting or fitness equipment and pay you cash or check on the spot.
The third option is trading your old gear for something they have in store. If you were planning to buy something they have, it would be a good option as you get a little extra value for your old equipment.
Charges: If you decide to consign your fitness or sports gear with them, you will get 60% of the sale price, and they will keep 40.
---
8. Geartrade
Geartrade is the place to sell your outdoor gear. They even take used clothes for outdoor activities, which is usually not the case in other places.
The selling process is simple:
Just ask them for a pre-paid shipping label
Ship all your stuff in a box to them
They evaluate your stuff and it goes online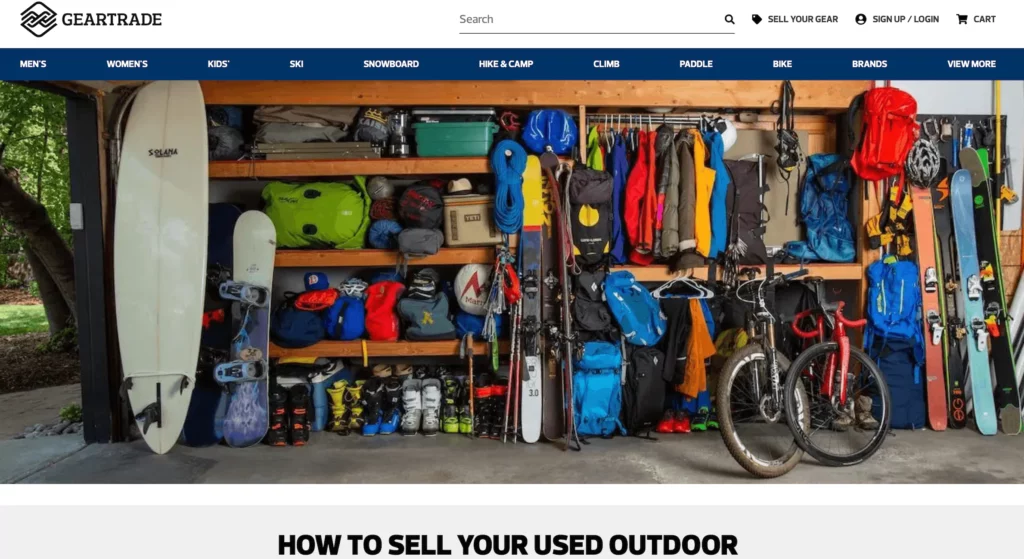 After they evaluate your gear, you have 48 hours to modify the price. Another option is to list your item yourself by taking pictures and making a listing. Once an item is sold, the money goes to your Geartrade account. You can quickly get that money to your PayPal account or use it to shop on the website.
They buy clean and washed gear that is functional and without damage. They also buy climbing shoes and bikes but your need to mail them first. Here are a few things they don't accept:
Clothing without branding
Climbing gear
Hunting gear
Watercrafts
Team sports gear
Charges:
| Price | Your Cut |
| --- | --- |
| $0.01-$49.99 | 15-30% |
| $50-$144.99 | 30-50% |
| $145-$564.99 | 50-70% |
| >$565 | 70% |
---
9. Gearx
Gearx accepts outdoor gear like skis, snowboards, climbing shoes, and winterwear like tents and sleeping bags.
You need to go to their store to consign your items. There is an option to mail your items, but you need to handle shipping and its costs. If your item is rejected then again you need to pay for shipping back, or they will donate your items.
In my view, it only makes sense to sell to them if you live near Burlington otherwise, shipping hassle and cost is too much.
However, at their store, you can go anytime without any appointment and trade your gear for cash. Just make sure that your stuff is clean and in usable condition.
When your items are sold, the money is credited to your account in the form of credit or cash that you can use anytime. You can get a check when your account goes above $50.
Charges: You get 65% of the selling price if taking cash and 75% in case of store credit.
---
10. Play It Again Sports
Play It Again Sports is a great place to sell your used sports gear if you want cash on the spot. They have stores everywhere, and there is a good chance that there is one near you.
You just need to take your sports equipment to them and they will evaluate it and offer you a price.
If you like the price, you can get paid immediately. It is that easy!
They buy a variety of sports and fitness gear. They will likely buy all of your stuff if it is in good condition and usable.
You can sell Baseball, basketball, golf, skateboards, and many more sports equipment to them.
Other Places To Sell Used Sports Gear
11. Facebook Groups
You can find fellow sports and fitness enthusiasts in online communities like Facebook groups that might be interested in buying your used gear. That way, you can make a direct sale cutting the middleman and saving the commission money.
Facebook marketplace is a great place to sell anything. You can take a few photos and list your gear for sale. Besides the marketplace, you can use local buy-and-sell and sporting groups to get rid of your old equipment and earn extra cash.
To join these groups, you need the permission of the moderators and make sure you follow all the guidelines of the group.
---
12. Garage Sales
Yard sales are the go-to place for selling household used stuff. If you have a large amount of sporting gear, you can do a standalone sporting gear sale.
Otherwise, you can collect all the stuff in the house you want to get rid of and sell them in a yard sale.
However, you need to put in a little work in cleaning and organizing your stuff, and adding pricing tags to each item. Once you are ready, set up a date and advertise your sale to the local community so that you get a decent footfall on the day of the sale.
Be polite on the sale day and willing to negotiate the price.
How To Get the Best Value
Price the equipment: Research the market to determine the current value of the equipment. Check out the prices of similar used equipment in your area. Set a fair price for the equipment that is competitive with other sellers so that it will attract buyers.
Take good pictures: Take several clear pictures of the equipment from different angles. This will help potential buyers better understand the equipment's condition.
Promote the equipment: Promote your listing of used sporting and fitness equipment on different online platforms, and this will help increase exposure to potential buyers.
Use multiple sources: When selling used sporting and fitness equipment, don't just stick to one platform. List your item on multiple sources, such as Craigslist, eBay, or even Facebook Marketplace, and try out local sporting stores to find the best possible offer.
Offer a warranty: Offering a warranty on your used equipment can help to attract buyers. This will show that you are confident in the quality and condition of your product.
Tips for Preparing the Equipment for Sale
Clean and sanitize the equipment: Before you put any used equipment up for sale, it is essential to make sure it is clean and sanitized. Use a mild cleaning solution and a clean, soft cloth to thoroughly clean your gear. This will help remove any dirt, and your equipment will look like a new one.
Inspect the equipment: Carefully inspect the equipment for any signs of wear, damage, or defects. If there is any damage, repair it before putting it up for sale. And be transparent with the buyer about any defects or repairs so there are no returns.
Package properly: Carefully package the equipment in safe wrapping and box if you are shipping it. Also, include all the necessary components and the user manual if necessary.
Trade Your Gear For Cash Or New Ones
If you have been throwing your old sports or fitness equipment in the garage, there is no need to block the space. You can use the above options to clear your area and make some money. Two benefits from one task!
The amount of money you make will depend on your sports gear condition, but putting in some time is worth it, even if you get a few free bucks.
Here are more ways to make money: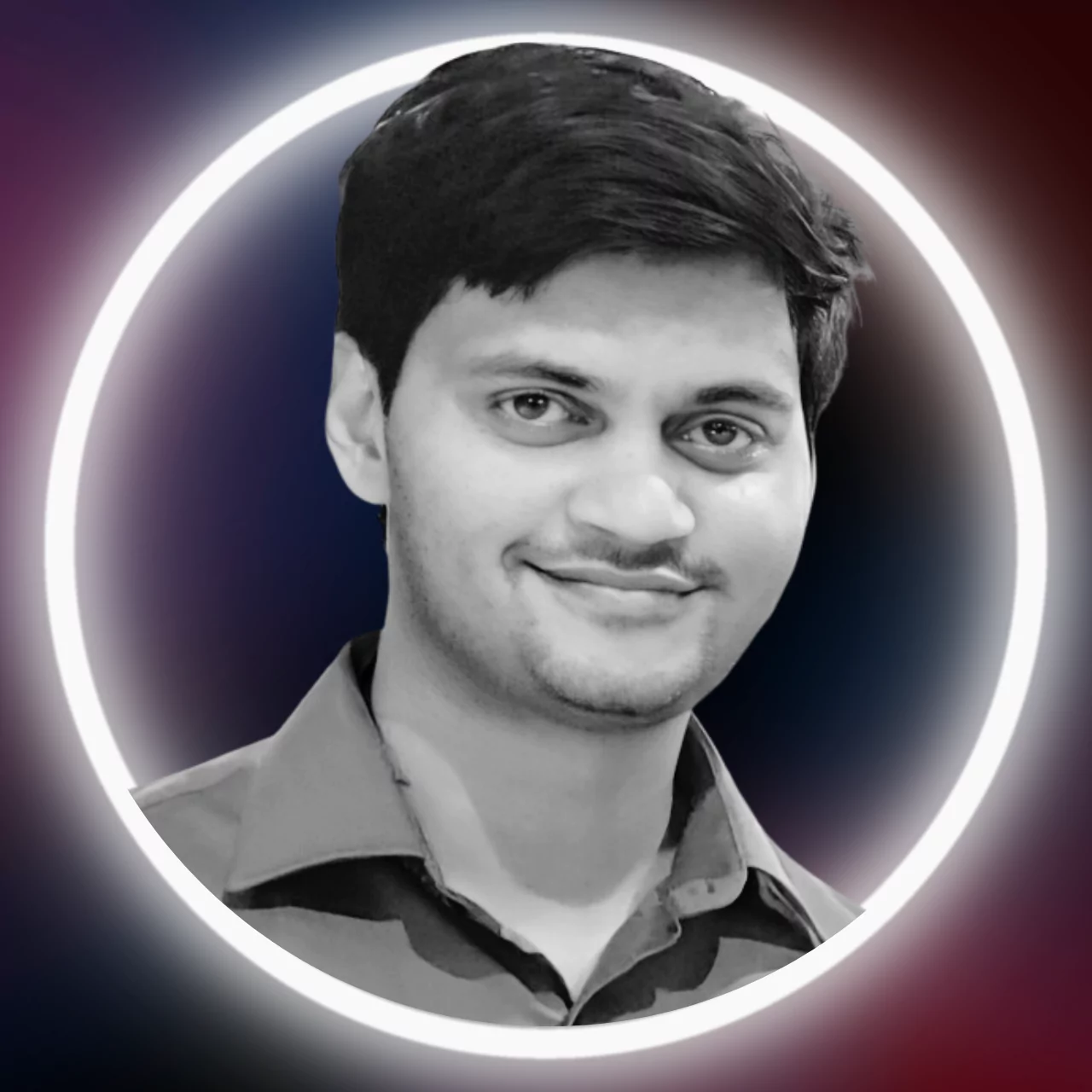 Sumeet is a Certified Financial Education Instructor℠ (CFEI®) and founder of MoneyFromSideHustle. He is an experienced side hustler who replaced his full-time income with side hustles. His work has been quoted on major finance websites like CNBC, Yahoo! Finance, GOBankingRates, CEOBlogNation, SideHustleNation, and more. He has helped thousands of people find side hustles and is here to help you find your extra source of income. More about him.