This post may contain affiliate links from which I may earn a commission without any cost to you. Read our policy for details.
Are there legit surveys for Cash App? The short answer is no! But there are other legit ways to earn money on cash app and by surveys that pay real money.
Cash App is one of the most-used apps for transactions in the US. If you haven't yet used it, you have to give it a go. Like other 51 million active Cash App users, you will also love it. In this article, we are going to find out if there are any surveys for Cash App.
High earning surveys
Easy-to-use website
Many ways to earn
Cash App is developed by Square, Inc. and is highly secure for your money transactions.
Using Cash App you can send money to family and friends or anyone who has an account on Cash App.
You can buy stocks for investing and you have the option to buy and store bitcoins.
When it comes to sending money, it is super easy with Cash App. You just need their email id or mobile or $cash user id and you can send and receive money for free.
Get Free Money on Cash App
The fact that Cash Have thousands of reviews with 4+ rating confirms that people who are using it, love it.
If you are still not excited to use it, then what if I tell you for using it, you will get a $5 to $15 sign-up bonus after joining with referral code DQDVLXG and completing your first $5 transaction in Cash App.
You don't know anyone on Cash App to send $5 to?
No problem! That's even better for you with a chance to get more free money.
Invite your friend or family member to Cash App with your referral code. When your referred member does their first transaction you will get $15- $30 for referring. So you are now $20- $45 richer after a few minutes of work.
The more members you can refer, the more money you will make.
With Cash App free money code DQDVLXG, get a sign up bonus of up to $15. In addition, with direct deposit get an additional $100 and $50 cash Boosts. After that for each referral get $15.
Steps to Get Free Bonus Money on Cash App?
You can download the Cash App and get your free bonus money in a few easy steps:
Get the Cash App
Create your profile
Click profile icon on top right corner of screen
Choose "enter referral code" section
Enter referral code: DQDVLXG
Link your bank account or debit card
Send $5 to a friend on Cash App within 14 days
After transaction is complete you get $5 or $10 or $15 bonus
Invite your friends: for a successful referral get $15-$30
After setting up your account, you can learn about other ways to get free money on Cash App.
Many people are searching for surveys for cash app. To address the question of whether there are any Cash App Surveys that pay real money, I have written this article.
Are There Any Surveys That Pay Instantly to Cash App?
As we discuss that Cash App is a widely used app with millions of users.
The one thing on the platform is that once you send the money, there is no way to get it back due to some regulations unless someone returns it. That is the reason why scammers try to scam people with different kinds of scams to get their money.
If anyone says that they offer online surveys that pay through cash app, then they are trying to scam in some way.
Because currently there is no legitimate surveys that pay instantly to cash app directly.
When you look at offers as surveys for Cash App, be cautious.
However, you can earn money on Cash App in many legit ways. If you have a social presence and know a lot of people you can earn thousands in referral bonuses.
On the other hand, if you are intrigued by the idea of earning money in your free time by filling out online surveys, then there are a ton of options for you.
Most of these surveys offer cashout to PayPal or direct bank deposits. You can then transfer money from your bank account to Cash App if you want the cash in your app.
10 Surveys That Pay Real Money (Not Surveys for Cash App)
There are a ton of surveys to earn money in your free time. Due to the nature of this business, there are many websites that pay meager money for your efforts.
That is why before you start taking surveys that send money to your bank, you know what websites pay the highest for your efforts.
For that reason, we have listed the highest paying survey sites for you, so that you don't waste your time and waste your energy.
Try to sign up at a maximum of them and figure out which one offers more high-paying surveys in your location and for your profile, and surveys offered are based on your profile and location.
1. Survey Junkie
One of the highest paying survey sites with surveys as high as $50/ survey.
But that is rare, you will still be able to find surveys that pay more than a dollar regularly on this site.
Survey Junkie works on a points system.
Highest Paying Surveys
Up to $50 per survey
Industry-leading surveys
1,000 points equate to $10 and when you get 1000, you can cash out.
Sign up here for Survey Junkie(US, Canada, Australia)
If you want to earn more, you can become their affiliate partner and earn a commission for referring your friends to them.
Become an affiliate partner here.
2. InboxDollars
Earing money on InboxDollars is easy. Just sign up and fill in a few basic questions about yourself to get paid to take surveys that send money to you.
Answer questions and you get money. You have multiple payout options ranging from PayPal to gift cards from various stores.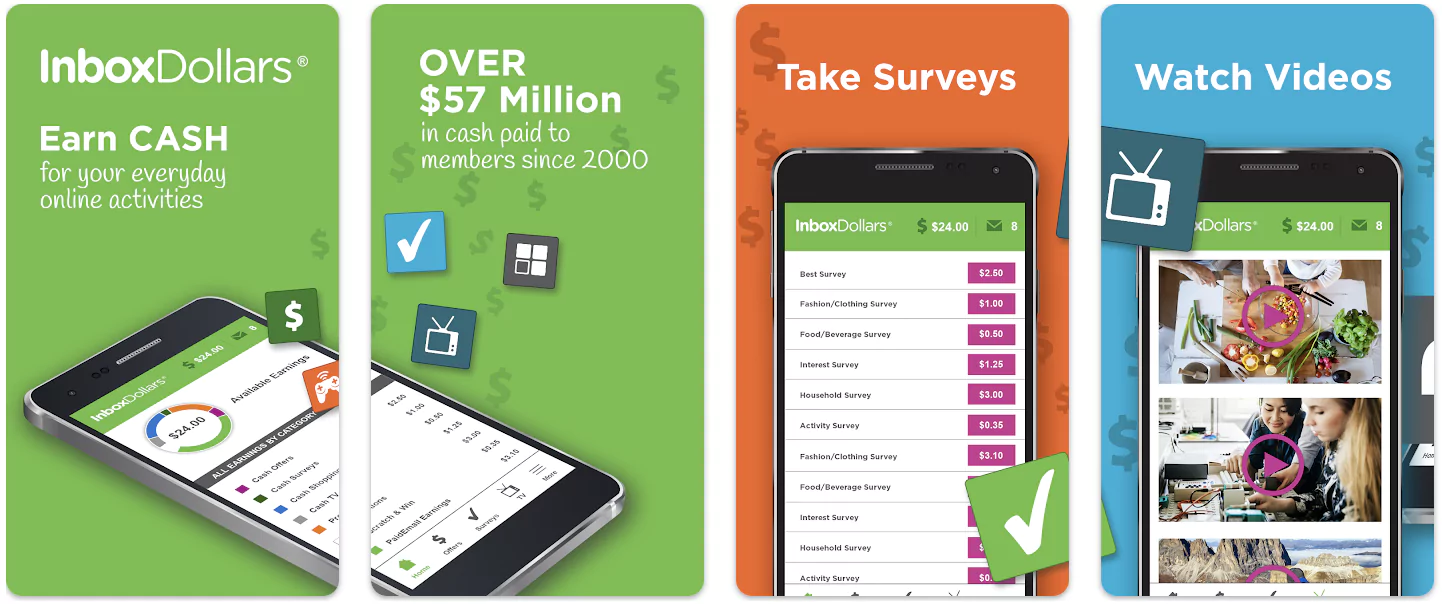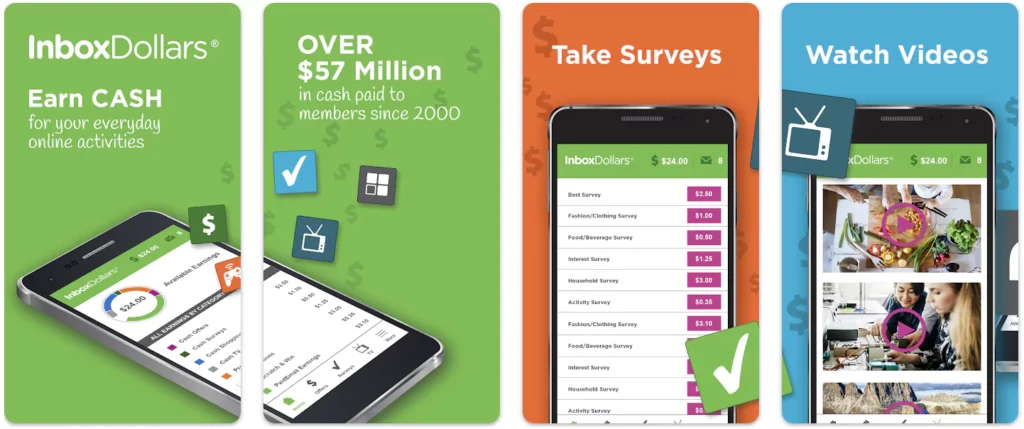 In addition to the surveys, you can do other online tasks such as watching videos and playing games to earn money from InboxDollars to quickly reach the payout threshold.
Sign up here for InboxDollars(US)!
Sign up here for InboxPound(UK)!
Don't forget to verify for a $5 bonus. You will also get paid e-mails where you will earn money to read emails!
3. Swagbucks
In paid surveys sites Swagbucks is one of the oldest and highly reputed.
An A+ rating with the Better Business Bureau proves that their business is legitimate.
You have to create your profile and you will get surveys based on the information you provide. For every paid survey you take, you will get Swagbucks or SBs.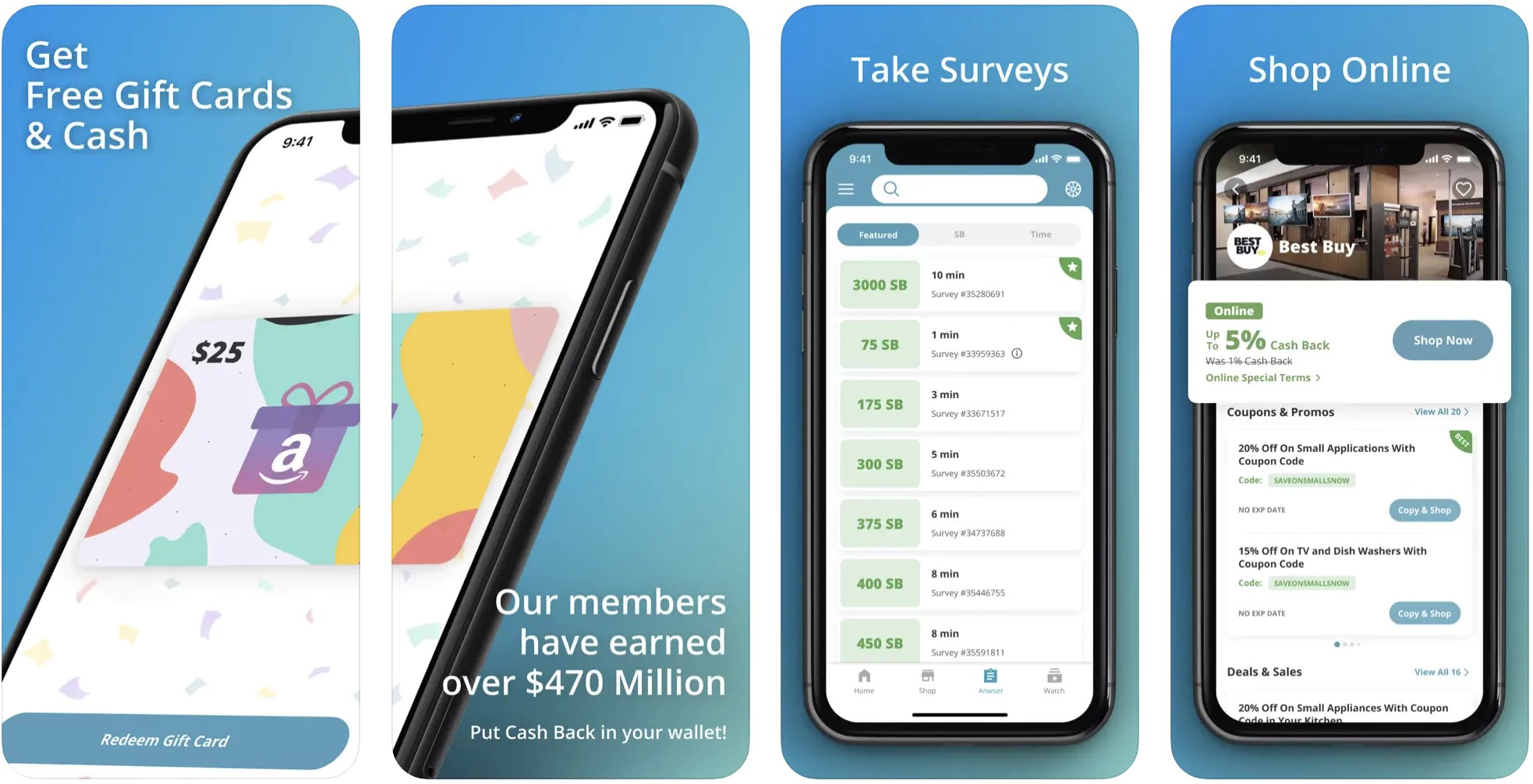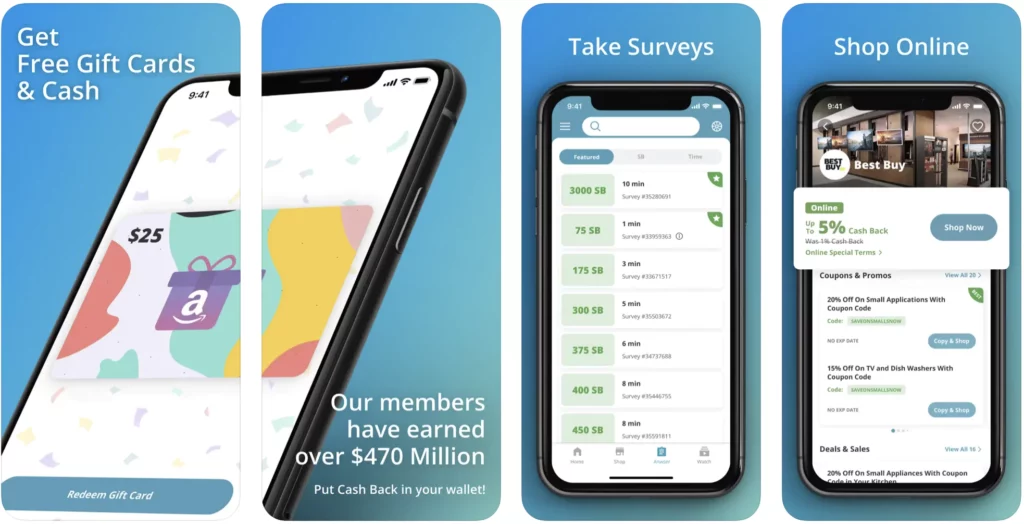 You can convert SBs into cash, gift cards, or PayPal credit.
Other than high-paid surveys that pay instantly they also have more things to earn money such as Cashback for online shopping, browsing the web, and watching videos.
Register here for Swagbucks($10 sign up bonus)!
Multiple ways to make money
Low and easy cashout options
Great user ratings on App store
5. Ysense
Another great site to make money with surveys online is Ysense.
You can start earning with Ysense online surveys that pay through cash app indirectly with different online tasks such as surveys, watching videos and other offers.
After getting money in your bank account, you can transfer it to the Cash App wallet. You won't get direct Cash App surveys for money but you can get money to Cash App indirectly from surveys.
4. MyPoints
MyPoints is one of the oldest players for online surveys, which makes it trustworthy for many people.
With over $200 million paid to its 10 million members, there is no question about its reputation.
In addition to high-paying online surveys, Mypoints also offer cashback on shopping, and playing games.
Register for MyPoints here ($5 Sign up bonus)
6. Reward Survey
A great site for surveys for money. This survey site pays users with different rewards other than cash.
For your points, you can choose magazine subscriptions and other gifts available for you.
What's more, get $30 instantly filling a few surveys after registration!
Sign up for RewardSurvey here!
7. FeaturePoints
Website of FeaturePoints offer many surveys for you to earn money online.
FeaturePoints is very flexible in payouts as you can choose PayPal, Bitcoin, gift cards, credits towards games, etc.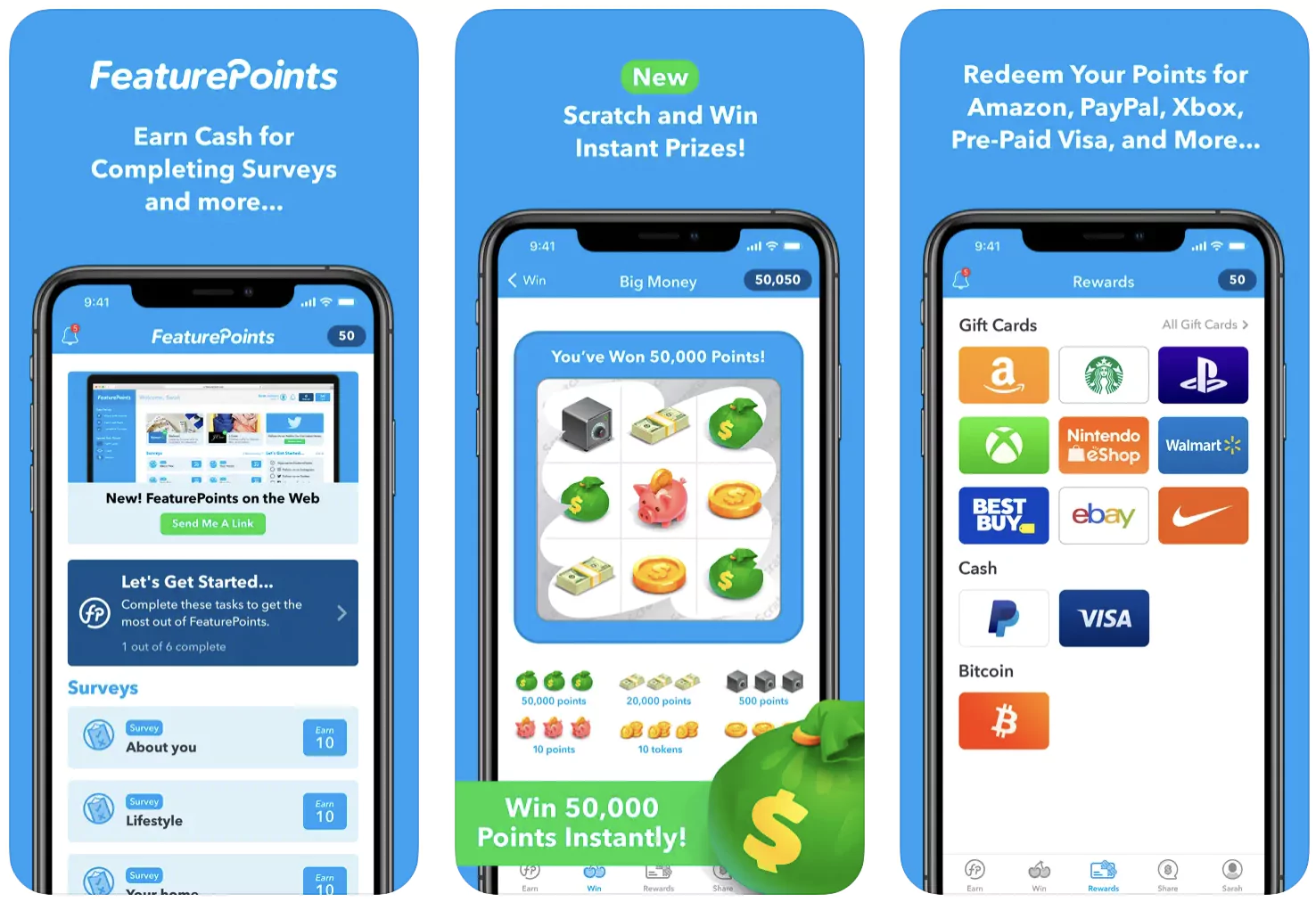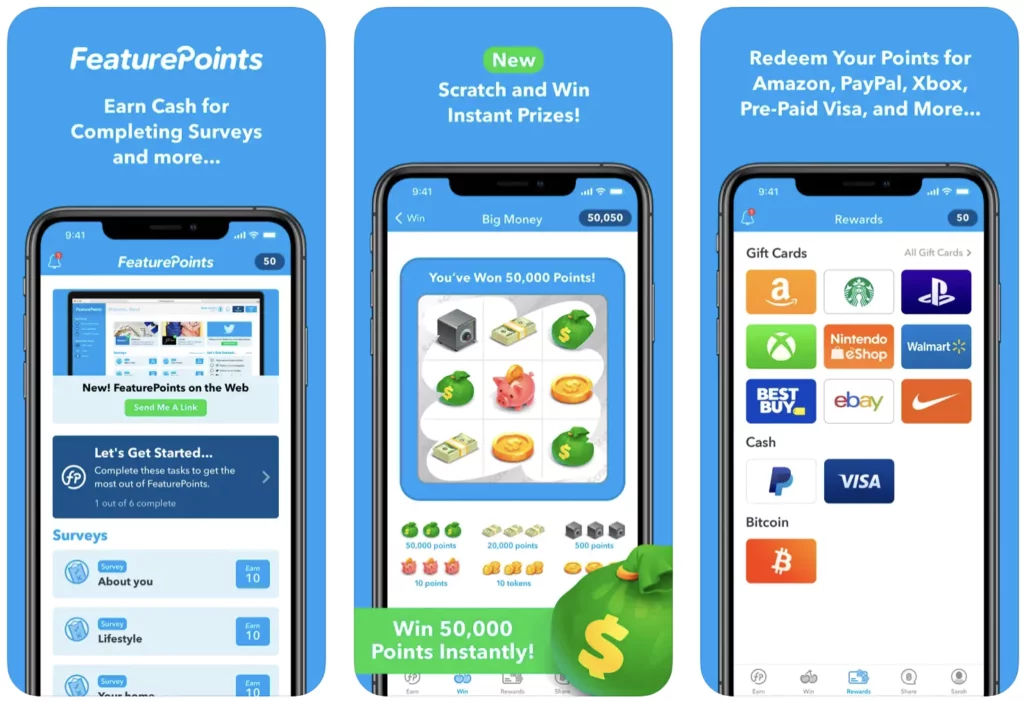 Their payout is fastest, usually within hours. So truly this is the app that pays instantly to PayPal.
On FeaturePoints, other than surveys, you can play games, watch videos, and shop online to earn free PayPal money.
Sign up here for FeaturePoints!
8. Zap Surveys
Zap Surveys pays instantly with fast cash out for filling surveys.
Website of Zap surveys is legal and they guarantee you $6.25 on the first survey you take!
Zap is available only on App. There is no desktop site, so you'll need a smartphone or tablet to use this one.
Their threshold to cash out is higher at $25.
You can transfer money to a bank account and then to Cash App. On these apps, you won't get surveys for Cash App, but you can earn money and get it to Cash App indirectly.
9. OneOpinion
Complete high paying surveys on this app after signing up.
You get points for filling up surveys that can be converted into cash.
Product testing option to earn extra money is also available and you can have the opportunity to test new products before their release with payments.
Sign up for OneOpinion Surveys that Pay Instantly!
10. VIP Voice
This website is different in the sense you don't get points or cash but VIP Points, giving chance to enter into "SweepLand" and "BidLand".
If your luck turns good some day, you can get handsome rewards.
Common prizes include electronics, cash or other products and services.
Final Thoughts Surveys That Pay Instantly to Cash App
To conclude we now know that there are no surveys for Cash App directly. But you can use both "Cash App" and "Surveys" separately to earn money.
You can win free money on Cash App with the signup bonus and referring friends and with other ways.
On the other hand, you can utilize your free time and at the same time earn money by filling high-paying surveys discussed in this article.
Earn money with surveys and transfer it to Cash App if you want.
Employ both ways of earning money together to grow your money. Earn money with the Cash app and surveys and fund your Cash App wallet after depositing money in a bank account.
That way you will be able to increase your money with Cash App cashback offers and investing options.
What are the Other Things You Can do with Cash App?
You have multiple services available on the Cash App. With time they are increasing the capabilities of the app.
The recent one being the option of cryptocurrency buying was added to the same platform.
You already have the fundamentals of the app to transfer money seamlessly to other users for free. Plus there are other options that include:
MONEY TRANSACTIONS: Basic functionality of the app for which it was made is cash transfer with ease. You can transfer virtual cash among your contacts or to anyone who have account on Cash app just by entering their email id or phone number. If you don't want to keep money in your Cash App wallet, you can directly transfer funds from your linked bank account or debit card.
DEBIT CARD: Once you verify your account with basic information you can ask for a Cash card which is Visa based and can be used at all places where visa is accepted.
CASH BOOSTS: Cash boosts give you instant discounts at certain places for Cash App users. This is a good way to save money everyday.
INVEST IN STOCKS: Using same platform of Cash App you can start investing with amounts as low as $1. Fess is minimal and there are multiple things to invest like ETF.
BUY BITCOINS: Bitcoin buying ability was also added in the app owing to it's popularity among young generation. You can buy bitcoins with you Cash App wallet money with 2.5% fees.
EARN REFERRAL BONUS: For referring new users to the Cash App and who makes a successful transaction of $5, you will earn a bonus of $15 to $30.
Is Cash App safe to Use?
Cash App is one of the highest used apps for money transaction and is owned by Square, Inc. which ensure everything is up to date to current standards and is absolutely safe to use.
You have additional options to safeguard your account with your phone locks such as pin or fingerprint sensors.
All these things make your account safe.
The bitcoins you save on the app, are also saved on remote offline servers that are safe from hackers.
If your debit card gets lost or stolen, you can block it on customer care instantly.
For any other issues, they have a dedicated customer support team to resolve your issues.
The only thing to consider regarding safety for you is to be beware of scammers in name of Cash App.
With Cash App free money code DQDVLXG, get a sign up bonus of up to $15. In addition, with direct deposit get an additional $100 and $50 cash Boosts. After that for each referral get $15.
---
Want to Earn More, Try These Resources: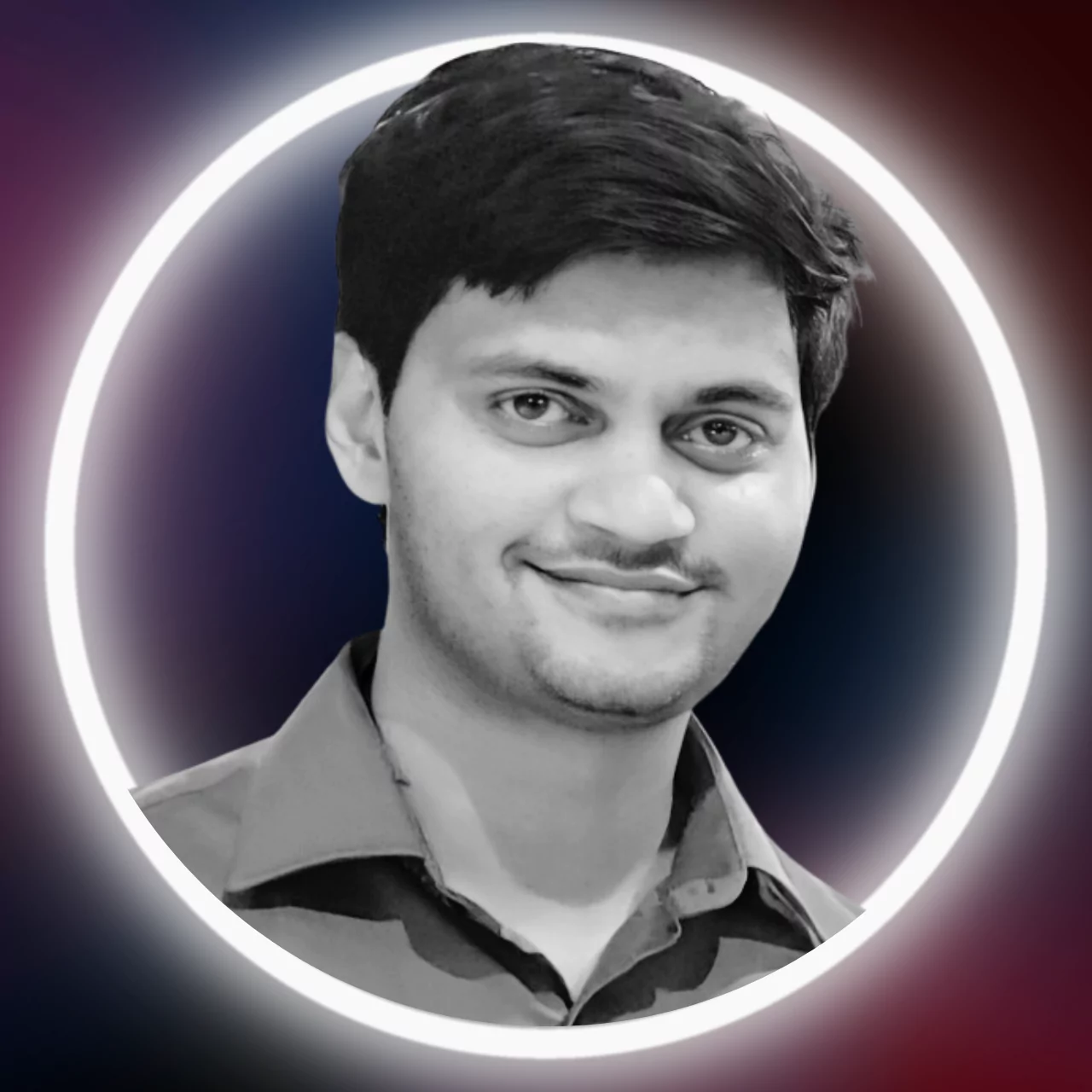 Sumeet is a Certified Financial Education Instructor℠ (CFEI®) and founder of MoneyFromSideHustle. He is an experienced side hustler who replaced his full-time income with side hustles. His work has been quoted on major finance websites like CNBC, Yahoo! Finance, GOBankingRates, CEOBlogNation, SideHustleNation, and more. He has helped thousands of people find side hustles and is here to help you find your extra source of income. More about him.