This post may contain affiliate links from which I may earn a commission without any cost to you. Read our policy for details.
If you are looking to clear out your old furniture for cash, here I will tell you everything you need to know for that.
There are many reasons one might want to sell old furniture.
You might be moving to a new place and don't want to take so many things along
Or you are redesigning your home with new things in and old things out
The urgent need for cash can be another reason for selling furniture
A few people also run a side hustle of furniture flipping, YOU CAN TOO!
Whatever your reason, there are many furniture-selling apps and websites where you can sell your used furniture fast.
In this article, I will list all the best places to sell furniture online and locally, along with tips to get more bucks for your items.
Where to Sell Used Furniture Fast?
To be honest, selling furniture does not appeal to many people because it is a bulky thing, and unlike other things, such as selling clothes or shoes, it takes more physical effort.
That is why many people used to prefer local consignment shops for selling used furniture. There is no hassle of shipping, and if you are good at negotiations, you have a better chance of getting a good deal.
However, nowadays, selling furniture online has become more viable and easy with the popping up of many furniture-selling apps.
These apps help you reach a wider audience and increase the chance of sales at a better price.
Though you might have to handle shipping yourself, many of these websites help you with that, also.
Payments are safe with these apps, but you need to wait for some time, unlike getting cash under the table from second hand shops for furniture.
Highest Paying Surveys
Up to $50 per survey
Industry-leading surveys
Best Places to Sell Old Furniture Locally
The idea behind selling furniture locally is that it is less hassle for both buyer and seller. Buyers can show up at the seller's home at a decided time and decide if they want to purchase the item.
There is no hassle of shipping chunky furniture over a long distance.
Here I will tell you how to sell furniture fast locally using online marketplaces and other ways.
1. Facebook Marketplace
Facebook Marketplace is one the best places to sell furniture locally, as most people already have an account.
You can reach a wide audience of people who might be interested in your old furniture.
There are two options you can use on Facebook to sell furniture:
Facebook Marketplace to list your item
Local Buy and Sell groups
When you enter your zip code, Facebook will show your local marketplace where many people post their items. You can also post the images of your furniture along with all other details and the asking price.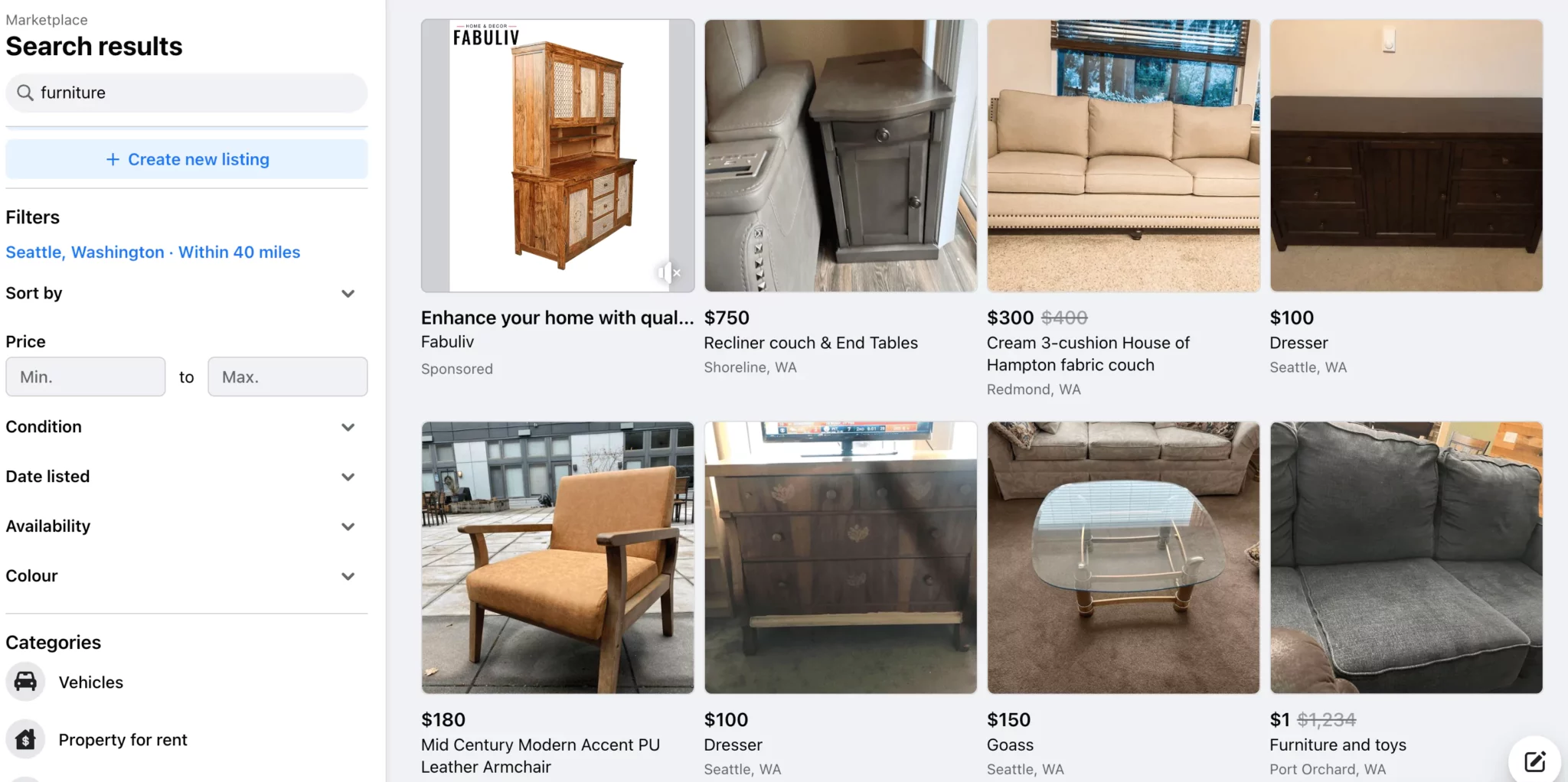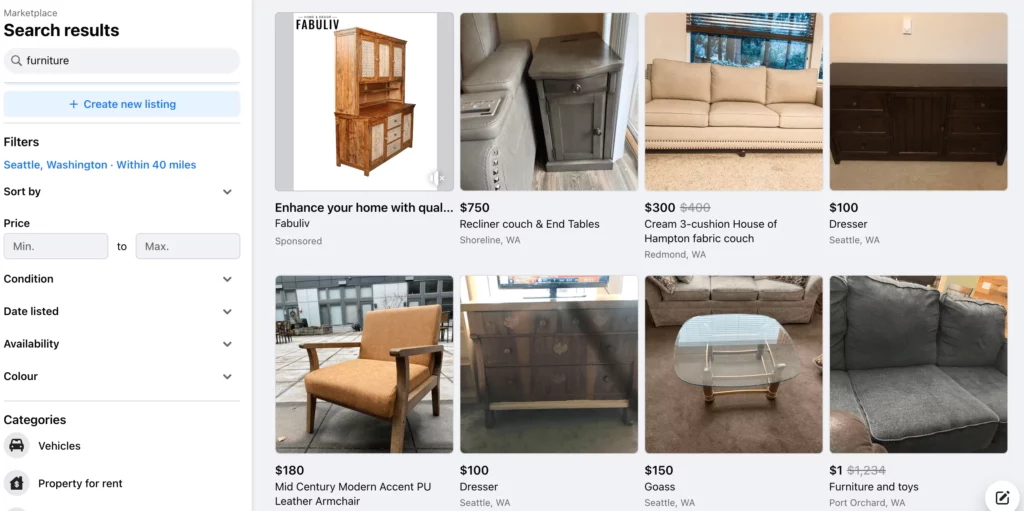 Similarly, there are Facebook groups in all cities where local communities regularly sell and buy stuff.
You can ask admin to become a member and post your items for sale.
When you make a listing, be ready to answer any queries and negotiate on price.
If a deal is done, you can choose to get paid as you like and arrange for the transportation of furniture.
Charges: None.
---
2. Craigslist
Craigslist is another option you can use to sell your furniture locally.
You can almost sell anything on this huge marketplace.
Sign up for an account and select your location. Then you can create a listing that others in your location can see and contact you.
You need to provide good-quality pictures and an appropriate title with all the relevant details.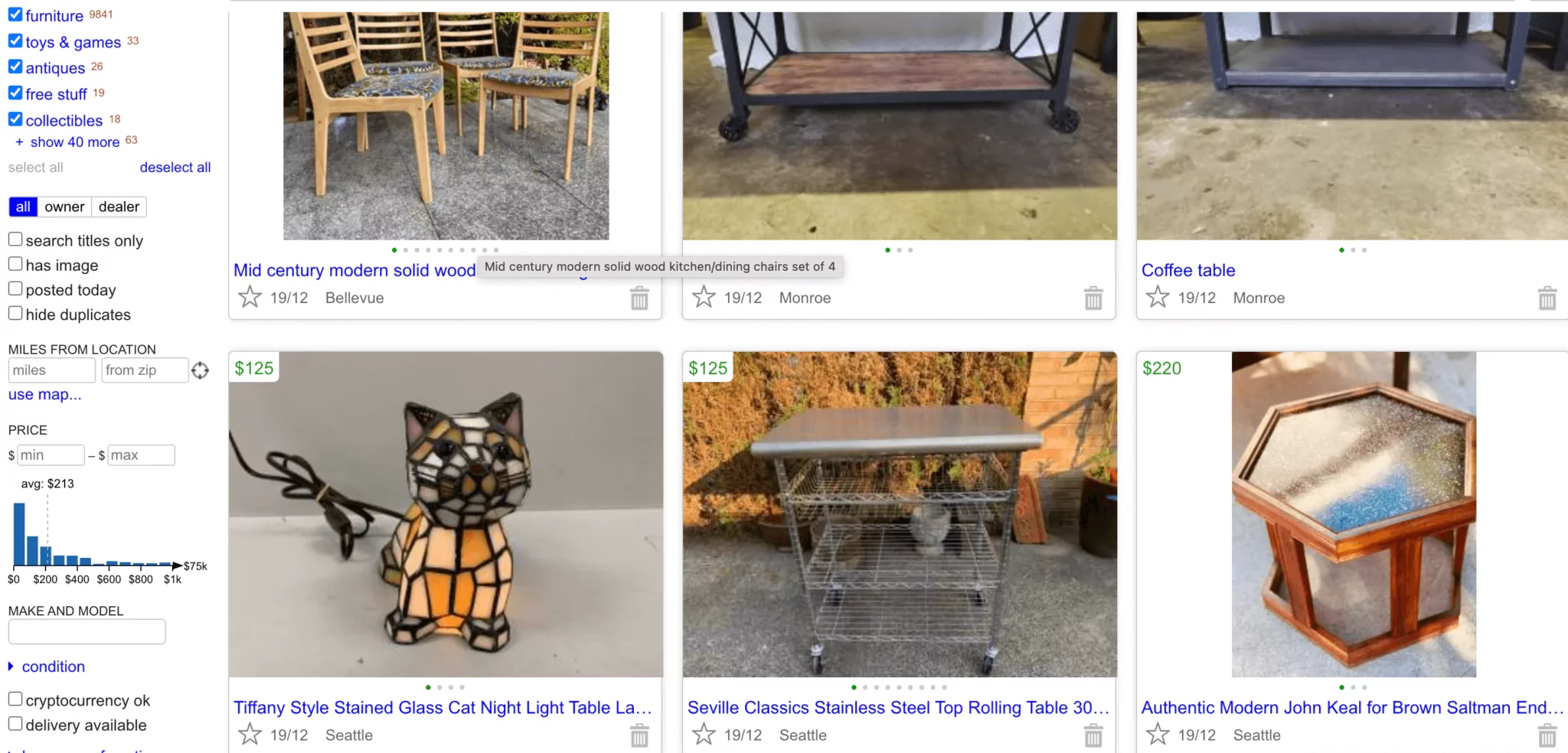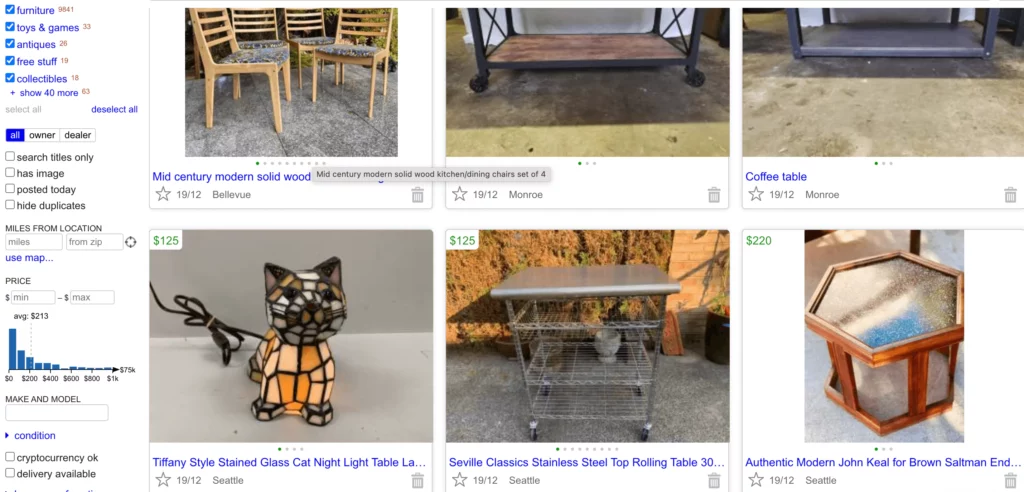 Once someone is interested, you can arrange a meetup to exchange furniture for cash.
This platform does not help you with shipping or payments, so you have to sort that out yourself.
But this platform offers you a huge audience that can buy your items.
Note: There are a lot of frauds reported on this platform due to its nature. However, you can stay safe following good practices like meeting at a safe place or in the presence of some friends and getting the money first before giving the product.
Charges: None.
Multiple ways to make money
Low and easy cashout options
Great user ratings on App store
---
3. OfferUp
OfferUp is another classified marketplace where you can sell furniture locally.
The concept is simple, you make a listing that people can see and offer a price they are willing to pay.
To start with, you need to create a seller account and post a listing with clear images.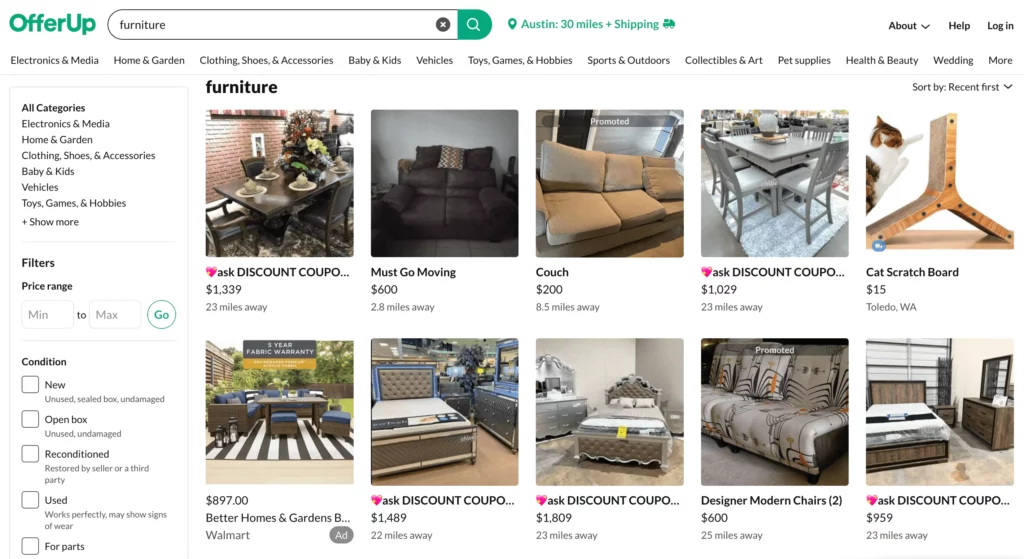 Write all the details about the furniture, like what kind of wood it is made up of, if there are any cracks, or if it is a classic piece, etc.
Provide all possible details and any interested buyers can contact you and offer up to buy the piece.
If you like the price, you can:
Offer to meet locally
Or ship the product
If the sale is final, mark it done on the platform.
Charges: Listing is free on the platform, and if you decide to sell the furniture locally, it is free. But if you are shipping and using the app for payments, then you need to pay a fee of 12.9%.
---
4. 5Miles
5Miles is a platform that is popular for selling used automobiles, but they have expanded in so many other categories.
You can sell almost anything on this website, including your used furniture.
Make a new seller account and create a listing with all the details and images showing your furniture.
You can choose two options:
Sell locally by meetup
Ship nationwide
If you choose the second option, your listing will be shown to all, and you will handle the shipping with a prepaid shipping label provided by 5Miles.
Users can bid on the item, and there is a serious bid guarantee where if the bidder back out from the bid, they will lose $5. This ensures that only serious buyers are doing the bidding.
You can sell locally by meeting up with the buyer or ship the product.
Charges: There is a listing fee on this website. And on a successful online sale, they take a 10% commission.
---
5. VarageSale
VarageSale is a great app for selling furniture. Here all accounts are verified by their team.
To become a member of this platform, you need to link your Facebook account.
Once you are verified, you can choose your location and start selling your items.
You need to create a listing with all the images and descriptions, and people around your location can see the listing and can contact you if interested.
Arrange a pickup for your old furniture and get paid in cash.
Charges: None.
High earning surveys
Easy-to-use website
Many ways to earn
---
6. Flea Markets
One of the common method people who are into flipping furniture use is flea markets.
These markets are popular among people looking for unique and affordable options to decorate their homes.
You can make a stall at a local flea market and sell your used furniture.
You need to ask for permission from the moderators and pay a fee as applicable.
It will only make sense to take this route if you have multiple furniture items to sell or you are into regular furniture flipping business.
If you decide to make a stall, make sure to create a sign board for visibility.
Be approachable and nice to people and open to bargaining.
Charges: The fee you need to pay for a stall varies from market to market, depending on the popularity. At a few places, you can open a stall with $5 per day, and at a few others, you need to shell out a few hundred.
---
7. Garage Sale
Garage sales are one of the best places to sell furniture and declutter you home.
Along with furniture, you can sell whatever you think you don't need anymore.
Though, unlike flea markets, here, all the responsibility to bring in customers is on you.
You need to advertise your sale beforehand so that people in the neighborhood know about it.
You need to be systematic and label all the items with price tags and keep a list of all stock.
Learn here how to organize a successful garage sale.
---
8. Local Consignment Stores
Local Consignment Stores are a great place to sell your old furniture and other things if you don't want to put in the work yourself.
You can just take your piece to the store and let them evaluate it.
They will see if they can sell it and offer you a price for it or a commission percentage on the final sale price.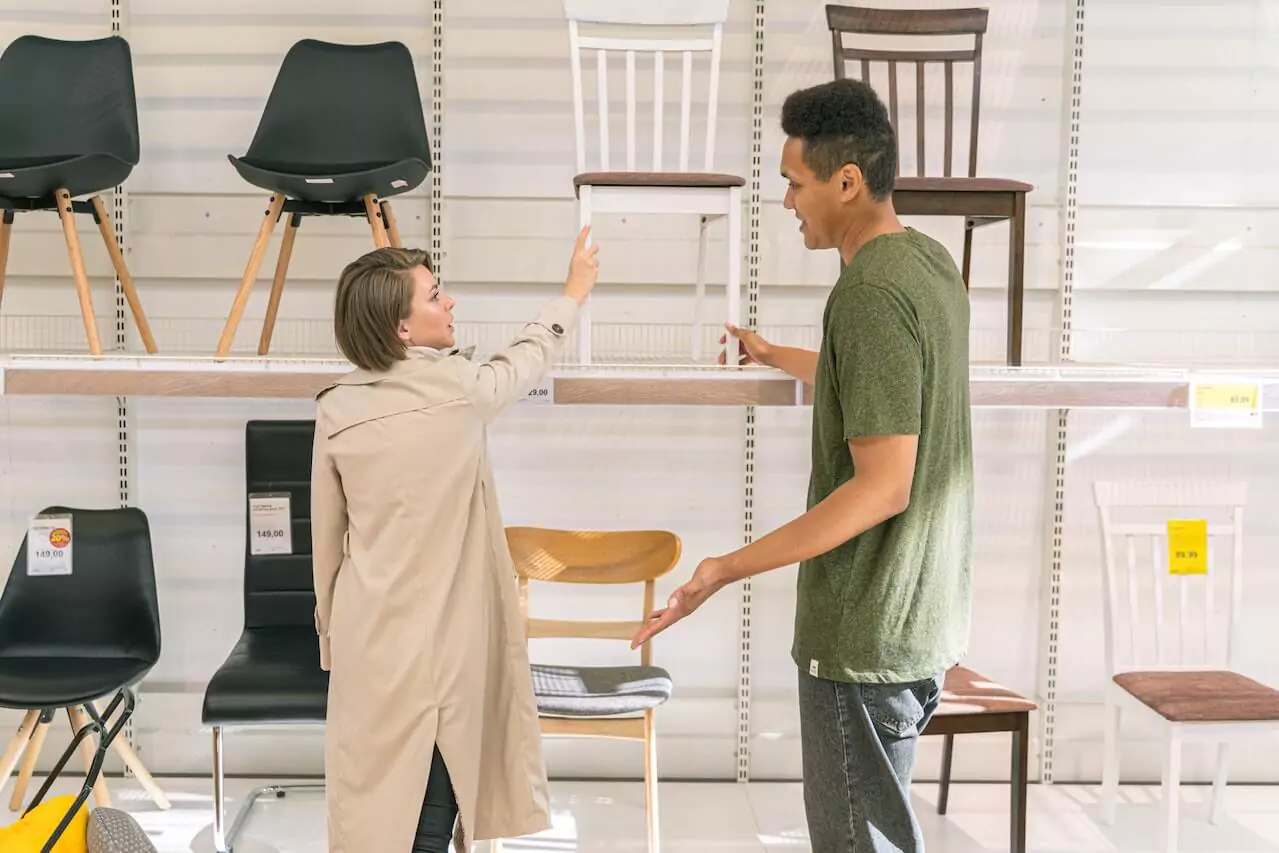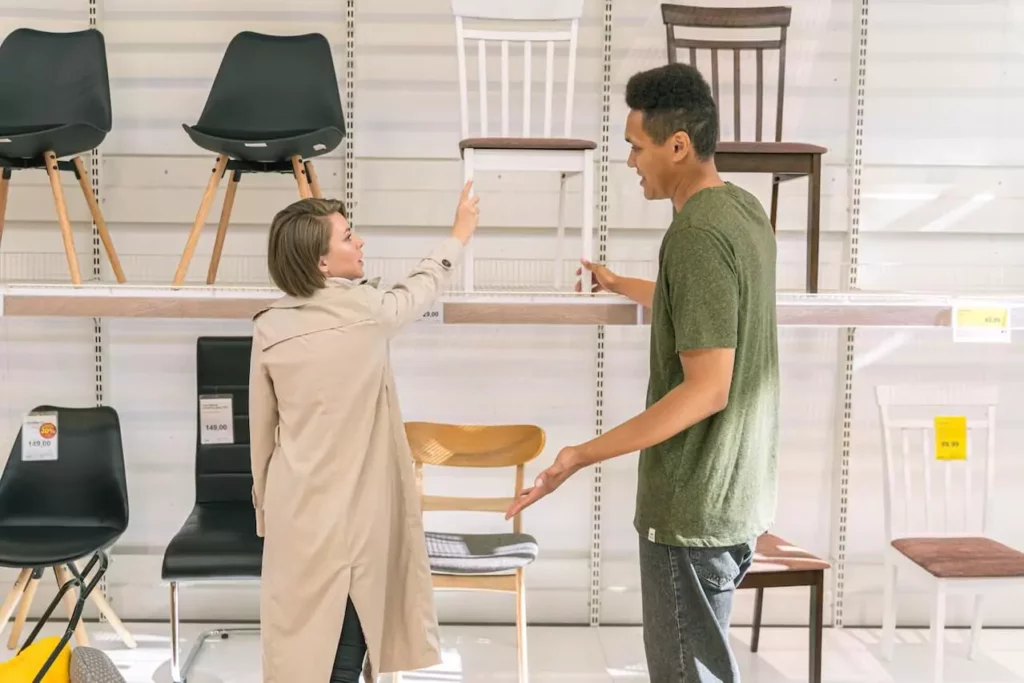 If you like the deal, you can leave your furniture at the store, and they will put it up for sale.
When they sell it, you can get paid your part.
Easy, no real work on your part other than taking your furniture to the store.
Charges: They do most of the work, so they take around 30 to 50% of the sale price. If your furniture is high value, you can negotiate for a low commission as they can still make a good chunk of money.
---
9. Furniture Shops
You can sell your old furniture to the furniture shops who buy second hand furniture.
Not all furniture stores do that, but many do, as their customers buy old furniture in good condition.
You need to check with your local furniture stores if they do.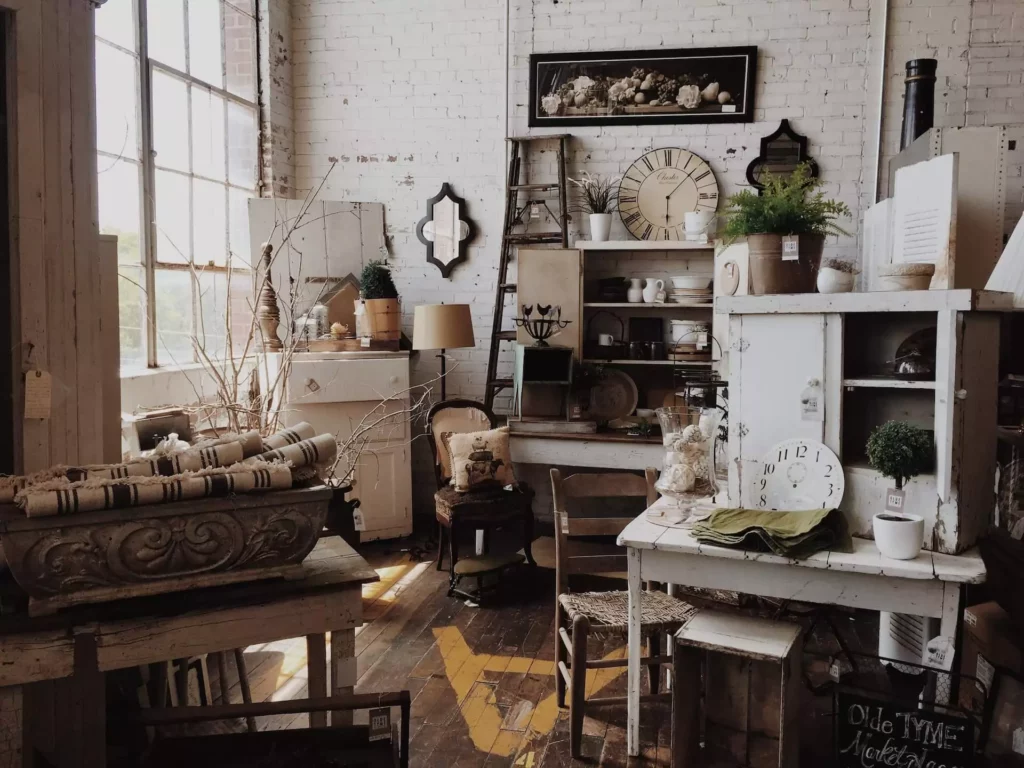 The benefit of selling your furniture to these stores than consignment shops is that they are specialized in furniture and there is a higher chance of selling your piece faster.
Most of these stores also refurbish old furniture and repair any minor problem to increase the value.
You can try selling your piece to them.
---
Best Places to Sell Used Furniture Online
If you want to sell your furniture online, there are many websites and furniture selling apps you can use.
Try which one of these works for you.
10. Chairish
Chairish is a platform to sell your vintage furniture fast online.
They have verified buyers who can offer to buy your products.
You can list your old furniture with well-lit pictures and details about it. Make sure you add the story behind the piece if there is any.
Add in the description if that table was passed on from your grandfather's generation. This gives a unique angle to furniture, which can attract more buyers interested in vintage furniture.
Chairish also edits your photos to improve them and make them more appealing.
You have two options for delivery:
Either ship yourself
Choose for doorstep pickup
Then there is 48 hour of window for returns after delivery. After that, you will get paid.
Charges: For small sellers, the platform is free to join, but professionals need to pay a membership fee of $99/month or $149/month, depending on the inventory size. Then you need to pay 20 to 40% fees depending on your account type.
---
11. Bonanza
Bonanza is a great place to sell furniture online that rivals eBay.
You can build up your store on the website and show your product to million of visitors.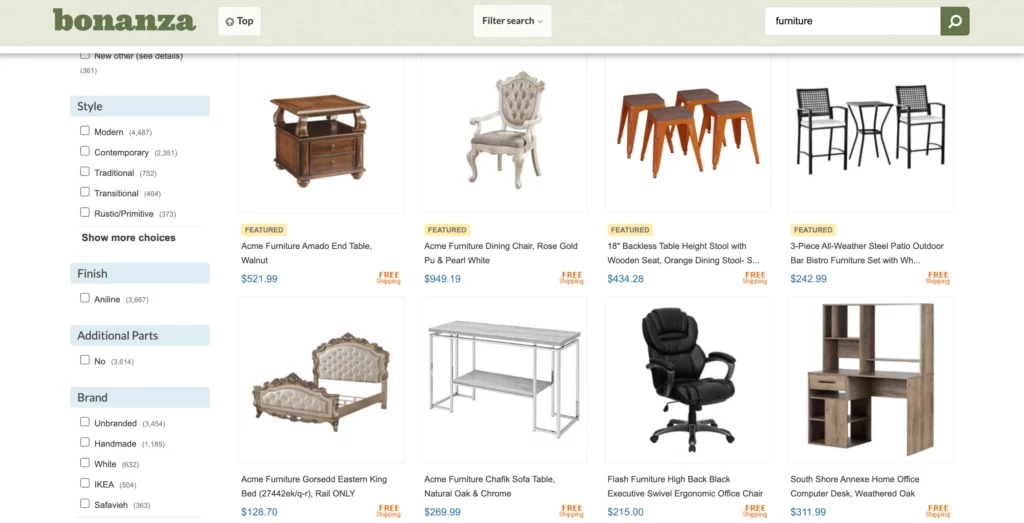 At the time of writing this article, a search for the term "furniture" showed over 100k results for furniture-related items listed in different categories:
Used or new
Modern or classic
Handmade or branded
Different colors
Different price ranges
You can list your items in your shop and describe them properly so that they show up in relevant categories.
If you are into furniture flipping, they provide all the data related to sales metrics that can help you grow your business.
Charges: Listing is free on the Bonanza app, and you need to pay $0.25 plus 3.5% of sale fees. If you choose to use their advertiser program for more reach, you can select either of the 9%, 13%, 19%, or 30% categories.
---
12. AptDeco
AptDeco can be your answer if you are looking for where to sell used furniture fast.
This site to sell furniture offers many options for buyers to get what they want. That is why there is a huge number of people who visit this website regularly.
You can easily sell your old furniture online here by following these steps:
Sign up for a seller account
Create a free listing
Take images and provide discriptions
Decide on price
Choose time for home pickup
Get paid in 2 -4 days
They help you from start to end by processing your listing (enhancing images, suggesting the best price) to get the furniture picked up after a brief inspection.
Payments are made on their platform securely and once the buyer receives the item, you get your money.
Charges: For all their services, they charge around 25% fees, which is fair in my view, considering they are doing pickup also.
---
13. Apartment Therapy Bazaar
Apartment Therapy Bazaar is a furniture selling app you can use to downsize your home.
There are different categories of markets:
Luxe: Highest quality and rare design furniture
Stylegrade: High-quality vintage furniture pieces
Everyday: Regular use furniture like Ikea furniture
You can easily sell by creating a listing with all the required descriptions and high-quality images.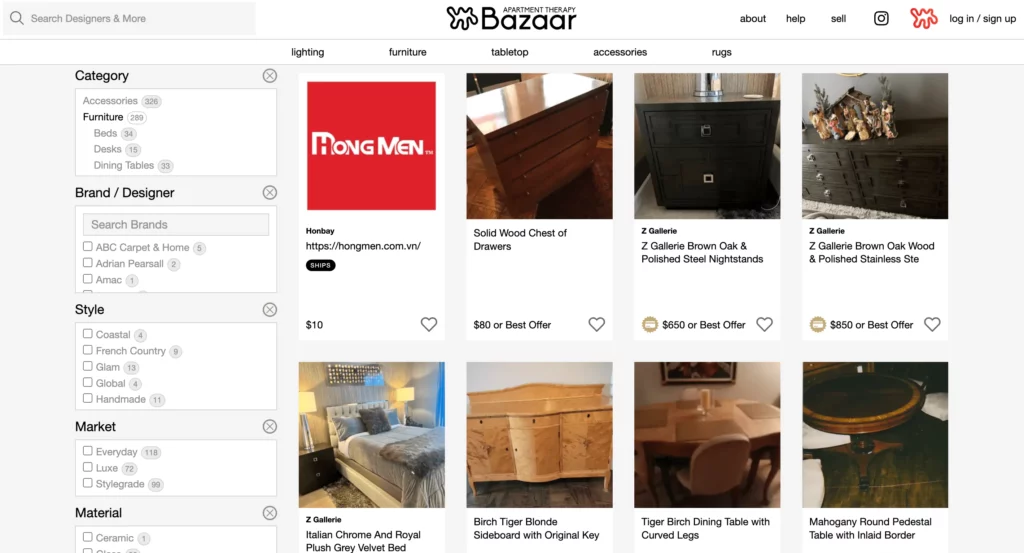 Try to include everything like item history, type, size, defects, price, and any other policy like refund and return.
For each listing, you can include up to 10 images.
You can choose to sell furniture fast locally or offer shipping to reach nationwide customers.
If you choose to offer to ship, you need to handle it yourself. You can charge for shipping separately, but the best option, in my experience, is to include the shipping price in the displayed price.
Charges: Joining and listing on this app selling furniture is free. You pay 3% transaction fees on selling an item and 2.9% + $0.30 payment processing fees on stripe.
---
14. Remoov
Remoov is a good place for selling your furniture online if you don't want to put in any effort.
They arrange a pickup at your convenient time and sell on a consignment basis, but you need to pay pickup fees.
You can ask for the estimated fees by sending them photos of the old furniture you want to sell.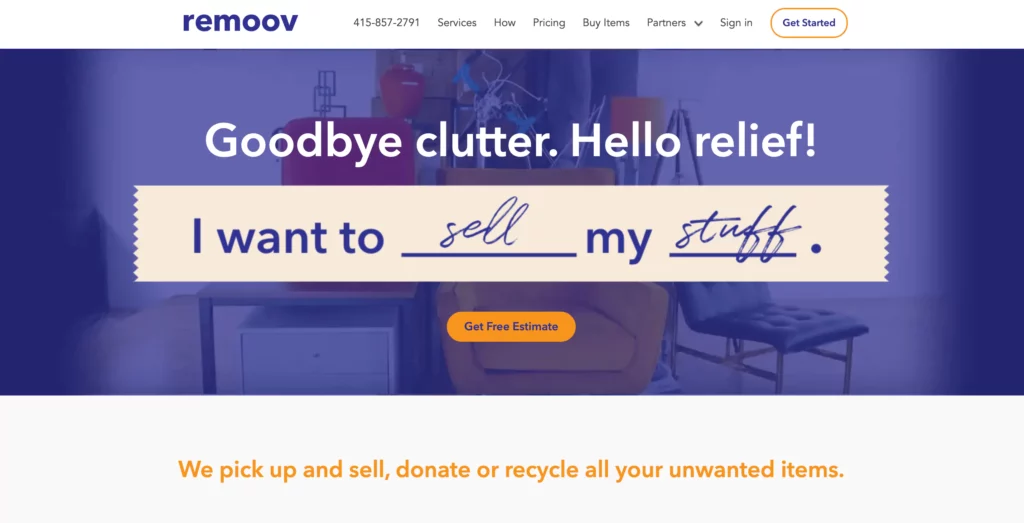 Once you get an estimate of the pickup fee, you can book a pickup slot. They currently offer their services in Miami, Phoenix, and the Bay area.
Once they have the items in their warehouse, their professional photographers and consigners do all the work of listing your items are different marketplaces according to the brand and conditions.
You will get a Remoov dashboard where you can track if your items are selling. On average, they take 60 to 90 days to sell your used furniture.
If they are not able to sell your used items in 90 days, they offer three options.
Pickup from their store or arrange delivery
Donation to charity on your name (with tax receipt)
List on their liquidation collection
Charges: They take a 50% commission on all the sales, and you get your share through check or PayPal in two weeks after the return window is over.
---
15. Sotheby's
Sotheby's is a marketplace for selling high-value art, home decor, and furniture.
If you have an antique piece of furniture that you want to cash on, this is the right place to try.
You need to take a few pictures and write a few details and apply to list your item.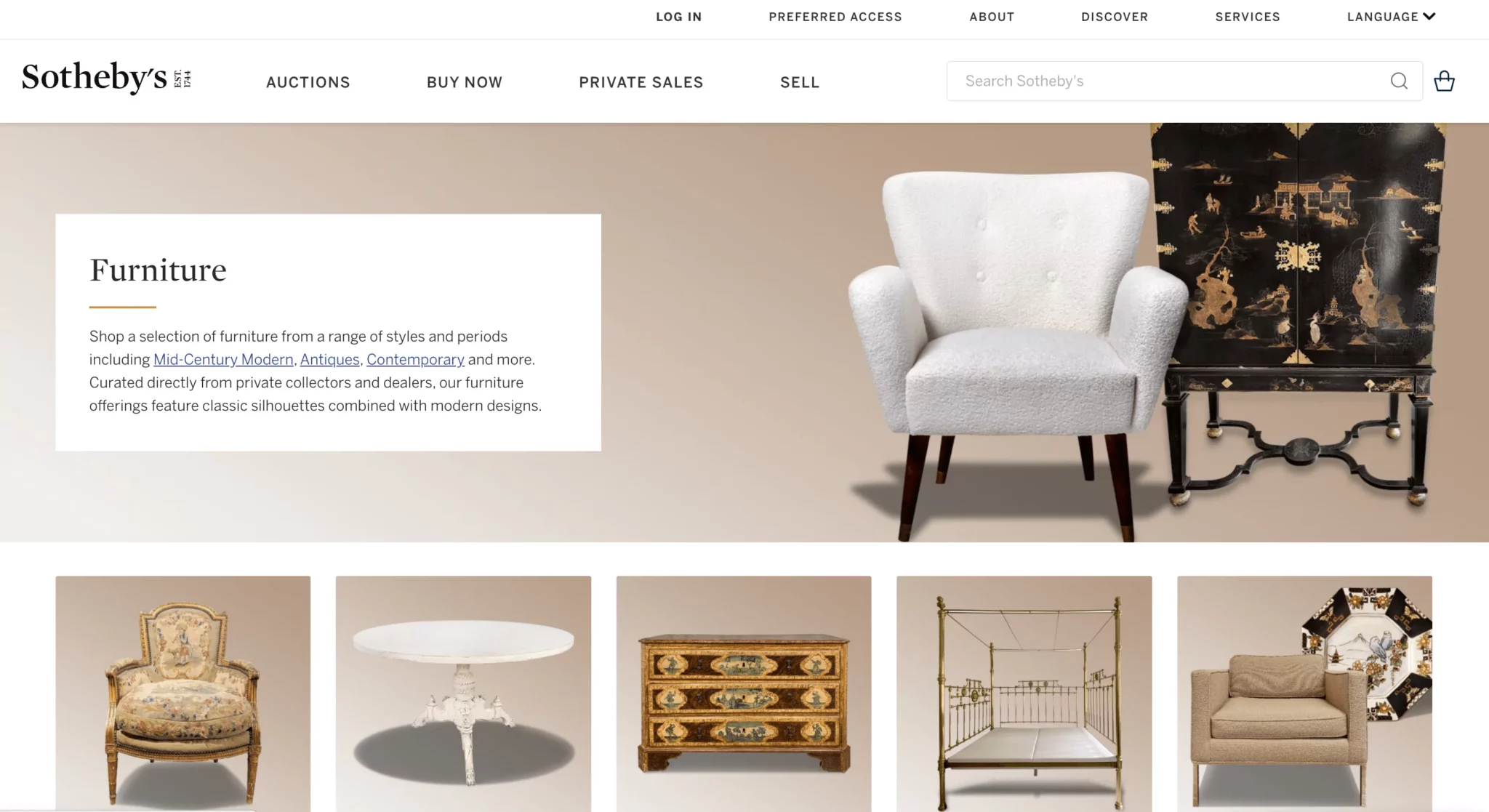 They will evaluate your furniture and decide if they can sell it in one of their four places.
Auction: These are regularly organized where people can bid on the
Private sale: They can arrange one on one high value private sale
Buy now: They can make your furniture available for immediate sale to all buyers
Retail store: Your item can be displayed in one of their physical locations
They only sell high-value furniture, and your furniture value should be at least $1k to be considered.
Once they choose to sell your old furniture, you will be responsible for packaging and shipping.
Or you can call their local office and ask for assistance in shipping.
They take your items on a consignment basis, and if they do not sell in 6 months, you can take back your old furniture.
Once the item sells, you will get paid in 45 days.
Charges: Each deal is separate with different terms based on the value of your items, but you can expect to pay around 50% in fees.
For reading: Best places to sell your sports cards!
---
16. 1stDibs
1stDibs is another place to sell high-end used furniture online. You can also use their app for selling furniture.
They have millions of qualified customers, which include collectors and interior designers, who will value your unique piece of furniture.
They help sellers with shipping and all other processes during selling.
To be able to become a seller you need to apply and they evaluate your application.
It is not a store for decluttering your common place furniture but definitely a place to make some good cash from rare and unique furniture.
They also do auctions, where people can bid on your items.
Charges: To become a seller, you need to pay a monthly fee of $1k and a 15% commission on each sale.
---
17. Rubylane
Rubylane is a great place to sell vintage, unique, antique high-quality furniture.
They have very targeted audience that is looking for vintage items.
You can list your old furniture for sale for free on the website.
They have a good reputation among users, with a 4.6 rating on Trustpilot from over 13k reviews.
So, if you have something to sell on this platform, make a Rubylane shop today.
Charges: Setting up and listing are free, but there are $25 monthly fees for account maintenance. The fee is waivered in case you list more than 15 items in the month.
Then on every sale, they take a 9.9% commission plus taxes capped at $250.
---
18. Everything But The House
Everything But The House is a great place to declutter your home without doing any real work.
Just make an account with your Facebook account or email id and contact them and they will help you with everything.
They will discuss what you want to clear out
Make a contract with you
Pick up items
Photograph them
List furniture on their bidding site for 7 days
Sell item and fulfil the order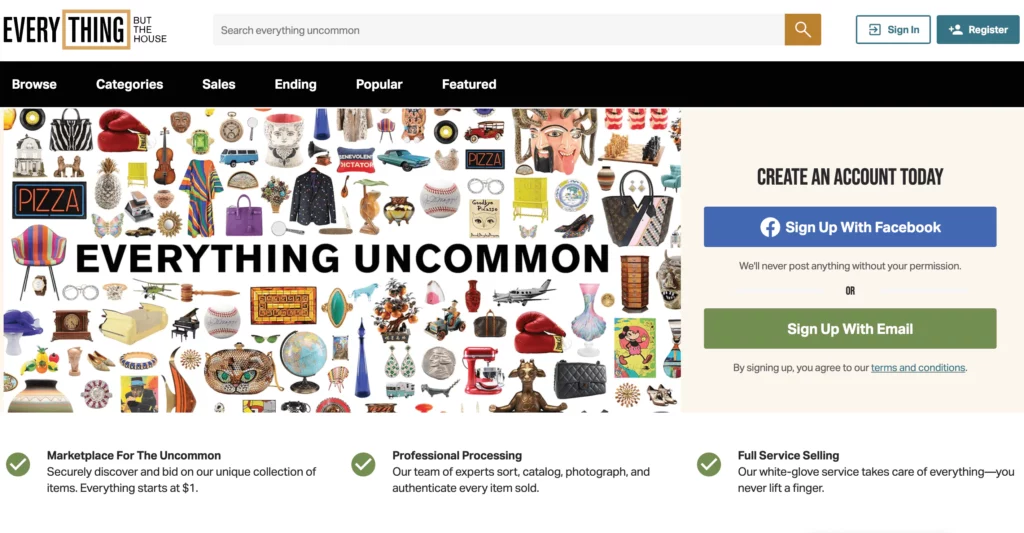 Once they make the sale, you can get paid within 30 days.
Charges: they have a tiered commission structure from 20% to 100%.
| Selling Price | Their Commision |
| --- | --- |
| $0 – $30 | 100% |
| $31 – $60 | $30 |
| $61 – $150 | 50% |
| $151 – $500 | 40% |
| $501 – $1,000 | 30% |
| +$1,000 | 20% |
So, it only makes sense to sell with them if you have valuable furniture. They also try to take in the items that they deem will sell over $150.
---
19. Etsy
Etsy might sound like a place only popular for selling your craft and art, but you can also sell your old furniture here.
The audience on Etsy is looking for unique, one of kind pieces, so if you have something like that, you can find buyers here.
It does not have to be vintage or very expensive, anything that can attract art lovers will sell here.
You can create your shop and list all the items you want to sell with clear descriptions and photographs.
Here is how you can easily start your own Etsy store.
Your listing stays active for four months, and you can set them to renew automatically or manually.
Charges: You can list items for $0.20 each, and opening a shop is free. You can upgrade to plus shop with a $10 monthly fee for additional tools. When you sell an item, they take a 6.5% transaction fee.
---
20. Shopify
Shopify is another platform where you can open your online shop to sell old furniture.
You can easily open a store and start adding your products for selling.
As with all the places for selling furniture, you need to upload good-quality images and all the details of your product.
You need to understand the SEO of platform to reach more wider audience.
Learn here how to use the Shopify platform effectively to earn money.
Charges: You can try Shopify for free for three days, after that, there are three account types, basic for $29/month, Shopify for $79/month, and advanced for $299/month.
Then, you need to pay 2.9% + $0.30 transaction charges on all sales.
---
21. eBay
eBay is an online marketplace that can be used to sell anything, including your used old furniture.
They have a huge number of sellers and buyers, so there is an opportunity for everyone.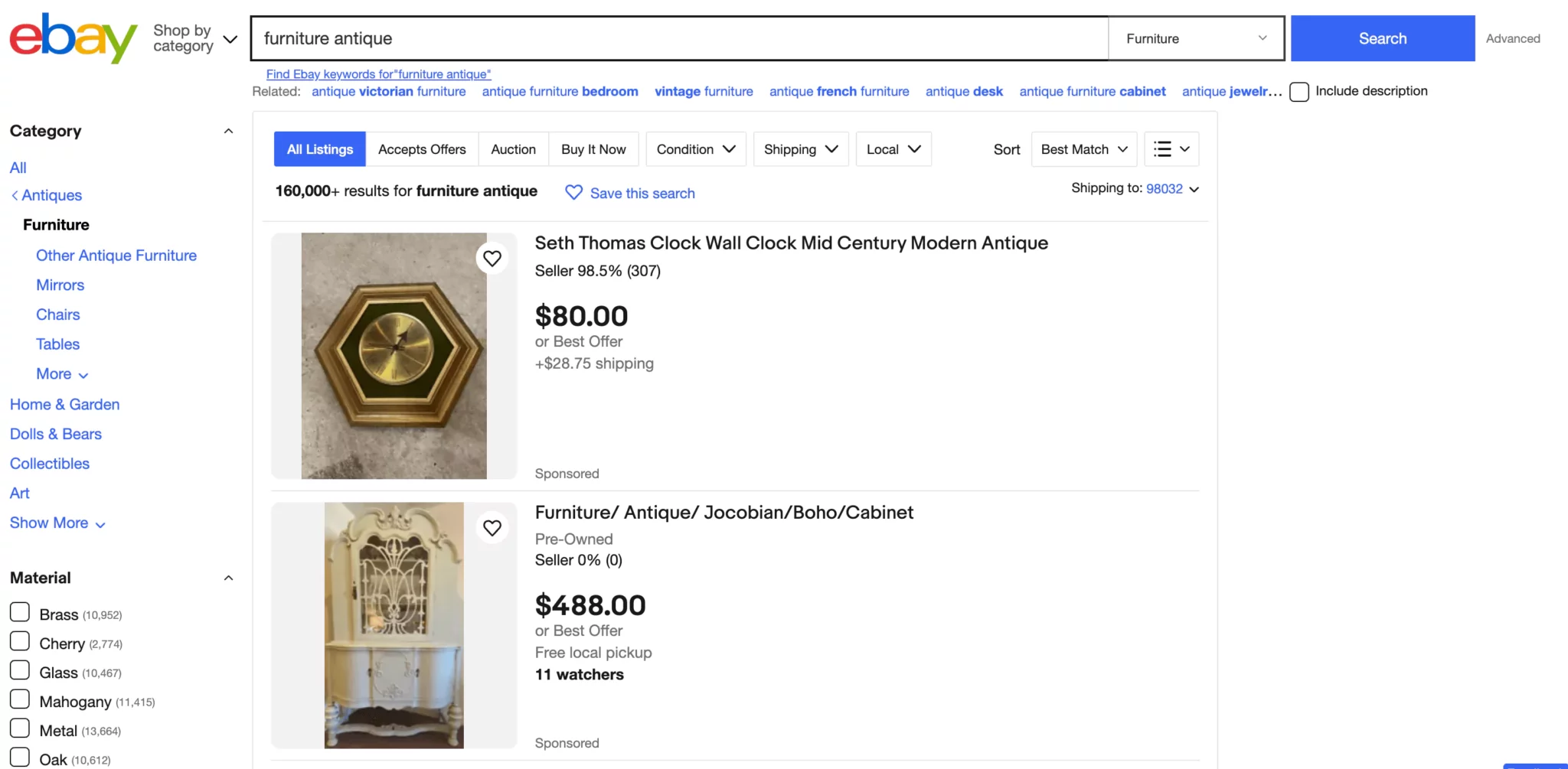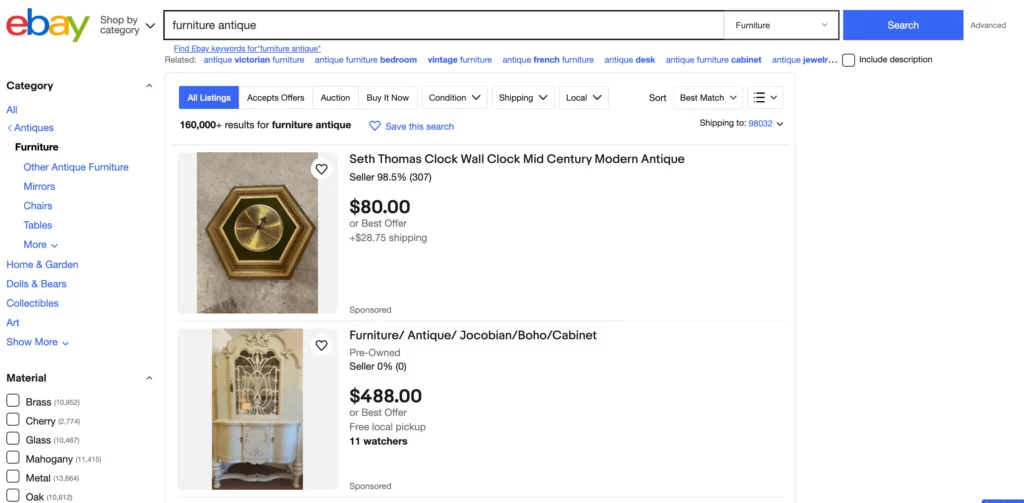 Make sure you make a great listing with very good images and all descriptions so that your listing can stand out among the sea of products.
Once someone buys your gently used furniture, you need to ship the item within the stipulated timeframe.
Charges: Listing is free up to 250 insertions, and after that, you need to pay $0.35 per listing. When you make a sale, you pay 12.9% plus $0.30 commission to eBay.
Useful Tips For Selling Used Furniture
If you take care of a few things you can get more bills for your furniture.
Professional Level Pictures
Images make all the difference. If you have good-quality images, they will attract more people to visit your listing, which increases the chance of a sale.
So make sure you take images in good lighting from different angles.
Most platform allows uploading multiple images, so take multiple images and use them to your advantage.
Clean or Make Required Repairs
If your piece is looking shabby, no one is going to be interested in buying it.
On the other hand if you can make look clean and like a new one, you can get top dollar.
Polish or paint the old furniture if required. You can also make minor repairs in case of any small damages. Small defects can dramatically decrease the price.
If you can repair them, try to do that before listing.
Give All The Details
When selling something online, make sure buyer have all the information they need to make a decision.
Include all the details like when the furniture was made and what kind of woof is used.
If there is any story, like it was passed on from your older generations, mention that. Such things invoke an emotional response and help make a buying decision.
Tell about any wear and tear or stains. Try to include pictures of such things so that buyer is not disappointed when they see them and return the package.
Price Wisely
Take the help of professionals at the websites mentioned above to find the right price for your item.
If you have rare or unique items, it is very difficult to gauge their price by yourself.
Take the help of people who do this regularly, and they will compare your furniture with others in the market and help you decide the right price.
If you are selling commonplace furniture, keep some room for negotiations, as people love discounts.
Declutter Your Home And Get Some Cash In Your Wallet
These websites offer you a chance to clear out your unwanted furniture and get some cash for that. Double win!
If you have been thinking for a long time about what to do with that couch, you no longer like to spend time on, use these furniture-selling websites and get some cash for the down payment on the next couch you want.
You can also start the side hustle of flipping used furniture to create an additional income stream.
Here are more ways to make money: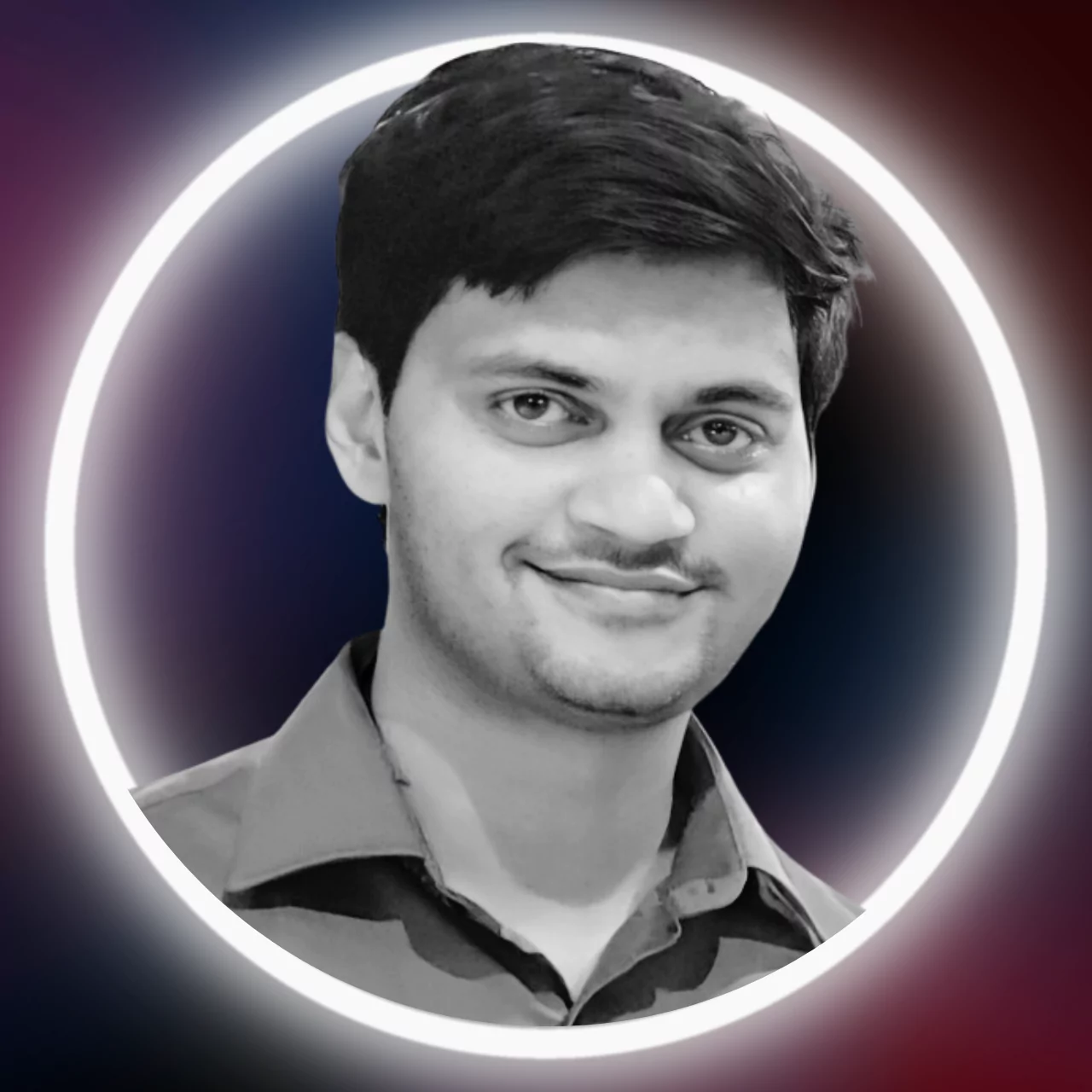 Sumeet is a Certified Financial Education Instructor℠ (CFEI®) and founder of MoneyFromSideHustle. He is an experienced side hustler who replaced his full-time income with side hustles. His work has been quoted on major finance websites like CNBC, Yahoo! Finance, GOBankingRates, CEOBlogNation, SideHustleNation, and more. He has helped thousands of people find side hustles and is here to help you find your extra source of income. More about him.