This post may contain affiliate links from which I may earn a commission without any cost to you. Read our policy for details.
Thinking about driving for DoorDash? You're not alone. Many people are looking for flexible ways to earn extra cash.
Whether you're trying to pay off debt, save for a vacation, or want a little financial breathing room, side hustles like DoorDash can seem attractive.
But burning questions remain: what is DoorDash, and how does it operate? Is DoorDash worth it, and what are its perks and downsides? Is it worth doing as a side job?
That's what we're going to explore today.
We'll look at busy times, how DoorDash pays, and factors like gas and taxes. So, buckle up, and let's dive into this Doordash review.
What Is DoorDash
DoorDash is an online platform for ordering and delivering food.
It lets people check out menus, ratings, and reviews of various nearby restaurants and shops and place orders using the DoorDash app.
They can also follow orders in real-time and chat with the delivery person, or "Dasher", through the app.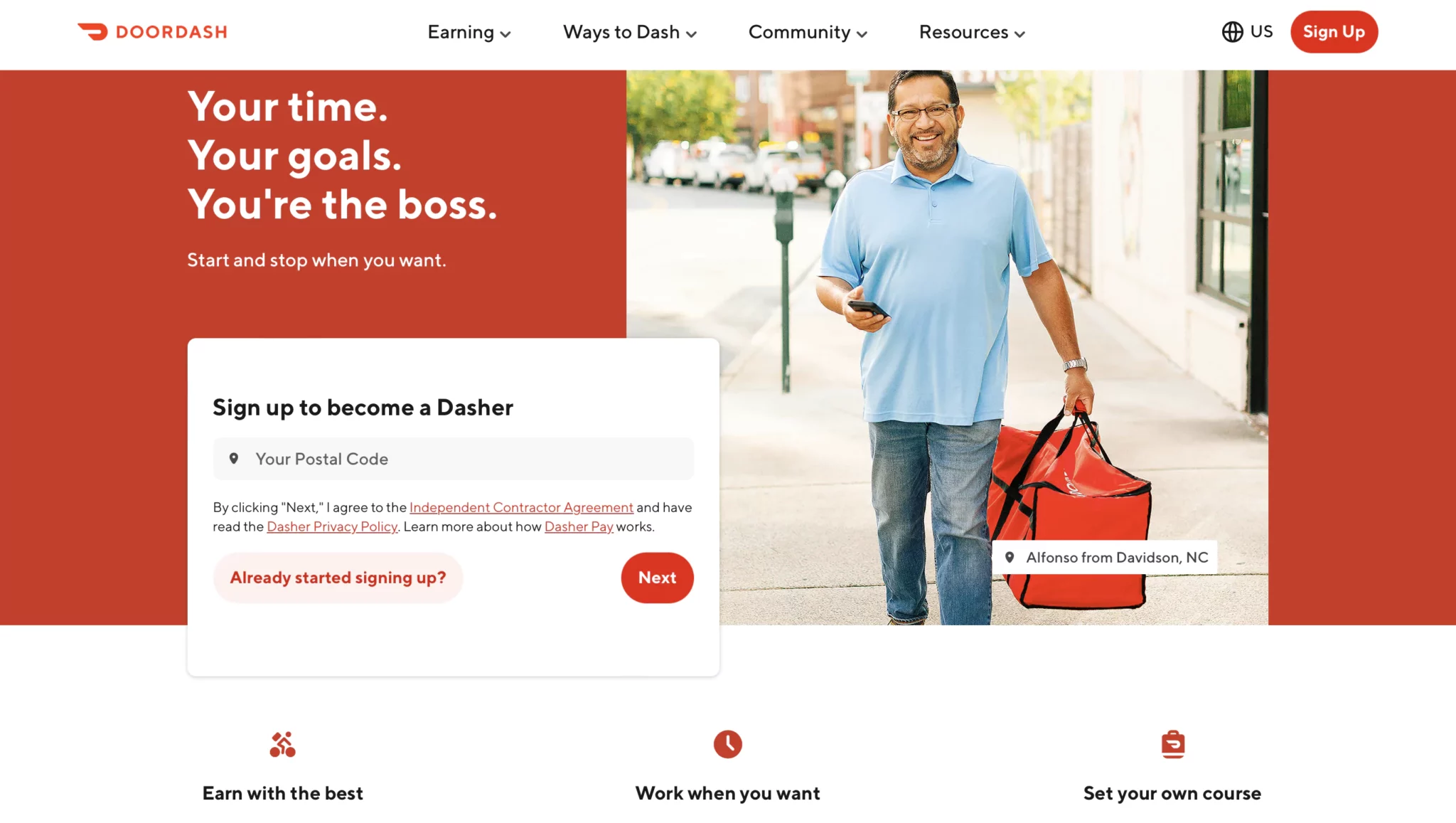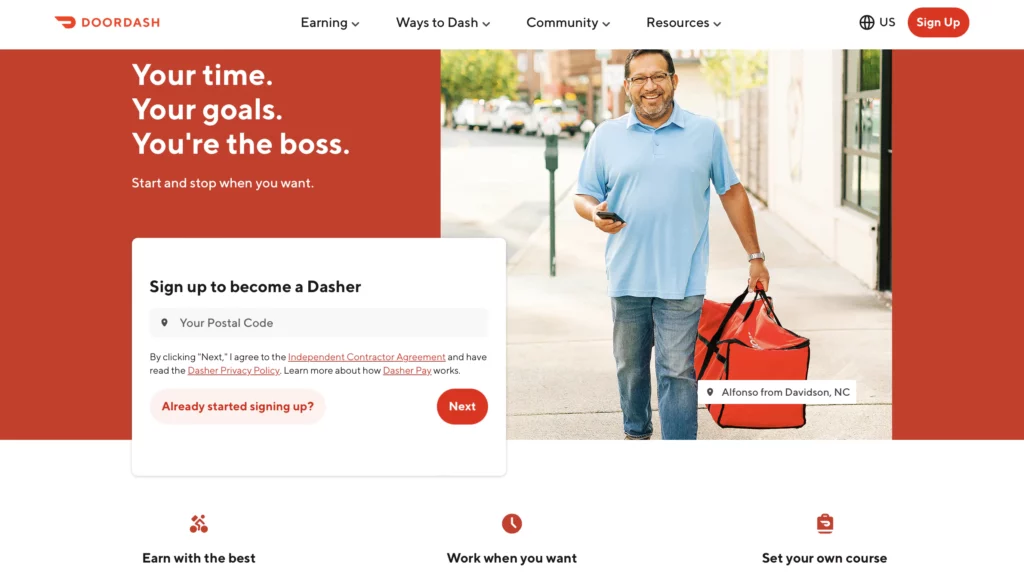 DoorDash operates in over 7,000 US cities across all 50 states. It's also present in over 80 Canadian cities and in Melbourne, Australia, and New Zealand.
It delivers from a broad array of cuisines and categories, like pizza, sushi, Chinese, Indian, and vegan, to name a few.
DoorDash even delivers groceries, pet supplies, and other items from local stores.
As a customer, you pay a delivery fee (which changes based on distance and demand), a service fee (a percentage of the subtotal), and sometimes a small order fee (if the order is less than a certain amount). You can also tip your Dasher via the app or in cash.
DoorDash pays Dashers a base pay plus any tips they get from customers. They can also earn extra money from promotions and challenges that DoorDash offers.
History of Doordash
DoorDash's journey started in 2013, by four students from Stanford University. They had the idea from personal experiences and feedback from local business owners who struggled with deliveries.
DoorDash received seed funding of $120,000 in 2013 from Y Combinator, a leading startup accelerator program, and changed its name to DoorDash.
They expanded to cities in the Bay Area and partnered with large-scale fast-food brands like Taco Bell and Dunkin' Donuts.
In the following years, they received multiple rounds of funding and expanded to various cities in the US and even other countries like Australia and NewZealand.
They also made some acquisitions, like Square's food delivery service Caviar for $410 million, Chowbotics, a maker of salad-making robots, and Wolt, a Finnish food delivery company.
What in for Dashers
In 2023, the United States has over 2 million Dashers. They are independent contractors who have the freedom to set their own hours, working as much or as little as they desire.
Earnings for Dashers include a base pay for each delivery they complete, coupled with the full amount of the customer's tip.
Additionally, during times when demand is high, Dashers have the opportunity to boost their earnings with Peak Pay bonuses.
Simple and flexible, Dashing offers an appealing way to generate income on your own terms.
So, is DoorDash worth it after taxes and gas? Does DoorDash pay hourly, and how much does it pay per hour? As a Dasher, these might be some questions on your mind. All these questions will be answered below as you get to know DoorDash better and decide if it fits your needs.
How to Become a Dasher
If you want to join Doordash and start Dashing, you need to be at least 18 years of age. You must also have a car, scooter, or bicycle (in select cities). Here's how you can join DoorDash:
Visit the Dasher sign-up site. Make an account and give them your details – name, email, phone number, birth date, driver's license number, and Social Security number (for U.S. residents only).
Agree to a motor vehicle and background check. DoorDash will check your driving record and criminal history to see if you're good to go. They'll let you know by email in a few days.
You'll get your Dasher kit after passing the checks. It's got a food warming bag, a red card (a prepaid debit card to pay for some orders), hand sanitizer, and a mask.
Link your red card to your Dasher account and put in your bank info to get paid.
Download the Dasher app and log in. It works on Android and iOS devices.
Start dashing! You get to pick when and where you work, and how much, by choosing a zone and taking or turning down orders.
What It's Like For Dashers to Work For DoorDash
DoorDash lets you work on your schedule, picking up and delivering local restaurant orders. Here's how it goes:
Open the Dasher app and tap "Dash Now" or plan a dash for later. You'll see a map of your area with different zones. Each zone has different levels of demand and pay. If there are enough dashers in your area, you won't be able to "Dash Now", that is why it's always a good idea to schedule your work.
Pick a zone and wait for delivery jobs. You'll get a phone alert when there's an order you can accept or pass in 45 seconds. It shows the restaurant name, location, distance, where you're delivering, the estimated time, and what you'll earn.
Take the order and follow the instructions to drive to the restaurant and confirm on the app. Pick up the food, update it on the app, and deliver it using app navigation.
Complete the delivery and mark it done in the app. Follow the customer's directions for contactless or in-person delivery. You can get in touch with the customer or DoorDash support if you run into problems or have questions.
Make money! Your earnings for each delivery go into your Dasher account. You can get your money daily with Fast Pay or weekly with direct deposit.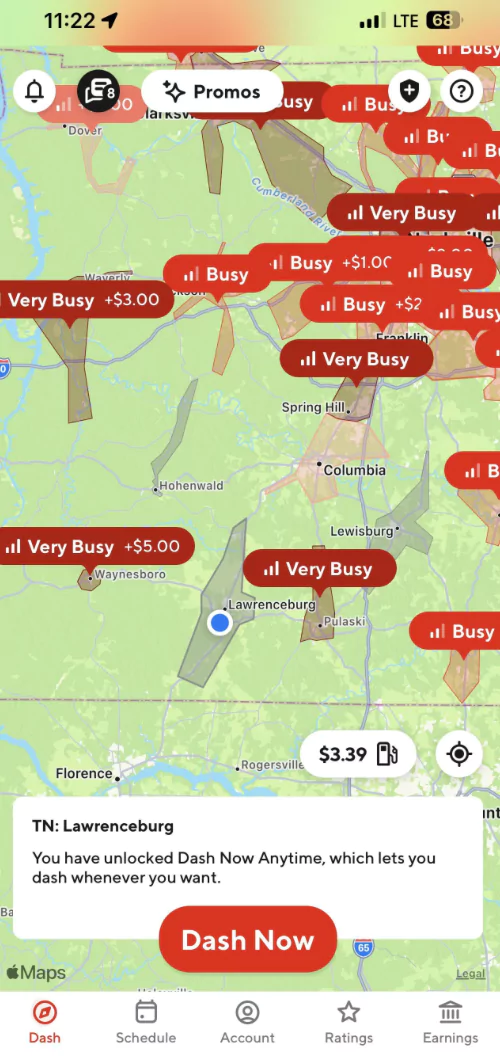 If the customer isn't around, you need to call or text them via the DoorDash app. If there is no answer, you can flag them as 'unavailable' in the app to start a timer, and if they still don't respond and the order isn't 'return if undelivered,' leave the food in a safe spot.
But make sure to take a photo and update it in the app. Don't take the food or fail to document this, or you might lose your job.
Shop and Deliver orders
You can earn more on average with Shop & Deliver compared to a regular delivery when you shop. With Shop & Deliver, customers order from grocery, convenience, or retail stores. You do the shopping, pay with the red card, and deliver straight to their door. You don't have to wait around for restaurants to prepare the order, so you can work faster.
Note: Every month, on the first day, Dashers who do well can join the Top Dasher Program. Here, they get a special 'Dash Now' button in the app they can use any time, day or night, which means they don't have to schedule their work in advance.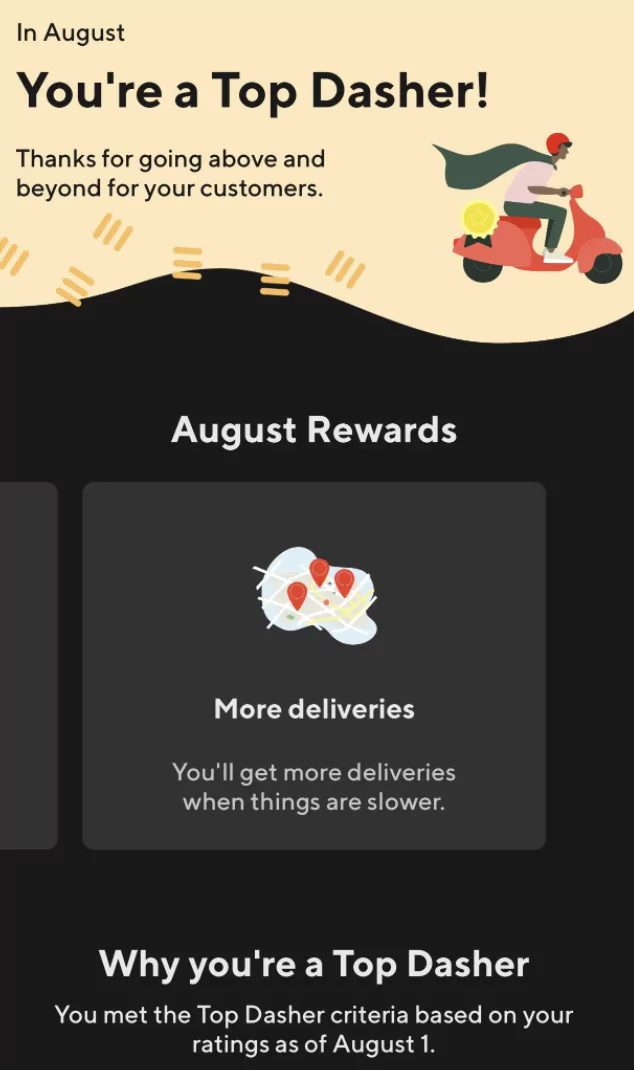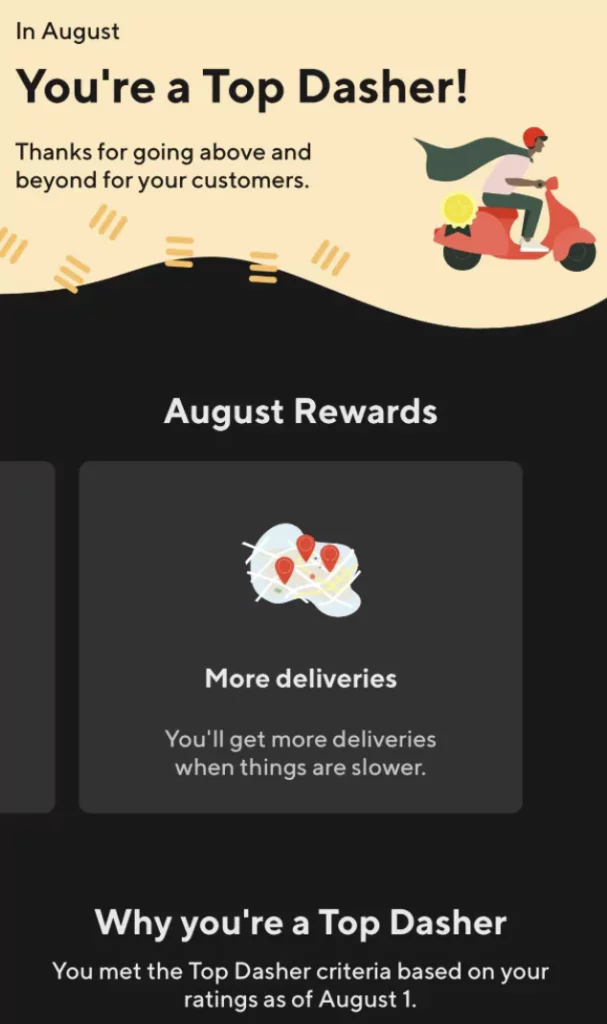 The DoorDash App
The DoorDash app is your key tool for delivering with DoorDash. Here's what you can do with it:
Home screen: Check your current status, earnings, ratings, challenges, deals, and alerts.
Map screen: View your location, nearby zones, hot spots, restaurants, customers, and traffic.
Order screen: Get the details of an order before you take or reject it.
Delivery screen: Find instructions for picking up and delivering an order.
Navigation screen: Use the app's navigation feature or switch to your favorite GPS app.
Menu screen: Access your profile, settings, help center, referrals, rewards, dasher store, and more.
The app is made to help your delivery experience be as smooth and fast as possible.
You can use it to find orders you like, track your performance and earnings, get help when needed, and make the most of DoorDash's perks.
If you're ready to make money by delivering food with DoorDash, sign up and download the app! Remember to consider factors like "Is DoorDash worth it after taxes" or "Is DoorDash worth it after gas". You can use many Doordash hacks and tricks to boost your earnings.
Making Money with DoorDash
You need to look at the earning potential of the app to answer the question, is DoorDash worth it as a side job?
Let's dive into how the DoorDash payment system works, how much DoorDash pays per delivery, and when you get paid.
How Does DoorDash Pay?
DoorDash's pay model has three parts:
The base pay is what DoorDash pays you for each order you accept and deliver. This can range from $2 to $10 or more per delivery, depending on the delivery's estimated time, distance, and popularity.
Promotions are extra incentives DoorDash offers to motivate drivers to do more deliveries during peak hours or in specific areas.
These include peak pay and challenges.
Peak pay is extra money DoorDash adds to each order during high-demand times. Challenges reward drivers for completing a certain number of deliveries within a timeframe or meeting other goals.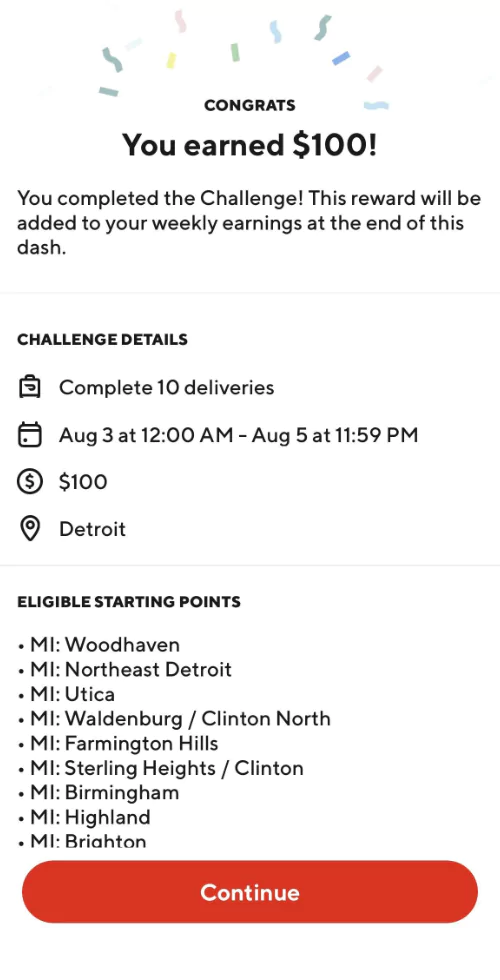 Tips are the extra money customers give you for your service. These can be given before or after the delivery through the app or in cash.
You get to keep all of the tips you receive from customers. The amount can depend on the order size, how well you do your job, and the customer's generosity.
Note:
DoorDash is trying a new model of Earn by Time in a few markets. This model guarantees Dashers an hourly rate, typically between $10 and $15, plus all tips.
But Dashers must accept every offer, limiting their choice in deliveries.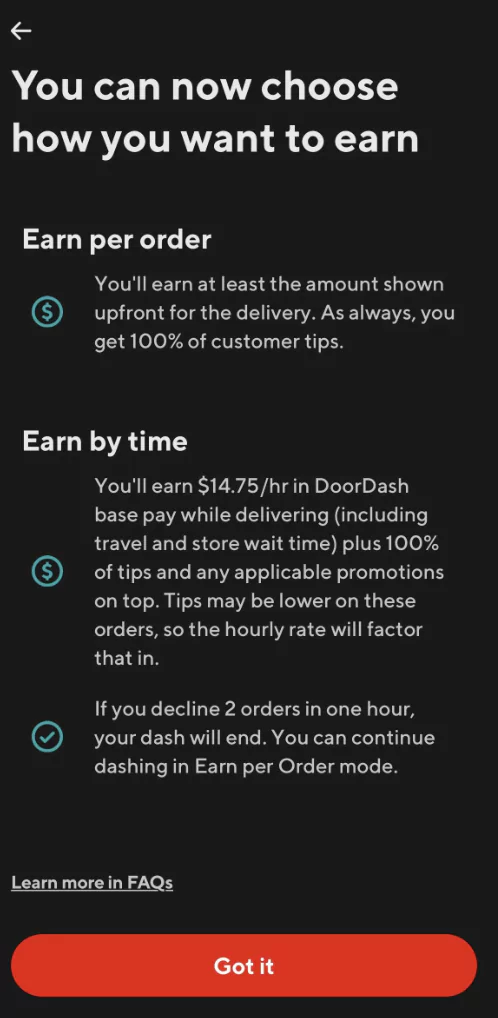 To be eligible for the hourly rate, Dashers must be active for at least 30 minutes. Though Dashers can unassign one order in an hour, they can continue to accept pay per order if they reject two orders in an hour. This mode is only available only in a few markets as of now.
How Much Does DoorDash Pay?
So, how much does DoorDash pay per hour? DoorDash claims drivers can earn about $25 per hour on average.
However, this can vary based on your location, demand, and more. Also, how much you make relies on the number of orders you deliver, the distance you travel, customer tips, and available promotions.
Reports suggest that DoorDash drivers average roughly $15 to $25 an hour. But, earnings can be more or less depending on your experience, efficiency, and a little bit of luck.
When Do You Get Paid?
DoorDash pays its drivers every week through direct deposit. The payment cycle starts on Monday and ends on Sunday of the previous week.
This means you get paid on Monday for all the deliveries you completed from Monday to Sunday the previous week.
However, it can take a couple of days for the money to show up in your account.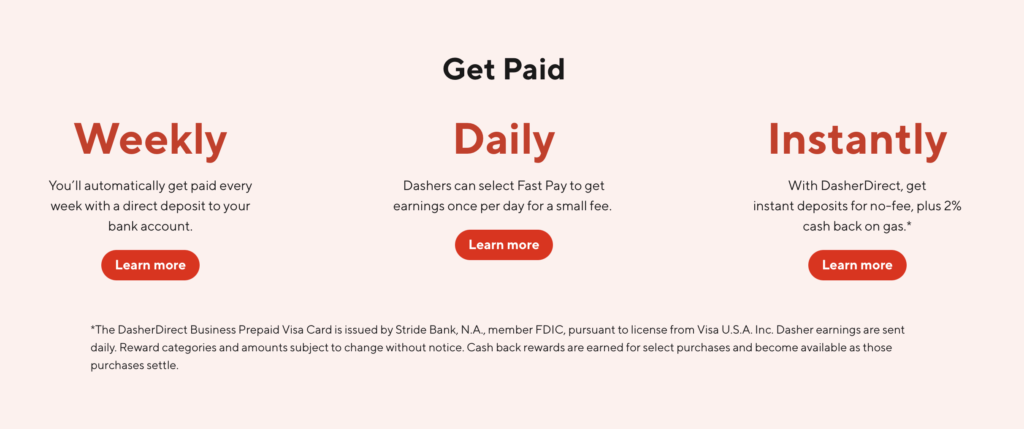 Want to get paid faster? You can use the Fast Pay feature. For a small fee of $1.99, Fast Pay lets you cash out your earnings daily instead of waiting for your weekly payment.
To use Fast Pay, you need to have a debit card linked to your account, have done at least 25 deliveries, and have been active on DoorDash for at least two weeks.
Another way to get paid quickly is DasherDirect. A prepaid Visa card lets US drivers get their earnings after each delivery. The money will be in your DasherDirect account within a couple of hours, free of charge.
To use DasherDirect, you need to sign up for the program and activate your card. With a DasherDirect card, you also get 2% cashback on gas.
Is DoorDash Worth It?
In my opinion, if you are looking for a way to make cash on the side, DoorDash is a good hustle that will at least make you more than minimum wage.
Unless you have something better to do that pays higher, Dashing is a good option for many people to bring home dough.
You can make $20 per hour Dashing in most markets. If you are in a good place and use the right approach, you can even average $25 to $30 per hour as this Dasher does.

However, everyone's circumstances and expectations vary. To answer is DoorDash worth it after taxes and gas? there are important considerations to make. Your decision will ultimately depend on your specific situation and your experience using the app.
Let's break it down and see if it's your right side job.
The Money: Can It Pay the Bills?
Many people turn to DoorDash to earn extra cash. But, how much can you make as a Dasher? DoorDash says that Dashers typically make $25 per hour.
But this could change depending on where you live, when you work, and your customer ratings. Some Dashers say they can make up to $15 per hour, and a few say they make $25 or more in busy times or high-demand areas.
According to Indeed, Dashers make $15.92/hour and $16/hour, according to ZipRecruiter, ranging from $10 to $20.
Tips also add to a Dasher's earnings. Customers can tip in the app or in cash when they get their orders.
DoorDash guarantees that all tips go straight to the Dasher. However, not all customers tip and this can affect how much a Dasher makes.
Many users report making $20 or more with the right strategy.

There are also costs involved with being a Dasher. You need a reliable car, a smartphone, and a valid driver's license and insurance.
To make money as a Dasher, you must keep your expenses in check and follow the best DoorDash practices. You can do this by working at peak times and places, taking orders that make sense for your time and gas, and keeping your customer rating high.
The Time: Can You Choose When to Work?
Another reason people sign up for DoorDash is the ability to work when and where they want. Unlike regular jobs with set hours and locations, DoorDash lets you choose your own schedule and delivery areas.
To start as a Dasher, sign up on the DoorDash website or app, pass a background check, and get an activation kit. Once set up, you can see delivery zones and pick your shifts. You can also "dash now" if slots are available.
The app shows estimated time and distance for each order, along with base pay and possible tip. You can take or leave orders as you like.
You can also pause or stop your shift anytime.
So, being a Dasher can be a flexible side job. You can work around your other commitments like school or family. You can work part-time or full-time, depending on what you need.
The Car: Can It Handle the Miles?
A downside of being a Dasher is the extra miles on your car. This can mean more upkeep, repair, and replacement costs. Plus, you'll be dealing with traffic, parking, and the risks of driving.
You'll pay for gas, car upkeep, parking, tolls, and taxes. Dasher's estimate puts the average drive cost for DoorDash at about $0.30 per mile. This means if you drive 100 miles per day, it could cost you $30.

But, these costs can change depending on your car's type, age, condition, mileage, and where you live. For example, a new hybrid car in good shape might cost less than an old, beat-up SUV.
To keep your car in good shape, pick a suitable vehicle for deliveries, maintain it well, drive safely, and track your expenses for tax purposes. Dashers can also use tools like CarAdvise for discounts on car services and repairs.
The Balance: Can You Keep It Up?
Being a Dasher also means keeping a healthy work-life balance. While the flexibility can be great, it can also be stressful.
Long hours, variable income, customer complaints, and app glitches can wear you down. You may find less time for family, friends, hobbies, and self-care.
A Comparably survey shows that 69% of DoorDash workers are happy with their work-life balance, while 33% feel burnt out.
Here are thoughts of a few Dashers.

To keep a good work-life balance as a Dasher, set realistic goals, manage your time and money wisely, take care of your health, set boundaries, and seek support when needed.
Dashers can also use Headspace, which offers free meditation and mindfulness courses.
Other's DoorDash Reviews
Thinking about joining DoorDash as a driver? It's a good idea to first see what other drivers have to say about it.
Here's what we found after collecting feedback from people who have worked with DoorDash.
The Good Part
A lot of drivers really enjoy working with DoorDash. They love the fact that they can pick their own working hours and make some extra bucks when they want to.
Here's what some happy drivers said:
"Thursday thru Sunday inside 14 hours total I made about 440 bucks. Breaks down to about $25/hr after fuel costs and taxes owed. If you have an economical car and a lot of hotspots in the area give it a shot. Try dashing on the side first and see how profitable it is for you. All areas are different." – Typh00nYTG
"Working 40 hours I usually make $800 – $850. You'll need to get used to working nights and weekends to make the best money. Learn how to do basic car maintenance if you don't already know. Bad weather is good for business, be ready to pick up shifts to make some good money quickly. I've been completely self employed for a year now and I love it." – RoastDerp
"Fellow introvert. Delivery jobs or night shift jobs are the only jobs I tolerate well. Doordash is a great job for introverts. Pays around 20 on average per hour. Can't think of a better 15-20 dollar job than doordash honestly." – WishIWasNeet2
Here are a few screenshots:


If you want to watch a video, here are some good actionable tips by a dasher that help him earn around $2k a week.
Below is one take-home message I want to give you from all this research: Be informed about all the tips and tricks and best practices, but these tips can come from different markets than yours and may or may not work for you, so take them with a grain of salt.
As put in beautifully by this experienced dasher.
"I've done 7,300 deliveries in the last 2 and a half years, and what I've come to realize is that the business is drastically different when comparing urban/metro areas to the suburbs. Variations in population and order density requires that you change your strategy based on where you are. Advice you hear may be from someone who does it in a different type of area, so don't be surprised if you don't get the same results."- @atalleywak
The Not-So-Good Part
But not every driver has a great time with DoorDash. Some of them complain about low earnings, high costs, poor customer service, and unfair ratings.
They also deal with issues like traffic, finding parking, bad weather, and safety.
Here's what some unhappy drivers had to say:
"The pandemic days are long gone, so you won't be making that $25-$35/hr (before expenses) that used to be possible. Not only that, the market is completely oversaturated with drivers now, which will also affect how much downtime you're getting between orders. In a mid-tier area, you could probably make at least $500 per week if you're working 20-30 hours." – Beckysayss
"This was a good gig before covid. Now my area is a mess. Lack of orders. But mainly all restaurants are in chaos. Chipotle just now couldn't understand the order the customer placed ." – MrSh0wtime3
"Less money, more lying customers, nasty restaurant employees. No guarantee to make anything. Many people struggle to get $100 a day." – Jcoddinc
"It's not worth it in my area anymore. Far too inconsistent. I got a job at a restaurant and I'm a lot happier. I lived off Doordash and GrubHub for five years. Just can't do it now." – Abject_Pineapple_384

Many folks seem to find it worthwhile, as indicated by the "Is DoorDash worth it Reddit" discussions, despite app glitches and low earnings compared to covid time. But many people prefer to multi-app Doordash along with Uber-eats and AmazonFlex to get better opportunities.
Weighing the Pros and Cons of DoorDash
From these reviews, it's clear that DoorDash has its ups and downs. Here are some of the main things to consider if you're thinking about becoming a Dasher.
Good Points about DoorDash
Flexibility: You can choose your work hours.
Ease of Use: The app helps you take orders, find routes, and keep track of earnings.
Support: You can access online guides, training videos, and chat support.
Rewards: You can get incentives, bonuses, and promotions.
Community: You can be part of local groups and events for Dashers.
Bad Points about DoorDash
Costs: You need to pay for things like gas, car upkeep, insurance, and taxes.
Competition: You might have to fight for orders with other drivers, especially during busy times.
Uncertainty: There's no guarantee on how much you'll earn or how many orders you'll get.
Ratings: If your customer rating falls, you could lose the job.
Complaints: You'll have to handle issues like missing items, wrong orders, late deliveries, and unhappy customers.
Risks: You might deal with problems like traffic accidents, bad weather, parking tickets, or unsafe areas.
Working with DoorDash can be a good or a bad experience, depending on what you're looking for. Before you decide to become a Dasher, understand the good and bad sides of the job and think if it's worth it for you.
DoorDash Driver Tips
Want to earn more as a DoorDash driver? Here are some tips that can help you earn more on DoorDash:
Deliver when it's busy. More people want food around lunch, dinner, weekends, and holidays. The app can show you hot spots, or places with a lot of orders. You can plan your shifts ahead of time for when it's busiest.
Boost your tips. Tips are a big part of your DoorDash income. You can get bigger tips by giving great service. Be nice and talk to the customer if there's a delay or problem. Follow their delivery instructions. Use bags that keep the food fresh and warm.
Make more with Peak Pay. When lots of people want food, and there aren't many drivers, DoorDash offers a bonus called Peak Pay. The app shows you how much Peak Pay is and when it's available. You get Peak Pay on top of your regular pay and tips for each eligible order.
Multi-app to earn more. Use other delivery apps like Amazon Flex or Instacart to get more options so you can cherry-pick the best orders that pay well for your time. However, multi-apping has a learning curve, and it takes some time to get used to it.

DoorDash Alternatives
What if DoorDash isn't for you? There are other food delivery jobs to try:
UberEats
Uber Eats is Uber's food delivery service. You can deliver food and drive passengers in the same app. This makes things flexible. Uber Eats has lots of restaurants and customers, and it's often faster and cheaper than DoorDash. But there's more competition among drivers.
Postmates
Postmates doesn't just deliver food. They deliver groceries, alcohol, and other stuff from local shops. You can deliver it if it fits in your car, bike, or scooter. This makes Postmates more versatile than DoorDash. Postmates also has a cheaper flat delivery fee of $0.99-$3.99. But, there might be fewer orders than DoorDash, and they might not offer as many bonuses.
Grubhub
Grubhub is one of the US's biggest and oldest food delivery services. It has a wide variety of restaurants and food types. They also have a loyalty program with perks and discounts. But Grubhub might pay less than DoorDash.
Instacart
If you want to deliver groceries rather than food, you can choose to use Instacart. You can become a grocery shopper or do grocery delivery. In a few areas, Instacart might have more work than the food delivery apps so it can be worth a try.
These are just a few other delivery app options to DoorDash. You might want to try them out to see what works best for you.
Each one has its good and bad points. You should look into them and compare them before signing up.
You can multi-apping to benefit from all the platforms and never face downtime waiting for the next ping.
Final Words On DoorDash Review
So, is DoorDash worth it as a side job? Well, it depends on several factors. Factors like your location, the time you drive, and your expenses all play a part in your potential earnings.
This DoorDash review has given you a broad overview, but it's crucial to do your own maths and try out the app to figure out if this side hustle can work for you.
Take into account your circumstances, your goals, and how much time you are willing to invest. You may find that DoorDash, despite its challenges, could be a fruitful venture for you.
As put in by this Dasher, in simple words, it's worth it for many and not for others. You need to try to figure it out for your situation.

FAQs
How to make $500 a week with Doordash?
To make $500 a week with Doordash, you'd need to work about 33 hours a week, if you make $15 an hour. But this can change as your pay can go up or down based on the things I talked about before.
Want to make $500 a week or more with Doordash? Try these tips:
Only take the orders that pay well. Look for orders that pay at least $1 per mile and could get a big tip.
Work when it's busiest. This is usually during lunch and dinner, weekends, holidays, and special events. You could also earn extra money for certain deliveries if you use peak pay and challenges.
Work with other delivery apps like Uber Eats, Grubhub, or Postmates too. That way, you can choose the offers that pay the most.
Keep track of how far you drive and your expenses for tax breaks. Apps like Stride or Everlance can help with this.
Give good customer service and talk to your customers. This can help you get better ratings and more tips.
Here is a screenshot of Dasher making over $500 a week.
How much do Doordash drivers get paid?
Doordash drivers earn from $15 to $25 per hour based on many factors like market, delivery time, etc. Drivers get paid based on three things: base pay, tips, and promotions. The base pay is what Doordash gives for each order. It's usually between $2 to $10 or more, depending on the order's time, distance, and desirability. Tips are all yours and come on top of the base pay. Promotions are extra incentives that can change based on the market and time of day, like peak pay and challenges.
What's better Uber Eats or Doordash?
Both Uber Eats and Doordash have good and bad points for drivers. Uber Eats is available in more places worldwide and works with more restaurants and stores than Doordash.
But, Doordash has over twice as many orders and customers in the US. Here are some of the main differences between Uber Eats and Doordash:
Uber Eats pays drivers based only on time and distance, while Doordash pays drivers based on time, distance, and desirability.
Uber Eats offers more promotions like surge pricing, quests, boosts, and referrals than Doordash.
Does Uber Eats pay more than Doordash?
There isn't a clear answer to this question, as both platforms have different pay structures and variables that affect driver earnings. The best way to find out which platform pays more is to try both and compare your results. It's possible to earn $1000 a week with Uber Eats, but so is with Doordash, but they may have varied earning potential in the same market.
Can you make $100 a day with Doordash?
Yes, you can make $100 a day with Doordash, but it might not be consistent. To make $100 a day with Doordash, you would need to work 6 to 7 hours a day, assuming an average of $15 per hour. However, this number can vary depending on the factors mentioned above. To increase your chances of making $100 a day or more with Doordash, you should follow some of the tips mentioned earlier.
Does Doordash pay daily?
Yes, Doordash does pay daily, but only if you choose fast pay or DasherDirect. Fast pay is a feature that lets drivers take out their earnings once per day for a $1.99 fee. DasherDirect is a prepaid card that offers instant deposits for no fee and 2% cash back on gas. Both options need drivers to have at least $5 in their account and to have completed at least 25 deliveries and two weeks of activity on the platform.
How many Doordash deliveries per hour?
The number of Doordash deliveries per hour depends on many things. How far the restaurant is from the customer, the traffic, how long the order takes to prepare, and how many orders are available all matter. On average, most drivers say they do two to three deliveries per hour. But this can change. Some drivers might do four or more deliveries per hour, while others might do only one or none.
What is the busiest time for DoorDash?
If you ask, "When is DoorDash most busy?" The answer is usually at mealtimes. This is generally between 11 in the morning and 2 in the afternoon and from 5 in the evening till nine at night. But also depends on the place and the day. Weekends can be busier than weekdays. Holidays may be even busier than normal days. If you're curious, the DoorDash app will show you when there's high demand in your area.
Does DoorDash pay hourly?
Now, if you're wondering, "Does DoorDash pay hourly?", the answer is no. DoorDash doesn't pay by the hour. They pay you for each delivery. Some drivers like to work out their own hourly rates. They do this by dividing what they earn by how many hours they work. This helps them see how they're doing and what they aim to make.
As per Gridwise, the average Doordash driver makes about $15 an hour before they take out costs. But this isn't the same for everyone. How much DoorDash pays can change a lot. Some drivers report making as much as $25 an hour or more. Others find it hard to even make minimum wage.
This brings up the question "Is DoorDash worth it after taxes?" or "Is DoorDash worth it after gas?" Well, you need to take these costs into account when figuring out "how much does DoorDash pay per hour". Remember, they don't cover these expenses. You need to pay for gas, and you also need to save some money for tax time.
You can find a lot of "DoorDash review" posts and "Is DoorDash worth it Reddit" discussions online. There, you can hear directly from drivers about their experience, which can help you decide if DoorDash is a good side hustle for you.
Doordash Review
Earning Potential

Earning Opportunities

Ease of Use

Eligibility

Support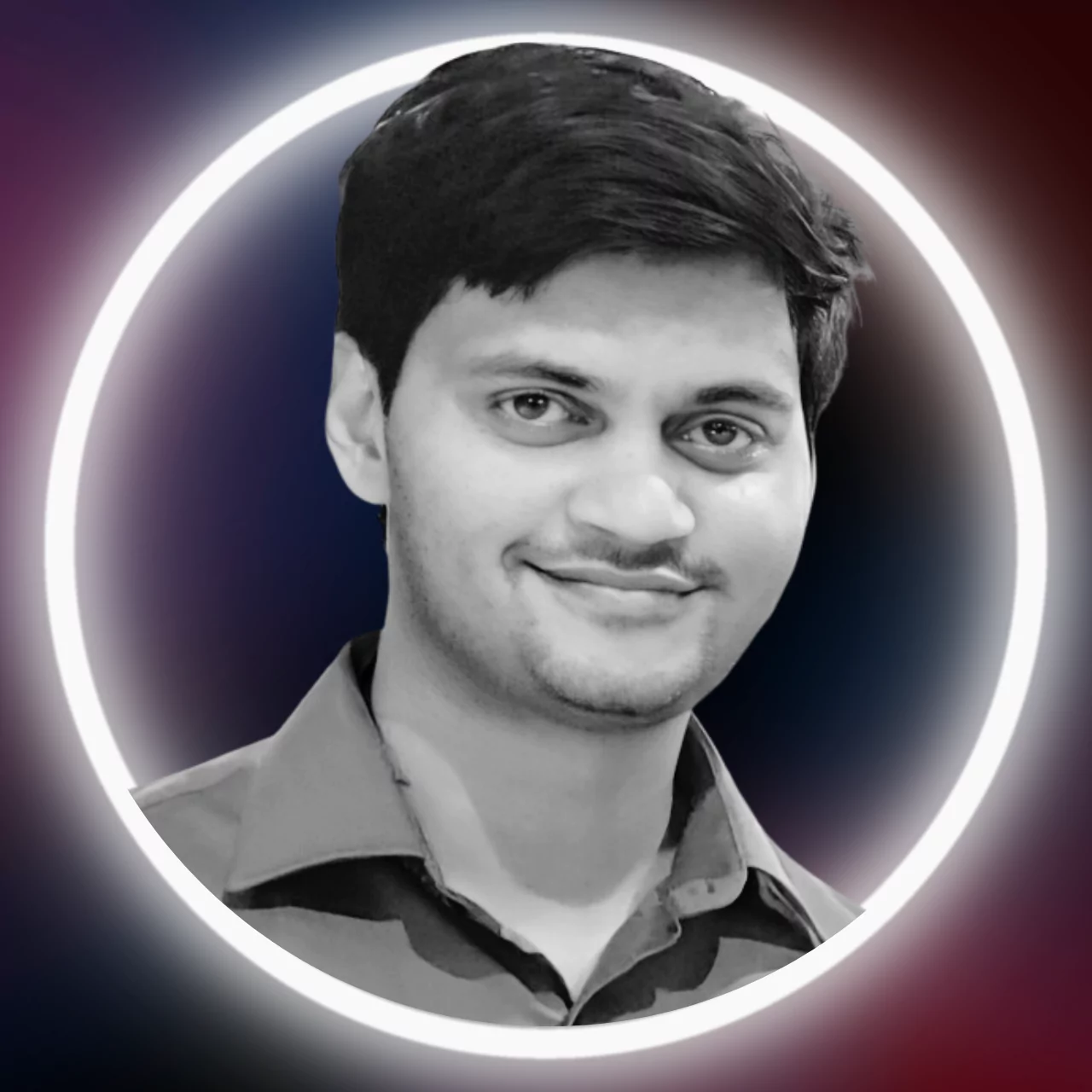 Sumeet is a Certified Financial Education Instructor℠ (CFEI®) and founder of MoneyFromSideHustle. He is an experienced side hustler who replaced his full-time income with side hustles. His work has been quoted on major finance websites like CNBC, Yahoo! Finance, GOBankingRates, CEOBlogNation, SideHustleNation, and more. He has helped thousands of people find side hustles and is here to help you find your extra source of income. More about him.