This post may contain affiliate links from which I may earn a commission without any cost to you. Read our policy for details.
Are you a DoorDash user or a DoorDash delivery driver? Want to know how to DoorDash and make more money? How about getting free food? You've come to the right place for DoorDash hacks.
DoorDash is more than a food delivery service. It's a way for a DoorDash driver to earn extra cash. Or save on your favorite meals using DoorDash tips and tricks.
But how can you make the most of it? You might be missing out on dasher tips and strategies. Little secrets that can help you on how to make the most money on DoorDash.
In this article, we'll explore 19 fantastic DoorDash hacks. These tips for DoorDash will help you save money as a user. They'll help you make money as a Dasher.
Get ready to unlock the DoorDash potential. It's time to make the most of your food delivery experience with these DoorDash strategies.
Let's dive in!
Best DoorDash Driver Hacks
1. Apply for DasherDirect
Are you thinking about how to make the most money on Doordash? The first step to boosting your earnings is to apply for DasherDirect.
What is DasherDirect? It's a special card for DoorDash delivery drivers. You get your money faster, and it makes tracking your earnings a breeze.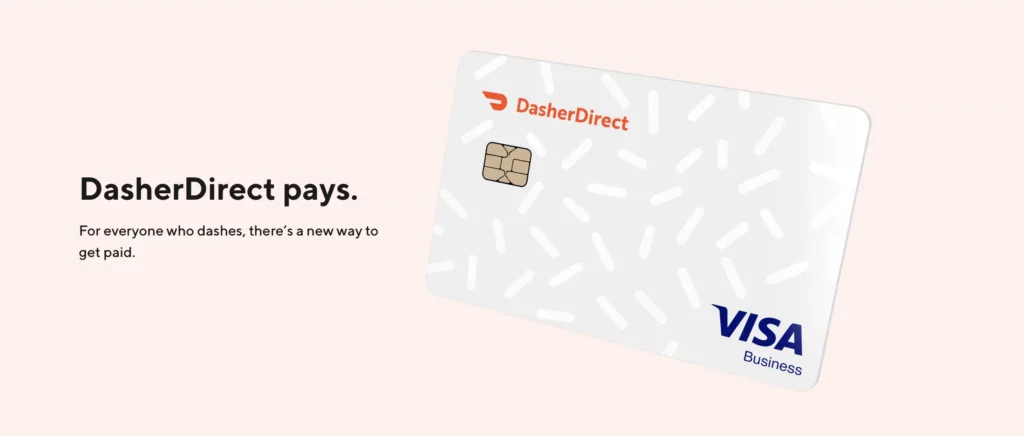 How to Apply: It's simple! Just follow these steps:
Apply for DasherDirect in your Dasher app.
Tap 'Earnings,' then 'Learn More'.
Fill in your details.
Wait for your card to arrive.
Benefits:
Get paid daily.
No bank fees.
Exclusive DoorDash driver tips and promotions like 2% cashback on gas.
By applying for DasherDirect, you're setting yourself up for success.
2. Use Heat Maps
Want to know where the action is? Use heat maps to make DoorDash worth it!
What are Heat Maps? They show you where the most orders are. More orders mean more money for you.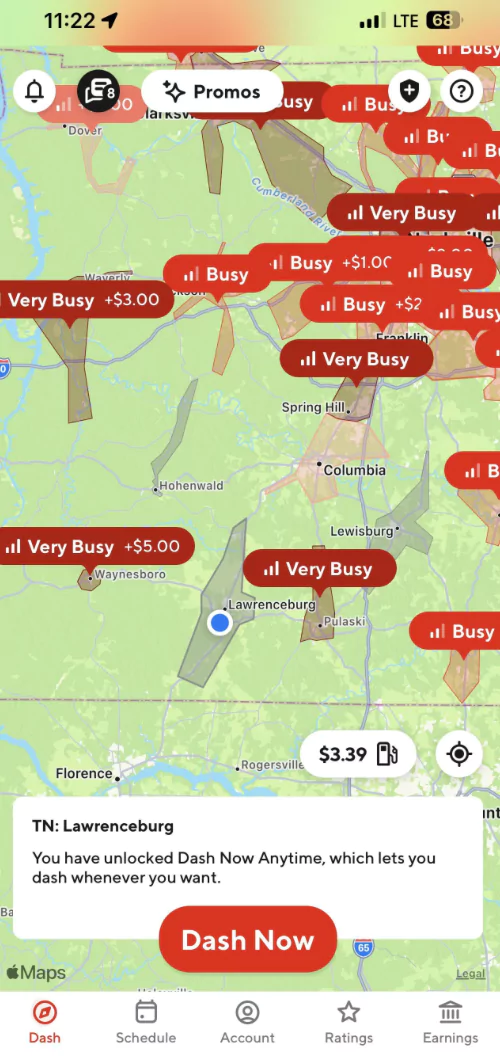 How to Use Heat Maps:
Open your DoorDash app.
Look for areas that are red or orange. These are the hot spots.
Head there and watch the orders roll in.
Examples: If you see a office area lighting up at lunchtime, you know working people are ordering. Be there, and you'll be busy.
Benefits:
More orders.
Less waiting.
Peak pay bonus.
Using heat maps is one of the top tips on Doordash. You'll always know where to be and when.
3. Wait Near Ghost Kitchens
Ghost kitchens are cooking up a storm! If you want the best Doordash tips and tricks, waiting near ghost kitchens can be the key.
What are Ghost Kitchens? They're restaurants without dining rooms. They just cook for delivery. That's where you come in!
How to Doordash Near Ghost Kitchens:
Find ghost kitchens in your area.
Park nearby when waiting for orders.
Enjoy shorter pickup times.
Examples: If there's a popular ghost kitchen known for fast food, hanging around there during dinner rush could mean non-stop orders for you.
Benefits:
Faster pickups.
More orders.
Tips for Doordash drivers don't get simpler than this. Ghost kitchens are booming, and being near them puts money in your pocket.
4. Accept Stacked Orders
Do you want to know a secret about how to make the most money on Doordash? Accepting stacked orders is one of the doordash tips and tricks out there.
Stacked orders mean taking more than one order at a time from the same restaurant or nearby locations.
Think of it like this:
You get two or more orders.
You deliver them one after the other.
You make more money in less time.
Doordash delivery drivers often use this strategy. Here's how to DoorDash with stacked orders:
Watch for stacked orders in your app.
Accept them if they are close together.
Plan your route to save time.
Note: Most stack orders might not be worth it, but if there is enough money in the order and low mileage, then why not.


If you want to be a successful Doordash driver, this is one of the top dasher tips to follow. Give it a try!
5. Track Your Mileage
Being a Doordash delivery driver isn't just about delivering food. You also need to think about your car. Tracking your mileage is one of the best tips for Doordash drivers.
Here's why:
You drive a lot.
Gas costs money.
You can write off miles on your taxes.
Keep a notebook in your car or use an app. Write down every mile. At tax time, this can save you a lot of money. It's one of the smart Doordash strategies that savvy dashers use.
Related: Does DoorDash track your mileage?
6. Double-Up On Delivery Apps
Want more money? Here's one of the top tips on Doordash: Use more than one delivery app also called multi-apping. It's a smart way to always have work.
Sign up for other apps like UberEats.
Compare the payouts.
Take the best orders.
This way, you're not just a Doordash delivery driver. You're a delivery expert and work with other apps like Instacart. You'll always have orders and make more money.
Highest earning drivers mostly do multi-apping as having multiple apps provides opportunities to cherry pick the best orders.

Though this requires bit of learning to adapt, like pausing the other app when delivering on another. But, when you get the hang of it, you can significantly increase your earnings.
Note: When you have just signed up as a new DoorDash driver, I will suggest to get familiar with DoorDash app first before trying other apps.
Related: How can you make $1000 a week on Uber Eats!
7. Earn Cashback On Gas
Gas is a big cost for DoorDashing. But here's one of the best DoorDashing tips: Earn cashback on gas.
Use credit cards with cashback on gas.
Use apps that give you discounts.
Fill up where gas is cheapest.
This tip to use cashback apps can save you a lot of money. If you want to know how to make the most money on Doordash, think about your gas. Every dollar saved is a dollar earned.
Note: Get approved for DasherDirect card and you will be eligible for 2% cashback on gas at all the places.

8. Try The DoorDash Schedule Hack
Do you want to make the most money on DoorDash? The DoorDash Schedule Hack is one of the primary things you need to know.
Here's the thing, as a DoorDash delivery driver, you can actually choose your shifts ahead of time. Scheduling in advance can help you snag the best and busiest times when people are most likely to order food – lunchtime, dinner, weekends.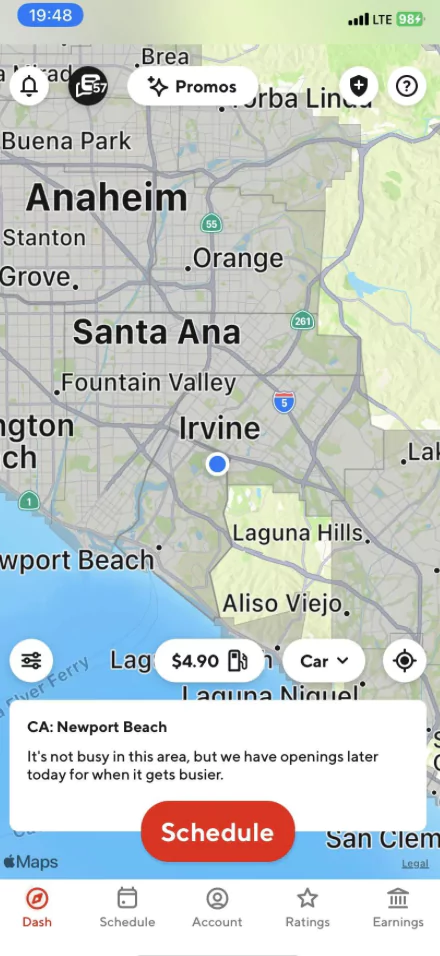 In a few markets where there are more Dashers, your only option will be to schedule your dash beforehand as Dash now option might not be available.
By planning ahead and choosing the right shifts, you can increase your earnings. Here are some doordash tips and tricks:
Look at the schedule a week ahead.
Pick shifts during peak meal times.
Be ready to dash when it's busy.
This Dashing tips can make your life as a dasher more efficient and profitable.
9. Invite Your Friends to DoorDash
If you have friends looking for a way to make some extra cash? Why not invite them to become a DoorDash delivery driver too? It's a win-win situation!
When you invite a friend to join DoorDash, he gets $50 sign up bonus, and you will get a referral bonus of $50. More money in your pocket, right? Here is how:
Share your personal referral link.
Explain to them how to DoorDash.
Offer your doordash driver tips and insights.
Your friends get to make money, and you get something extra. Sounds good, doesn't it?
10. Provide Excellent Service
Want to know how to stand out as a dasher? Provide excellent service. It's that simple. Happy customers often tip more. More tips mean more money for you.
Here are some doordash strategies to help you provide top-notch service:
Communicate with the customer if there's a delay, you can be subtle funny by sharing DoorDash memes.
Handle the food with care.
Always be polite and friendly.
Tips makes for the major part of Dasher's earnings, and if your provide better service, you have higher chance of getting more tips and higher ratings.
Higher ratings will further help you to get priority in high paying orders.
11. Optimize Your Route
Time is money, right? If you're efficient with your routes, you can make more deliveries and earn more. You will be also saving on gas and car wear and tear.
Here's how to make the most money on DoorDash by optimizing your route:
Use GPS to find the quickest route.
Avoid traffic jams by planning ahead.
Group nearby deliveries together.
These dasher tips might seem simple, but they can make a big difference in your earnings. Think smart, plan your route, and watch how your DoorDash income grows!
12. Use a Fuel-Efficient Vehicle
Driving around town as a DoorDash delivery driver? You know how essential it is to save money wherever you can. One of the top DoorDash strategies is to use a fuel-efficient vehicle. Here's why:
Save Money: Fuel-efficient cars consume less gas. Less gas means more savings. Simple, right?
Help the Environment: Using a fuel-efficient car helps Mother Nature. Less gas consumption means less pollution.
More Profit: You're a Dasher. You want to make the most money on Doordash. More savings on gas equals more profit in your pocket.
How to Doordash with Fuel Efficiency: Choose a hybrid or a small engine car. Look for vehicles with good miles per gallon (MPG) ratings.
This is one of those doordash tips and tricks that wont apply if you already have a car, but can be handy if your are planning to buy a car for this gig.
13. Know the Peak Hours
Want to know how to make the most money on DoorDash? Understanding delivery peak hours is one of the best DoorDash driver tips. Here's what you need to know:
What are Peak Hours?: Peak hours are busy times. Lunch and dinner are usually peak hours for food delivery.
Earn More: During these times, more people are ordering. More orders mean more money for you.
Doordash Tips for Timing: Use the Doordash app to track peak hours in your area. Plan your schedule around these times.
Examples: Lunchtime rush between 11 am and 2 pm. Dinner orders between 5 pm and 8 pm.
Here is what one user has to say about the best times to Dash.
Timing can be the difference between making $1k a week and $500 on DoorDash. Know the peak hours, and you'll know how to Doordash like a pro.
14. Wear Branded Clothing
Looking professional is part of the game. Here's why wearing branded clothing is one of the top tips for Doordash drivers:
Look the Part: Wearing branded clothing shows you're a professional. People trust professionals.
Free Marketing: You're a walking advertisement for Doordash. It's free marketing for the company and shows your commitment.
Build Trust with Customers: When people see the Doordash logo, they know who you are. Trust is essential in the service industry.
Where to Get Branded Clothing? Doordash often offers branded clothing to Dashers. Look for deals and offers in the app.
Even if you are not wearing the DoorDash branding clothes, dress appropriately.
Here is what one Dasher has to say about it.


Whether you're new to door dashing tips or an experienced pro, looking the part is essential. If possible, wear branded clothing, and show your customers you mean business.
Tips and Tricks for DoorDash Users
15. Earn Free DoorDash Gift Cards
Who doesn't love free food? One excellent way to get closer to that delicious goal is by earning free DoorDash gift cards.
It's like having a secret key to your favorite restaurant. Let's explore some doordash tips to get you there:
Join Rewards Programs: Sites like Swagbucks and Branded Surveys offer points for doing surveys, watching videos, and more. Trade these points for DoorDash gift cards.
Participate in Giveaways: Sometimes, blogs and social media pages have giveaways where you can win free DoorDash gift cards.
Refer Friends: Refer a friend to DoorDash, and both of you might get a gift card as a thank-you.
16. Buy Discount DoorDash Gift Cards
Savvy saving is all about finding the best deals, and that includes buying discount DoorDash gift cards.
Imagine dining in style without burning a hole in your pocket. Let's dive into how to make the most money on DoorDash through discount gift cards:
Check Online Marketplaces: Websites like Raise sell discounted DoorDash gift cards.
Watch for Sales: Sometimes, stores offer gift cards at a discount. Keep an eye on those offers.
Use Cashback Apps: Some cashback apps offer discounts on DoorDash gift cards.
17. Sign Up For DashPass
Craving more savings on your DoorDash orders? DashPass is the answer. This subscription service is like a VIP ticket to endless food delights.
Here's how to doordash and enjoy special perks with DashPass:
Free Deliveries: You get free delivery on eligible orders.
Reduced Service Fees: Pay less in service fees with DashPass.
Exclusive Deals: Enjoy special deals and discounts.
18. Check Your Email For Promo Codes
Your email inbox could be a treasure trove of savings! DoorDash loves to surprise its customers with special offers.
Want to know what's waiting for you? Let's check out some doordash tips and tricks hiding in your email:
Special Offers: DoorDash sends doordash driver tips and promo codes to your email.
Exclusive Discounts: These emails may have special discounts just for you.
New Restaurant Deals: Be the first to know about deals at new or favorite restaurants.
19. Choose the Right Orders & Be Aware of Promotions
Think of your DoorDash app as a smart assistant guiding you to delicious, affordable meals. Knowing what to order and when can make all the difference.
Here's a blend of DoorDash strategies and tips to help you choose the right orders:
Check Order Prices: Different restaurants have different prices at different times. Compare and choose wisely. Most discounts are offered at non-peak hours.
Look for Promotions: Use the app to find promotions. This can lead to big savings.
Use Promo Codes: If you have promo codes, use them to save on orders.
Related: How to become a top Dasher!
Final Words On DoorDash Hacks & Tips
DoorDash offers great opportunities. For drivers, it's a way to use DoorDash driver tips to make extra income. For food lovers, it's a way to enjoy meals for less money and efforts.
I've covered many hacks that include various DoorDash strategies. Simple strategies and tips for DoorDash that anyone can use. More money in your pocket. More delicious food on your table.
These dasher tips and DoorDash tips and tricks are just the beginning. Experiment and find what works best for you. Every DoorDash experience can be unique.
So why wait? Start using these DoorDash tips today. Make DoorDash a side hustle that pays or enjoy delicious food without breaking the bank.
Related Posts:
FAQs
How to get free food on DoorDash hack?
There are various DoorDash tips and tricks that can get you free food. Keep an eye on promotional offers and use relevant coupon codes. Always check the app for current deals.
Is there a trick to getting more DoorDash orders?
There is no secret trick or hack to get more DoorDash orders. But, yes, understanding the DoorDash strategies like busy times and popular locations can help you get more orders. DoorDash driver tips often include advice on timing and areas to target.
How to hack Dasher app?
There are no DoorDash hacks, if there were any initially, they have been ironed out. Instead, focus on legitimate DoorDash tips and tricks to maximize your earnings or savings.
What is the trick to DoorDashing?
Door dashing tips often include understanding the peak hours, optimizing your route, and providing excellent service. These tricks can help you make the most of your time and earn more.
How to use DoorDash for free?
Utilizing first-time user discounts, referral codes, and other special promotions are great ways to use DoorDash for free or at a reduced cost. Keep an eye on the app for ongoing offers.
Is DoorDash first order free?
DoorDash often offers promotions for new users, including free or discounted first orders. These offers may vary, so it's always a good idea to check the app or website for the latest DoorDash tips and deals.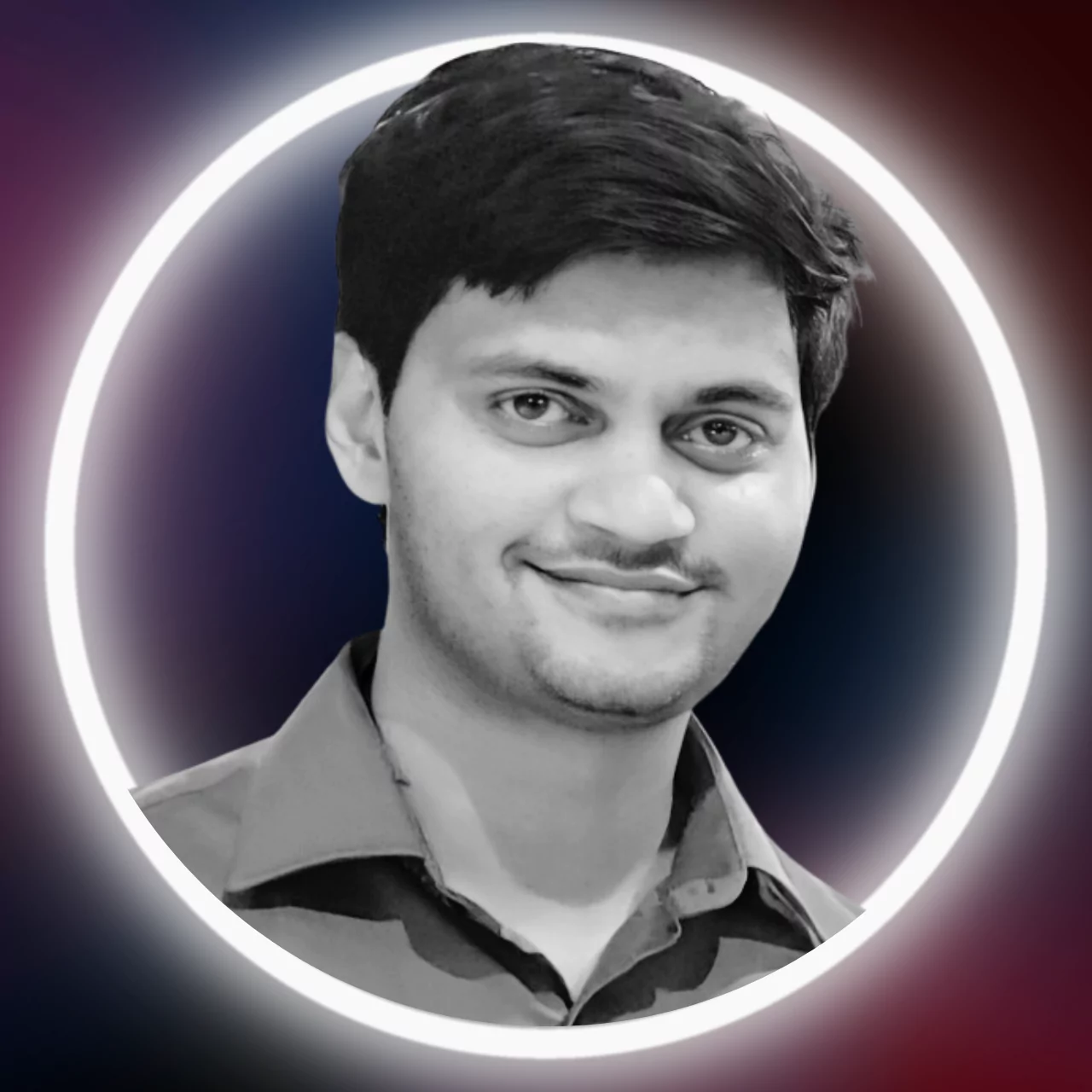 Sumeet is a Certified Financial Education Instructor℠ (CFEI®) and founder of MoneyFromSideHustle. He is an experienced side hustler who replaced his full-time income with side hustles. His work has been quoted on major finance websites like CNBC, Yahoo! Finance, GOBankingRates, CEOBlogNation, SideHustleNation, and more. He has helped thousands of people find side hustles and is here to help you find your extra source of income. More about him.