This post may contain affiliate links from which I may earn a commission without any cost to you. Read our policy for details.
If you like shopping online, you might have bumped into an incredibly attractive offer of a free $750 Shein gift card. Shein, a well-known online store offering cost-effective clothing and accessories for everyone, seems even more appealing with a free $750 gift card.
Considering the high amount of shopping you could do and potentially revamp your wardrobe, it's normal to be intrigued by this offer.
Imagine all the cool clothes you could get with that! But wait, is the Shein $750 gift card real or fake? Is this Shein $750 scam? These are the questions that might cross your mind, and rightly so.
We've all heard the saying, "If it sounds too good to be true, it probably is." This offer, given by a rewards company called Flash Rewards, may raise some eyebrows.
I signed up with them to figure out this offer and researched extensively what other users are saying about it. This article will explain in detail how the free $750 Shein gift card offer works and if it is worth your time.
So, let's get started!
What is the Free Shein £750 Gift Card?
But before you dive headfirst into this offer, it's important to know that it doesn't come directly from Shein. It's presented by a third-party rewards website named Flash Rewards.
Flash Rewards is a GPT site that rewards you for completing various sponsored tasks like downloading apps, subscribing to services, or answering surveys.
Don't confuse it with the other app, Flashrewards, that pays you for playing games.
This reward site which is available for US, UK, and Canadian audiences, promises that once you finish 20 tasks of varying degrees of difficulty, you can claim your $750 Shein gift card.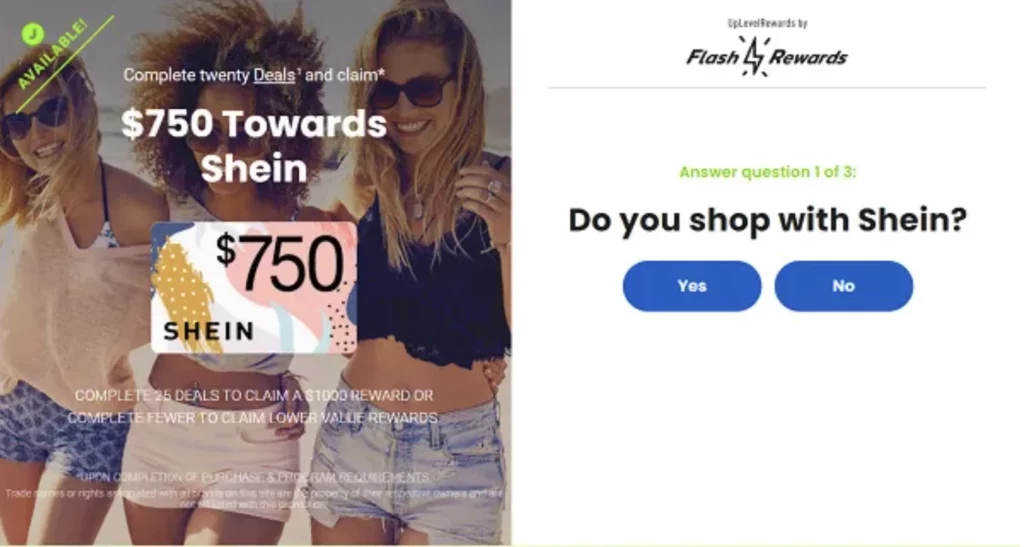 Some people claim they have successfully got the Shein 750 gift card after completing all the tasks. You can find their stories and screenshots on the Flash Rewards website and on social media platforms like YouTube and Instagram.
But such success stories are rare and might be different for everyone. This Shein 750 gift card review is for you to be careful and know what you're signing up for, as it is more challenging than they make it sound. So, let's find out how this deal works.
How Does The $750 Shein Gift Card Offer Work?
Flash Rewards gives cashback rewards to people who do various tasks online, like installing apps, signing up for services, taking surveys, and so on.
Here are the steps to get started:
Sign Up: Use your email address and contact info to register on the Flash Rewards website or app.
Browse Offers: Filter offers by category, points value, or popularity.
Complete Offers: Follow the instructions for each task carefully. Make sure you meet all requirements to receive your points.
Check Progress: Review your completed tasks and points.
Redeem Points: Once you have completed enough deals for selected rewards, you can redeem the gift cards.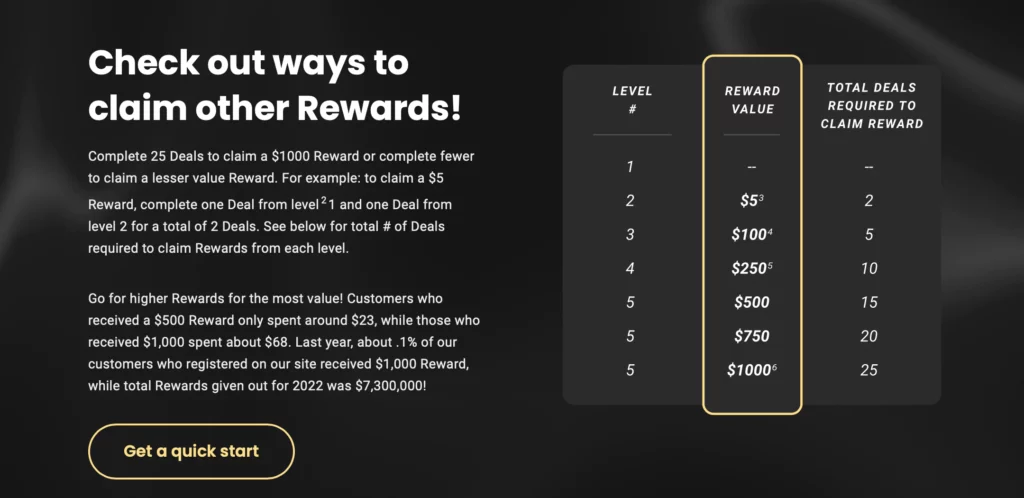 Flash rewards need to attract users with various incentives to perform all these tasks to make revenue for themselves and their sponsors. Once you do these tasks, you get gift cards from brands.
This Shein £750 reward is one such incentive they offer to users to complete a set number of deals and offers.
You have to finish 20 tasks or "Deals" within a specific period of time. These Deals are split into five levels. Each level requires more points and effort than the previous one.
Here is how the deals structure works on Flash rewards:
| Reward Value (USD) | Total Number of Deals Required to Claim Reward | Number of Deals Required on Level 1 | Number of Deals Required on Level 2 | Number of Deals Required on Level 3 | Number of Deals Required on Level 4 | Number of Deals Required on Level 5 |
| --- | --- | --- | --- | --- | --- | --- |
| $5 | 2 | 1 | 1 | – | – | – |
| $100 | 5 | 1 | 1 | 3 | – | – |
| $250 | 10 | 1 | 1 | 3 | 5 | – |
| $500 | 15 | 1 | 1 | 3 | 5 | 5 |
| $750 | 20 | 1 | 1 | 3 | 5 | 10 |
| $1000 | 25 | 1 | 1 | 3 | 5 | 15 |
For $750 gift card, here's how the Deals are divided:
One Deal for Level 1
One Deal for Level 1
Three Deals for Level 3
Five Deals for Level 5
Ten Deals for Level 10
The Deals vary in how hard they are and how much they reward. Some are simple and free, like downloading an app or watching a video.
Others might need you to pay a fee or give personal information, like signing up for a service or filling out a form. You can pick any Deal at each level, depending on what you prefer and what's available.
It's important to follow the instructions for each Deal and show proof that you completed it, like screenshots or confirmation emails. You also have to keep track of your progress and points on your account dashboard. If you do all 20 Deals within the given time, you can claim your $750 Shein gift card.
But, there are a few things to consider.
It's not easy or fast to finish all 20 Deals. Depending on how hard the Deals are and how many are available, it might take hours or even days of work. Some Deals might also be unavailable or expired by the time you get to them.
Some Deals might open you up to potential scams or security risks. For instance, some might ask for sensitive information, like your credit card number or social security number. Others could direct you to dangerous websites or apps that might infect your device with malware or viruses.
Some Deals might cost you money or get you stuck in subscriptions you don't want. Some might make you sign up for a trial service that will start charging you after a certain period unless you cancel it. Others might have hidden fees or taxes that aren't disclosed at the start.
Lastly, some deals might not give you the rewards properly or at all. Some might not add your points right away or might not add them correctly. Others might not accept your proof of completion or might reject it for no clear reason. In some cases, Flash Rewards might cancel your account or refuse your reward because you broke their rules.
So, before you decide to go for this offer, read Flash Rewards' terms and conditions and privacy policy carefully to understand what they can do with your information and how they handle disagreements.
Is the $750 Shein Gift Card For Real or Just a Scam?
Well, it's not entirely a scam, as it won't directly steal your money or personal details. However, it isn't as simple or straightforward as it might appear initially, so personally, I will keep it in a borderline scam for people who do not have the patience to go through all deals and want to get a FREE gift card (without spending any money). That's why people are often confused and refer to it as the shein 750 scam.
Here are a few things that lead people to think its a scam:
Shein $750 gift card deal is misleading and deceptive. It's not affiliated with Shein. Also, it hides behind catchy phrases like "quick start" or "limited time" to make you click on the ads without reading all the fine details – the terms and conditions, time limit, or potential costs tied to some of these deals. Therefore, it's no surprise people often wonder, "Is this Shein £750 reward real or not?"
Shein $750 scam risks are high and could potentially violate your privacy. Some deals could expose you to spam, malware, or even phishing, which could lead to identity theft. You might end up accidentally providing your personal information, credit card details, or passwords to third-party websites or apps. These details could be misused for fraudulent activities. You could even end up paying for subscriptions or services you didn't want, which are tough to cancel or get a refund. This makes the 'free Shein gift card legit' claim questionable.
Most Shein 750 gift card reviews show that it's very time-consuming and frustrating. Completing 20 deals might take days or even months of your valuable time, and that's why some might say, "This Shein 750 scam is just not worth it!". Some deals might not function correctly or not properly credit your account. Many people face technical problems, errors, or delays that stop you from finishing the deals or claiming your gift card. And if you face any problems or have questions about the offer, customer service might be hard to reach.
You need to provide your id proof and selfie to get your rewards, which leaves you vulnerable to identity theft.
So, while technically, the Shein $750 gift card is real, it's not worth the effort for most people. It's a smart marketing strategy that takes advantage of your curiosity and love for free stuff while profiting from your actions and data.
Therefore, it's not a safe or reliable way to earn some extra cash or save money on your online shopping, making the 'Shein 750 gift card free' offer dubious at best.
However, for people who have experience navigating these offers, it can be a good option for some extra cash. Like they know how important it is to cross-check double and triple times to see if the deals you are doing are being tracked, and they can put in some money in the deals to get through the process.
So, if you are not one of those people who is patient through this cycle of going through different offers, facing many technical glitches, and putting forward your own $100- $200 at risk, then this free Shein $750 gift card is NOT for you.
User Reviews on Free $750 Shein Gift Card
I didn't like the work involved to win this gift card myself, but let's see what other users are saying. Because when looking for such platforms' authenticity, generally previous user's opinions matter a lot so that you don't make the same mistakes.
The reviews are mixed for Flash rewards Shein gift cards. Many people face the problem of tracking issues, payment release, and finding the appropriate deals.
However, many people have claimed that they received the prize after doing a lot of hard work and following all the instructions.
So, one thing is clear if you are not the kind of person who follows the fine print, then don't even bother starting this quest for Shein free gift card, as said by this one reviewer on Trustpilot.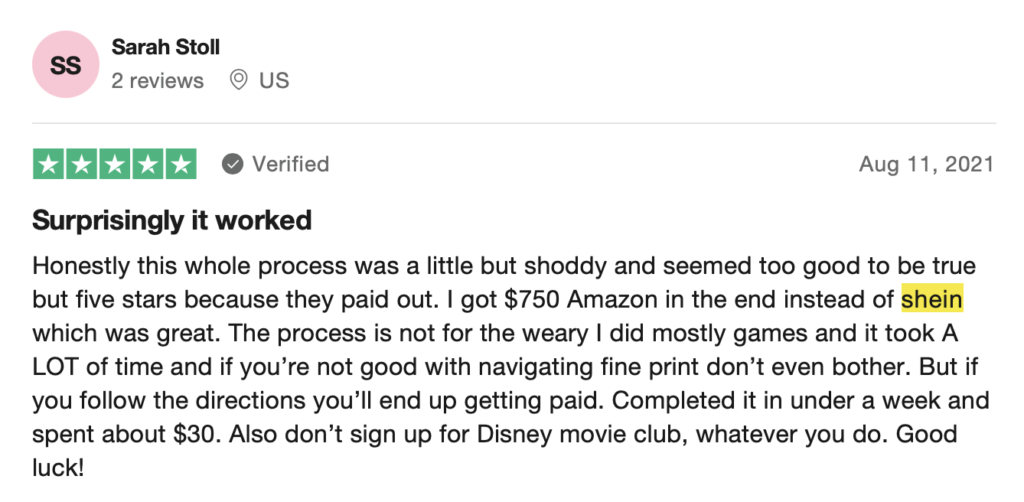 The overall rating of the App on Trustpilot is 4.2, but the way it has increased in the last few months and the lack of details in most positive reviews, it does not look genuine. They might be incentivizing users to leave positive feedback, a strategy many such companies use. Here are a few more positive reviews on Trustpilot:
"I was skeptical at first: I was skeptical at first, but I just cashed out my reward for $750 and it worked! Initially, I wanted the Shein gift card for the same amount but I thought about it and decided to get the visa gift card instead. There were a few mishaps with the system, for example, some deals would register on the wrong level. However, customer service was able to help me rectify the issue! it took me 6 days to complete all deals. It's great!" – Dee, US
"It's the real deal: So at first I was skeptical, didn't think I was going to get a reward in the end. But after taking the steps, playing games and downloading apps, signing up for a few free trials, I ended up satisfied and cashed out at $100 reward. I had the reward within 24 hours of verifying my identity. Pretty awesome. Wish I would have kept completing the offers and cashed out at a higher reward but I can try again in 2 months so that's also cool. Thank you" – Jamie, US
"This is legit: Although it's a time consuming process to get the reward, it is a legitimate program. I didn't spend any money and cashed out early, earning $100. They validated my id and sent me the money within 3 days." – Teressa, US
However, almost every user faces issues with app tracking, so if you try this platform, make doubly sure before taking on a task or offer that it is being tracked.
Most of the time, frustrated users are those who haven't read the terms and conditions in detail. Here are a few complaints of users: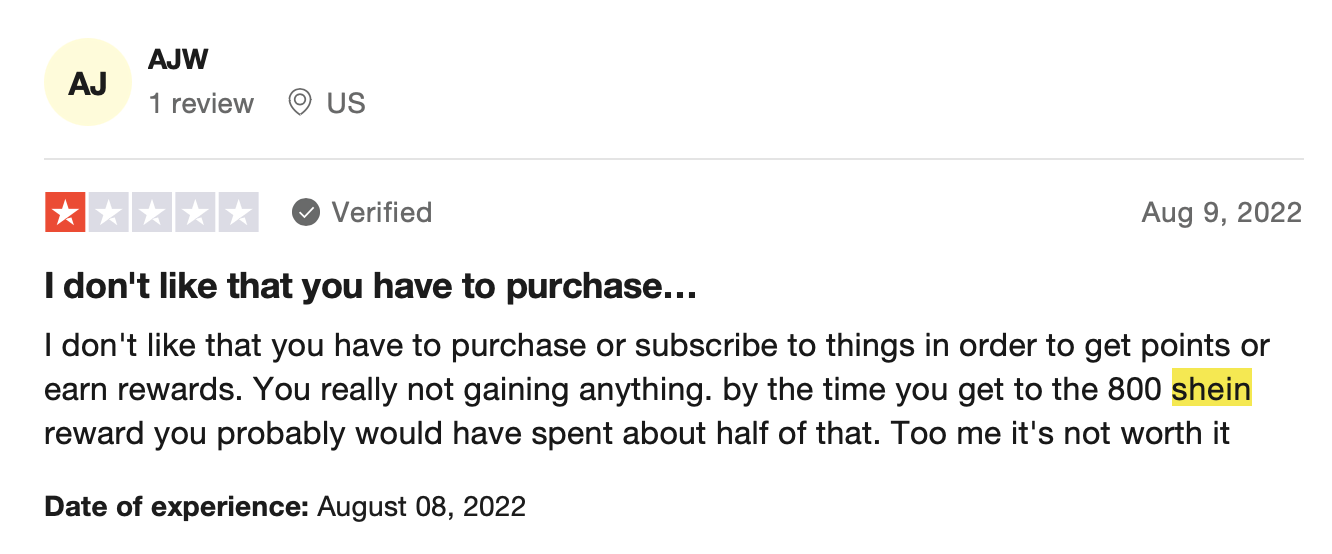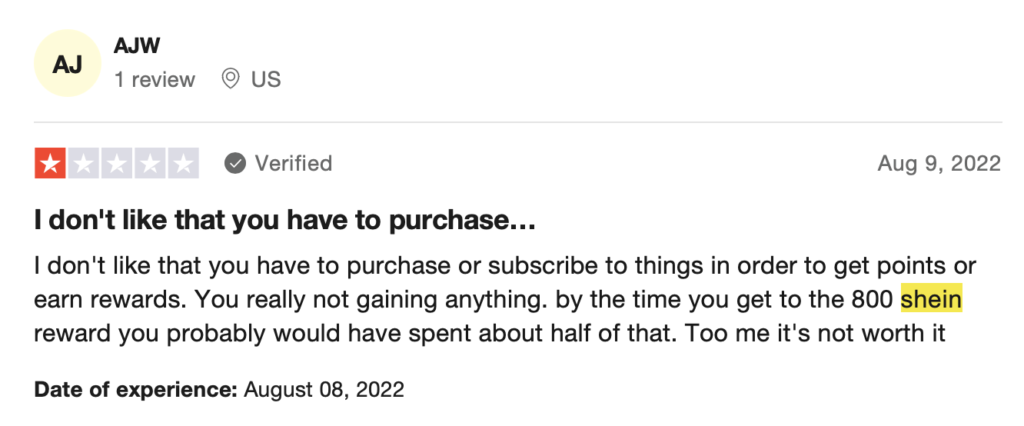 Here is what more users are saying:
"I tried twice to do the whole $750…:I tried twice to do the whole $750 shein gift card and ended up agreeing to buying stuff and never got reward at the end!! Waste of time and makes you spend money 🙁 what a scam. :'(" – Caitlyn M, US
"SCAM – WASTE OF TIME, MONEY, ENERGY: I signed up for a Disney+ account which was one of the options provided for the first level of obtaining a Shein gift card. I signed up and make monthly payments to this subscription service, but Flash Rewards is unable to credit me for completing this task?" – Nisha Sandhu, CA
"I completed all the silver and gold…:I completed all the silver and gold awards for the shein deal. Completed 3 of the platinum deals on apps (p.s. I had all of the app tracking on like it says) and nothing…I went back to make sure it was registering when I completed deals and it wasn't. Wasted hours getting to the levels on the apps. I know I was still 5 deals short of the gift card but I'm done wasting time." Andrea, US
Many $750 Shein Gift Card Reddit Comments also refer to the same issues of tracking and completed deals not showing in the account.
Alternatives to Shein $750 Gift Card
So, if you are not sure about is the 750 shein legit? or if you don't want to jump into completing this Shein $750 reward offer, you can instead, consider more reliable ways to earn free gift cards or cash on the internet.
Here are some trustworthy options:
Get-Paid-To (GPT) sites
There are many big-name sites in the GPT world that you can use to earn rewards.
They offer various tasks like surveys, watching videos, or online shopping, in exchange for points or cash. You can then redeem these points for gift cards or PayPal cash.
Cashback Sites
Instead of looking for free gift cards for shopping brands like Shein, you can make cash back on all your shopping and get free money. Here are a few of the best cashback sites:
Gig Economy Apps
If you're looking for quick cash in hand, you can offer services like delivery, cleaning, or pet sitting to earn money.
Many gig apps will help you get these jobs for a quick $100 or more.
DoorDash allows you to deliver food orders and earn up to $25 per hour.
Rover is a pet-sitting app where you can earn up to $1,000 per month taking care of pets.
TaskRabbit lets you offer handyman services, earning you up to $35 per hour.
So, if you're unsure about the "Shein $750 gift card real or fake," it's likely better to be safe. Don't waste your time, money, or personal information on the Shein $750 gift card offers. Use these alternatives to make money or save money on your online shopping.
Final Thoughts On Shein Gift Card
After reading all this, I think you are now not that excited about the free Shein gift card. As you now know, it's not free and takes a lot of effort, and some cash to get that, and that's also not guaranteed.
So, I think it is better to look at alternatives for making money online rather than getting frustrated with all the loopholes in this offer.
On the other hand, if you are up for the challenge and are not afraid of spending some cash, read all the instructions and terms beforehand and tread with caution.
More ways to make money:
FAQs
Is The Shein $750 Gift Card A Scam?
With my experience and all the available information, it is not an outright scam, as many people get paid at the end of it. But the way it is marketed as an easy money scheme and the fact that you need to spend money to earn money that many people end up not winning for several reasons makes it a borderline scam for an average online user.
Many people start getting fishing and scam emails after signing up, so their information was sold further, which makes you vulnerable, especially after providing sensitive information like credit card details and id proof.
So, if you go this route, you probably have the chance to win the $750 Shein gift card after a lot of hard work and spending some money, but be careful with your information.
Is it safe to use Shein Gift Card Generators?
No, it's not safe to use Shein gift card generators. These are apps or websites claiming to create free Shein gift card codes. However, these are scams that don't work or demand users to finish surveys, download harmful software, or pay money to get the codes. A legit Shein gift card code can only be obtained by purchasing it directly from Shein or its authorized partners. Any website or app saying otherwise is trying to deceive you.
Should I use Flash Rewards?
In my experience, completing higher-paying offers on Flash rewards might not be worth your time. However, many people have won $100 or lesser gift cards, completing some easier offers. So, you can join the platform to win some cash rewards for these offers if you are up to it.
There are other reputable GPT websites that reward users for completing online tasks, such as Swagbucks, InboxDollars, or MyPoints. These platforms have been serving for years and have satisfied millions of users by providing real money and gift cards.
Is The 750 Shein Legit?
It is a legit offer, but not an easy one. You probably will end up spending days completing offers and some money to complete the deals. Many users also complain about deals not tracking properly and not being credited to the account.
You also need to provide your id and selfie for the payout, which makes it even more dubious.
Does a $750 Shein Gift Card Code exist?
No, there are no $750 Shein gift card codes. These are fake codes created by scam apps or websites claiming to offer free Shein gift cards. However, these codes are invalid and can't be used at Shein. A valid Shein gift card code can only be obtained by purchasing it from Shein or its authorized partners.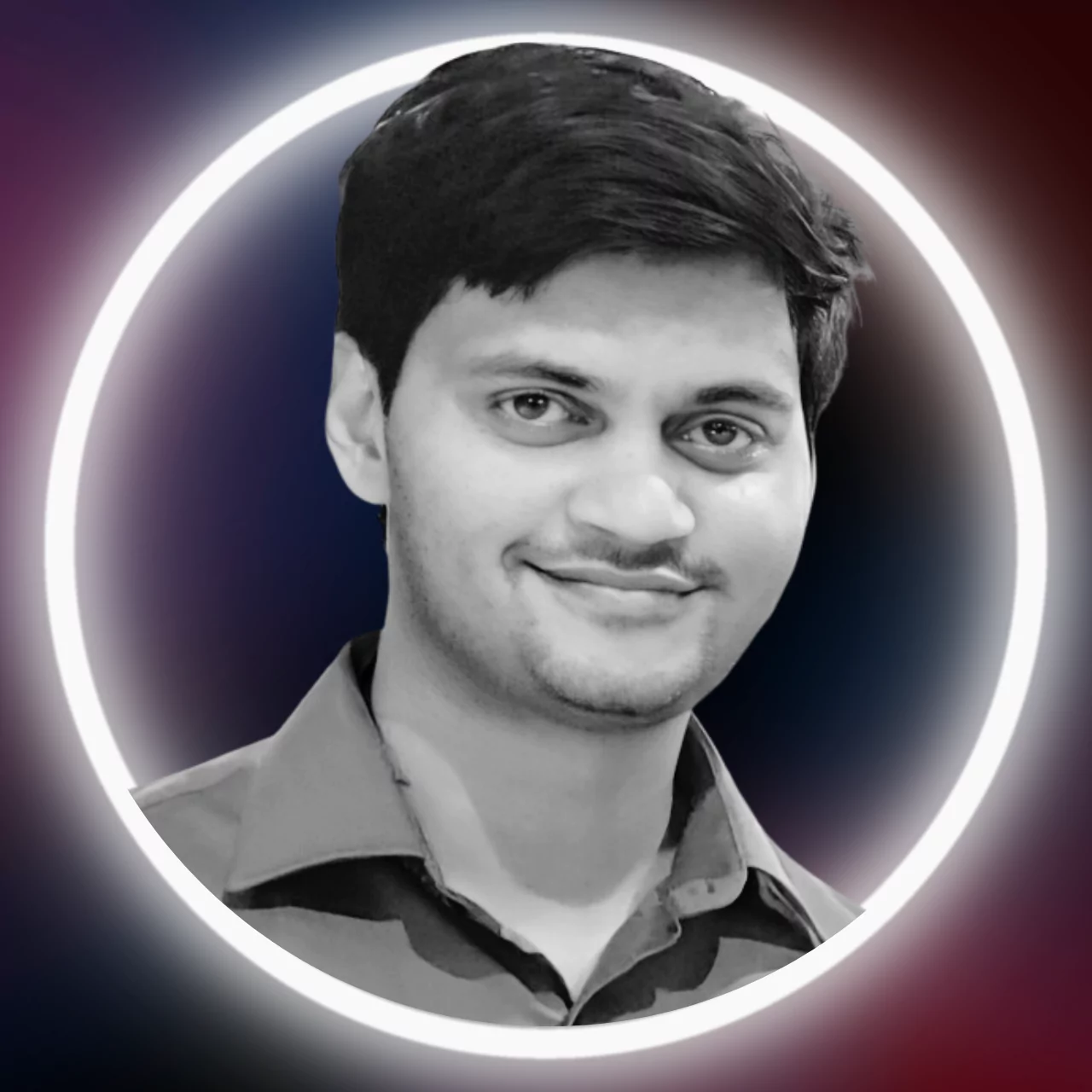 Sumeet is a Certified Financial Education Instructor℠ (CFEI®) and founder of MoneyFromSideHustle. He is an experienced side hustler who replaced his full-time income with side hustles. His work has been quoted on major finance websites like CNBC, Yahoo! Finance, GOBankingRates, CEOBlogNation, SideHustleNation, and more. He has helped thousands of people find side hustles and is here to help you find your extra source of income. More about him.