This post may contain affiliate links from which I may earn a commission without any cost to you. Read our policy for details.
Are you a fan of making a quick buck while testing out new apps or services? If you answered yes, you might have come across Flash Rewards, a platform that provides cash incentives for signing up for new applications and services.
You can earn gift cards ranging from $5 to $1,000 by successfully completing eligible offers.
But the real question that comes to mind is, "Is Flash Rewards legit or a scam?" What's the procedure, and how much can you realistically make? Is it a good investment of your time and money?
To answer these questions, I signed up for Flash rewards, and in this article, I'll answer all these queries and much more.
At the end of this Flash Rewards review, you'll have a crystal-clear picture of whether Flash Rewards suits your needs or not. So, let's dive right in!
Short-term tricks can give quick cash. For lasting side income, find a hustle that matches your skills and lifestyle. Invest time and effort. Use my guide, created from extensive research, to help you navigate this process.
What is FlashRewards.co
FlashRewards.co is a 'get-paid-to' (GPT) site that offers gift cards when you finish sponsored deals. It's all about earning while trying out new apps and services from popular brands.
This site is different from Flashrewards, which offers free gift cards for playing games and other deals.
FlashRewards.co is a DeliverTech LLC product intended for use by US, UK, and Canadian audiences above 18 years of age.
The objective of FlashRewards.co is to help users discover top-tier products and services that align with their preferences and needs. They're also all about aiding advertisers to hit their target audience and boost their conversions3.
Joining FlashRewards.co is free and straightforward. You can easily browse their available deals from your PC or phone and go for those that catch your eye. Some deals are free, while others might need you to make a purchase or subscribe.
You earn gift cards from various retail giants like Amazon, Visa, Nintendo, Walmart, Starbucks, and more by completing each deal. The lowest payout is $5, but you can go for higher rewards up to $1,000 if you want by completing more deals.
However, using FlashRewards.co does come with some downsides. You'll need to complete a good number of offers before you can claim your reward, implying you might end up spending more than you make. Moreover, you'll have to cancel certain services before the free trial ends to avoid additional costs.
On top of that, you might not always find offers that meet your preferences or needs. There may also be some technical glitches or delays in receiving your rewards.
High earning surveys
Easy-to-use website
Many ways to earn
How Does Flash Rewards Work
Flash Rewards is a legitimate platform that partners with large brands and advertisers, where users can earn points for completing different tasks. These points can be redeemed for various gift cards.
Joining Flash Rewards is quite simple and it doesn't cost anything. You'll need a working email address and some basic details about you, such as your name, age, where you live, and what you're interested in.
You can also link your social media or other online accounts, which could help you get more suitable deals. Once you've joined, you'll see a dashboard where you can look at and take part in available deals.
Browse through the offers and complete tasks following the instructions given. Tasks earn you gift cards based on the number of tasks you complete.
The value of the gift cards you can earn ranges from $5 to $1,000. Flash Rewards' Up Level Rewards program allows you to aim for different reward values by completing a certain number of tasks or "Deals" at each level.
Here are the steps to get started:
Sign Up: Use your email address and contact info to register on the Flash Rewards website or app.
Browse Offers: Filter offers by category, points value, or popularity.
Complete Offers: Follow the instructions for each task carefully. Make sure you meet all requirements to receive your points.
Check Progress: Review your completed tasks and points.
Redeem Points: Once you have completed enough deals for selected rewards, you can redeem the gift cards.
The process of joining, doing deals, and earning rewards is easy to understand. The deals are varied – you might download an app, watch a video, complete a survey, or make a purchase. Complete all the necessary requirements to receive your rewards
Flash Rewards says it has given over $25 million to its users since it started. It's a legit platform that's paid out a lot to its members, so it's not a flash rewards scam.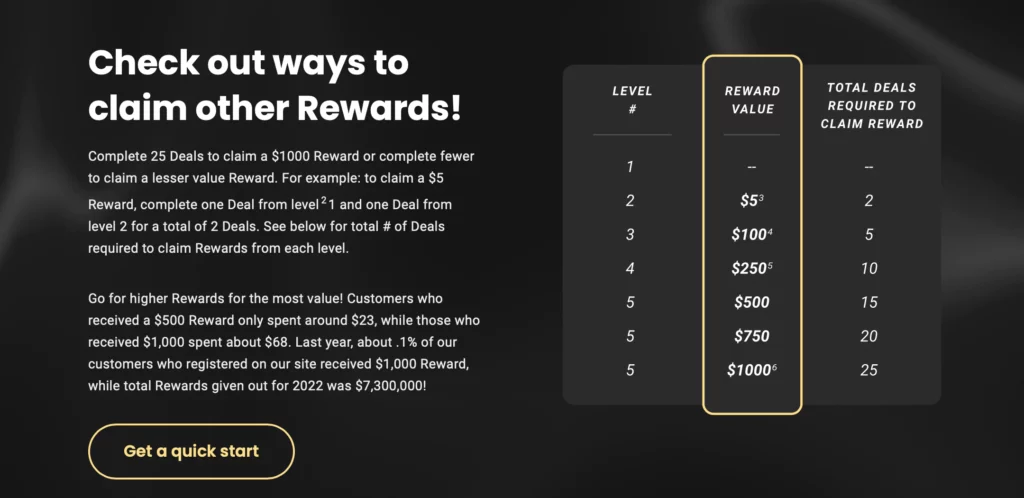 A few important things to keep in mind
Earning Your Reward: The reward you wish to claim determines the number of Deals you need to complete at each Level. However, you have the option to claim your Reward early once you've fulfilled the minimum number of Deals per level. The Up Level Rewards program allows you to select or modify your Reward value until you initiate your Reward claim process. Once the claim process commences, you are committed to obtaining your chosen reward.
Climbing Up the Reward Ladder: To earn your Up Level Reward, you are required to fulfill a number of Deals at the Levels that correspond to your chosen Reward value, as laid out below:
| Reward Value (USD) | Total Number of Deals Required to Claim Reward | Number of Deals Required on Level 1 | Number of Deals Required on Level 2 | Number of Deals Required on Level 3 | Number of Deals Required on Level 4 | Number of Deals Required on Level 5 |
| --- | --- | --- | --- | --- | --- | --- |
| $5 | 2 | 1 | 1 | – | – | – |
| $100 | 5 | 1 | 1 | 3 | – | – |
| $250 | 10 | 1 | 1 | 3 | 5 | – |
| $500 | 15 | 1 | 1 | 3 | 5 | 5 |
| $750 | 20 | 1 | 1 | 3 | 5 | 10 |
| $1000 | 25 | 1 | 1 | 3 | 5 | 15 |
Completing Deals: Once you're registered and you've either gone through the survey pages or clicked "Skip", you can dive into the Levels and Deals. Even if you opt to skip, it doesn't affect your chance to get a Reward.
To complete a deal, you've got to:
Access the Deal through the site or a link provided by customer service
Complete the requirements as detailed in the deal's info
Stick with the same contact info you used when you registered
Do the Deals yourself – don't get a friend or relative to do it for you
Don't sign up for the same Deal twice just to get a Reward
It's important to keep any confirmations or receipts – you might need them later.
For Deals requiring a subscription or purchase, your card needs to be successfully billed at least once or as many times as the Deal says.
Be aware many partners won't accept prepaid cards or quick cancellations. If it's an app deal, it's usually a must that it's your first time installing the app and you reach the level mentioned in the Deal.
Checking Your Progress: You can log in with your email to see how you're doing. Sometimes, it can take up to five days for completed Deals to show up.
Few of their terms and conditions:
You need to use just one email for all the deals. They might check your email and home address after you sign up and do the first deal.
You've got 60 days to finish all the needed deals from the day you do your first one if you want to get your reward.
Rewards are a one-time thing per household. If your reward is $100 or less, wait 60 days before you can earn another. If it's more than $100, it's a year's wait.
They'll use the contact info you gave when you registered to get in touch and check your activity, so make sure it's right.
If any reward goes missing or gets delivered wrong, they won't cover it unless it's their mistake.
Check out this deals page, where they update all the details related to them.
To finish these deals, you must follow the instructions closely and show that you've completed them. This might mean taking a picture of your receipt, recording a short video, or filling out a form. Be honest and polite in your feedback because companies want to use your opinions to improve their products or services.
Here are some tips for completing these deals:
Choose deals that are in line with your tastes and preferences.
Make sure to read the terms and conditions before agreeing to a deal.
Try to finish the deals quickly so you don't miss any deadlines.
Keep an eye on how you're doing and what you're earning on your dashboard.
What Do Flash Rewards Offer?
Flash Rewards offers a broad range of choices for you to earn rewards by completing sponsored deals. By trying out new apps and services from popular brands, you can win gift cards ranging from $5 to $1,000.
Some of the gift cards you can bag are from:
Free PayPal money
Nintendo
Starbucks gift cards
Walmart gift cards
and many more!
How to Claim Your Rewards
Start the Claim: Once you've done enough Deals, you'll get a popup saying you're good to go. Click it to start claiming. Or, log into the website, click "Rewards Status", enter your email and hit the "Check Rewards status" button. If you've done enough Deals in each Level, you can click "Claim Reward" to get started.
Verify Your Deals: You might need to provide "proof of completion" to show you've done certain Deals.
Submit Your Claim: Once your Deals are verified, fill in and send off your claim ticket. Be sure to provide accurate info, the same as you did when you registered. Once you've submitted for a specific Reward, you can't change it. Messing up the info could slow things down or even disqualify your claim.
Submit Verification Info: You'll get an email after submitting your claim ticket, which'll guide you through the identity verification process. You'll need to scan or upload a clear photo of a valid, government-issued ID, and take a selfie. This info is just for fraud prevention and is sent securely. If you fail the ID check three times, your claim gets disqualified.
Get Your Reward: Within 72 hours of receiving your claim ticket and verification info, you'll get an email about your submission. If there are any questions or problems, be sure to address them quickly. Once everything's sorted, your Reward will arrive within 7-10 business days.
Here are examples of Proof of Deal Completion:
Original emails, receipts, and confirmations for Deals
Proof of payment, like bank or credit card statements (hide your account number, though)
Screenshots of certain screens for app-based Deals
Receipts for any in-app purchases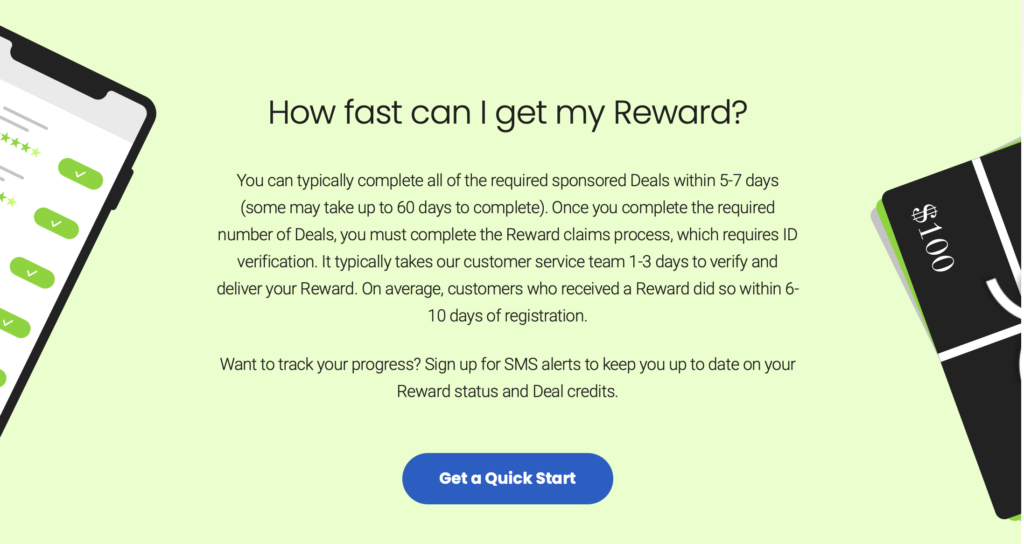 Your Flash Rewards dashboard shows the number of offers you've done and even a progress bar to help visualize how close you are to your next reward.
Is Flash Rewards Legit?
Flash Rewards is a legit company that pays real money to its users. There are many positive testimonials from users who have received their rewards using this site. However, the problem is there are lot many more negative reviews than positive ones, which often makes people wonder if the flash rewards legit. In my opinion, company promotions make it look like earning $750 is a breeze, but when users sign up, they are stuck in an endless loop of completing deals, and many of them often require making payments. Company tactics also make it difficult to complete the offers, so many users leave frustrated.
So, if you are up for a grind, Flash Rewards is legit and active since 2019 but is not worth your time if you have something else to do.
Is Flash Rewards a Scam?
While Flash Rewards is a legit rewards site, many concerns lead users to wonder: "Is Flash Rewards a scam?". Many users have positive reviews and proof of getting rewards; however, most users get frustrated in the middle of the elaborate deals completion process, and a few even report not getting the rewards even after giving all the proof.
Many offers require you to make a purchase upfront or share your credit card information which makes it look like a scam. And a few users claim they were charged even after the cancellation of the subscription.
Another potential scam indicator is that Flash Rewards requires you to complete several offers before you can request a gift card reward. This could make some users feel as if they're stuck in an endless loop of signing up for unwanted services.
So, if you can find any deal worth your time, then it might be a good option to earn some rewards while doing something you were already going to do, but otherwise, proceed with caution as you might not earn enough or anything for your efforts.
User Reviews of Flash Rewards
A few months back the ratings of Flashrewards.co were around 3 points something on Trustpilot but now it has bumped up to 4.1 thanks to hundreds of 5-star reviews.

So either they have improved their service standards by a lot, or they are using bots to write positive reviews. However, going when going through them, most reviews seem like they are from legit people.
Here are a few positive reviews from the people who were able to get rewards.
"I had fun with the whole process: It was a little time consuming so I only went up to $100" – Daniela Carollo, US
"I got my reward pretty quickly: I did a survey, subscribed to Amazon prime, and played 3 games. It took me about 2-3 days to reach the high levels but once I completed them, I was able to claim my 100$ visa gift card. I had to submit a pic of my id, a selfie, and answer some security questions. After, I received my reward right away. So yea, everything is legit! Thanx flash rewards!" – Mello Robin, US
"HIGHLY RECOMMEND!!: This company and their reward system is 100% legitimate. You do have to participate in a few different steps. I initially had to start a few trial memberships to begin, but I set myself reminders to cancel those memberships within the time frames with no problems whatsoever, and it did not affect my reward. You can cash out whenever you want. I just cashed out at $100 because I really needed money for groceries, otherwise I would have kept going. Fantastic company to work with and they are in constant communication with you. I highly recommend!" – Melody Parsons, US
A user even appreciated the offers on the site, which helped him make better financial decisions.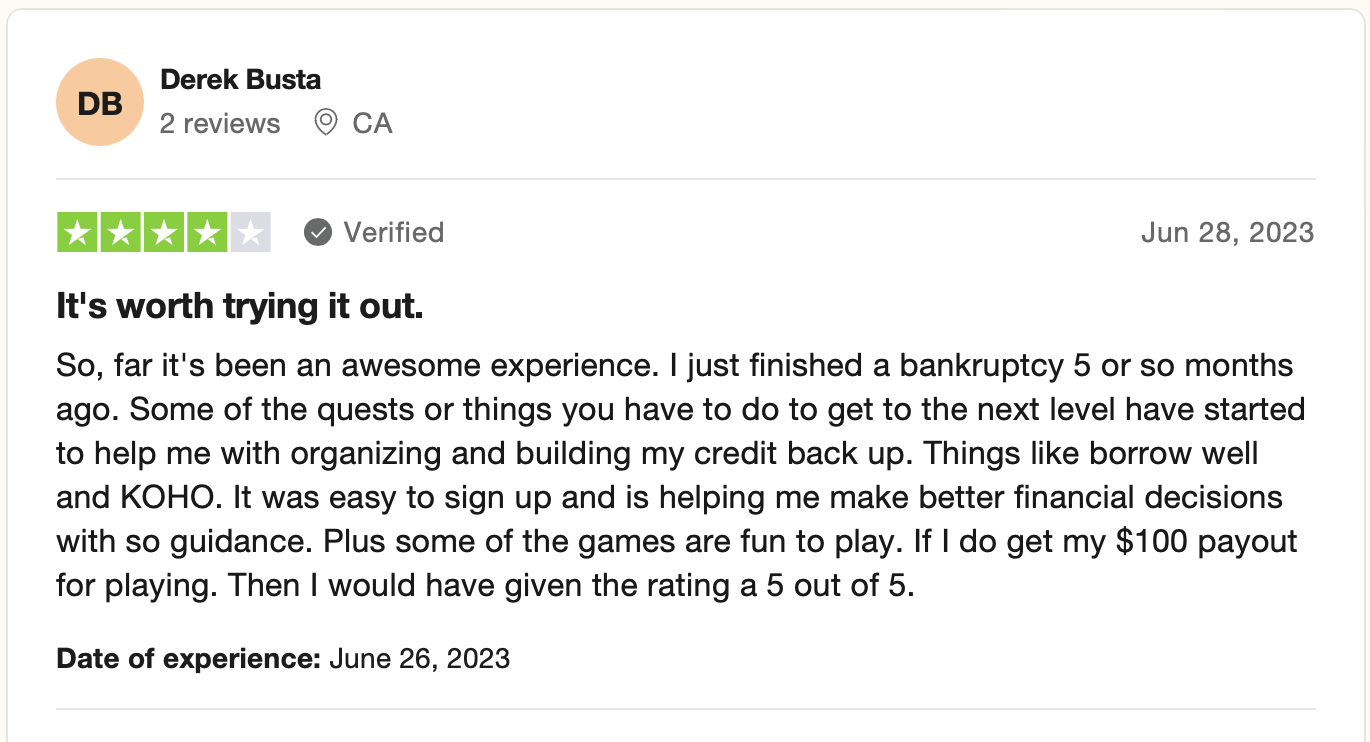 On the other hand, some users have raised concerns about Flash Rewards based on their experiences. Most of these concerns are about the deals not credited to the account and the glitches in the verification of id when cashing out. For example:
"lying about deal: they will just ask you do one deal after another and you will never get $100. i download 5 apps and follow the instruction and finish 5 deals as they asked, but i got nothing" – Tania, CA
"Not easy to claim reward: It's not easy to claim your reward .during verification of ID it shows failed a numerous times I guess it has been set up that way and after many follow up emails ( reply was very quick I really appreciate their reply ) i was able to redeem only 100$ instead of 250$.so I still don't understand where is my 250$ gone and why it hasn't been rewarded" – Pallavi Medappa, US
"Absolutely garbage company, trash!: Absolute attrocious way to handle business. After going thru a good month of doing the offers, back and forth emails, they give you three chances to frickin pass the verification?? And I somehow failed it, no idea why, they don't tell you anything. What a garbage ass company, I'm out a bunch of time and a decent amt of money ($100+) for participating in this trash program! Garbage" – Dan lewis, US
However, the assuring thing is that FlashRewards answered each of these complaints and even got many users' problems solved. Most of the time, their response is the use of a proxy or VNP will get you disqualified. So, if you are using one of these things, don't bother to waste your time on this program, as you may get disqualified after spending a lot of time.
Advantages & Disadvantages of Flash Rewards
Flash Rewards is a legit platform to earn rewards by testing out new apps and services. Yet, it also has its share of drawbacks that you should understand before registering. Here's a quick rundown of the pros and cons of using Flash Rewards:
Pros:
Rewards that range from $5 to $1,000
A straightforward registration process
Variety of offers available
Discover new games, services, and apps
A number of gift card options
Cons:
Several offers requires a purchase
Cashing out may require some time
Tier system if up-leveling is confusing, leaving many users selecting the wrong rewards
Requirement of ID document raising privacy concerns
Complicated terms and conditions that may lead to disqualification
Potential spam emails or calls from sponsors
If you enjoy free and paid product offers and aren't bothered by a bit of upfront spending, Flash Rewards is a decent choice. However, if you're more into cash rewards or if you desire a wider range of earning opportunities, you might want to check out alternatives to Flash Rewards.
Let's be clear: Flash Rewards is not a scam, but it's also not a get-rich-quick scheme. You need to exercise patience and caution when completing offers to avoid unexpected charges or subscriptions. It's important to thoroughly read the terms and conditions of each offer before you commit.
Weigh the costs and benefits of each offer carefully before deciding whether it's worth your time and effort, and be smart about your choices.
Alternatives for FlashRewards.co
FlashRewards.co gives out free gift cards and PayPal cash for doing different tasks. The question on many people's minds is, "Is Flash rewards legit? or do Flash rewards work?" their website promises that you'll "get rewarded in a flash."
But is FlashRewards.co the best choice for you?
As we see Flash Rewards comes with a lot of ifs and buts, you may get higher rewards, but it comes with a lot of work, and you may get disqualified at any stage.
Other similar websites might give you better rewards (none will make you rich), more choices, and less stress.
As you can see, there are many alternatives to FlashRewards.co that can help you earn some extra cash online. But not all of them are suitable for everyone. Depending on what you want, what your goals are, and how much time you have, you may find some websites more interesting than others.
Here are some tips for picking the right website for you:
So, Flash Rewards is Legit, But is It Worth Your Time?
FlashRewards.co is a legit rewards website that pays you with free gift cards and PayPal money for doing various tasks. However, it's not the best choice for everyone. Many other similar websites can offer you better rewards, more choices, and less stress.
For me, it has too many steps to reach the rewards and is not worth my time, especially since I needed to pay upfront for many offers, and I may end up not earning any reward as many users claimed. I may use that much money somewhere more helpful for my other hustles, like hiring a writer to write an article.
You need to decide where you stand and if you can find any offers that don't need any payment and you have enough time to complete them.
Anyways, I hope this guide has helped you discover the pros and cons of FlashRewards.co and helped you decide if you want to try it or not.
Just keep in mind that earning extra cash online can be fun and rewarding, but it isn't a substitute for a stable income. Always be careful with your personal information and financial details when using any online platform.
More Money making options:
FAQs
Does Flash Rewards Really Pay $750?
Yes, Flash Rewards does indeed promise to pay its users as much as $750 in the form of cash or gift cards. This is contingent on the completion of a specified number of deals (20 to be exact) or offers through their website. However, a number of users have reported issues regarding the receipt of their rewards on the completion of the requisite deals, while a few users claim to get their rewards generally in the range of $100.
Is Flash Rewards Genuine?
Flash Rewards is a legit site and is duly registered. Many users have positive feedback for the site. However, concerns have been raised regarding the quality of the deals offered, customer service efficiency, and prolonged wait periods for reward delivery.
Is Flash Rewards Safe?
For the most part, yes. Flash Rewards does not solicit personal or financial information from its users, leveraging encryption and SSL certificates for data protection. However, note that some deals might necessitate you to supply your credit card details or personal information to third-party websites or applications. They also require you to provide a valid government-issued id to claim your rewards which might raise scam concerns. So, you should exercise caution and familiarize yourself with the terms and conditions before committing to any deal.
Does Flash Rewards Work?
Flash Rewards works for some users. As stated on its Facebook page, the company has paid over $16 million in rewards to its user base. Many users have posted positive feedback and testimonials on platforms such as Trustpilot. However, there are also complaints of difficulties tracking progress, receiving rewards, or cancellation accounts.
How Long Does Flash Rewards Take?
The time Flash Rewards takes can vary considerably. Factors such as the type and number of completed deals, reward availability, and processing time can influence the waiting period. While some users report receiving their rewards in a few days or weeks, others have had to wait for months, and some have not received their rewards at all.
Flash Rewards Review
Earning Potential

Ease of Use

Number of Offers

Ease of Payout

User reviews
Summary
Flash Rewards is a free site that lets you complete or try different offers and services for rewards ranging from $5 to $1000.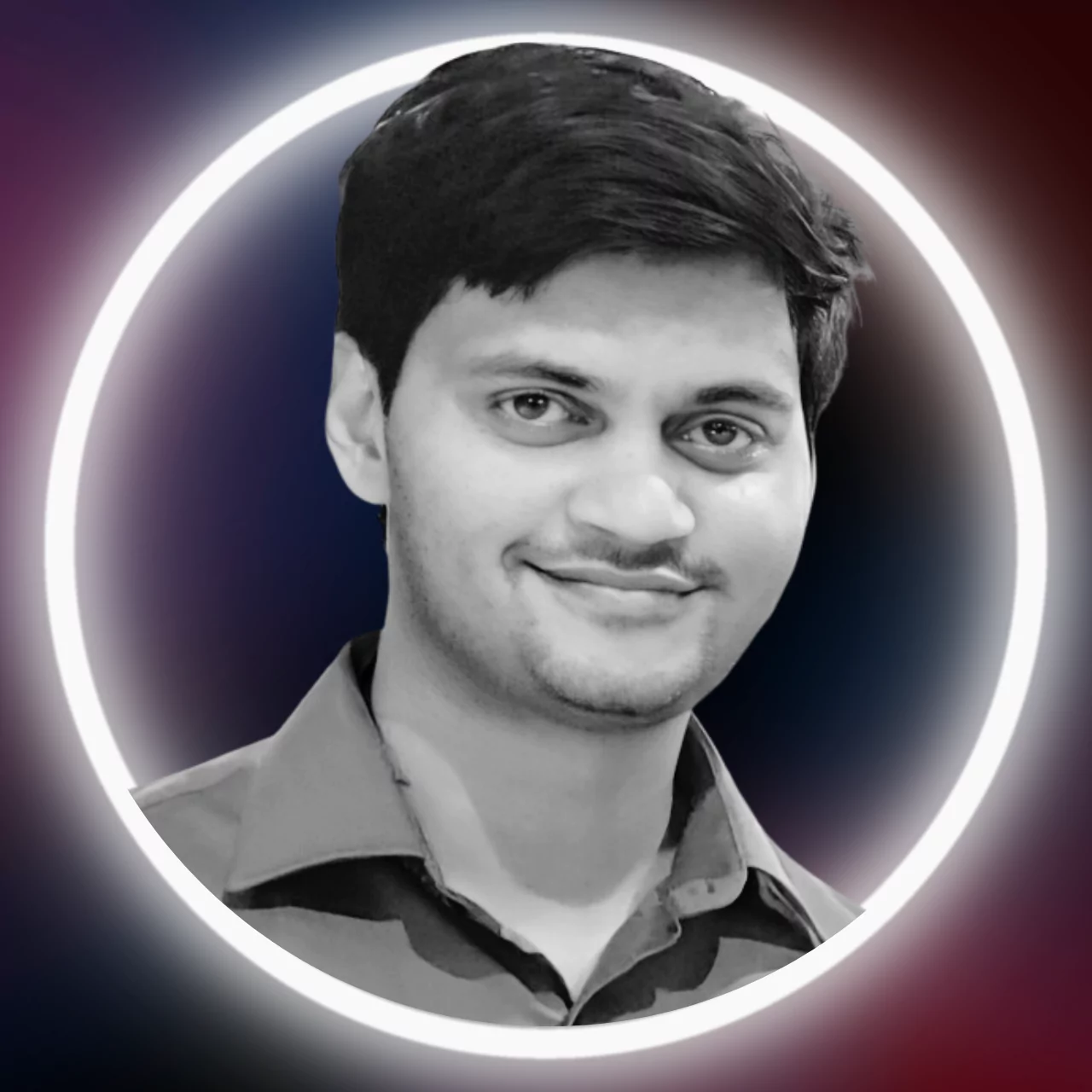 Sumeet is a Certified Financial Education Instructor℠ (CFEI®) and founder of MoneyFromSideHustle. He is an experienced side hustler who replaced his full-time income with side hustles. His work has been quoted on major finance websites like CNBC, Yahoo! Finance, GOBankingRates, CEOBlogNation, SideHustleNation, and more. He has helped thousands of people find side hustles and is here to help you find your extra source of income. More about him.