This post may contain affiliate links from which I may earn a commission without any cost to you. Read our policy for details.
Selling cards can be a good option to make some quick money. If you want to know where to sell sports cards, you are at the right place.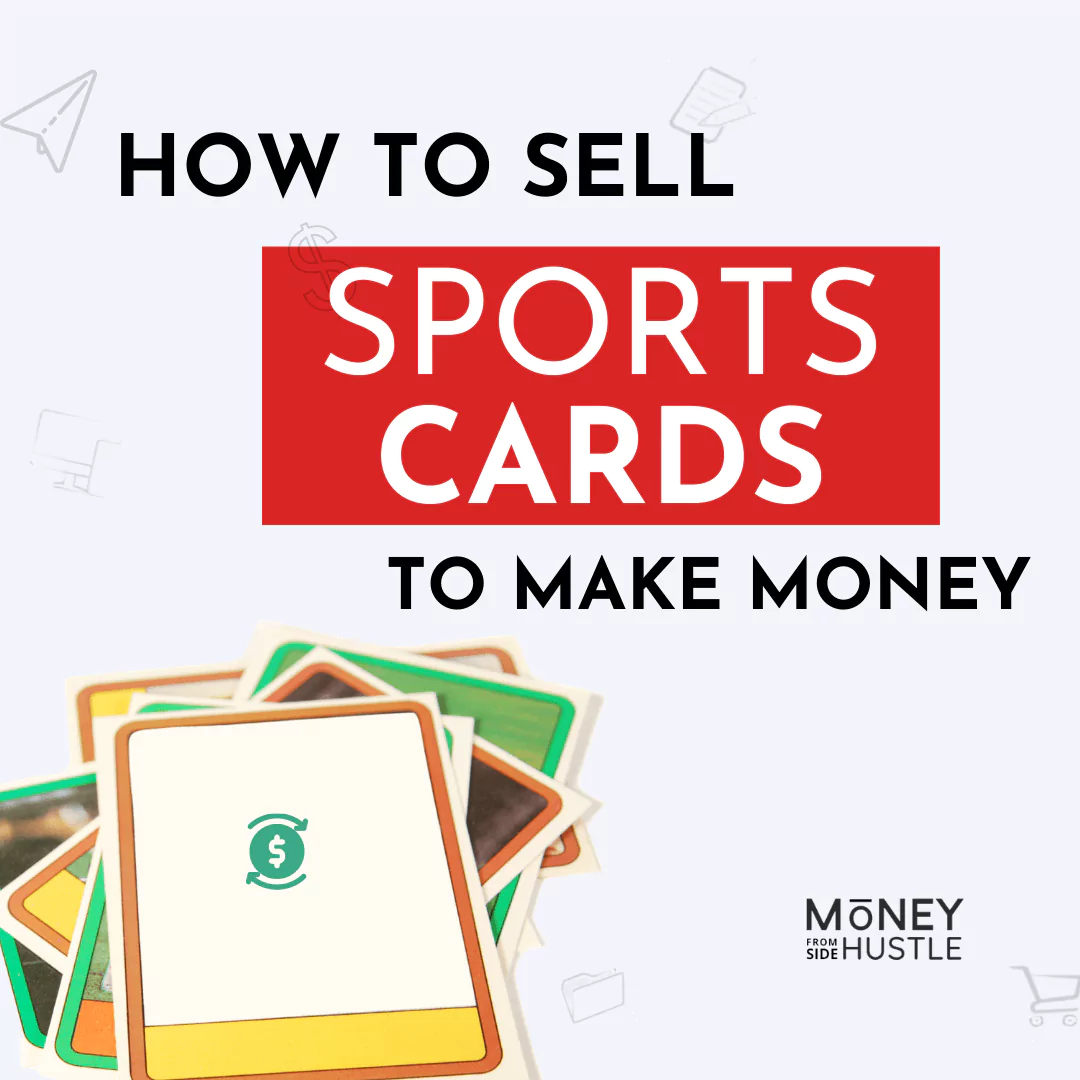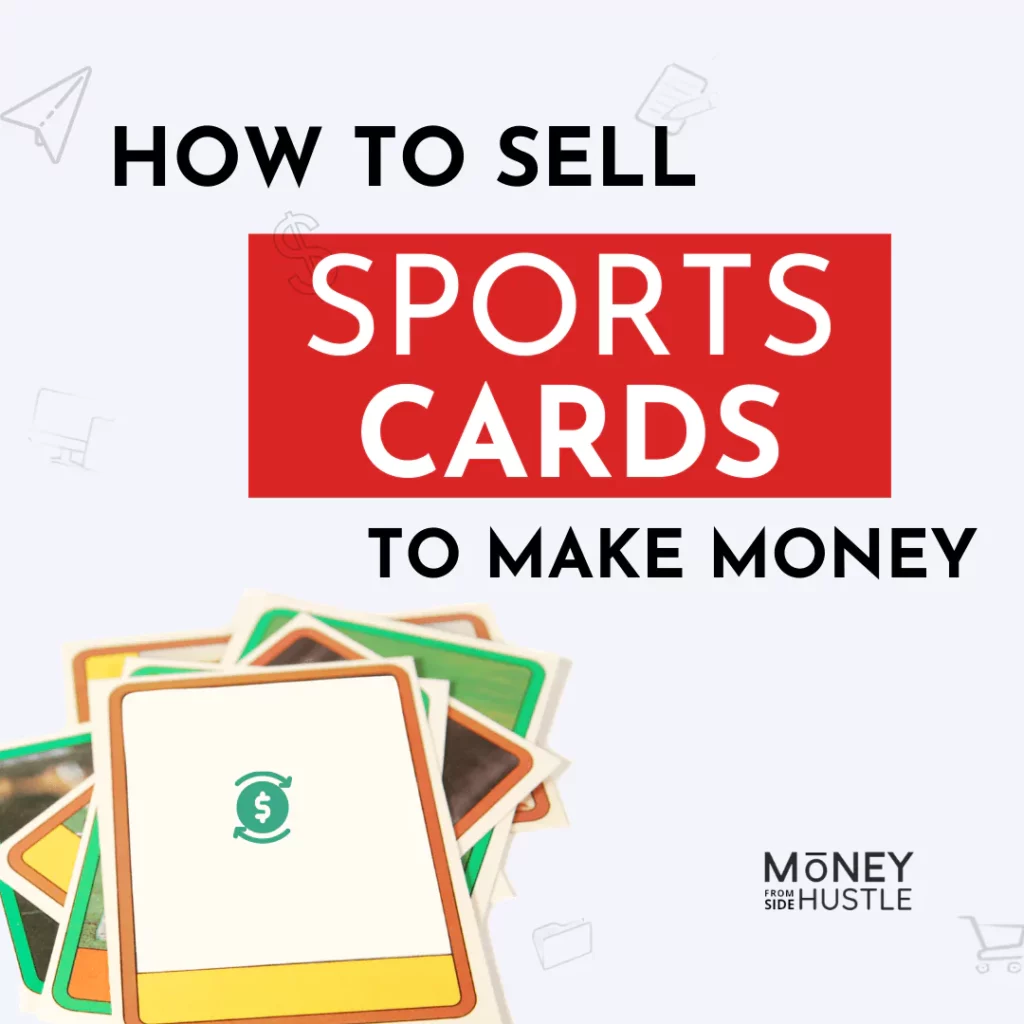 Sports cards are collectibles that feature different athletes, teams, and other sports-related things.
There are two kinds of people who collect sports cards.
Sports fans who love to collect cards of their favorite athletes and teams
Flippers who invest in high-value cards and sell them for a profit
Whether you are a side hustler trying to flip sports cards for profit or a vivid sports fan sitting on a treasure of rare cards, there are many places to sell sports cards online and offline.
You can use general marketplaces like eBay or specialized apps like COMC to sell sports cards.
In this article, I will discuss all the places you can use for selling sports cards, along with a few tips on how to sell sports cards online and offline for maximum profit.
Let's find out where to sell sports cards.
High earning surveys
Easy-to-use website
Many ways to earn
How To Decide The Value of Your Sports Card
When you are going to sell your cards, before finding the place to sell them, the first question should be how much money you can get.
It's not like there is a price written on them.
Your card might be worth thousands or just a few bucks, depending on so many factors.
Here are a few important things that decide the price of a sports card.
I. Rarity And Age: The number of cards in circulation has a major say in the price of a card. If you have a card that was part of limited packs or was printed in very few numbers, then there is a probability that there will be demand for that card.
For example, Mike Trout 2011 Bowman Chrome Prospects autograph card was released in limited numbers and is a highly sort after card.
Vintage cards also offer more value than new releases.
Some vintage cards have variations like different font colors or images and were available in limited numbers, such cards are also more valuable.
Of course, there are more things that affect the price of a card.
II. Condition: The cards that are in perfect condition or, as they say, in mint condition fetch you more money than the cards with wear and tear.
The cards that are not handled well are less appealing to collectors as they can lose their value over time.
There are a few things to look for when you are assessing the condition of a card.
Centered cards
Sharp corners and edges
No surface wear like indents
No spots like ink or stains
III. Player: The player card belongs to have a major say in price. A few players are more famous and popular than others, and they have a larger fan base who are willing to spend top dollar on their cards.
If you have a famous player card that is also rare, you can expect to get good cash selling that card.
It may happen that a certain player is in the news for something like helping his team win or for some controversy, which may also increase the demand for their cards.
Especially the rookie cards of Hall of Famers are worth more than other cards like this one.
IV. Autographed: If you have a card that is autographed by the player himself, there is a very high chance of getting a good price for selling that card.
If that player is a legend, then you can get thousands for that card.
V. Grading: You can get your sports cards graded by professional graders like PSA and BGS. They use standard criteria to grade a card and give different grades.
Poor
Fair
Good
Very good
Excellent
Mint
Getting a grading certificate will give a buyer confidence and help you fetch a good price, and they can also suggest a price for your card.
A few of the websites to sell sports cards for cash we will discuss later also provide these services either free or for a fee.
Other than that, comparing your card to other selling cards that are similar in condition gives a good idea of what should be the price of your card.
Highest Paying Surveys
Up to $50 per survey
Industry-leading surveys
Best Places to Sell Sports Cards
You have two options to sell sports cards for cash. One is selling them offline, and other is online.
Both have their own advantages and disadvantages. If you are in a rush, you can sell them locally, but if you want to get maximum value for your cards, then selling your sports cards online can be your best bet.
Let's first see where you can sell your cards locally.
1. Facebook Marketplace
When it comes to selling anything locally, the first place I check is Facebook Marketplace.
You can sell anything here and meet the buyers in person. Unlike other places, here you can look at the profile of the person you are going to meet and deal with for the first time.
I don't know about you, but for me, it's a big deal as I can be confident that I am not meeting some psycho or fraudster.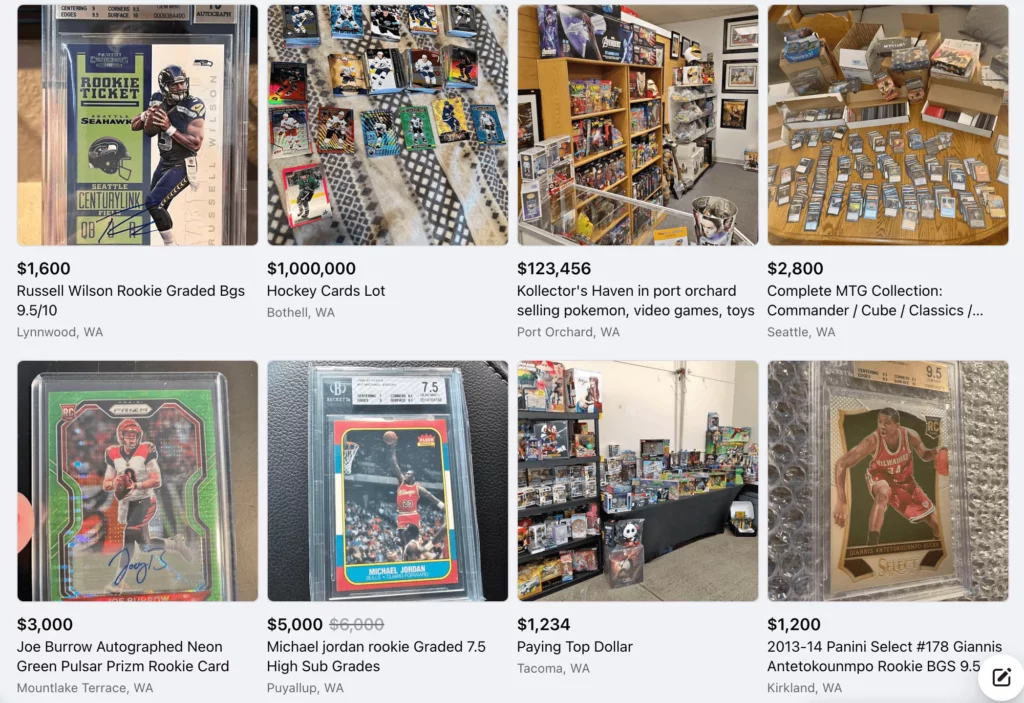 You can use Facebook in two ways while selling your cards.
Post an ad in Facebook marketplace and choose to show it to local people
Join a local buy and sell group and sell your cards there
When you post an ad with photos, price and all other details, interested buyers can directly contact you.
If you choose to sell after making a deal, you can meet the person and exchange sports cards for cash.
You can also select to show your listing all over the country if you choose to ship your cards.
Charges: If you are selling locally, there are no fees. However, for shipping and using the Facebook payment option as a seller, you need to pay 5% of the selling price or $0.40 flat for orders below $8.
---
2. Pawn Shops
Every place has some pawn shop that buys all sorts of things ranging from jewelry and antiques to collectibles such as your sports cards.
They buy stuff that they think they can sell for profit. So, they will try to underprice your cards.
If you choose to sell to them, you really need to have an understanding of the value of your cards.
It is often a good way to sell low-value cards in bulk.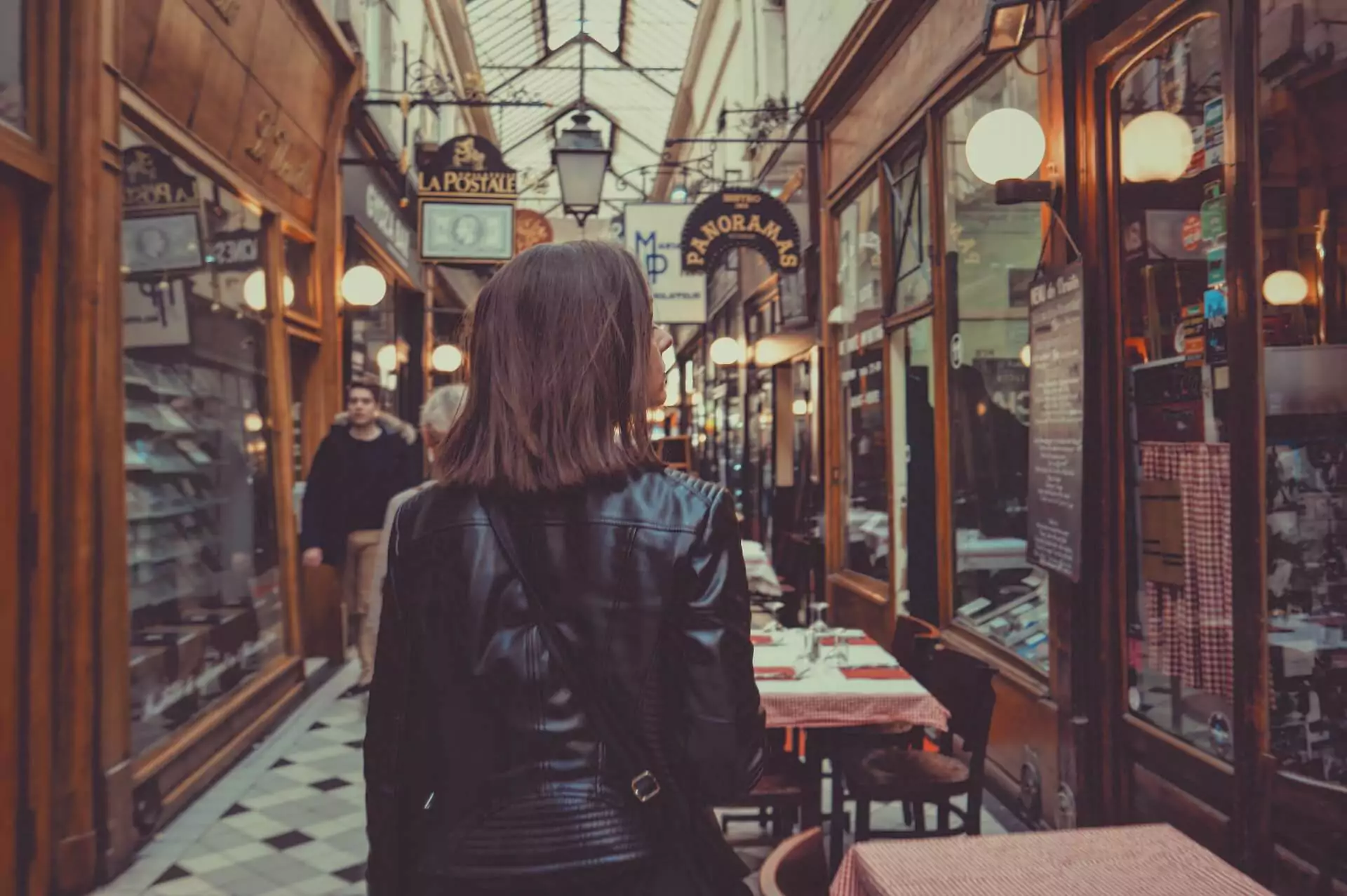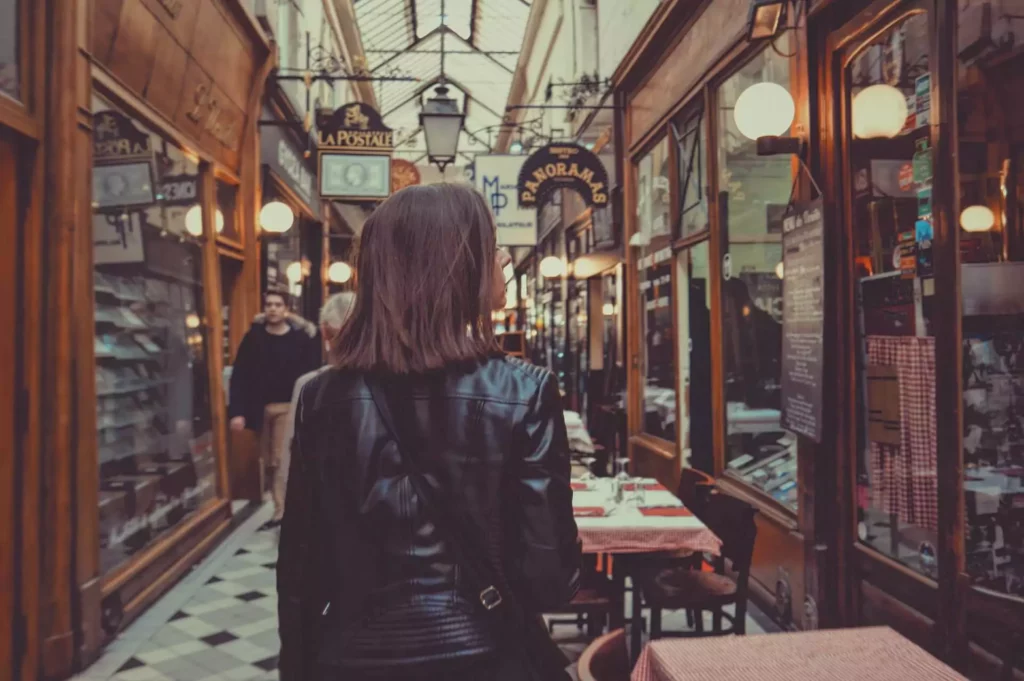 Arrange all your cards according to sets, teams and players before taking them to pawn shop.
They will evaluate your cards and offer you a price, if you like the price, you can get paid cash in hand or by check.
That is why it is a good idea to sell your cards locally if you need the cash immediately.
---
3. Local Collectors And Card Shops
As with any other way of selling cards, here also you need to first assess the value of your cards with services like Beckett.
Once you know the value of your cards and have them stored in a safe place like a pouch or protective sleeves, try looking for local card shops.
Offer them the cards you want to sell, and be ready to negotiate the price if you feel the offer is low.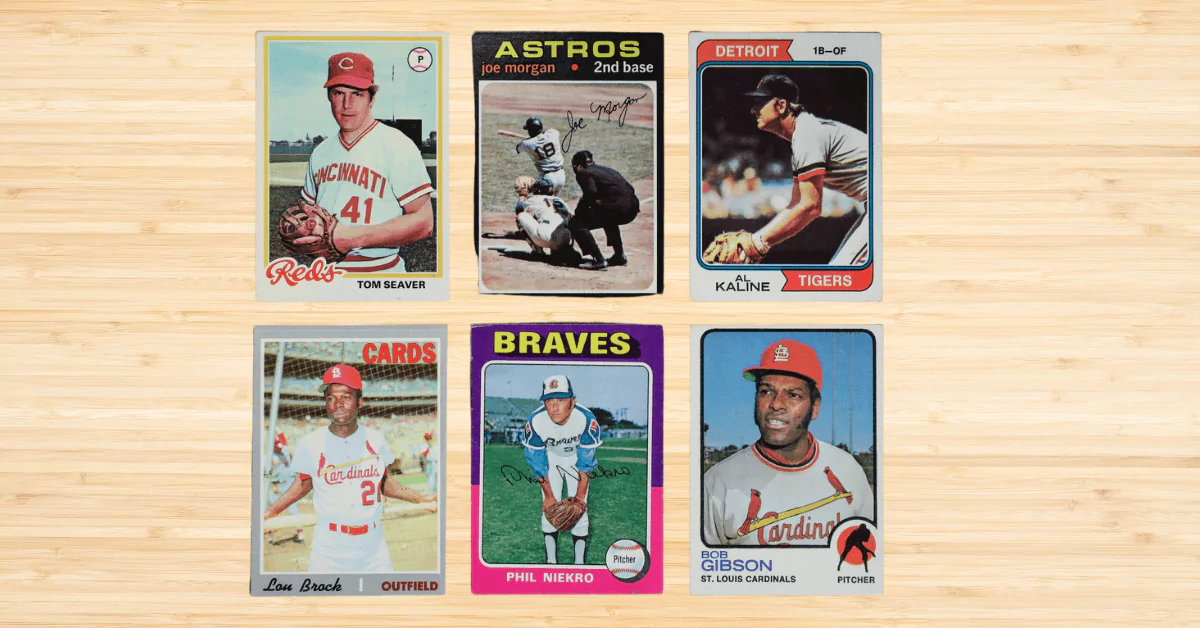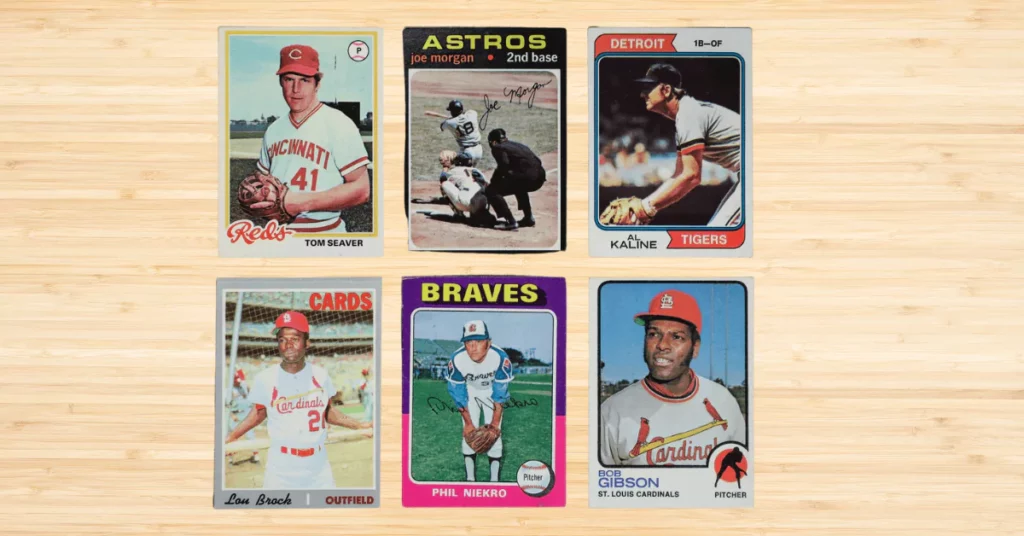 There will be many local card collectors in your area that you can meet through social media groups and discuss selling your cards.
If you have high-value cards, meeting the right people is key who understand the value of those cards and are willing to pay for them.
Make sure when you are selling your cards locally that you get paid first before giving your cards to avoid any fraud.
---
4. Craigslist
Craigslist is a great place to sell just about anything.
The platform is huge, with a large audience. There is no listing fee and much moderation on the website, attracting many frauds.
But it can be a great place to sell your collection of cards if you are careful.
Just post your cards on the platform with details and your expected price.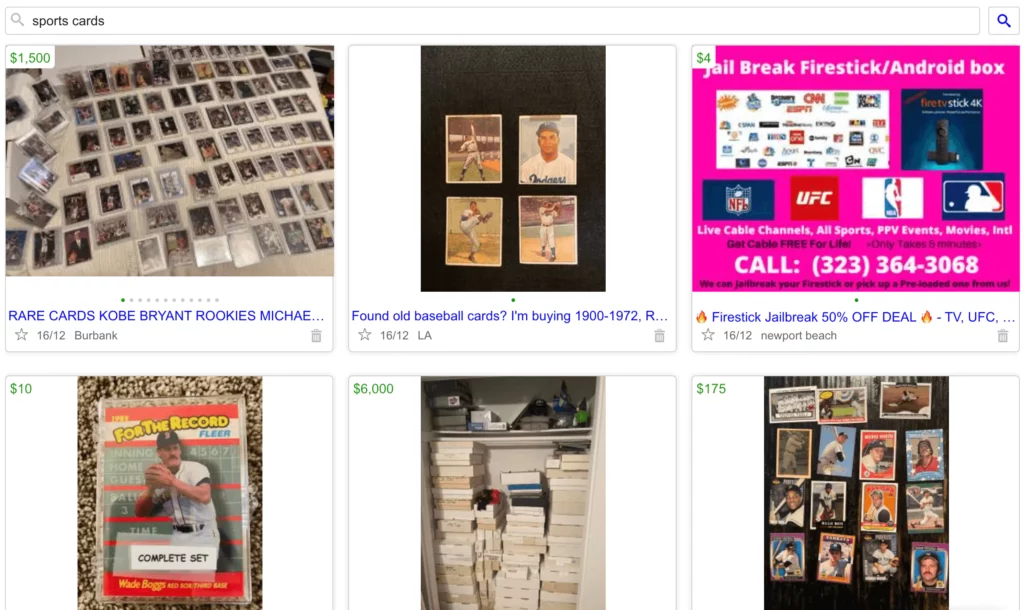 When someone contacts you, be willing to negotiate on the price, and once the deal is done, make arrangements for a meeting.
Never invite anyone to your home, and always use well-lit public places for these meetups where you allow them to inspect your cards confidently.
Take cash before handing over your cards, and never accept checks as payment.
---
5. Trade Show And Conventions
If you have high-value cards, selling them at Trade shows or conventions can be a great idea.
These are the places where similar-minded people meet who are passionate about the same things.
You can make contacts at these places with collectors who regularly buy and sell rare sports cards.
Another way is setting up a booth, as many trade shows require sellers to set up one. For setting up a booth, you may need to pay fees, and it is worth it only if you have a good number of cards to sell.
Here are a few things you need to do to go this route: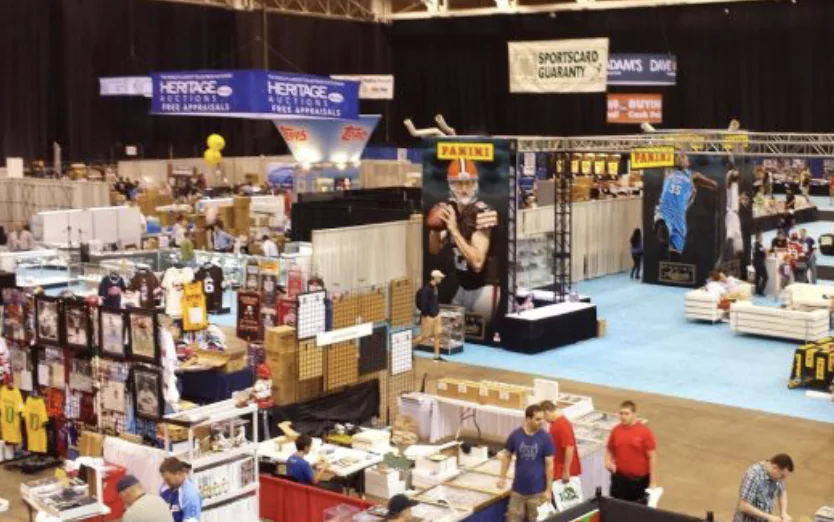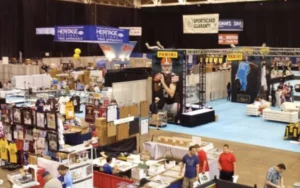 Research for such conventions in your local area
Find out the joining fees and is it worth it paying that
Prepare your cards and have them graded so that you have confidence in your prices
Other than selling cards for money with your hobby of collecting cards, you can also make many friends at these places if you are passionate about sports cards.
Here are a few examples of sports card conventions:
National Sports Collectors Convention: This is one of the largest sports card conventions in the United States, held annually in different cities
Sportcard & Memorabilia Expo: This expo is held annually in Toronto, Canada, with many events
The Great American Collectibles Show: This show is held annually in San Francisco and California
Card Shows: Many cities across the United States and Canada host smaller, local card shows throughout the year
How To Sell Sports Cards Online
Other than selling your sports cards offline, you can sell them online as well.
This way you can reach wider audience and get higher prices of your collection.
Plus, you don't have to deal with anyone face to face.
It can be the best way to sell sports cards for introvert people. There are many websites and apps to sell cards. A few of them specialize in sports cards, and others deal in selling things online overall. Here are the best of them.
6. eBay
When you are planning to sell something rare or collectibles as your sports cards, the first place of choice can be eBay.
This is a very big marketplace where you can sell your cards to a worldwide audience.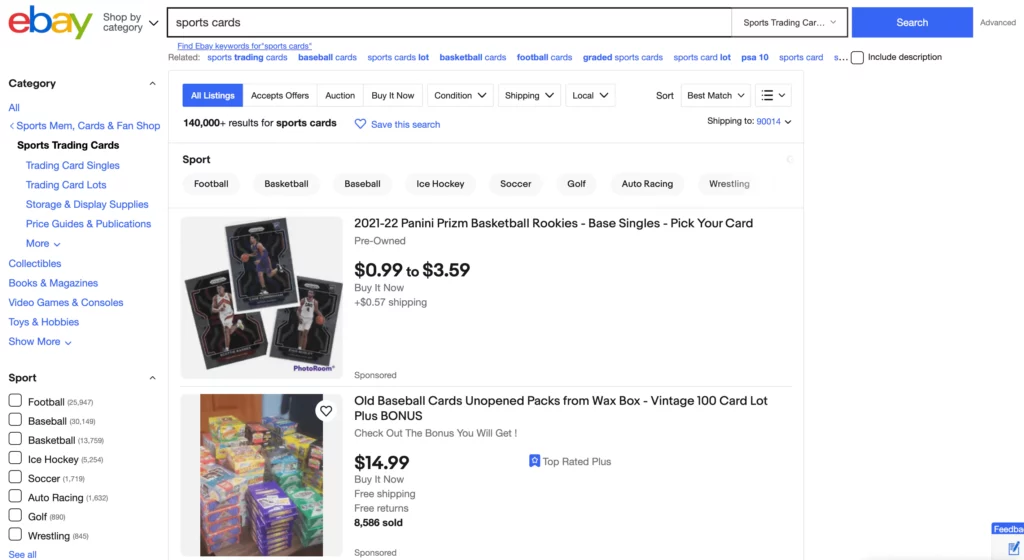 There are many categories of items that are being sold on the app, and sports cards are one of them.
Make a nice listing with images and descriptions of your cards and their conditions.
When someone buys your card, you have to ship them the cards within a time frame and bear the shipping costs.
But you can always include shipping costs in the price of your cards.
Charges: You can list up to 250 items for free, and after that, you need to pay $0.35 per listing. When you make a sale, you pay 12.9% plus $0.30 commission to eBay.
---
7. Amazon
Amazon may not come to your mind when looking for answers to the question, "where to sell sports cards?", but it is one of the biggest marketplaces for selling cards.
There are thousands of cards listed on the platform, and many people buy them here.
They have millions of active users on the platform, and you can reach a wide audience.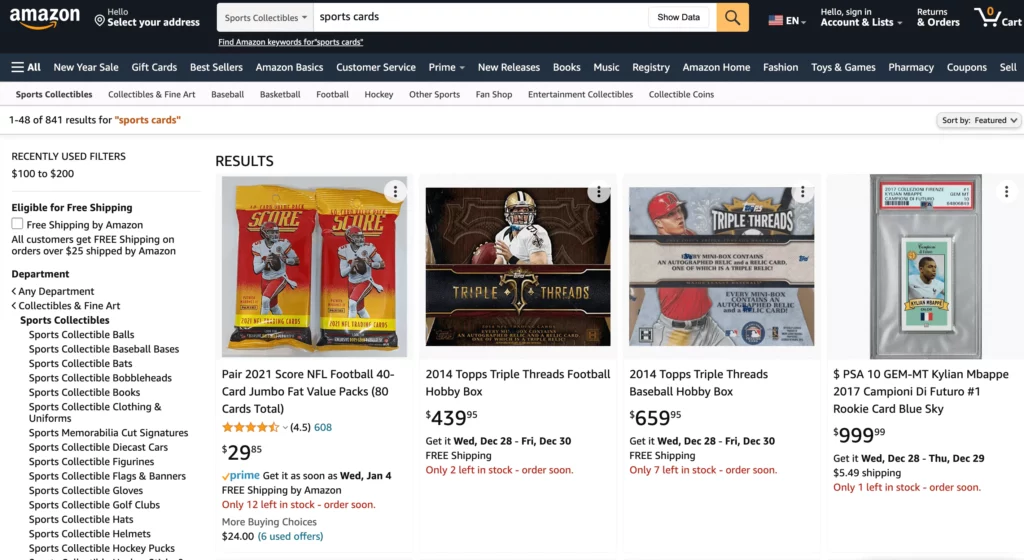 You can become a seller on the platform and start listing your cards.
If you have professionally graded cards, you can easily sell them on Amazon.
They also offer:
Independence to set your card price
Different shipping option like FBA
Customer support and other tools like sales reports
Make sure to have a good rating as a seller by providing good service to your card buyers.
Charges: You pay $0.99 per unit sold and 8% to 15% fees.
---
8. Beckett Marketplace
Beckett Marketplaces is the best place to sell sports cards if you have a large collection of cards or want to do card flipping.
They have build trust among card collectors over the years, and they also provide top-notch tools and services to help the cards community.
To sell on the platform, you need to register as a seller.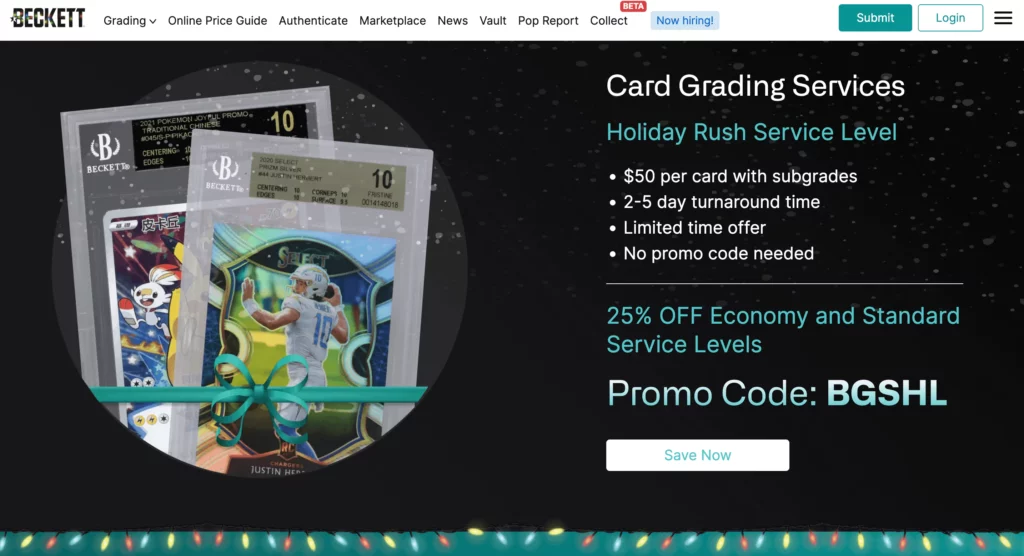 Then you can use their online price guide to have an educated guess about pricing your cards. They also offer you a customizable shop, tracking features, and customer support.
They also offer a card grading service which is one of the most reputed in the market, and increase your card authenticity.
There is a forum on the website you can join for free to interact with fellow card collectors.
Here are a few more things you get on the platform:
Other than selling sports cards, they also offer a marketplace for comics, coins, and stamps
The platform has a secure payment system to protect buyers and sellers during transactions
Sellers have the option to list their cards for auction or at a fixed price
You get free shipping on orders over $50 within the United States
Their customer support team is available for all your queries
You can also use their iOS and Android app for selling sports cards
Charges: Joining is free but to avail of additional features like the pricing guide you need to pay a $14.99 to $40.99 monthly fee, depending on the services you avail.
You can also send your cards to them for grading for $25 per card to $50 per card.
---
9. COMC (Check Out My Cards)
If you don't want to do the work yourself, COMC is a Canadian company that sells sports cards for you.
You just have to send them your cards, and they do all the work.
They take professional photos
Do research on your card
List and advertise your card
Ship to the buyers
Attend all service related queries
They also provide historical data to give a reference price point for your card.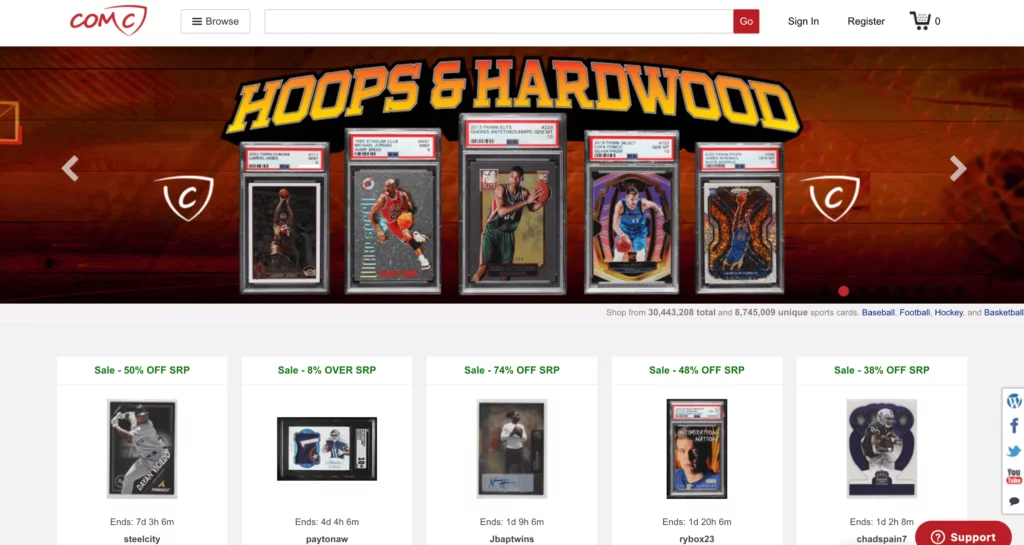 You can use them for grading your cards and mailbox services.
They have eBay integration, where they will list your card to eBay without any effort from you.
Charges: They take a processing fee of $0.50 to $2 per card, depending on the turnaround time and service selected by you.
There are other fees like fixed price transaction fees of 5% and auction fees of 3.5% depending on the services you choose to avail.
The money you earn by selling cards is given as store credit that can be converted into cash but with some hefty transaction fee.
---
10. Dave & Adam's
Dave & Adam's can be a good place for selling your sports cards.
They are not a marketplace or consigners like other websites in this list. They buy your sports cards themselves and sell on their website.
You just need to contact them with your collection either at their physical store or through their website.
They accept different kinds of sports cards like:
Unopened sports card boxes
Graded cards
1970 or older single cards
Complete sets from 1986 or earlier
Empty basketball displays older than 1975
Modern cards of high value
If you have any of these things, you can contact them to sell them. They will offer you a price based on their assessment.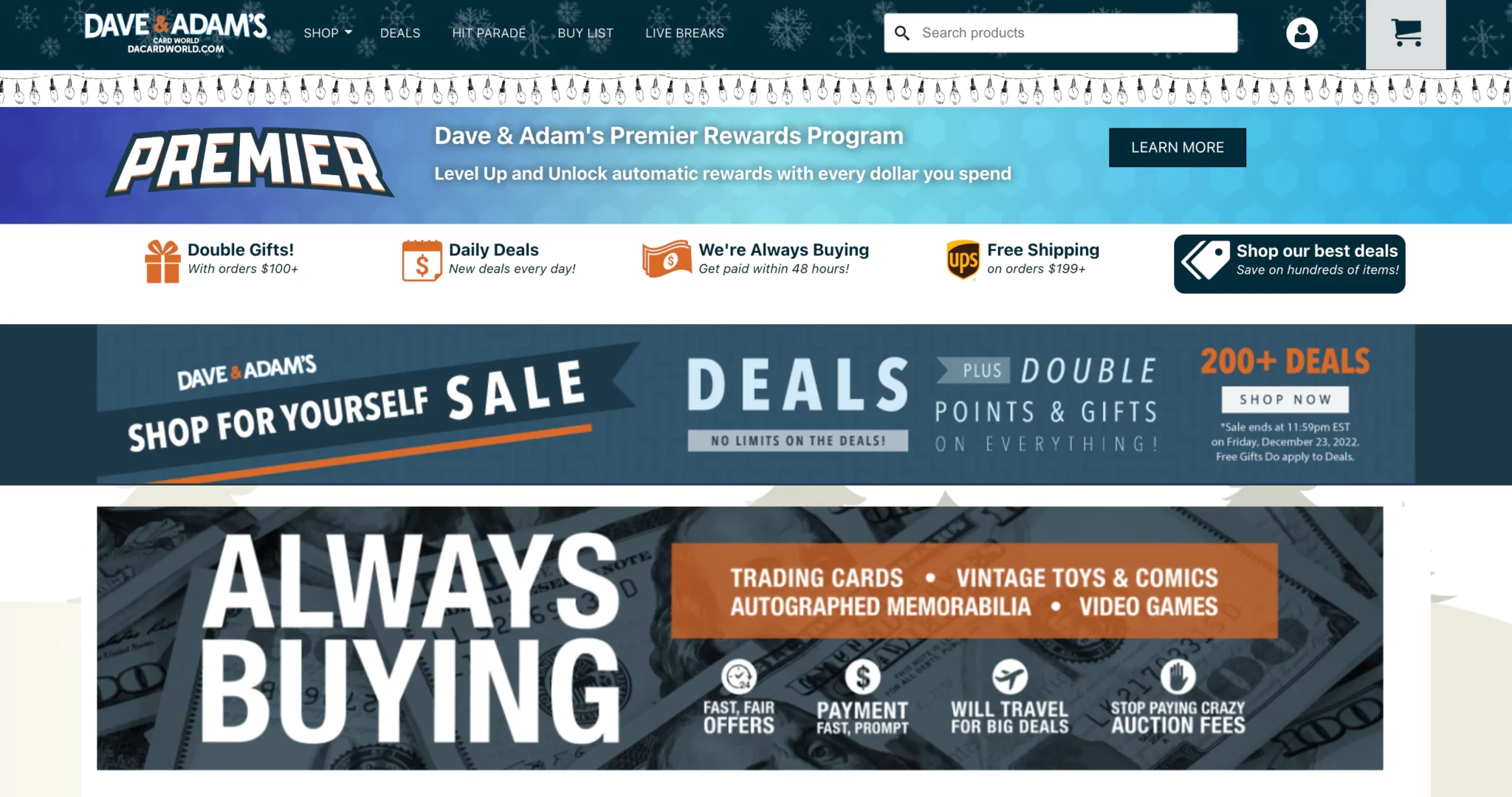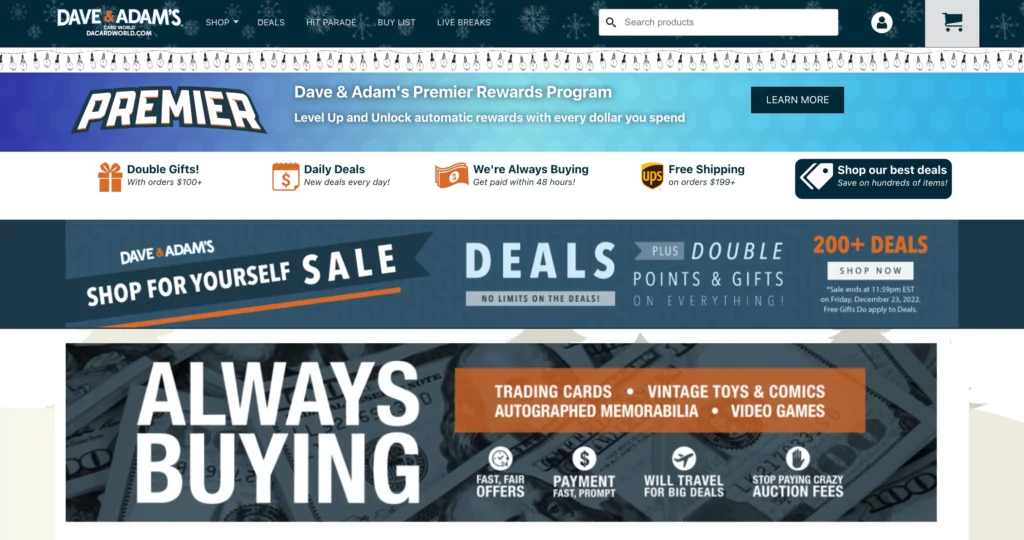 If you like the offer, you can sell your cards to them.
Other than sports cards they also deal in:
For selling all these things you can get paid in cash, check, or PayPal.
Charges: There is no fee like transaction fees or other charges like auction fees because you are selling directly to the company, and they will make money by selling these cards at a higher price on their website.
---
11. StockX
StockX is a great place to sell your sports cards.
They are famous for selling and buying sneakers are are available in limited numbers but you can also sell your collectibles like sports cards here.
You just have to search on their website for your card details and based on your provided details they will create a product page.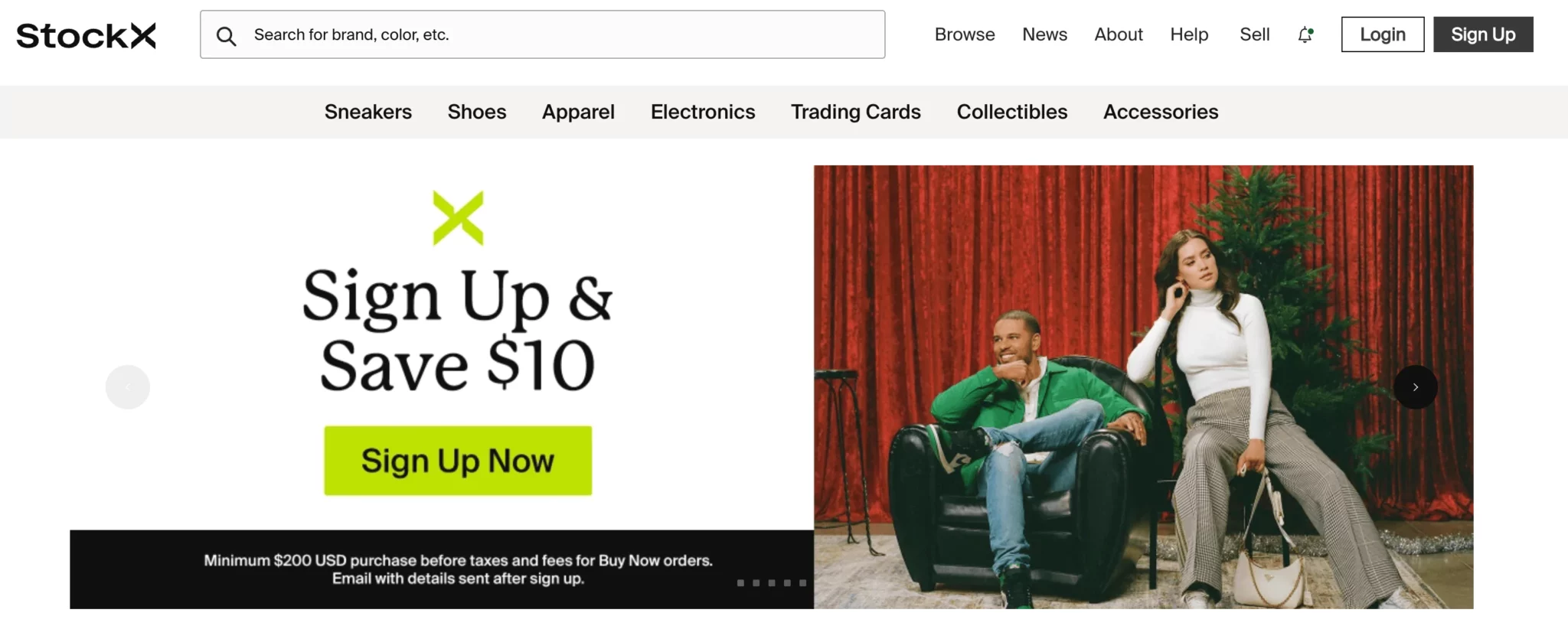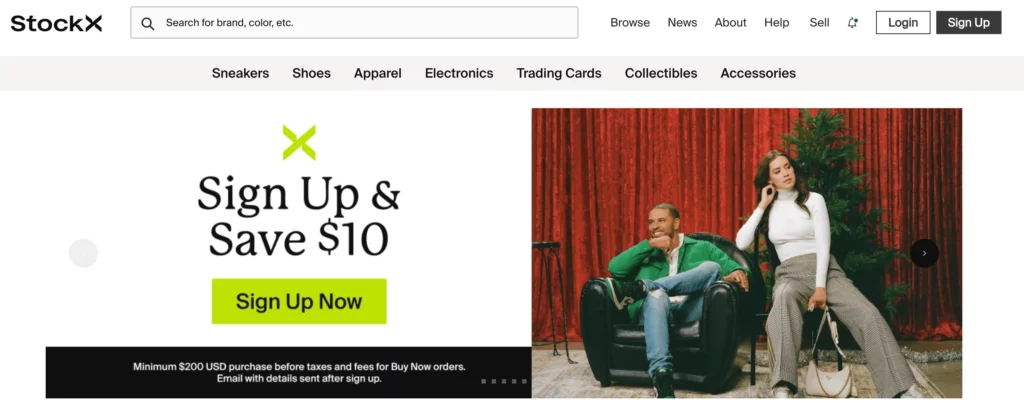 You can set up your asking price and or allow bidding.
Note: They only accept graded cards from PSA and BGS without any dent, scratch, or chipping of the case.
Once a buyer chooses to buy your card, you need to ship your card to the StockX facility within 2 days with proper packaging in bubble wrap through UPS so that package does not get damaged on the way.
They authenticate the card, and if found satisfactory, they send the card to the buyer, and you get your payment.
Charges: They have a fixed 3% payment processing fee, also transaction fees which depend on your seller account level, starting from 8% to 10%.
| Number of sales | Amount of sales | Commission |
| --- | --- | --- |
| na | na | 10% |
| 3 | $500 | 9.5% |
| 6 | $1,500 | 9% |
| 25 | $5,000 | 8.5% |
| 250 | $30,000 | 8% |
---
12. Kruk Cards
Kruk Cards is another place that buys your sports cards.
They have been in the business of buying and selling cards for more than 30 years.
Whether you have common cards or a collection of rare cards, you can sell them all on this website.
You just need to provide them with a list of cards you have, and they will quote you a price.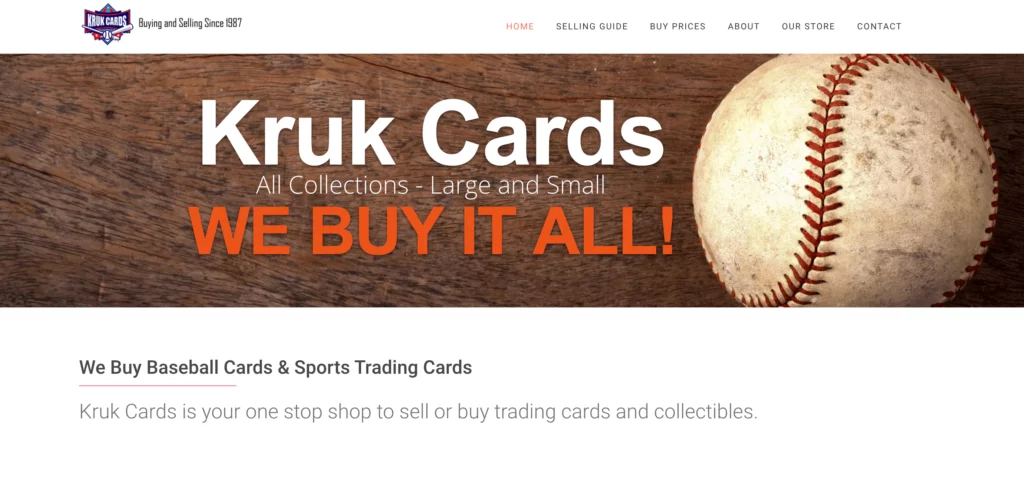 In the list, you need to include all the details, like the types and numbers of cards you have or any autograph memorabilia you possess.
If you agree on a price, you need to ship the cards to them. In case your collection is large enough, they can also pick up your cards.
Their website has a pricing guide, so you can see what you can expect to get by selling your cards.
Common cards will fetch you $10 to $30 per 5000 cards, depending on their year and game. On the other hand, rare cards like the 1978 Topps Wax Box can fetch you $3,200 for a single card.
---
13. Dean's Cards
Dean's Cards is a great place to sell your baseball cards as they are one of the largest buyers of such cards.
Though they buy all sorts of sports cards, they specialize in buying and selling baseball sports cards.
Though to be able to sell your cards here, you need to have cards older than the 1980s.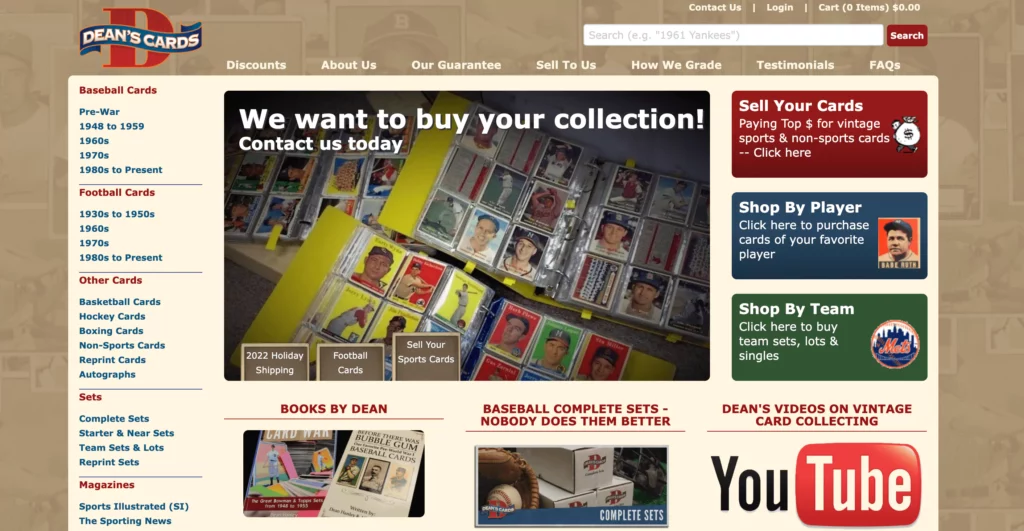 You can simply ask for an appraisal by filling in the form here with all the details about your cards like:
How many cards you have
Year of card printing
Complete set or not
Any other additional details
Turn around time for answering queries is generally one day.
If they are interested in your collection, they will provide you with a mailing address, and you can send your collection for assessment and get an estimate of the money you will earn by selling your cards to them
If you liked the offer, accept the check otherwise, you can have your cards back for free.
---
14. Otia
Otia website can be used to sell your vintage sports cards.
They buy your whole collection if you have some vintage cards in it.
Simply fill up their form to provide them information like a year of print, the number of cards, and how many pre-1975 start player cards.
They also ask for images of your whole collection plus individual images of your vintage cards.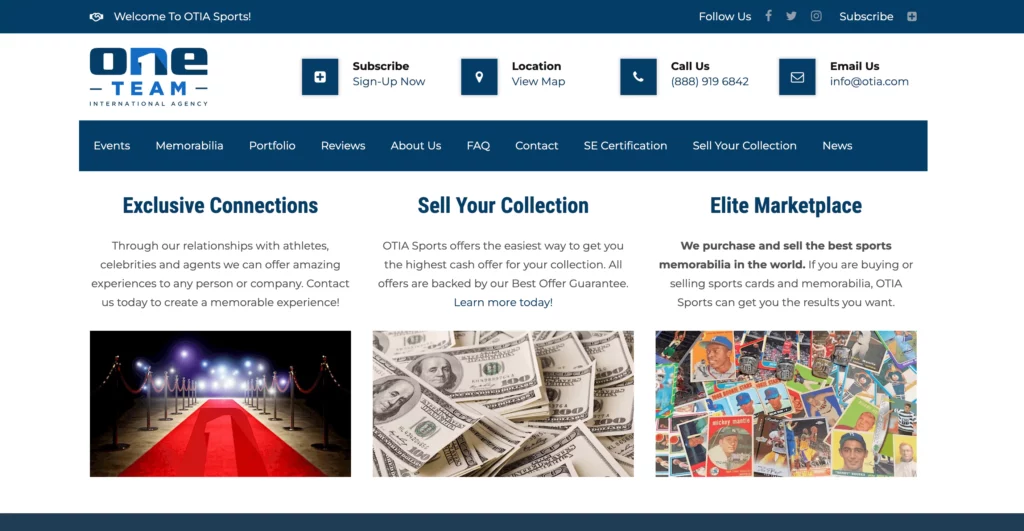 Based on your information, they will give you a price quote.
They claim to provide the highest value and are so confident that their offer price is valid for 30 days so that you can cross-check with other card buyers.
You can also get a cool 10% commission if you refer someone's collection to them.
You can ship your cards collection or they will pick it up if you have a large value collection.
In either case, you can get paid by cash, check, or PayPal for selling your sports cards.
---
15. Sportlots
Sportlots is a sports card marketplace anyone can use to buy or sell cards online.
You can list your cards on this website for free and reach many potential buyers looking to buy sports cards.
Here is how you can add inventory on the website, and buyers can place offers.
If you accept the offer, you can ship your cards and get paid.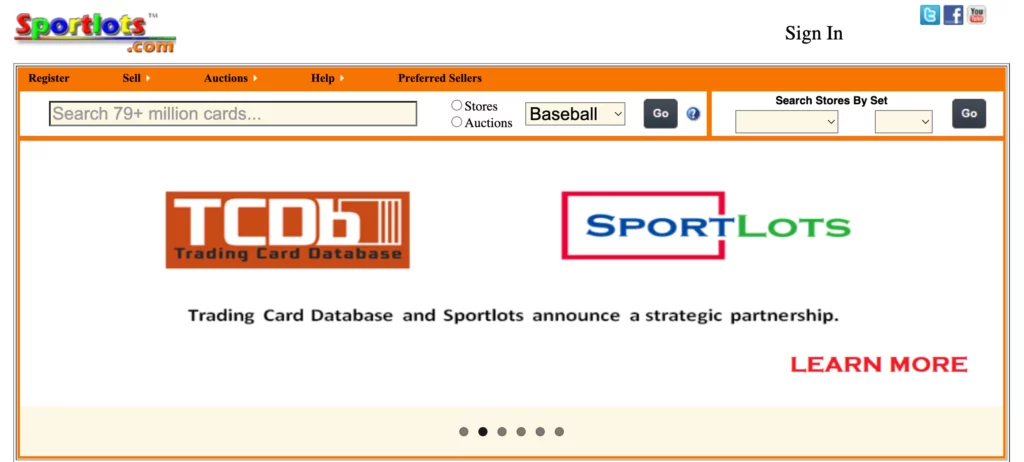 You can also enter your card in the auctions section, where people can bid to get it.
Sportlots offer three shipping options that buyer can choose and need to pay for that.
If the buyer chooses the budget option, they can not claim a refund in case of damaged cards.
Charges: They have a dynamic pricing model ranging from 15% to 75%, depending on price. If a buyer makes a payment by PayPal, the seller needs to pay the transactional charges as applicable.
---
16. TonyeTrade
TonyeTrade is another player in the card industry that specializes in baseball cards.
So, if you have a baseball card collection and you want to sell them, you can contact TonyeTrade.
They also buy other sports cards, memorabilia, and comics.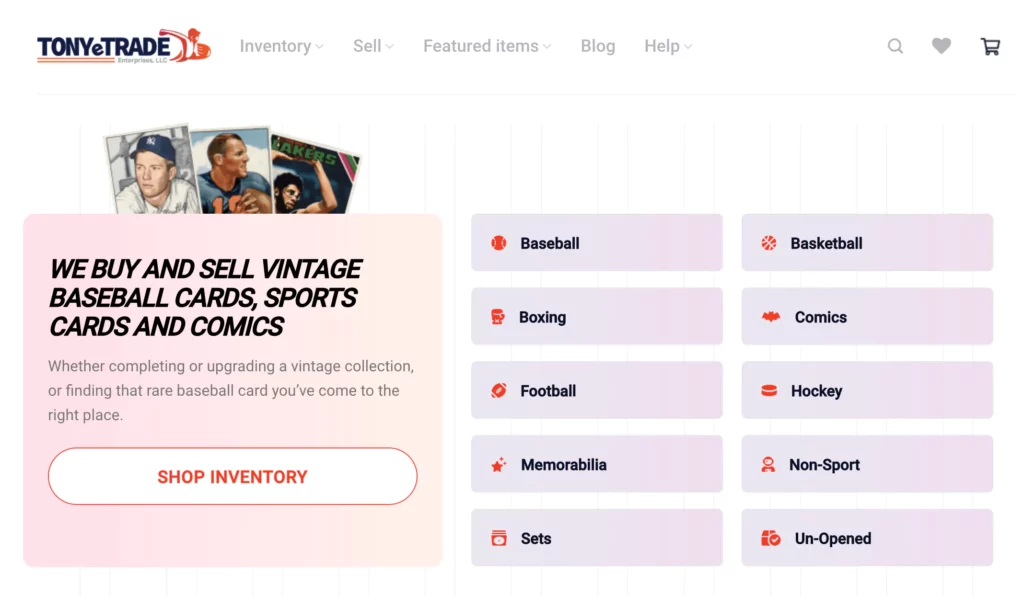 You can call them or fill out a form on their website for an initial consultation.
They will ask for all the details like the number of cards and conditions of cards, and if they deem it necessary they will further evaluate your cards.
Based on that, they will make you an offer for broking a deal or consignment. If you like the offer, you can send them your cards, or they will arrange for the packaging and pick up.
---
17. Heritage Auctions
Heritage Auctions is one of the largest collectibles auctioneers and they also auction a lot of vintage, rare sports cards.
If you have a high-value sports card in good condition, you can for a free appraisal and list your card for one of the auctions.
You need to provide a brief description and provide other details along with images.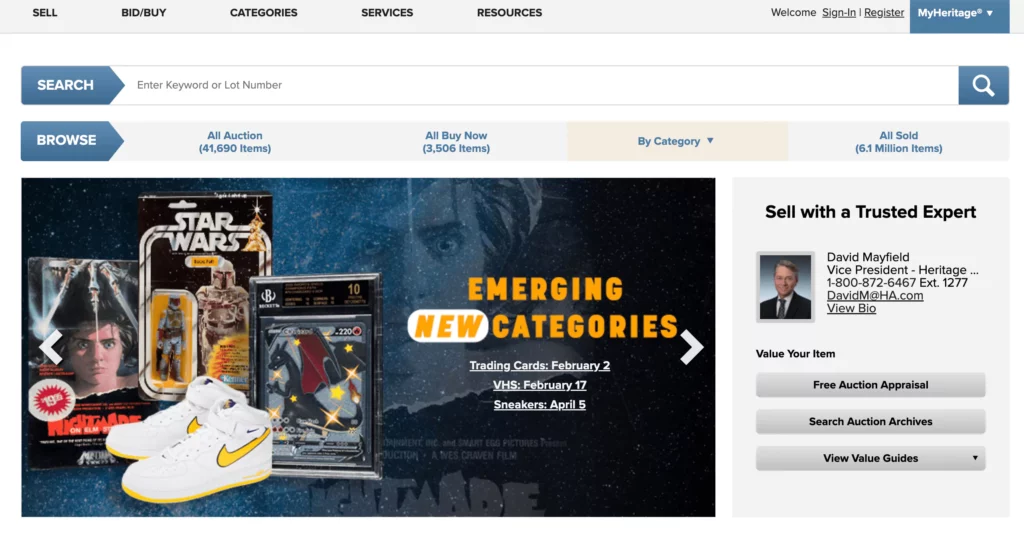 Once they get the details, their expert will evaluate it and give you an estimate.
You can choose to consign or sell outright to them.
You need to handle the shipping and shipping fees yourself.
Charges: They have a fee of 10% if your item sells for less than $2,500. Their percentage of commission decrease with an increase in price, and only 3% of your card sells for more than a million.
---
18. PSA Card Forum
PSA Cards is an industry-leading card grading service provider.
Many card collectors flock to this website for grading and pricing services. This hub of collectors also hangs out on the forums available on this website.
On these forums, anyone can join and make threads.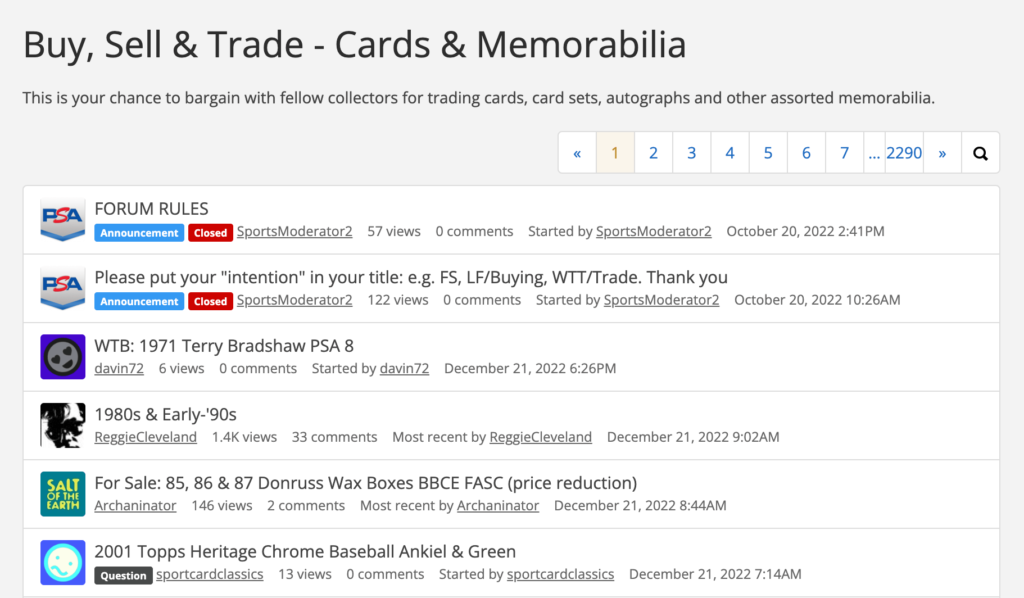 These threads can be related to selling your rare PSA-graded cards. Threads are moderated and anyone can see them and offer to buy the cards.
You can negotiate with the buyers on your own without any involvement of the platform.
This saves on the transaction fees, but there is no seller protection. So make sure to take precautions while selling in this way.
---
19. Huggins and Scott
Huggins and Scott is another auction house that deals in selling cards.
You can consign your rate vintage cards from 1970 or earlier to them and get paid cash.
You just need to fill up a form or call them to get your collection assessed.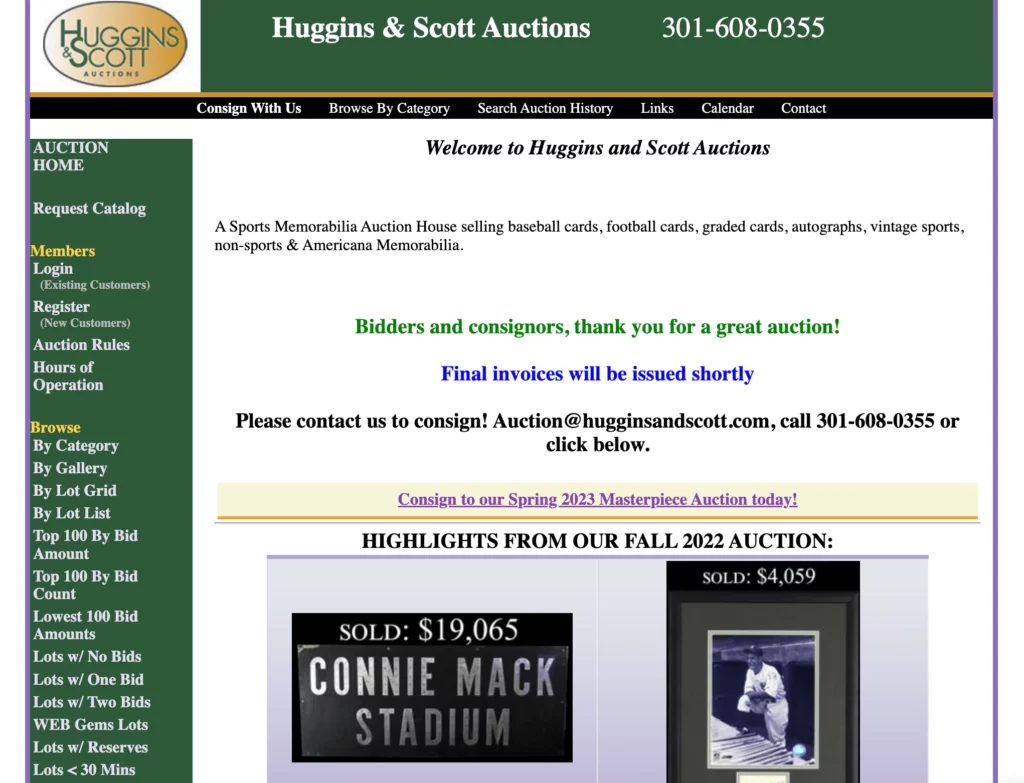 If they find your cards suitable for the auction, they will put them up at the next auction.
They also provide an advance cash option depending on the value of your cards.
Charges: They take a 10% consignment fee on every sale.
Useful Tips To Get The Best Price For Your Cards
Here are a few things you can keep in mind to get best price when selling your cards.
Do Your Research: Understand how selling cards work and what determines the value of cards. Learning these things will help you evaluate how much money you should expect for your cards. This will also ensure that you don't undersell your cards to dealers or marketplaces.
Keep Your Cards in Prime Condition: Condition of your cards is one of the major pricing factor, as cards in excellent to mint condition get you more money. If you have a rare card, also it will be a good idea to have them graded by professionals like PSA and save them in protective covers.
Take Quote From Multiple Places: When you are looking for places to sell your sports cards, it is a good idea to try multiple of them to get a quote. Someone will give you a better price than others. A few places like Otio offer you the highest price guarantee. So you can come to them for a price match if anyone else offers you more.
Sell in Bulk: When you are selling your basketball cards or other sports cards, buyers are generally more interested if you have bigger collections. They will even do the home pickup for bigger collections and offer higher prices.
Be Patient: Last but not least is staying patient. If you are not in a hurry for money, wait for the right offer. Don't just sell on the first offer you get.
Get Some Green Bills By Selling Your Sports Cards
If you have been sitting on a cool collection of sports cards and are ready to move on, then with so many online places to sell your cards, now is the right time to sell those cards for some cash.
If you have no idea what to do with money and you are just going to throw in the bank with minimal interest rates, then I will suggest keeping those cards as they will most likely continue to accrue in value.
In case you are in need of cash or want to use your knowledge of sports cards for card flipping, then try the above-mentioned places for easy transactions.
Here is how you can make more money: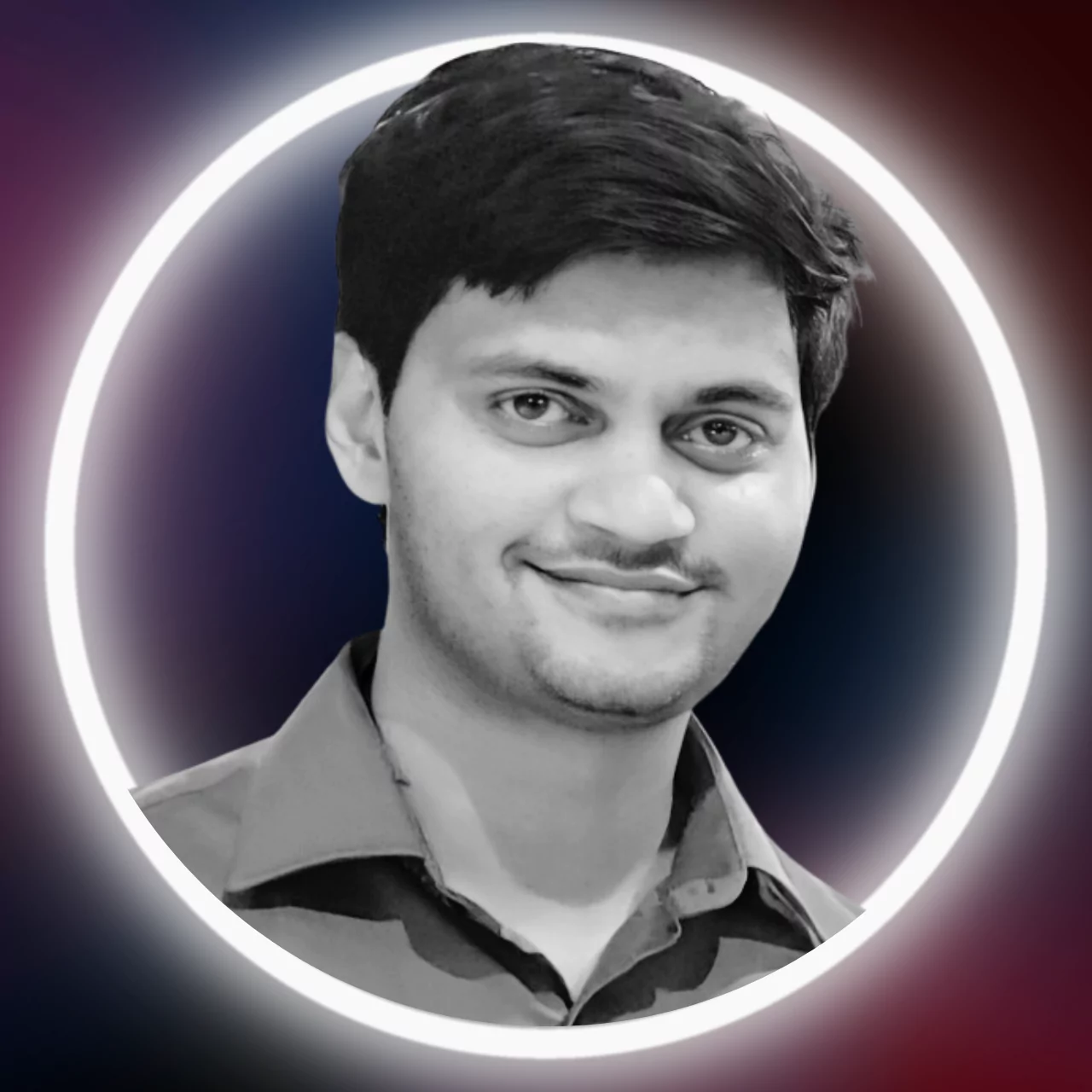 Sumeet is a Certified Financial Education Instructor℠ (CFEI®) and founder of MoneyFromSideHustle. He is an experienced side hustler who replaced his full-time income with side hustles. His work has been quoted on major finance websites like CNBC, Yahoo! Finance, GOBankingRates, CEOBlogNation, SideHustleNation, and more. He has helped thousands of people find side hustles and is here to help you find your extra source of income. More about him.