If you happen to have valuable magic cards in your hand and want to sell them, here in this article, I will tell you where to sell magic cards and how!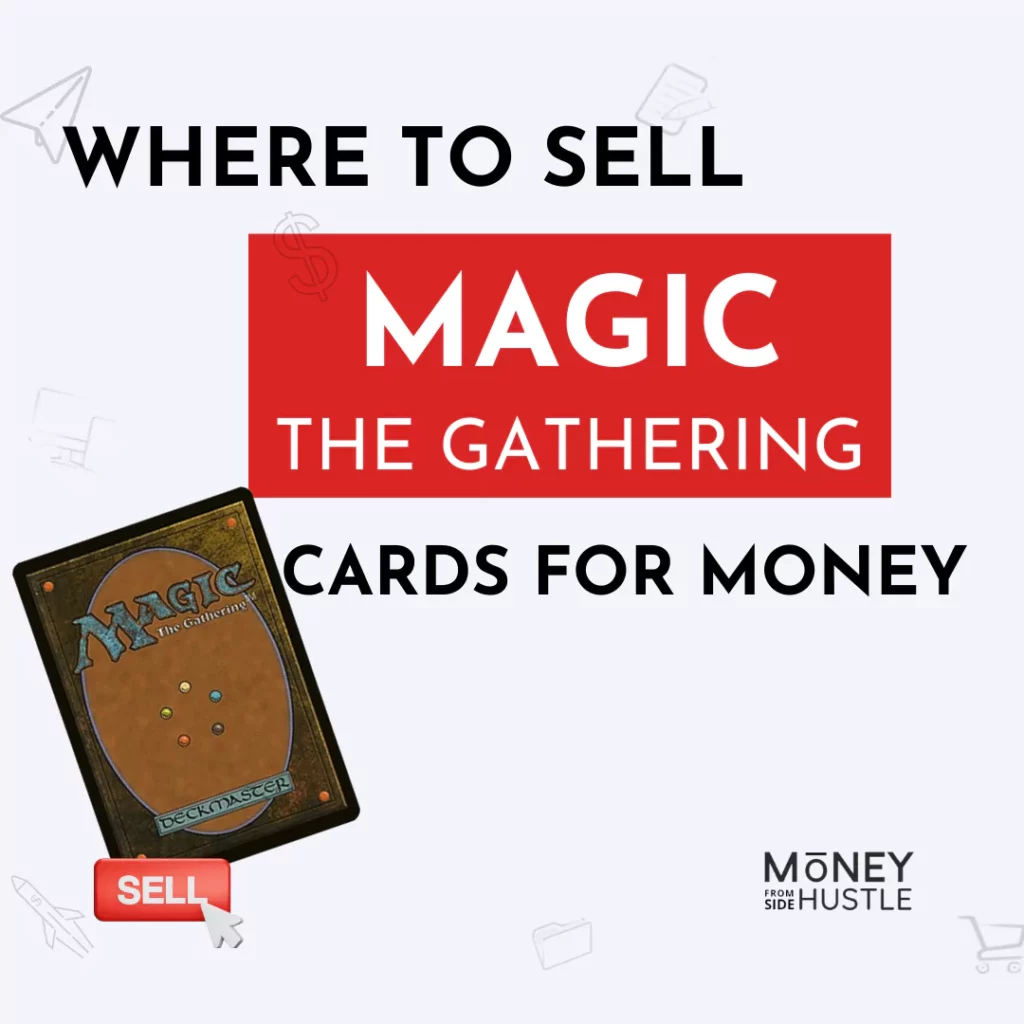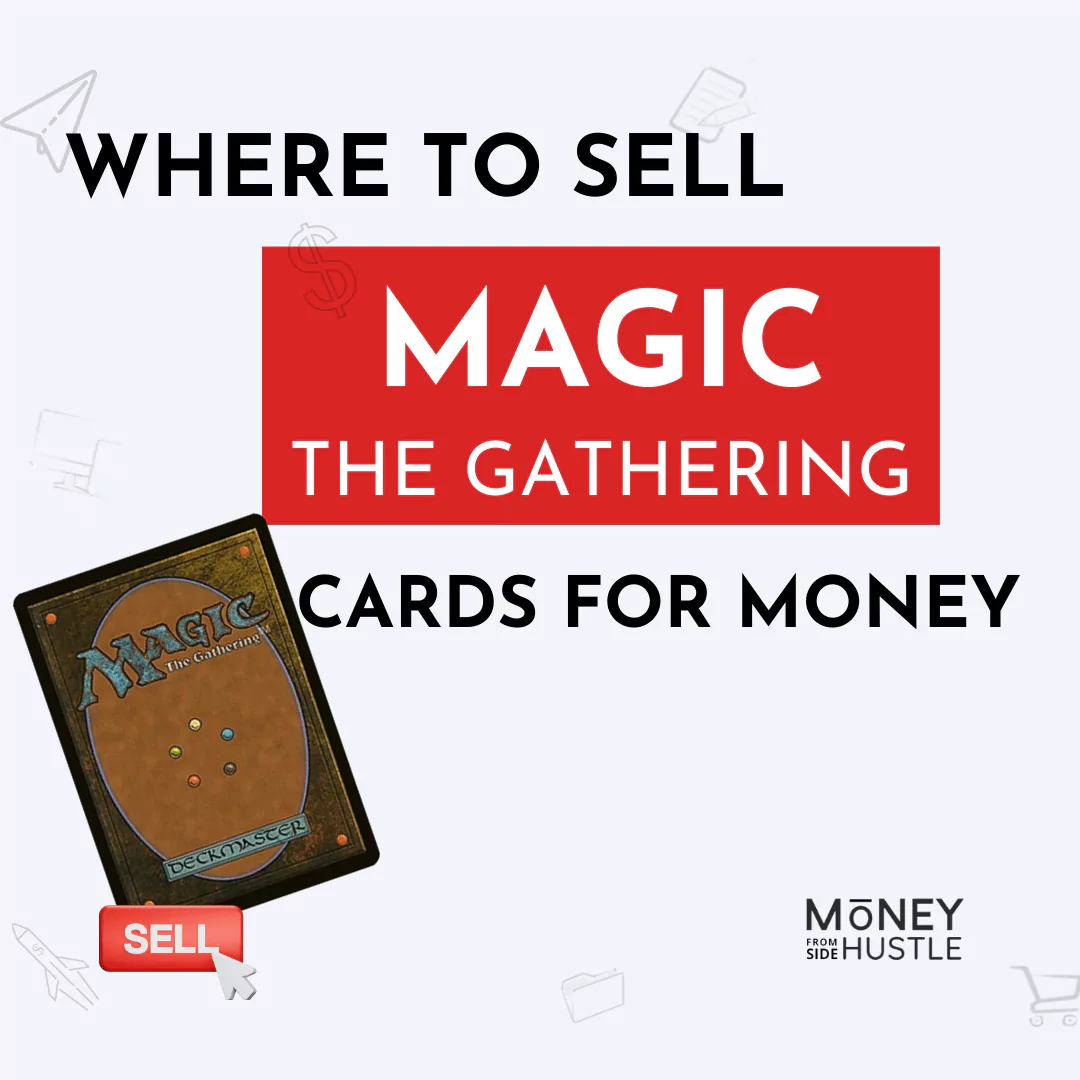 There is a huge fan base for this popular game from the 90s. Collectors are willing to pay top dollar for the rare and valuable Magic: The Gathering cards.
If you have just found your collection of childhood from the attic, there might be some highly valuable cards in there.
I will show you how to figure out which magic cards are worth more than others and if you have found a jackpot.
The next step is finding the best place to sell Magic cards for cash.
You can sell mtg cards online as well offline. Both have their own advantages and disadvantages. This article will help you decide where to sell magic cards for maximum profit.
If you want to know, let's dive in.
Highest Paying Surveys
Up to $50 per survey
Industry-leading surveys
Best Places To Sell Magic Cards Online
Selling your Magic cards online gives you more options and a chance to reach a wider audience. You can get the best buck for your cards while selling them online.
You don't have to meet anyone, but on the flip side, it lengthens the process, and you also need to deal with shipping.
To sell your Magic: The Gathering cards online, you have two options. Either use the general marketplaces or use specialized sites that buy magic cards and other collectible cards.
Sell Magic Cards At Online Marketplaces
These general online marketplaces allow users to post ads or listings for anything they want to sell, from used furniture to Magic cards.
A few of them offer shipping choices and others help you connect with local buyers to fix a meeting. A few of these have both options and you can choose based on your preference.
Advantage of using these places include:
Reaching wider audience
Get more price in auction-based selling for ultra-rare cards
Disadvantages being:
You need to pay a fee
Chance of fraud, so you need to be extra careful
That being said, using them is one of the best way to sell magic cards and here are best online marketplaces to do so.
1. Facebook
When looking for where to sell Magic cards, the first name that comes to mind is the Facebook marketplace.
Using Facebook to sell items locally, both new and used, have been an easier option for many people.
There are literally millions of active people on Facebook, and you can reach the desired audience with your ads.
There are two options to sell cards on Facebook.
Either use Facebook marketplace
Or use local buy and sell groups
Either way, you need to post your ad with relevant photos and details and the asking price. In the marketplace, you can choose to show your listing to local people or nationwide.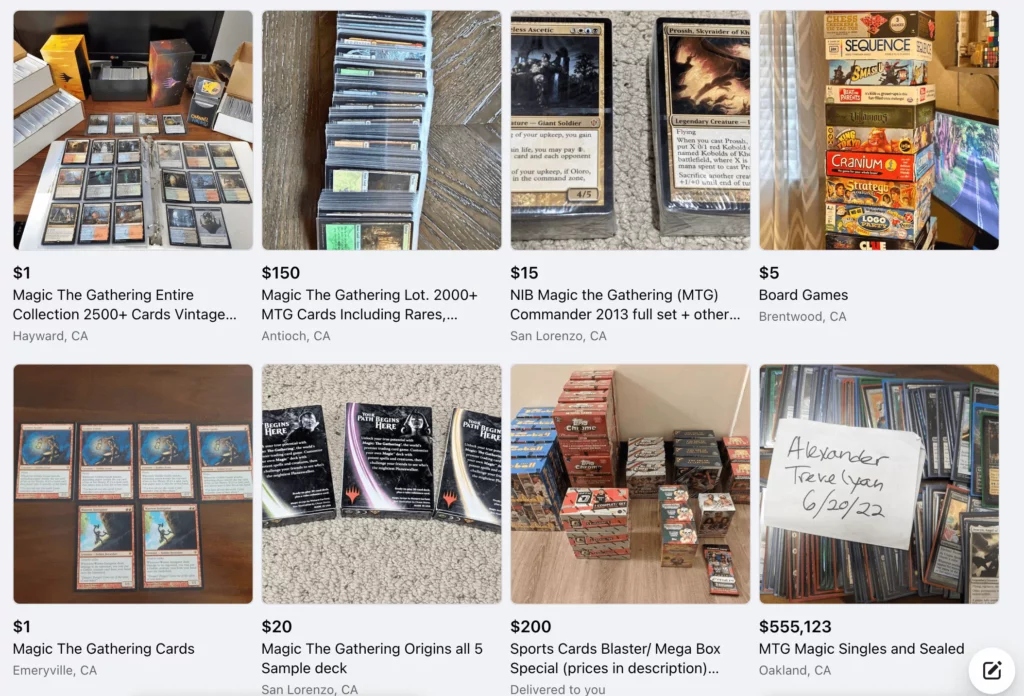 If you choose to sell locally, you can meet people personally and decide on the sale, and for selling nationwide, you need to handle shipping.
If you want to sell to local card collectors who buy magic cards near you, ask for the permission of the moderator to add you to the group.
After that, you can post your listing and meet interested buyers.
Charges: Selling on Facebook is free if you choose to do it locally, and if you are shipping through them, then you need to pay a 5% fee or $0.40 flat for orders below $8.
---
Multiple ways to make money
Low and easy cashout options
Great user ratings on App store
2. eBay
eBay is one of the best places to sell Mtg cards.
It is one of the biggest marketplaces where you can post your cards for sale and get them in front of a huge audience.
You can either put up a listing with a fixed price or list your magic cards for sale in auction style.
If you have ultra-rare cards of high value, then the auction can fetch you the maximum price, as the collectors will try to outbid each other for your rare card.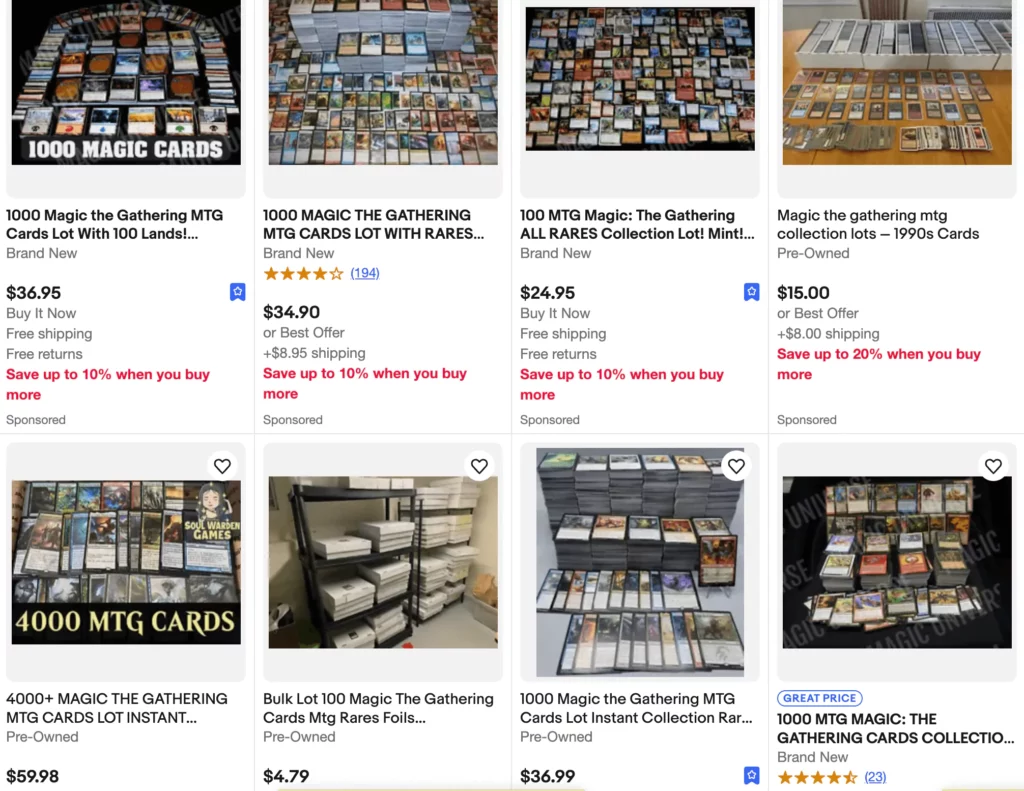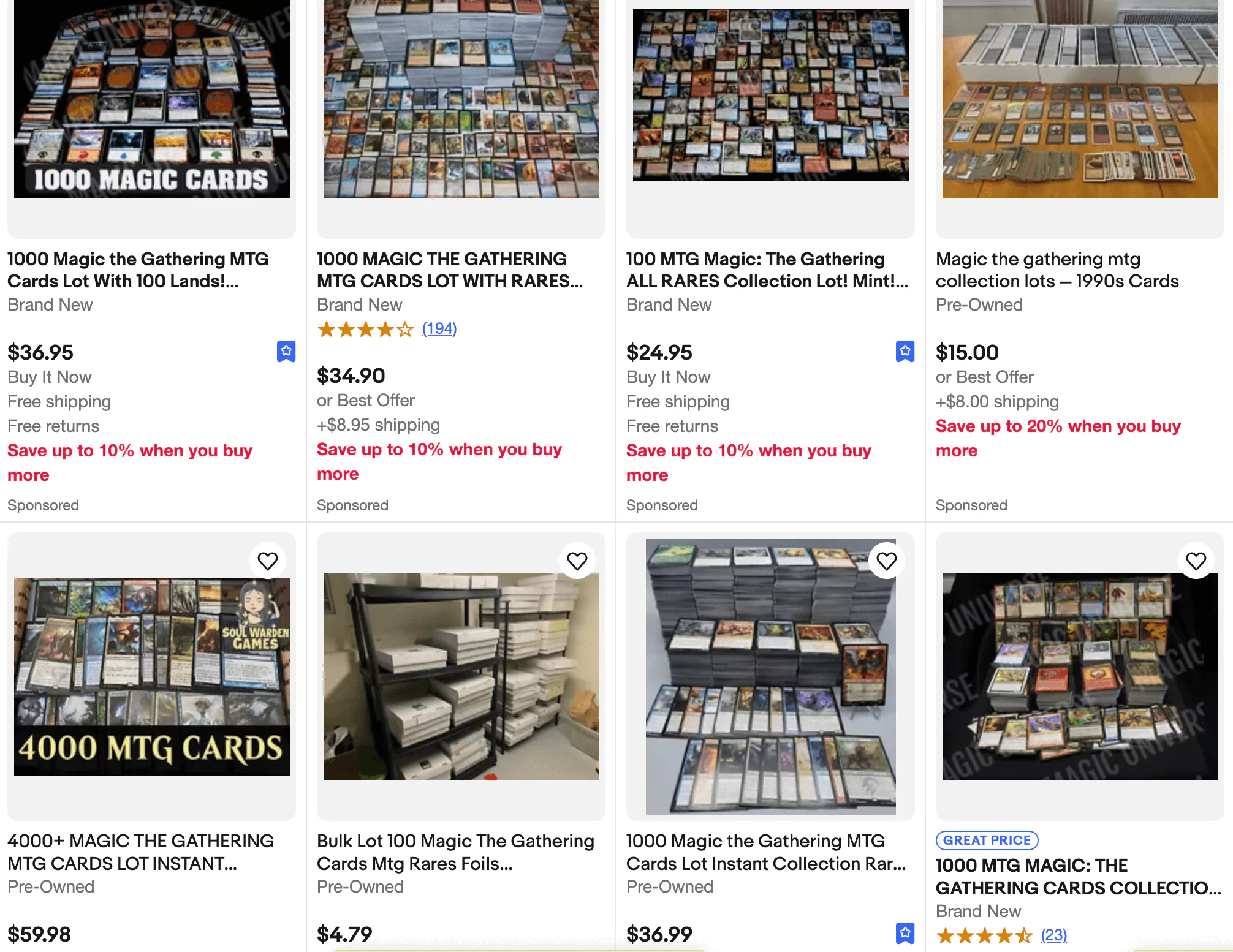 To be able to list your cards on the platform, you need to make a seller account and then start making listings of your cards.
You need to have good quality pictures and detailed descriptions of your cards in your listing.
Charges: First 250 listings on the website are free, so it should not be a problem for small sellers, but for regular flippers, you need to pay $0.35 for each listing after 250 free ones. When you make a sale, they take a 12.9%+$0.30 commission on the final price.
---
3. Craigslist
Craigslist is a great place to sell anything, including magic cards.
You can list anything from old furniture to shoes for sale on the platform.
There are hundreds of interested buyers for everything on the website, though the users are not verified hence there is always a chance of fraud.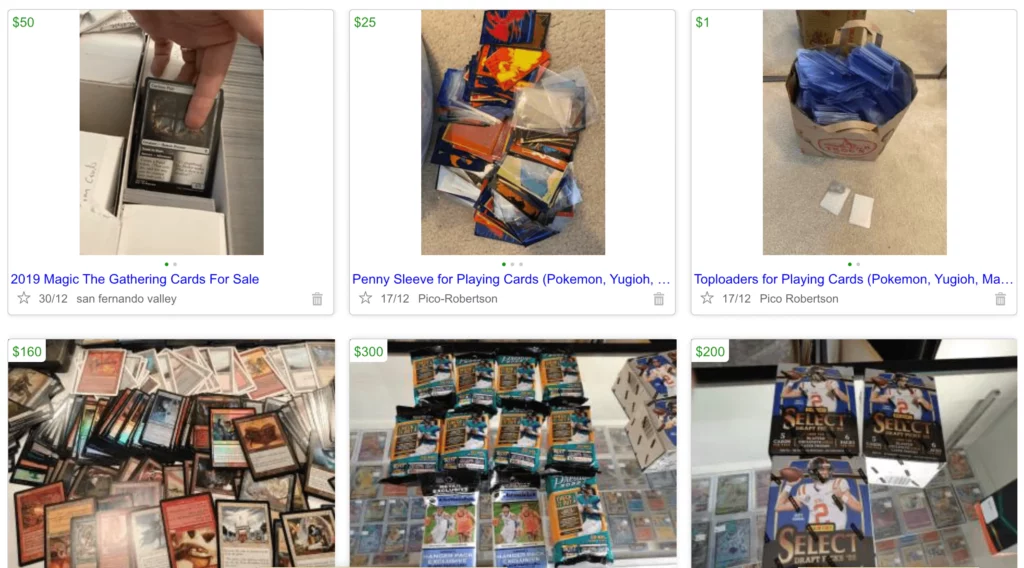 You need to be always careful while using the platform.
When setting up a meeting for trading your mtg cards, always make sure to use a public place with other people around.
Never invite strangers to your own home, and don't accept checks as payment.
If you keep these things in mind and sell locally, it can be one of the best places to sell magic cards.
---
4. OfferUp
How to sell mtg cards? Just list them on the OfferUp marketplace and find interested buyers.
Make a seller account on the website and start listing your cards with well-lit images and detailed descriptions.
Set up a price and choose to show your ad locally or nationwide.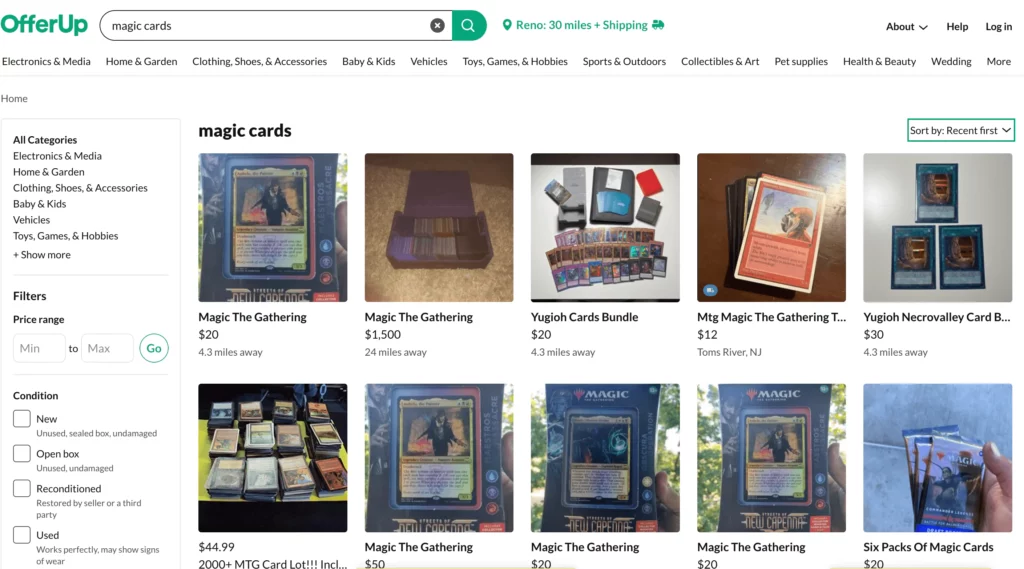 If you want to sell locally, you can meet people personally and trade your Magic cards for cash instantly.
If anyone wants to buy from you, they can contact you through the app with any questions or price negotiations.
Always keep some room for negotiations in your price, as people love bargains over the original price.
Charges: They take a fee of 12.9% on every sale that is made through their platform.
---
5. Mercari
Mercari can be used for selling Magic: The Gathering cards for cash.
There is no option to meet buyers locally, you need to ship your cards once a deal is made.
Start selling your Mtg cards here by making a listing. Choose your price point based on other's similar cards selling on the platform.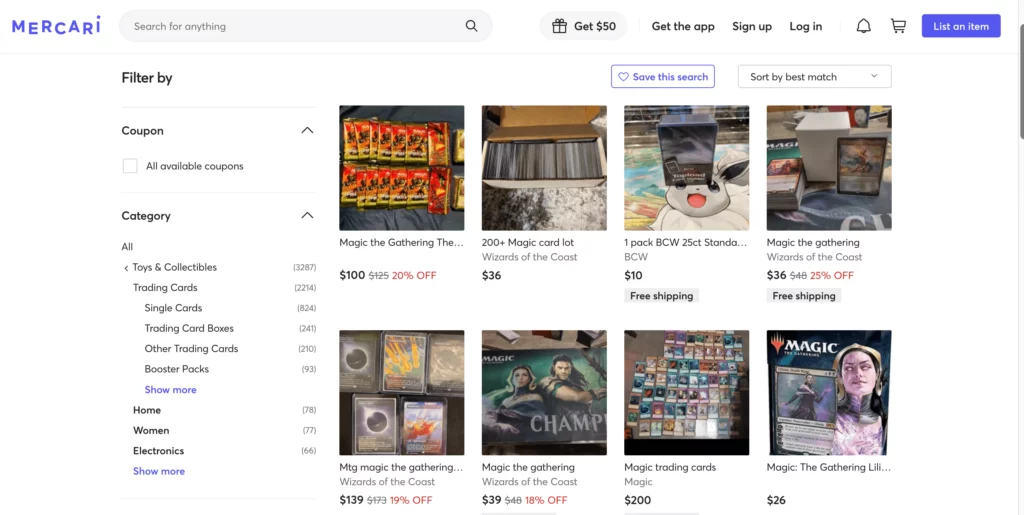 Once the deal is done, you need to ship your cards by careful packaging in three days through a prepaid label provided by Mercari.
When the buyer confirms receiving your cards in proper condition, your payment is released.
Charges: When you make a sale, you pay a 10% fee plus a 2.9% + $0.5 payment processing fee.
---
6. 5Miles
5Miles was primarily used for selling old vehicles, but you can now sell your Magic cards here, along with sports cards and Pokemon cards.
Create an account for free, but you need to pay a fee to make a listing.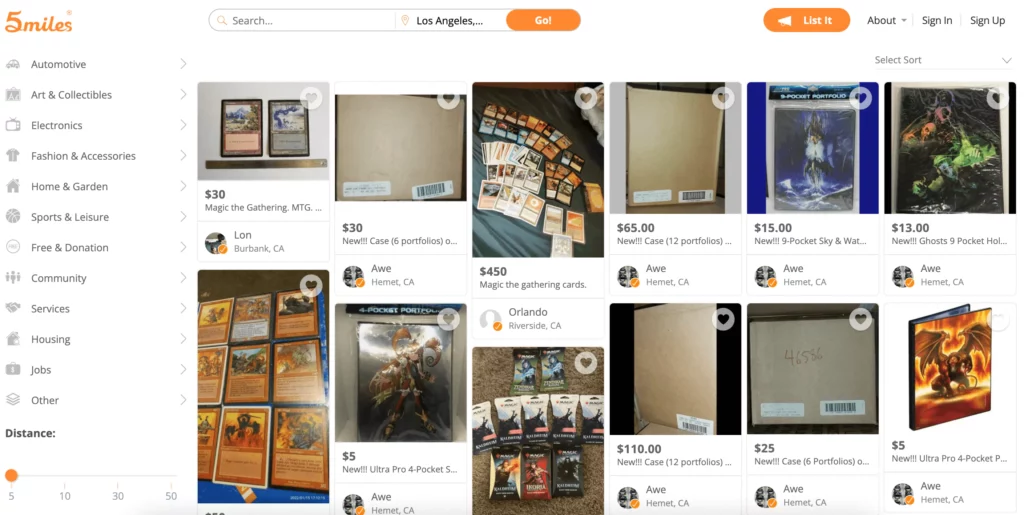 There are both options available on the platform:
Sell locally
Ship your products
Buyers can bid on your cards, and there is a serious bid guarantee where withdrawing from a bid costs $5.
Charges: A listing fee is charged on the platform, plus a 10% commission on every sale.
Specialized Sites That Buy Magic Cards
If you are unable to find people who buy Magic cards near you at online marketplaces, you can use websites that specialize in buying and selling Magic cards.
The benefit of using these sites is that there is a very targeted audience that is interested in buying specifically what you are selling. If you have high value cards, these can be best places to sell magic cards as only a true fan or collector will know their value.
A few of these sites allow you to post magic card-selling listings where interested buyers can purchase them, and a few of these websites buy magic cards themselves.
7. TCG Player
TCG Player is one of the highest-paying and best websites to sell magic cards online.
You can sell your collectibles like Magic cards, Sports cards, or Pokemon cards here to millions of people.
They provide multiple tools for sellers to make consistent profits, like live price tracking and historical selling data.
If you are into Magic card flipping for profit, using this website is a good idea.
They also provide easy upload with the card scanner inbuilt into the app. This can help you upload bulk collection in very less time compared to doing that manually.
Charges: They charge fees based on seller account level starting from 8.95% to 10.25% plus 2.5% and a $0.30 transaction fee.
---
8. Dave & Adam's
Dave & Adam's is one of the best places that buy Magic cards online.
They have a buying list, and you can check if the card or card set you are selling is there.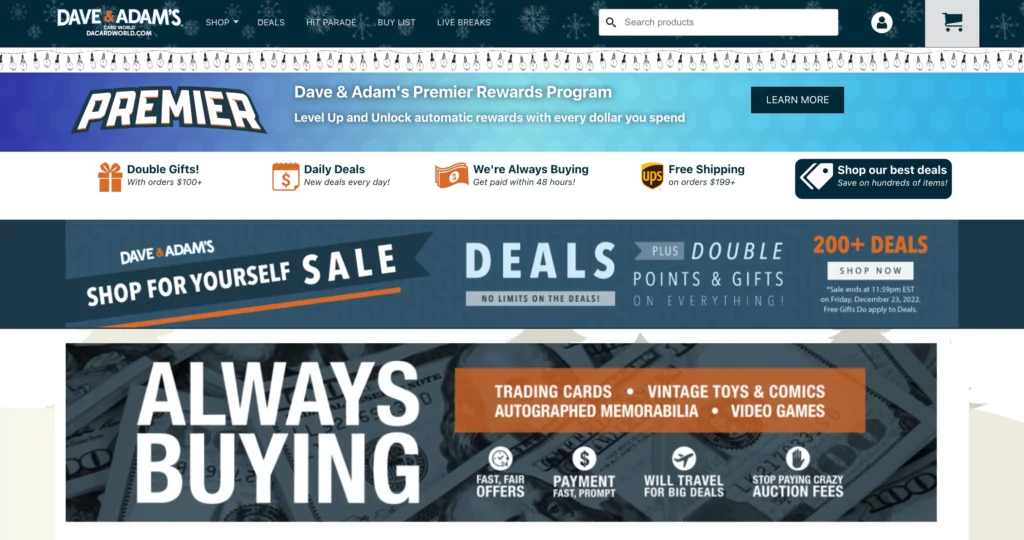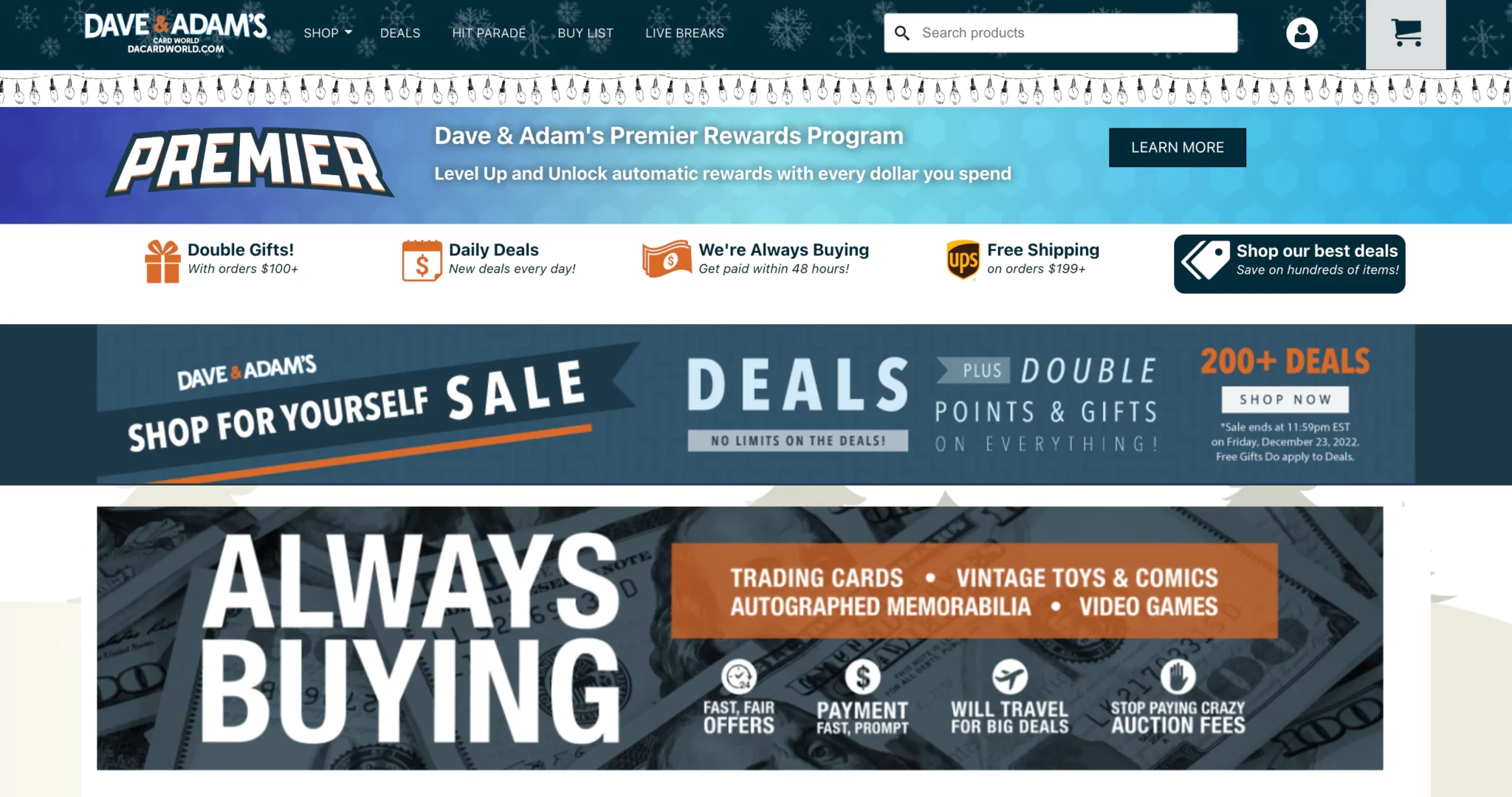 Other than Magic: The Gathering cards you can sell other cards here like:
Pokemon cards
Comic books
Memorabilia
You can contact them with all your card details, and if they are interested in your cards, you can ship them. Shipping is free for orders of value above $199.
If you have a large collection worth thousands, they can do the home pickup.
Once a deal is finalized, and they have analyzed your cards, you can get paid within 48 hours through PayPal, Cash, or Cash.
---
9. Card Shark
Card Shark is a marketplace that buys and sells Magic cards.
Both small and big sellers can use this platform to get cash in return for their magic card collection.
They provide a bulk listing tool to help you sell cards in bulk, so if you have a bulk collection it can be the best place to sell mtg cards.
Once the buyer confirms the order, you need to ship the cards within three days. Shipping is also inexpensive, and they give shipping allowance to reduce your costs.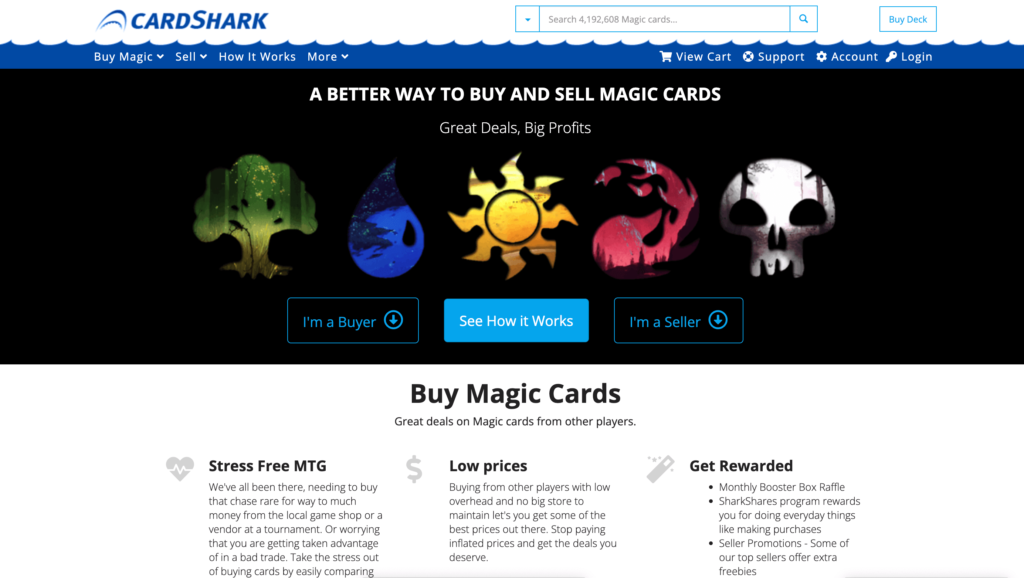 Once the order is fulfilled, you can get paid to your PayPal account once every month without any fee.
If you are a regular Magic card seller, you can upgrade your account for multiple other benefits, like lower commissions.
Charges: There is no listing fee on the platform. However, they charge 15% of the selling price, which is a little on the higher end.
---
10. Star City Games
Star City Games is a great place to sell your Magic The Gathering cards collection.
They cater to the needs of both individual sellers and store owners who want to sell in bulk.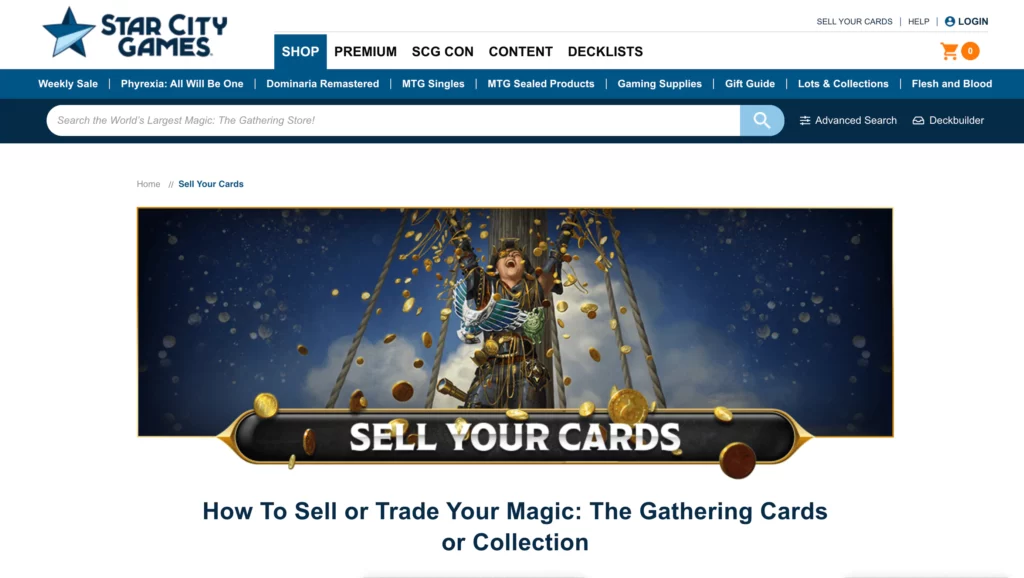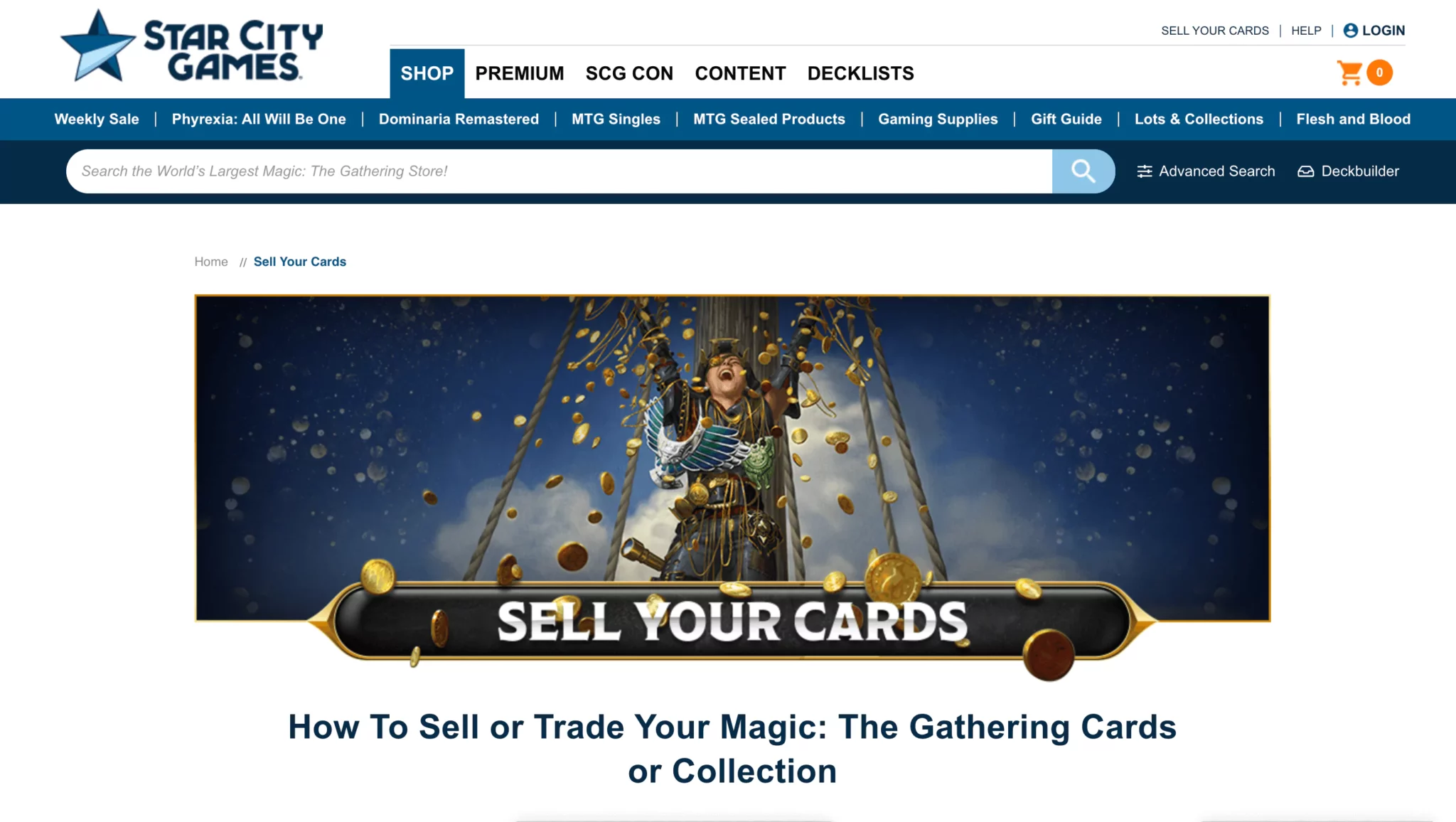 They provide you with four different options to sell mtg cards with them.
Sell with a buylist: sell your cards individually, get 30% extra store credits
Ship+sell: Ship cards in bulk and get an offer
Visit their store: Visit their Roanoke or Virginia store and get paid instantly
Get a home visit: For a bigger collection, you can book a home pickup
Depending on the number of cards you have and how much effort you are willing to put in, you can choose any of the above methods.
You can also check their buylist for your rare MTG cards to get an idea of the prices they offer.
---
11. Card Kingdom
Card Kingdom is a place of choice for selling Magic cards for many collectors.
They offer to buy single cards or bulk cards.
Their process of buying MTG cards is simple:
Search their buy list: In this list you will find all the single cards they are buying and for how much
Add to cart: Select the cards you want to sell and add them to your cart
Complete the order: You get the final price, if satisfied, ship the cards to them sorted in the order of your invoice without packing in sleeves
Get paid: You get paid once they receive the order and validate your cards
Single sales for expensive cards need to be packed individually, while for bulk orders, you can pack all your common cards after sorting them in a single box.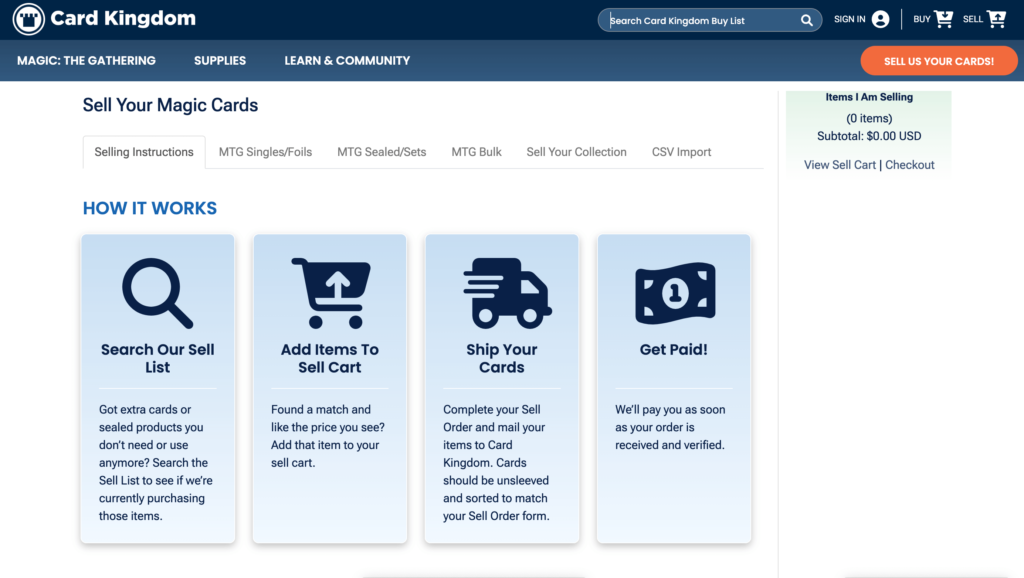 They pay you depending on the condition of your cards, and their grading conditions include Near-mint, Excellent, Very good, and Good.
Here is their reference table on how much you will get paid based on the buy price.
| Buy Price | EX | VG | G |
| --- | --- | --- | --- |
| Less than $15 | 80% | 70% | 50% |
| 15.00 – 24.99 | 85% | 70% | 50% |
| 25.00-99.99 | 85% | 75% | 65% |
| 100.00 + | 90% | 80% | 70% |
| All Alpha/Beta/Unlimited | 80% | 60% | 40% |
| Foils | 75% | 50% | 30% |
---
12. Channel Fireball
Channel Fireball is a great place to be for Magic: The Gathering fans and they have a lot of stuff going on regarding this game.
Though to sell singles or sealed products on this platform, you need to join as a professional reseller. Only legally registered businesses sell on the platform, and peer-to-peer selling is not available.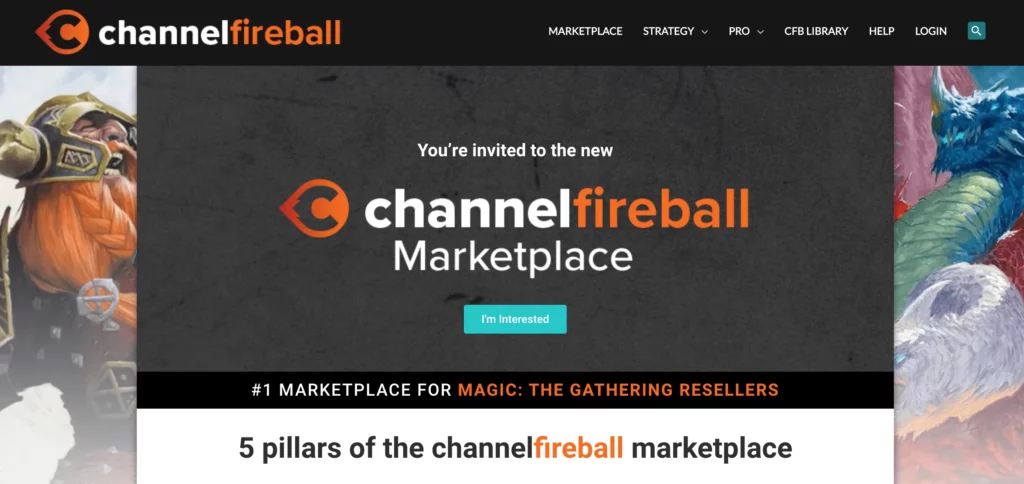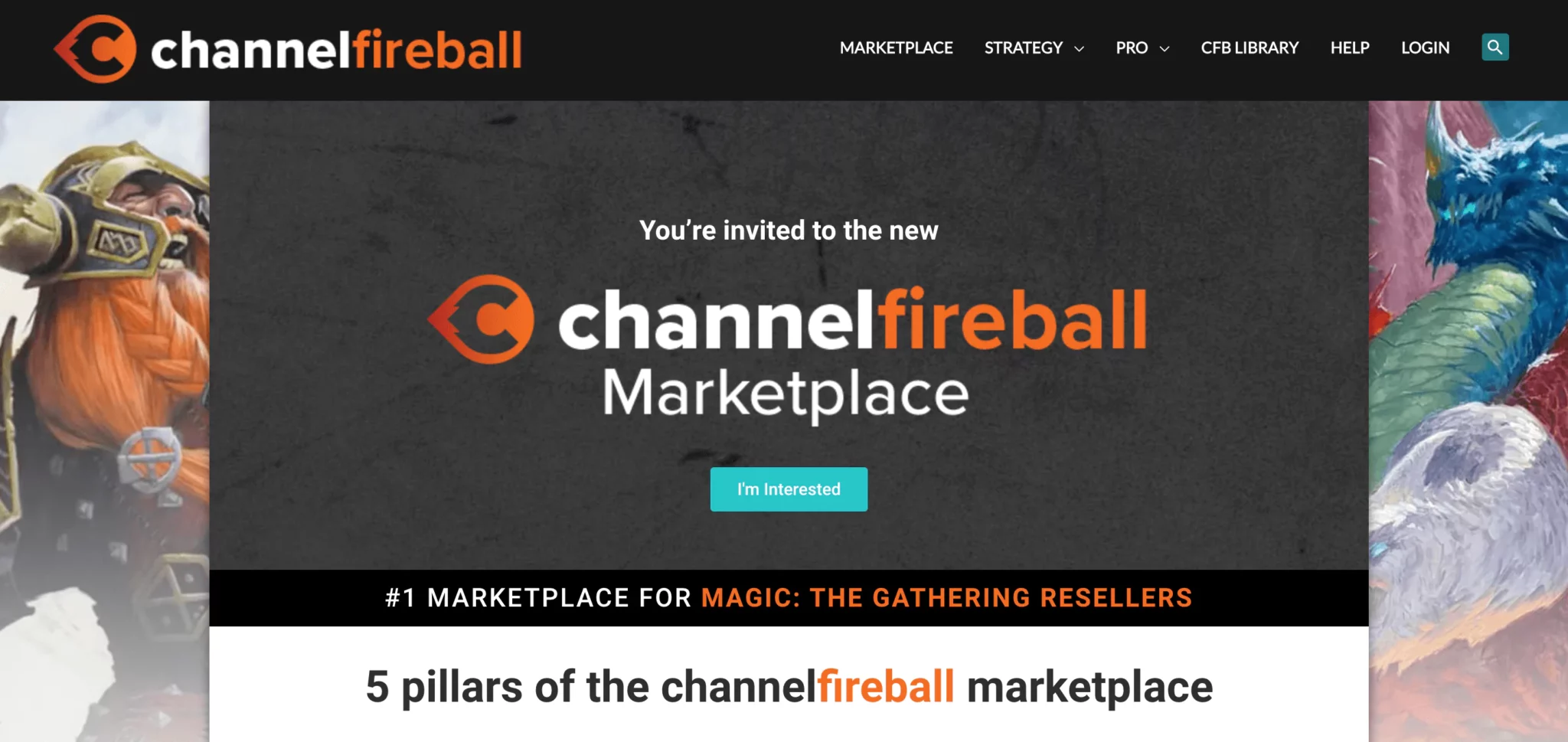 Individual collectors can not join the platform, but for small store owners and large collectors, it is a good place to sell their MTG cards.
Sellers can set their own prices and they also provide sales reports for data analysis.
Charges: They have a flat fee of 8.95% for selling singles and 2.95% for sealed products.
---
13. Card Market
Card Market is primarily a card-selling and buying market for Europeans, but people worldwide can use it.
All sorts of cards are bought and sold on this website.
There are dedicated pages for each type of card, and you can find the relevant page and list your card under that with all the information and your price.
You also need to provide the condition of card, like:
Mint
Near-mint
Lightly played
Heavily played
Interested buyers can contact you directly, and once the deal is finalized, you can ship the cards in secure packaging.
Charges: You need to pay a 5% fee plus a 3% currency conversion rate in case of using a currency other than the Euro.
---
14. COMC
COMC is a Canadian company that works as a consigner, and you can use them to sell your mtg cards.
If you don't want to do the work like taking pictures and making listings on different platforms, using them is a perfect option.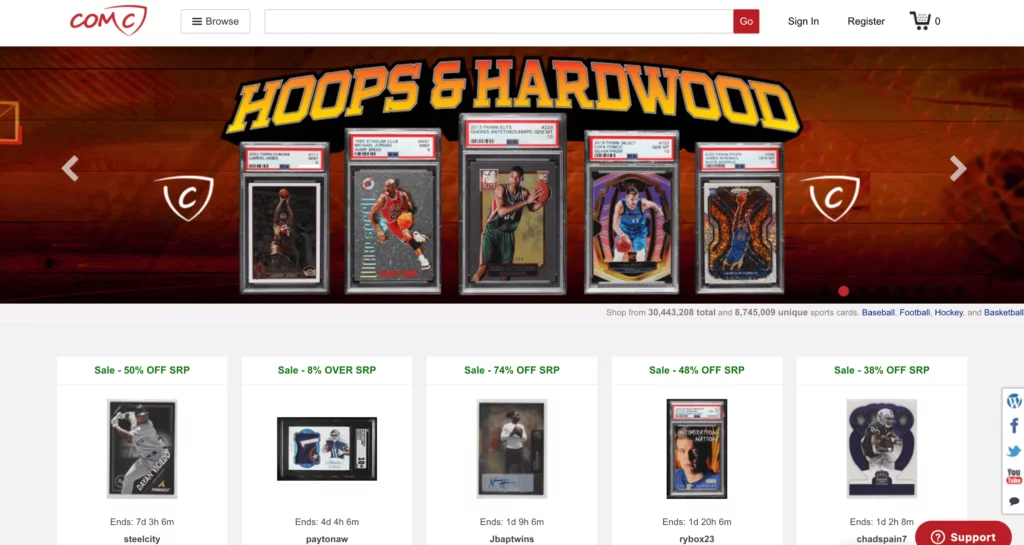 They do all the jobs for you. You just have to ship your cards to them.
The things they do include:
Take professional pictures
Do research where to sell your cards
Make a listing
Handle shipping
Handle all other communication with a buyer
Other services provided by them are grading and historical pricing data and seamless eBay integration for posting your cards.
Charges: You need to pay a processing fee of $0.50 to $2 per card, based on turnaround time. Plus fixed price transaction fees of 5% or auction fees of 3.5%.
---
15. Stockx
Stockx is known for buying sneakers, but it can also be a good place to sell Magic cards online.
They buy cards in mint and near-mint condition that are graded by professional companies like PSA Grading or Becketts.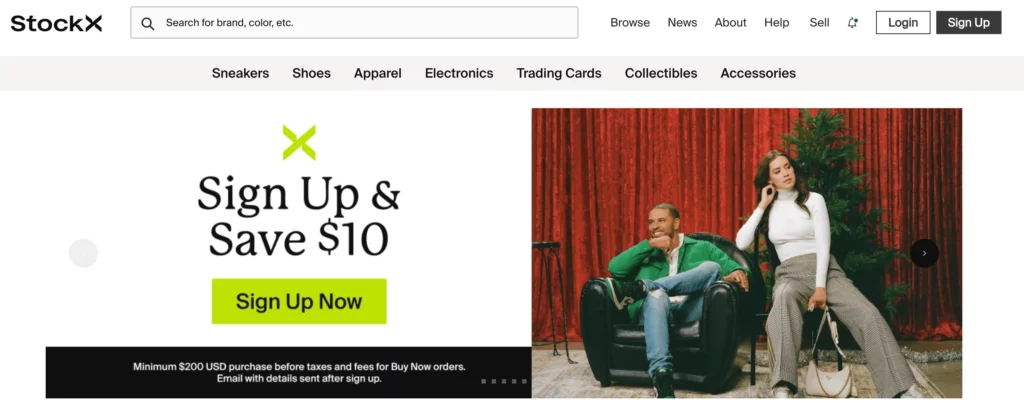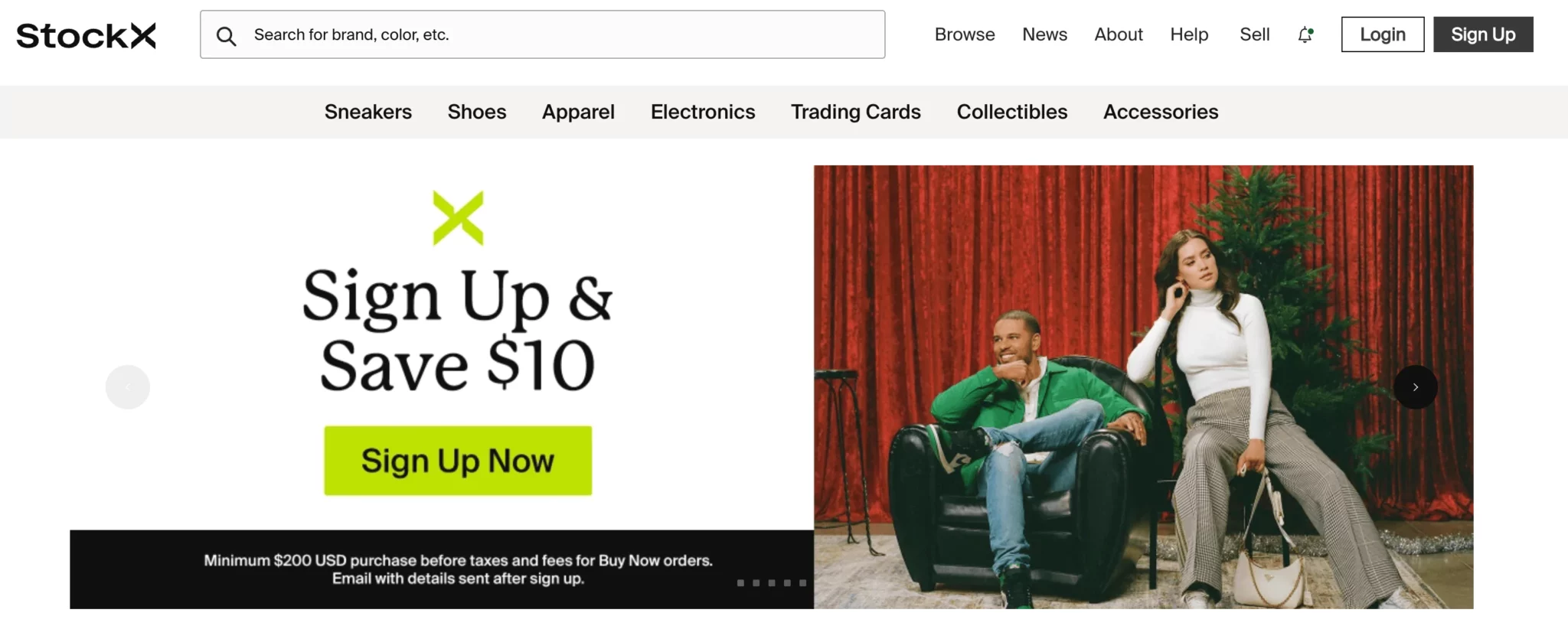 The seller can set cards on fixed pricing or in auctions.
Once the cards are sold, you need to ship the cards to their warehouse in proper packaging within two days.
Once they authenticate your cards, they ship them to the buyers and you get your payment.
Charges: Other than the fixed 3% payment processing fee, they charge flexible transaction fees depending on your seller account level, ranging from 8% to 10%.
| Number of sales | Amount of sales | Commission |
| --- | --- | --- |
| na | na | 10% |
| 3 | $500 | 9.5% |
| 6 | $1,500 | 9% |
| 25 | $5,000 | 8.5% |
| 250 | $30,000 | 8% |
---
16. Kruk Cards
Kruk Cards is an old and reputed place that buy Magic cards, and they have been in this business for the last 30 years.
You can sell your common cards or rare ones to them.
Just make a list of all cards you want to sell and give them.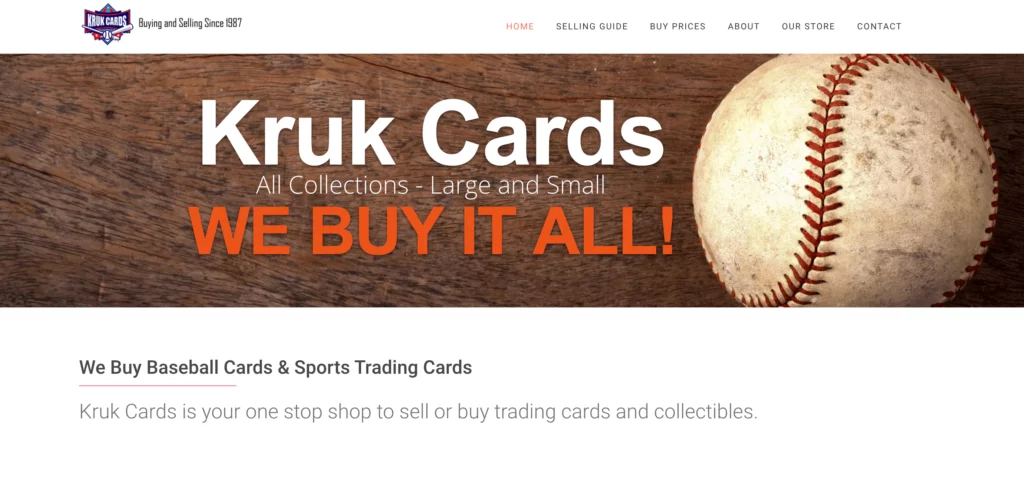 They will give you a quote, and if you like the price, you can ship your cards.
In case of large orders, they may pick up the collection from your home.
Before going through the process, you can check their pricing guide to know what to expect.
According to this list, common cards can get you $10 to $30 per 5000 cards, while rare ones can be worth thousands.
Best Place To Sell Magic Cards Near Me
If you have common bulk cards to sell or you don't want to go through the hassle of listing your cards and dealing with shipping, you can sell your Magic cards locally.
At these local places, you can directly take your cards and get money instantly.
Though they always try to get the lowest price, you need to know the value of your cards to don't get ripped off.
Try these places near you to sell your Magic cards collection near you.
17. Comic Stores
Comic book stores can buy your collectible as they have regular customers who look for such kind of items.
But not all comic book store owners will be interested in buying Magic cards, so it will be a better idea to confirm first before going to the store.
If they are interested in buying, they will most probably pay you less than the cards are worth. So, having some knowledge about your cards is almost a must going the offline route of selling.
The advantage is that you can just get the deal done in a few minutes and get cash in your hand.
---
18. Pawn Shops
Pawn shops are another local places that buy different kinds of things, including TCG like Magic cards and other collectibles.
You can check if they are interested in your Magic cards.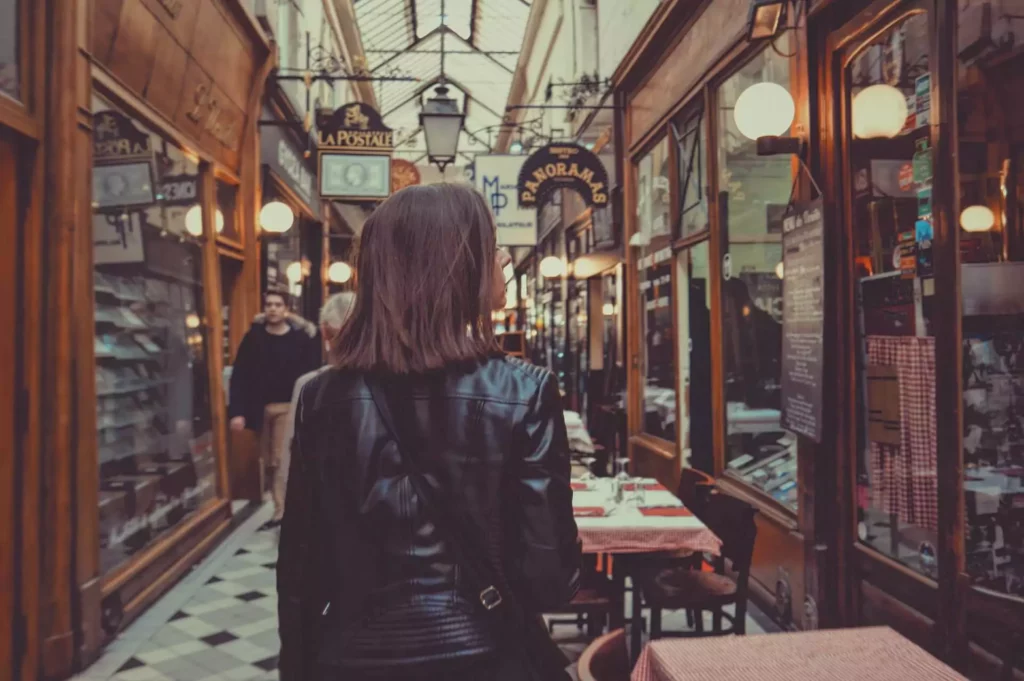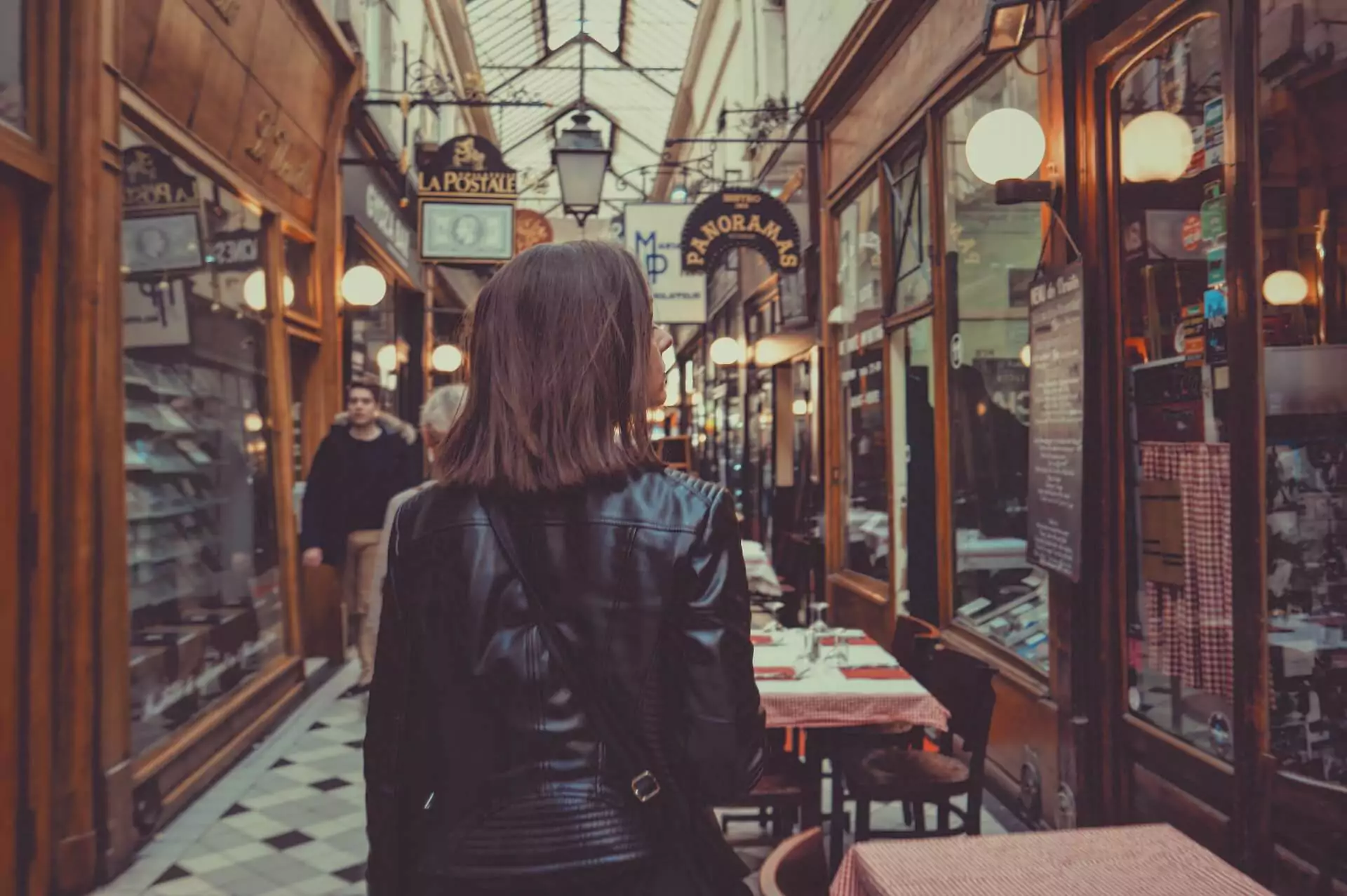 It's a good way to sell common cards in bulk.
You need to have some good negotiation skills to get good prices for your cards.
---
19. CoolStuffInc
CoolStuffInc is a cool place to buy and sell Magic cards and other TCG as the name suggests.
You can not sell cards on their website as in other places, but they offer to buy your cards at one of the conventions they attend.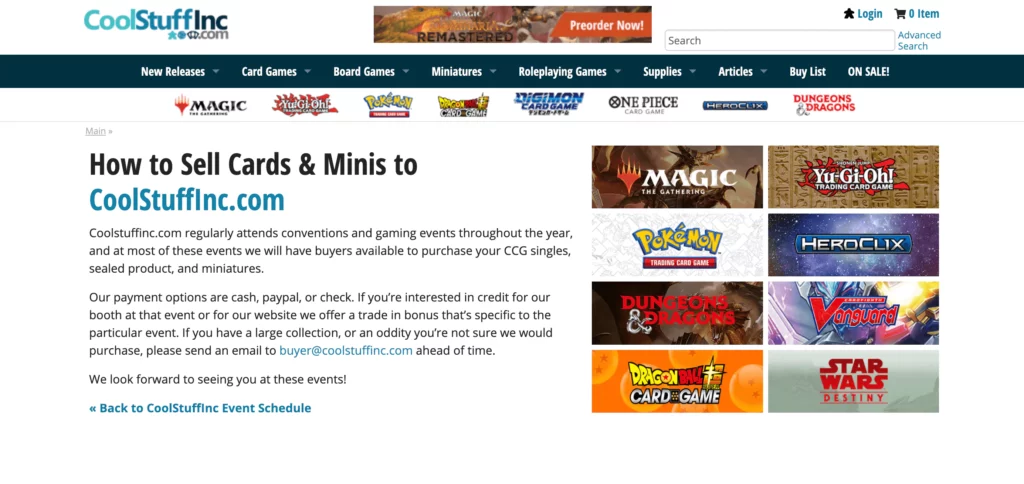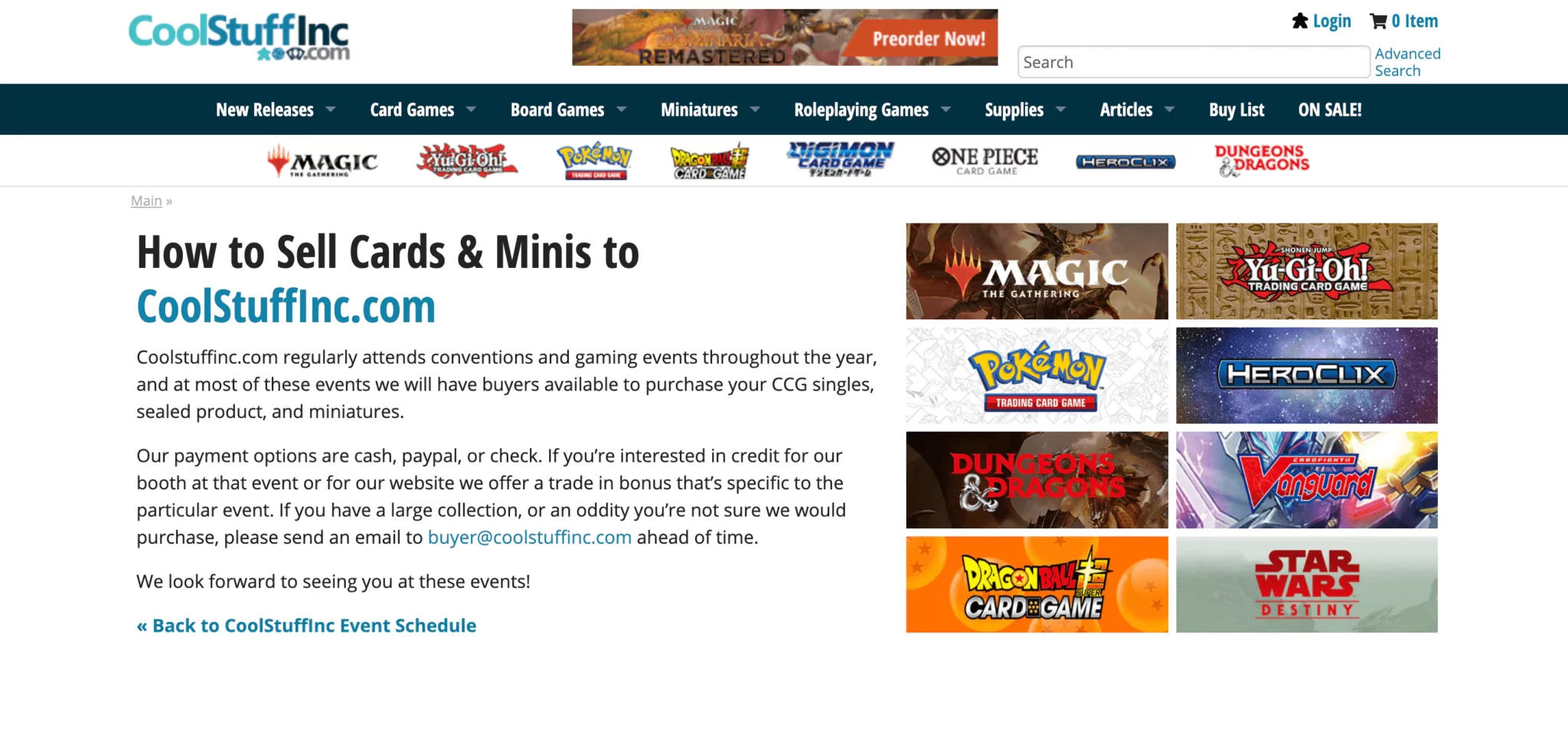 they have booths at most of the card conventions and trade shows.
You can check on their website what next convention they are attending and sell your cards at the booth.
If you take their website credits for your cards, they offer 30% extra or more compared to when you get cash.
---
20. Local Collectible Stores
Like Pawn shops, there are collectibles stores at most places that deal in collectibles and memorabilia.
They will be more likely to be aware of the value of your cards.
If you have some rare and high value cards, they can recognise it and give you good value.
They also have connections with many private collectors and mediate a high-value deal for some commission.
So if you have a high-value card, it's a good idea to get it graded and try local collectors for a fast deal.
---
21. Trade Shows
You can go to local trade shows or Trading card conventions.
There are many people of similar interests, and you can find many buyers who are willing to pay for your card if they are missing that card.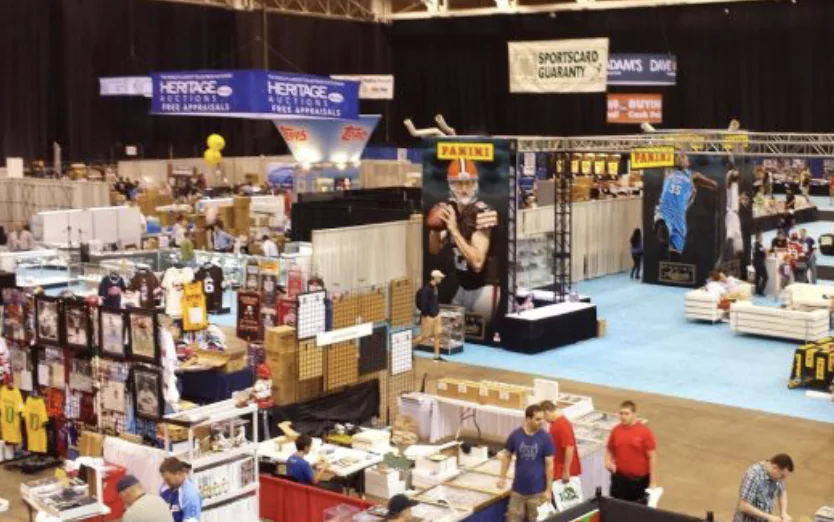 You can also make many friends who have similar interests.
If you have multiple cards, you can even set up booths. Take into account any booth fees and how much profit you are going to make this decision.
What Things Decide The Value of Your Magic Cards
Many things may affect the price of your Magic card. Here are a few important ones.
Rarity: Magic: The Gathering cards were printed in different numbers, and some are rarer than others. For example, "mythic rare" with an orange-red colored expansion symbol is generally more valuable.
Condition: The condition of a card is one of the most important factors in the price of a card. Cards in near-perfect or Mint condition or near-mint condition, without any wear and tear or scratches, are more valuable than cards that are lightly played.
Age: Alpha edition of Magic: The Gathering was released in 1993, and cards from that earlier edition have more value for collectors and hence higher prices.
Playability: The magic cards that have a high level of synergy with other cards are often in more demand. For example, a card like "Tarmogoyf" became very popular within the months of release and was highly sort after.
Popularity: Some cards due to their playability or market value become more popular with collectors. For example, a card like "Black Lotus" is highly sought after and a mint condition first edition signed by its designer was sold for half a million in 2019.
Supply and demand: Like any other market, the value of an MTG card is highly influenced by the supply of the card and the demand for it. The cards with high demand due to their usage in meta but a limited supply increase in price over time.
You need to check for these factors when deciding on the prices of your card.
Here is the list of most important Magic cards from each year.
Tips To Sell Your Magic Cards For Maximum Value
Now that you know how different factors decide your card price follow these steps to get the best price while selling your Magic cards.
Determine the value of your cards: Based on the things mentioned above, decide on what price you want to get for your card. Plus, you can use online resources like the TCGPlayer Market Price to get an idea of how much similar cards are selling for.
Clean and sort your cards: Present your cards in the best possible manner. Clean your cards, but take care not to scratch them or fold them in any way. The condition of the card is a very important factor for the pricing of your cards.
Take high-quality photos: When a buyer is trying to have an idea about your card, they are just relying on pictures. Multiple good-quality pictures can help you get a buyer faster.
Grade your high-value cards: If you know you have a high-value rare card, get that card graded by a professional service. Grading costs anywhere from $20 to $100, but it will increase the confidence of the buyer and will fetch you a much higher offer for cards with good conditions.
Get quotes from multiple marketplaces: There are many reputed places where you can sell your Magic: The Gathering cards. A few offer better prices than others, and you can get quotes from multiple of them to before deciding on the sale. This is specifically important for high-value cards. If you are not satisfied with the price, put your card on eBay for auction.
Be flexible with your pricing: After doing price research, always be flexible with your pricing because buyers love to negotiate. Keep a wiggle room for negotiations.
Consider bulk sales: Selling large collections can be easier than individual cards, especially if you have only common cards. Also, you can get more prices for your common cards if you sell them in bulk with rare cards. A few Magic card buyers also offer home visits for high-value bulk sales.
Choose The Right Place To Sell Magic Cards
Ultimately when you decide to sell your Magic cards, the place you choose will depend on your price expectations and how much effort you are willing to put in.
If you are ready to part ways with childhood memories, now you can get some cash for that.
If you are still not ready to let them go, I would advise keeping them, as they will most likely continue to increase in value.
Here are more ways to make money for you: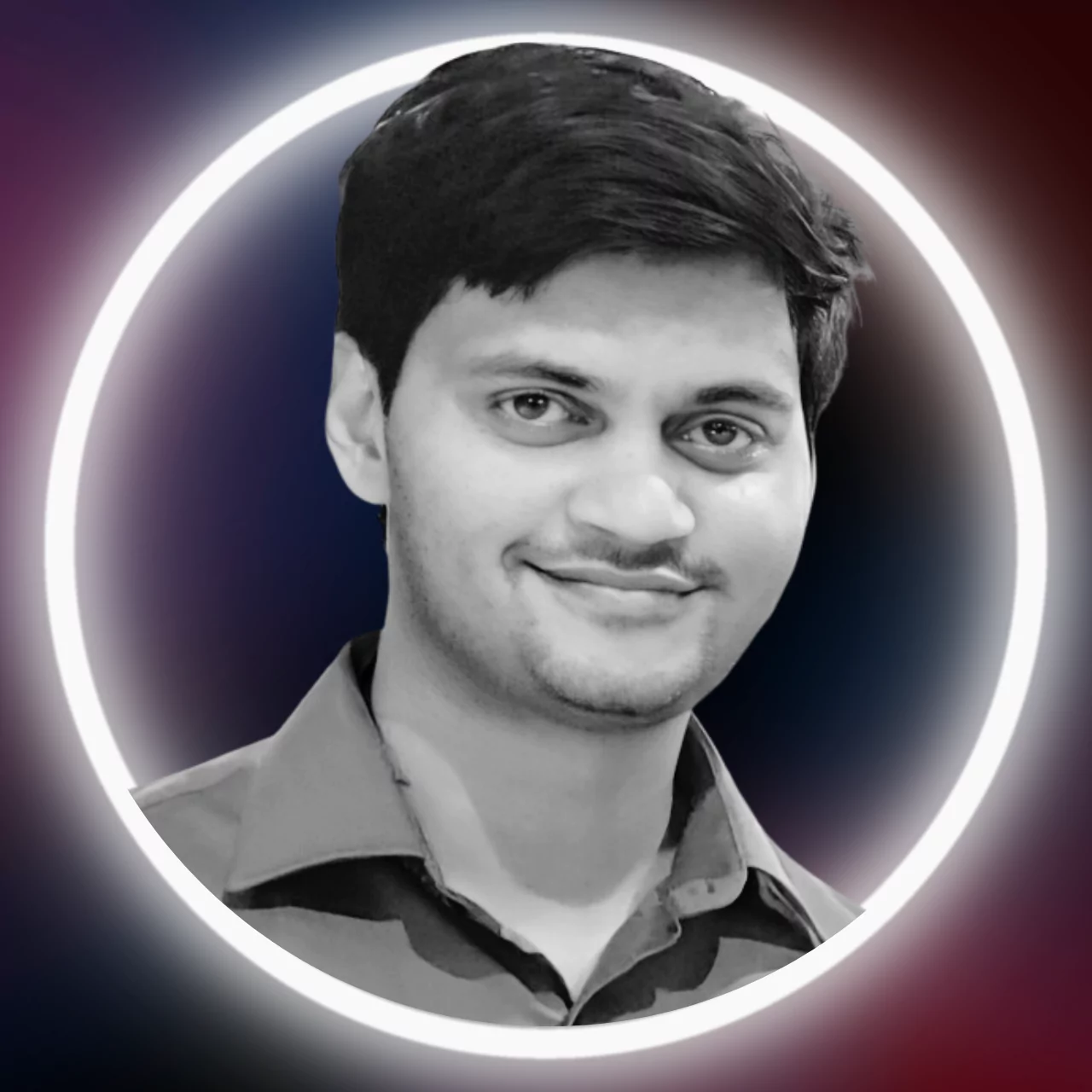 Sumeet is a Certified Financial Education Instructor℠ (CFEI®) and founder of MoneyFromSideHustle. He is an experienced side hustler who replaced his full-time income with side hustles. His work has been quoted on major finance websites like CNBC, Yahoo! Finance, GOBankingRates, MSN, Nasdaq, AOL, and more. He has helped thousands of people find side hustles and is here to help you find your extra source of income. More about him.