Would you happen to need $500 quickly? Whether your car broke down or you need money for paying bills, there are many times when we need cash urgently and don't want to dig into savings or don't have any savings.
The good news is plenty of ways to make $500 quickly, and you don't have to wait for your next paycheck.
Most of these methods do not require skills or experience and can be done by anyone. Some are online, while for a few, you need to get out of the home and do some physical activity.
Using these methods, you can make $500 in less than a week and even combine multiple of them to reach your goal faster. If you have a few hours or days available, there is something that will suit your schedule and interest.
I have used multiple of these methods to make cash and know others who do it successfully, so I can vouch for their authenticity.
So let's get started towards making those 500 bucks quickly.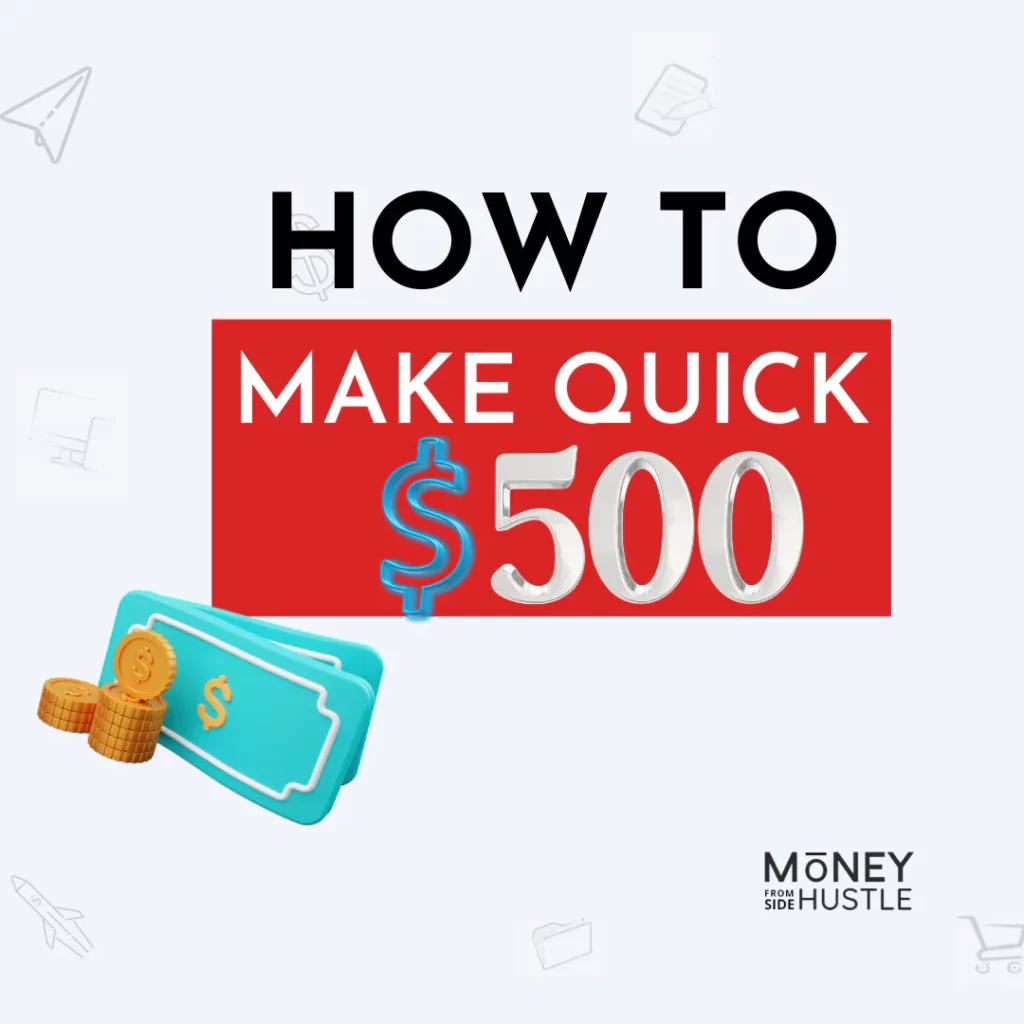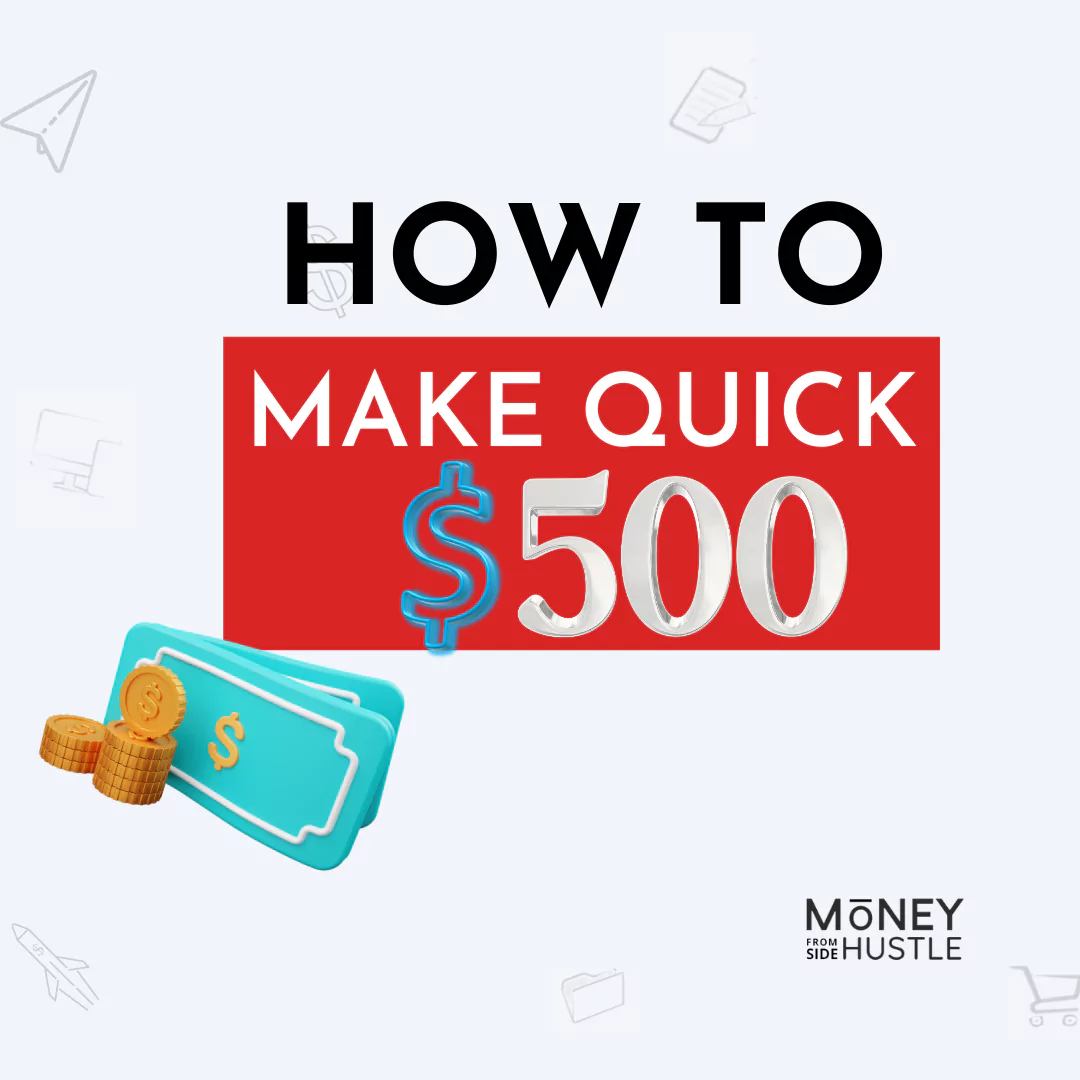 Make $500 Fast By Selling And Flipping
1. Sell Your Unwanted Stuff
If you urgently need cash, selling unwanted stuff can be one of the easiest ways to get money. We all have things stocked up in our garages that we no longer need.
You can select the things you don't use, like old bikes, clothes, shoes, DVDs, sports gear, etc., and sell them online or offline.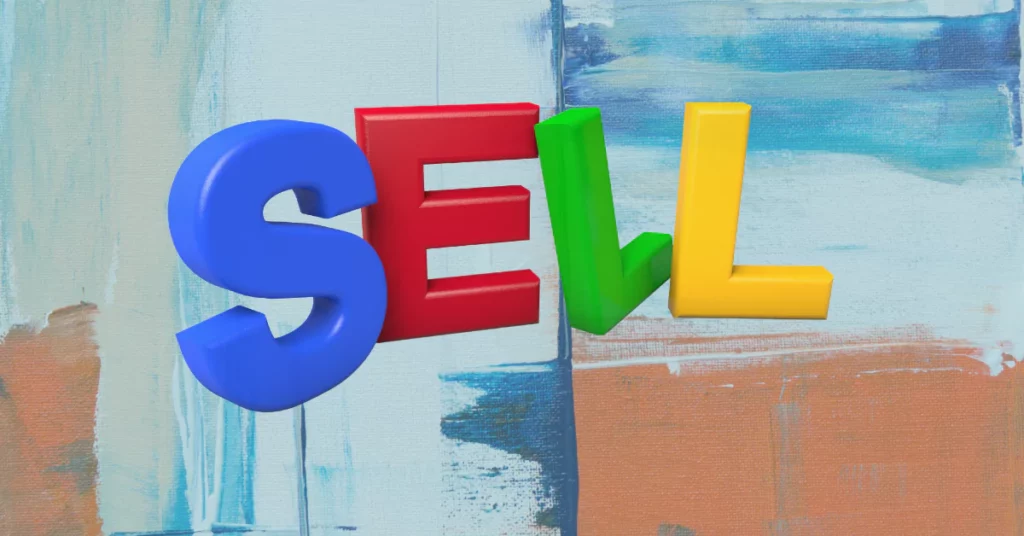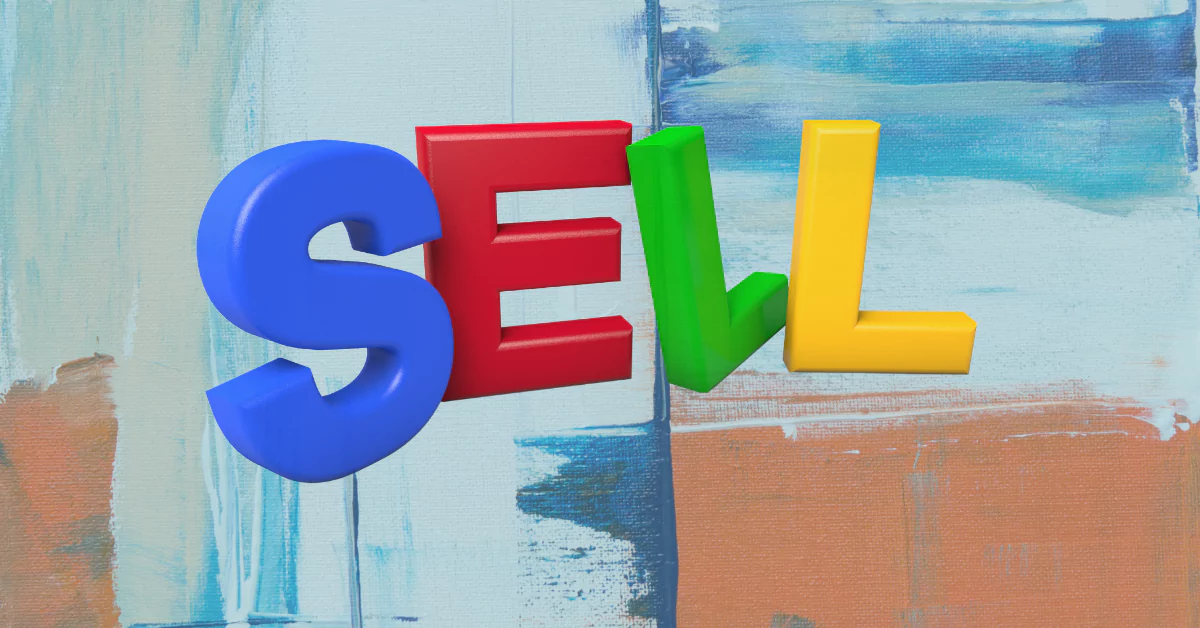 If you want the best value, you need to sell your items online on platforms like Craigslist, Mercari, eBay, or OfferUp. You need to make a listing with images and description.
But if you want the cash in hand immediately, you can sell them offline at places like pawn shops or specialized stores.
How long it will take to make $500
It depends on the things you have for sale. If you have antique furniture or rare limited edition shoes, you can make $500 in a single deal, but for things like old clothes, you need to sell a lot of items which might take time.
---
2. Flip Items For $500
For people with a good eye for bargains, flipping things for profit can be an excellent way to make cash. You need to find the undervalued stuff in places like garage sales, flea markets, or online auction houses.
Research the fair value of an item and at what place you can sell it for a higher price.
You can sell a few things, such as rare Pokemon cards or Magic cards as such if you spot a few undervalued ones.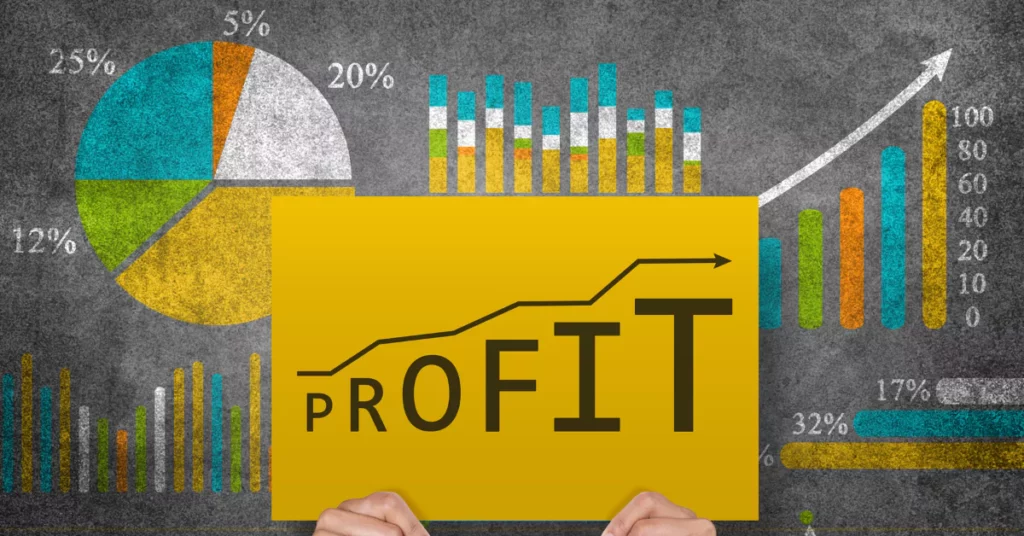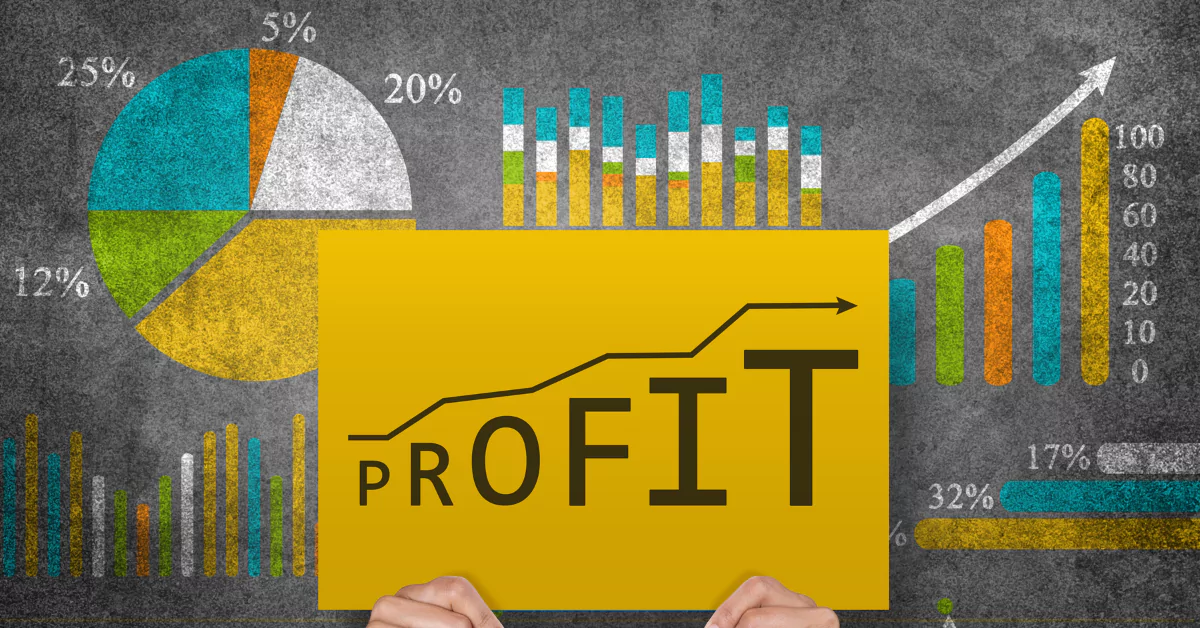 On the other hand, a few things that can be handcrafted increase in value with simple modifications. You can also repair or paint things and profit from selling them.
How much time to make $500 with flipping
A few experienced players make $500 in a single day of flipping, like Rob from fleamarketflipper, but you probably won't be able to make that much in the first go. But you can learn tips and tricks from them to make money faster.
---
3. Buy and Sell Domain Names
Buying and selling domain names used to be a lucrative hustle at the beginning of the Internet era when many popular names were not taken.
Basically, you buy a domain name you think will be in demand and sit on it and wait for the buyers.
For example, when chatGPT became famous, many people bought domain names with GTP in them and made good profits by selling them to interested buyers.
This is not a reliable source of income, but if you have spent a couple of hundred dollars when you had a surplus, you can get some easy cash.
You can even buy sites and flip them for a profit with little SEO improvements and fixing technical errors.
How long will it take to make $500 by selling domains
It all depends on your selection of domains and luck, and if you are golden, you can make a $500 profit in a single transaction. On the other hand, there is probably that you won't sell them a had a loss.
People with knowledge of SEO can quickly increase the worth of a website with some effort.
---
4. Sell Gift Cards Online
If you have unused gift cards lying around your home, you can make a quick $500 selling them online. We all get unwanted gift cards during holiday season or on birthdays.
Most of the time, these are gift cards to the stores we don't go to. Hence this currency of money, being in the wrong hands, becomes useless.
You don't have to let these gift cards expire and waste this money. Many sites help you sell these gift cards to people who need them.
You can get 80 to 90% of the face value of your gift cards by selling on these sites like giftcardgranny. You can even exchange them for other gift cards of your choice.
All you need to do is to sign up for one of these gift card selling sites and list your card.
How long will it take to make $500
If you have plenty of gift cards with you, you can list them all in a matter of minutes, but how fast they sell will depend on the popularity of your card and your expected price.
If you are willing to sell them at a lower price than others, you can get $500 quickly in an hour or two.
---
5. Sell Your Feet Pictures
However weird it may sound, there are people making thousands selling their feet pictures. If you don't have a mind block, selling feet pictures can be a money-making side hustle.
You don't need beautiful feet to sell pictures; there is demand for different pics. You just have to find a market for your feet pictures and promote your business.
There is no need to come in contact with anyone or reveal your personal information, as every step of selling feet pictures can be done anonymously.
You can sell feet pictures on social platforms, and specialized sites like Feetfinder help you sell feet pictures. Here is the complete guide to selling feet pictures.
How much time it will take to make $500
Feet pictures sell from $5 to $100 a picture. If you can create a good following, you can make $500 in a couple of days by selling a few pictures. But in the beginning, finding clients will be difficult, so you might take a month getting $500 selling feet pictures.
---
6. Sell Your Friendship Online
In today's world of online work, many people have no real friends to talk to or share their feelings. They look for online or virtual friends for different purposes, like:
gaming partner
a listener
life coach
virtual girlfriend/boyfriend
You can join one of many websites to become a virtual friend and make money talking with people. This is a good online job to make money for people who like talking and are good listeners.
You can choose to have a romantic friendship or platonic only talk. If you are comfortable with romantic talking, you can find much more clients and can charge higher rates.
How much time it will take to make $500
Being a virtual friend pays anywhere from $25 to $50 per hour, so it may take 10 to 20 hours to make $500.
Freelancing For Quick $500
Freelancing is one of the flexible ways to make quick cash in your spare time using your skills or by just doing some odd jobs. Here are a few of your options.
7. Become a Freelance Writer
Freelance writing is one of the common online gigs to make money. If you have writing skills, many freelance writing jobs are available online.
As a freelance contractor, you can write for blogs, magazines, websites, social media, etc.
In the beginning, you can look for clients on platforms like Fiverr or Upwork. You need to showcase your sample work if you are a beginner or your portfolio of work.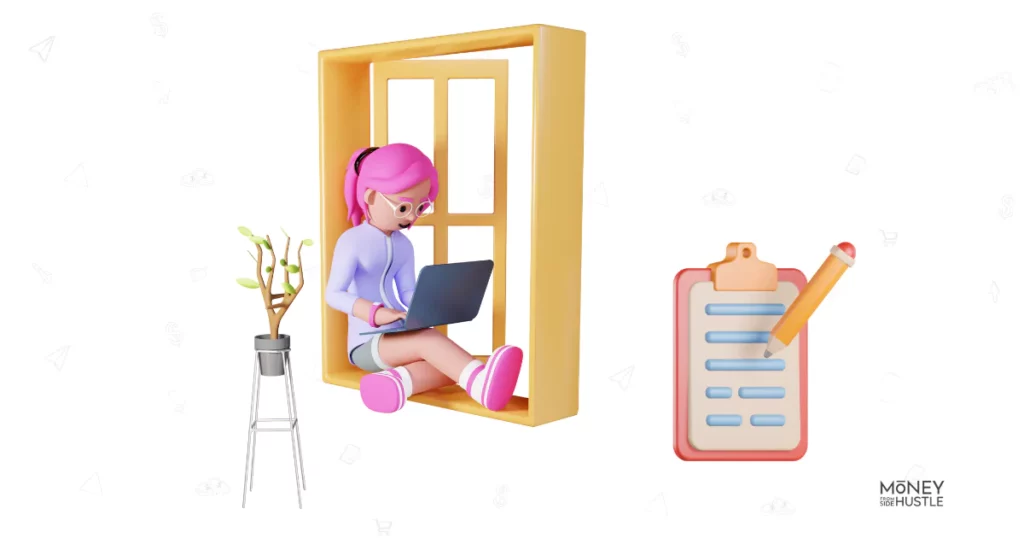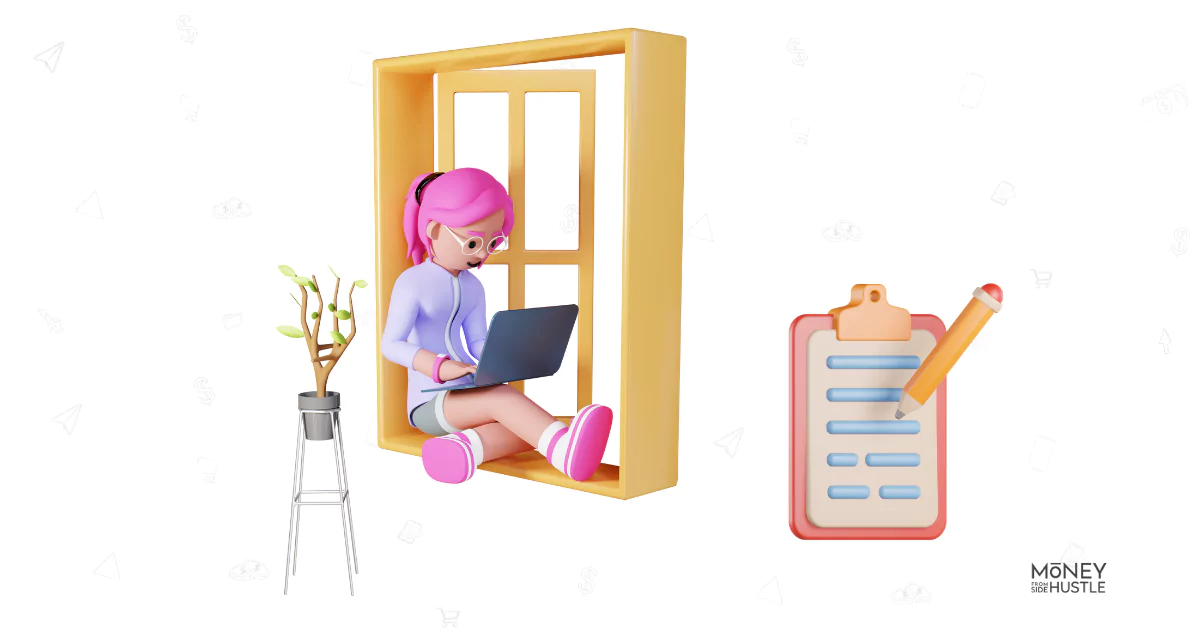 Then you can bid on various jobs posted on these platforms. Once you have good positioning on these sites, getting jobs will be much easier, and you will have personal connections with clients.
If you want to shorten the learning curve, you can take advantage of experienced people for a small fee, like this writing course.
How long it will take to make $500 with freelance writing
You can expect to make $20 to $25 per hour in the beginning, but if you have prior experience in writing, you can make $50 or more. I know a few people who charge $200 to 500 per post of 2,000 words, which takes around 5 to 6 hours.
So, beginners can take 20 to 25 hours to make $500, but experienced people can make $500 in a single project.
---
8. Do Translation Work
For bilingual or multilingual people doing translation work can be easy source of money as there won't be much completion.
There are many types of translational jobs; you can work on documents, books, subtitles, etc.
You can get a certification, which will help you demonstrate expertise and get more work at higher rates.
As a beginner, you can look for freelance jobs on platforms like Fiverr. You'll need to make a profile and showcase your expertise.
Once you get a job, make sure to do a great job and get positive reviews that will help you get more quality work. Learn more about the translator's job here.
How long it will take to make $500
Beginners can easily make $25 per hour; with some experience, translators make an average of $37 per hour.
So, beginners can make 500 bucks in 20 hours of work but experienced people only need around 10 to 14 hours of work.
---
9. Become a Virtual Assistant
Become a virtual assistant and make money online working from home. You won't be on anyone's payroll and will work as a freelance contractor.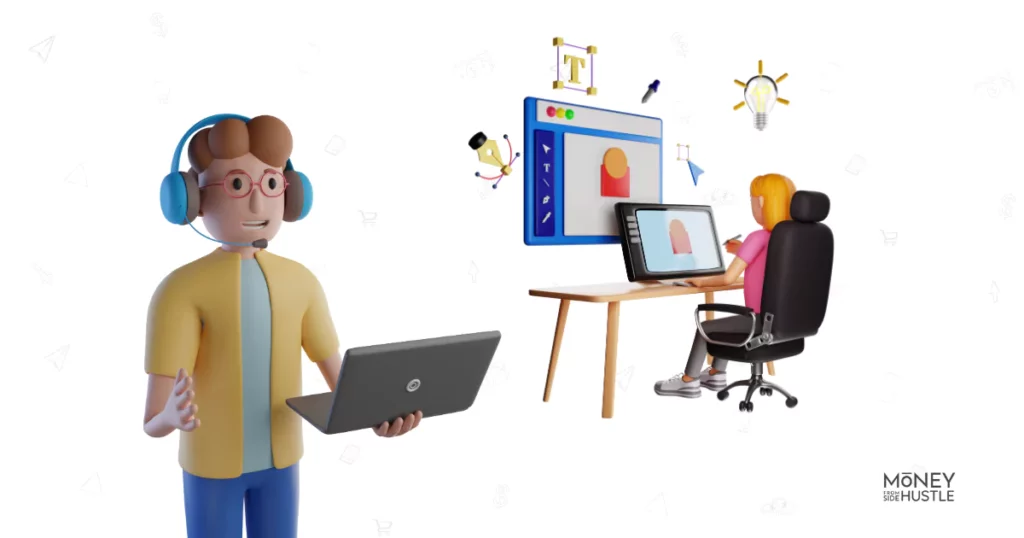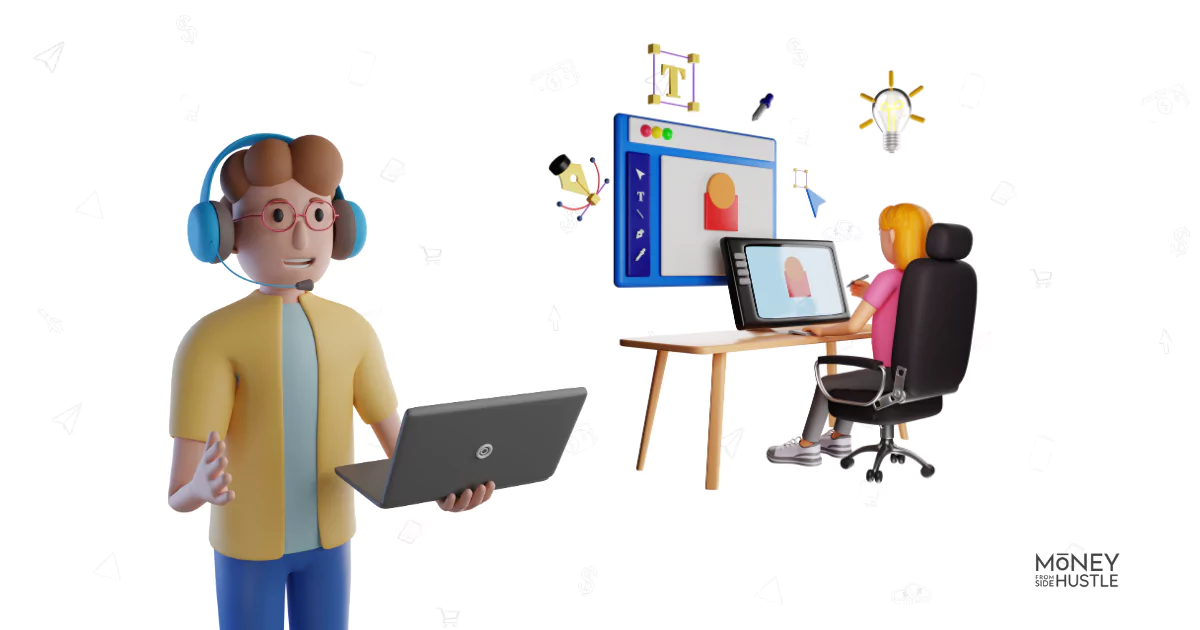 You can offer different kinds of services like:
Finances related like bookkeeping
Clerical work
Email management
Specialize in any virtual assistant roles and offer your services. You will be free to do as much work as you like.
You can find clients on freelancing platforms like Fiverr or Zirtual.
How long it will take to make $500
The average earnings of a virtual assistant is $27 per hour, so it will take 18 hours to get your $500. However, if you are starting fresh, it might take longer as you will find low-paying clients early on.
---
10. Do Proofreading
Like freelance writing, proofreaders are also essential in the world of publishing. Be it websites, blogs, or book publishers; all rely on proofreaders for the accuracy of their published work.
AI has revolutionized the world of writing and can help with correcting spelling mistakes and other errors. However, it still needs a few nuances of the human brain that can catch small errors that completely change the meanings of a sentence.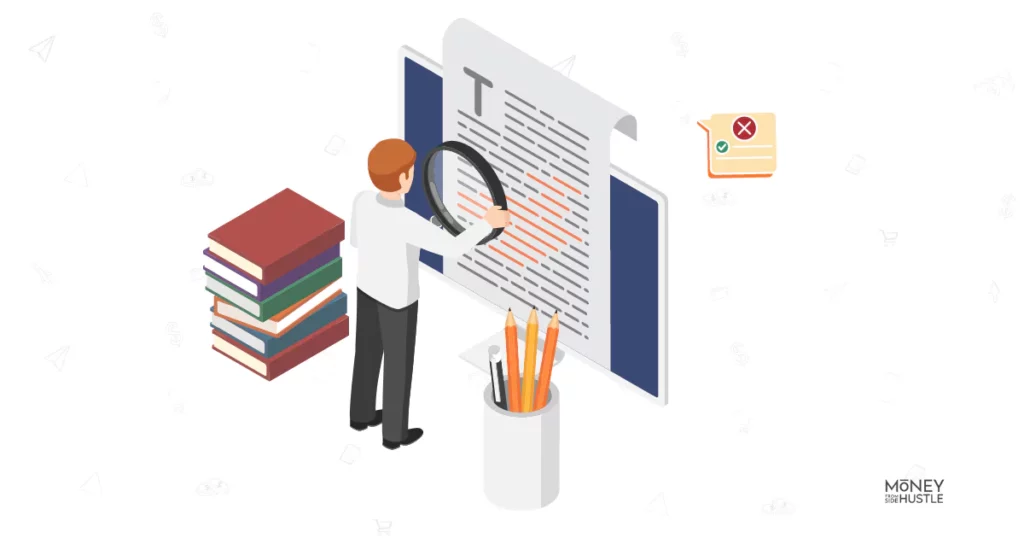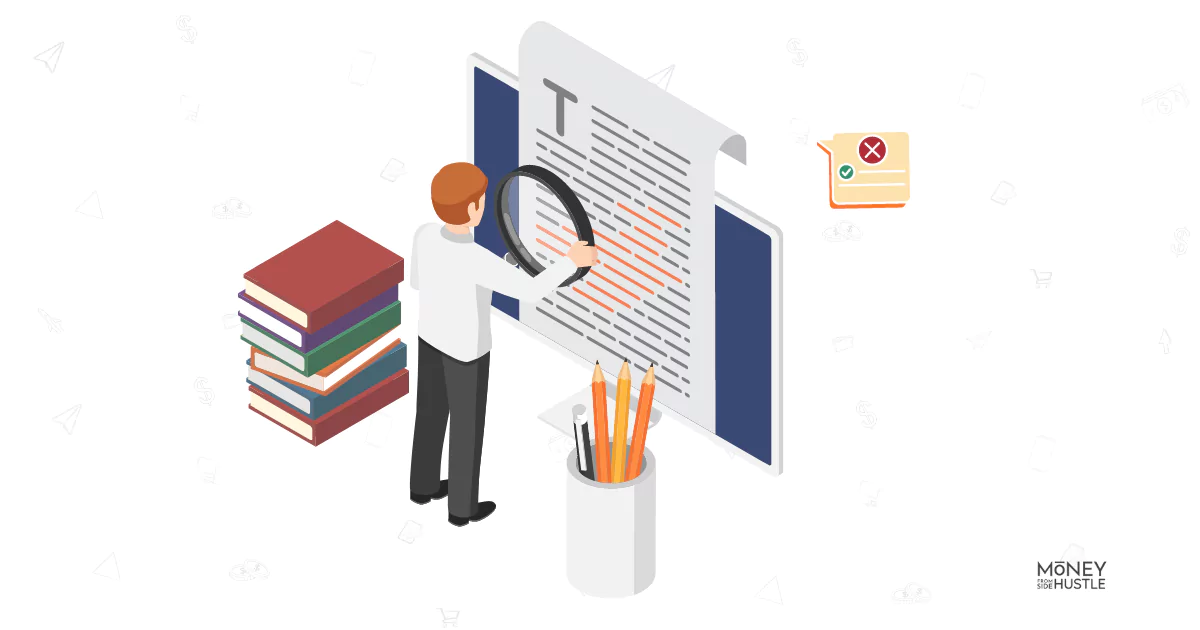 Proofreading jobs can be found on many websites that connect freelancers like you to clients.
If you want to learn more about proofreading, take this free seminar by Caitlyn who has taught thousands of students.
How much time to make $500
An average proofreader makes $26 per hour, but as with any other freelance job, expect to make less than that initially. So, you will at least take 20 hours to make 500 bucks with proofreading.
---
11. Do Graphic Design Work
Graphic designing is another job you can do as a freelancer if you have any experience in graphic design. You need to have an understanding of designing tools and software like Canva or Adobe.
Many people and businesses need services like logo design, social media posts and infographics to name a few.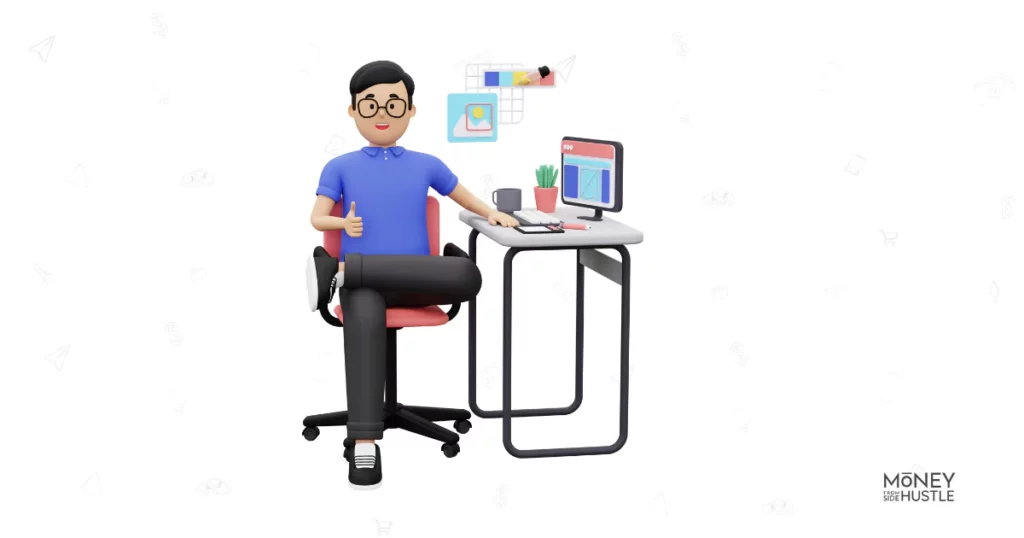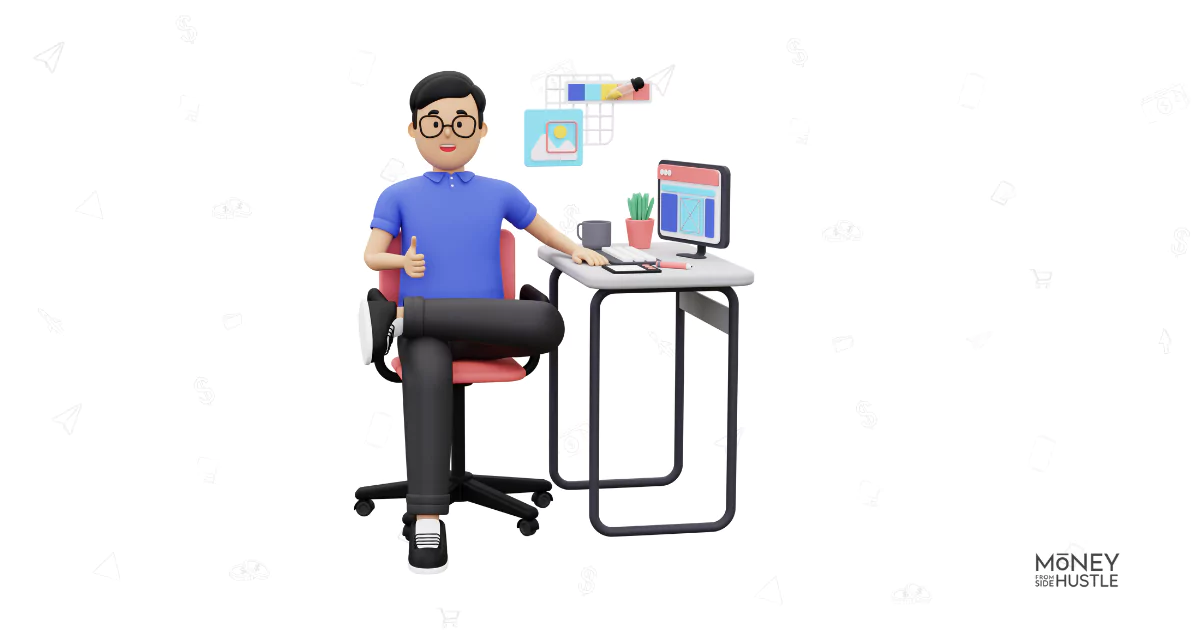 You can offer your services to such clients and make money online in your spare time. You can look for clients on platforms like Fiverr and 99designs. First, make your accounts look professional with a great portfolio of work or sample work if you are starting.
How long it will take to make $500
If you can charge a decent 50 bucks per design, it will take you ten projects to make $500. So it will depend on how aggressively you can promote your services and get new clients.
---
12. Do Errands and Odd Jobs
You can do small odd jobs near your home for some extra cash. There are many apps like TaskRabbit that let you offer your services.
You can do different kinds of things like:
Delivery
Handyman
Personal assistance
Cleaning
Whatever you have to offer, there is demand for that. Sign up on the platforms and create an account highlighting your skills and experience.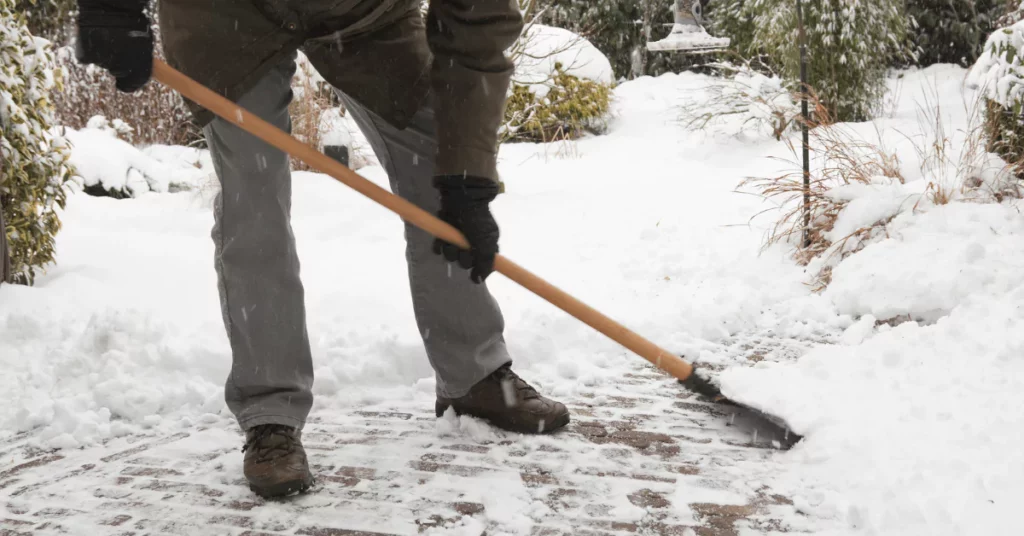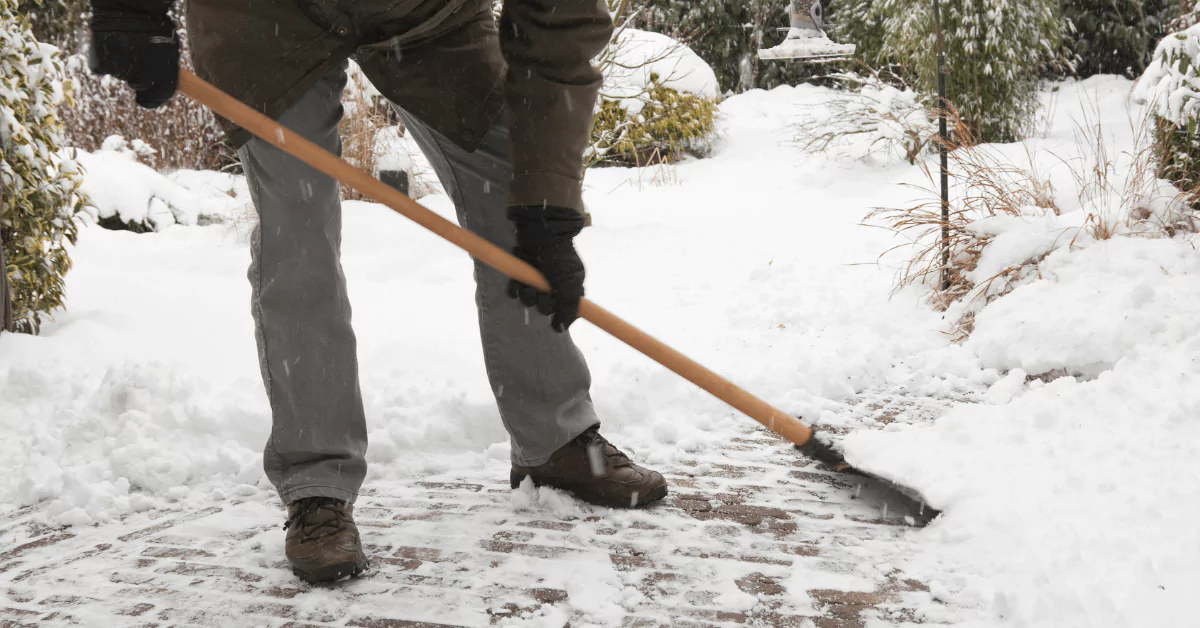 People can find your profile and contact you, or you can apply for the listed jobs. As with any freelancing job, getting good reviews goes a long way in expanding your business. So, do an excellent job at whatever work you do.
How much time to make $500
It depends on the type of job you are doing. If you offer generic services like lawn mowing, you can make $15 to $20 per hour, while for specialized jobs like plumbing or electrical repairs, you can even get $50 per hour. So, based on your skill set and job, it may take you 10 to 30 hours to get to $500 mark.
Driving To Make $500 Fast
Using your vehicle, you can do a few jobs that can net you 500 bucks in no time.
13. Deliver Food
Delivering food for local restaurants is a popular job many people do for extra cash or even for a full-time income. If you have a vehicle and a valid driving license, you can join the bandwagon and make money filling people's appetites.
All you need to do is sign up with one of the food delivery apps like Postmates, Doordash, or Uber Eats. After a few formalities you can start taking order that pay you money.
You will get everything from order details to GPS coordinates for delivery and payments on the app. Before each order, you can see the delivery location and estimated earnings, and you can choose or reject the order.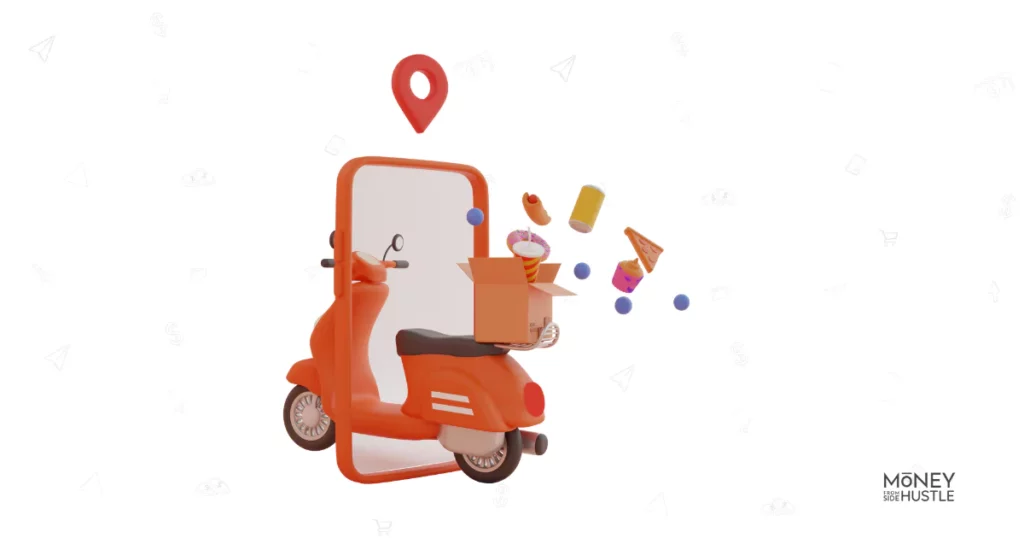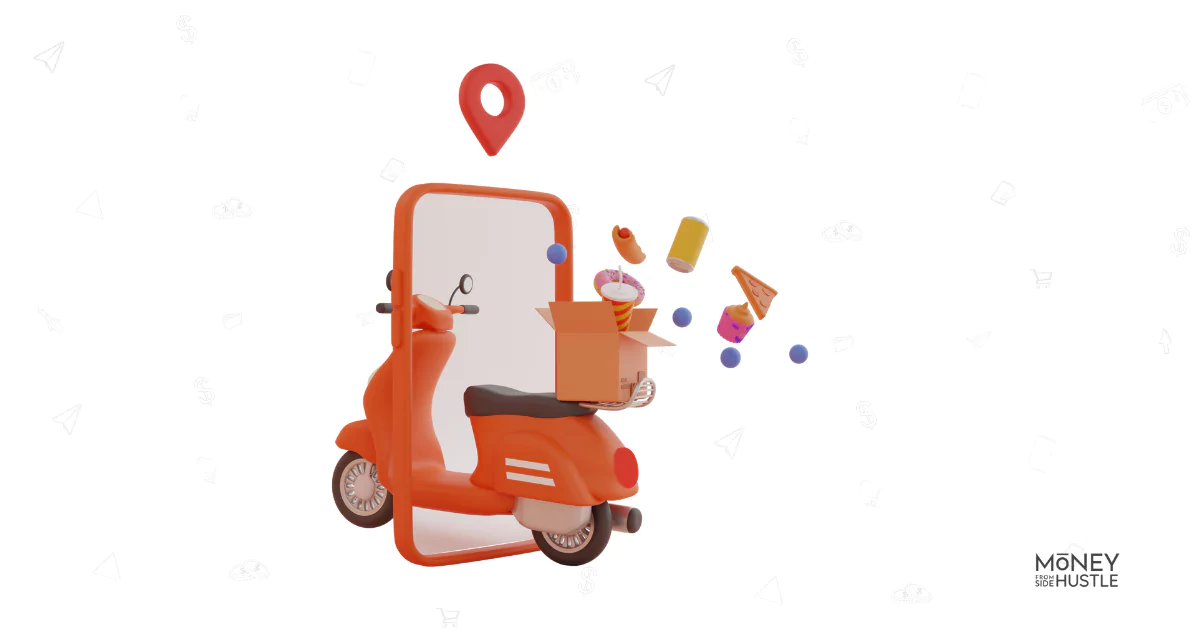 Once you take the order, you need to make the delivery in a stipulated time frame, and all the tip you get is yours to keep.
Most apps pay you on the same day for your deliveries or within 24 hours.
How much time to make $500
Earnings depend on your city and the locality and timing of your work. In the towns with more riders available, the payments are lower, and if you are making a delivery at peak times like lunch or dinner, you will get higher compensation.
Food delivery guys report earning between $15 to $25 depending on all the above variables. So, it may take you 20 to 35 hours of work to make 500 dollars.
---
14. Do Grocery Shopping
Like food delivery, you can also make money by shopping and delivering other people's groceries through Instacart.
You have three different options to make money with Instacart.
Become a shopper
Become a delivery guy
Do both shopping and delivery
If you just want to do shopping and no delivery, they hire people at the stores with high order demands and you can just do the shopping and packaging of various orders.
On the other hand you can just pick up the order and deliver to the destination like food delivery apps.
The highest paying option is doing both shopping and delivery of the order. You can choose any of the above methods that suit you.
How much time to make $500
If you choose to do only shopping delivery, you will get around $5 per order, but if you decide to do both, you will get about $9 to $10. Plus, Instacart shoppers' weekly earnings will vary depending on the order size and delivery distance.
So, for only shopping or delivery, you need to take around 100 orders for 500 dollars, but you can make that money with 50 or so orders while doing both.
---
15. Get a Ridesharing Gig
You can also offer to give rides to other people in your vehicle to make money through ride-sharing apps like Uber or Lyft.
Many people, including college students, do this side gig for extra cash, as this job offers flexibility to work at any hour.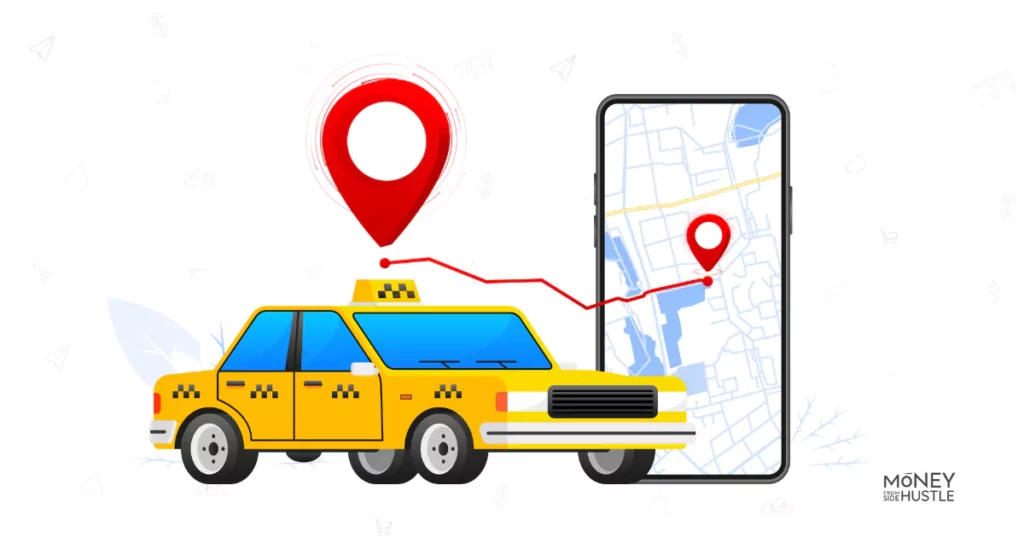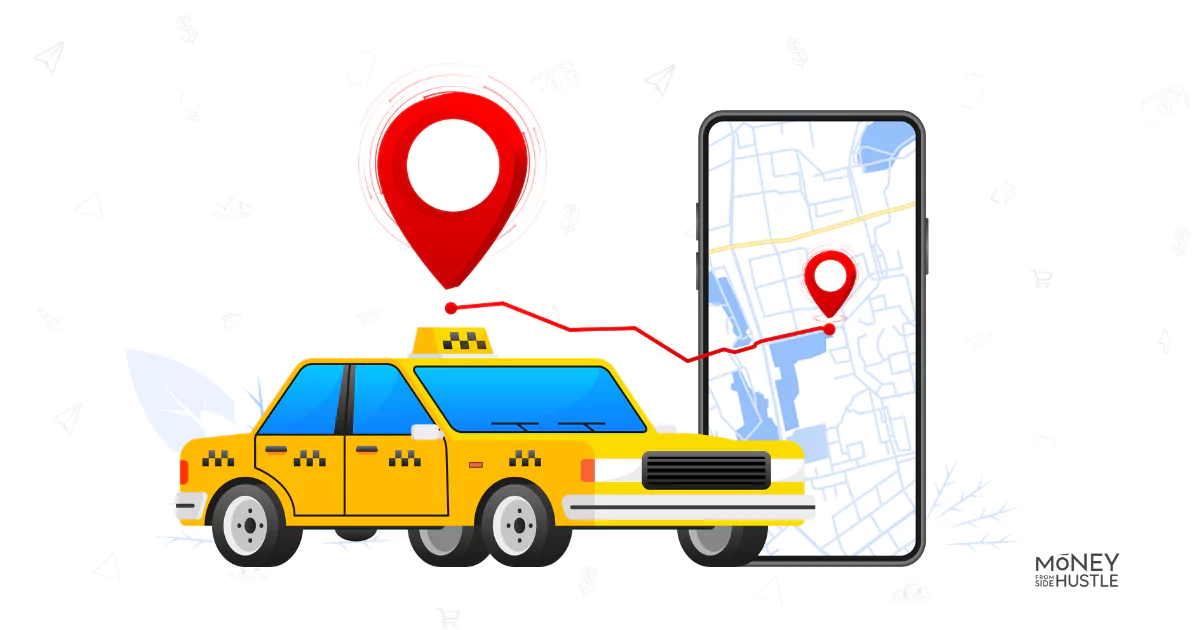 All you need is a vehicle in good condition and a valid driving license with a good record. After a vehicle inspection and background check, you can start driving for these apps and accept passengers.
You can drive on your preferred routes and areas and make money at your own pace.
How long to make $500 with driving people
Most people report earning around $17 to $20 per hour with Uber, and you can make more or less depending on the location and any running offers. So, it may take you 25 to 30 hours of driving others to make $500.
Other Ways To Make Quick $500
16. Make Money With Game Apps
A good way to make some quick cash is through gaming apps. For people who love playing games on their mobiles, these gaming apps are a good option for some free cash.
There are many games, both free and paid, that you can play on your mobile to make money. These games are available on Android and iOS platforms, and you can play them anytime.
The best free games that pay to PayPal are available on Mistplay and InboxDollars platforms.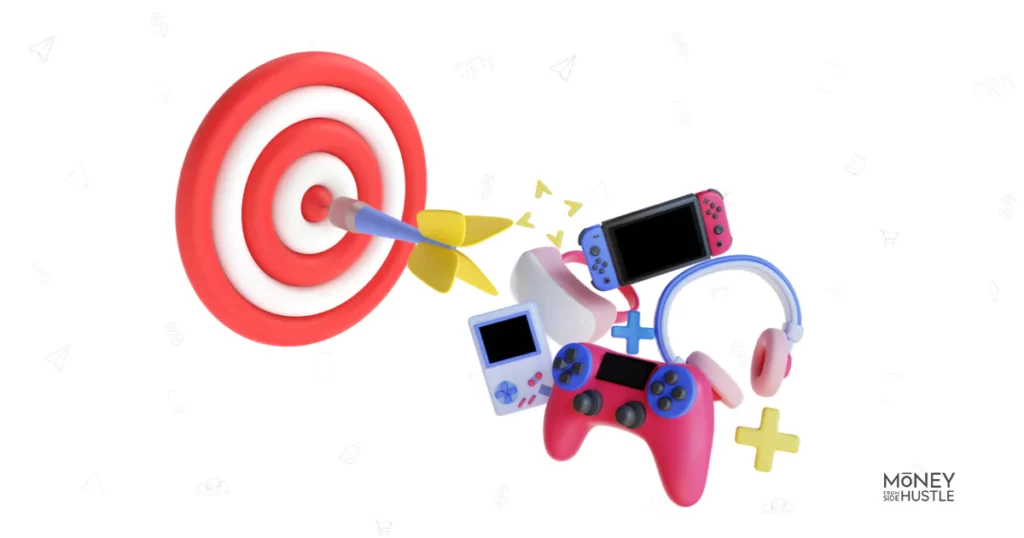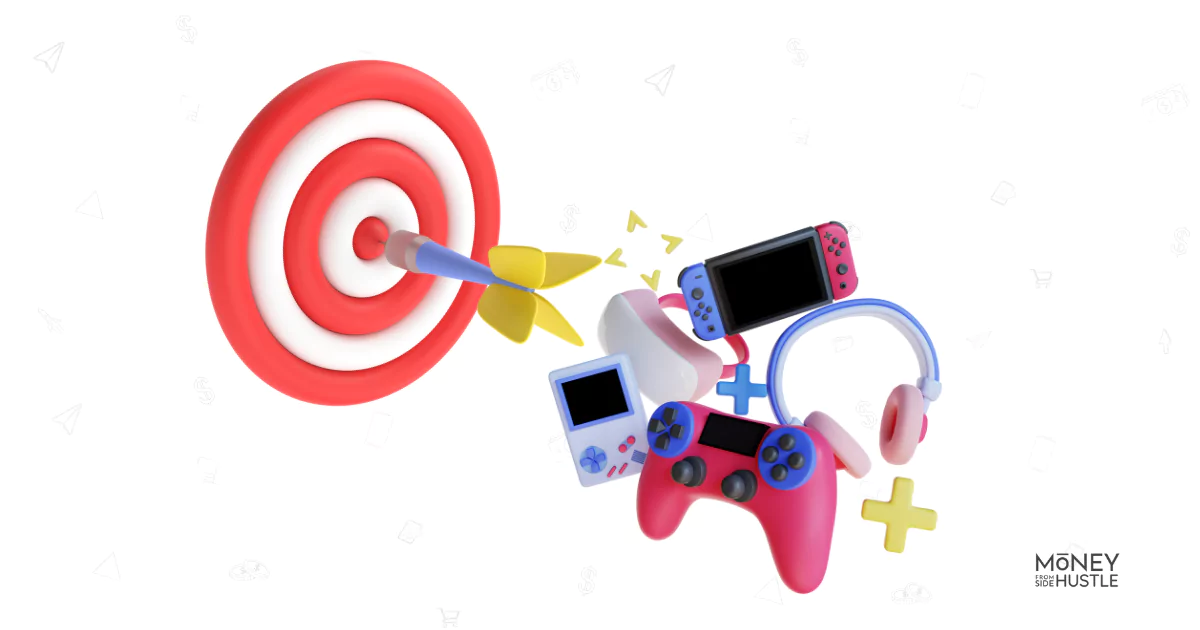 While paid games like Solitaire Cube or Blackout Bingo can be played against real opponents in real-time to win cash rewards.
You can play these games for unwinding from a long day during commute or in free time and make some cash while doing so.
How long to make $500 by playing games
If you play free games like Mistplay or Appstation, you will likely make $50 or more per month, which is not much but is some free cash that can contribute towards your goal of $500.
But if you have expertise and experience playing games like Bingo, you can win much more money playing against real opponents. You can even make $100 in a single game, but there is a chance you can lose your money as you need to enter money to participate. So, enter these games only if you are confident in your game and don't mind losing money.
---
17. Participate in Market Research
You can give your opinion for money. While surveys like Branded Survey are the easiest to make money online, they pay just a few dollars for each survey. But you can make much more money with your opinions by entering the market research groups.
These focus groups are like surveys only but at higher levels. Here a small group of people is selected for each study, and they need to provide detailed answers to the study questions.
To join these market research studies, you need to join companies like Respondent and Survey Junkie. There you get opportunities to apply for the available studies.
Each study has pre-screener questions, and based on those questions and your profile, you will be selected.
How much time to make $500
If selected for a focus group study, you can make from $100 to $250 in a survey that takes around two hours. So, it will take you only a couple of studies or 4 to 5 hours to make $500 with these studies.
However, in my experience, you get rejected for most of your studies and will qualify for only 1 out of 10 you apply. Consider all the time you need to put in to be eligible for a survey, which may come out higher.
---
18. Get Cash Back on Your Purchases
Cashback on all the purchases you make is like getting free money you were spending extra earlier.
Many apps let you shop with discounts and offer cash back on all the spending and combine that with the cash back on credit cards, and you can save a couple of hundred dollars every month.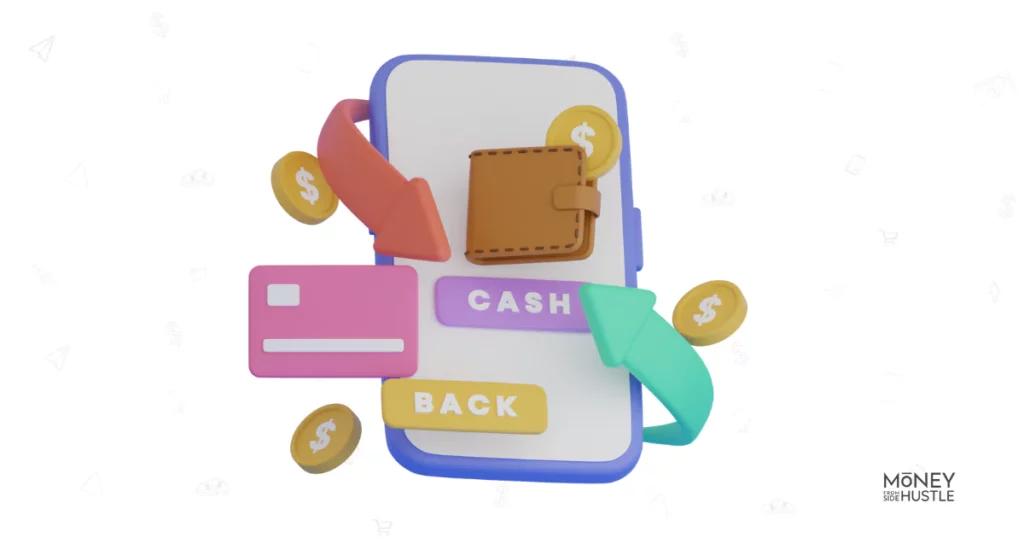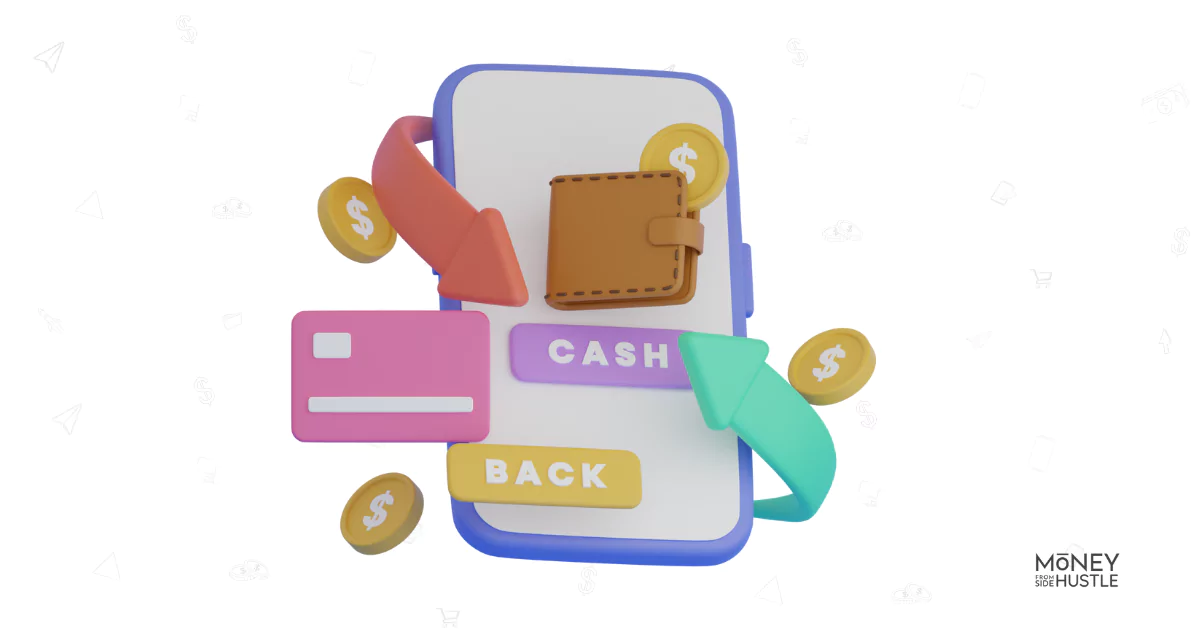 There is no reason to leave money on the table if you have the option to get it. And it does not take much effort, you just need to sign up with cashback apps like:
A few apps will even give you money back after shopping by scanning receipts.
How much time to make $500
You won't make hundreds of dollars in cash back every day unless you make a huge purchase, but you can get 5 to 10% cash backs on all the shopping you do. So, if you do $1,000 shopping every month, you can get $100 for doing nothing and put it towards your 500 dollars goal.
---
19. Get Free Stocks
Getting money for signing up is one of the easiest ways to get free, and many apps pay sign-up bonuses. You can make some easy money by doing these apps like Cash App or Stash.
A few apps like Robinhood even offer you free stock on the signup. When you join them as a new member, they offer you a free stock as a welcome gift.
You will get a value between $5 to $200 in your account, and you can buy shares of one of the 20 offered companies.
You can sell your share after three trading days and use the proceeds as per your wish.
How long to make $500
You won't be able to make the complete $500 with this method, but you can surely make $100 or more by combing all these companies listed above. And completing this task will take you only an hour or so.
---
20. Refer Friends For Quick $500
Besides giving sign-up bonuses to new members, companies also offer incentives to their old members to refer new people.
Many companies like InboxDollars and Cash App have referral programs, where when you refer a new person through your referral link, you get a specific amount of commission.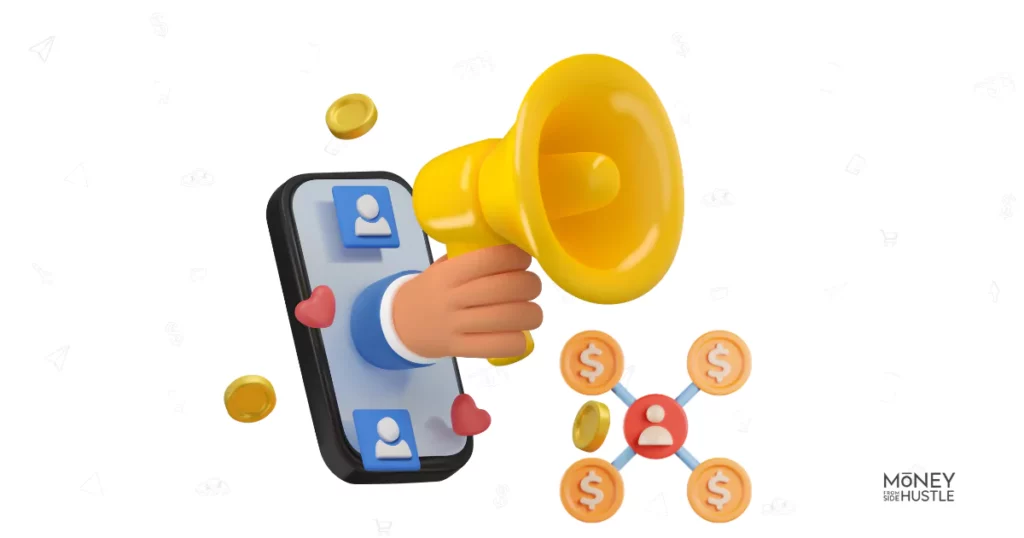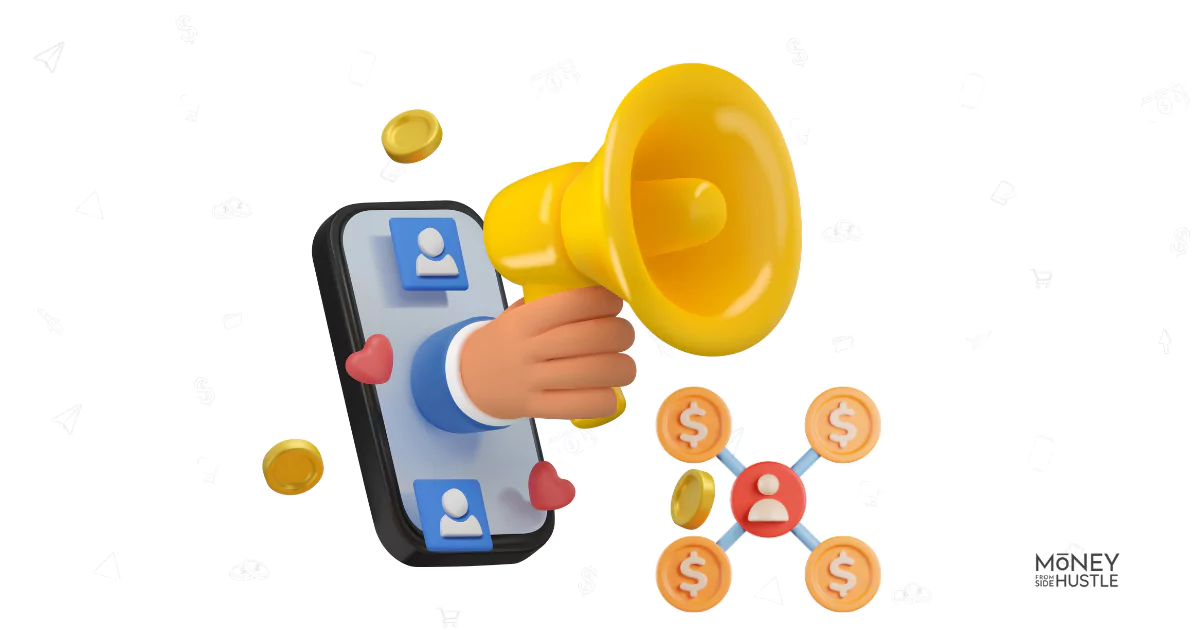 You can refer your friends and family members and get some quick cash. Generally, there is no limit on how many people you can refer; if you know more people, you can make more money referring them.
How much time it will take to make $500
Generally, referral programs pay $5 to $15 per referral, so depending on the number of people you are referring and to which program, it might take you a couple of days to a month to make $500.
For example, I make $15 for every referral to Cash App, and it will take me 33 referrals to make $500.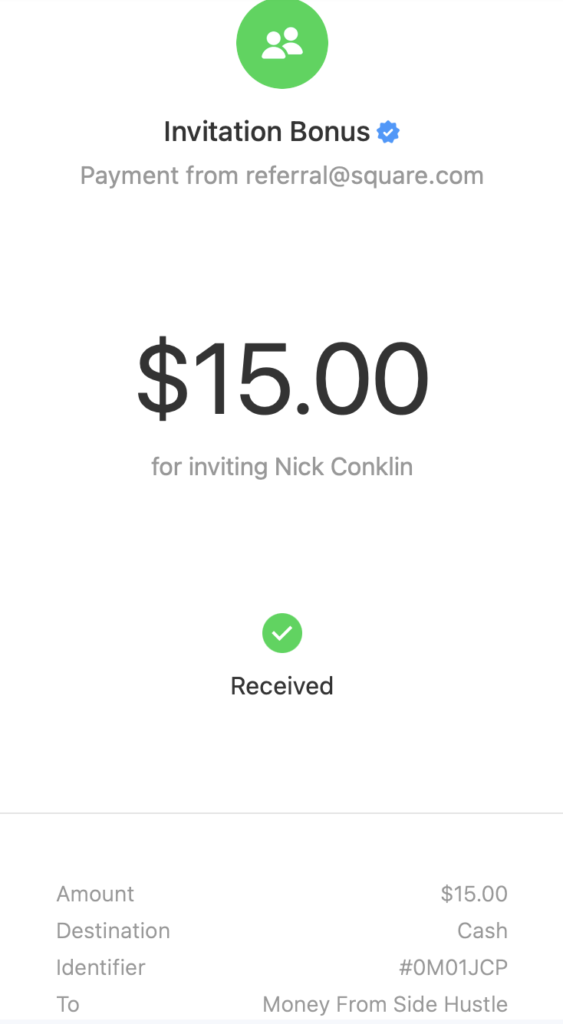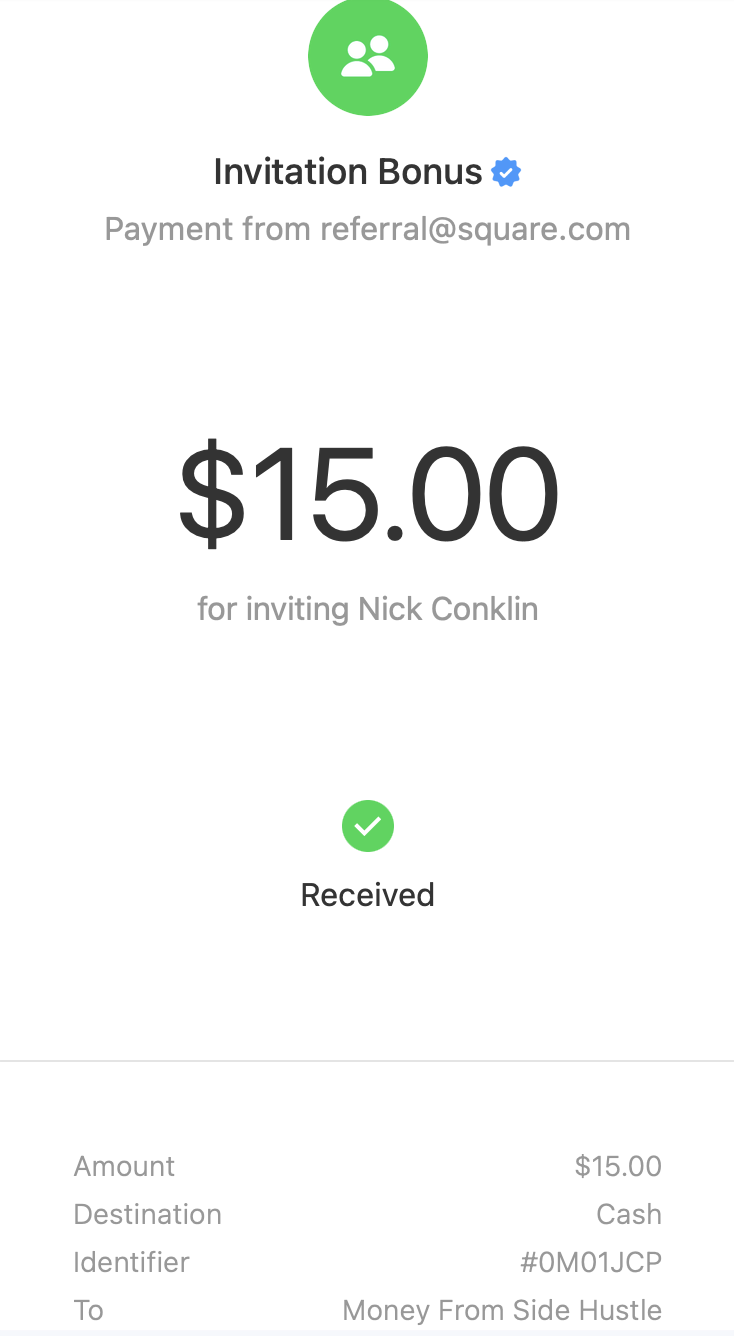 Tip: Explain to your friend why the app you are referring to might be a good fit for them, and most of the time, they will also get a joining bonus.
---
21. Create an Online Course
Creating an online course is a semi-passive way of making money. You can create an online course if you have experience or expertise in any subject.
Many platforms offer you options to create courses like Teachable and Udemy. Combining video lessons and text to make an entire course would be best.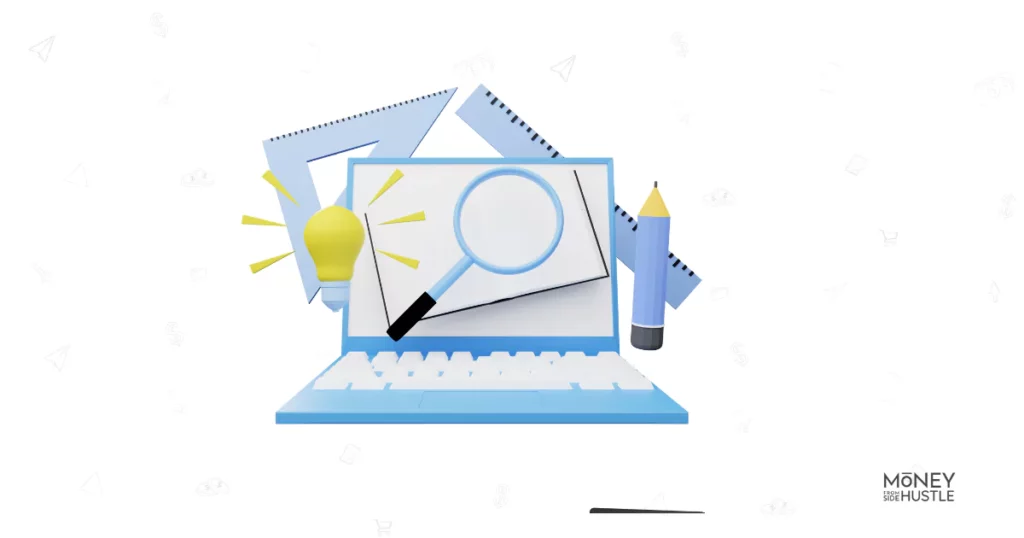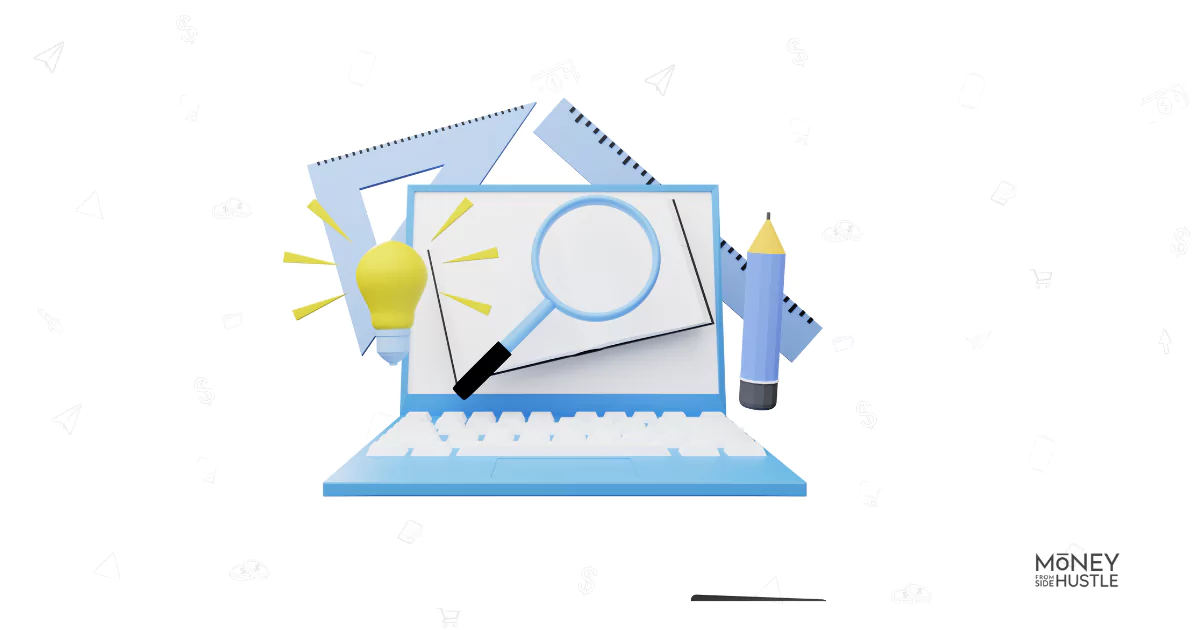 You can make complete guides on a subject or a course on specific problems many people face.
It is a one-time effort, and you can keep making money long after creating the content.
How much time it will take to make $500
It is not a quick way to make $500; it will take time to build positive reviews and sell more numbers. However, with solid marketing and a big launch, you can sell more than $500 on the first day.
---
22. Publish an Ebook
Like creating a course, you can launch an ebook for any subject matter you have experience in or expertise in.
It is a better option for people who are not comfortable creating videos.
Many platforms like Kindle allow you to launch your ebooks in minutes without running after they are publishers as it used to be in the past.
All you need to do is create the ebooks and publish them. You will share the revenue with the platform, i.e., if you sell a book for less than a dollar, you will get 35%, while for higher-priced books, you will get a 70% commission.
How much time it will take to make $500
Like online courses, it will take time to get $500 by selling ebooks if you go the organic way of launch, as it will take time to get positive feedback and more sales. However, if you do a big launch, you can make $500 in a day.
---
23. Teach English Online
If you are a native English speaker, teaching English to kids online can be one of the easiest ways to make money for you.
There are many platforms like MagicEars and VIPKids that hire people to teach English to kids worldwide.
You need to sign up for the platform and have teaching certification in a few cases. Then they will take an interview to assess your qualification. If you pass the interview, you can select your preferred teaching slots and start teaching a predefined curriculum to kids under 12.
How long take to make $500
Online English teaching jobs pay around $20 to $25 per hour, so you need to work 20 to 25 hours to make $500.
---
24. Become an Influencer
Becoming an influencer can be a lucrative option for people who are active on social media and have a large social following.
You can monetize your following with brand partnerships like sponsored posts and affiliate marketing.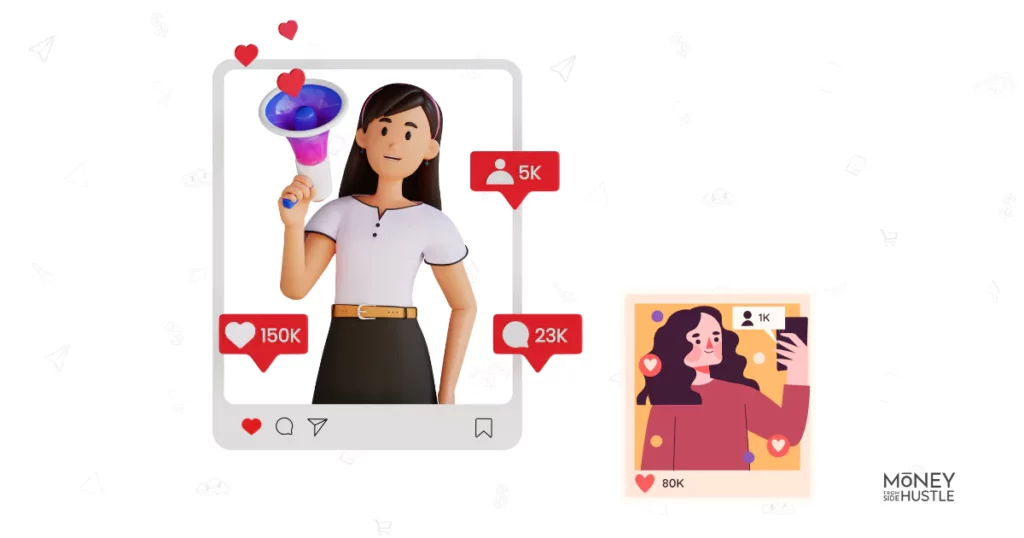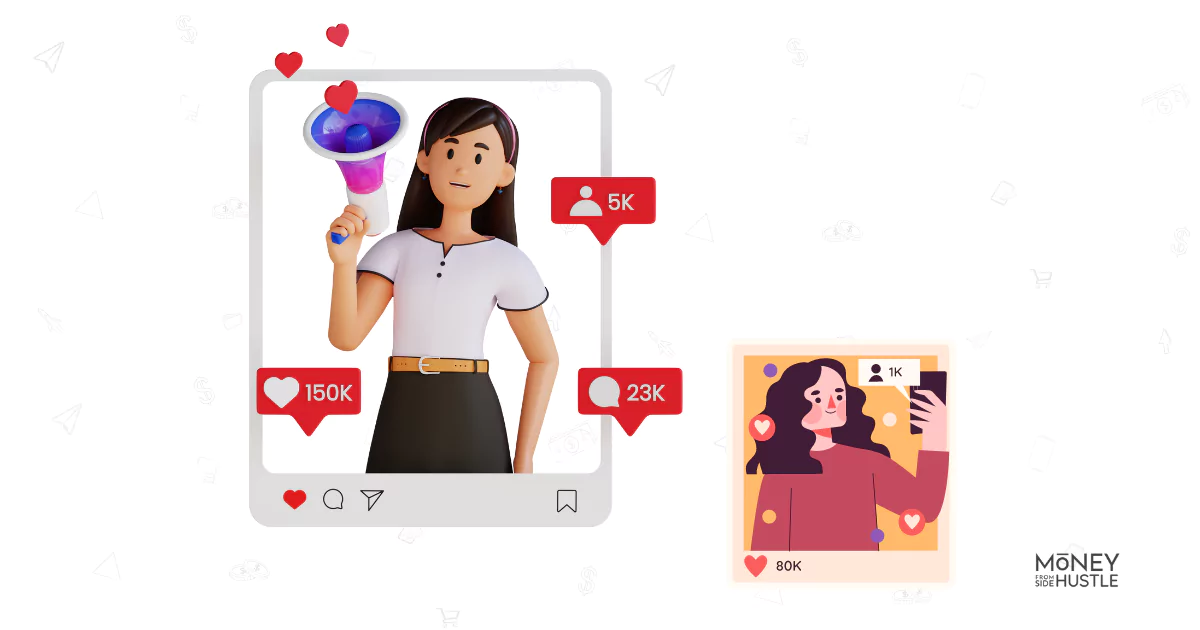 Many people in today's era are doing this work as a full-time job and earning good money.
You can recommend different products and make money from the brands.
How long take to make $500
It depends on the number of followers you have. If you have up to 10k followers, you can charge $200 per post, and it will take you three posts to get $500. People with 20k followers can make $500 with a single sponsored post.
---
25. Babysitting or Pet Sitting
Making money started for many people with babysitting jobs. Especially for teenagers, babysitting is one of the first jobs.
For kids with younger siblings, babysitting comes naturally as you get experience handling kids. You can find babysitting jobs in your locality by asking to neighbor families.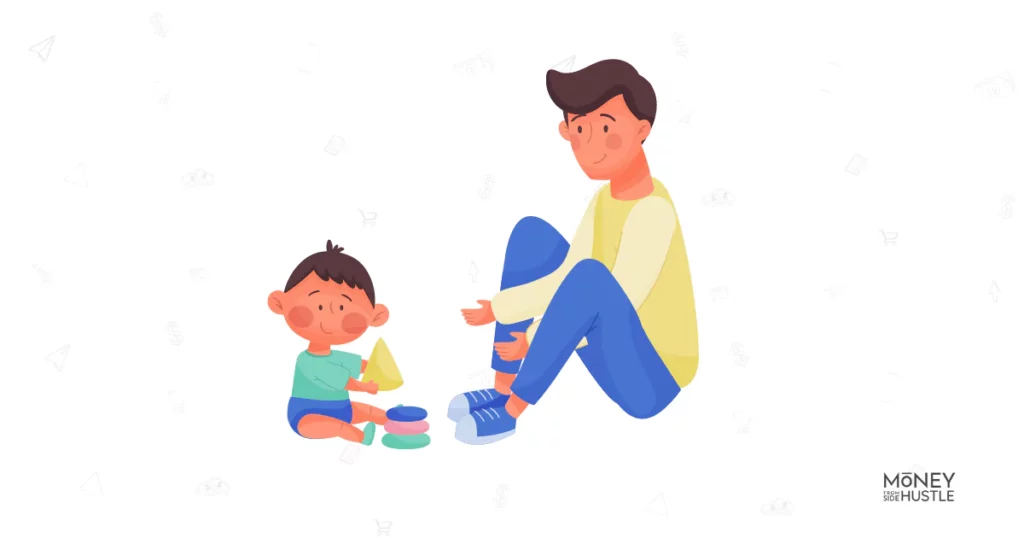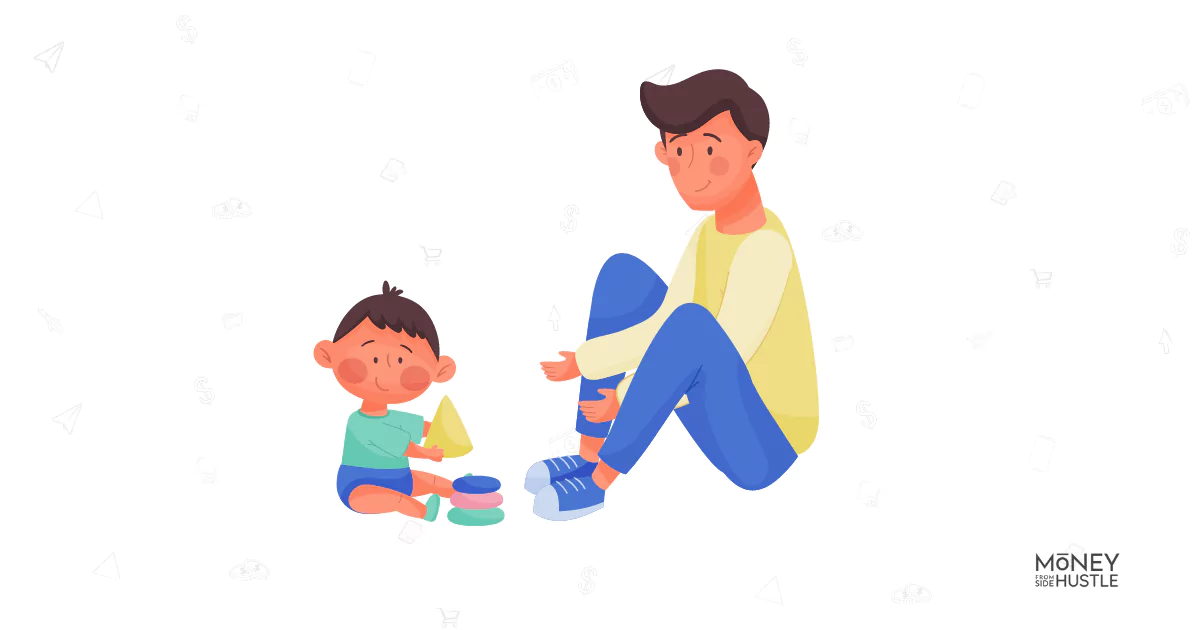 Once you get the job, make sure to follow all the instructions like:
Taking care of feeding time
Maintaining sleeping routine
Helping in home work
Make sure all the areas are clean after the job. Taking care of these things will ensure that you get repeat work.
Similarly, you can get pet-sitting jobs if you like playing with pets. It will be a fun job to make money where to take care of friendly pets.
You can find pet-sitting jobs on the Rover app and other similar dog-walking apps besides asking in neighbor houses.
How long take to make $500
Babysitting and Petsitting jobs pay from $15 to $25 per hour; you will make $500 in 20 to 30 hours.
Get Your $500 Quickly With These Methods
As you see, there are different ways to go about making $500 quickly. Some can be done from home, while others, like food delivery, need you to get out and move around.
There is no one right way for everyone, as each person has their own skills and dedication. However, you will find something in this list that suit your needs.
The better option will be to try multiple of them and find the one that works best for you. You can combine multiple of them to make $500 even quicker.
Once you find the right combination of hustles that fits your comfort levels, you don't have to stop at $500. Include them in your life and add additional sources of revenue.
More ways to make money: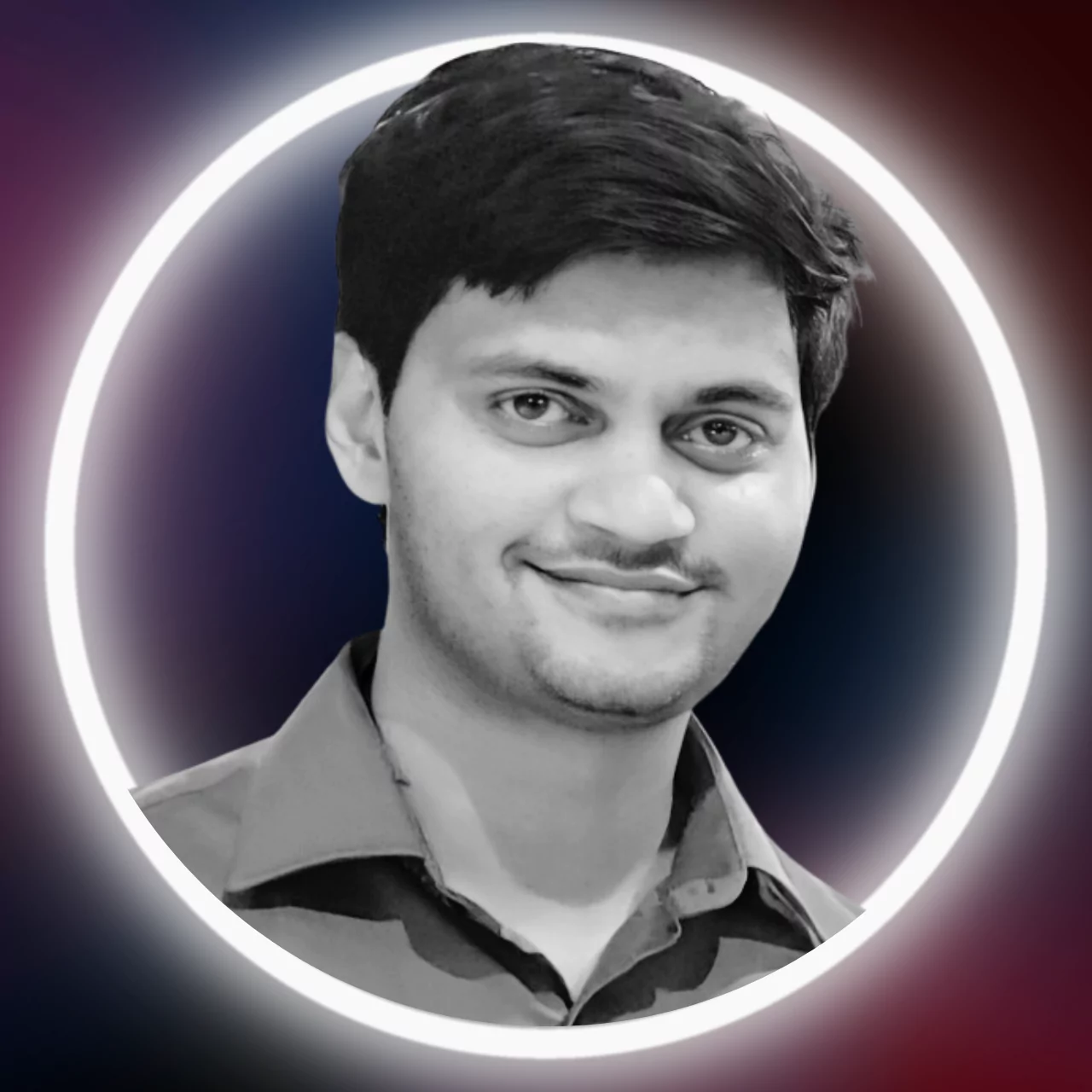 Sumeet is a Certified Financial Education Instructor℠ (CFEI®) and founder of MoneyFromSideHustle. He is an experienced side hustler who replaced his full-time income with side hustles. His work has been quoted on major finance websites like CNBC, Yahoo! Finance, GOBankingRates, MSN, Nasdaq, AOL, and more. He has helped thousands of people find side hustles and is here to help you find your extra source of income. More about him.