This post may contain affiliate links from which I may earn a commission without any cost to you. Read our policy for details.
The gig economy provides different ways to make extra money. One cool job you might like is pet sitting, especially if you love animals. A great place to find pet-sitting jobs is an app called Rover.
Have you heard of Rover? It's a cool app where people with pets can meet people who want to care for pets. It's like Airbnb but for pets.
So, if you're someone who loves to play with dogs or cats, you might like Rover. But you might be asking, "Is Rover worth it, or can I really earn money using Rover?" The answer is a big YES.
In this Rover review, we'll talk about how Rover can help you make money.
If you have extra time and love hanging out with pets, Rover could be a great way for you to earn some extra cash.
So get ready to explore this app.
What is Rover?
Rover is an app and website that joins pet sitters and dog walkers with pet owners near them.
It was established in 2011 by Greg Gottesman, Aaron Easterly, and Philip Kimmey. They wanted a better option than kennels and boarding facilities.
On Rover, you can find various services for dogs and cats, such as:
Boarding: You invite the pet to stay at your place overnight. You make them feel like a part of your family in a comfy setting.
House sitting: You take care of the pet and the house while the owner is away. The pet gets all the attention they need in their own home.
Dog walking: You stroll the dog around the block. This is great for busy owners and dogs that have lots of energy.
Daycare: You host the dog for the day at your place. Pick them up in the morning and drop off a cheerful dog in the evening.
Drop-in visits: You stop by the pet's house to play, feed, and give them toilet breaks or clean their litter box.
Dog training: You offer private, virtual dog training via GoodPup. You train the dog from your house using 1-1 video chat.
Rover isn't just a platform for pet-sitting jobs. It's a community of pet lovers sharing their love and knowledge.
You can read Rover reviews from other sitters and owners, see pet photos and videos, and chat with pet owners before taking a job.
You make your own profile, set your own Rover pricing, and choose when you're available.
Rover is available in several countries, including the US, Canada, United Kingdom, Germany, Spain, France, Italy, Netherlands, Norway, and Sweden.
You can have peace of mind with the Rover Guarantee, 24/7 support, and reservation protection (excluding GoodPup).
Your services are insured for veterinary care, property damage, or help with rebooking in emergencies. Rover's customer service team is also ready to help with any questions or issues.
How to Become a Rover Sitter
Signing up
Want to be a Rover sitter or walker? It's easy. You start by visiting the Rover website.
Click on Become a Sitter and then Get Started. You get to choose what services you want to offer. It could be pet sitting, dog walking, or even dog training. Save and Continue.
Complete basic formal training videos and apply for a background check (it costs $35).
These steps can be done in any order and at your own speed. Once done, click Submit to let the Rover team know your profile is ready.
They'll get back to you within a couple of weeks. They might ask you to tweak a few things to make your profile stand out. If approved, they'll send you an email.
Create Your Profile
Creating an attractive profile is key to success on Rover. This is how pet owners will see you, so it's important. Use clear, good-quality photos of you with pets.
Avoid filters and group pictures. Have a catchy headline about you and what you offer. Like "Loving and dependable dog lover in Seattle".
Describe your experience, availability, and services in detail.
Tell people why you love animals, what pets you have, your schedule, your rates, and so on.
Get reviews from people who can speak to the quality of your services. Completing the safety quiz and the background check shows you are responsible and can be trusted.
Tip:
Take inspiration from others' profiles. Start by exploring as if you're a pet owner. Look at the profiles of pet sitters in your neighborhood.
Why? This can show you what photos work well. It also helps you understand what info you should share about yourself.
Doing this research is also great for another reason. It can help you figure out the best price for your services. Compare what others charge and find a balance that's competitive for your area.
Finding Dog Walking and Pet Sitting Jobs
Once your profile is up and running, you will be visible in the Rover marketplace. Pet owners can contact you.
But you can also do some things to find more jobs. Update your calendar regularly. Respond quickly and professionally to inquiries.
Rover tracks three performance scores that influence your ranking:
Booking Score: This score measures how often you accept requests and how quickly you respond to them.
Repeat Score: This score measures how often your first-time clients book with you again.
Review Score: This score measures the average rating you receive from your clients.
Here are some of the top ways to improve your performance scores and rank on Rover:
Accept most requests that come your way. This shows that you're reliable and available, which will make you more attractive to potential clients.
Respond promptly to requests. Pet owners want to know that you're responsive and easy to work with. Aim to respond to requests within 24 hours. Having a mobile app will help.
Send photo and text updates to your clients during bookings. This shows that you're taking good care of their pets and that you're thinking of them.
Always provide a 5-star experience. This means being on time, being responsive, and providing the level of care that your clients expect.
Use social media to promote your Rover profile. Get reviews and referrals from satisfied clients.
Getting Paid With Rover
You can share Rover cards with all the relevant job details when you complete the jobs.
Easily track and share info with your clients, including:
Start and stop times
A map of their dog's walk
Pee, poo, food, and water breaks
At least one photo
An optional short note
Then it's time to get paid. Everything is done online. When a pet owner requests your service, you can accept or decline. If you accept and they confirm, they'll pay through Rover.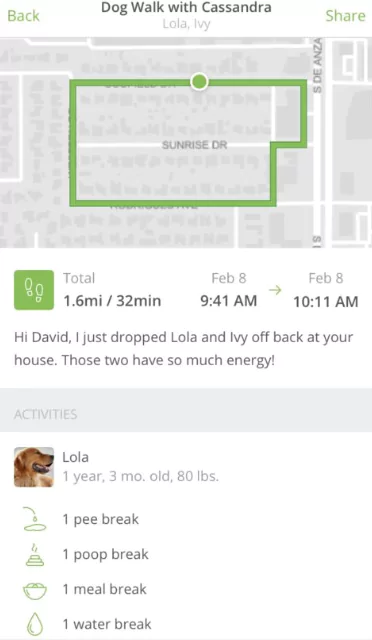 This goes to your Rover balance. You can see this on your dashboard. When you finish the job, you mark it as complete.
This lets the pet owner know the job is done and triggers the payment to your account. They take your bank account details while signing up to set up your payments. You can also get paid by PayPal or check.
PayPal payments take 1-4 business days, and checks take 1-3 weeks.
You can also have direct deposits if you're in the US. Rover takes a 20% service fee. This covers platform maintenance, 24/7 support, and the Rover Guarantee for emergency vet costs.
How Much You Can Make With Rover
On Rover, you get to decide your rates. You can look at what others are charging in your area and set your prices accordingly.
You might even offer discounts for repeat customers, multiple pets, or long-term stays.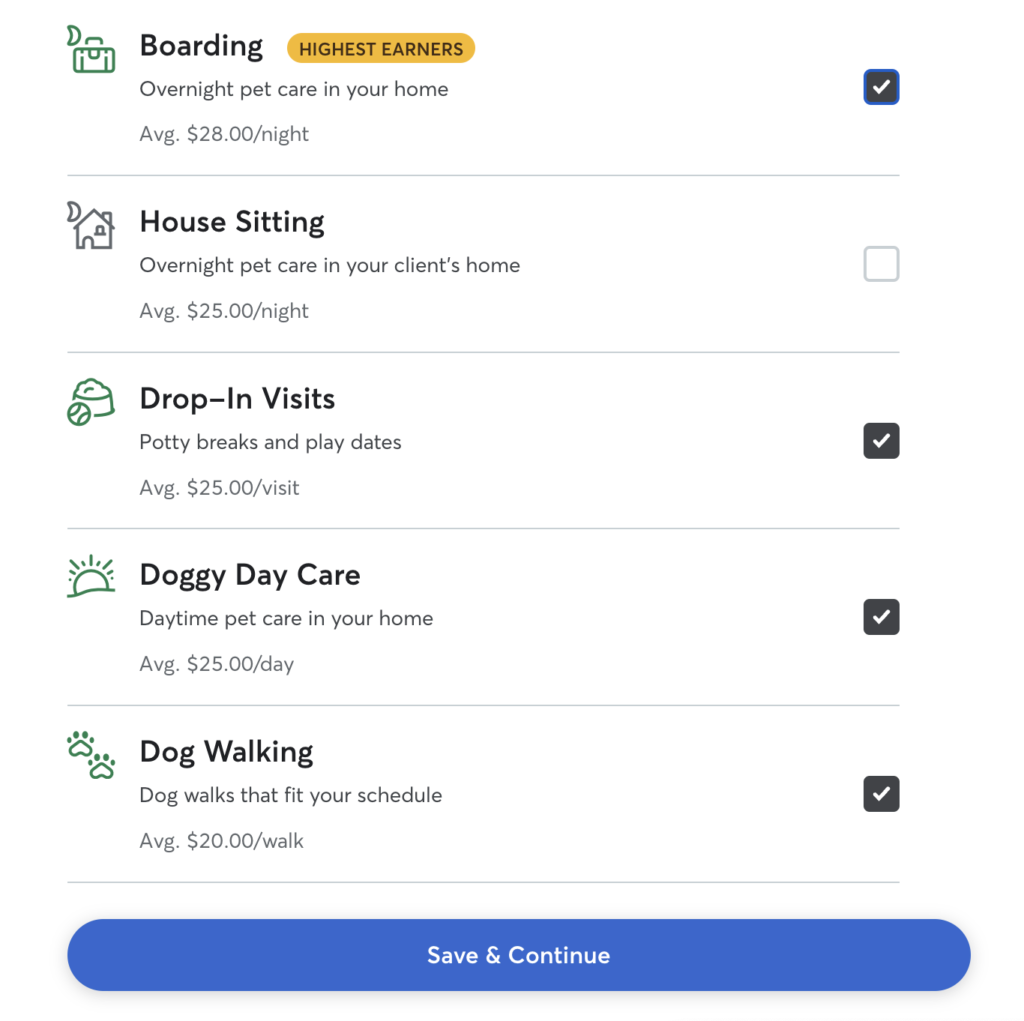 According to Glassdoor, pet sitters on Rover can make anywhere between $14 to $29 per hour. Of course, what you earn will depend on the services you offer and the prices you set.
According to Rover, below are the average rates on the app.
Dog Walk: $20 per walk
Boarding: $28 per night
Drop-In Visit: $25 per visit
Daycare: $25 per day
House Sitting: $25 per night
But keep in mind Rover will take a cut from your earnings. Rover takes 20% of what you earn.
This fee goes into running the platform, helping with customer support, processing payments, and providing insurance and other perks.
Pet owners also pay a 15% service fee up to $50 per booking to Rover. This helps Rover manage marketing costs, ensuring safety and trust and maintaining the platform.
Rover pays pet sitters two days after they complete service. You can get your payments through PayPal or check. PayPal is quicker and easier, but they charge a small transaction fee.
Say you offer dog boarding for $30 a night and dog walking for $20 a walk. If you board one dog for three nights and walk three dogs once a week, you could make $150. After Rover's 20% fee ($30), you'll get $120.
So, your Rover pay depends on your services, rates, clients, and booking frequency. Offering extra services or products like grooming, training, treats, or toys can bump up your earnings.
Tip:
Work also depends on seasons, mostly summers and Holliday seasons are the busiest, and if you live in a half-decent market, you can increase your prices and still you will get plenty of work.
Here is one sitter with username Hot-Cheesecake8019 on Reddit sharing his work cycle:
Rover Referral Program
Want to earn more rewards by referring friends? It's simple.
Share a unique link with your friends and family. You can send it via email or post it on Facebook or Twitter. Along with the link, you'll be sharing a $20 discount.
Now, you need to motivate your friends to complete their registration on Rover. By doing so, they'll receive $20 off their first booking as a sign-up bonus. It's a win-win!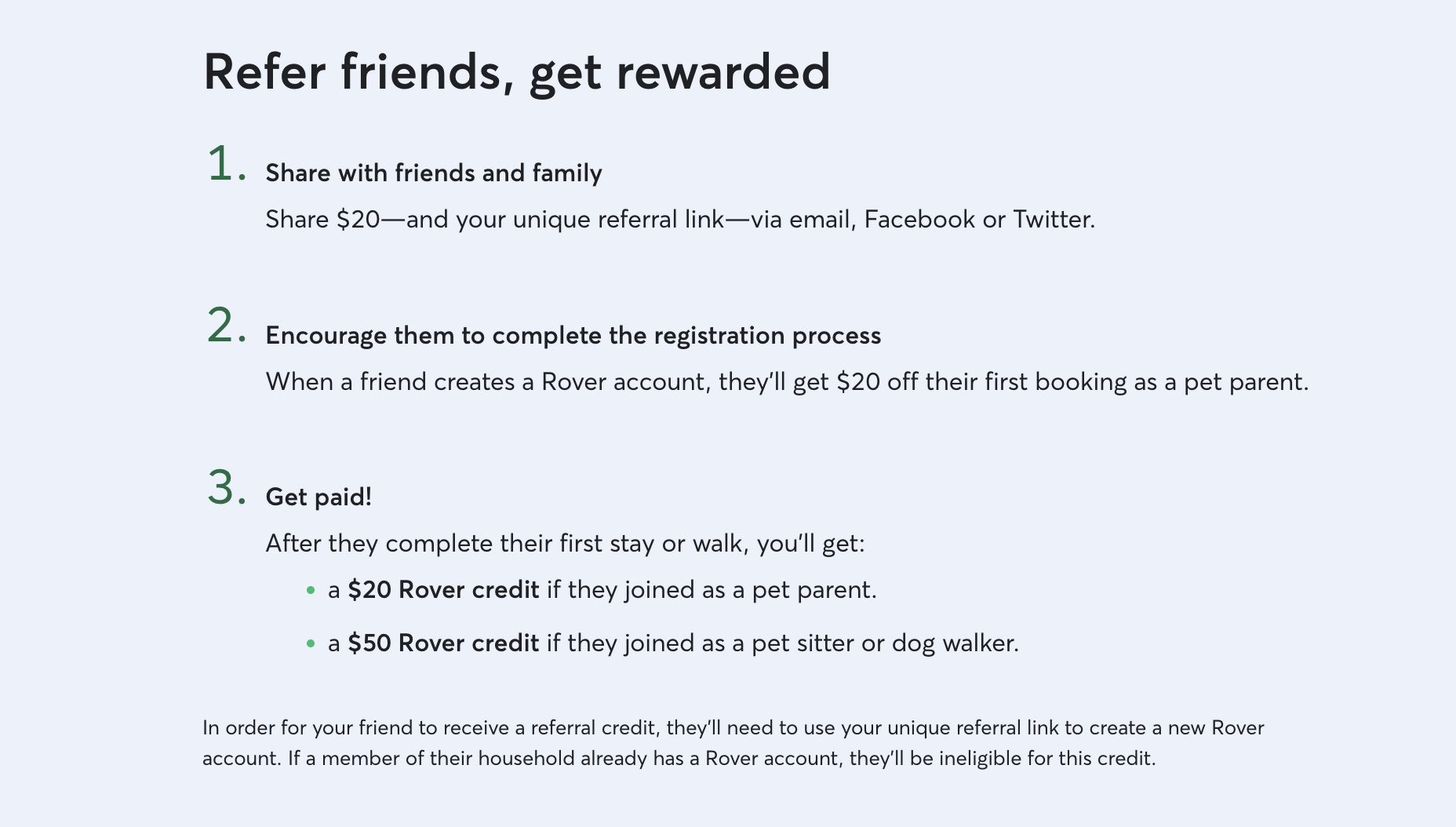 What's Good and Bad about Rover
Like any gig economy app, working for Rover has ups and downs. Here are some pros and cons of Rover work based on our personal experience and research.
Pros
You enjoy time with pets. It's great if you're an animal lover.
You decide your work details – schedule, rates, and place.
You meet and connect with new people. It's good for networking.
You earn extra money doing what you love. Could even turn into a full-time job.
Rover offers benefits. They give insurance, customer support, and learning resources.
Cons
It's competitive. Many people in your area may offer the same or cheaper services.
Dealing with tough pets or owners can be hard. Pets might need extra care, owners may have high demands.
Risk of last-minute cancellations and variable demand. Things can change quickly based on seasons or holidays.
You handle your taxes and costs. Track your income and expenses. Costs like gas, supplies, and other pet care items are your responsibility.
Tips To Earn More On Rover
If you're interested in increasing your earnings on Rover, here's a list of expert tips to help you maximize your Rover experience.
1. Build a Detailed Rover Profile: If you're wondering, "Is Rover worth it?", the journey begins with creating a compelling Rover profile. This includes sharing your personal information, availability, services, and past experiences as a pet sitter. Rover requires passing a safety quiz and background check, all done to build a community of trusted Rover sitters.
2. Craft a Catchy Headline and Description: To enhance your Rover work, write an engaging headline and detailed description about your services. Include stories from your past Rover sitter experiences or your pets. A good Rover review often starts with an impressive profile.
3. Upload High-Quality Media: Make your profile attractive with clear photos of yourself and past Rover work with pets. Consider adding videos to reveal your professionalism and unique personality. This could help in attracting more Rover clients.
4. Set Fair, Competitive Rover Pricing: Rover pricing should be competitive yet fair. Analyze what other Rover sitters are charging in your area and set your rates accordingly. Offering discounts to clients who return or have multiple pets can be a good strategy. Adjusting your pricing based on demand and pet needs is key to earning more Rover pay.
5. Promote Your Services: Market your Rover services through various channels. Also, take advantage of Rover's promo codes and referral programs. They can help attract new customers, making Rover worth doing for that additional income.
6. Provide Prompt and Courteous Communication: One crucial aspect of being a successful Rover sitter is maintaining effective communication. Respond promptly and politely to messages and requests from potential clients, further enhancing your Rover review.
7. Arrange Meet and Greets: Before you start working for Rover, meeting with pet owners and their pets is crucial. This helps ensure a good fit, underlining why Rover is worth it for both pet owners and sitters.
8. Deliver Excellent Rover Service: In your Rover work, provide excellent service by being punctual, attentive, respectful, and following the owners' instructions. Keeping pet owners updated contributes to a better Rover review, increasing the likelihood of higher Rover pay.
9. Encourage Reviews and Referrals: After each pet-sitting job, ask satisfied clients to leave a Rover review or refer you to others. Positive reviews increase your visibility on Rover, attracting more clients. Offering a discount or a free service next time might encourage them to write a review.
Here are a few more tips by a top sitter to stay in the top five in your area.
Remember, "Is Rover free?" – it's not entirely free as Rover takes a percentage of your earnings. But given the platform's reach, ease, and community of pet lovers, many find Rover worth doing. With these tips, you can boost your earnings and enjoy your pet sitter Rover experience.
Other Rover Reviews
Still questioning, "Is Rover worth it?" You could look at what others think of Rover.
Both pet owners and pet sitters have shared their Rover reviews. Many are happy with how easy Rover is to use and the quality it offers.
Rover has earned an average rating of 4.6 out of 5 stars from over 17,000 reviews on Trustpilot.
People like:
The Rover app is user-friendly.
Rover has a wide network of dependable Rover sitters.
Rover offers excellent customer service.
Rover provides many flexible choices and competitive Rover pricing for various pet needs.
Rover guarantee for pet care if something goes wrong.
But it's not all positive. Some Rover reviews also mention issues. Common complaints are:
Rover takes a large cut (20%) from each booking, which affects the Rover pay.
Rover doesn't offer enough protection for pet sitters if something goes wrong.
So, working for Rover has its good and bad sides. Your experience may depend on where you live, what you want, and your expectations.
Here is a sitter explaining how he makes over $1000 a week on Rover.
Things to Keep in Mind When Caring for Pets
When taking up a job, I would recommend meet and greet as suggested by Rover and ask all the relevant questions that will help you get along with the pet.
You need to know their favorite toys or if they are comfortable around other pets or kids. Are they potty trained, as they do have mishaps (in any case keep expensive rugs inside when boarding pets)?
Here are a few more things that will help you complete these jobs smoothly.
Know the Pet's Needs: Each pet is unique. Different breeds, ages, and individual pets have different needs. Understand these requirements. It might be a special diet, medication, or exercise.
Behavior: Pets have personalities, just like us. Some are friendly and playful, others are shy. Learn the pet's behavior before starting a job. This will help avoid surprises.
Emergency Contacts: Always have the pet owner's contact information. Also, the details of a nearby vet. Accidents happen. It's important to be prepared.
House Rules: In the case of house sitting, owners may have specific rules like no pets on the couch. Understand these rules. Respect them. The owner will appreciate it.
Time Commitment: Pets require time and attention. Be sure you can commit enough time to care for the pet. Rushing a job can lead to mistakes.
Regular Updates: Keep the owner in the loop. Send photos and updates. It reassures the owner that their pet is in good hands, plus it results in positive reviews.
Leash Mishaps: Leashes can snap, or pets can slip out of their collars. Keep a spare leash with you. And make sure the collar or harness fits well. If a pet does escape, don't chase. Instead, call its name and use commands it knows.
Unexpected Aggression: Pets can act out when in unfamiliar situations. If a pet becomes aggressive, keep a safe distance. Don't attempt to handle it if it puts you at risk. Inform the owner immediately.
Pet Illness: If a pet shows signs of illness, like vomiting, diarrhea, or lack of appetite, inform the owner. You might need to take the pet to a vet.
Allergic Reactions: Pets can have allergic reactions just like humans. Be aware of any allergies the pet may have. If a pet has a reaction, such as swelling or difficulty breathing, seek immediate veterinary care.
While situations like leash mishaps are rare, it's essential to be prepared. Knowing what to do can make all the difference in an emergency.
Is Rover Worth It?
In my view, Rover is worth it and presents a unique and rewarding opportunity for side income, particularly for pet lovers. It's not just a job but a joy-filled experience with wagging tails and affectionate eyes.
While the pay varies, you could expect to earn approximately $15-$20 per walk after fees, and for overnight care, you could be pocketing $25-$40.
But it's not all cuddles and games. There's an underlying responsibility.
You're entrusted with a pet's safety and overall well-being. This includes tidying up, monitoring their diet, and ensuring their overall comfort. Your reliability, dedication, and attention to detail are very important.
One of the selling points of Rover is its remarkable flexibility.
You control your schedule and select the services you're comfortable providing. Whether you opt for part-time engagement or decide to commit full-time, Rover provides an avenue.
Plus, it's an excellent way to stay active and discover your neighborhood.
Of course, Rover does take a 20% commission, which may seem hefty. However, it provides you with a steady stream of opportunities, eliminating the need to find jobs door-to-door.
If the commission is a concern, you can adjust your rates to cover the costs. Breaking into the market might be a challenge initially, but once you've established a clientele, you can command higher rates and may even be contacted directly.
In such a scenario, when you have a repeat client, you can bypass the commission, but you'll need to handle insurance yourself as this one sitter does here.
Alternatives to Rover
Are there other choices apart from Rover for pet care? Yes, there are other pet-sitting apps available. Here are some Rover alternatives you could consider:
Wag: Like Rover, Wag also connects pet owners with local pet sitters. But Wag offers on-demand walks, boarding, sitting, drop-in visits, and training. They have live GPS tracking and offer insurance for each booking. But Wag charges a higher commission fee of 40% per booking. Wag also has a more rigorous application process for their walkers and sitters.
Care.com: Care.com offers a wide range of care services, not just for pets but also for kids, elders, and house chores. You can post a job or search for local pet sitters and walkers here. But to use Care.com fully, pet owners and pet sitters need to pay a membership fee. This can range from $13 to $39 a month.
PetSitter.com: This is another site where you can find local pet sitting and walking jobs. Like Rover, they offer background checks, references, reviews, ratings, and insurance for each booking. But to use PetSitter.com, both pet owners and pet sitters have to pay a membership fee. This can range from $9 to $69 a month.
Final Words On Rover Review
So, here's the bottom line about Rover.
It's a user-friendly platform where you can earn some extra cash doing something you truly enjoy – taking care of pets.
The beauty of Rover lies in its flexibility. You can pick your working hours and decide how much you want to work.
But Rover isn't just a platform for making money. It's an opportunity to build bonds with pets and their owners. And it's an added perk if you're walking dogs – you can stay fit while doing it.
Just bear in mind that it can be a competitive field and, at times, stressful. You need to be prepared to handle different pets and situations that come your way.
Ultimately, Rover is worth doing if you're willing to put in the necessary time and effort. Rover can be a tremendous help to pet owners and a worthwhile source of income for pet sitters as long as you maintain a realistic and responsible approach.
More ways to make money:
FAQs
Do people tip on Rover?
People don't have to tip on Rover, but they can if they're happy with the service. Owners can give a tip through the app, the website, or by handing cash to Rover sitter. The tip amount is up to them, and the app allows 10%, 15%, 20%, and custom tips up to 30%. Some people tip 10% to 20% of the total booking cost. All the tips go to the pet sitter.
How much does Rover pay per month?
What you earn on Rover depends on a lot. It depends on how many services you offer, how often you're free, what you charge, and how many clients you have. Rover says a full-time sitter or walker usually makes around $3,300 a month. On the side, you can make $100 or $200 weekly with occasional bookings. But this can change based on where you live, your experience, and the demand.
Do I pay taxes on Rover income?
Yes, you have to pay taxes on what you earn from Rover. Rover won't take out any taxes from your payments, or give you any tax forms. You're seen as an independent contractor, not a Rover employee. So, you need to tell the IRS about your income and expenses, and pay your own taxes.
Does Rover provide insurance?
Yes, Rover does provide insurance for eligible services booked through its platform. The Rover Guarantee covers costs that come up from certain injuries or damages during a service. They cover up to $25k in vet care coverage with a deductible of $250.
But there are some exclusions and limitations. The Rover Guarantee doesn't cover damage to the sitter's personal property, lost keys, lost or stolen pets, or injuries to the sitter or walker.
How much does Rover pay for dog sitting?
Rover doesn't pay you directly for dog sitting. You set your own rates and get payments from your clients through the app or website. Rover takes a 20% service fee from each booking. This fee helps cover the costs of running the platform and benefits like insurance, 24/7 support, and marketing. So if you charge $30 per night for dog boarding, you will receive $24 after the service fee.
Does Rover require a background check?
Yes, Rover does require a basic background check for all sitters and walkers who want to join. The background check makes sure of your identity and checks for any relevant convictions or pending cases. A third-party company called Checkr carries out background checks. The background check takes about 7-10 business days to complete. A background check will set you back by $25 and is non-refundable. You can go for an optional, more detailed background check, which will cost $35.
When does Rover pay you?
Rover pays you two days after a service ends. For instance, if a booking ends on Monday, you'll get your payment on Wednesday. You can choose to get paid via PayPal or by check. PayPal payments are quick and convenient, but they might have fees depending on your account type and country. Check payments are free, but they might take up to five business days to arrive in the mail.
Can you trust people on Rover?
Rover works hard to create a safe community of pet lovers. All sitters and walkers are screened with background checks and approved by Rover's team. You can read verified reviews from other pet owners who've used their services before. Plus, you can chat with your sitter or walker through the app or website, get photos and GPS tracking of your dog's walk, and have peace of mind with the Rover Guarantee and 24/7 support.
Is Rover a good app?
Rover is a good app for pet parents and pet sitters who want to find good pet care close to home. Pet parents can find sitters who offer lots of services like dog boarding, house sitting, drop-in visits, doggy daycare, dog walking, and dog training. Pet sitters can manage their own schedules, rates, and preferences and run their businesses easily through the app. Rover also gives benefits like insurance, support, and marketing to help sitters get more clients.
Is Rover or Wag better?
Rover and Wag are both popular apps for pet sitting and dog walking. But some differences between them might make one better for your needs.
Services: Rover offers more services than Wag, like house sitting, drop-in visits, doggy day care, and dog training. Wag mainly focuses on dog walking and boarding.
Fees: Rover takes a smaller service fee than Wag for sitters and walkers (20% vs 40%). But, Wag has a smaller booking fee than Rover for pet parents ($0.95 vs $2.95).
Insurance: Rover and Wag both offer insurance for eligible services, but Rover covers more than Wag.
Support: Both Rover and Wag offer 24/7 support, but Rover has a Trust & Safety team that handles any issues or emergencies during a service.
Reviews: Both Rover and Wag let users leave and read reviews for sitters and walkers, but Rover's reviews are more detailed and verified by the platform.
Training: Both Rover and Wag require sitters and walkers to pass a basic background check, but Wag also requires them to pass a test and an orientation before joining.
Payment: Both Rover and Wag pay sitters and walkers two days after a service, and both offer a variety of options from direct payments to PayPal.
So, the best app for you depends on your needs and availability. You can try both apps and see which one pays you more.
Rover review
Earning Opportunities

Jobs Available

Ease of Using App

Ease of Payout

User Reviews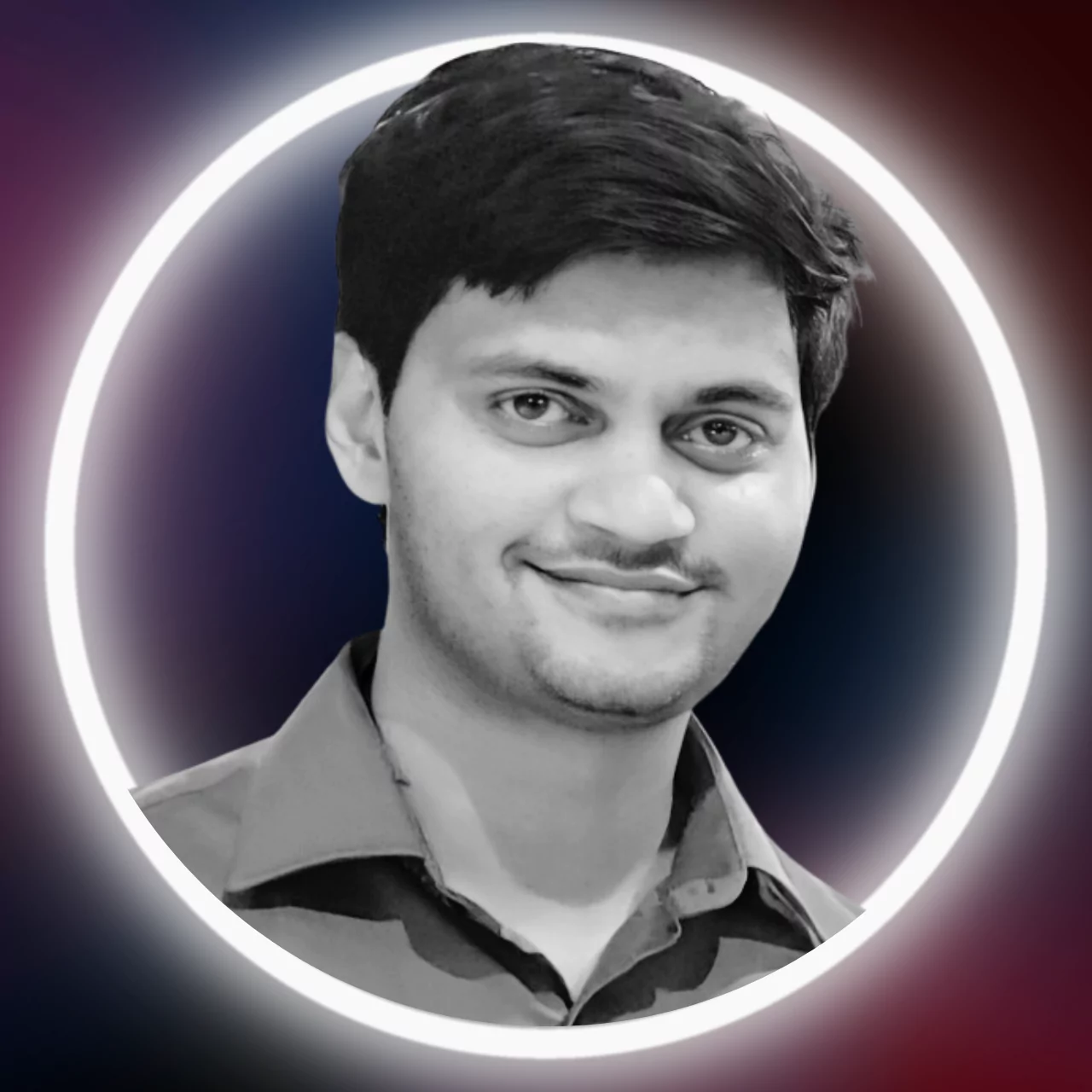 Sumeet is a Certified Financial Education Instructor℠ (CFEI®) and founder of MoneyFromSideHustle. He is an experienced side hustler who replaced his full-time income with side hustles. His work has been quoted on major finance websites like CNBC, Yahoo! Finance, GOBankingRates, CEOBlogNation, SideHustleNation, and more. He has helped thousands of people find side hustles and is here to help you find your extra source of income. More about him.