This post may contain affiliate links from which I may earn a commission without any cost to you. Read our policy for details.
If you're into taking photos or simply enjoy looking at them, you might have stumbled upon ClickASnap.
It's a place on the internet where you can make money just from people looking at your uploaded photos.
With smartphones, almost everyone clicks photos, so the idea of getting paid for your photos, as ClickASnap claims, attracts a lot of attention.
But you might be asking questions like "Is ClickASnap legit? Could this just be a scam?" or "Is ClickASnap worth it?"
To answer all these questions, I signed up for ClickASnap, and this is my ClickASnap review. In this article, I'll answer all these questions and more.
So, let's get started!
What is ClickASnap?
ClickASnap is an online space created in 2016 by Tom Oswald, a UK-based entrepreneur and photographer, where you can upload, share, sell, and buy photos.
According to the ClickASnap home site, the platform is quite popular, with over a million photographers, 44 million viewers, and 2 million photo views happening daily.
One feature that makes ClickASnap different from other photo-sharing alternatives is that it pays you each time your photo is viewed.
You got that right.
You don't need to sell your photos or use ads to make money from your photography.
Just upload your photos, get people to look at them, and watch your ClickASnap earnings grow.
Is ClickASnap Legit?
My answer is Yes! ClickASnap is legit. However, I don't recommend it to most due to low earning potential. Tom Oswald founded it in 2016, and by 2023, it had more than a million photographers and 44 million viewers.
The company is legally registered in the UK, and you can find their physical address and contact info on their site. ClickASnap also has detailed policies that explain how they handle your personal data and respect your intellectual property rights.
So, no, ClickASnap is not a scam or a pyramid scheme. It doesn't require paying any money upfront or getting others to sign up.
They won't sell your photos to third parties or use them for anything without your permission. They don't make any unrealistic promises about earnings or guarantee any income.
ClickASnap is the only platform that simply pays you a small fee each time someone views your photos on their platform.
ClickASnap reviews and feedback show that it's a respected platform.
It's been featured in several well-known media outlets like Forbes, BBC, The Guardian, and The Telegraph.
Of course, not all feedback is glowing. Some users aren't happy about low earnings, technical issues, slow site performance, and lack of exposure.
There are also some complaints about the subscription plans, the promotion system, and the methods for withdrawing earnings. So, while many people do find value in the platform, it may not be for everyone.
Note: Only thing I dint's like about the site is the promotions are a bit misleading; they have thoroughly used the ¢ sign instead of $, so an average user usually gets confused that they will earn $0.4 or $0.9 per view, which is pretty lucrative.
When they sign up and start using the platform, they come to terms with the bitter reality that they are making $0.004 per view, and it will take them ages to make $15 payout money.
How ClickASnap Works
Using the website is easy. Let's break down the steps of using ClickASnap. Here's what you need to do:
Sign Up
Start off by Signing Up. To start using ClickASnap, you first need to make an account.
Go to the ClickASnap home, find the "Sign Up" button, and click it. You'll then have to pick one of four subscription options:
Each of these has its own features and a monthly or yearly price.
The Free package allows you to upload a maximum of 20 photos every day and get paid 0.1 cents every time someone looks at your photo.
You'll be able to get your earnings through PayPal once you reach $15 and see basic analytics and statistics.
The Upload+ option means you can upload unlimited photos, and you get access to detailed analytics and stats.
Upload+ account also offers a per-view rate of 0.7 cents.
The Seller package lets you sell your photos as downloads or products, decide your prices, and get 100% of the money you make from sales (minus fees).
You can get your earnings via PayPal or a bank transfer, upload as many photos as you want each day, get paid 0.8 cents per photo view, use advanced analytics, create albums, watermark your photos, get priority help, and more.
With the Pro Seller package, you get all the Seller perks plus 0.9 cents per view and featured images on the home page, besides unlimited cloud storage.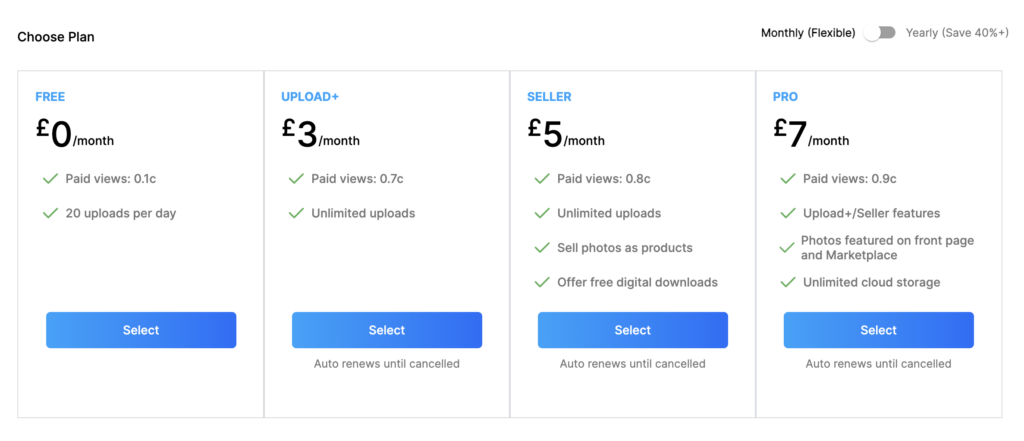 After you've chosen your subscription package, you'll need to put in your email, username, and password.
ClickASnap will then send you an email, which you'll have to click to confirm your account. After this, you can sign in and start using ClickASnap.
Upload the Images
The next step in using ClickASnap is to put up your photos. You can do this by clicking on the "Upload" button at the top right corner.
A page will come up where you can either drag and drop your photos or choose them from your computer files.
After you've uploaded your photos, you'll need to give them titles, descriptions, tags, and categories and decide how much you want to sell them for (if you're planning on selling).
You can also decide who gets to see and comment on your photos and whether you want to let people download them.
When you've done all this, hit the "Save" button to make your photos public on your profile page.
Other users on ClickASnap can then look at them, like them, comment on them, and buy them (if you're selling). You'll get money for every photo view as long as they look at your photo for at least 5 seconds.
Sell Your Photos On Products
If you want, you can sell your photos with physical products. You get to set your prices.
When you sell as a download, you get all the money from the sale (minus fees) every time someone buys your photo.
If you sell as prints, you get a commission depending on the print type and size whenever someone buys your photo products.
The buyer will get a product with your photo delivered to their address. ClickASnap handles the printing and delivery for you. Just like with downloads, you'll get an email each time someone buys your photo.
You can track your sales and earnings on your dashboard page. This can help you see which photos sell well and which ones don't, helping you improve your skills and strategies.
Get Your Earnings
You can get your earnings by clicking the "Cash Out" button on your dashboard page. You'll have to enter your PayPal email id.
You have to reach the $15 threshold to be able to qualify for payouts.
Once you request a payment, they guarantee to process it within 24 hours.
How Much Money Can You Make Per View With ClickASnap
You might be wondering, exactly how much does ClickASnap pay? ClickASnap's site tells us it's 9¢ per view maximum for pro account users.
This means that with every 1000 views, a pro account holder can earn $9. While that may not seem a lot, it could add up if you have many photos and a big audience.
In reality, getting those many views takes a lot of work.
There are some terms and conditions to how you make money here.
For example, not all views pay. For a view to be paid, the viewer must stay on your photo for at least 5 seconds. Also, the same viewer can only count for one paid view per photo each day.
Moreover, before you can withdraw your earnings, you must have at least $15 in your ClickASnap account. The money can be taken out via PayPal.
There are different types of accounts; a free account only pays 0.1 cents per view and limits users to 20 uploads daily, and the highest pro account offers up to 0.9 cents per view with unlimited uploads and other features.
A Pro account comes with a $7 monthly fee, so it will make sense only if you have a large portfolio of photos.
In all, you won't get rich showing your photos on ClickASnap, but it can be a good source for amateurs to get some quick cash with very little work.
However, there are other ways to make money on the ClickASnap, like making a seller account ($5 per month) where you can sell photos on different products, and they will take care of everything from product manufacturing to shipping like CafePress.
Factors That Affect Your ClickASnap Earnings
How much you earn on ClickASnap is influenced by several things:
Quality and appeal of your photos: The more interesting and high-quality your photos are, the more views and clicks you're likely to get.
Your audience size and activity: The more followers you have on ClickASnap and your other social media, the more visibility and traffic your photos can attract.
How often you upload: Regularly adding new photos keeps your viewers interested and coming back for more.
Your promotion and marketing efforts: The more you promote your photos and profile, the more visibility you get. You can also use credits to boost your photos on the ClickASnap home page or category pages.
Your subscription package: Higher packages give you more money per paid view and additional features to improve your profile and sales.
Pros and Cons of ClickASnap
ClickASnap is a unique platform giving photographers a way to make money from their photos without going through traditional stock photo agencies.
But, like any platform, it has its benefits and downsides that you should know before you sign up.
Advantages of ClickASnap
Some benefits of using ClickASnap as a photographer include:
Getting paid for every paid view your photo gets, whether or not it leads to a sale
Full control and rights over your photos, with the ability to delete them anytime
Selling digital downloads and physical prints of your photos and keeping all the profits
Access to various features and tools to improve your profile, photos, and sales, depending on your subscription
Joining a community of over 1 million photographers who share your passion for photography.
Limitations of ClickASnap
Some limitations of ClickASnap include:
The earnings per paid view are very low (0.1 to 0.9 cents) and might not be worth your time and effort
Not all views are paid views. Some views may be too short, come from the same IP address, or be blocked by ad blockers or VPNs
The platform is highly competitive with millions of photos and photographers
Some users report technical issues and bugs that can affect your experience and earnings.
Other Reviews of ClickASnap
They have a 3.3 rating on Trustpilot with over 400 reviews. Most positive reviews look genuine, and people claim to have earned real money.
However, as I said earlier, don't expect to make much. People have small earnings, which can be leveled as a side hustle for a few extra monthly bucks for sharing their photos and interacting with a like-minded community.
Here are a few reviews of people saying they had a positive experience with ClickASnap and got their money.
"Have fun but don't expect to get rich: If you take the time to read the instructions, join the Facebook group, and get to know how it all works, this is a fun thing to do if you enjoy photography. It's not a get-rich-quick scheme. Then again don't expect to get rich being a photographer, Most complaints come from people that haven't read the rules or don't think they apply to them." – Robert Cox, GB
"I signed up after a friend recommended the site for my photography about 2 months ago. I've uploaded a few photos and already withdrawn $15 on top of making a sale. So, I really can't complain especially as there was no commission on the sale." – Cheryl Williams, GB
Here are a few screenshots: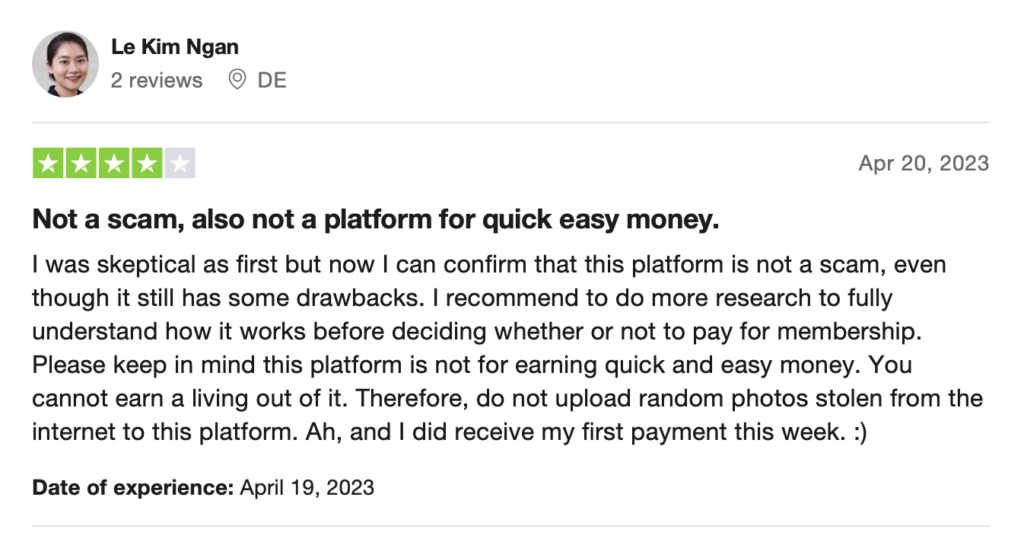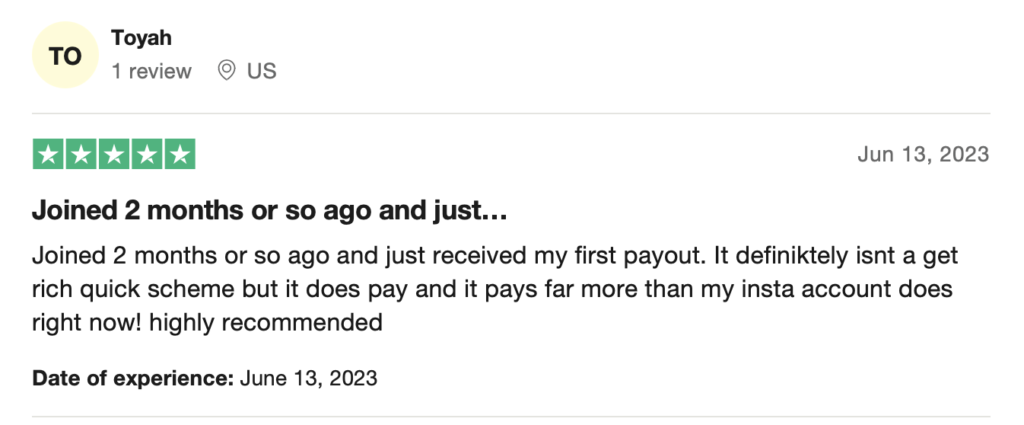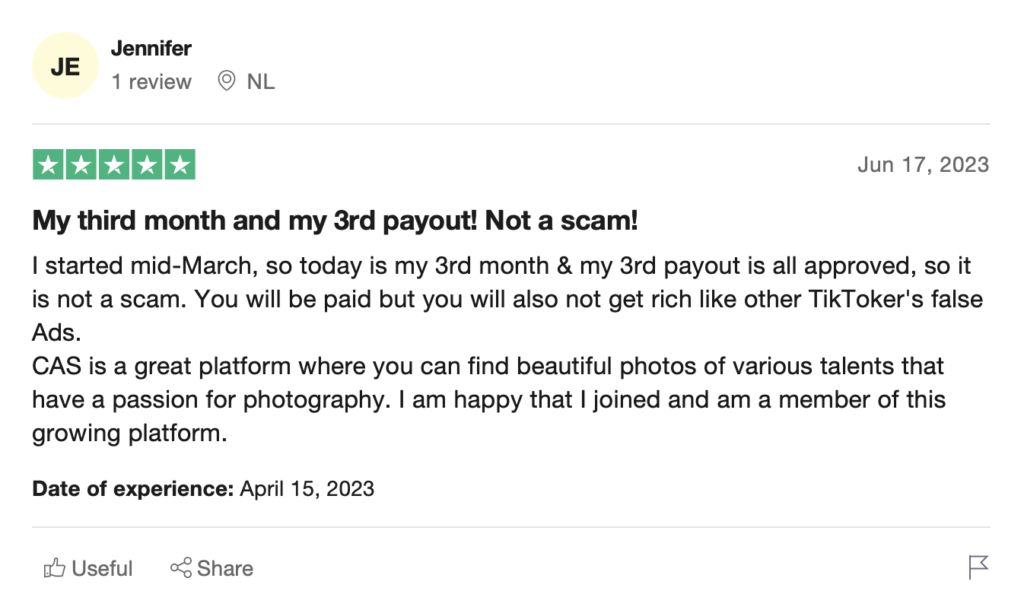 On the other hand, many people also have negative feedback, mostly complaining about banned accounts. Most of these reviews have responses from the company representative stating their they most likely flouted company guidelines.
Many people also complained about the website glitches and problems with uploading photos.
Here are a few reviews of ClickASnap from Trustpilot.
"Very unprofessional website: Half the functions do not work, links are broken on website, tagging doesn't work, no way to import metadata, website feels like it was made as part of a 12 year old's high school project." – Roy, GB
"BIG SCAM and deception. I uploaded a week of photos and received 0.70, after that my account was blocked, having subscribed for the month. I do not recommend in any case." – Vasile Turcanu, GB
Here are a few screenshots: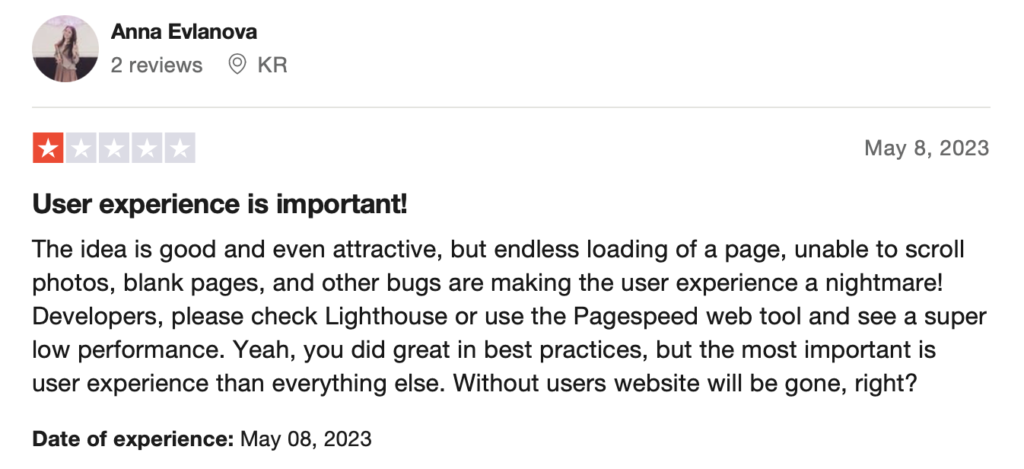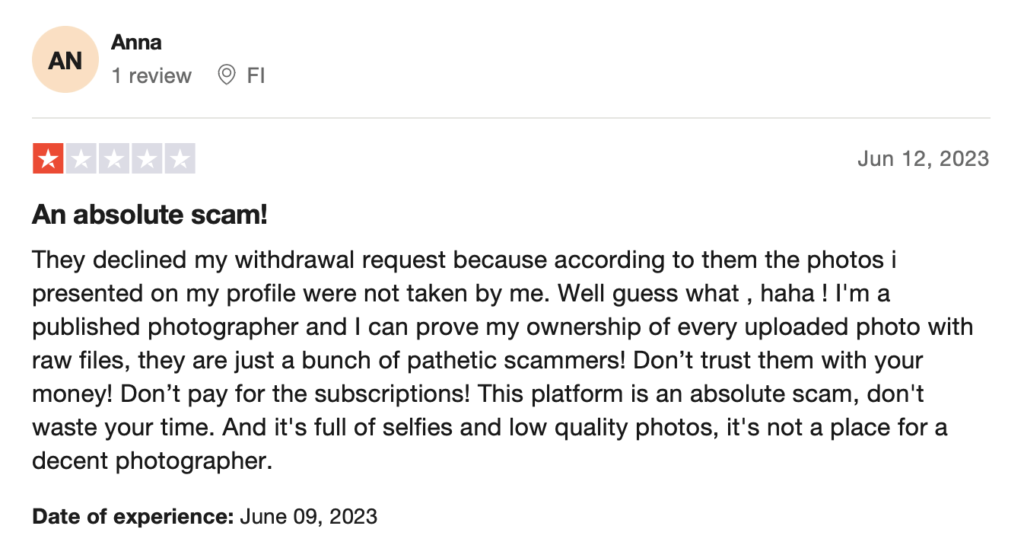 Overall, users who stick to their rules claim to earn little money after some effort, but none claim it to be life-changing.
On the order hand many have faced issues on the site and with their payments.
You can try it as a fun thing but don't expect to make much money if you make any.
Alternatives to ClickASnap for Photographers
ClickASnap is a unique platform that pays you for views, while most other platforms pay you for sales or downloads.
ClickASnap gives you full control and rights over your photos, while some others may have restrictions.
However, at the end of the day, this is a fun way to earn some cash, you won't be able to make much from this platform as the earnings per "qualified" views are very low, and you need a large number of those views to get something worthwhile.
However, you can sell your photos and other products with your photos to get higher earnings. But for this purpose, there are many other reputed and high-paying ClickASnap alternatives available.
500px
500px is an international community for photographers that lets you upload as many photos as you want, enter contests, get feedback on your work, and even license your images to Getty Images and VCG. You can get 60% net from each exclusive license and 30% net from each non-exclusive one. Starting at $3.99/month, membership plans give you extra perks like advanced statistics, gallery slideshows, and a directory listing. 500px has a large and active community with over 15 million photographers worldwide.
Alamy
Alamy is the world's biggest independent agency for news, stock, and footage images. It allows you to upload unique, creative, and editorial images without any limits on size, quality, or quantity. You can earn 40% net from every non-exclusive sale and 50% net from every exclusive sale. They also have a network of stock photo agency distributors you can join to earn 30% net from every sale. Alamy has a dedicated customer base of more than 100,000 buyers from fields like media, advertising, education, and publishing.
SmugMug
SmugMug is a platform for hosting and sharing photos that lets you build beautiful galleries, websites, and portfolios with your images. You can also sell prints, products, and digital downloads, setting your own prices and branding. You can earn 85% net from each sale after the cost of goods sold is deducted. Starting at $7/month, membership plans give you more features like unlimited storage, custom domains, password protection, and analytics. SmugMug has a supportive community of more than 4 million photographers who share their passion and inspiration.
Shutterstock
Shutterstock is a well-known stock photo platform that lets you upload photos, videos, illustrations, and vectors. You can earn a percentage of every sale based on your lifetime earnings tier, which ranges from 15% to 40%. A referral program also lets you earn extra income by inviting other contributors or customers. Shutterstock has a massive customer base of over 1.9 million buyers from the media, marketing, education, and government sectors.
In the end, the best platform for you depends on what you want and what you're willing to do to succeed.
You might want to try different platforms and see which works best for you. You could even use multiple platforms to diversify your income sources and reach more potential buyers.
Alternative ways to make money with your photos
Starting a YouTube channel around your photography skills, like focussing on wildlife photography or teaching amateurs tips and tricks, can be a good source of passive income compared to ClickAShare once you hit the monetization requirements.
Here is how to start your YouTube channel in a few easy steps.
You can also start a blog or create a course around your photography skills to make money.
Final Words on ClickASnap Review
There isn't a one-size-fits-all solution when it comes to selling your photos online.
Each platform has its own pros and cons based on your goals, style, and preferences. The best way to find out what works best for you is to try them out yourself and see how they fit your needs.
ClickASnap is a legit site worth considering for amateurs if you're into photography and fancy getting paid something for your snaps.
It presents an inventive method to earn from your photos without depending on sales alone. However, don't keep your hopes too high.
Give a try to gig economy apps to earn more quickly if you urgently need cash.
Related reading:
FAQs
Can you really make money on ClickASnap?
Absolutely! You can make money with ClickASnap. Every time someone spends 5 seconds viewing your photos, you get paid 0.1 cents to 0.9 cents, depending on your membership. This means the more people view your photos, the more you earn. So, ClickASnap getting paid isn't just a dream; it's a reality. However, you need a lot of effort to get enough views to see a significant earning.
Is ClickASnap Worth It?
ClickASnap is worth it if you're an amateur photographer looking to make a bit of money from your pictures. Not only does it give you a chance to earn, but it's also a great place to share your work and get it seen by a large audience. But your earnings will depend on how much work you put into it, and for professional photographers, the earning from selling the photos on platforms like Shutterstock will be more rewarding.
Is ClickASnap real or fake?
ClickASnap is 100% legit. It's a real platform where photographers can upload their pictures and get paid when people view them. The ClickASnap reviews from many users prove it's a reliable site to make money, but only a few dollars, not much.
Is ClickASnap A Scam?
No, ClickASnap is not a scam. It's a genuine website where you can earn money for your photography. When you sign up and upload your photos on the ClickASnap home, every view your photos receive earns you some cash. However, to see the best results and potential earnings from ClickASnap, promoting your work and getting as many viewers as possible is crucial. It may take time, but it's a legit way to get paid for your photography.
ClickASnap Review
Earning Potential

Ease of Use

Earning Opportunities

Ease of Payout

User Reviews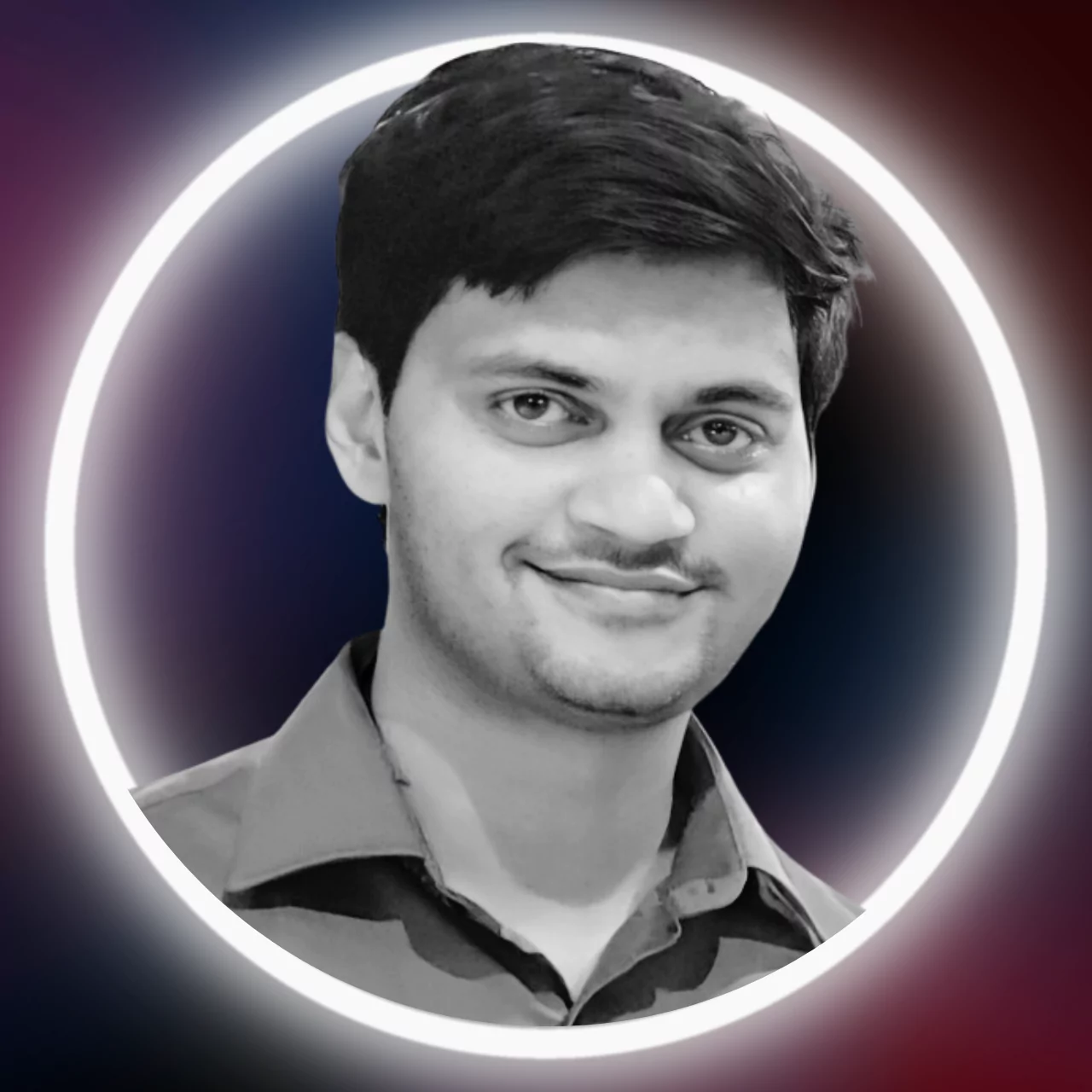 Sumeet is a Certified Financial Education Instructor℠ (CFEI®) and founder of MoneyFromSideHustle. He is an experienced side hustler who replaced his full-time income with side hustles. His work has been quoted on major finance websites like CNBC, Yahoo! Finance, GOBankingRates, CEOBlogNation, SideHustleNation, and more. He has helped thousands of people find side hustles and is here to help you find your extra source of income. More about him.