This post may contain affiliate links from which I may earn a commission without any cost to you. Read our policy for details.
Ever thought of earning some cash by simply checking out apps, games, websites, and products online? If you have, then there's a good chance you've stumbled upon a site named Testerup that says it can give you this chance.
But the question came is Testup legit or does Testerup really pay? To answer these questions I signed up on this platform and used it other than researching its online presence to find what other users are saying.
In this article, I'll present you with an unbiased, truthful Testerup review, explaining what it is, how it works, if you can really make money here, and whether it's worth your time.
So let's just dive in!
Short-term tricks can give quick cash. For lasting side income, find a hustle that matches your skills and lifestyle. Invest time and effort. Use my guide, created from extensive research, to help you navigate this process.
What's Testerup
Testerup is an internet-based platform that promises to pay you to test various online stuff like apps, games, websites, products, and more. You can try these out on your phone, PC, or tablet anytime and from any location.
Testerup claims that you could make as much as $120 for every testing gig, and over 50 offers are waiting for you after you sign up for free.
Originating from Germany under the name 'Testery', it rebranded to 'Testerup' in 2021, broadening its reach to other countries. It's a sizable platform, boasting over 3 million signed-up users, and partners with many trusted companies.
As soon as you finish the registration process, you'll start receiving various paid opportunities. These could be testing products, apps, or websites or even taking online surveys.
You'll earn rewards for every task you complete. Every task comes with all the details you need – the objectives, the deadline to complete it, and how much you'll be paid for it.
Some tasks might come with specific instructions or requirements ("Task Requirements") that need to be met. To finish these tasks and get paid, you'll need to follow these requirements closely.
Once you finish a task (or if you choose to stop early but want to collect payment for the tasks you've already completed), we'll check if you've met all the requirements. If everything's fine, your earnings will be added to your account balance.
How Testerup Works
Testerup is a site where you can test things like games, apps, and websites and get paid for them. Setting up your account is very easy, and I was able to start using the platform in a matter of a few minutes. Here is the process:
Signing Up
To get started on Testerup, visit their site and click the "Sign up for free" button. You can create an account using your email, Facebook, or Google account. Then you give them a bit of personal info like your name, birthday, and what language you speak.
You also need to check mark that you agree to their rules and privacy policy. After you've signed up, they'll send you an email to confirm your account.
Testing Apps/Games
On signing up, I was greeted with a game-testing offer of a Coin Master game worth $185. That seems pretty lucrative until you find out the conditions and terms that you need to reach level 30 in 30 days which is impossible without purchasing in-game boosts.
When you log into Testerup, you'll see a bunch of offers to test different things like new games, websites, and surveys.
I had around 26 offers on signup worth $1347.
Each offer tells you what you'll be testing, how much you'll get paid, and how long you must do it. You click "Go" to begin testing.
You'll be taken to the thing you're testing and need to follow the instructions and complete any tasks they give you. You might also need to answer questions or give feedback on your experience.
Once you're done, you'll get a message saying you've finished, and the payment will be added to your Testerup account.
If you want to test more things and get paid more, you can become a Premium Tester on Testerup. To do this, you have to complete at least five premium offers which is a pretty difficult task.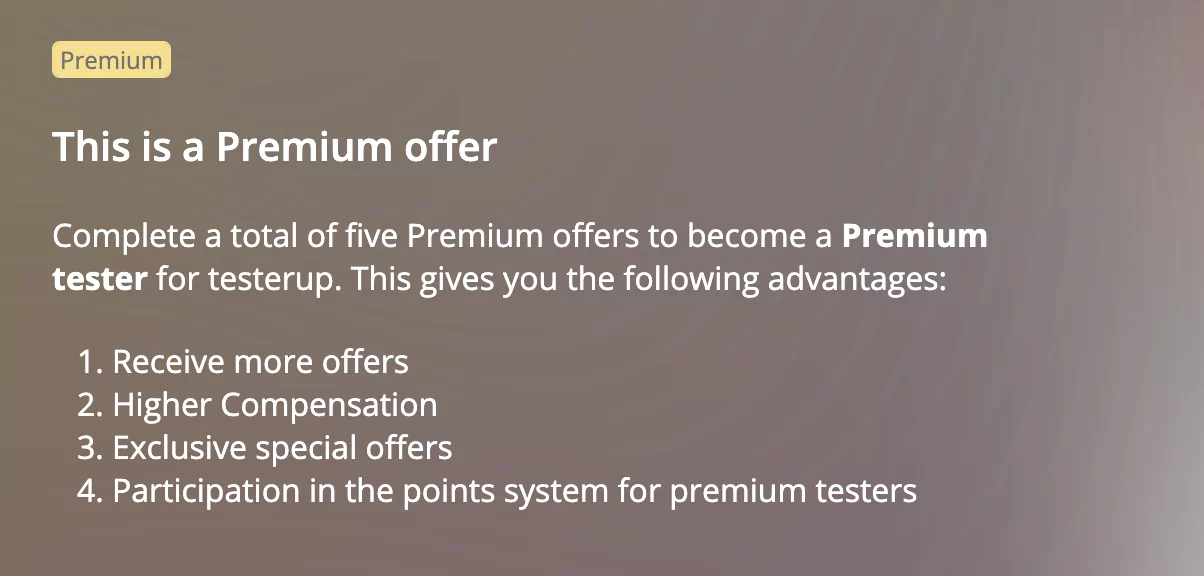 As a Premium Tester, you get access to special offers that pay as much as $120 per test. Plus, you'll get your payments quicker. Some of the offers you see in the section of Game testing offers are only available for premium uses, like the Coin Master.
Getting Paid
To get your money from Testerup, you need at least $70 in your account. This is pretty steep, and why I will not recommend using this site.
Because they will lure you with various offers in the beginning and you will even get paid for completing them. But you will never reach the $70 payout threshold as the offers will dry up once you hit the $40 or $50 mark as said by many users on reviews.
Here is one user saying his offers that were shown earlier were gone after some time.
For context, reward sites or beer money sites that pay cash for such online activities as InboxDollars, Mistplay, and Branded Surveys have payouts of around $5.
You can also make more money by referring other users. You will make 10% from each referral whenever they complete an offer.
A few lucky ones who get to the payout threshold can get paid through PayPal, and they need to verify their "liveliness" to get paid. This verification is done by submitting the id proof and doing a facial scan.
Pros and Cons of Testerup
Apps like Testerup offer a fun way to make some money by testing different things. But as with anything, there are pros and cons to consider.
Pros
It's free and easy to sign up
There are lots of different offers to test
It's a fun way to earn till it works
Payment is through PayPal
Cons
Money offers only available in US and Canada
Need to make many in-app purchases to complete offers
Payout threshold is too high
People faced many problems in tracking offers success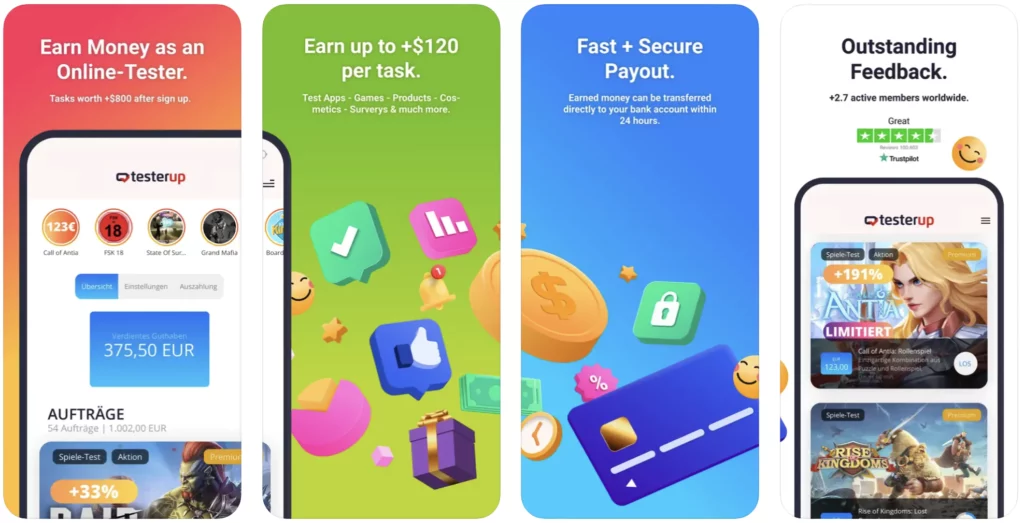 How Much Testerup Pay?
If you're looking into online money-making chances, you'd want to know how much you can earn, right? You certainly wouldn't want to spend tons of time testing apps and games only to earn tiny amounts.
So, how much cash can you make on Testerup? Going by what their website states, you could make as much as $120 for each game testing, and once you finish the free signup, you'll get over 50 testing offers. On similar websites like Usertesting, the payments are around $5 to $10 per test. So getting $120 per test sounds unbelievable, doesn't it?
It's too good to be true, and in reality you will earn only a few dollars with each offer. However, the higher amounts are available with some offers but that offers comes with the cost. Means you need to spend money to make money.
That's kind of misleading, as we all use these sites to earn free PayPal cash. If you are going to spend money on such websites, where getting the final rewards is also not sure, it is very bad proposition to make money online.
However, they have some basic test that tends to be around $0.50 to $1.00, which is relatively low compared to other platforms where users do testing. And these tests, won't help you reach the steep $70 payout.
Is Testerup legit?
In my opinion, Testerup is a legit company in the sense that it is registered and not an outright scam looting money from people. But it is not a legit way to make money online. You earn pennies with the free offers, which you can never cash out as you need at least $70 for the payout. For higher earnings, you need to spend money on in-game purchases, which may not get tracked by the app as many users claim, leaving you with losing money rather than earning anything.
Tester Up's reviews are mixed, but mostly positive reviews are not genuine (I will come to that in a later section). So, if you're looking for apps like Testerup, ensure you understand their pay structure first.
In short, Testerup is a legitimate and registered company, but you will probably not make any money here.
User Reviews of Testerup
Testerup has some amazing reviews for an online making paying company. They have a 4.1 rating on Apple Store, 4.2 on the Google play store, and 4.2 on Trustpilot.
It all looks amazing until you read the reviews. I have making money only for over a decade, and I have read my fare share of these online reviews.
When going through these reviews, I could sense something was wrong. Everyone rating the app 5 star was not even using it yet, or they had just downloaded it, preaching how smooth and fun the app is. NOTHING about what they get paid or on that lines.
However, there are a few rare positive ones that seems legit, like this one:
"Okay but flawed: First off, you can make money. I've made about $160 in a month and fully cashed out my balance twice. However, there are some flaws in the system here. My first issue was when I went to cash out. Attempting to cash out kept giving me error message after error message. I contacted support and never got a response (may be because they're in Germany). Finally after trying repeatedly I was able to cash out, and got my funds in about 2 days. This isn't an isolated incident, my second cash out had the same issues. I thought maybe the app was just messing up, but when I attempt to use the website it says my login isn't valid. Now finally, my biggest issue with the app. After two cash outs, every new game I download is not registering on the app, and not tracking my progress. For now I'm not going to invest any more time trying to download games because of this. I'd love to revisit the app if the bugs get fixed because it was fun, easy money! But a little frustrated that there's no way for me to earn now." – ewmikehunt on Apple Store
At least some people are getting paid, so it is not a complete sham.
On the other hand every negative review was very detailed, and have common theme like the app was not tracking the progress and offers were drying up just before reaching the payout threshold.
It became evident when I signed up why they have so many positive reviews. They are offering incentives to give reviews and sending people from their website to the Trustpilot to review Testerup as a task.
So, people rate it positively for completing a task and hoping to get more offers. Here is a screenshot of their website, giving the task of reviewing them on Trustpilot.
I am pretty convinced that's how they also get positive reviews on all these platforms. If a company has to come to these tactics, that means their product is not good, and they are just scamming the people.
Here is what some users are saying on these platforms.
"Doesn't Seem Promising: I was somewhat excited when I first discovered this app a week or two ago. However, that feeling has quickly changed into frustration. A few of the games are okay, but some of them require so much time to be put into them to even go up a single level. You would have to pour a lot of time into this to get anywhere on most offers. Not only that, but some milestones simply do not register no matter what. How did I get to Dragon Power Level 300 without reaching Level 20? It also didn't properly track purchases on some games. I was even kicked off of one game for supposedly participating in "suspicious activity," which never happened. I have written a few tickets into support and have yet to get a response on any of them. I finally found a game that I was really looking forward to, and it didn't even register that I installed the game (yes, I used their link). I can't progress with anything until they fix this, because I'll miss out on all of the milestone rewards. It also did it to me on another game today. At this point, I'm a very frustrated user. Now I'm in the process of trying to get at least one more game to work that will let me reach my payout goal, and then I think I'm uninstalling this app. If they can get it to work properly, then I'll consider using it for longer, but right now I'm simply annoyed with all of it."- Parvani Symphony on Apple Store
"My payment request of 71$ was rejected without an explanation. I tried to contact the support but they said they will pay me within 4 working days. They didn't. I contacted the support again but they chose not to respond to me. It's been 7 days and still no response from the team. I will try to contact them again and if they paid me I will update my review." – George Asd on Trustpilot
Based on all these reviews, I would say the company does pay some users, but they are not customer-centric, and most people end up facing problems and not earning a dime. Try only if you have the patience to go through all the app glitches and don't mind losing it all in the end after all the efforts.
Best Alternatives to Testerup
So, Testerup is not a reliable way to make money online (at least without risking your own money), but it's not the end of the world. If you are interested in making money online by testing websites or playing games, there are many alternate options to Testerup.
Here are the best of them:
UserTesting: This site is a big player in the online website testing world. They'll pay you $10 for every test you do, and each one takes about 20 minutes. You'll be testing things like websites, apps, and early versions of other digital products. Before you can start making money, you have to pass a test. You'll also need a microphone and a webcam. UserTesting works with lots of companies from various industries, so there's a good variety of tests for you to do. When we compare it with Testerup, UserTesting wins because they pay more per test, you can expect high-quality work, and there are no shady offers.
Mistplay: This is an Android gaming platform that helps you play games of your choice on the platform. You can play different types of games through the platform and earn $2 to $5 per hour. These games have no conditions like in Testerup and you get rewards for all the time you spend playing. You can also try more games like Mistplay to get more options.
InboxDollars: It is a GPT site that helps you earn money in various ways, like taking surveys, playing games, reading paid emails, or watching videos. You can earn rewards after getting a $5 joining bonus and get paid when your balance reaches $15 for the first time and $5 thereafter.
Branded Surveys: This is a survey website where you can find a variety of surveys. They have a large inventory of surveys that pay the highest amount, so it's worth trying.
Survey Junkie: This highly reputed survey site offers users surveys ranging from $1 to $5. You can also qualify for focus groups that pay as much as $150 per hour.
So these are a few of the best 'Testerup alternatives' that you can check out if you want to make money online. They are all legit, reliable platforms with many positive user reviews.
However, you won't get rich using these online platforms or get enough money to run your day-to-day life. You can try gig economy jobs like ride-sharing or food delivery for higher-paying hustles.
So Testerup is Legit, But Is It Worth Your Time?
The way Testerup advertise their offers, wherein they say you can make $120 per game testing, makes it more scammy because they are not upfront on what it will take to make those 120 bucks if you can even make those.
They play out the free money seekers by keeping the payout amount so high, but before that, they have their data, hours of gaming, and ads revenue on games. The people who remain are those who spend money on these games, but according to many users, even after that, they refuse to pay, citing different reasons.
So, I would not recommend you to try it. Instead, you can use the legit Testerup alternatives to make money online. If you want to try Testerup, do it without any Expectations.
More ways to make money:
FAQs
Is Testerup com real or fake?
Testerup is a real website where you can register for free, and according to them, you can make $120 with a single offer. But in my testing, I found these claims to be misleading and difficult to cash out. You need to spend too many hours doing these tasks, and there is no guarantee that you will get paid.
Does Testerup pay?
Yes, Testerup does pay users. Many people report earning money by completing offers on the websites. The minimum amount you need to cash out is $70, and you get paid through PayPal. However, there have been higher reports of users not being paid for their work. So, be aware that you may end up not making any money for playing these games. But anyhow, if you were playing these games already, then there is no harm in trying. Or you can try more legit platforms like Mistplay.
What is the minimum withdrawal from Testerup?
The minimum withdrawal amount from Testerup is $70, which you can get through PayPal. This is pretty high compared to other online money-paying sites like InboxDollars or Swagbucks, where you can take out less than $5.
Is Testerup a scam?
Testerup is a borderline scam, as there are many complaints about it being misleading and difficult to cash out. They attract new users with a promise of hundreds of dollars but don't tell how difficult those offers are if ever you can complete them. On the other hand, users often face difficulties with payouts, and many accounts get closed near payouts. Customer support is also reported as near zero. So, Testerup is not an outright scam, but you need to be careful while using it to avoid wasting your time. Always make sure that the games you download through them are being tracked to get credit for that, in case you want to give Testerup a try.
Does Testerup have an App?
Yes! Testerup has both iOS and Android apps, and you can also use this rewards program on the website. However, most offers are available for apps, so if you are using only a website, you may miss some offers. Its app is rated 4.2 on Google and 4.1 on Apple Store.
Testerup Review
Earning Potential

Ease of Use

Number of Offers

Ease of Payout

User Reviews
Summary
Testerup is a website that promises to pay upwards of $100 for testing different games. However, in reality, getting out any cash from the app is very difficult.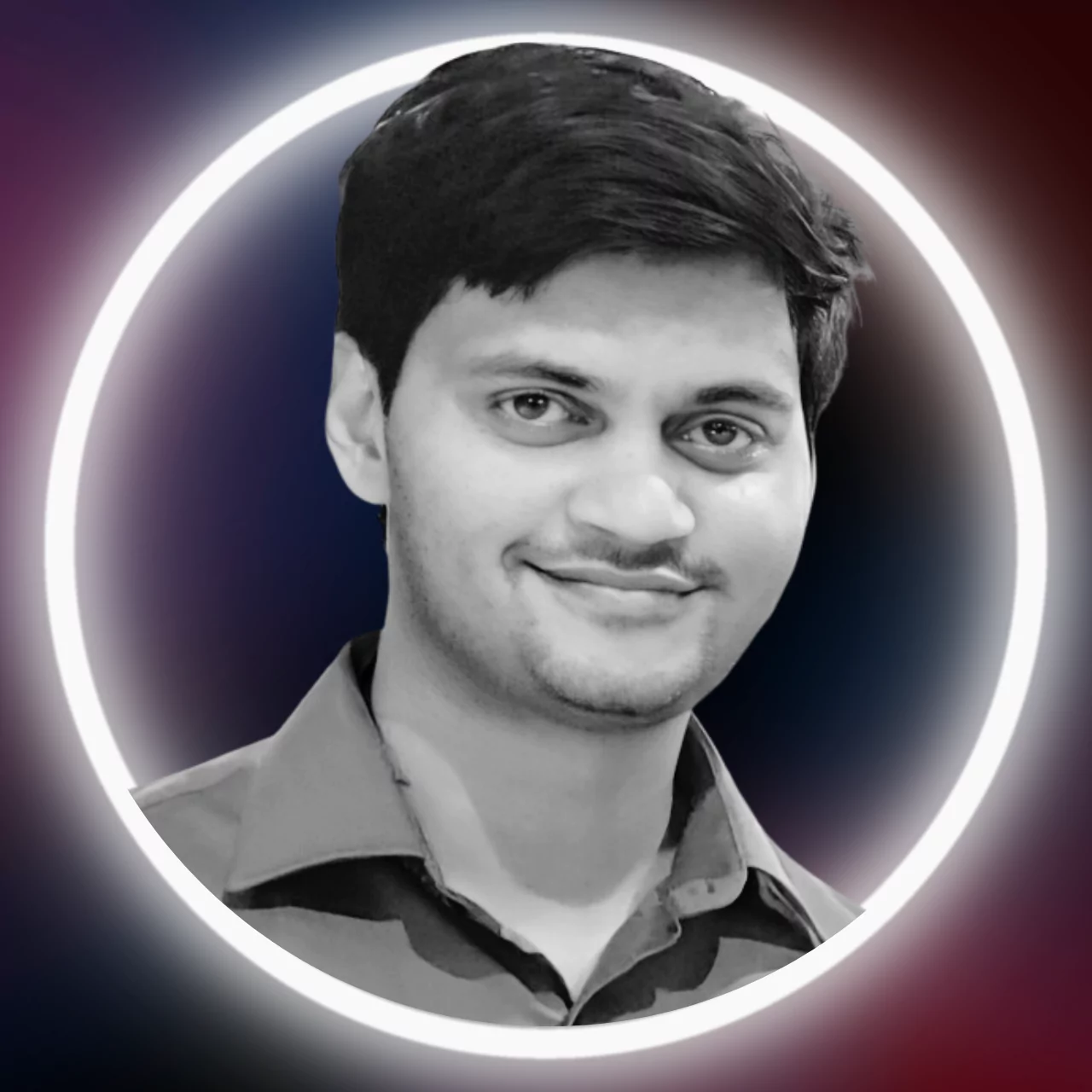 Sumeet is a Certified Financial Education Instructor℠ (CFEI®) and founder of MoneyFromSideHustle. He is an experienced side hustler who replaced his full-time income with side hustles. His work has been quoted on major finance websites like CNBC, Yahoo! Finance, GOBankingRates, CEOBlogNation, SideHustleNation, and more. He has helped thousands of people find side hustles and is here to help you find your extra source of income. More about him.