This post may contain affiliate links from which I may earn a commission without any cost to you. Read our policy for details.
In this age of minimalization, if you want to get rid of things you don't need anymore, here is the list of websites that sell stuff locally or online!
For making some quick and easy money, selling stuff online is one of the easiest ways. Now you have multiple options to do this with websites to sell stuff locally.
You can just hand over the things you don't need anymore for cash. These things are occupying precious space in your home and not serving any purpose.
When you sell items locally, you are doing a favor to everyone, including the stuff you are selling. If that is not going to get used, then it will eventually turn bad.
When you sell stuff locally and hand it over to the new owner, they most probably need it and are going to use it. In addition, they get it for a far less price than a new one from the market.
WIN-WIN for all!
You just need to be aware of the scams. Try to use only trusted local selling sites for buying or selling old stuff.
Fortunately, there are many legit websites to sell items like shoes locally. To avoid scams and get the highest price for your items, you can use the sites listed here in this article.
With the help of apps and websites, selling your used stuff or buying used stuff is as easy as playing games on your smartphone.
If you just want to sell your old stuff or you are trying to make a profit by flipping old stuff, then these are the best local selling websites.
Best Legit Websites to Sell Stuff Locally
1. Gazelle for Selling Electronics
You can buy and sell all electronic devices on Gazelle.
Whatever company smartphone or other gazettes you are using you can sell it on this website for a good competitive price.
Buying or selling experience on this website is hassle-free and very convenient.
You can get offers instantly for your old stuff. If you like the offer you can ship for free or you can also get revised offers which you can accept in 5 days.
After shipping the product for free, you have three different options to get paid. You can opt for PayPal cash, or Amazon gift cards, or you can get a check.
Check out Gazelle for selling your old stuff.
---
2. DeCluttr to Sell Stuff Locally
Another great app to declutter your home by selling stuff you don't need anymore.
You can put your things on sale and you will get instant valuations. If you like the price you can ship the item free of cost.
If they found your item as described by you, you will receive the full payment.
In some cases, if the condition of the item sent by you is not found as described by you, then they may deduct some money.
You can sell a lot of things on Decluttr ranging from books to electronics. The best thing about Decluttr is that they generally pay a good price for your used items.
Sign up at DeCluttr to sell now!
---
3. Swappa
On Swappa, you can list your used items for free and sell them. Sellers and buyers are connected on the same platform where they can sell and buy used items.
You can get a featured listing for an extra $5.
You can sell all sorts of things ranging from phones, laptops to other electronic things. Seller and buyer can communicate among themselves and decide on prices.
After the agreement of sale, you can get paid instantly via PayPal and you will get two days to ship the item.
Swappa will charge a fee to provide you with this platform.
If you are not afraid to talk to potential buyers, Swappa is one of the best websites to sell items locally or online.
---
4. OfferUp
OfferUp is a website to sell stuff locally.
You can sell different kinds of things, starting from sports cards, and used furniture to old clothes.
You can see the profiles of all potential buyers on social media. You can see their transaction histories and ratings.
All this allows you to make an informed decision to sell stuff. This is a great way to avoid scams.
For this kind of security, you need to pay transactional fees with a maximum of $1.99. After finalizing the deal you can ship the product in three days.
---

5. Mercari to Sell Anything
Whatever is shippable or you can ship, like Pokemon or Yu-Gi-Oh! cards, you can sell on this website except for a few things like flammable things, etc.
You can list your old stuff for free, and you need to pay a commission to Mercari only when the sale is done.
It is available as an app on Android and iOS and also can be used on their website. It is one of the best websites to sell things locally.
One drawback of the Mercari website, unlike a few others on this list, is that you have to pay shipping fees.
---
6. eBay for General Selling
You can leverage a high number of users on this website. Other than selling to people at a distance, you can also select the local pickup-only option.
Then you don't need to ship the item.
You can get money on PayPal before collection. The downside is that after a specific number of listings (200), you need to pay a listing fee of 35 cents.
If you are a small-time seller and just trying to clear spare things from your home, then you should not worry about it.
Then the final commission of eBay is 2 to 12% of the sale amount.
---
7. Poshmark to Sell Used Clothes
For selling your used clothing Poshmark is the best place.
You can sell here the fashion items that you don't need anymore. Anything related to fashion, like clothing, shoes etc. can be sold here.
You can list your items on the Poshmark app, and if you make a sale, you can ship them for free with Poshmark provided label.
Their fees are fixed, if you make a sale of $15 item or less, then $3 is Poshmark commission. Above $15 they take a 20% cut of the sale amount.
You can sell stuff locally on Poshmark, but there is no option to meet the buyer. You can drop off the clothes on a free label at local USPS or you can get them picked up from home for free.
---
8. Craigslist
For selling locally, Craigslist is one of the most known names.
You can list your old items anonymously for free within a few steps. After listing, you can connect with local buyers to sell.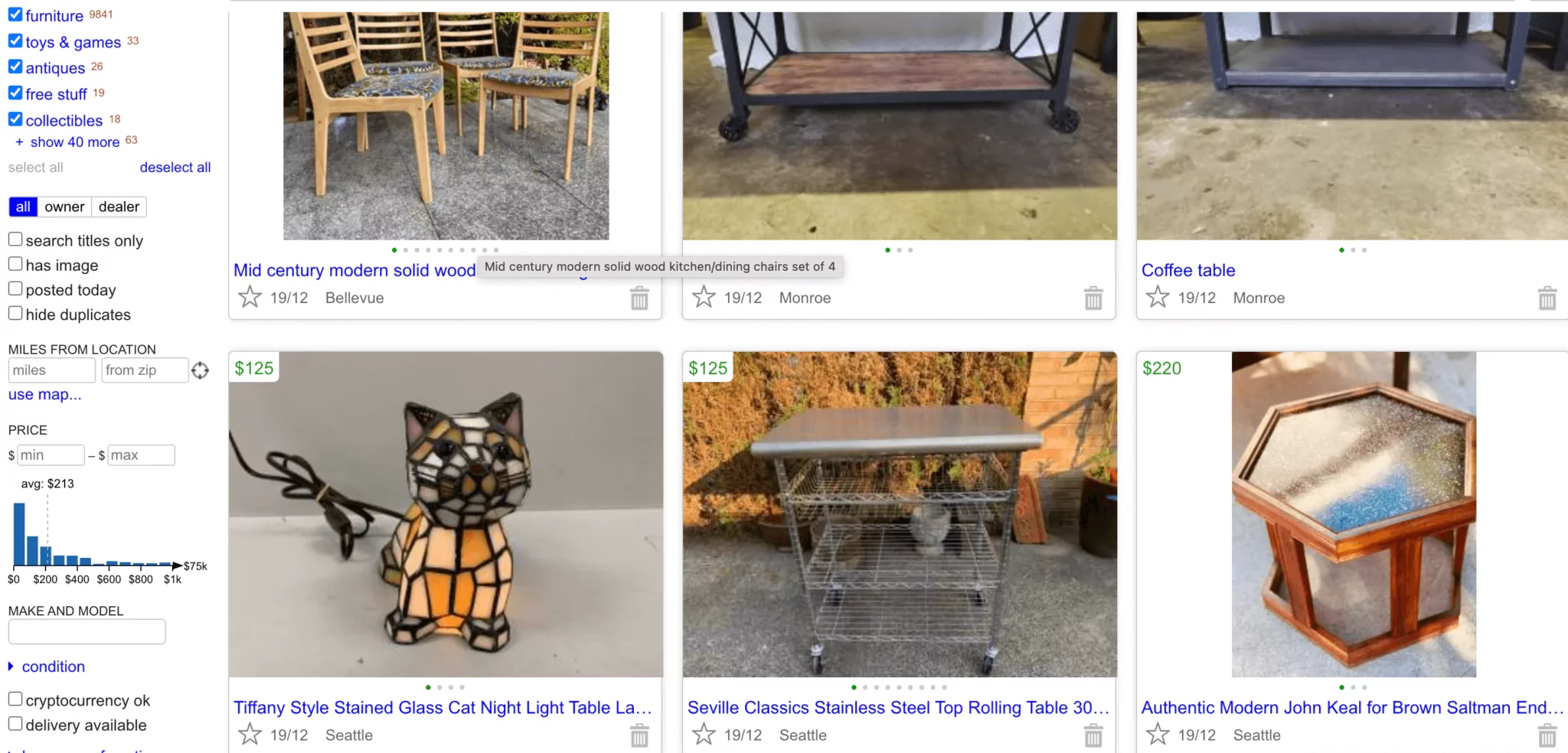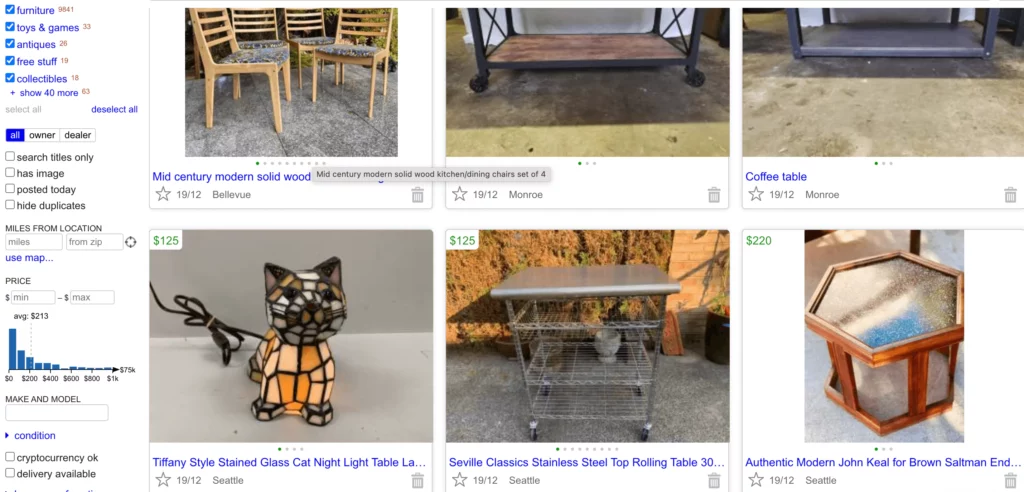 They also have a third-party authorised app called CPlus where you can make listings and save postings and other things.
The drawback is that after listing something on their website, you may continue to receive spammy calls afterwards.
---
9. Vinted
Vinted is like Poshmark for selling clothes and fashion accessories. In addition to other features of Poshmark, there is an added benefit of meeting buyers face to face.
It is also great for the buyer to personally inspect the clothes if they like them.
In addition, you can use this loophole to cancel the listing and avoid paying fees to the Vinted.
---
10. Carousell
You can list your used items on the Carousell on the go using your smartphone. Just take the picture and list them with other details. As simple as that.
There is no listing fees or commission on the sale. There are groups with special interests where you can post your listings and you can chat one on one with potential buyers.
You can share your listings on social media to reach far more people.
---
11. VarageSale, Your Online Garage Sale
You can use the VarageSale app to start your virtual garage sale. You need to verify your identity before joining the platform as a seller or a buyer.
This ensures that you get genuine buyers and sellers on the platform and far fewer scammers.
In addition, members have ratings like Uber and average response time. You can factor in all these things to make an informed decision to make a sale.
On top of that, it is free to sell on VarageSale making it a great local selling website.
---
12. ThredUP for Selling Fashion Item
A large thrift store to buy or sell stuff locally. A great place to buy or sell second-hand clothes, shoes and designer things.
If you have fashion accessories lying around that you don't need anymore, you can sell them on this local online selling site to make money.
You need to send them your used items, and they will do all the things. They will offer you a percentage of the price depending on the price.
Low-ticket items of less than $20 are charged at a higher commission of up to 90%. For items above $100 value, they charge a 20% commission.
So, it is more beneficial for you as a seller to sell items locally of higher value than $100.
If your item remains unsold for 90 days, you can reclaim them from ThredUP.
---
13. Listia
A little different marketplace than other websites to sell stuff locally on this list.
Here on the Listia website or app, you won't get cash for selling your old stuff, but you will get virtual currency in points.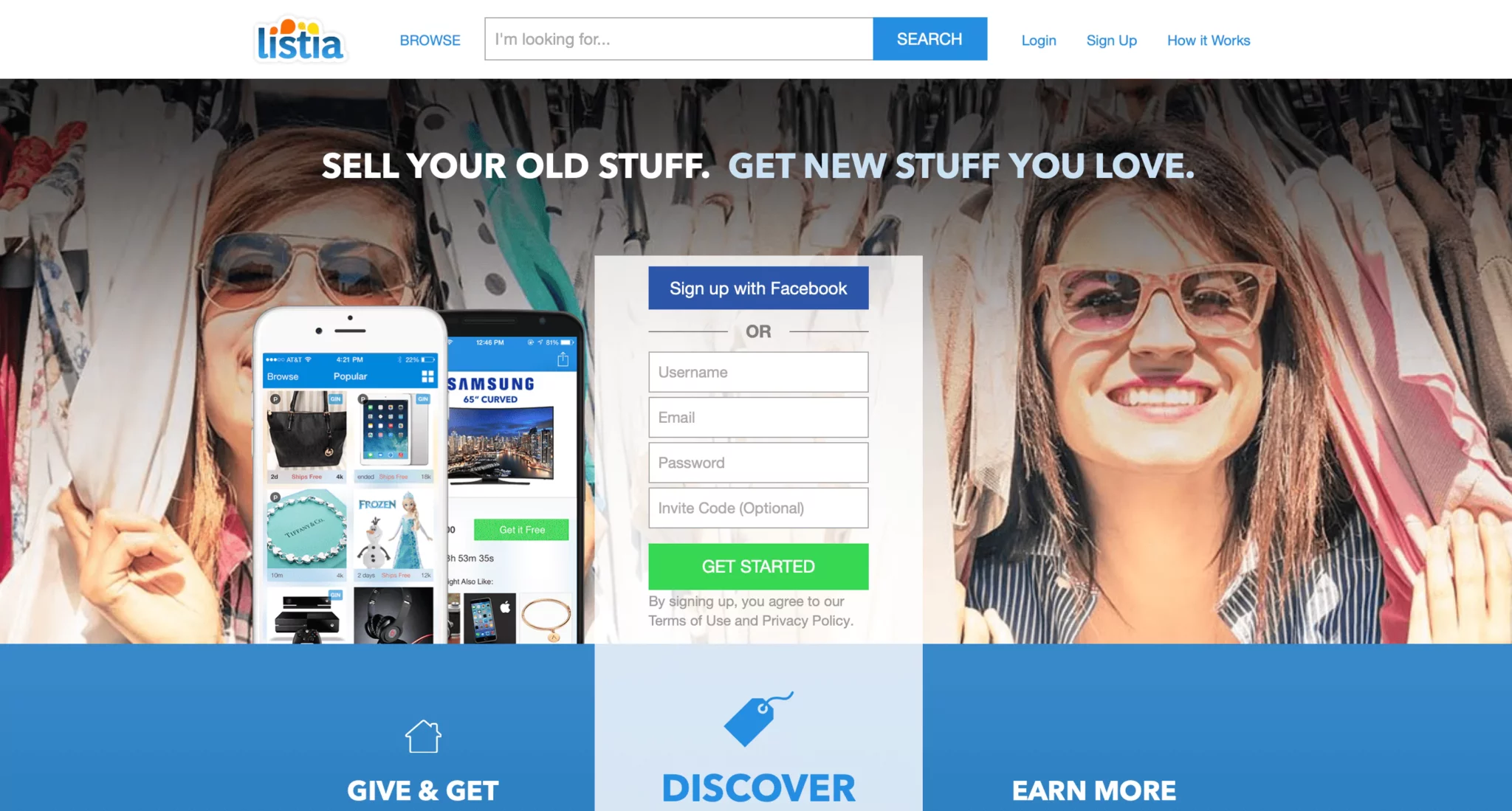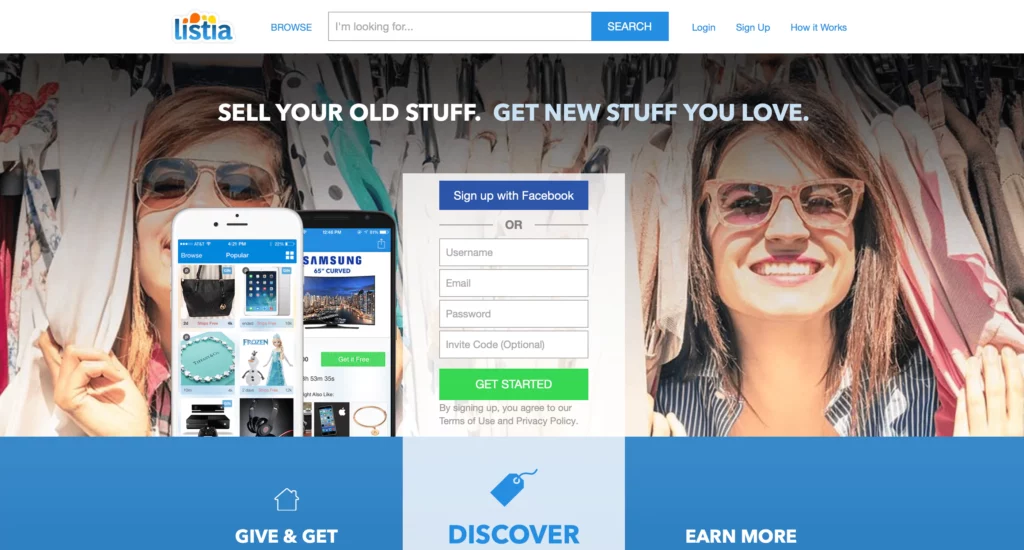 These points can be used to buy other things available on the app. Millions of products have changed hands on Listia without any cashout option.
The best part is you get bonus points on joining the site and on your first listing. In addition, when you refer your friends you get more points that you can use to buy items on Listia.
The drawback of Listia is that you can not redeem points for real cash. You have to buy something else with those points. Many sellers might not like this part of this local selling site.
---
14. Chairish for Selling Luxury Items
If you want to sell luxury furnishings or other similar designer material then Chairish is the place to visit.
They are one of the best websites to sell stuff locally when it comes to luxury items.
You can list items you want to sell for free and they will charge you a commission only when you make a sale.
The level of the commission depends upon your plan. There are different kinds of plans available with different benefits. You can choose what works best for you.
Chairish is available both as a website and app. You can also opt for Chairish managed shipping to lessen the hassle for you.
---
15. BuyBackBoss
If you have old electronics laying around in the house, you can use BuyBackBoss to sell them for extra money.
Even if they are broken, you can sell them for a few dollars. You directly sell to the app so you don't have to worry about the buyers or shipping costs.
When you sell a device, you can get paid in direct check or PayPal cash depending on your preference.
You can sell your iPhones, Android phones, iPads or smartwatches on BuyBackBoss platform for instant cash.
---
16. Facebook Marketplace
Do you know that Facebook of Meta is not just a social platform? It's a huge marketplace for selling ads and items if you know how to do it.
Many people make their living by selling stuff on Facebook. There are literally billions of people on Facebook and where there are people you can sell stuff.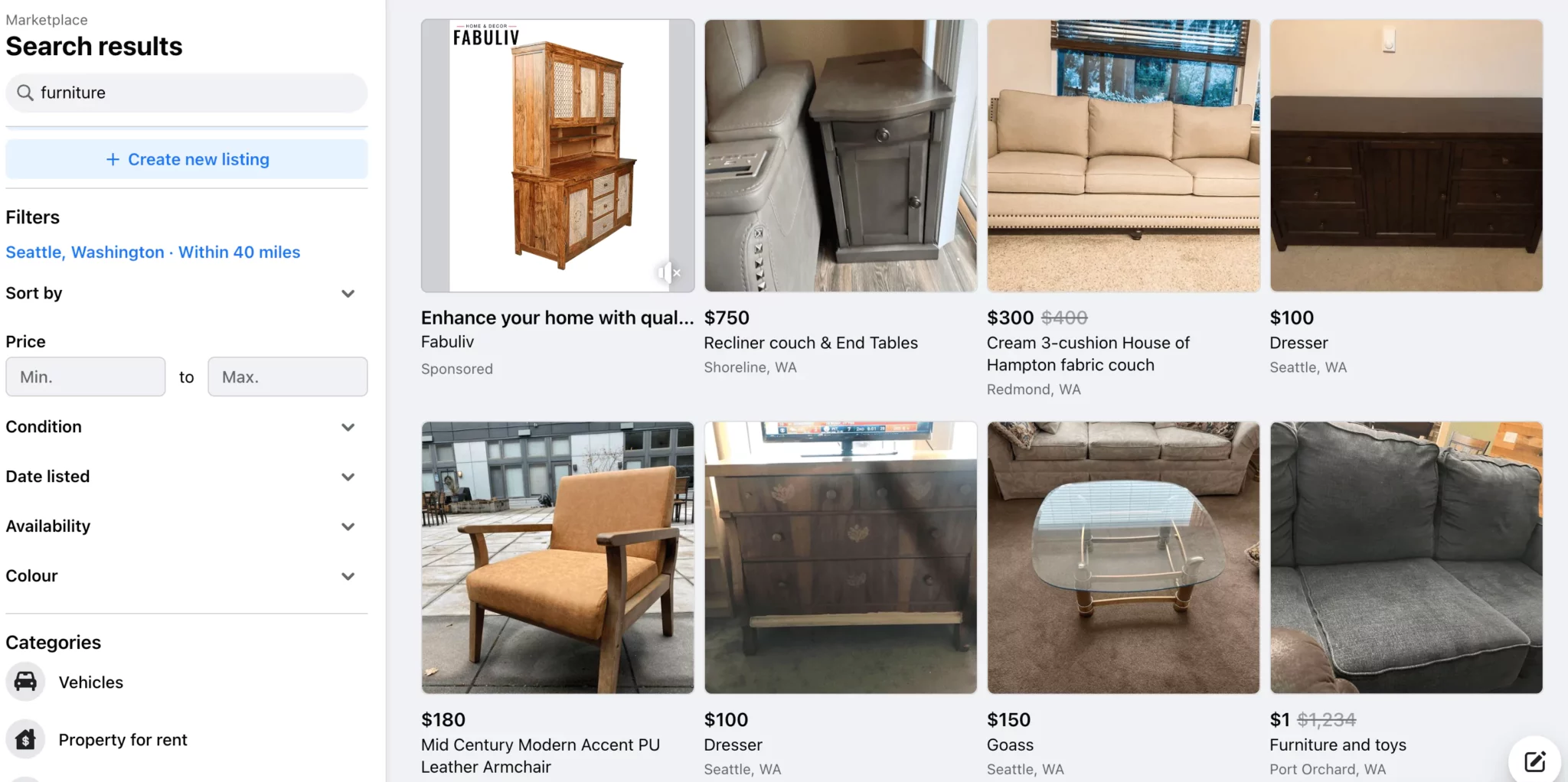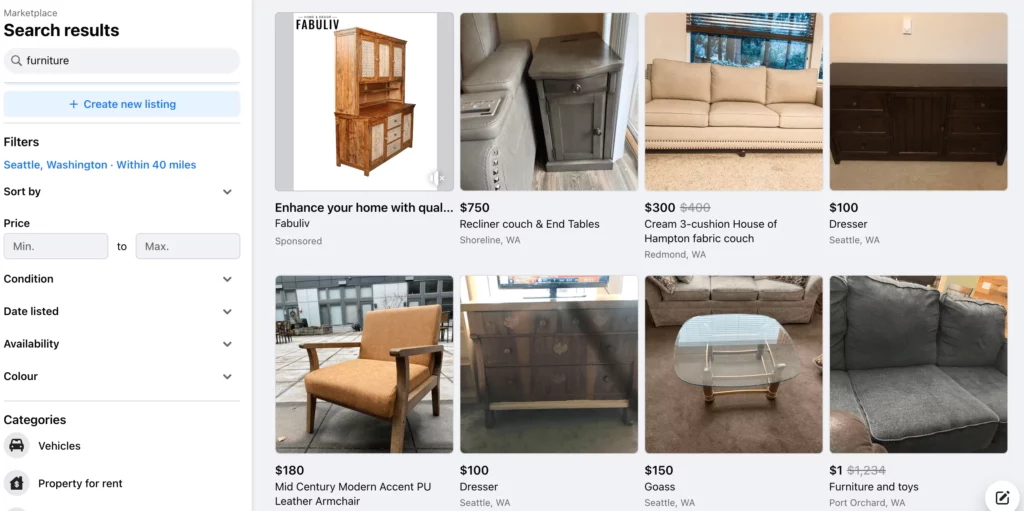 You can list your items with a location tag and people in your local area can find them in the marketplace.
When you list an item in the Facebook marketplace your contacts automatically receives a notification and other people nearby can find it with the location tag.
On top of that, it's free to use without commission.
---
17. NextDoor
A unique platform where local households can make an online community with up to 3000 houses.
It's like a WhatsApp group where you can put local notices and put listings for selling used items. All the members of your group will see the listing.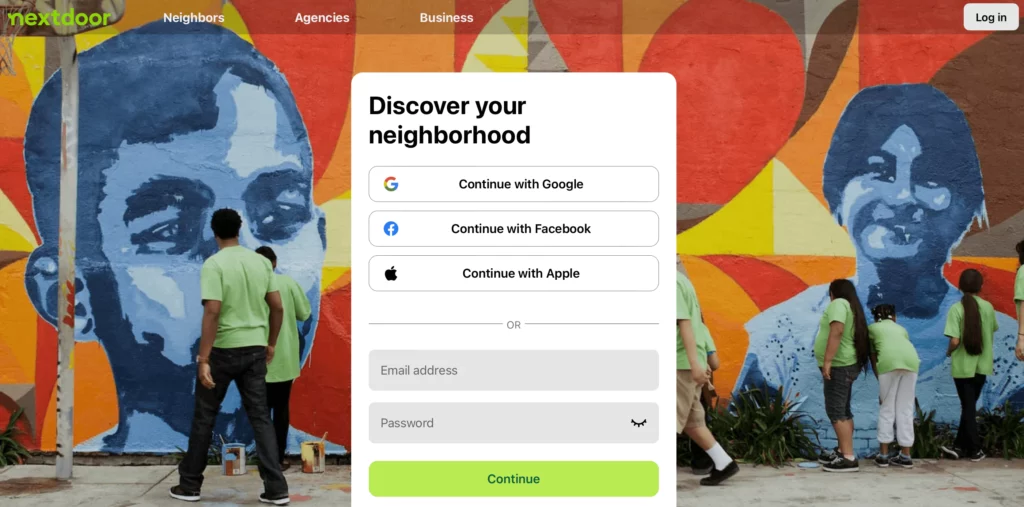 If you want to reach more nearby houses, you can use the option of sharing in nearby communities.
All these options make NextDoor a great website to sell stuff locally. It connects you to your nearby house, but you yourself need to manage payments and transfer of items.
---
18. eBid
It's an auction-based local selling website where you can sell your old stuff locally. Since this is a less-known site compared to similar sites like eBay, there are fewer competitors. But the number of buyers are also less.
The benefit is that the seller fee is much lower compared to the competition. Their fee is capped at 5%.
They also offer other ways to earn points that can be used for several benefits.
If you find the fee of auction places like eBay unreasonable, you can try the eBid website to sell your stuff.
---
19. Sell Items Locally on 5Miles
If you are looking for a secure and spam-free site to sell your used things then 5Miles is a great website to sell stuff locally.
All the users including buyers and sellers are verified with id checks after joining the platform.
On top of that this website is free to use for both sellers and buyers. You can also follow other sellers listing and like them similar to a social media site.
5Miles team also review listings from time to time to decrease the chances of spamming.
---
20. Swop.it
Another unique website to sell or rather swap your used items with other users.
You can list your item and search the website for available items and you can select things you like.
Then if you find something of comparable value which you like then you can contact the owner for a swap without any middleman.
For determining the prices of items so that users have an easier time comparing them Swop.it uses a point system rather than actual currency.
---

21. ToyCycle for Exchanging used Toys
As a parent of a kid, I know how many toys go to waste over time. Kids have a few favourite toys with which they play and for others, they use them for some time and toss them away.
If there was an option to swap toys with other kids that would have been a great option.
Everyone will get new toys in place of toys they don't want anymore.
ToyCycle does exactly the same. It's more like a community where parents exchange toys and other kid games for free within a local distance.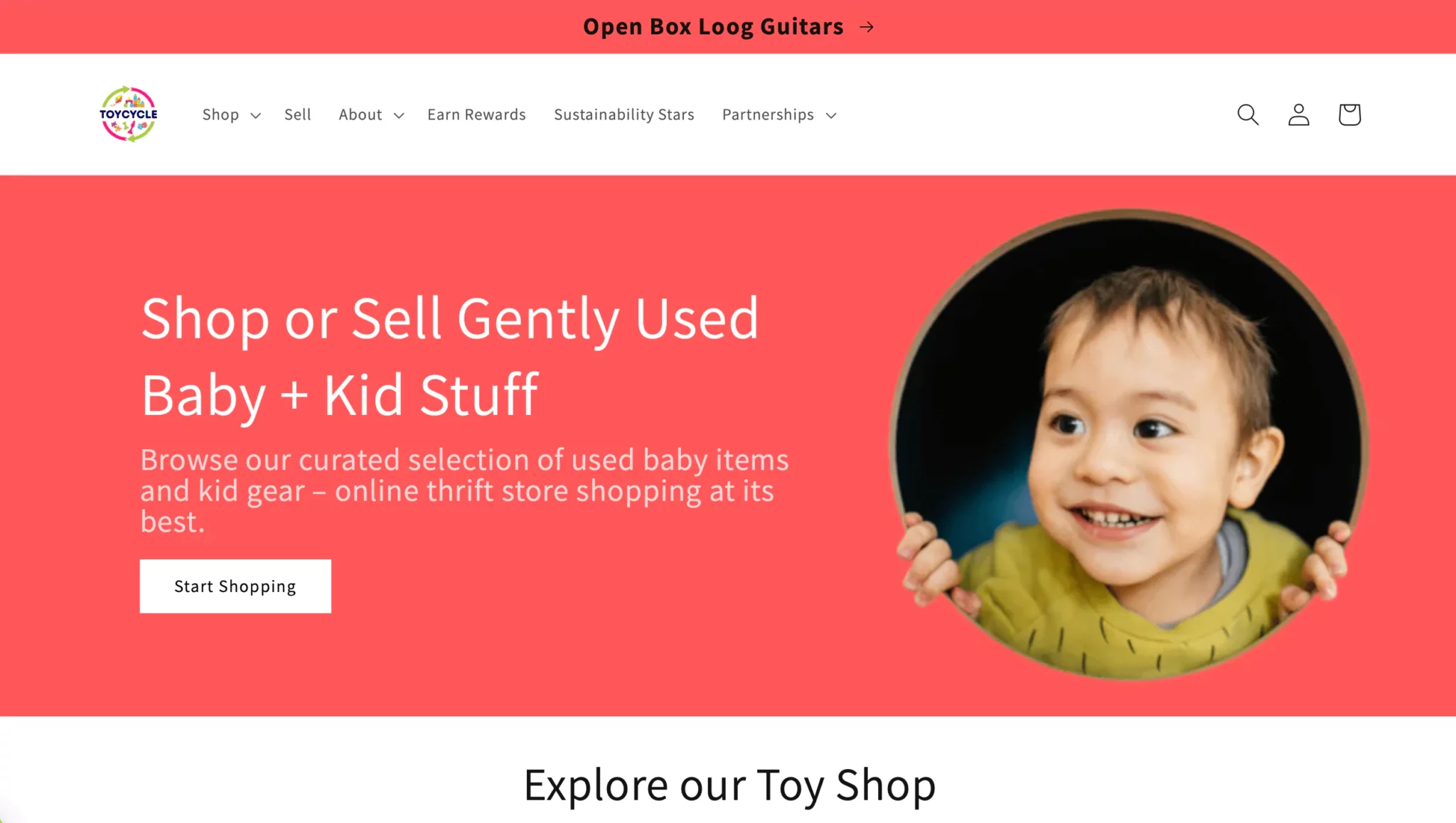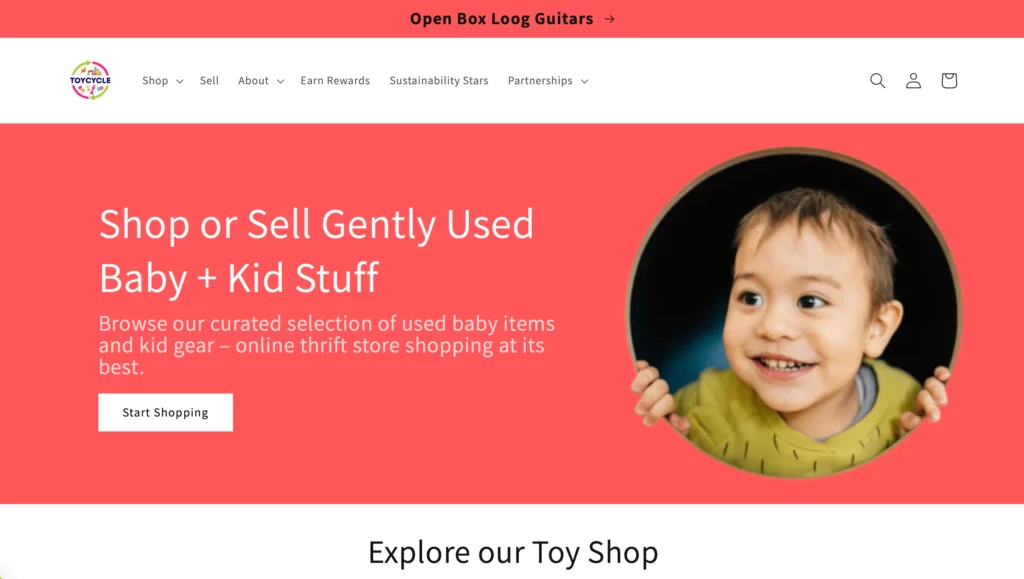 There are small membership fees that you have to pay to use this platform. Once you are registered, you can use this platform to exchange toys with other people.
You can schedule pick up time and address on this local selling website.
ToyCycle is currently available as an app on the apple store. It's not a marketplace to sell old toys but a place to exchange them.
---
22. Rubylane for Selling Antiques
A website to sell antiques or other similar valuable things. You have to set up your store on their website to list your items like Etsy.
So it is a good option for people who have multiple antiques lying around and they want to make cash out of them. Or it can be a great side hustle to buy and sell antiques on this website.
There is a shop hosting fee if you have less than 15 items in the store and then a 9.9% service fee on the selling price.
You can sell anything collectable such as frames, vintage clothing etc on Rubylane.
---
What are Best Practices to Sell Locally?
Keep Items in Good Condition: One of the most important factors if your item will sell or not depends on what is the condition. Buyers will want to buy a used item that is maintained well and clean. If you plan to sell your item after using them, then try to keep them as clean and neat as possible.
Sell on Right Website: Choosing the correct platform to sell your items is also important. If you want to sell your used clothes then specialized sites like Poshmark will be a better option than Craigslist. Similarly, for mobiles, Gazelle will be a better option, because buyers on these sites are already looking for these items so your items will get attention faster.
Photos sell Items: What looks better sells faster. That is also true for these websites that sell stuff locally. Most users will not even read your description if your photos are not good. If you want to sell faster, then try to take the best pictures and more pictures are always better than description. If there is any damage try to show that as well so that you are honest about it and it does not create issues later.
Price Competetively: Before deciding on the price of your used item, scan the site a little bit for similar items to see what price point they are selling. If the price of your item is unreasonably high, no one will buy it. That will you will not be stuck in negotiation rounds if any buyer becomes interested at all
How to Avoid Scammers While Selling Locally?
On things like selling things where you need to interact with strangers, there is always a small chance of meeting some scammers who want to take your items for free or try to take your money.
If you take precautions, you can avoid scams and sell your stuff safely. The first step towards it is to use trusted and reputed selling platforms. Most of these platforms check the ids of members before joining, which reduce the chance of scammers with fake profiles.
If the transactions are not website mediated then try to meet in person at public places and take cash transactions.
Final Thoughts on Websites Selling Stuff Locally
It is pretty evident that there are many platforms that help you sell your used stuff online or locally. Few of them are general and others are specific for particular things.
Choose the right platform for your needs as you now know basic details about all of them and get started.
Don't be afraid if your items will sell or not. You will never know if you don't try.
List out things you don't need and want to get rid of and list them for some extra cash using these websites to sell stuff locally. Which website worked best for you, let us know in the comments section.
---
---
Want to Earn More, Try These Resources: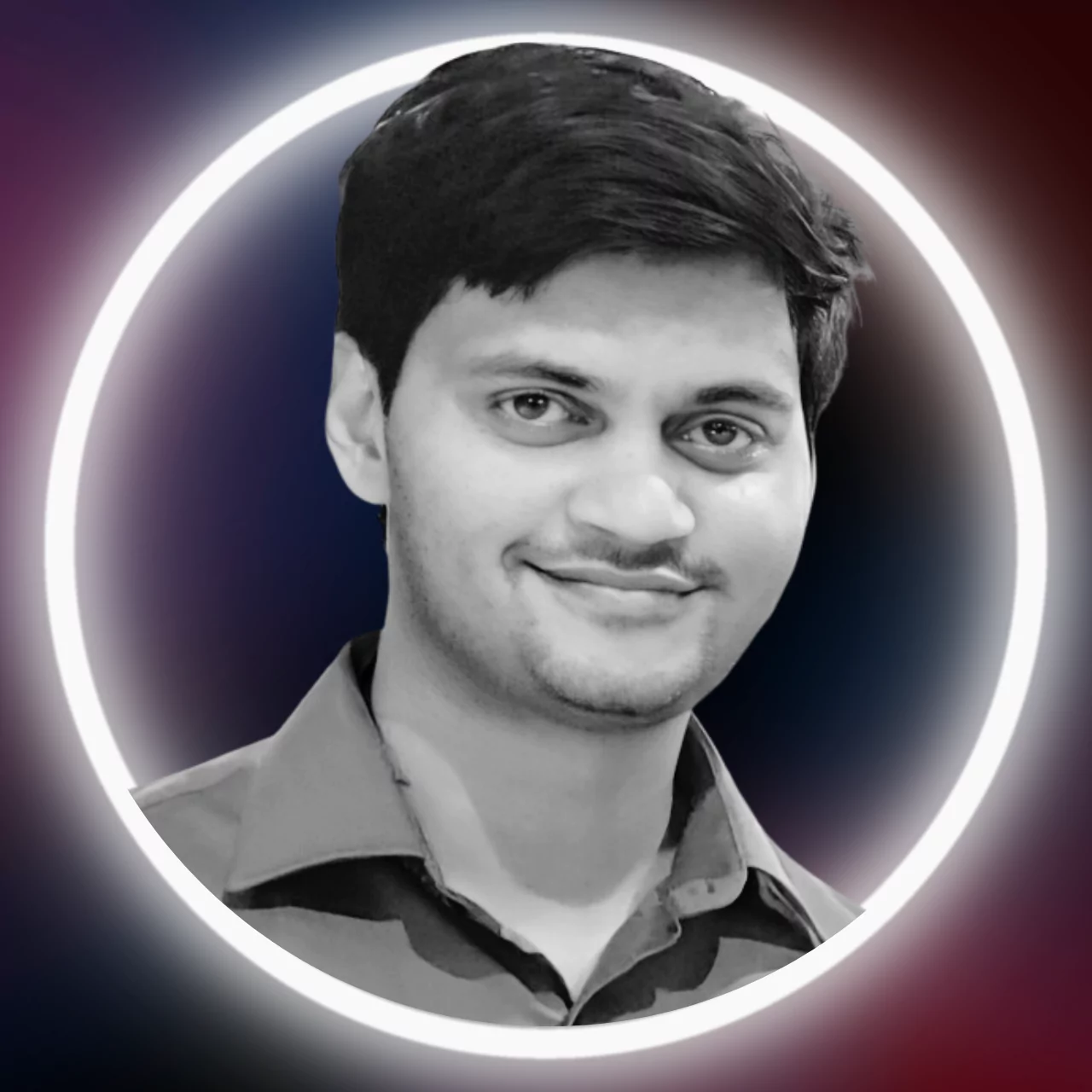 Sumeet is a Certified Financial Education Instructor℠ (CFEI®) and founder of MoneyFromSideHustle. He is an experienced side hustler who replaced his full-time income with side hustles. His work has been quoted on major finance websites like CNBC, Yahoo! Finance, GOBankingRates, CEOBlogNation, SideHustleNation, and more. He has helped thousands of people find side hustles and is here to help you find your extra source of income. More about him.