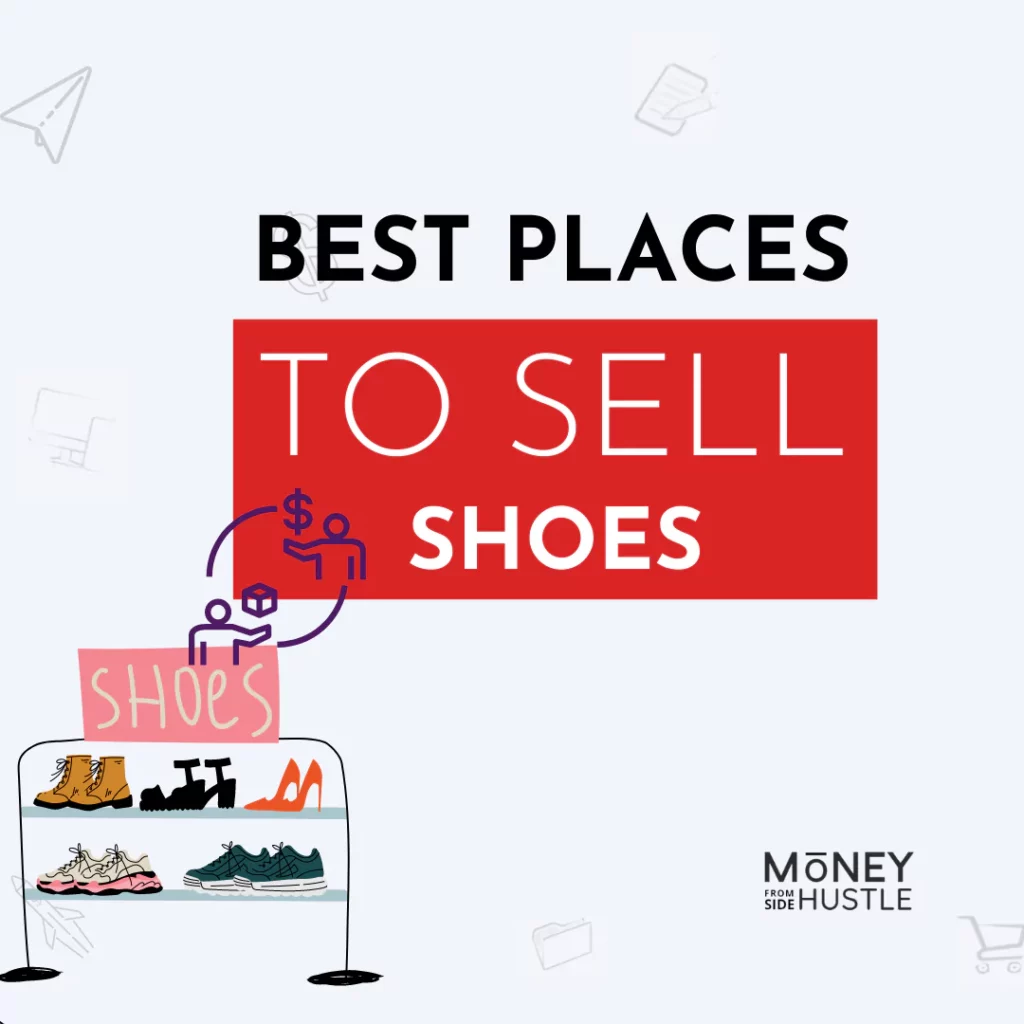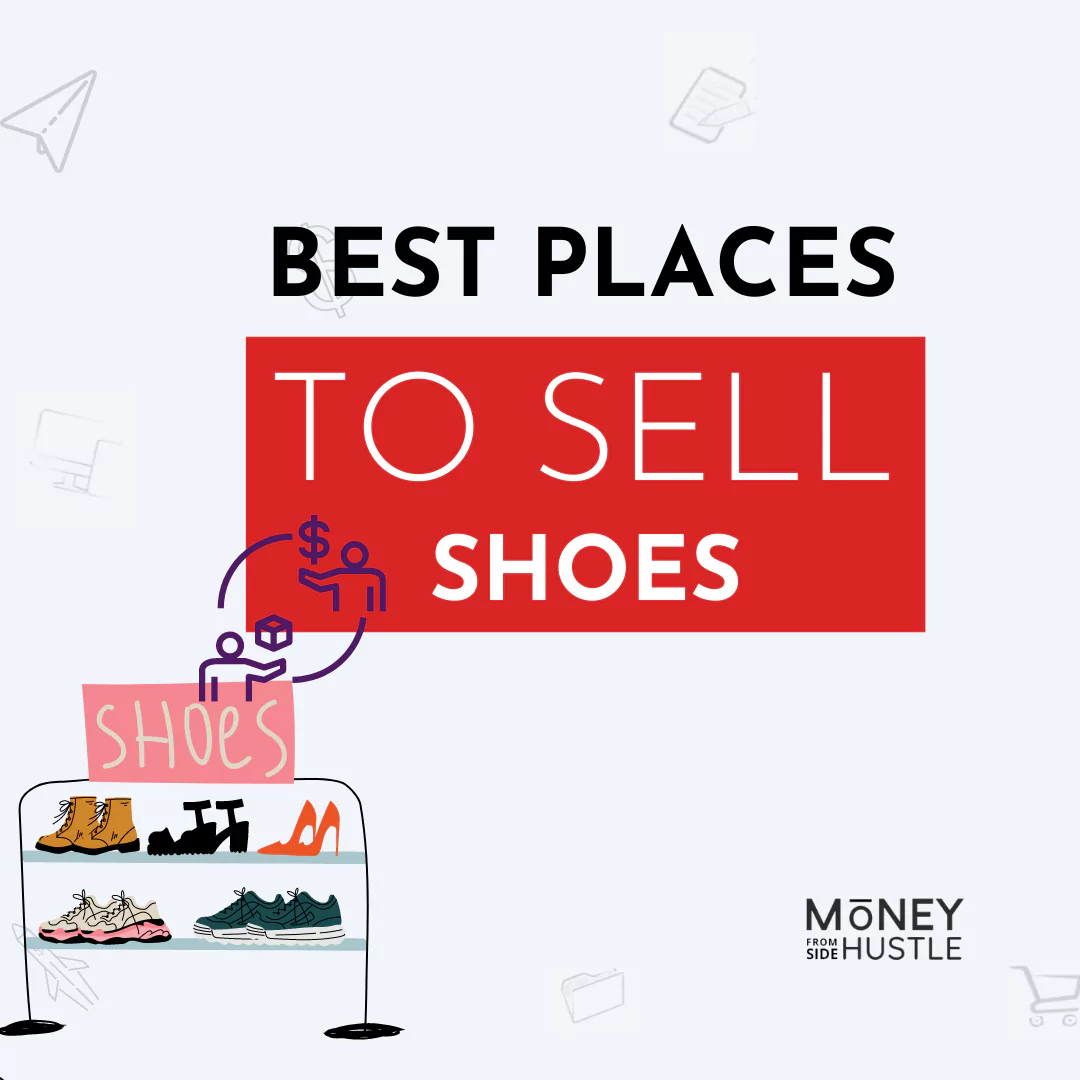 Websites for selling shoes can help you find a new home for your old shoes. Selling shoes is a good option to declutter your home and also make some cash at the same time.
It might be that you don't have space in the closet for your newly bought sneakers.
Or you have bought a pair of shoes that you think you will love, but you Nah!! They are just sitting there in the corner of the closet.
It has happened to me a lot that I buy a shoe pair, but I never wore them even once, and I am sure I am not alone.
On the other spectrum, some people have made flipping shoes a profitable side hustle.
The shoe-selling and buying market is huge, both for regular shoes and limited edition shoes. People who buy high-end sneakers are shoe lovers who buy them for the purpose of collection.
These sneakers are released in limited numbers, and with time, the price of limited edition shoe increase. It also works as an investment if you know what you are doing.
So, whether you are trying to clear out your gently worn shoes for some cash or want to create a side hustle out of it, there are many websites for selling shoes.
In this article, I will tell you about all the best places to sell sneakers and how much fees they charge.
Highest Paying Surveys
Up to $50 per survey
Industry-leading surveys
Factors That Decide The Price Of Your Old Shoes
So, you decided that you want to get rid of your old pair of shoes, but how to price them?
There is no right or wrong price! You have to find the middle place so that you can attract the buyers and also don't underprice your shoes.
The golden rule is to look at the prices of similar brand shoes that are in similar condition at shoe-selling apps or websites. If others are able to sell old shoes at that price, you can too.
The factors which decide the price when going out to sell Jordans or Nike, or any other shoes for cash are:
Brand Of Shoes
The first and foremost thing that decides whether your old shoes will sell and for how much is the brand of shoes.
A few brands have higher demand than others. The shoes from these well-known brands that make quality shoes tend to hold their value and can get you good money.
Condition Of Shoe
Then you need to look at the condition of your old shoe. If your shoe is dirty and worn out, no one will pay top dollar for them, even if they are from the best brands.
Well-maintained and gently worn shoes will attract more buyers and sell faster.
That is why it is important to thoroughly clean your shoes before putting them up for sale.
Running Trends
If you are selling shoes that are currently in trend and have low supply, you are going to make a sale pretty quickly, rather than when selling that old-styled platform shoe from the 70s that no one is wearing nowadays.
A few brands also make the shoe in limited numbers that can increase the off-market value.
Chuck Taylor All-Star from Converse is almost always out of stock and sells at higher prices in off-markets.
Limited Editions
A few shoes are released only in limited editions. A few editions are rare than others, for example, Jordans are released in multiple editions. When you go out to sell Jordans for cash, their edition will decide whether you will get a few hundred dollars or thousands.
Another example is 1500 pairs of Nike Air Mag sneakers that were released in 2011 and they can fetch you tens of thousands of dollars.
Many shoe enthusiast often collects these limited edition shoes for collection, and it also serves as an investment.
Others do business of shoe flipping to earn some serious cash. You can also start flipping shoes as a side hustle.
Size Of Shoes
If your shoe size is average (9 to 11 in men and 7 to 8 in women), then there will be many others who wear the same size, and you won't have any problem selling your old shoes.
On the other hand, sizes smaller or larger than average will have very limited buyers.
Where to Sell Shoes Locally
The best place to sell old shoes is local places. You can sell sneakers for cash instantly, as you don't need to ship the product.
You can meet the buyer locally through these marketplaces and sell used shoes.
Though you need to be careful about meeting in public places. Always choose public places, where there are other people around for safety.
Considering that you can choose to sell your old shoes at these places.
1. Local Flea Markets
This is especially one of the best places to sell shoes if you are into flipping old shoes for profit.
These markets are popular on weekends, where many people are looking to buy used and affordable items.
You can gather up your inventory and make a booth to display all your products.
You need to take permission from market organizers and pay a fee to set up a stall.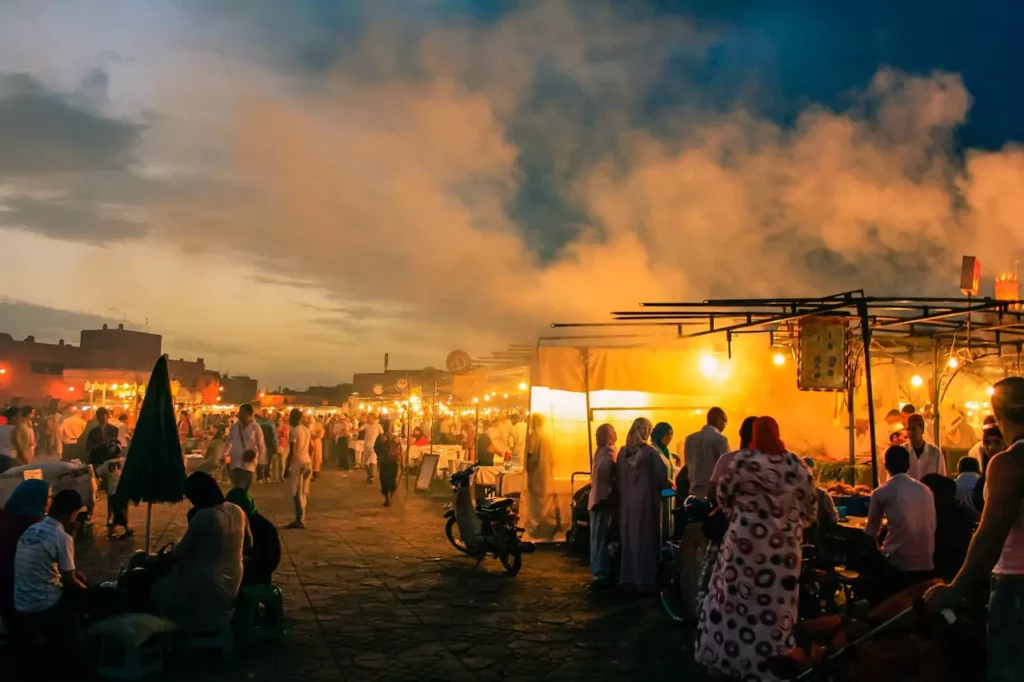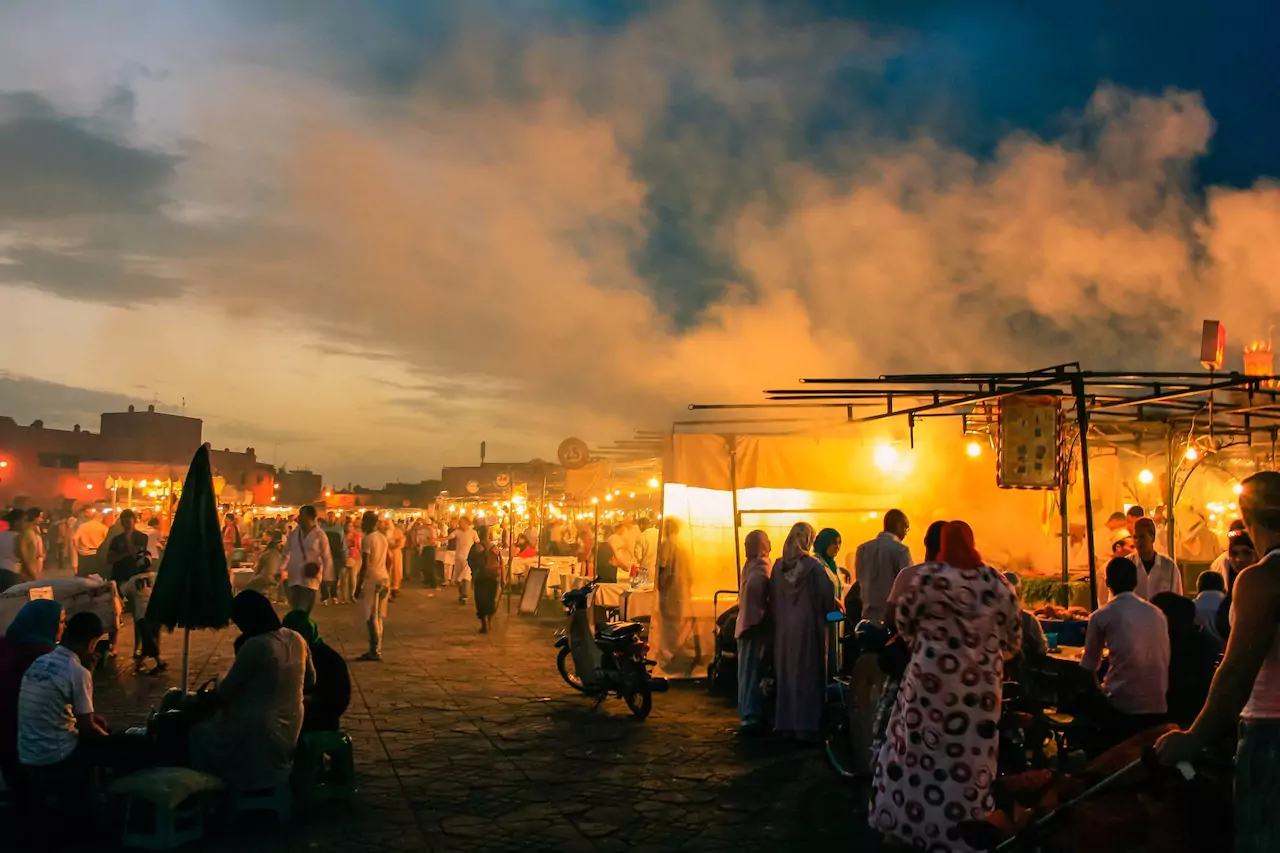 Make sure to use banners and sign boards to show your booth.
Price products competitively and provide a good user experience to buyers. Keep a tab on what others are selling and at what prices.
Be prepared to be engaged and negotiate the price.
Be friendly and approachable. Offer packing bags and other packing materials to buyers.
Charges: Fees to have a stall at different flea markets vary depending on the popularity. In some places, you might have to pay $5 per day, and in other places, it may be above $100. So, it makes sense only if you have enough items to sell. A few markets also offer tables, chairs, and electricity and charge more for that.
Multiple ways to make money
Low and easy cashout options
Great user ratings on App store
List Shoe At Online Marketplaces
Online marketplaces can help you sell shoes locally. You can post a listing, and people who are interested can contact you and arrange a meeting or pickup point.
2. Craigslist
Craigslist is one of the biggest marketplaces where you can sell almost anything.
You can post your shoe ad on the website for free.
Posting an ad is simple, just:
Sign up for the website
Chose your location
Post an ad with images
Write a title and description
Select a category and choose the price
And just like that, your ad to sell sneakers or shoes is online.
You should be prepared to answer any queries regarding the ad. When a buyer contacts you, choose a meeting place and hand over the item for the decided cash.
Note: Meet at a public place for safety and always take money before giving shoes. Many frauds happen on Craigslist due to the huge number of people on it.
Charges: Craigslist only charges for job postings, and there are no fees for selling your old shoes on the platform.
---
3. Facebook Marketplace
Social media places like Facebook can be used to sell shoes for cash locally.
Facebook has a marketplace where people in your local areas post ads.
You can also post your shoe pictures along with some description and the asking price.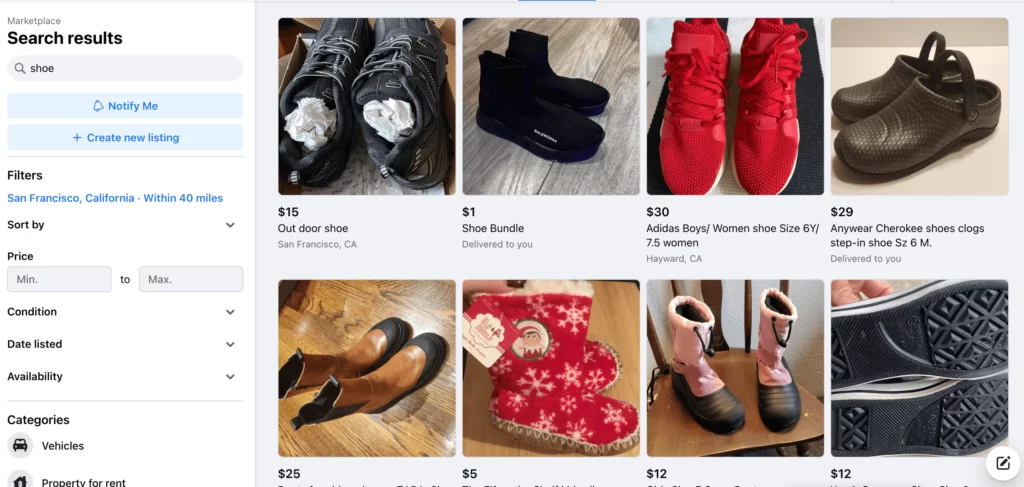 If someone wants to buy the pair, they can contact you and arrange a meeting.
This is a very convenient way to sell sneakers near me, as most people are already on Facebook. With just a few clicks, you can get paid for your shoe.
Charges: If you sell locally, there is no fee, but if you ship the item and get payment through them, they charge 5% of the price or flat $0.40 for items below $8.
---
4. VarageSale
VarageSale is a website for selling shoes like Craigslist, where you can post an advertisement for your old shoe, and local buyers can contact you.
Just sign up for a new account, select your pin code and post your ad.
To become a member, you need to connect your Facebook account, and they will manually verify your account.
This ensures that all members on the platform are verified and genuine.
You should upload well-lit images of your shoes and provide descriptions like shoe size, brand, condition, age of shoe, etc.
These things help buyers decide if they want to purchase the item.
Then you need to provide the price you are willing to accept. Always keep a little room for negotiations, as most buyers like to negotiate for old items.
When someone contacts you, set up an exchange place and trade your shoes for cash.
Charges: None.
High earning surveys
Easy-to-use website
Many ways to earn
---
5. 5Miles
5Miles is another online shoe-selling place you can use. They offer to sell many kinds of items, including shoes.
The best part is all users are verified.
5Miles offers both options of selling through the app as well as meeting the local buyer.
You can accept the payments online through their app after you make a sale.
As in other online marketplaces, you need to make a listing with all the details and images to sell shoes.
They offer a serious bid guarantee where both seller and buyer need to deposit $5 each before entering the bidding. If anyone breaks the deal, they will have to lose $5.
Charges: Unlike other marketplaces like Craigslist, here you need to pay a listing fee. On a successful online sale, they take a 10% commission.
---
6. OfferUp
OfferUp is another place to sell shoes by posting an ad.
You can also use this website to sell other things like sports cards, old clothes, and furniture.
You can sign up for a new seller account for free using their iOS or Android app, or you can use their website.
Then you can list your shoe along with pictures, description, and asking price.
Any interested buyer can contact you. If you decide to sell the item, there are two options:
Sell locally: You can meet up with the buyer locally and hand over the item for cash. Make sure to choose a convenient place and time for the meeting. In this case, you don't have to pay any fees to OfferUp.
Ship Your Shoes: Another option is to ship your item through OfferUp. They will provide you with a shipping level, and you will receive the payment through their app. In this case, you can reach nationwide buyers, but they charge a fee.
You can also promote your listing to get more eyeballs on it.
Charges: Listing is free, but they take a fee of 12.9% of the final price with a minimum of $1.99.
---
7. Shpock
Shpock is a great place to sell shoes in the UK.
You can sell anything on the platform, starting from old clothes and cars to your old sneakers for cash.
You can sell across the country and ship your item through their door pickup service.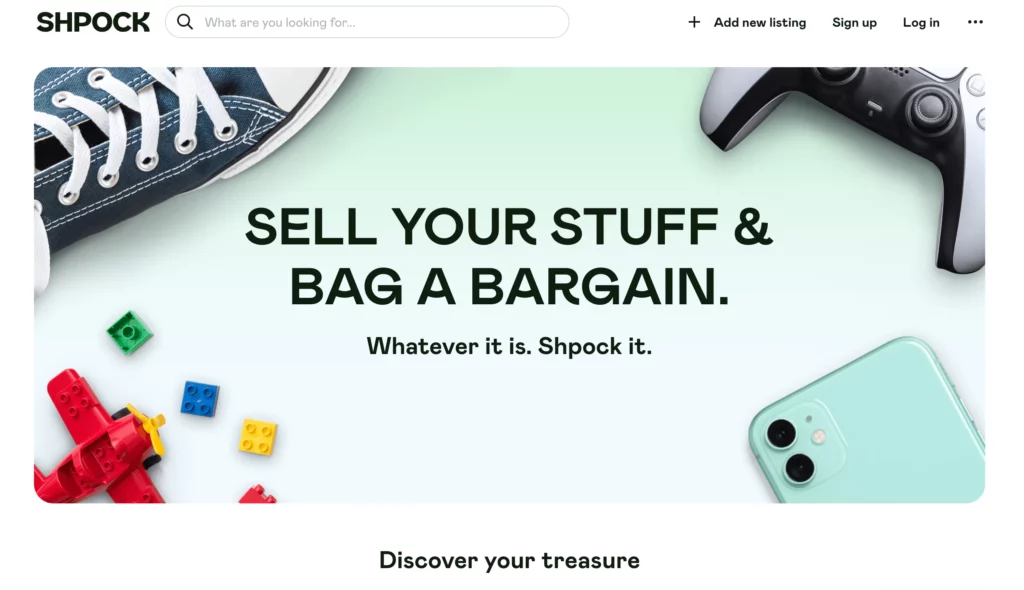 Or you can choose to sell locally and meet buyers at your place of choice.
Make a listing by posting images of your shoes and providing a description and price.
You can also mention if the item can be shipped or is available only for local buyers.
Charges: Free to use for all!
Best Websites For Selling Shoes Online
If you are someone who doesn't like meeting strangers and want to sell shoes without seeing another person's face, there are still many online shoe-selling places for you.
Here are the best places to sell shoes online.
8. Poshmark
Poshmark is a hugely popular online place for selling used items like clothes and shoes.
Just create an account with them. Then list the items with clear photos, descriptions, and price tags.
When someone buys your item, you just need to print pre-addressed and prepaid labels and drop your pair of shoes at the local USPS store.
Poshmark has a large community of 8 million shoppers, and you can engage with other users at virtual posh parties where you can show your listings.
Charges: Listing on this shoe-selling app is free, but you need to pay a fee of $2.95 after selling if the price of your shoe is less than $15 and 20% of the selling fees for items above $15.
Read also: Best places to sell your unused gift cards!
---
9. ThredUp
ThredUp is a great place that buys shoes and other second-hand items.
You can request a clean-up bag from them and sell your used shoes along with other items like old clothes to them with a prepaid label.
Once they receive the items, they will inspect them for different quality parameters and offer you a price.
They do all the things like taking pictures, writing descriptions, and shipping when sold.
You can still edit the price to your liking for 12 hours, and after that, items go into the bidding window.
After bidding windows closes they put up a listing of your items for 60 to 90 days depending on the brand.
If you choose to accept the offer, they will list your items on their website. Otherwise, you can ask for the return of items with a $12 fee.
Charges: They have a dynamic payout model where the percentage of the money you get depends on the price of your item.
| Listing Price | Payout |
| --- | --- |
| $5-$19.99 | 3-15% |
| $20-$49.99 | 15-30% |
| $50-$99.99 | 30-60% |
| $100-$199.99 | 60-80% |
| $200+ | 80% |
You can receive payment to PayPal or your bank account.
---
10. Mercari
Mercari is one of the best places to sell shoes online. They have been in the market since 2013 and are a go-to place for buying and selling almost anything, including old clothes and accessories like shoes.
To become a seller you just need to sign up for a new account and the listing is free.
Take pictures
Write descriptions
Decide on price
Once a buyer chooses to buy your shoe, you can ship the product with a prepaid label Mercari emailed you.
They provide you with seller protection and shipping insurance.
Once the buyer receives your package and confirms it, you can get paid.
Payments can be instant to your debit card or direct deposit to your bank account.
Charges: They charge you a fee only when a sale is made. For every transaction, they take a 10% cut from the final price plus a 2.9% + $0.5 payment processing fee.
---
11. GOAT
GOAT is a store that buys shoes from you. You can sell your gently used shoe on this website.
To be able to sell used shoes here, you need to create a seller account, and all the accounts are manually approved.
Once your account is approved, you can list your shoe for sale with a clear description like brand, SKU, size, and condition.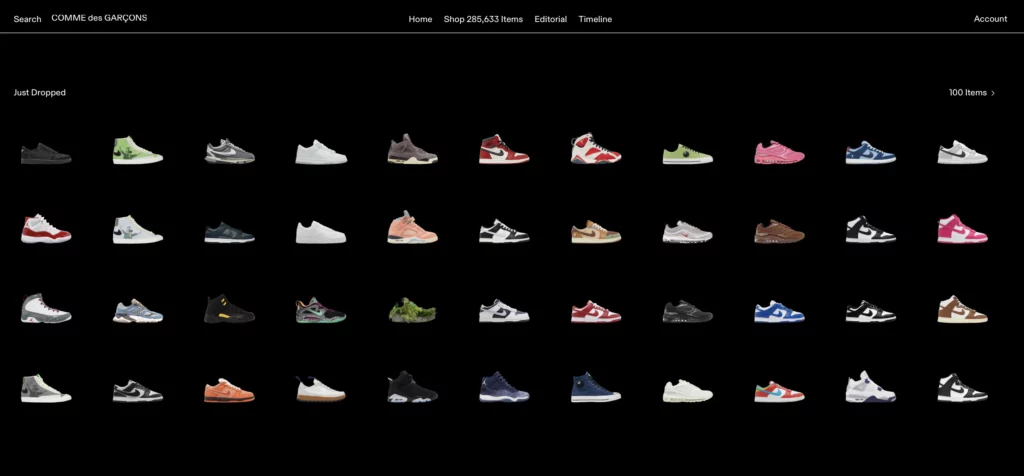 You need to take clear and well-lit images that show both shoes in detail, like all the defects and size details.
Note: They are very particular about image quality, and they reject unclear images.
After a listing is approved, you will be emailed a pre-addressed and prepaid shipping label. This will deliver your shoe to one of their stores for quality checks.
Once they are satisfied with the quality of the product, they will ship it to the buyer, and you will get paid.
When you got $25 or more in your account, you can get paid to your bank account by wire or to your PayPal account with a 2.9% transaction fee.
Charges: They charge seller fees of $5 from US residents plus a 9.5% commission on each sale. Their commission rate can increase up to 25%, depending on the ratings of your account. For example, if you have multiple cancellations of orders, your account will have low standing, and you will pay a higher fee.
---
12. Vestiaire Collective
Vestiaire Collective (earlier Tradesy) is an online marketplace for selling and buying high-end luxury and designer brands.
You can sell men, women or children clothes and accessories like used shoes on this website.
To sell your shoes online with them, you need to make a listing after opening a seller account.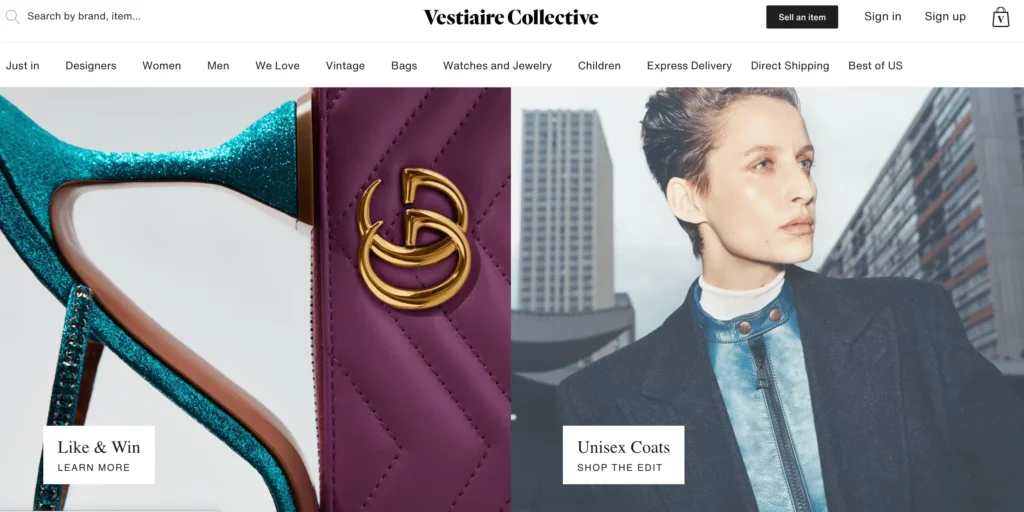 Your listings are reviewed before they go live, and it usually takes 24 hours.
There are over 23 million users on the platform that may get to look at your listing.
They provide prepaid and insured shipping.
You can get paid without any fees after the buyer confirms the authentication of your sold shoe pair.
Charges: There is zero commission on your first sale if the price is under $300. After that, each sale attracts a 12% commission plus 3% transaction fees. For orders below $100, the fee is flat at $12 plus $3 transaction fees.
---
13. The RealReal
The RealReal is another high-end marketplace you can use to sell sneakers for cash.
They accept the used fashion products of both men and women, including shoes in good condition.
Here is the list of the designer brands they accept to sell on their platform.
They will authenticate your shoe before putting it up for sale.
They have a dedicated team of people who do this job, and you need to send your item to them through the post, or you can schedule a home pick-up.
Once sold, you can get paid by direct deposit or check, which usually takes 30 days.
Charges: You can earn up to 85% of the sale depending on the price of your shoe. Here is their dynamic pricing structure:
| Price | Your Commision |
| --- | --- |
| $0-$99 | 20% |
| $99-$149 | 30% |
| $150-$199 | 45% |
| $200-$299 | 55% |
| $300-$499 | 65% |
| $500-$999 | 75% |
| $1,000+ | 85% |
If you have higher sales, your commission will increase. With a net $1,500-$4,999 sale, you will have a 1% increase in commission, 2% in case of $5,000-$9,999 sale, and a 5% increase if your sales are above $10,000.
---
14. Grailed
Grailed is a well-known website for selling shoes that are from designer brands.
If you have shoes from high-end brands that you want to sell, you can easily list them on this website.
Follow these steps:
Make an account and login
Set up your payment account
Click on sell button
Upload multiple images (minimum 3)
Write detailed description like brand, size, SKU etc.
Set a price and publish
They may authenticate some listings and reject them in case there are not enough details.
Once someone buys the item, you need to handle shipping yourself. You can ship the items with the security of seller protection to the confirmed mailing address.
Charges: Sellers on the Grailed platform have to pay a 9% commission on all their sales.
---
15. Vinted
Vinted is a place where you can sell Jordans for cash or any other clothing, for that matter.
They have a variety of affordable second-hand options for buyers. You can list your well-maintained shoes here and make some cash.
First, you need to make a profile on the platform with your real photo, and they will verify your account before allowing you to sell.
Once verified you can post your item with multiple images and other details.
Interested buyers can contact you for questions and price negotiations. Once you decide on a sale, you can send the product with the shipping option chosen by the buyer.
The buyer bears the shipping cost, and it costs nothing to the seller.
There are a few ways to get more people on your listing page:
Use bumps option
Closet spotlight
Offer bundle discounts
Charges: This is one of the best places to sell sneakers because it does not charge any commission from the sellers. However, for a small fee of $6.95, you can use the closet spotlight feature to show your listing to more people. You can also bump your items for more visibility with a fee.
---
16. BuyMYheels
BuyMYheels is a great place to sell shoe from reputed brands.
You can make an account and list your old shoes for selling.
You need to provide detailed photographs from different angles as they suggest on the website.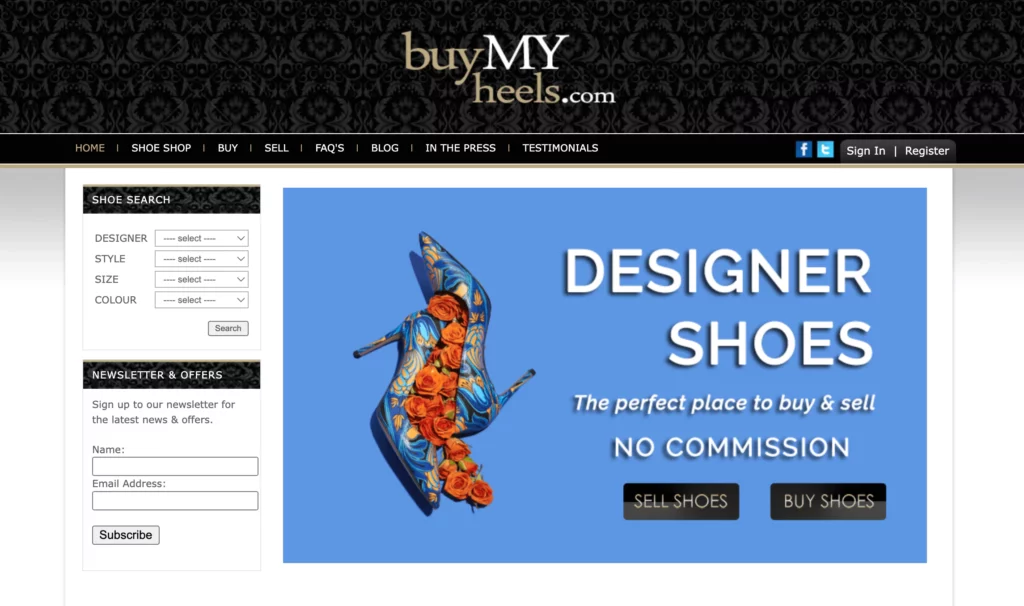 Provide all other details like brand, size, and how old they are, etc.
After listings, buyers can contact you for any queries and be ready for price negotiations.
According to their website, you can expect to make one-fourth of the original price of shoes if they are in good condition.
Wherever possible, ship your shoe in an original box and let the buyer know if you don't have it.
Charges: They don't take a commission but have a nonrefundable listing fee of around $6. You also need to pay the shipping fee, so make sure to include that cost in the price of the item.
---
17. Flyp
Flyp is a great website for selling your old stuff if you are uncomfortable doing it yourself.
They connect you with pro sellers who do this work full-time and get more bucks for your sneakers.
It it best if you have multiple pairs of shoes to sell.
You need to take pictures of your shoe lot and send them to Flyp, they will match you with appropriate pro sellers.
These pro sellers will estimate the price of your item and how much commission they will charge,
If you agree, you can send them the items with a prepaid shipping label and they will do all the work starting from photography to shipping the items to buyers.
Once they are able to sell your shoes and get paid for that, you will receive your payment.
If the items do not sell in 90 days, you can:
Reduce the prices and extend selling period
Have them shipped back for free
Choose to donate to charity for a tax credit
Or sell remaining items to pro sellers at low fees
Charges: Flyp itself charges 5% fees, but overall you will be paying 40 to 60% of the sale price to the pro seller for all their effort and other costs like shipping, listing, etc. You can expect to earn anywhere around 40 to 60% of the price.
---
18. Kixify
Kixify is an online shoe selling app that lets you sell your shoe in front of a big shoe community.
You can easily make a new account on this platform and make a listing for the pair of shoes your want to sell.
Post the pictures of your shoe from different angles and write all other relevant details.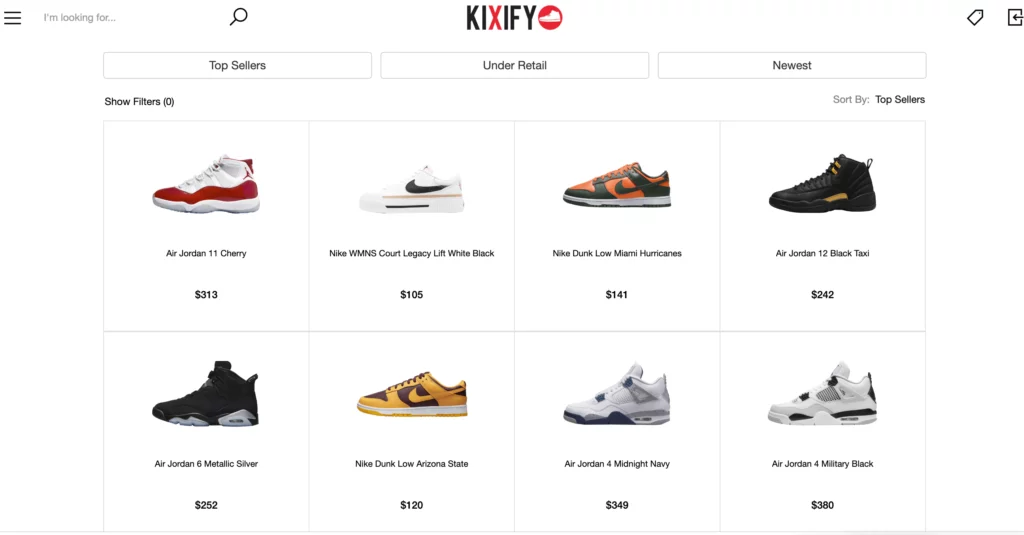 Kixify provides all other tools, like setting up your shop and tracking your sales if you are into a shoe-flipping business.
Whether you are selling your old shoe or want to make a large profit from your limited edition collection, there are buyers for both on this platform.
You can set up your shipping, return, or exchange policy.
All payments are received through PayPal, so you need to have an account.
Charges: They don't charge any listing fee, but if you make a sale, they take a 10% commission on the sale price.
---
19. eBay
eBay is an especially great place to sell sneakers if you have expensive and rare ones.
They have a huge audience, and you can reach people worldwide.
If you are looking to make a fast sale, eBay can make it happen simply due to the number of people on the platform.
Though, to sell shoes fast, you need to make a detailed listing covering possibly all the aspects with pictures from all angles.
It's also important to tag the item properly and put them under appropriate categories as in this huge sea of products, it will be difficult to stand out.
Charges: The listing fee is free if the price is above $150. You pay a 12.9% commission if the price is less than $150 and 8% if the price is above that.
For reading: Best places to sell locally!
---
Useful Tips To Sell Your Old Shoes
Here are a few things that you can do to help you clear your old shoe and get high prices.
Take Great Pictures
More than anything else, pictures will determine if your pair of shoes will sell or not. When you are doing online shoe selling, the only way for the buyer to get an idea of what they are getting is through images.
Make sure that you take multiple images from the front, back, and above angles. Take pictures of the shoe sole and SKU as well. Also, include pictures of the original box if available.
Pictures should have enough lighting, and there should be no other distractions. The shoe should be the main highlight of the images.
Clean The Shoes Properly
Before taking pictures and putting your shoe for sale on online websites, make sure that you clean them thoroughly.
There should be no dirt and strains.
Clean whatever you possibly can. If your shoe is leather, use shining and polishing material as recommended be the shoe brand.
Describe All The Details Properly
When a buyer search for a pair they are interested in, they put a keyword in the search box of websites.
Make sure you describe your listing with proper keywords so that when a user is looking specifically for these shoes, your pair shows up.
It will dramatically increase your chance of a sale as they have buying intent.
Also, all other details should be mentioned, like brand, size, model, and how old they are, so that buyers have all the information they need to make a decision.
Be transparent upfront about any wear and tear or stains. Also, show such things in pictures so that there are no returns and time waste.
Price Competitively
You need to price your shoe right. Too high, there will be no buyers, and if you price them too low, you will not make enough money.
Do research on what other people are charging for a similar brand of shoe in the same conditions.
That will be a good point to start. Also, consider shipping costs, listing fees, etc., and include them in the price if you have to pay them yourself.
Also, keep a wiggle room for negotiations as most buyers like to have some discount on the listed price.
Use Multiple Platform
You can try selling your pair of shoes on multiple platforms. You might get a sale faster as these platforms have different users base.
Start with a platform that gives you the highest commission, and if you are not able to make a sale, try others.
Make A One Off Profit Or Start A Shoe Selling Side Hustle
Whatever your aim is, you can sell old shoe on these websites.
There are plenty of options to sell shoes locally or online. You just have to make an effort to take some pictures and post a listing on one of these websites for selling shoes.
Want to earn more, try these:
You can have a few hundred extra dollars and free space in your closet. Or you can start a shoe-flipping business like Jared, who earned over $100k flipping shoes at 16 years of age.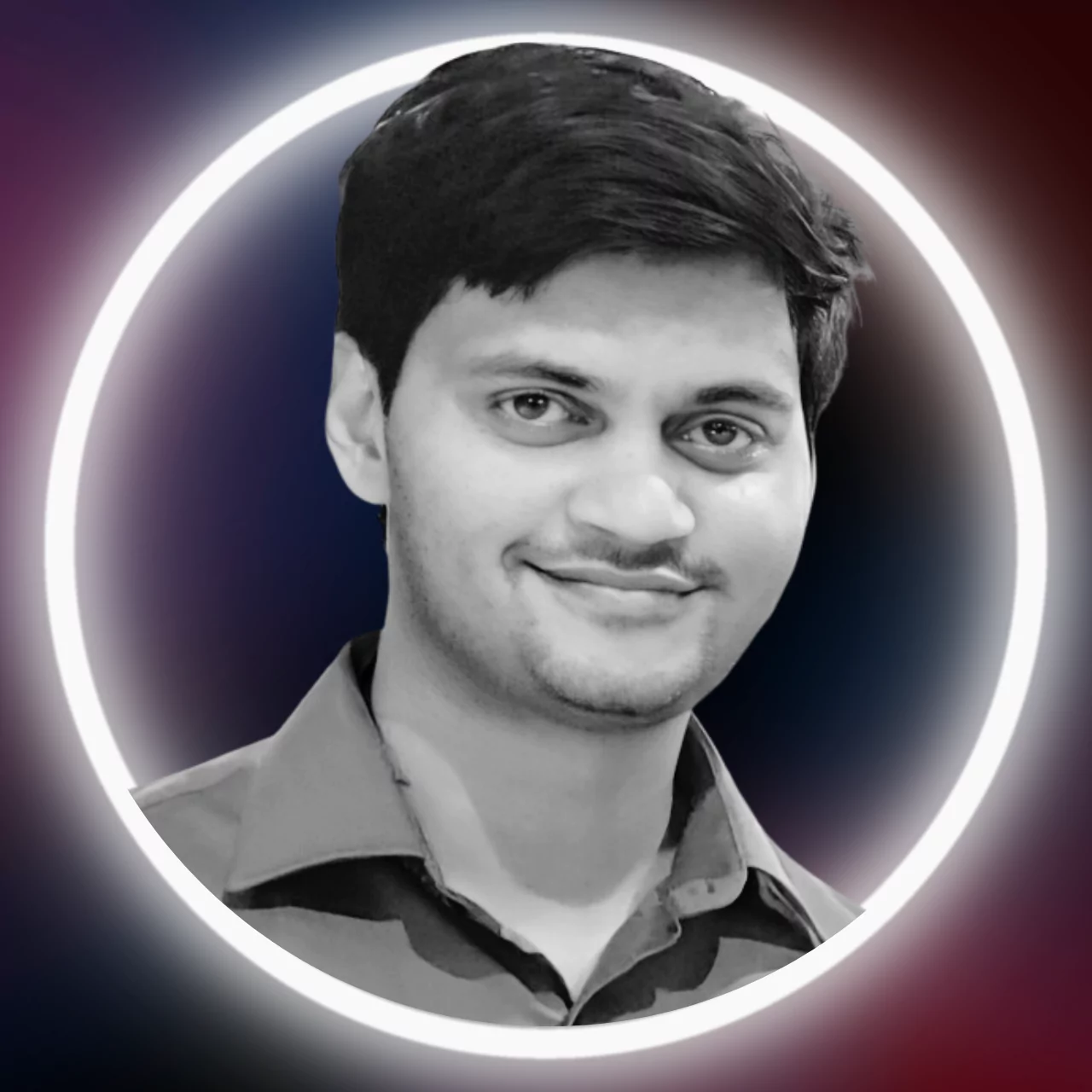 Sumeet is a Certified Financial Education Instructor℠ (CFEI®) and founder of MoneyFromSideHustle. He is an experienced side hustler who replaced his full-time income with side hustles. His work has been quoted on major finance websites like CNBC, Yahoo! Finance, GOBankingRates, MSN, Nasdaq, AOL, and more. He has helped thousands of people find side hustles and is here to help you find your extra source of income. More about him.