This post may contain affiliate links from which I may earn a commission without any cost to you. Read our policy for details.
Learn how to make money by renting things. Here are the most profitable things to rent out for extra cash!
If you are looking for ways to make some extra cash, renting out items you no longer need is a great option. You will be amazed to know that you have several things to rent out that you have never considered.
Many people prefer to rent things rather than buy them. You can start renting items and earn passive money doing it.
From tools to furniture to appliances, you can rent out plenty of things to make some extra money.
Here are a few things you can rent out for money and tips on how to get started.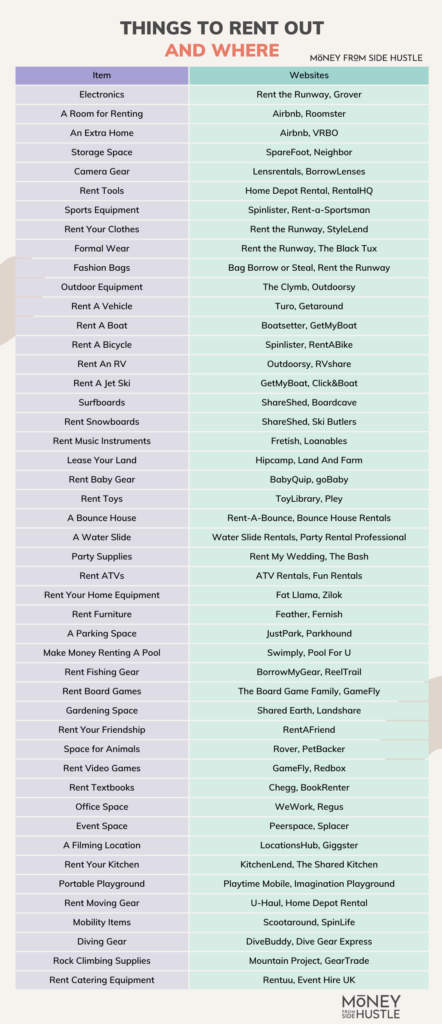 59 Best Things To Rent Out to Make Money
Different things that you can rent for money. A few of them you must have heard before, but a few will be completely new. Let's have a look at most profitable things to rent out:
1. Rent Money
You can rent your money for money. Lend your money and get returns from 5 – 10% on average.
Yieldstreet is one such lending platform that allows you to invest your money in real estate while you sit at home.
A person can invest money, starting from $500, and relax. They buy properties, and each investor gets a profit cut according to their investment proportions.
You can diversify your investments across multiple projects within this portfolio, so if one project needs to produce more returns, it won't affect others in terms of their average rate.
---
Multiple ways to make money
Low and easy cashout options
Great user ratings on App store
2. Electronics
The most common things you can rent out for money include your electronics.
How much can you earn? Depending on electronic age and condition, you could easily make up to $300 daily.
Some people prefer testing products before they buy them, and some need specific devices for certain periods.
Renting out the ones you're not using regularly comes in handy!
Generally, 5% rental fees will get deposited into your account each month once a contract has been signed between both parties.
This means there's more cash coming straight away.
Related: Best places to sell used electronic devices.
---
3. A Room for renting
Renting out a spare room is an easy and profitable way to make extra cash.
All you need for this ventures are bed, closet, or bathroom access and tenants, of course!
You could rent it long-term, bringing even more revenue in return.
Ensure that the customer feels safe before entering into any agreements so they don't cause problems later down the line.
The renter must have accessibility within their own.
---
4. An Extra Home
Renting out the house you bought for investment purposes can help you make extra money, especially if it's a new home.
This will ensure positive cash flow every month.
How to rent out a house for money? You can rent out this extra home to students or families.
Just ensure to have security deposits beforehand so that any damage in the future can be covered.
You should establish house rules that the occupamuste to abide by so that they do not cause damageages during their visit or tenancy at your place.
---
5. Storage Space
You may have an unused storage space in your garage, basement, or attic that you're not using; it can be a thing you can rent out.
On the other hand, some people need to temporarily or long-term Store their items.
With Neighbor.com, you can make extra income by renting out this area, which allows neighbors around you to see if it's available so they can rent it too.
You'll get up to $600 monthly by posting your personal property. Your actual amount will depend on the storage space and location.
GarageTime is one platform that helps you rent out your garage space for different time durations and charge 10% commission fees.
---
Highest Paying Surveys
Up to $50 per survey
Industry-leading surveys
6. Camera Gear
If you have camera equipment and don't use it regularly, it can be one of the most profitable things to rent out.
KitSplit is a revolutionary way to rent your camera gear.
The platform makes renting it super easy for anyoneal quality equipment with profession.
You'll be able to make some money while sitting at home.
You can earn different amounts depending on the equipment you are renting. You can get $10 to $1000 for renting different equipment.
---
7. Rent Tools
ToolRent is a platform that helps you rent your tools by automated processes and make money by putting your things to rent out.
You can list tools for rent on the site, which will be sent to anyone who needs them.
Your earnings will be from $10 to $1000, depending on the tool you rent. You can rent out your jackhammer for $70 daily, while your Dozer can fetch you $1000 daily.
Toolrent provides many features like real-time GPS tracking, delivery and pickup, insurance, and daily owner reports.
---
8. Cables and Cords
Why not charge others a monthly or daily rate to use your cords? One of the most unusual things you can rent out for money.
You'll be able to make money by posting them online.
There are many cables that we don't use in our homes but can still rent out, like HDMI Cables, USB Cables, and VGA cables.
If you do not use them, rent them for some money.
---
9. Sports Equipment
It's never been easier to rent out sports-related things.
You can list it on Friendwitha and earn some extra cash while still having the peace of mind that if anything were ever to happen, they would make sure you get compensated for any damages or losses.
It's much cheaper to rent sports equipment like golf sticks than to buy the whole set.
That is why many people prefer to rent them when they have to play a few days a month. You can also sell your sports equipment you no longer use for good cash.
---
10. Rent Your Internet Connection
Honeygain is a new way for businesses and researchers worldwide to get data to test their websites, apps, or other digital content internationally.
For using your bandwidth, they will pay you $1 for every 10GB of data.
When you sign up, you get a $5 bonus, and you can cash out your money to your PayPal account when your balance reaches $20.
What can I rent out that does not require meeting someone or involving shipping? This is one of the readily available non-physical things to rent out for profit.
There are many apps online that help you sell your unused internet bandwidth.
---
11. Rent Your Clothes
If you have any fashion clothing or accessories, including (but not limited to) a designer dress and shoes from good companies, then Style Lend can let people rent them out.
You'll get cash often when you rent a cloth, as opposed to selling it- plus, your rental items stay yours!
You can earn anywhere from $10 to $200 depending on the clothes you rent.
---
12. Formal Wear
We all will agree that formal wear is expensive and not everyone wants to buy a new one for occasional use.
Why go out and spend money when you can rent everything?
Your rental business will profit by renting formal wear, such as Collared shirts, Tuxedos, etc. These items are high-demand things you can rent out for cash.
Rent them at an affordable price and earn a passive income. If you rent them repeatedly, you need to ensure they are clean and well maintained. Give them for a professional cleaning every time.
---
13. Fashion Bags
Most people agree that fashion bags are expensive and it can be one of the most profitable things to rent out.
Typically bags are not used daily. You could be missing out by not renting your gear through Tulerie. Rent what you own on their platform for money.
The peer-to-peer rental platform allows users who own high-end clothing and accessories (like designer labels) and get extra cash for loaning their items.
All you need do is schedule an interview with one of their representatives first.
The process usually lasts 10 minutes, where they will provide information about how things work in this community.
---
14. Shoe Rental Business
It is often said that you cannot have too many clothes or shoes.
This couldn't be truer for attending special events like weddings, parties, and work functions where they need to wear something more formal than what's in their closet already!
Shoes can cost an arm and leg (not just literally), so renting might seem like a bad idea at first glance, but it has advantages over buying.
If you can rent out a shoe a few times, you can get back the money you paid for buying them, and the item is yours.
Though it will be difficult to find renters if your shoe size is very small or large.
---
15. Rent Car Advertising Space
Renting out your car space for advertisements to make some extra cash is a smart way of using what could be seen as wasted space.
Carvertise will place removable ads outside of the car.
This agency works hard to find good advertisers so you can get paid well.
You need to fulfill a few requirements to join their platforms, like a daily commute of a few miles, ten years old or newer car, and a clean driving license.
If you are eligible and drive in a busy location, you can earn from a few hundred to a thousand dollars.
---
High earning surveys
Easy-to-use website
Many ways to earn
16. Outdoor Equipment
Hikers love to go on a hike and rent outdoor gear from people like you who are not using it at that time.
For those who haven't purchased their equipment, it's often more convenient than buying new items when needed.
RecShare is a company that helps you rent out your outdoor equipment and make money. The company will ensure that any damage incurred during use is covered.
They also keep a 30% share of the earnings for mediating and providing the platform.
You can earn around $80 easily for renting out a two-person tent.
---
17. Rent A Vehicle
If you have a pickup truck or van, it can be an extra source of income for you and a thing to rent out to make money.
You could allow others to use the vehicle, and they will pay in cash.
Of course, renting out vehicles needs some care because there's no guarantee that a person won't damage them.
That is why make sure all necessary paperwork is completed with insurance before setting up this type of deal.
Services like Turo are best for this purpose.
---
18. Rent A Boat
If you own a boat, the last thing that should happen to it is its sitting in the owner's garage space.
However, this happens frequently as people let their expensive purchases gather dust and rust over time, leading them to ruin.
Renting out boats instead of keeping one at home will save money and keep them functional.
Take insurance before renting. Make sure other users know how important safety rules are when they're around water or aboard any kind of vessel.
Also, you can take a security deposit for safety purposes if something goes wrong.
Using the BoatSetter platform, you can rent your boat and receive bookings without any listing or commission fees.
All of this is completely free for owners!
---
19. Rent A Bicycle
How would you like to make a little extra money by renting your old bikes?
A few of these businesses require frequent repairs; however, this doesn't mean they will always need work.
Bicycle renting businesses only want essential maintenance such as cleaning & oiling the frame once per month (or less).
You'll also have rules established beforehand, including things like no speeding.
FriendWithA and Spinlister are the leading peer-to-peer bike rental platform where you can rent your bike. You can set your pricing, and they will charge a 17.5% commission.
---
20. Rent An RV
Do you love to enjoy the outdoors in your RV? But you will not be using your RV all the time.
RV can be the most profitable thing to rent out. RVShare is a great place to rent your RV.
You can charge renters an additional fee for security, which will protect your investment if something goes wrong during use.
Maintaining an RV can be expensive; it's too much effort to take care of it without driving it. Use renters to maintain your RV while you make money.
Always have insurance to take care of unforeseen conditions.
---
21. Rent A Jet Ski
You will not be using your Jet Ski daily, so it makes sense to rent it out and make some money.
By renting it out, you can make up for the money you spend on this purchase.
Have your renters sign papers and pay a security fee that is returned when they return home safely.
---
22. Surfboards
If you live in a beach location, surfboards are one of the best things to rent out to make money.
People living or vacationing near oceans can use this opportunity for fun without investing too much money.
You can rent other stuff related to surfing and increase your earning potential.
---
23. Rent Snowboards
Fat Llama is a platform that allows you to rent what you own, like your snowboard, when it's not being used.
Since it is only a seasonal sport, many people rent snowboards rather than buy a new one.
If you have snowboard(s), you can list many boards on the site. They'll charge a 25% fee per booking received through their system (which could add up).
You can easily earn $10 to $20 per day of rental.
---
24. Rent Music Instruments
Rent your musical instruments!
Whether you're a classical musician, electric guitarist, or play the drums occasionally, you can list your instruments for renting and earn money when you are not using them.
People look to rent music instruments from the sites like Fretish. You can set up your prices.
To create an account, all that is required are details on what type of equipment one has available and detailed descriptions with pricing details.
You can easily earn $100 or more depending on the instruments.
Related: Make money listening to music.
---
25. Lease Your Land
Tillable is a platform that offers to rent your land if you're not using it.
If the opportunity arises, take advantage of this great offer. No listing or advertising fees are involved in Tillable leases.
On the platform, you can receive an advance amount for up to three seasons upfront.
---
26. Rent Baby Gear
The BabyQuip platform connects parents with extra baby gear with those needing it.
The company currently operates in over 500 locations and provides an easy way for people to trade unwanted items, all while saving money by not buying new ones.
You can rent out things like Cribs, carriers, strollers, etc. Depending on the item, you can earn $5 to $20 daily.
---
27. Rent Toys
With all the toys your kids have accumulated over time, you may wonder what to do with them.
If they don't want these items anymore, then just list them online on Fat Llama and get paid.
There is no subscription fee, but they will charge a 25% fee for each booking that comes through this platform which is cheaper than many other ways of making money from renting out unwanted stuff.
---
28. A Bounce House
If you are thinking about what can I buy to rent out to make money, renting a bouncy inflatable castle is a great way to make any party or event exciting.
You can find them at birthday celebrations, family picnics–you name it!
These things have been around for decades, and they're not going anywhere anytime soon.
They can be easily packed and inflated. Buy a few unique pieces and rent them out for parties.
If you store them carefully, they can earn you a good income.
---
29. A Water Slide
Water slides are another fun things you can rent out for party activities.
The only difference between these and bounce houses, aside from their use of running water, is that if you don't remove any leftover moisture after each time, it's rented out – mold can start growing inside.
So you need to take extra care while storing them.
---
30. Party Supplies
Party supplies are a great way to save money compared to outsourcing the decorations.
The problem is when you buy it, most of the time it's sitting unused.
But with Rentah – an easy peer-to-business rental marketplace, you can rent out any party item within walking distance from home.
They take fees of 8%.
---
31. Rent ATV's
What comes to mind when you think of the word "ATV"? Fun and adventure.
Many people who own one or more ATVs in their garage probably don't spend much time on these vehicles.
A company called URentMe has developed an app that allows people to get paid while others enjoy riding through nature's terrain with friends on rented dirt bikes and Quad Bikes.
You can easily earn $100 per day.
---
32. Rent Your Home Equipment
For those who own a range of home equipment, there are many things to rent out to make money, like lawnmowers, jawsaws, and air compressors.
When these things are not needed, rent them out for money.
FriendWithA is the perfect platform where you will find many people renting things in their backyard or garage so that it doesn't go unused.
What makes this company unique? It offers damage protection guarantees up to $125K, covering damages incurred by renters.
---
33. Rent Furniture
Ruckify is an online rental marketplace that allows you to post your furniture for rent quickly and safely.
You can post your furniture items to rent out here. It won't be most profitable things to rent out but you can easily rent out your old or extra furniture for recurrent money.
All payments are final before approval here, which means both parties know exactly how much it costs beforehand.
Related: Best places to sell your furniture!
---
34. Rent Your Shed
StoreAtMyHouse has been created to help people rent storage spaces.
The good news is that there are no listing fees on their platform, and you're not obliged to pay any after receiving a booking.
But if you want to automate your payment process to accept funds via Storeatmyhouse, you'll be charged 15% for each transaction.
You can easily earn $200 or more depending on space.
---
35. A Parking Space
Parking spaces are in short supply, and if you have access to an extra one, it can make for some serious money.
If you are thinking what can I rent out, you might think about renting them out when people stay at your vacation rental or to someone who needs another spot.
You can charge monthly and weekly and take notice if any unpaid cars are parked in your space.
---
36. Advertising Space
Advertising is the best way to get your product noticed in today's market.
You can rent advertisement spaces on any space that will be seen by lots of people, such as billboards, outdoor signs like those at convenience stores or gas stations, and webpages you control personally.
It won't cost you anything to display advertisements, but you can earn passive money with it.
---
37. Make Money Renting A Pool
A swimming pool can provide extra income for you and your family.
You could charge people rental fees by making the facility available at peak times during hot months for entire days when it's not being used.
The most popular option includes birthday parties; however, if they're looking for gatherings such as wedding receptions, then prices might go up accordingly.
Though after the renting, you need to shock the pool to keep it clean, but rental money will be worth the effort.
---
38. Rent Car Seats
A quality child car seat can be an excellent investment for your family.
You might want to consider renting them out when needed. But always ensure that they are intact after every single use.
Safety should remain a top priority–if there's even the slightest chance one of these rentals could put children At Risk, don't rent them.
---
39. Rent Fishing Gear
Many use fishing equipment occasionally, making it a good investable thing to rent out.
Camping trips and those one-day excursions often use these items to catch fish, especially near ponds with plenty of bait available.
If people do not use it daily, they prefer to rent it.
Some gear that you have for fishing, you can rent. The best things to rent out for profit include Fishing poles (which come with a selection of lines), Bait such as worms or flies, and nets.
These things don't require much maintenance.
---
40. Rent Board Games
Renting out or selling board games is a great way to make some extra cash.
People rent boardgame if they are getting bored or there aren't any good movies available at home.
There is less competition, so you have a good chance of making money.
---
41. Sewing Equipment
You can rent sewing machines and other items.
Always make sure everything is in working condition; you do not want to end up renting out a dead or rusting machine.
Maintain these machines in good condition through proper servicing and oiling and charge appropriatly.
---
42. Rent Art Supplies
Renting art supplies can help artists create what they want without breaking the bank.
You might be surprised by all the things you can rent out for money, including easels and frames for your paintings or sculptures; brushes in various sizes that will give a perfect finish when applying paint onto paper/canvas – there is no point buying out different types before deciding which one works best.
---
43. Gardening Space
You can rent out your garden for someone else to use.
It doesn't need to be big, and it could be far from home, as long they're willing to take responsibility for growing plants in the space you provide them with.
Make sure there's both sun exposure and shade depending on what kind of plant life is being grown.
You can rent your garden for parties and gatherings.
---
44. Rent Your Friendship
What can you rent that is not physical? You can make money by renting your friendship to those in need. Sometimes people need friends, even if they are not real and it can be best thing to rent out.
You just do fun things and potentially make a new pal while also bringing in the cash!
This is becoming more popular in major cities because as populations grow, there's been an increase in isolation from society.
This kind of offer helps ease some tension when it comes down to helping out our fellow man/woman and earning you money.
A few people can even become lifelong friends after becoming virtual friends if they like each other's company.
Related: How to Make Money by Becoming Virtual Friend!
---
45. Protective Gear
Protective gear is a great rental option, especially if you're already renting items like bicycles or motorcycles.
You can provide customers with helmets and other safety equipment to ensure they stay safe while using your service.
It's a win-win: renters get their needs met by having the necessary protections against injury; businesses increase revenue through increased sales.
---
46. Space for Animals
Boarding kennels offer a valuable service for people who own animals and need somewhere safe to keep them or just a new place to go to.
If you have plenty of land, it would be a wise investment if boarding becomes more popular.
So many pet owners are flocking to this type of business model.
You need to be upfront about whether you will help them take care of animals or if they have to do everything themselves.
---
47. Rent Video Games
The video game rental industry is on fire! Redboxalums have found ways to make money by renting out games for a day or so.
You can also capitalize, allowing people who rent from you the opportunity of saving money.
Rent prices vary depending upon time and this business model has been profitable since its inception several years ago, thanks to gamers' big appetite for new games.
---
48. Rent Textbooks
There's never a better time than now to get your hands on some cheap textbooks.
All you need are commonly used books that fall under the curriculum of all college students and can be rented out at an affordable price.
Renting these books can be a great idea for college students to make money.
If the local library does not have any available resources, those textbooks will be in more demand.
Related: Sell notes to make money!
---
49. Office Space
The demand for office space is growing with more people working from home.
You can rent out your unused room and make some extra cash in the process.
The rates depend on how much square footage you have available and what things they can use.
It's all up to decide by yourself how much you want to charge.
---
50. Event Space
The options for making money through events are endless! You can rent out your backyard or indoor event space. And it can be one of the most profitable things to rent out.
It doesn't take much effort either. Just make sure the place looks nice and spacious, and people will pay you.
Events can range from weddings to parties etc.
---
51. A Filming Location
When you live in a place where movies often happen, like Los Angeles, it's possible to get your home featured as part of the film.
Before making this decision, firstly know what type/style of filming crew will be working on-site at any time during their shoot.
Find out how much time do you have to stay out? You can charge according to hours or days.
Most important of all, you can see your home in a movie.
---
52. Rent Your Kitchen
Kitchen space is not the first thing that might come to mind when thinking about things you can rent to make money.
However, if you have a nice-sized kitchen and it's in working order with plenty of room for everyone who would like to use the facility during their event/ ceremony, then you may make some money.
You could rent your kitchens (and other areas) to caterers needing extra prep surfaces or bakers requiring additional ovens.
---
53. Portable Playground
Portable playgrounds are one of the best things to rent out to make money because they stand out.
These plastic wonderlands can be easily put together and removed with little effort.
Making them ideal for use on rental platforms like party supplies or during travel adventures where space might not permit an outdoor playset.
Portable Playground Rentals work well as fun activities for kids at home when you want something more than just your traditional board games.
---
54. Space in Your Car
Are you looking for the most profitable things to rent out? The next time you are going alone somewhere, consider renting your car seat and making some extra cash.
Not only will this provide an opportunity for others who need a ride, but it can also reduce traffic by allowing individuals with the same destinations or schedules flexibility travel together.
---
55. Rent Moving Gear
Whether you are moving across town or state, hiring a professional team makes the process easier but is costly.
The average human moves at least three times during life, and during that they might need assistance with heavier items like furniture and appliances.
You can rent anything from vans to ramps when helping people in need – just set your price right.
---
56. Mobility Items
The elderly population is rising, meaning mobility items will be necessary for years.
If you are looking for what can you rent, you can invest in these and other services like motorized scooters or wheelchairs and earn money by renting them out.
Make sure everything is functional and charged fully before each rental, so they're perfectly ready when needed.
---
57. Diving Gear
If you want a solid rental business out of diving equipment, purchase some and put it on the beach.
This includes wetsuits for protection against cold water or masks so divers can explore.
You could also offer fins as an service because they're instrumental when trying to stay afloat and propel yourself underwater.
---
58. Rock Climbing Supplies
If you have some rock climbing equipment that's not being used, like shoes and ropes, you might be able to make a little extra cash by renting them out.
This is especially true if your area has many climbing spots.
---
59. Rent Catering Equipment
Catering equipment is an essential part of many people's lives.
It can help you make money by renting out items such as portable heaters, and serving trays for your next catered event.
You could also invest in these materials and ensure they are clean when needed or wanted again.
---
Benefits of Renting Stuff
This is a great side hustle that will make you money for long.
Renting out different items can be a great way to earn an extra income on top of your regular job.
For example, renting out a car could bring in $50 per day, and a home can bring in as much as 5000 monthly depending on location. In addition to earning passive income, other benefits that you get with renting are:
You offset the cost of the item, and you get the payment of the item by renting it and owning it for free.
There are a few things like boats that, if unused, will rust away and degrade. While you rent them, you earn money, and they stay in use and are maintained well—this increases their life span.
In addition to getting you money, other people renting from you also benefits. Since they don't have to buy the item, they get to use it for a fraction of the cost because they mostly need these things for some time only.
Also, save space in a few cases if you rent a thing for a few months that you were not going to use, make that space empty and bring in cash.
So, don't hesitate to earn that extra money if you have things to rent out to make money lying around.
Final Thoughts on the Best Things to Rent Out to Make Money
For those looking for a way to make extra money and enjoy the passive income, consider renting out your things.
You can rent just about anything, from cars to houses, so why not make some money doing that.
It's an easy side hustle that could put more cash in your pocket.
---
---
Want to Earn More, Try These Resources:
FAQs
What items are most rented?
The items that you'll find are most frequently rented out are housing properties, vehicles, event or construction equipment, and even specialty items such as designer clothing or luxury goods.
How do I prepare to rent a room?
As an owner, you should ensure that the room is clean and in good repair before renting it out. You need to set a competitive rental price, take appealing pictures, and write a detailed description for your rental advertisement.
What to make sure before renting?
Before you start renting out your property, ensure that it is in good condition, with functioning amenities. You should also have a clear rental agreement prepared that details the terms and conditions, including the rental price, payment schedule, and what happens in the event of a lease violation. Nowadays, most of these things including insurance are handled by the intermediary apps.
How can I earn rental income?
Earning rental income is all about having something valuable that others want to use temporarily. This could be a property, a vehicle, equipment, or even high-end fashion items. You make money by charging a rental fee for the use of these items.
How can I be successful in the rental business?
To succeed in the rental business, it's crucial to maintain your rental items in top condition and to provide excellent customer service. Set competitive prices and make sure you understand all the legal regulations related to your rental business in your area.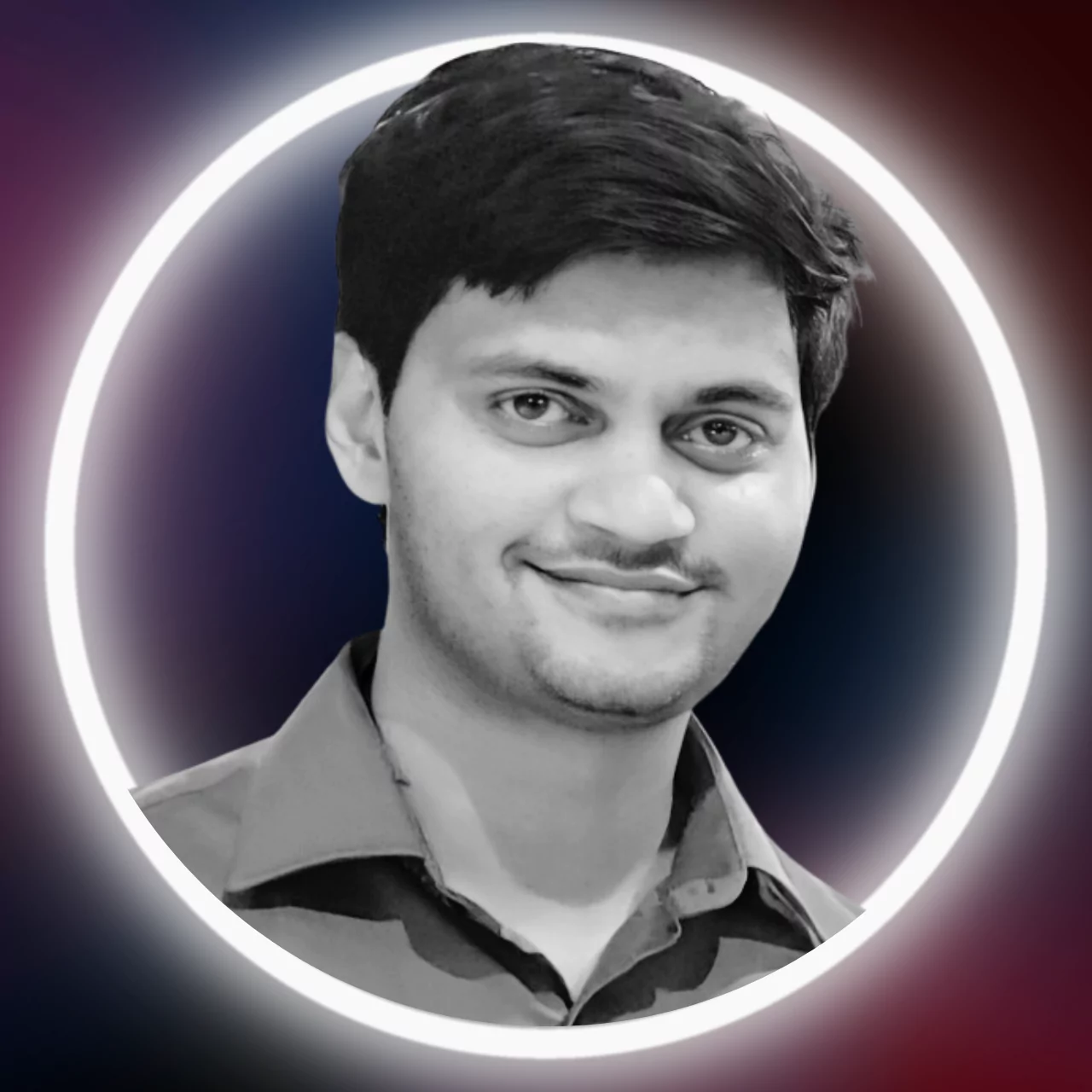 Sumeet is a Certified Financial Education Instructor℠ (CFEI®) and founder of MoneyFromSideHustle. He is an experienced side hustler who replaced his full-time income with side hustles. His work has been quoted on major finance websites like CNBC, Yahoo! Finance, GOBankingRates, CEOBlogNation, SideHustleNation, and more. He has helped thousands of people find side hustles and is here to help you find your extra source of income. More about him.