This post may contain affiliate links from which I may earn a commission without any cost to you. Read our policy for details.
Looking for the best places to sell college notes? I have got you covered in this article.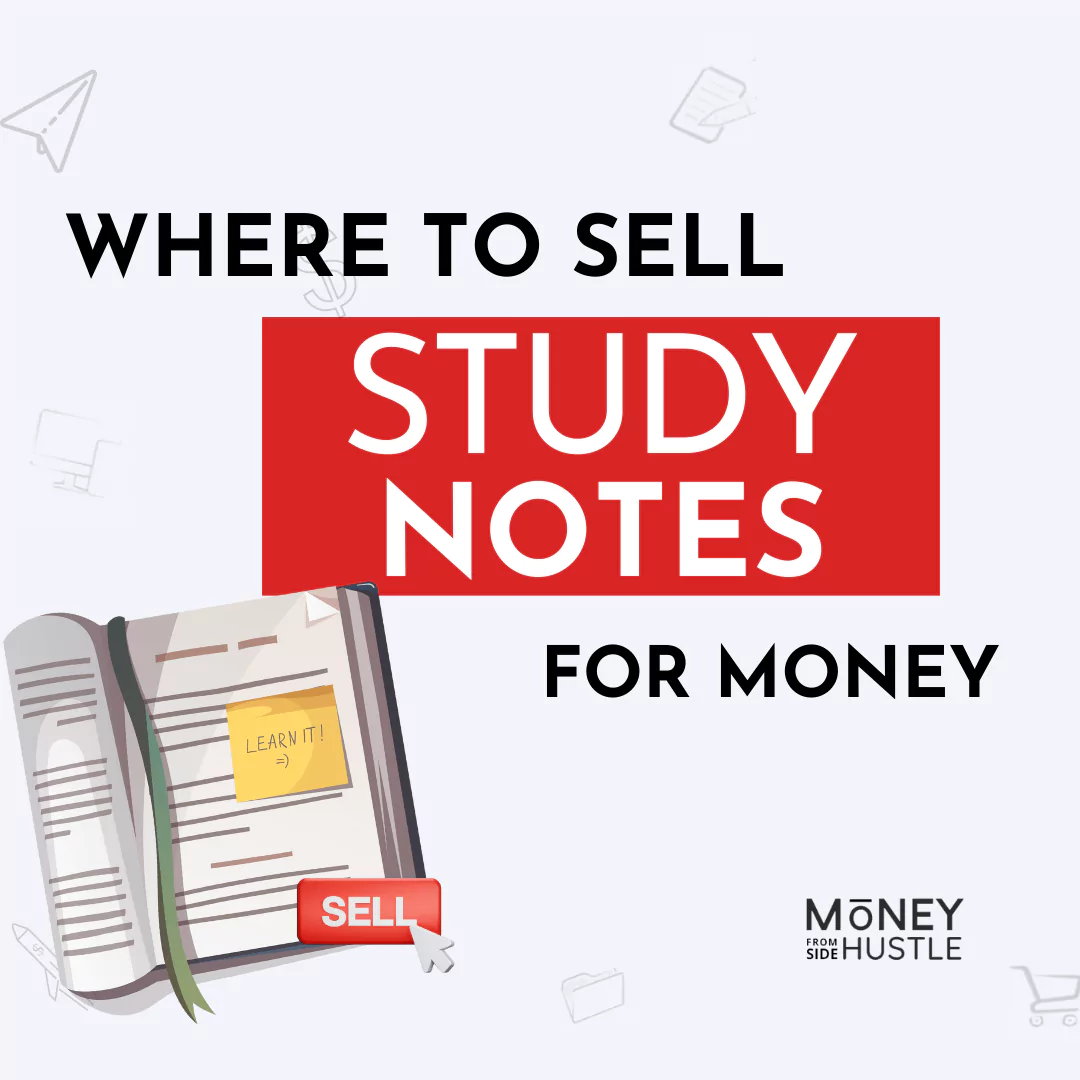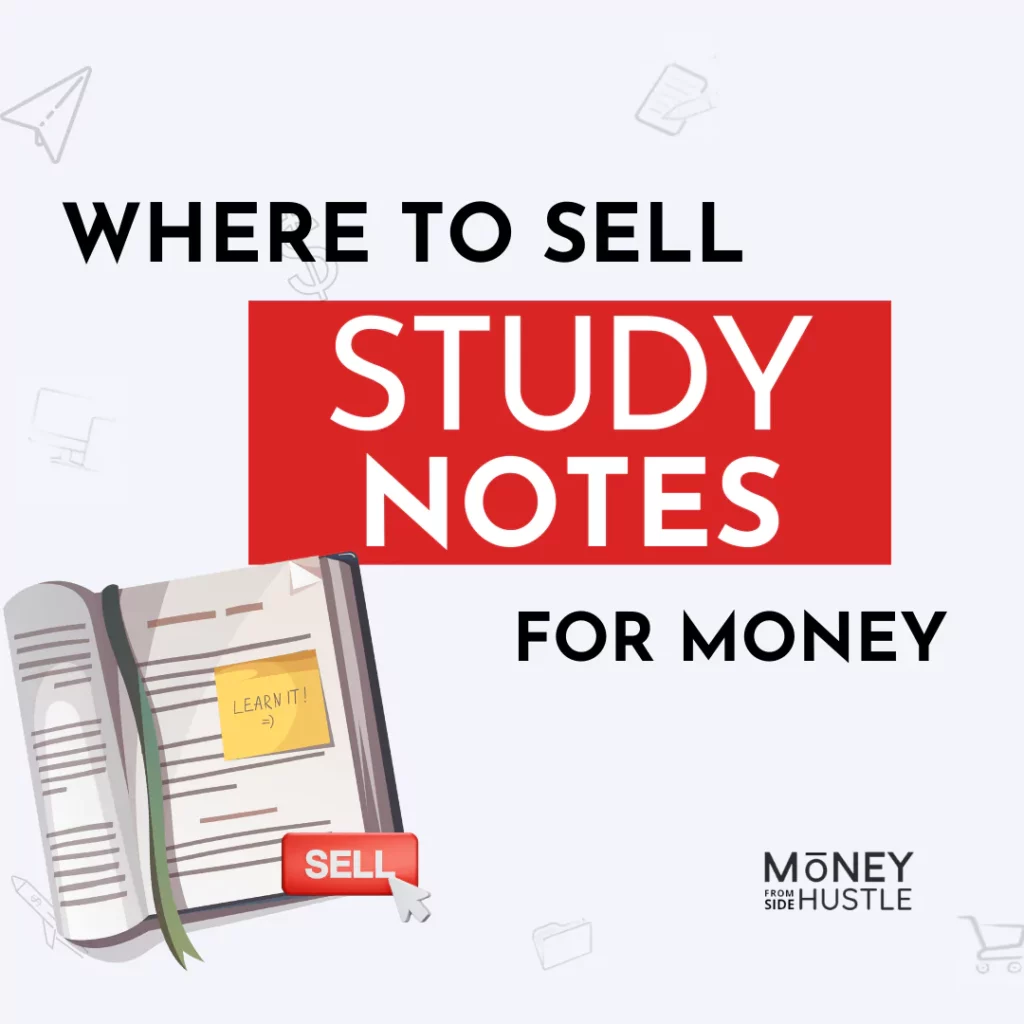 Are you a great note-taker looking for an easy way to make some extra money? Selling your college or school notes online can be a great side hustle with minimal effort and no extra time commitment.
Not only can you make some easy cash, but you can also help out fellow students who struggle with note-taking.
Not all students are good at listening and taking notes at the same time. Nowadays, many such students buy notes from others. Due to the growing market of note selling, there have come up many websites that cater to the need to sell notes online.
If we had known about this side hustle when I was in school – one of my classmates could have earned a lot by selling her detailed and well-written notes online. We all used to take her notes for free.
If you're interested in selling notes online, this article has all the information you need. I'll give you details of the best places to sell notes, how much you can earn, and a few other tips.
So, let's get started!
Highest Paying Surveys
Up to $50 per survey
Industry-leading surveys
Best Places To Sell College Notes
Many sites allow students to sell their lecture notes. Mostly these sites are for selling college notes, but at a few places, you can also sell your high school notes.
1. Stuvia
Stuvia is the most popular site to sell your college notes. You can sell your knowledge here for cash.
Make a seller account, set your prices, and start uploading your documents. You can sell student notes, assignments, study guides, or summaries and make money.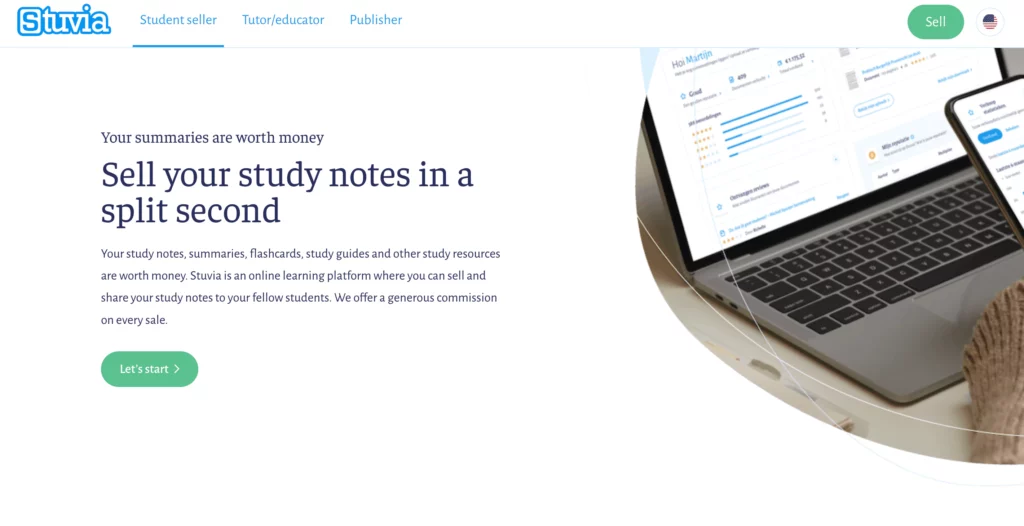 According to their website, an average seller earns around $103 every month. Average earnings over time for each document stood at $890, and a document sells after 3 days of uploading.
So, it's kind of a passive income, and you can keep earning for your notes whenever someone buys them.
Upload your document and write a catchy title with all the relevant descriptions so that others can find them. Users can review your notes and give your rating, and better ratings will help you earn more.
Whenever a document is sold, the money is added to your account, and when your balance goes above €10, you can get paid.
---
2. OneClass
OneClass is the one platform that you would want to join if you are looking for a regular income with your note taking.
You need to apply for a note taker and provide a sample of your notes for your current classes. If you qualify, you will become an official note taker and you need to submit your class notes every week.
A note-taker is paid around $470 for a class, and if you are providing notes for two classes, you get $940. Three class notes will fetch you $1410.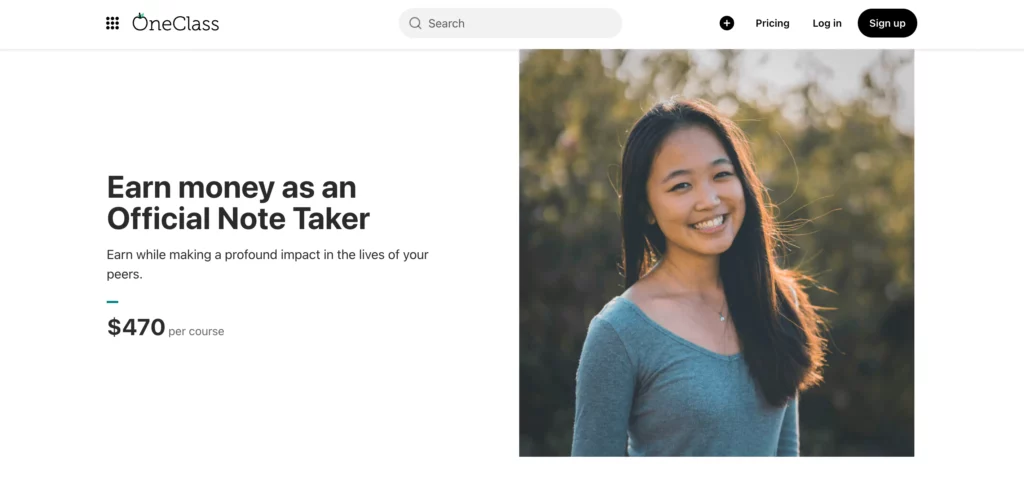 Other than making significant cash, you will also be helping your peers by providing regular class notes.
You will be provided with a content editor who will teach you to take better notes, which will also improve your note-taking skills.
They will also provide you with a reference letter for your resume.
All you have to do is show up daily and take good notes explaining key concepts for yourself and upload them on Oneclass on the side for extra cash.
---
3. Oxbridge Notes
Oxbridge Notes is one of the best places to sell your college notes. They sell all different kinds of materials like essay plans, notes, and sample answers.
You just need to apply with a simple form and sample notes and if they like your notes, you can become a sellers on the website.
Then everything is simple: Upload all your notes from different modules, and everything else, like taking pictures, making pdfs, and promotions, is done by them.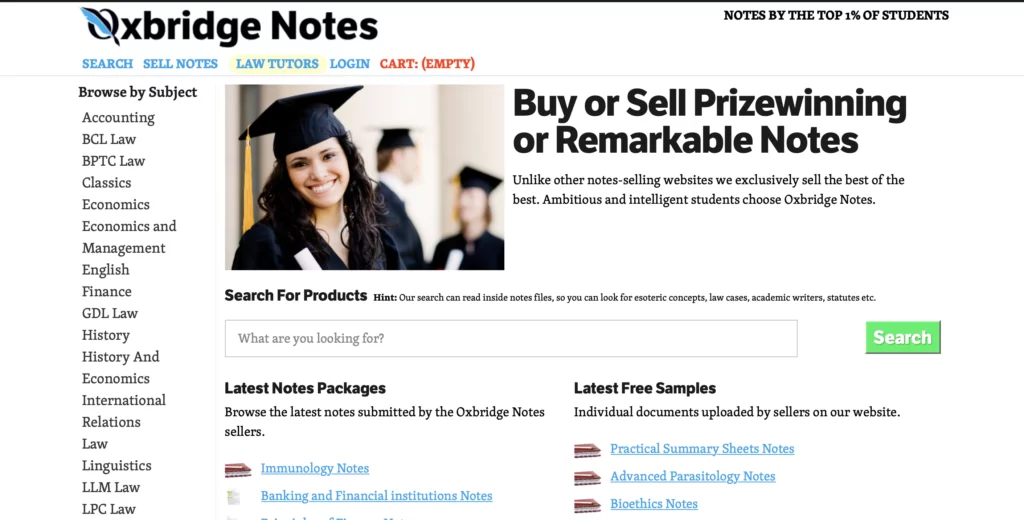 You just sit back and go on with your studies, and once someone buys your notes, you get paid in your account. At the end of the month, all your funds are transferred to your PayPal account.
On average, a seller makes £250 on the platform with just a one-time upload.
Whether you are studying in any university in any country, if your notes are good, you can sell them to Oxbridge notes.
---
4. Nexus Notes
Nexus Notes provide different types of study material to students and you can become the source of their study material.
Note buyers need to subscribe to the platform, and they can access 30 notes each month.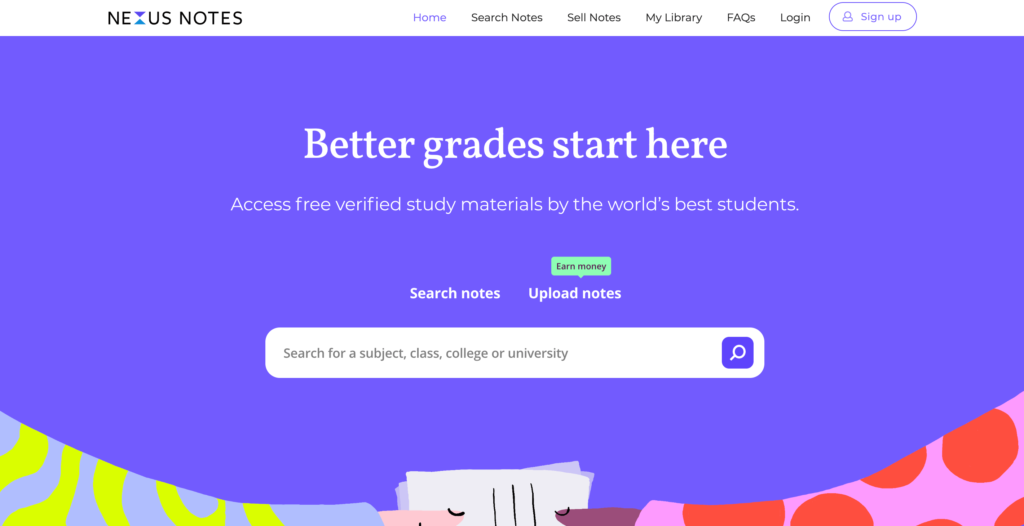 They are available in around 50 countries, and you can check if your university is listed on their site. As a source, you just need to upload your well-written and formatted notes. If you have good grades in that subject, then that is icing on the cake.
They show the grades of note-takers along with notes to increase creditability.
Your notes should be clear, descriptive, and easy to understand, and there is a higher chance of selling them. Every time your notes are used, you get a share of the revenue.
Multiple ways to make money
Low and easy cashout options
Great user ratings on App store
---
5. Docmerit
Still wondering where to sell college notes, Docmerit is another place to do that. If you are good at taking notes, they not only help you increase your own grades but can also help others learn.
So, don't just throw away your great notes after you have no use for them. If you have typed notes, sell them on sites like Docmerit.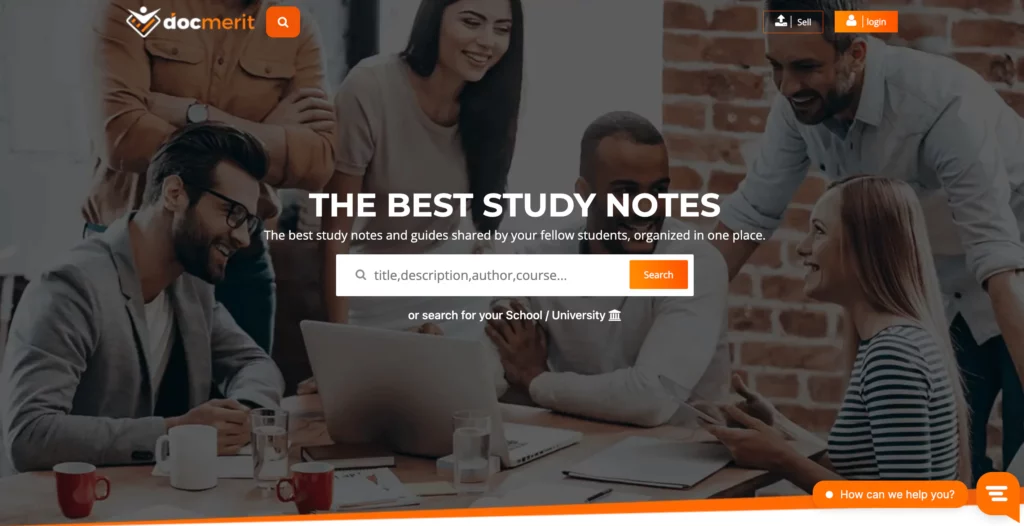 Selling notes is a simple process and just takes a few minutes.
Create a free seller account and upload your documents. They can be anything like notes, summaries, assays or a thesis
Set up the prices with a minimum of $1.5
Start promoting
Get paid within 24 hours when your balance reaches $20
They pay one of the highest commission rates in this industry to the sellers. Their take in sales is 15%, and the rest 85% goes to note-takers.
---
6. StudySoup
StudySoup is another place to sell your notes or study guides online. Other than making money from your notes, you can also create courses, and whenever a student subscribes to your course, you make $20.
Basically, it is a program to make money from your classmates who wants to use your note-taking skills.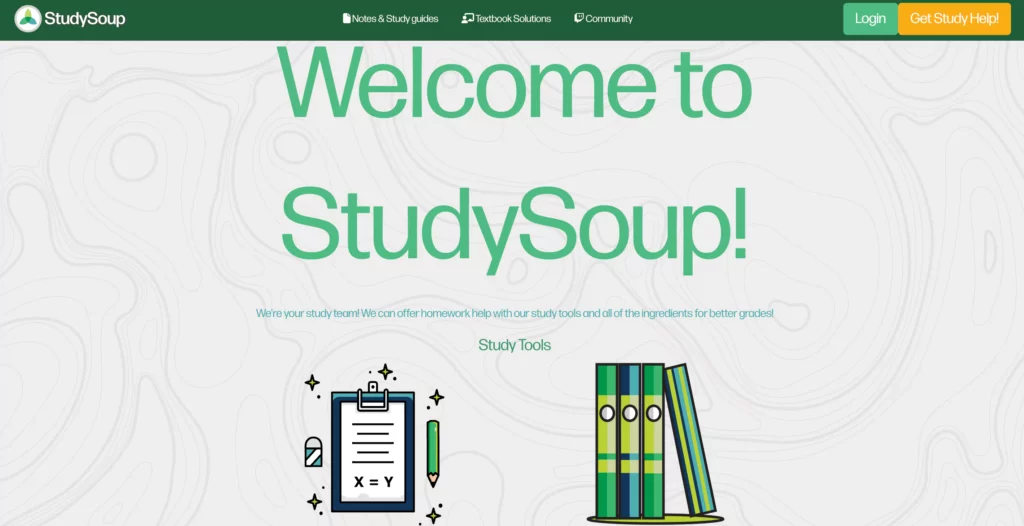 If you are chosen as a note-taker for a semester, you need to upload notes or guides after every week. You will get paid $100 for each class at the end of the semester. You can post notes only for the classes you are currently enrolled in.
Money will be transferred to your PayPal account as soon as you complete your terms.
According to their websites, you can make $300 to $500 per month, but it will require you to take notes for multiple classes.
---
7. Notesale
Notesale is a UK-based website that mediates between note sellers and note buyers.
There are many reasons people buy notes, either they missed the class due to sickness or other reasons or they could not make good notes themselves and they need them for passing the exams.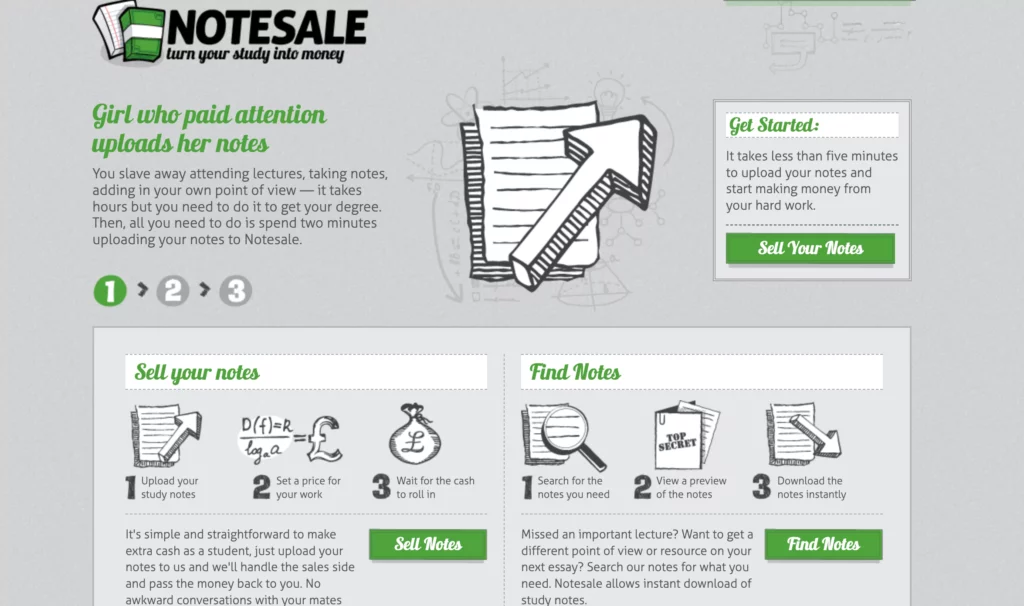 If you make effort to make good notes, you can become a Notesale ambassador and start uploading your notes on the website.
After uploading, set a price for your notes, and when someone buys them, you get paid cash. You can give them a try if you can find buyers for your notes here.
---
8. Course Hero
Course Hero is not the place that pays you for your notes. But instead, they provide you with rewards points for uploading your notes documents.
Course Hero is a big repository of course material to help students and they sell thousands of materials to students. For their inventory, they provide reward incentives to students for uploading their class notes.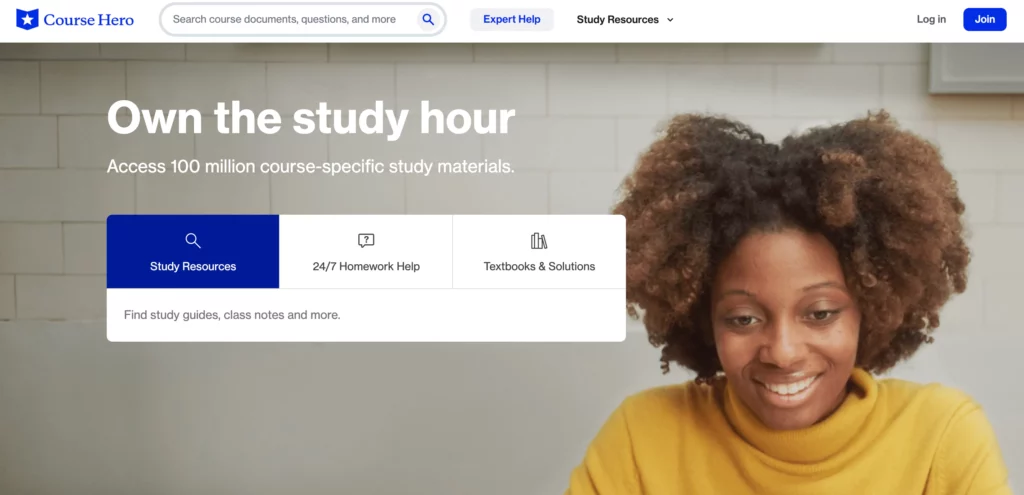 These reward points can be used to gain access to other notes that you need. So, in case you find that you are not able to attend or take notes for all your classes, you can use this site to trade your notes for the notes you don't have.
They have a way of earning money through tutoring. You can earn up to $500 per month for tutoring on this platform. Just figure out if it is worth your time.
---
9. GradeBuddy
GradeBuddy is another way to sell notes and get paid. You can make money easily selling your notes or study guides on this platform.
Like all other websites, you just need to sign up with a free account.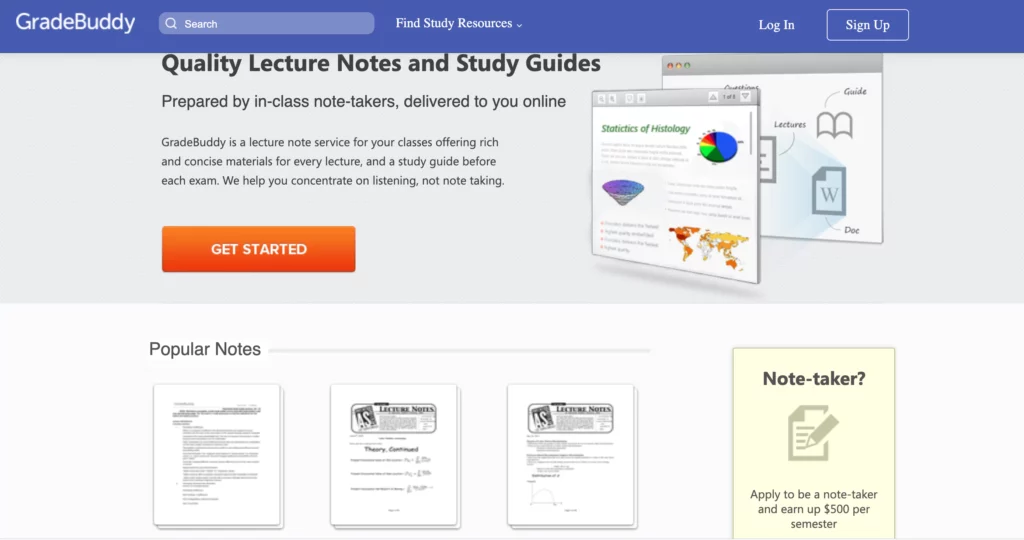 Then you have two options of selling your notes.
Either sell individual notes
Become a note taker for the whole course
If you want more money, then you can become their marketing ambassador and takes notes for the whole course. You can make up to $500 per course, but you need to upload weekly and put in more effort.
But if you don't want a long-term commitment, you can earn money by selling individual notes.
---
10. StudentVIP
StudentVIP is Australia's biggest student website that help students sell and buy their notes.
Other than notes, you can also buy and sell old textbooks easily.
Join the platform for free and start selling your notes. There are currently over 19k notes online on the website available for buying. There are around 2 million users on the platform, so there is a good chance that you can find buyers for your notes.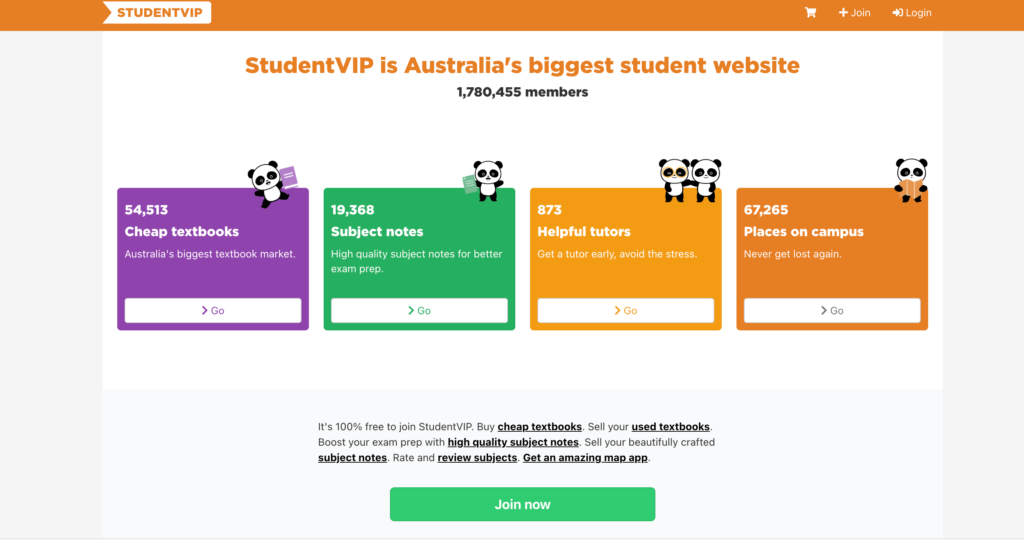 They don't accept all the notes, their team of moderators selects the notes to maintain quality and their reputation, which generally takes a week.
You can price your notes from $14 to $99 and $39 is the average. When someone buys your notes, you take 70% and StudentVIP keeps 30%.
---
11. Notesvilla
Notesvilla is a place where you can trade your class notes for cash.
They accept study and class notes that are neat and easier to understand. All the uploaded notes are verified for quality before going online.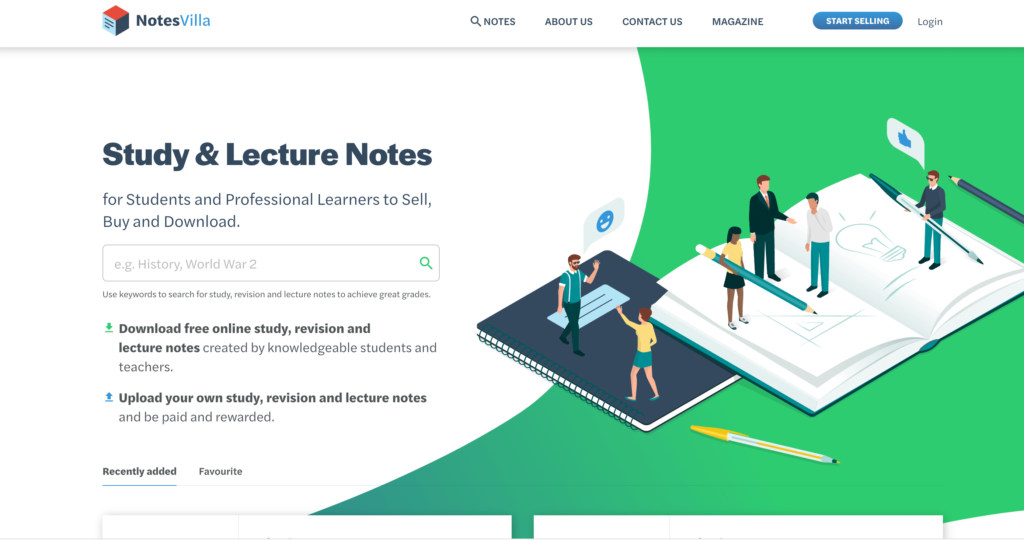 You'll be able to decide what price you want to use for your notes. Just make sure that your are keeping a competetive price after looking at other notes in similar category.
As soon as you make £10, you can request a PayPal payout.
Overall it is a kind of social media platform, and you can connect with many students to increase your reputation and reach to sell more.
---
12. Studypool
Studypool is one of the best sites to sell your class notes online. According to them, you can even make $5k every month selling study documents.
They accept documents in all languages, and every time your document is used, you get paid $10. You can upload different types of documents like class notes, exam prep, quiz prep, or old homework.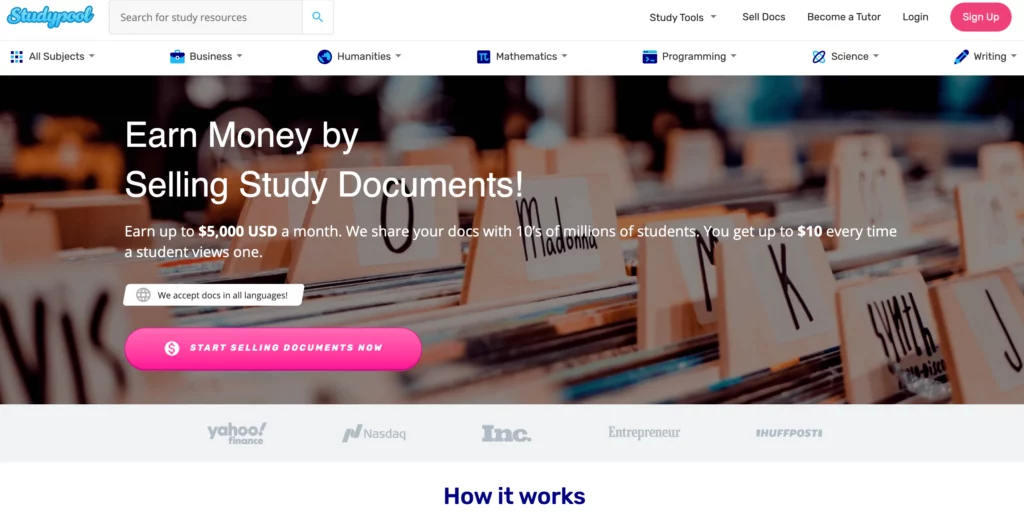 After you upload your documents, they are verified by them for quality.
You can sell study notes from tons of subjects like Biology, chemistry, statistics, java, python, and engineering to filmmaking.
You can also become a tutor and answer students' questions to get paid. How it works:
A student post a question with a price
You bid for aswering
Student choose tutor based on reviews
If selected, you teach the answer and get paid
Overall, it is a great platform to make some money on the side while doing your studies.
High earning surveys
Easy-to-use website
Many ways to earn
More Places To Sell Your College Notes
Other than these specialized sites, you can also use other general marketplaces and social media to sell your college notes.
13. Facebook
Facebook can be used to sell almost anything. If you have a large network of friends, you can make a post about selling your notes, and anyone interested can contact you.
Other than that you can also post ads in Facebook marketplace and communities related to your course.
There is a targeted audience in these groups who will be willing to buy those notes if they are good.
14. Instagram
Instagram is another place where most students are at.
Other than fun and socializing, you can also use this platform to sell things like your notes.
You just have to post your notes front page or a sample, and anyone interested can do a direct transaction with you. You can even ask your friends to promote your notes in their network.
15. Reddit
Reddit is another place you can use to sell notes. There are many subreddit for different subjects and courses where people in similar situations become members and can share knowledge and sell things amongst themselves.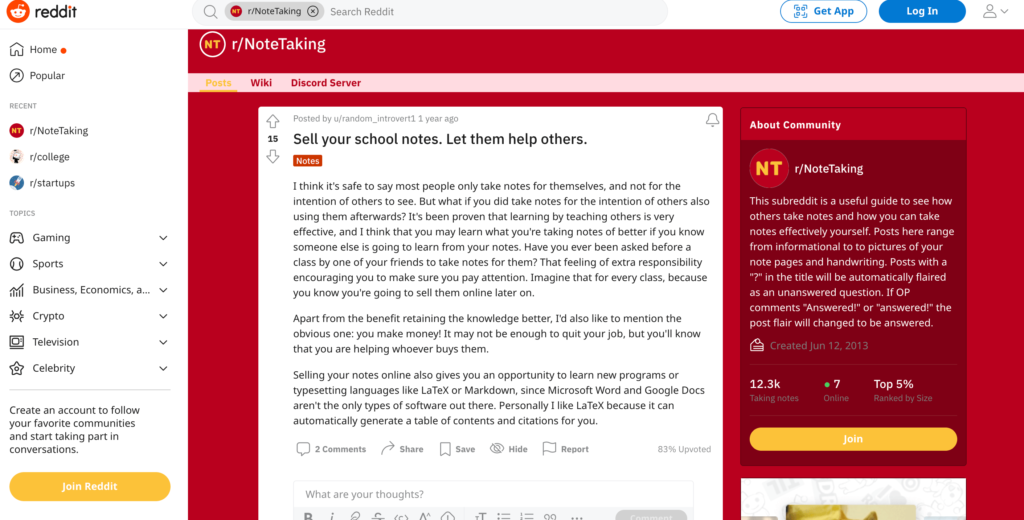 For example, this subreddit /r/NoteTaking/ have over 14k members who are trying to do similar things. You can find many such groups and sell your notes, without paying commission to the not selling websites.
How Much Money Can You Make Selling Notes?
The amount of money you can make selling college notes will depend on the quality of your notes and the demand for them.
Generally, you could expect to make anywhere from a few dollars to a few hundred dollars for comprehensive notes on a particular subject.
You probably won't make thousands of selling notes, but this is a good side hustle for a few hundred extra dollars during each course.
Here is a video of a guy who made over 15k by selling his notes in a year.
That being said, here are a few things that affect the price of your notes.
What Are The Things That Determine Value Of Your College Notes
Quality of the content: The quality of the content in your notes is important in determining the value. Clear and concise notes that cover the course material thoroughly will attract more buyers than notes that are incomplete or difficult to understand.
Age: Current notes for any course material appeal more to buyers than outdated notes. Almost always, a student will like to buy notes from students who are studying currently than two-year-old notes.
Organization & Neatness: Notes should be organized in a way that makes them easy to use when studying. This includes having the notes divided into sections and labeled clearly. Neatly written notes are easier to read and understand. Students are more likely to buy notes that are easy to read.
Subjects: Popular subjects are more likely to have notes that are in demand and can be sold for a higher price.
Timing: The time of year when the notes are being sold can also have an impact on the value. Selling notes during peak times when exams are approaching can help to increase the value of the notes.
Other Side Hustles For College Students
Selling your college notes is one of the easiest side hustles for students as they are taking these notes anyways for their own studies. It only takes a few minutes to upload them and make some easy passive cash.
It is a perfect side gig to get some spending cash for students with good note-taking skills.
But not all students are good at note-taking, for these students, there are many other side hustles to make money.
You can take online gigs like filling out surveys in your free time for a few dollars. If you aspire to bring in more cash and gain some experience, you can start doing freelance writing or proofreading jobs. These jobs are flexible that can mend with your study schedule and bring in good money other than valuable experience.
You can also do offline jobs for regular cash flow. Jobs such as food delivery or grocery delivery bring in predictable money in your free hours. However, you need to get out and do some riding for these jobs.
Check out this list of more side hustles that could fit into your study schedule.
Make Some Cash With Your Study Notes
Selling your college notes is one of the easiest ways to make some extra cash for new gadgets or group holidays during your college life.
There are many places to sell your notes as discussed above, use multiple of them to figure out what works best for you.
Be realistic about the earning potential as there is a huge competition out there, but even a few extra dollars are better than nothing for a little effort.
More ways to make money:
FAQs
Is Selling Class Notes legal?
Selling class or college notes is legal if they are written by you and not given to you by your professor.
Make sure that the notes you are selling are not copyright infringement; otherwise, you might get sued. Most of these websites that buy and sell class notes explicitly provide these guidelines on what kind of notes are legal to sell.
A few state universities, like California, have banned note selling. There is always skepticism about note selling, so before starting, you can check your university guidelines to see if there is any such provision.
However, in most cases, when you are selling notes completely written by you in your language for easier understanding, there are no legal issues.
Are handwriting notes worth selling?
Most places nowadays ask for digital notes, but there are still sites that sell handwritten notes. However, your handwriting needs to be clear, and notes should be well-organised and readable.
If you have good handwritten notes, it is worth a few minutes' efforts to put them for sale. You may earn some money. And if the product is liked by many, you can always invest some time and make a digital version.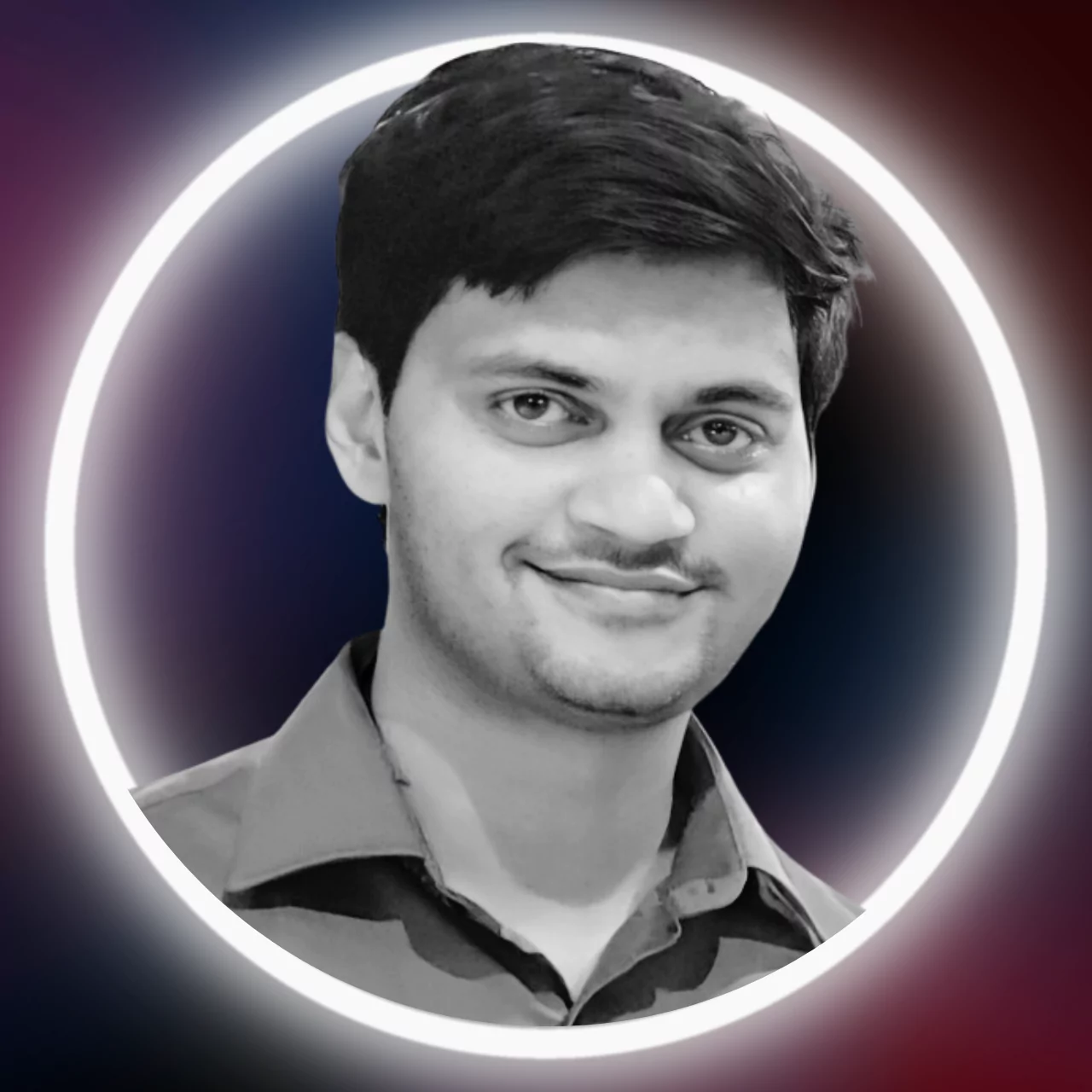 Sumeet is a Certified Financial Education Instructor℠ (CFEI®) and founder of MoneyFromSideHustle. He is an experienced side hustler who replaced his full-time income with side hustles. His work has been quoted on major finance websites like CNBC, Yahoo! Finance, GOBankingRates, CEOBlogNation, SideHustleNation, and more. He has helped thousands of people find side hustles and is here to help you find your extra source of income. More about him.