This post may contain affiliate links from which I may earn a commission without any cost to you. Read our policy for details.
Do you love playing games on your mobile? Fancy the idea of earning rewards while playing? If so, you might have come across Mistplay.
Mistplay is an app that pays you to play games on your smartphone.
Hard to believe, isn't it?
In a time when paid games are booming, Mistplay has carved a niche for itself. It's gained a solid reputation as a go-to platform for Android gaming.
In this Mistplay review, I'll dig deep into this gaming platform. We'll explore questions like "is Mistplay legit?" and "does Mistplay really work?".
Let's unravel the details and see how Mistplay work!
Key Points:
Mistplay is a free legit platform to make money while playing games
It works only on Android devices
Large variety of games available (over 300)
You can redeem your "units" earned by playing games for a variety of gift cards or PayPal cash
Expect to make $0.5 to $2 per hour of game lay if you follow the tips provided in this article
What's Mistplay?
Mistplay is a cool app that rewards you for playing mobile games.
Started in 2016 under the guidance of Henri-Charles Machalani, it was designed to be a loyalty program for mobile game lovers.
The idea is simple: download the app, sift through a bunch of games tailored for you, play them, and bag units (the in-app money) that you can exchange for gift cards from big names like Amazon, Starbucks, Google Play, and more.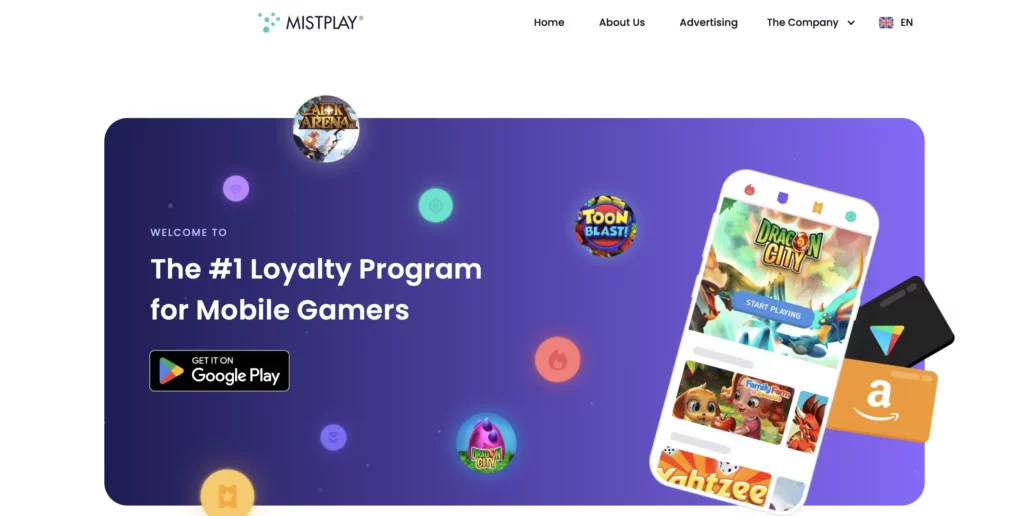 But Mistplay is more than just a laid-back way to earn rewards; it's also an entertaining gaming hub.
You can chat with fellow gamers, gather badges, participate in contests, and become part of exclusive events within the Mistplay community.
Plus, it's a cool way to explore new games and genres that tickle your fancy.
They claim to have handed out over $60 million in rewards to over 10 million users since they started. It enjoys a 4.1-star rating on the Google Play Store.
And for those asking, "is Mistplay free?" – it is.
You can download it on Android devices in many countries, including the US, Canada, the UK, Australia, Germany, France, and more.
What Mistplay App Looks Like
The app has four sections: Home, Shop, Chat, and Profile.
Home is where you'll find the games you can play to get points. You can sort games by type, how popular they are, or if they're available. It also shows how far you've gotten in each game.
The Shop is where you can use your points to get rewards. You can get things like gift cards or game currency. You'll see how many points you have at the top of the screen.
Chat lets you talk to other people playing the same games. You can make or join chat rooms. You can also send private messages to friends or invite them to play games with you.
Profile shows your personal info like your name, level, and achievements. You can change settings here too.
The app is made to be easy and fun to use. You can quickly switch between sections, see what games are available, and see your rewards history. The app also offers tips for new users.
How Does Mistplay Work?
It's like a rewards club for gamers. When you play, you earn points.
You can turn these points into gift cards for places you like to shop, like Amazon or Starbucks. Here's how to get going:
First, download the app. You can get it from the Google Play Store or the App Store. You'll need to make an account.
Next, look through the games on Mistplay. Pick some that look fun. You can sort the games by type, their popularity, or how many points they give.
Click on a game to install it and start playing through Mistplay. You'll see a chat icon on your screen. It shows you how well you're doing and how many points you're earning.
Now play and finish tasks in the game to earn more points and experience points. The more you play, the more you'll get.
Check your Mistplay profile to see what you've earned and won. You can chat with other gamers, join contests, and even enter giveaways.
Heads up: After downloading a game on your phone, remember to open it through Mistplay whenever you want to play. If you tap on the game app directly without using Mistplay, you won't get any units for your gameplay. So, always make sure to launch your game via Mistplay to keep earning those rewards.
Getting Paid on Mistplay
When you play games on Mistplay, you get rewarded with in-game currency.
This is how the point system works:
Units – When you play a game, you get Units. Units are like money inside the app that you can use to get gift cards.
GXPs or Game Experience Points – GXPs tell how good you are at a certain game. The more you play, the more GXPs you get. GXPs matter because if you have more, you get more Units and PXPs.
PXPs or Player Experience Points – PXPs show your total rank as a Mistplay player. A high PXP score helps you earn more GXPs when you play games. Plus, when your Mistplay profile goes up a level, you get extra Units.
You can swap units for gift cards from different brands.
Wondering how to earn more units and get better prizes? That's where the Mistplay status program steps in.
Mistplay Status Program
Mistplay Status rewards gamers for playing games and making in-game purchases. It has four levels: Bronze, Silver, Gold, and Platinum.
You can check your status level and progress in the profile section of the app.
Each level gives more perks, like multiplying your units, cool avatar frames, and playing new games before others.
Your status depends on how many Loyalty Gems you have.
You earn Loyalty Gems when you buy things inside games with these Gems.
Here's what you get at each level:
Bronze: This is where everyone starts at.
Silver: Your units are multiplied by 1.1 for the same activities.
Gold: Same as Silver, but also for in-app purchases.
Platinum: Units are multiplied by 1.25 for all activities.
And don't forget, special avatar frames and early access to new games for all levels.
Is Mistplay Status worth it?
If you're someone who spends hours playing games and you like the extra units and perks, Mistplay Status could be a good fit. If you only play a bit each day, it might not be worth your while.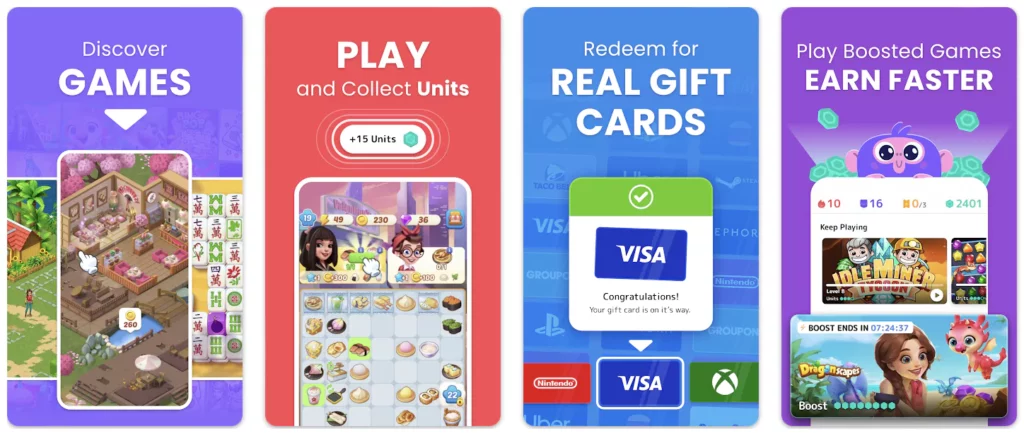 How You Get Paid On Mistplay
Once you have enough units from playing games, you can swap them for gift cards from various brands.
Some of the gift cards you can get include:
PayPal
Amazon
Spotify
Google Play
iTunes
Uber
Walmart
Visa And more!
Getting a gift card is easy and quick. You need to go to the shop section of the app, choose the gift card you want, and confirm your email address. You'll get an email with a code. You can use this code to get your gift card.
The lowest amount of units you need to get a gift card can change based on the brand and value of the gift card.
Mistplay available rewards keep on changing from account to account and based on location.
Amazon gift cards can begin at just 50 cents (costs 350 units or 0.14 cents /unit). But, the best points-to-cash ratio is available at higher rewards like a $5 gift card (costs 1800 units or 0.278 cents /unit) or $10 for 3000 units (0.3 cents /unit), so it will be wise to wait to get enough points.
You can also keep your units to wait for special deals that may pop up now and then.
How Much Money You Can Make On Mistplay Hourly
Mistplay works and is a legit way to make money while playing, but you should not expect much. Typically, users earn between 50 cents and $2 per hour.
Your hourly earnings on Mistplay can be influenced by:
The game you're playing: Certain games offer higher payouts. For instance, slots games generally pay more than puzzle games.
Your level in the game: As your game level increases, your hourly points tend to decrease since most point-earning tasks and challenges have already been completed.
Your PXP level: Mistplay features a loyalty scheme named PXP. As your point collection grows, your PXP level rises, thereby increasing your hourly point earnings.
The number of games you're playing: Playing multiple games can boost your hourly point earnings. But keep in mind, there's a 2-hour cap on point earning for each game.
You won't be able to make a full-time wage from Mistplay, but you can earn a few extra dollars each week if you already spend time playing those games.
How Long It Takes to Get Rewards
How long it takes to get your reward depends on what you're getting.
For most gift cards and prepaid cards, it usually takes 48 hours. But it might take longer if a lot of people want the same gift card.
Tips to Earn More on Mistplay
Ready to maximize your earnings on Mistplay? Wondering, "Does Mistplay actually work?" Here's how you can make the most of it:
Be selective with the games you play. Each game gives you points known as 'units'. Go for games with high 'multipliers', as they offer more units. Hence, you can make money faster. Games with four dots usually have high multipliers.
Don't miss out on the badges. These are rewards for completing specific tasks, like playing at night or reaching level 5. They offer additional units, translating to more money.
Always launch games through Mistplay. This ensures that your playtime is tracked. And remember, you need to actively play, not just leave games running in the background.
Consistency pays on Mistplay. Play games daily, and you'll earn a bonus at the end of the week. The more you play, the bigger your bonus.
Switch to another once you hit the daily or total earning limit for a game. This strategy allows you to keep earning points.
Keep an eye out for special games. Sometimes, Mistplay offers games with higher multipliers for a limited period. Grab these opportunities to earn more units.
Want more? Carry out extra tasks and invite friends to join Mistplay. You'll get more units for activities like following Mistplay's social media or watching their YouTube videos.
Finally, once you've gathered enough units, you can exchange them for rewards. These could be gift cards or cash. Pick the reward that suits you best.
Available Games on Mistplay
One great thing about Mistplay is the variety of games. Whether you're into bingo, solitaire, strategy, cards, action, word, or casino games, there's something for you.
Mistplay suggests games based on what you like and how you behave. You can find new games recommended for you in the home section of the app.
You can also explore different game types in the discover section from the list of over 300 games.
Some popular games on Mistplay are:
Coin Master: A fun game where you use a slot machine to earn coins, attack other villages, and build your own kingdom.
Solitaire Grand Harvest: A chill game where you play solitaire to grow crops, get bonuses, and take part in events.
State of Survival: A strategy game where you create a base, fight zombies, and team up with others in a ruined world.
Words with Friends 2: A word game where you challenge your friends or random players to make words on a crossword-style board.
Here are few more games divided in different categories.
| Game Category | Examples |
| --- | --- |
| Action | Rise of Kingdoms, Modern Warships, Guns of Boom, Sniper Fury, Shadowgun Legends |
| Adventure | Coin Master, Yahtzee, Scrabble Go, Toon Blast, World Series of Poker |
| Arcade | Pac-Man 256, Fruit Ninja, Jetpack Joyride, Temple Run 2 |
| Board | Monopoly, Words With Friends 2, Candy Crush Saga, Bingo Blitz |
| Card | Solitaire, Poker, Blackjack, Hearts |
| Casino | Slotomania, Slots – Vegas Casino, Big Fish Casino |
| Educational | Duolingo, Khan Academy Kids, Sesame Street |
| Family | Minecraft, Roblox, Toca Life World |
| Music | Guitar Hero, Piano Tiles, Beat Saber |
| Puzzle | Candy Crush Saga, Bejeweled, Cut the Rope |
| Racing | CSR Racing 2, Real Racing 3, Asphalt 9: Legends |
| Role Playing | AFK Arena, Summoners War, Dragon City |
| Simulation | The Sims Mobile, SimCity BuildIt, FarmVille 2 |
| Sports | NBA 2K Mobile, FIFA Mobile, Real Cricket 20 |
| Strategy | Clash of Clans, Empires & Puzzles, Star Wars: Galaxy of Heroes |
| Trivia | HQ Trivia, Trivia Crack, QuizUp |
| Utilities | AccuWeather, Waze, Pandora |
| Word | Words With Friends 2, Scrabble Go, Letterpress |
But not all games are for everyone. What games you can play can depend on where you live, what device you're using, and other things.
Mistplay tries to suggest the best games for you based on what you like and your feedback.
How many units you earn from playing also depends on the game. Each game has a different unit multiplier.
This shows how many units you get per minute of playing. This can change based on how popular the game is, how hard it is, what type it is, and more.
To earn the most units, play games you like that have a high unit multiplier. Also, try to finish the game's milestones. These are goals that give you extra units and XP.
Reduced Earning During Gaming in Mistplay
When you first start out, you'll earn points relatively quickly. This initial rate is designed to draw you in and get you excited about the platform.
However, as you advance in the games and spend more time on the app, the rate at which you earn points often slows down considerably.
Some users have reported that they face more difficulty in achieving higher levels in games, making it tougher to accumulate the necessary points for rewards.
This decline in point earning rate can be attributed to the app's algorithm, which is designed to keep users engaged for longer periods.
The process of earning points can become more complex as users delve deeper into the games, caused by several factors:
Time Caps: Mistplay imposes a time restriction of 2 hours per day for each game on Mistplay on users for point accrual. Once users hit this time cap in a game, their continued performance doesn't yield additional points.
Level Caps: Similar to time caps, Mistplay enforces a level cap. Each game has a level cap of 20. Once users reach this point, they can't earn more points in the game, regardless of their additional playing time.
These elements may lead to an increased difficulty in point earning as users advance in their gameplay on Mistplay. Nevertheless, there are various strategies users can employ to maximize their earnings:
Engage in Multiple Games: By diversifying their game selection, users can effectively distribute their time and level caps, thereby increasing their earning potential. It also provides users a broader selection of games, enhancing the overall experience.
Utilize Bonuses: Mistplay provides a range of bonuses, a boon for users aiming to amass more points. These include completing surveys, referring friends, and daily logins.
Thus, while earning points on Mistplay becomes more challenging as you progress, strategic utilization of the platform's features can ensure a rewarding experience.
"The available games all were high earning for points (had a lot of stars). However, when you closed the app and then reopened it, the same games earned significantly less," says a user named vanilla-beans1 on Reddit.
Here is a Reddit thread of users explaining how recent updates and imposition of caps have cut down their rewards by half.
Is Mistplay Safe and Legit?
According to my experience, Mistplay is legit and safe. It's not a scam. However, keep your earning expectations in check, as you won't earn $50 a day or $100 a day.
If you're still wondering if Mistplay actually works and if this gaming app is worth it, here are a few things about the app:
Mistplay has been around since 2016 and has over 10 million downloads.
Mistplay has good reviews.
Mistplay has given out over $60 million in rewards.
Mistplay works with well-known game developers.
Mistplay doesn't charge fees or ask for personal info.
Mistplay has a clear privacy policy and terms of use.
Mistplay has a helpful support team.
Most negative reviews come from higher earning expectations and getting banned for using shady practices like VPN, which are not allowed.
If you take it as a loyalty program and not a way to get rich, you will find this platform pretty reasonable to what they promise.
Here is what user gradease says on Reddit about earning on Mistplay"
"I just got a $50 Amazon card. They send the code directly to your email and you add it to your Amazon account. So it does work, but I played over 40 hours of games to get there. If you're playing the games anyways it's a nice bonus, but it's not a money making strategy."
If we break it down by the hour, he earned about $1.25 per hour. This isn't a significant amount of money, so if you're playing purely to earn cash, it might not be a worthwhile strategy.
However, if he was already spending that amount of time gaming, then Mistplay does work as he essentially received a week's worth of groceries for free, without doing anything extra.
Other User Reviews
Experience with reward apps like Mistplay can vary from user to user. So while I may enjoy using the app, others might not feel the same way.
I often look at numerous user reviews other than my own experience with the app to determine if the app is legit. This gives us a broader perspective on the challenges most people are facing.
However, some reviews might not be genuine. Some companies pay users to leave positive feedback. But these can usually be spotted, as is the case here.
There's a wide range of Mistplay reviews available. They range from positive to negative. These reviews can shed light on questions like "Does Mistplay really pay out?" or "Is Mistplay a scam?".
At the Google play store, Mistplay has a rating of 4.1 from 355k reviews which is a good sign for a reward app.
On user reviews platform Trustpilot, they have a 3.8 rating from 850 reviews.
Here are some positive reviews:
"It's great if you love to play games regularly but it's a slow burner in gaining credits. I've withdrawn a lot of vouchers and always works, always quick at coming through and great service. Definitely recommend for those who play games anyway."- Holly, GB on Trustpilot
"I have been playing on mist play for 100 days I have played enough to have earned a couple a hundred bucks it usually takes a full 48 hours to receive your reward I haven't had an issue ever.
They have a pretty good selection of games to play and rotate new ones in quite often" – Lucinda Jensen, US on Trustpilot
"I've used this app for over a year now and have cashed out several times. It's the real deal. I like that this app uses playtime rather than achievements to pay out, and I get paid for playing games I already like to play. Other reward apps don't work if you've already played a game and limit you to certain goalposts while they nickel and dime you for points. It does have some glitches sometimes. Most of the time, I reset mistplay then hit "play game" again to reset the tracker." – Elizabeth Wood on Google Play Store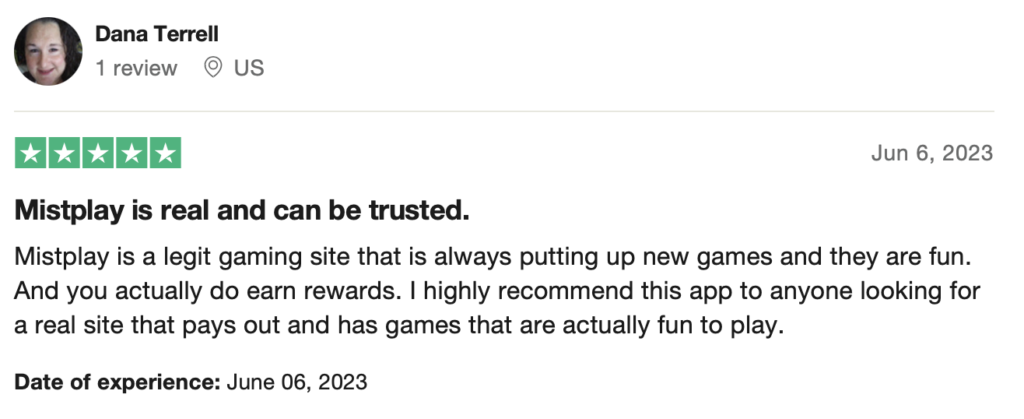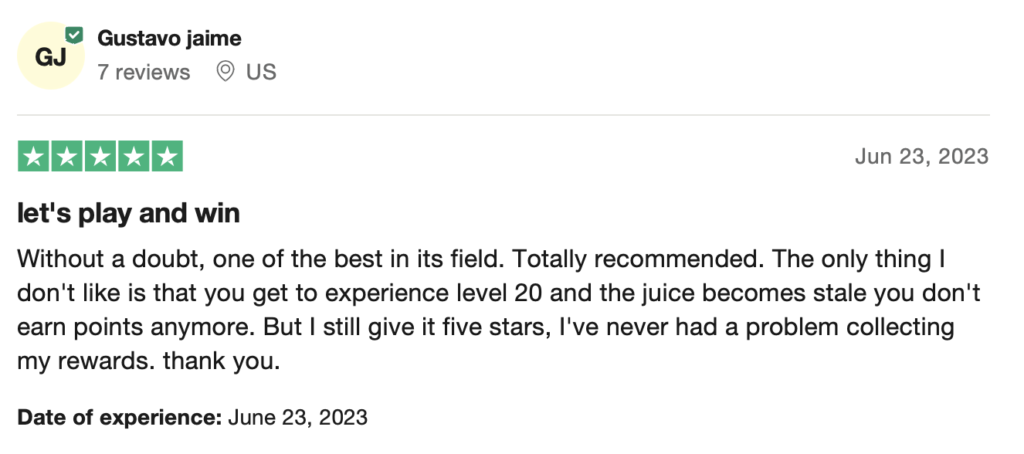 Negative reviews:
"This app used to be genuinely nice for a disposable income. However, I've had three games in a row say they didn't credit Mistplay for the download. I've been consistently using one wi-fi network all the way to checkpoint 5, but they still give that error. Now I have no reason to download anything if it's just going to give me basically nothing for it"- Captain Demozan on Google Play Store
"Scam, never got paid: Went to redeem £5, have to do a facial biometric, felt uncomfortable having to do this long thing, them tell me I already have an account and won't redeem my points, I've never done this, absolutely useless! And I feel pissed I had to do the biometric which I didn't want to do, for it to not do anyways" – Sarah Povey, GB on Trustpilot
"I played this game and was not far off getting £10 Amazon voucher when my phone broke? I kept the same telephone number and email. Signed in via Facebook because that's how I joined, and they had nicked all my points. So I started again from scratch, and after five days of playing, all my points disappeared again? What a con! Don't bother playing. The minute you get close to earning, they take all your points away, and there's nothing you can do. Disgusting rip-off merchants. What a con." Jacqueline O'Hara, GB on Trustpilot
As you can see, most of the negative reviews are either technical glitches or users who get banned for violating the company rules. A few of these people will be genuine but trust me, most of them disgruntled people who get banned for using scammy tactics to play the system.
Here are a few screenshots.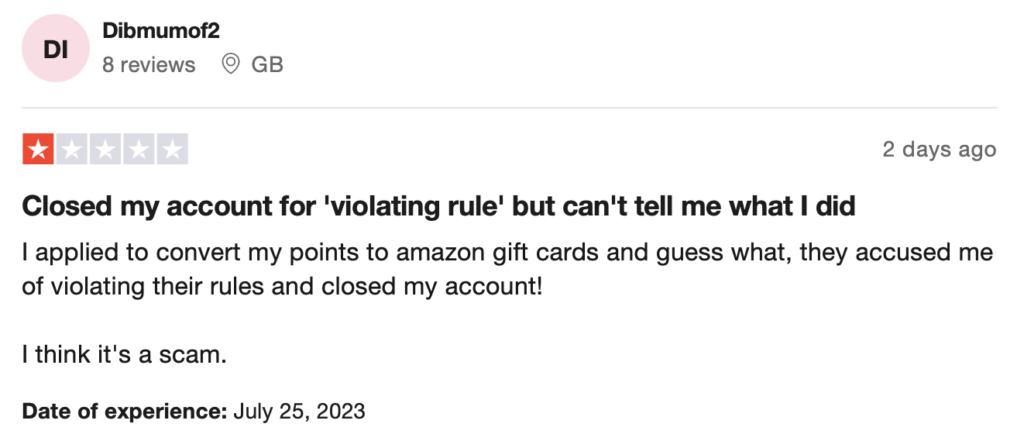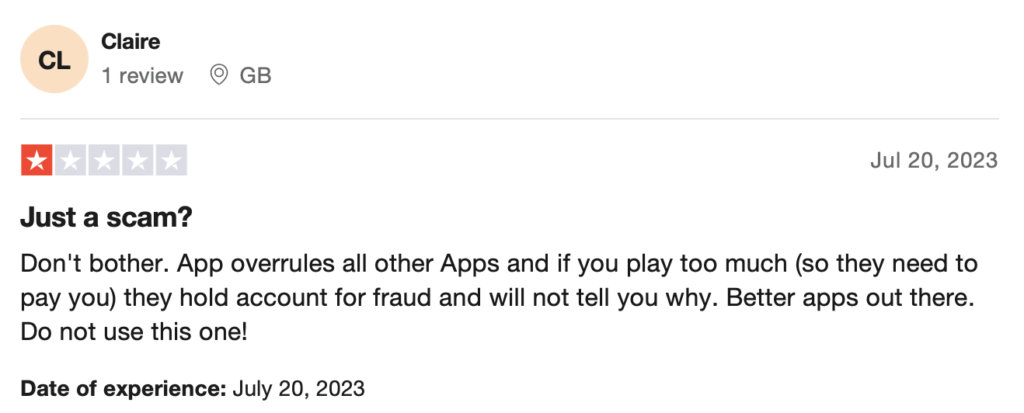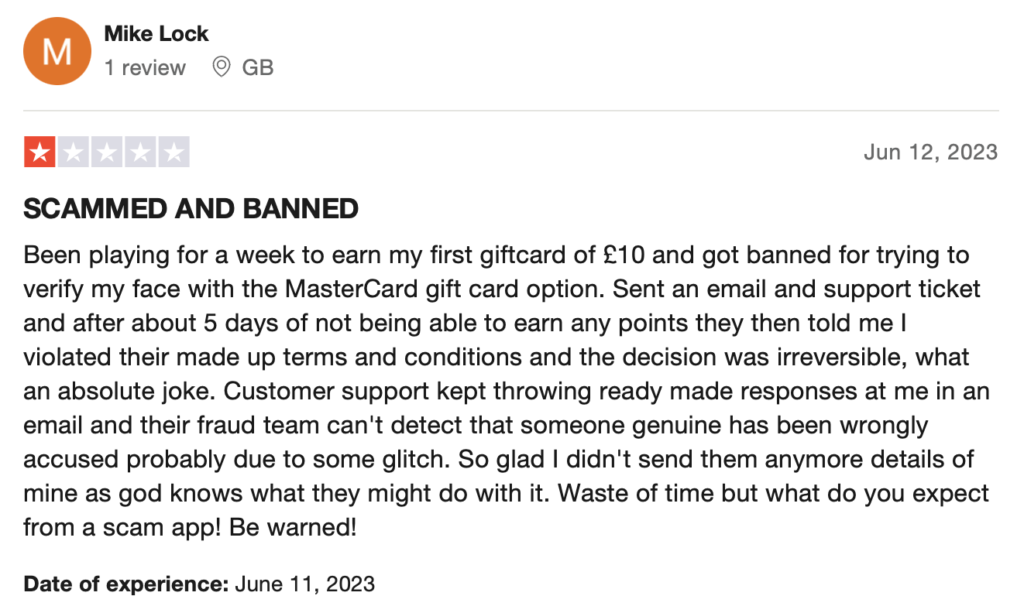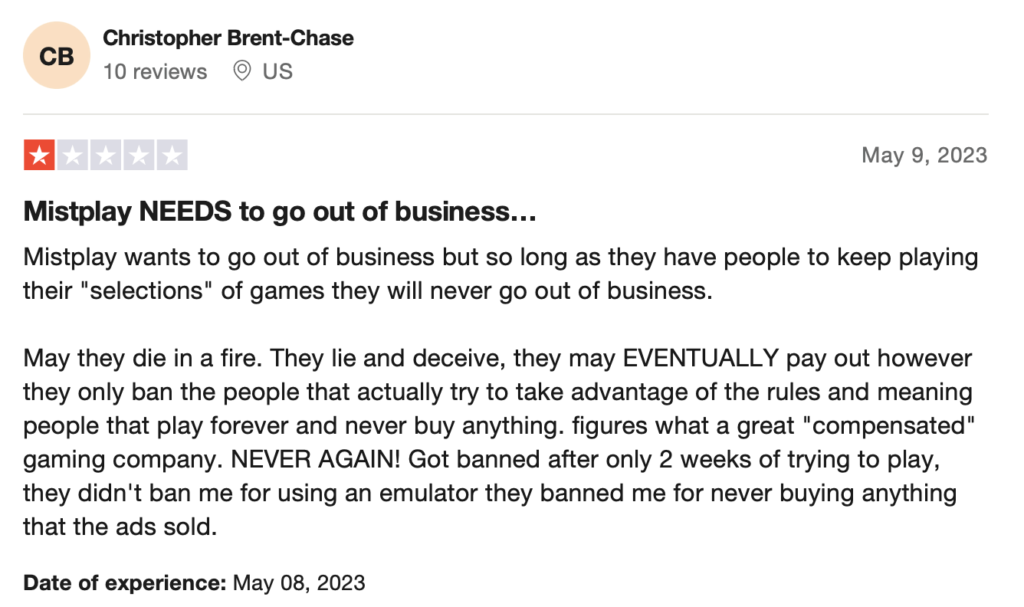 After reviewing all these comments, along with my personal experience, it appears that Mistplay is a legitimate company. They do pay out gift cards, which are relatively straightforward to earn.
However, view this as a bonus for games you're already playing. If you start playing games solely for the cash, you might feel your time isn't being fairly compensated. Earning enough points can take a lot of work and may not be rewarding.
Pros and Cons of Mistplay
Mistplay is an app that lets you make money from playing games. Like with any online rewards app, there are a few cons and a few pros. Let's take a close look at the good and bad of Mistplay.
Good Points:
Mistplay is free to get and use. You don't have to pay anything to start making money.
There are lots of games on Mistplay. There's something for everyone's taste. You get to try new games without spending any money on them.
You can cash out as low as $0.50 Amazon gift cards.
You can grab special deals from game creators.
The app is easy to use, and it's simple to keep track of your points and rewards.
You can also chat with other gamers.
If you play games often, Mistplay gives you extra points. It's a loyalty bonus for regular players.
Not-so-Good Points:
Mistplay only works on Android phones. iPhone users can't use this app.
Compared to other ways to make money online, Mistplay might not pay very well. The points you earn can take a while to add up to a gift card.
You need good internet for Mistplay. You might have problems playing games or getting rewards if your connection is slow or shaky.
There is no desktop version available.
Mistplay can use up your battery and data pretty fast. If you play a lot, it could be a drain on your phone.
Other Apps Like Mistplay:
Mistplay isn't the only app that pays you to play games. Here are a few others:
Many of these apps like Mistplay are available for both iOS and Android, while apps like Appstation are only available on Android.
Treat all these gaming apps as a source of little extra cash with your normal gameplay. You can try the best solitaire app to win money like Solitaire Cube or Blackout Bingo if you want higher-earning games. However, there is always a chance of losing your money in these games.
If you are looking for ways to make quick cash consistently, you should look at other ways, like gig economy jobs or online work-from-home jobs that pay consistent money.
How Does Mistplay Make Money?
Mistplay makes money from ads and sponsored games. It also collects data on how you play games. This helps it improve its services and give useful info to its partners.
Mistplay gets paid when its users download games from its library. Each new game download generates a commission from the game's publisher to Mistplay.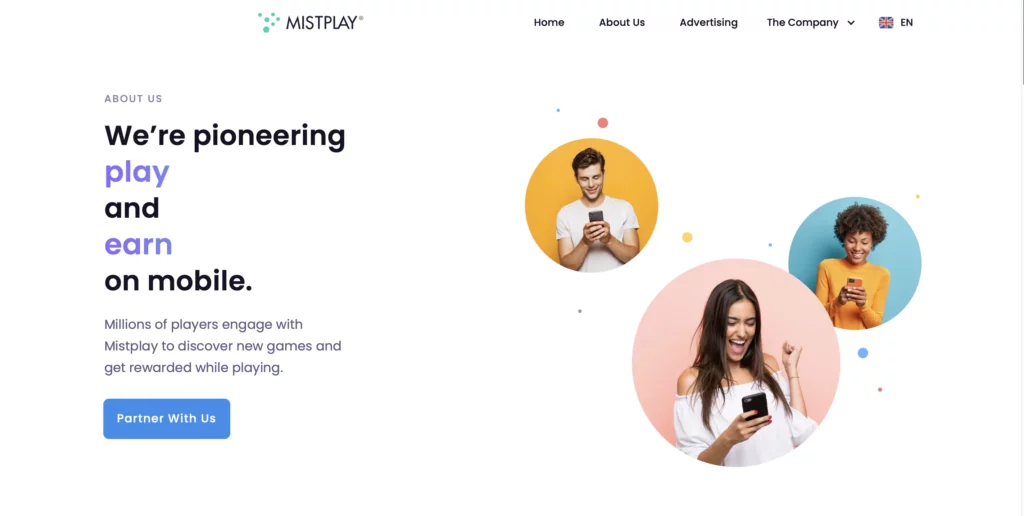 Mistplay promotes its platform to potential advertisers by highlighting its ability to target users. It uses demographic data and users' gaming history to enhance user engagement and retention.
Mistplay gives some of its money to users by giving them points that they can swap for gift cards.
How many points you earn depends on how much you play, how many ads you see, and how loyal you are to the app.
Where Can You Use Mistplay?
Mistplay is available in many countries, including:
United States
Canada
United Kingdom
Germany
France
Denmark
Norway
Sweden
Finland
Australia
New Zealand
Singapore
Korea
Italy
Spain
But not all games and rewards are available everywhere. This is because of legal or technical limits.
If you can't access some games or rewards in your country, you might think about using a VPN.
A VPN hides your online identity and makes it look like you're in a different country. But using a VPN with Mistplay might not be a good idea, for a few reasons:
Mistplay's rules say you shouldn't use any software that messes with how the app works. A VPN might do that.
A VPN could slow down your games or make them disconnect because it's rerouting your internet.
Some VPNs aren't safe or reliable. They could put your personal info at risk, expose you to harmful software or hackers, or misuse your internet connection.
So, it's best to use Mistplay without a VPN. Enjoy the games and rewards that are available where you are. If you want more options, you can try other apps like Mistplay that might have different options for your area.
Final Thoughts on Mistplay Review
Mistplay offers an exciting and fun way to make some extra money by playing games on your mobile device.
The app is legitimate and trustworthy, with a strong reputation in the online community due to the large availability of games and lower payouts compared to its competitors.
Mistplay is not only accessible to users in various countries but also offers a wide range of games to cater to different tastes.
The points you earn can be easily converted into various rewards (unlike platforms like Buff.game), including cash and gift cards, adding a rewarding twist to your gaming experience.
However, it's essential to remember that Mistplay is not a get-rich-quick scheme.
The earnings are modest and best seen as a fun way to earn a little extra while enjoying mobile games.
The app may not be suitable for those looking to earn a substantial income online. But if you love mobile games and want to earn something extra on the side, Mistplay is worth trying out.
More ways to make money:
FAQs
Is Mistplay legit and safe?
Yes, Mistplay is a legit and safe app. The platform does not contain any harmful elements like viruses or malware. You are not asked to give out sensitive details like your credit card or bank account information. You only need to provide your email address to set up an account, or alternatively, you can use your Facebook or Google account.
Mistplay places a high value on your privacy. They don't sell your information to third parties unless you give your consent. The data they collect from you is primarily used to improve the app and provide relevant offers to you.
Is Mistplay Worth It?
Many people find Mistplay worth it. The app pays its users to play games. Many users have said they received their rewards within two days of redemption. So, if you enjoy playing games and would like to make some extra cash, it could be a good option for you. But, if you are playing these games just to make money, that time might be spent better somewhere else with higher earning potential like gig economy apps.
Is Mistplay a Scam or Real?
Mistplay is real, not a scam. It's a genuine app that pays you to play games on your mobile device. The platform is transparent about how it works and what you can expect. They don't trick you or withhold your rewards.
Does Mistplay Actually Work?
Yes, Mistplay does work. By playing games, you can earn points which you can redeem for rewards. Users have confirmed that they received their rewards after redemption. So, it does pay you for playing games.
Can I Trust Mistplay?
You can trust Mistplay. The app has been featured in many major media outlets, like Forbes and Business Insider. It also has positive ratings and reviews from millions of users around the globe. It pays you for playing games and respects your privacy.
Does Mistplay Actually Pay?
Yes, Mistplay does actually pay. Users can earn points by playing games and then redeem those points for rewards. Many users have confirmed receiving their rewards within two days of redemption.
Is Mistplay Available in India?
As of now, Mistplay isn't available in India. The platform has partnerships with game developers and reward providers in certain countries only. So, its availability is limited to those countries.
Can You Withdraw Money from Mistplay?
Yes, you can withdraw money from Mistplay. You can choose to redeem your points for cash rewards like PayPal, Visa prepaid cards, and Mastercard prepaid cards, among other options. The withdrawal process follows their terms and conditions.
Does Mistplay Mine Your Data?
No, Mistplay doesn't mine your data. They don't use your data for any malicious or unethical purposes. They use your data only to enhance the app and provide you with relevant offers and rewards.
Does Mistplay Work in Canada?
Yes, Mistplay does work in Canada. In fact, Mistplay's headquarters is in Montreal, Canada. Canadian users can enjoy a variety of games and earn rewards on the platform. The reward options include Amazon.ca gift cards, Visa prepaid cards, and Starbucks gift cards, among others.
Is Mistplay Free?
Yes, Mistplay is free. You don't have to pay to sign up or play games on Mistplay. You just need to download the app, create an account, and start playing games to earn points. The points can be redeemed for various rewards.
What Age is Mistplay For?
Mistplay is suitable for anyone who enjoys playing mobile games and would like to earn extra cash or gift cards. However, you need to be at least 13 years old to use the app. If you are under 18, you need to have parental consent.
Why am I Not Earning Points on Mistplay?
Several reasons can explain why you're not earning points on Mistplay. You could be playing a game that isn't featured on Mistplay, or maybe you're not playing long enough. Each game also has a daily and lifetime limit of points you can earn. If you're offline or using a modified device, you also won't earn points.
How Long Does Mistplay Take to Pay?
Mistplay typically takes up to 48 hours to pay after you redeem your rewards on the app. However, depending on the availability and demand, some rewards may take longer to arrive.
Who Can Use Mistplay?
Anyone who loves playing mobile games and wants to earn some extra money or gift cards can use Mistplay. But you must meet certain requirements, like being at least 13 years old and having a compatible Android or iOS device. You also need an internet connection and must agree to Mistplay's terms of service and privacy policy.
Can I Use A VPN With Mistplay?
No, you can't use a VPN with Mistplay. Using a VPN violates the app's terms of service and may get your account banned or suspended. Mistplay uses your location to determine the games and rewards available to you.
How Do You Earn with Mistplay?
You earn with Mistplay by playing games featured on the app. The more you play and advance in the games, the more points you earn. Bonus points can also be earned by completing achievements, inviting friends, entering contests, and keeping a daily streak. Your points can then be redeemed for various rewards like gift cards, prepaid cards, or cash.
Does Mistplay Have Roblox Gift Cards?
Yes, Mistplay does offer Roblox gift cards as one of its reward options. You can redeem your points for Roblox gift cards starting from $5 up to $50. These gift cards can be used to purchase Robux, the virtual currency in Roblox, which you can use to buy items and premium features in the game.
Mistplay Review
Earning Potential

Ease of Use

Available Games

Ease of Payout

User Reviews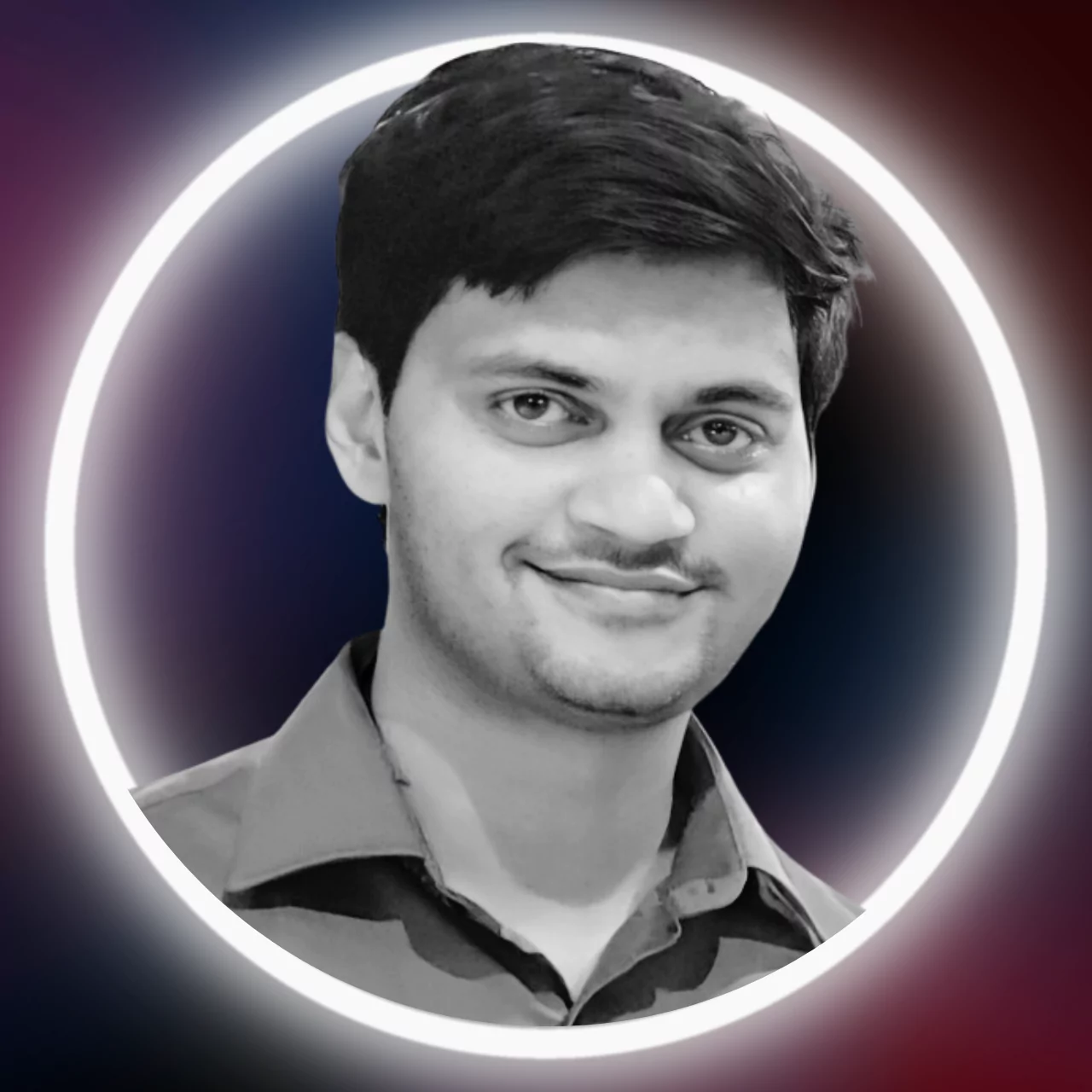 Sumeet is a Certified Financial Education Instructor℠ (CFEI®) and founder of MoneyFromSideHustle. He is an experienced side hustler who replaced his full-time income with side hustles. His work has been quoted on major finance websites like CNBC, Yahoo! Finance, GOBankingRates, CEOBlogNation, SideHustleNation, and more. He has helped thousands of people find side hustles and is here to help you find your extra source of income. More about him.