This post may contain affiliate links from which I may earn a commission without any cost to you. Read our policy for details.
What if you could earn rewards for every hour you spend gaming? Sounds like a dream, right? Imagine a platform that works quietly in the background, tallying up those gaming hours and converting them into cool rewards.
This is exactly what Buff Gaming promises to do.
Buff Gaming is a platform you install on your gaming system. It then runs in the background, seamlessly tracking your gaming hours and rewarding you for them.
It's an attractive concept, isn't it?
A potential cash cow for all gamers. But is Buff Gaming really the golden goose it claims to be? Is it legit? Does it live up to its promises? Should you install it on your system?
I signed up with them to get answers to these questions, and here is my Buff gaming review.
Let's get started!
What is Buff Gaming
Buff Gaming is a unique platform designed for gamers to gain rewards by simply enjoying their favorite games.
As you immerse yourself in your gaming world, Buff Gaming quietly tracks your activity, awarding you 'Buffs' – a virtual currency that can be swapped for real-world goods like gift cards and gaming gear.
The earning potential isn't limited to just playing games. It expands to completing challenges, watching ads, and bringing in friends. The more Buffs you gather, the greater the rewards.
A decentralized platform powers Buff Gaming and allows for secure, peer-to-peer transactions. Built on the Ethereum blockchain, it's open-source and transparent, instilling further trust.
Buff Gaming offers a revolutionary way for gamers to earn rewards. Whether a casual player or a hardcore enthusiast, Buff Gaming is a platform worth considering in your gaming journey.
There are others like Mistplay, PlaytestCloud, Bananatic, and more. But Buff Gaming does have some unique stuff that makes it stand out:
It supports a broad selection of popular games like League of Legends, Apex Legends, Minecraft, Clash Royale, Rocket League, and more.
There's a premium subscription option that lets you earn more BUFF coins and get exclusive rewards.
It has a program where you earn extra BUFF coins when you get your friends to join Buff Gaming.
Buff is publicly traded on the Tel Aviv Stock Exchange (TASE), which speaks volumes about its credibility and openness.
How Buff.game makes money
According to their site, they make their revenue from premium subscriptions, ads, sponsored events, and in-app purchases.
What is Buff Premium
A premium subscription is your ticket to enhance your Buff experience.
By opting for Buff Premium, you will get:
Additional Buffs every month
Enhanced earning potential
Exclusive access to Marketplace Items and special prices
Unique Raffles and Challenges
Access to our special Premium community's Discord Channel, and more
You can choose from three exclusive Premium Powers:
Premium
Premium Plus
Premium Elite
| Subscription | Price | Monthly Buffs | Game Earnings | Other Perks |
| --- | --- | --- | --- | --- |
| Buff Premium | $3.99/month or $35.99/year | 50 | 150% | Access to premium items, premium prices for items |
| Buff Premium Plus | $5.99/month or $53.99/year | 100 | 200% | All of the perks of Buff Premium, plus a dedicated Discord channel, special raffles and challenges, and access to even more premium items |
| Buff Premium Elite | $7.99/month or $69.99/year | 200 | 500% | All of the perks of Buff Premium Plus, plus no ads, a Buff Pass (if you subscribe annually), double daily rewards, and even more premium items |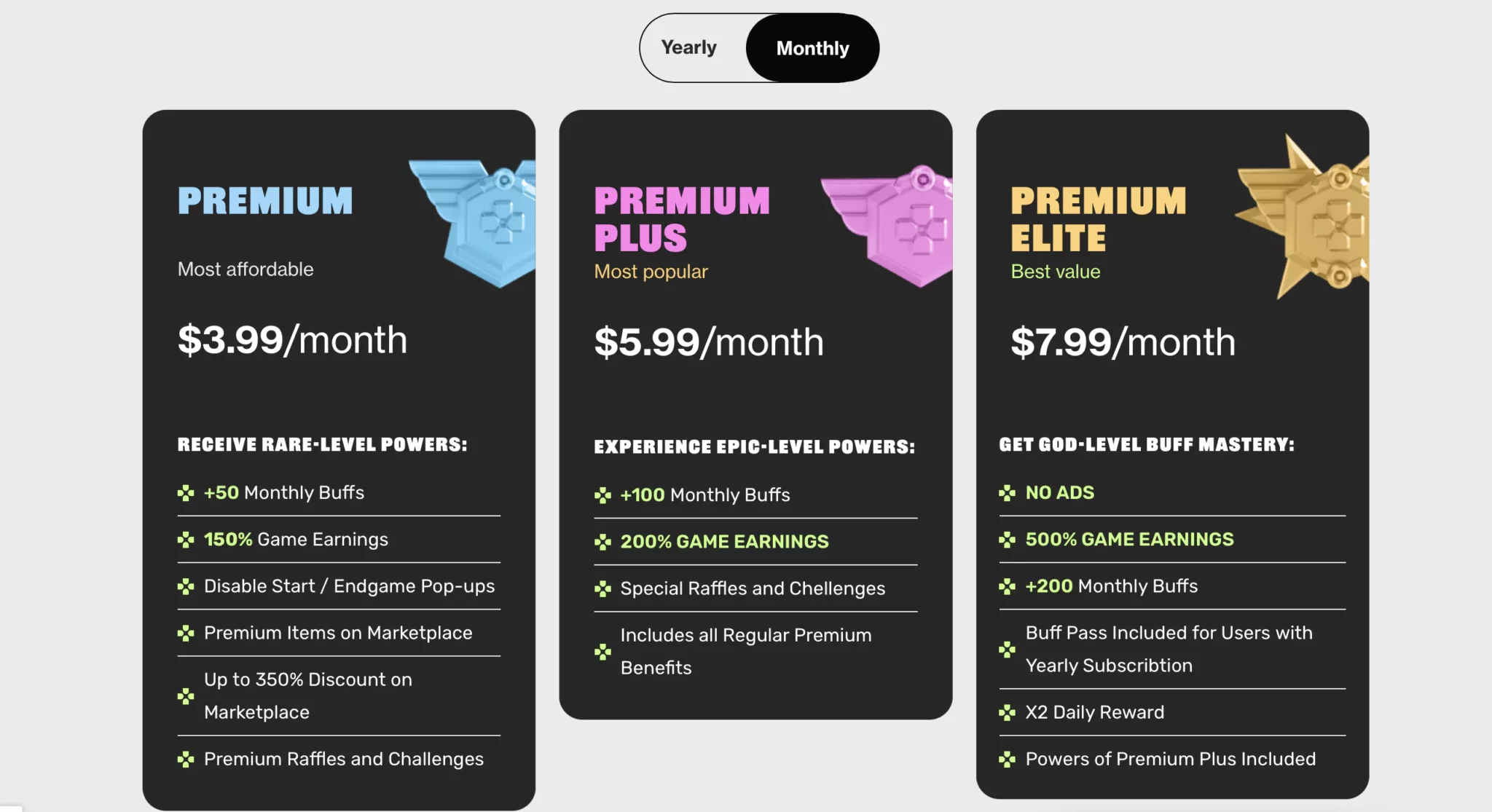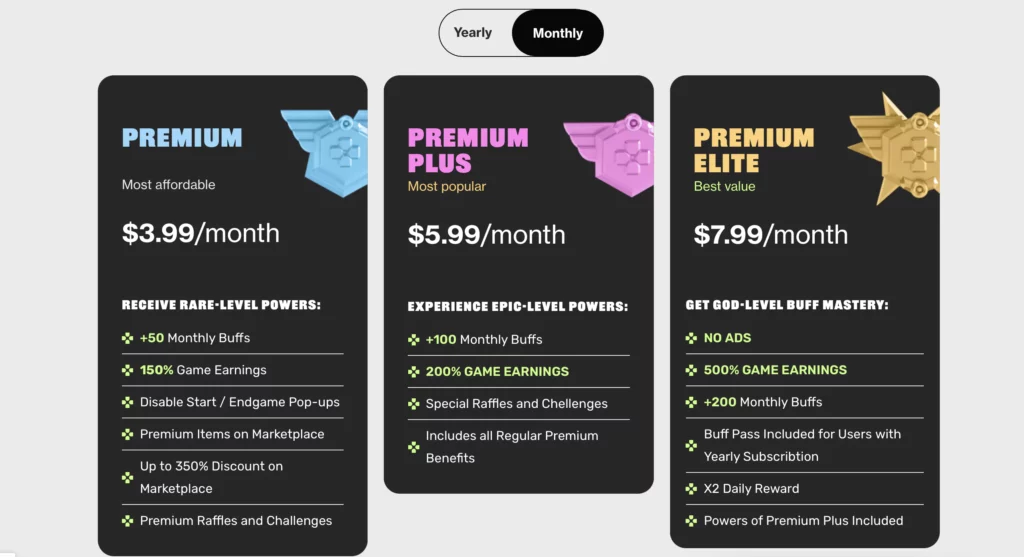 The more Powers you have, the more benefits you reap from Buff.game.
System Requirements
| System Requirements | Details |
| --- | --- |
| Operating Systems | Windows 7 (64 bit), Windows 8, Windows 10 |
| Hard Drive Space | 50MB |
| In-game Support | DirectX8, DirectX9, DirectX11, OpenGL |
| Additional Requirements | Microsoft .NET Framework 4.5 |
| CPU (Processor) | Minimum: Intel or AMD quad-core CPU; Recommended: Intel i3/i5/i7 Gen7 or AMD Ryzen 1Gen with 3GHz or higher frequency |
| RAM (Memory) | Minimum: 4GB; Recommended: 8GB |
How to Start Using Buff.game
Buff is available worldwide, but some products in the Marketplace are available to U.S. residents only.
Ready to get rolling with Buff Gaming? Are you asking, "is Buff legit?" or "does Buff actually work?" Let's break down the steps for you. We'll tell you all about Buff Gaming and how it works.
Step 1: How to Sign Up
The first thing you have to do is sign up. It's free! Just go to the Buff Gaming site at https://www.buff.game/. There's a button that says "Download Now." Click it. You can pick whether you want to use the Buff app on your computer or phone.
After the Buff app is set up, it'll ask you to create an account. You can use your email, or you can use Google or Facebook. Then, make a password and agree to the rules of Buff Gaming.
Once that's done, they'll send you an email to check if it's really you. Click on the link in the email to finish setting up your account. That's your first step towards making money with Buff.
Step 2: Pick Your Game
The next step in the Buff app is picking a game. There's a long list of games that Buff supports. Look through the list, and you can filter games by platform, type, popularity, or rating.
Once you find your game, click on it. You'll see all kinds of details about the game, like what it's about, screenshots, videos, stats, rewards, and more.
You'll also see how many Buffs you can earn per hour by playing the game.
To start playing, click on the "Play" button. It'll start the game and link it with Buff. You'll see a small thing on your screen that shows how many Buffs you have and how close you are to earning more.
Step 3: Play & Earn
Now comes the fun part: playing and earning! By playing the game, you earn Buffs.
You earn them by playing for a while or by doing specific things in the game. You could earn Buffs by winning matches, defeating opponents, scoring goals, and more.
How many Buffs you earn depends on things like your skill level, the difficulty of the game, the game mode, and more. The better you are at the game, the more Buffs you earn.
They use an AI-based algorithm based on your game stats. The better your KDA ratio in LoL, the more Buffs you will earn from each match.
Plus, victories or defeats will influence your Earnings
Get extra Buffs by finishing daily tasks or joining in special events.
You can check how many Buffs you have any time by looking at the thing on your screen or the app. You can also look at your history of how many Buffs you've earned and used in the app.
All the different ways to earn Buffs
Earn Buffs in six ways:
Play games they support
Watch ads
Spin The Buff Wheel
Subscribe to Buff Premium
Collect Daily Rewards
Complete in-game Challenges
Invite friends with their Referral Program
Step 4: Get Rewards
The last step is using your Buffs to get rewards. You can do this in the marketplace section of the Buff app.
There are a lot of rewards to choose from. You can sort the rewards by type, price, popularity, or rating.
What You Will Earn With Buff.game
Here are some rewards you can get:
Gift cards for Amazon, Steam, Google Play Store, App Store, and more.
Cool gaming gear like keyboards, mice, headsets, controllers, and more.
Steam keys for popular games like GTA V, CS:GO, PUBG, and more.
In-game items like skins, weapons, characters, and more.
Real money through PayPal or Payoneer.
The number of Buff coins you receive depends on various factors such as the game you play, how well you play, the duration, your account level, achievements, as well as any ongoing offers.

You can further earn Buff coins by referring friends, watching ads, completing surveys, and participating in contests.
What can you exchange these Buff coins for?
They can be swapped for items like gift cards, gaming gear, and more. For instance, 600 Buff coins can get you a $2 Amazon gift card, and a $10 Steam code will cost you 200 Buffs.
The time it takes to earn these rewards is variable. Playing Valorant for an hour each day might earn a $5 Amazon gift card in roughly 25 days, while a HyperX Cloud II headset could take over a year.
These are just estimates; actual earnings could vary based on your gameplay, level, and other factors.
To get a reward, click on it. It'll show you more about the reward and how to get it.
It'll also tell you how many Buffs you need to get it and how many you have. If you have enough Buffs, click the "Redeem" button and confirm your choice.
After that, Buff Gaming will send you an email with a code or a link for your reward. Follow the instructions in the email to get your reward and use it however you want.
Note: If your desired reward is available, get it asap as they are often snatched fast and do not become available for months at times, though Buff.game says they restock 2-3 times every week.
Most gamers report earning $5 to $10 monthly with this app. You can also expect this much if you are a consistent gamer.
Buff.game Referral Program
You can invite friends with your special personal code.
When your friends join Buff gaming with your code, you get buffs.
When your friend earns 30 Buffs from playing games, you'll get 30 Buffs too. There's no limit – you can recommend this to as many friends as you want.
What Games Are Supported on Buff Gaming
They support over 1500 games, and you can find all of them in this list. The most popular of them include:
| Game | Compatible Modes |
| --- | --- |
| Dota 2 | Casual, Competitive, Competitive Extra |
| LoL | Normal (Blind/Draft), Ranked (Solo/Flex), ARAM, Clash |
| Team Fight Tactics | Normal, Ranked, Hyper Roll, Double Up |
| CS:GO | All modes excluding bots, Community Servers, Faceit, etc. |
| R6 | Newcomer, Quick Match, Unranked, Ranked |
| Apex Legends | Duos, Trios, Ranked, Arena |
| Valorant | Spike Rush, Unrated, Rated |
| PUBG | Classic, Custom, Arcade, Event, Ranked |
| Fortnite | PvP Battle Royale, Squads, Duos, Solo |
| Splitgate | All modes |
| Call of Duty: Warzone | Plunder, Battle Royale (All Modes), Rebirth (All Modes) |
| Rocket League | Casual, Ranked, Extra Modes |
| Hearthstone | All non-AI game modes excluding Dual |
| Overwatch | Ctf, Elimination, Skirmish, Assault, Escort, Hybrid, Control, Deathmatch, Team Deathmatch, Survivor |
| Minecraft | Duels, Bed Wars, Blitz SG, Sky Wars |
| Halo | Fiesta, Oddball, Slayer, Stockpile, Strongholds, Total Control, Capture the Flag |
| Clash Royale (Mobile) | All modes |
| Clash of Clans (Mobile) | Ranked Battles |
| Brawl Stars (Mobile) | All modes |
As you can see, there are not many options available for mobile games, but for PC, there are extensive collections, and they add new games every month.
BuffPay Debit Card
BuffPay is like a wallet for gaming enthusiasts. It's a prepaid debit card designed especially for gamers in the United States and Canada.
It's issued by Evolve Bank & Trust, a Member of FDIC, and valid everywhere and every purchase can help you earn Buffs.
These Buffs can then be traded for fantastic gaming rewards at the Marketplace.
Here's what BuffPay offers:
Joining bonus: They give you up to $150 as a signup bonus. When you use a BuffPay card and spend $1000, you get $30 back in Buffs. Plus, you get another $100 after spending $1000. With your first deposit of $50, you get a $5 gift card*. If you spend $500, you get a $15 gift card.
3% Cashback: You will get 3% cashback on all purchases in form of buffs.
Cost-free: The Physical and Virtual cards won't cost you a penny! BuffPay users get to enjoy zero fees. Gain Buffs with each buy: Each dollar you spend using your BuffPay card gets you Buffs. You can swap these Buffs for gaming rewards like game keys, gift cards, and gaming gear.
Earn while you play: The BuffGame app lets you earn Buffs just by playing your most-liked games. More play, more Buffs!
No transaction charges: Buying something with your BuffPay card? You won't have to worry about any transaction fees.
Safety first: BuffPay is a trusted prepaid debit card safeguarding your personal and financial data with top-notch security measures.
BuffPay is ideal for gamers who want to economize and earn rewards for their gaming buys.
Other's Reviews of Buff Gaming
Buff Gaming is pretty new, having started in 2018. But it's already really popular and has a lot of good feedback from gamers around the world.
On the user's review site Trustpilot, Buff Gaming has a score of 4.2 out of 5 from over 9k reviews.
Here are some positive reviews:
"Get paid for gaming, what I do every day for free??? That's awesome, the buff is a new experience for all real gamers that spend some time gaming in variated titles; highly recommended" Agustin C, AR
"I've been using Buff since earlier this year, it's a good and easy source to get money and enjoy playing your favorite games. But the only pet peeve is that the things that you may want to buy (gift cards etc.) are always out of stock. But otherwise, it is a solid way to get money." Vast Shadow, US
"I heard Buff was good by a friend, but I didn't really believe it. But then I saw everything I could do with this app, like recording games or watching highlights. And here we are, guys I finally got my first riot card, youhou!!!!!!" – Clément Godoffe, FR
Below are screenshots of people sharing their positive experience: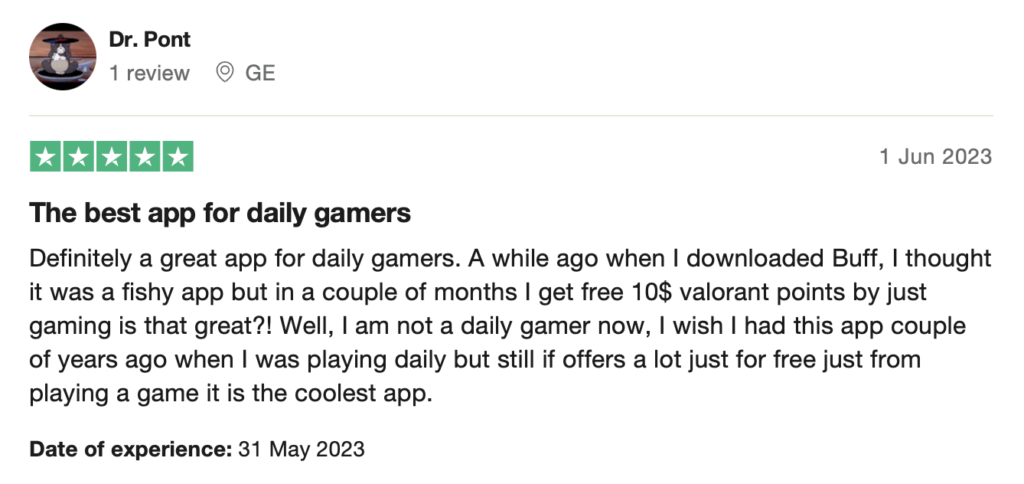 Here are some issues people faced:
"So since I had buff downloaded, I've been collecting points, and it's incredible how every time I go to spend it on riot points, it always shows OUT OF STOCK: LAST PURCHASES JUST KNOW OR 3HRS AGO OR 6HRS AGO ITS NEVER AVAILABLE. I have points that I want to exchange, and you're not providing what you advertising." Bus Mil, MT
"They are just fooling people no matter how many points you earn, you can never buy anything which is useful(like a Steam card, Valo card, etc) this app is controlled by bots. Useful cards are always out of stock, their support is also pathetic no reply from their side. Also, a possibility they steal personal data" -Sky Sharma, IN
"It's almost impossible to claim a gift card. I've been trying to claim one for the last two months. The gift cards get out of stock in literally less than 10 seconds after being in stock. Don't bother downloading." – Hugo Jose Gudiel Corzo, GT
These are some complaining users screenshots: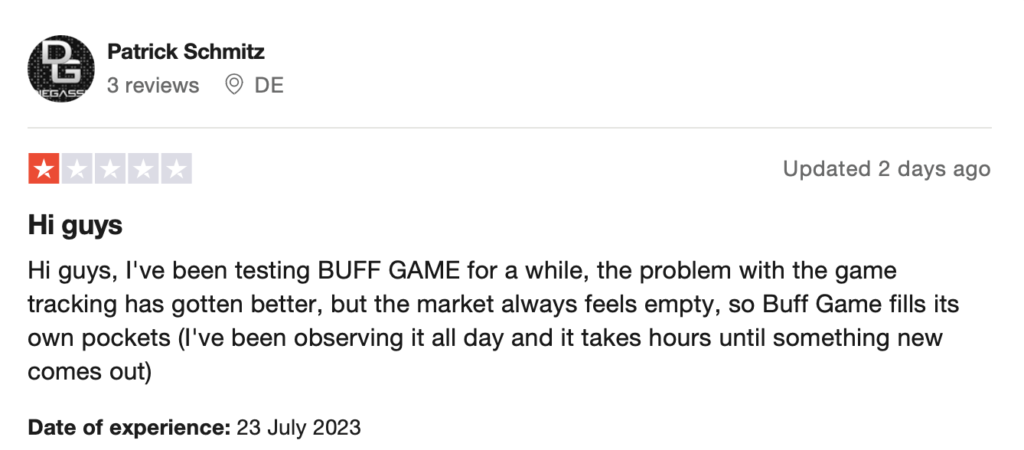 As you can see, most people are happy with Buff Gaming. They like that they can make some extra cash or earn gift cards for doing almost nothing other than installing the app.
But almost every second user had issues with redeeming gift cards. Their customer support acknowledged this issue multiple times, but it is still a major issue that can deter many users from trying it.
What is the point of installing the app if you can't redeem your points for your desired gift cards?
Pros & Cons of Buff.game
Good Things About Buff Gaming
Buff Gaming is a cool place where you can get rewarded for playing games. It works while you play your favorite PC and mobile games. Here's why Buff Gaming is awesome:
You get rewards for doing what you love – playing games. Buff Gaming is not about watching ads or doing tasks. You just play the games that Buff supports, and Buff keeps track and gives you Buffs.
Buff Gaming makes gaming more fun. Not only does it give you Buffs, but you can also share your gaming highlights, check your stats, and join a gaming community.
Buff.game is very easy to use. You simply download the app, create an account, and start playing games. The app will track your playtime and automatically award you rewards.
Buff Gaming is safe for your computer. Buff Gaming is approved by Overwolf, a well-known platform for creating in-game stuff. It follows the rules of game publishers, and it doesn't slow down your computer or come with any nasty stuff.
Buff.game can be used with a variety of games, including League of Legends, Fortnite, and CS:GO. This means that you can earn rewards no matter what games you play.
Things That Could Be Better About Buff Gaming
Buff Gaming is cool, but it's not perfect. Here are some things you should know:
You won't become rich using Buff. It's more like a loyalty program, where you get rewarded for playing games. The number of Buffs you get depends on what game you play, how long you play, and how well you do. Some people say it takes a while to get enough Buffs to get the really good stuff.
Buff Gaming can sometimes have bugs. Since it's new, it's still being improved. Some people have had problems like lost Buffs, the app crashing, or trouble logging in. Buff Gaming is working to fix these issues, but it might not be perfect yet.
You might not always find what you want in the Buff marketplace. Buff has a marketplace where you can trade Buffs for items, but what's available can change depending on where you live and what's popular. Some people have said they couldn't find what they wanted.
Uninstalling Buff.Game
Among the many concerns raised by users of Buff.Game is the process of uninstalling the app. Let's take a look at how to go about removing the app from your device in a step-by-step manner.
Uninstalling Buff
Launch Overwolf's Appstore: To begin the uninstallation process, first navigate to Overwolf's Appstore. You can do this by clicking on the Overwolf icon on your desktop or by searching for it in your Start menu.
Locate Buff: Once you're in the Appstore, search for Buff. This can be done by typing "Buff" in the search bar and pressing enter or by scrolling through the list of apps until you find Buff.
Access Settings: After finding Buff, click on the Settings Icon associated with it.
Initiate Uninstall: To start the uninstallation process, click on 'Uninstall'. This will remove Buff from your Overwolf apps.
Uninstalling Overwolf
If you wish to uninstall Overwolf entirely from your computer, follow these steps:
Go to Computer Settings: This can be done by clicking on the gear symbol usually located in your Start menu.
Navigate to 'Apps': In your computer settings menu, click on the 'Apps' option.
Search for Overwolf: In the 'Apps' section, type "Overwolf" in the search section. This will bring up any apps associated with Overwolf on your computer.
Click on the Options Icon: On the right side of the Overwolf icon, you'll find three aligned dots. Click on this to bring up more options.
Initiate Uninstall: Finally, to remove Overwolf from your computer, click on 'Uninstall'. This will start the uninstallation process.
It's important to note that uninstalling Buff or Overwolf will remove all data associated with these apps from your computer.
Other Places Like Buff Gaming
Buff Gaming isn't the only place that rewards gamers. Here are some others:
GamerHash:
Here you play games, earn GamerHash coins, and get goodies. In GamerHash, you can get paid for mining cryptocurrency or doing tasks like watching videos. Buff works similarly. They also support many games, over 1,200, in fact, like Fortnite and World of Warcraft.
Gamehag:
Gamehag is a platform where you can play games, do quests, and even join contests to earn Soul Gems. These gems can get you gift cards or game keys. Buff and Gamehag both offer rewards for playing games. Gamehag also supports a ton of games, over 2,000! They've got Dota 2, Minecraft, and many more.
PlayVIG:
It is another platform where you can earn rewards for playing games and completing challenges. You earn PlayVIG points that you can exchange for gift cards or game keys. Both Buff and PlayVIG reward you for playing games and doing challenges. PlayVIG supports over 100 games (mostly PC), including Fortnite and Call of Duty: Warzone. They also have leaderboards and tournaments where you can win even bigger prizes.
Mistplay:
Mistplay is a platform you can use on your mobile device. You play games, earn Mistplay points, and get rewards. Mistplay supports a bunch of games, over 300 in fact, including Candy Crush Saga and Pokemon Go.
If you're into cryptocurrency, GamerHash is a good choice. If you want a huge variety of games, go for Gamehag. And if you play games on your mobile, Mistplay is your best bet.
Related: Best games that pay rewards and games for PayPal Cash.
So, Is Buff Legit?
Based on what I found, Buff.game is safe and a legit app for gamers. Overwolf, a big name in the game creation world, has given it the thumbs up. This means Buff is free of harmful software, won't get you banned, and doesn't mess with your computer's performance or the frames per second in your games. However, don't expect to earn much. On average, you can earn $5 to $10 every month passively.
Sounds good enough for doing nothing extra, right? But it's not without a few issues.
To start, you'll need the Buff game app installed and running in the background while you play your games. This doesn't disrupt your gameplay, but it does use up some system resources and can slow the gaming experience, according to a few users (Use this platform only if there is no change in the gaming experience, which can vary from user to user).
Buff.game supports a range of popular games but is not universal. So, check if your favorite game is on their list before diving in.
You earn Buff Coins by playing games. The rate you earn these can be slow. You won't be rolling in rewards immediately, that's for sure.
When it comes to redeeming these coins, expect to wait weeks, if not months, to get your hands on the rewards you want, as they are often not available. So patience is key here.
Let's be clear; you won't get rich off Buff.game. It can be a good addition to your gaming setup for extra cash. Just don't expect it to be a major income source.
If you're more into making extra cash, consider paid survey sites, gig economy apps, or beer money apps. They could provide a more reliable side hustle.
Should You Use Buff.game?
In Conclusion, Buff Gaming is good for gamers who want rewards for playing their favorite games.
It's safe, legit, easy to use, and works with many games on computers and mobiles. You can get money or gift cards by trading your Buff coins at the marketplace.
You can also enjoy other perks like capturing highlights, participating in events, and connecting with other gamers.
However, rewards are very low and take a lot of time to accumulate enough points. Plus, you will certainly face issues with redeeming Buffs for your desired rewards.
Then, personal data tracking can be big issue for a few users.
If you are not bothered by these issues, then I think this is a good way to make some extra cash every month doing nothing. But, if these issues affect you, you can give it a hard pass because $10 is not worth all that anxiety.
I hope this post has answered your questions about Buff Gaming. Now you know how it works, whether it is legit, and is worth your time.
For more reading:
FAQs
Is Buff pay Legit?
Buff Pay is part of Buff Gaming. It lets you turn your virtual Buff coins, which you get from playing games, into real money. You can pick how you get your money – through PayPal, Amazon gift cards, Steam keys, and more. Buff Pay is reliable and legit. Many gamers have got their money without any problems.
Is Buff Game Illegal?
Buff Game doesn't break any laws. It's a legal platform that rewards gamers for playing the games they already enjoy. Buff Game's parent company is a publicly-traded company, and gaming giant Overwolf supports the gaming app. It's just a program that encourages you to play more games and have fun. However, if you are concerned about data theft, earning $5 or $10 in a month is not worth it for living under a doubt.
Can I Make Money from Buff?
Yes, you can! Play games, earn Buff coins, and swap them for real cash or gift cards. How much you earn depends on a few things – how much you play, how good you are, which games you play, and the rewards you pick. Some gamers have made up to $50 monthly from Buff, but that's not common, as most make around $5 to $10. Plus, a lot of users complain about not getting their desired rewards in the marketplace.
Buff Gaming Vs Traditional Gaming Platforms
Buff Gaming is not your typical gaming platform. Here's why:
Buff Gaming gives you rewards for playing games you already have and love. You don't need to buy new games or pay for a subscription to use Buff Gaming unless you want to earn more and go premium.
Buff Gaming works with over 1500 games on computers and mobiles. You can play popular games like Fortnite, Valorant, League of Legends, and PUBG Mobile.
Buff Gaming has a simple layout that lets you see your progress, scores, highlights, and rewards instantly.
There's a big community of gamers on Buff Gaming. They share their experiences, advice, feedback, and support on social media and forums. You can also connect with popular streamers and influencers who use Buff Gaming.
Buff Gaming keeps getting better. They add new games, rewards, events, and partnerships regularly.
Does Buff Sell Your Data?
According to their website, Buff respects your privacy and doesn't sell your data. It only collects data to give you a better service. For instance, it uses your game data to work out your rewards, your email to check your account, and your payment info to send your money. You can read Buff's privacy policy to know more about how it uses your data. However, a user on Reddit has pointed out that the policy details say that they can access user data and can also sell it at their own discretion.
Buff Review
Earning Potential

Ease of Use

Available Games

Ease of Payout

User Reviews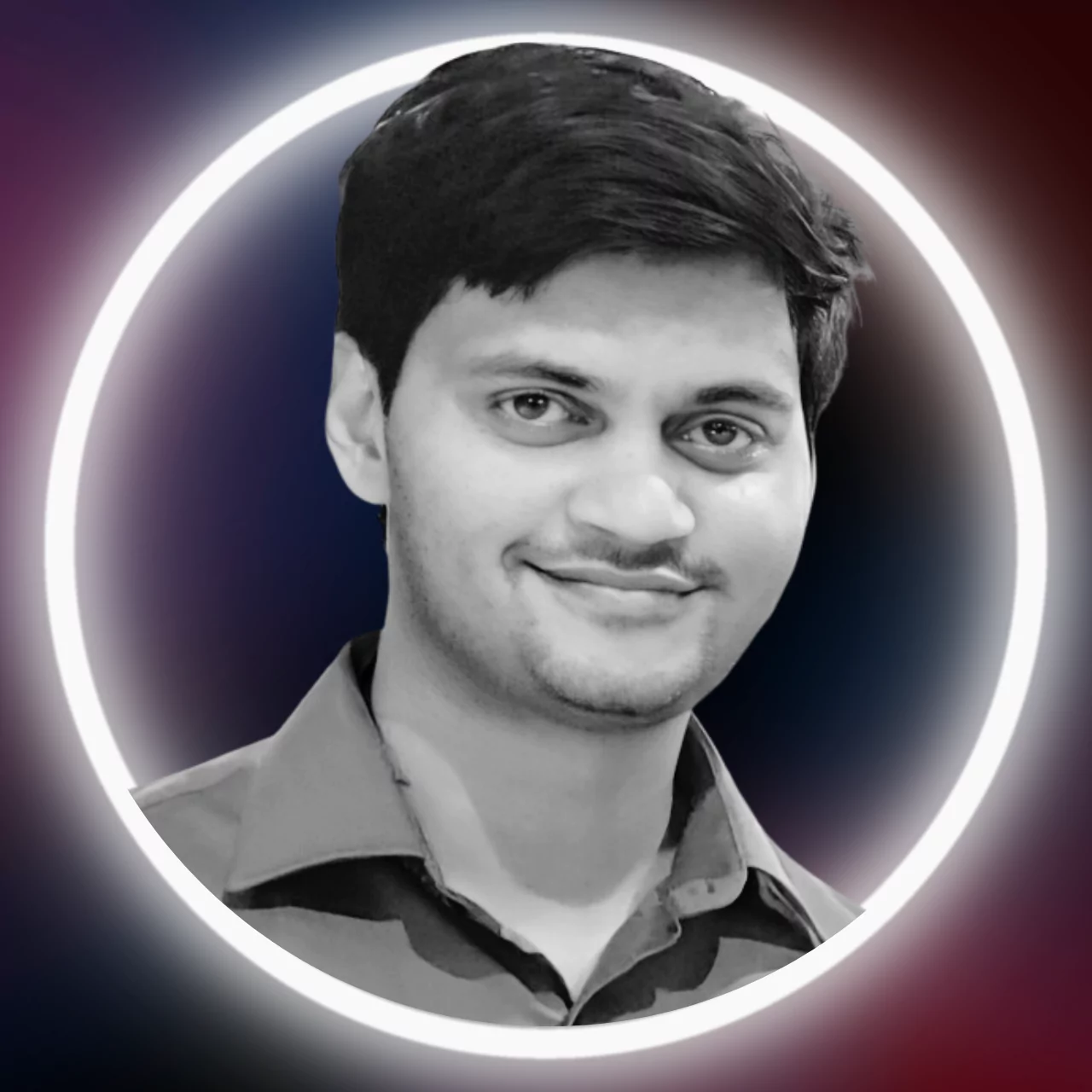 Sumeet is a Certified Financial Education Instructor℠ (CFEI®) and founder of MoneyFromSideHustle. He is an experienced side hustler who replaced his full-time income with side hustles. His work has been quoted on major finance websites like CNBC, Yahoo! Finance, GOBankingRates, CEOBlogNation, SideHustleNation, and more. He has helped thousands of people find side hustles and is here to help you find your extra source of income. More about him.