This post may contain affiliate links from which I may earn a commission without any cost to you. Read our policy for details.
Looking for a side gig that lets you earn some extra bucks from the comfort of your home? You might have heard of high paying market research studies called focus groups that pays in hundreds for a few hours.
You may have stumbled upon Apex Focus Group, a website that provide opportunities for paid focus groups, as well as various other ways to earn, like medical trials and research studies.
But you might wonder, "Is Apex Focus Group legitimate?" "Is Apex Focus Group legit or a scam?" I signed up for this website and checked it out. In this review, I'm going to lay it all out for you. I'll talk about what Apex Focus Group is, how it operates, and how much you can potentially earn.
I'll share my personal experience, tell you whether I found Apex Focus Group legit, and give you tips to maximize your earnings.
In this Apex focus group review, you will get a good understanding of Apex Focus Group and be able to decide whether it's worth your time. Let's dive in!
What's Apex Focus Group All About?
Apex Focus Group is a firm that helps you find opportunities to get paid for participating in focus groups. They collect focus group studies from the web and work directly with market research companies to bring you these opportunities.
A focus group is a platform where people discuss and share opinions on products and services. Joining a focus group through Apex Focus Group lets you share your views with others and potentially influence key players in market research.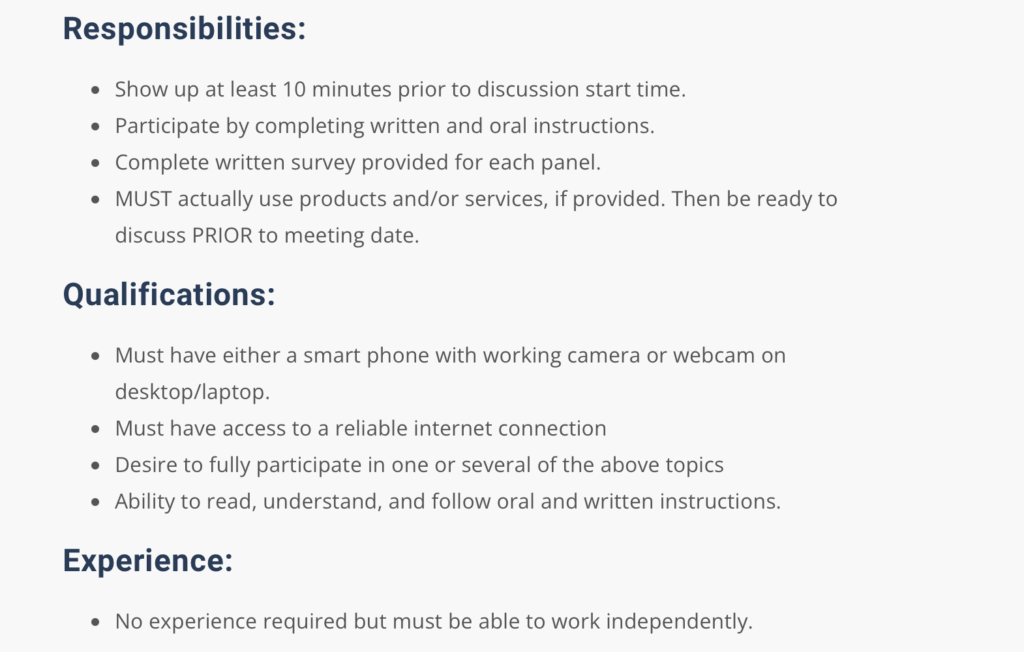 Besides focus groups, Apex Focus Group also provides other means to earn extra cash, such as participating in clinical trials, paid surveys, and remote jobs. You can explore these opportunities by subscribing to their website.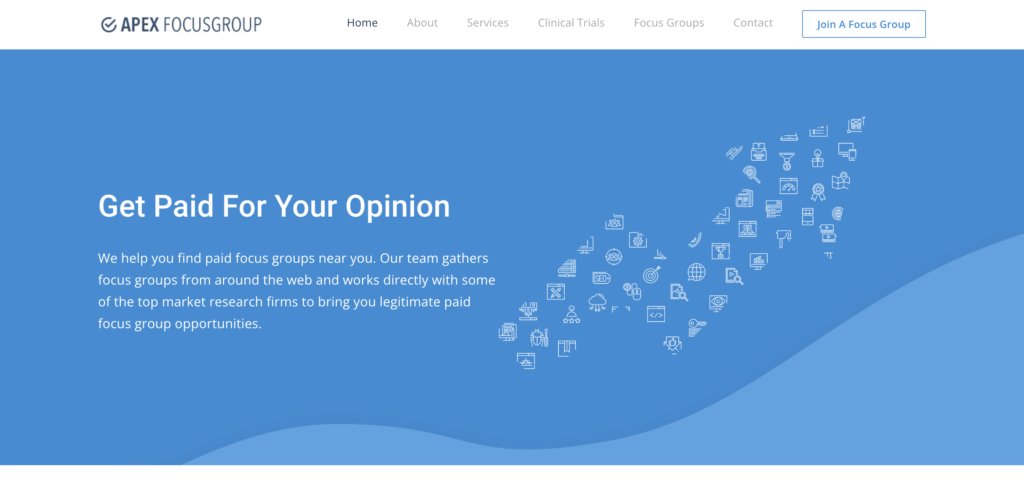 Established in 2019 by a team of market research professionals, Apex Focus Group was created to link people with legitimate, well-paying focus group opportunities. Since then, they have become a leading provider of focus group information in the US.
High earning surveys
Easy-to-use website
Many ways to earn
Is Apex Focus Group Legit?
To figure out if Apex Focus Group is legitimate, we need to consider several factors, such as:
The reputation of the company and its partners
The range and quality of opportunities offered
The payment methods and rates
The level of customer service and support
Feedback and reviews from previous participants
Looking at these factors, here's what I find about Apex Focus Group:
Apex Focus Group has a good reputation in the market research field. They work with some of the top US market research firms like Ipsos, Nielsen, and GfK. They also hold an A+ rating from the Better Business Bureau (BBB), suggesting high levels of trustworthiness and customer satisfaction.
They offer a broad array of opportunities, catering to different interests, backgrounds, lifestyles, and locations. You can find focus groups on topics like consumer products, healthcare, technology, entertainment, and more. They also provide options like clinical trials, paid surveys, and remote jobs.
They offer good compensation for your time and thoughts. Depending on the nature and duration of the opportunity, you could earn anywhere between $25 and $700 or more per study. Payments can be received via PayPal, check, or gift card.
Their customer service and support are ok. You can reach out to them via email or contact form on website if you have queries or face issues. They also have an FAQ section on their website that answers common questions.
Feedback and reviews from past participants are mixed. Many people have shared their experiences and testimonials on their website and social media. Most people have complains about personal data collection and not qualifying for the studies.
Based on my personal experiences and observations, I can say that Apex Focus Group is legitimate. But it is definitely not as easy money making opportunity as they make you feel.
First of all you should be ready to share your personal data and receive a lot of promotional emails. Secondly, focus group studies are notorious for rejecting most applicants, so you probably won't qualify for 90% of studies you apply for.
Multiple ways to make money
Low and easy cashout options
Great user ratings on App store
How Apex Focus Group Works
Sign Up Procedure
Joining Apex Focus Group is a straightforward and easy process. Here's how you do it:
Visit the Apex Focus Group website and click on "Join Us Now."
Fill out a brief form where I was asked to fill out details like:
Name
Email
Zip code
Gender
Date of birth
Educational qualification
Smartphone you own
Desire for additional education
Then you will be sent an email to verify your account and you can log in to complete your profile by answering a few questions about your interests, hobbies, education, income, household, and lifestyle.
Go through the available focus group opportunities and apply for the ones that align with your profile and preferences.
The registration process is user-friendly and should take less than 10 minutes.
Finding Focus Groups
Locating focus groups with Apex Focus Group is also a breeze. From your account dashboard or the regular email notifications sent by Apex Focus Group, you can access the list of available focus groups.
You can refine your search based on category, location, compensation, duration, and date. If there are certain topics that you're interested in, you can search for specific keywords. For instance, if you're interested in health and wellness, type "health" or "wellness," and you'll get related focus groups.
There are many categories of focus groups available. They claim to have over 1000 market research opportunities and over 800 active participants in 41 states.
Here are a few examples I found:
| Topic | Company | Payout | Location | Gender | Age Range |
| --- | --- | --- | --- | --- | --- |
| Business travel | Plaza research | $125 | National | M/F | 20-55 |
| Pet products | Focus Pointe Global | $250 | National | M/F | 21-65 |
| Health & Wellness | L&E Research | $400 | National | M/F | 45-75 |
| Alcoholic beverages | Focus Pointe Global | $125 | Los Angeles | M/F | 22-39 |
| Women's clothing | Plaza Research | $150-$200 | Southern California | F | 16-25 |
To apply for a focus group that catches your interest, simply click on "Apply Now" and fill out a brief questionnaire relevant to the focus group's topic. The purpose of this questionnaire is to screen out those who are not suitable for the focus group.
Discovering Clinical Trials
Clinical trials are research studies that test new treatments or procedures for various health conditions, usually conducted by doctors, hospitals, universities, or pharmaceutical companies.
Apex Focus Group can assist you in finding clinical trials. You can use their website to search for clinical trials that fit your criteria, such as your location, age, gender, health condition, and availability.
They also have a list of featured clinical trials that offer experimental treatments for various diseases and disorders. Some of these trials may pay you for your participation, while others may provide free or discounted treatment.
There are not much options available, but here are a few trials I found on the website.
| Topic | Payment Up To | Description |
| --- | --- | --- |
| Osteoarthritis | $1950 | Local clinical research studies for individuals suffering from Osteoarthritis |
| Child Migraine | Varies | Local research studies for children with constant migraine headaches |
| Endometriosis | Varies | Clinical trial evaluating an investigational medication for endometriosis-associated pain |
| Narcolepsy | $815 | Paid clinical studies for adults with Narcolepsy |
| Uterine Fibroids | $3000 | Research studies for women with uterine fibroids |
| Teen Eczema | $50 | Clinical trial study for children or teens with atopic dermatitis (eczema) |
Paid Survey Panels
Paid survey panels are online platforms that reward you for sharing your opinions on various topics. Market research companies usually run these platforms to collect consumer feedback.
Apex Focus Group claims to assist you in finding paid survey panels.
However, at the time of checking I was not able to get any options.
Instead for this purpose, you can use more reputable websites in this domain like:
How Much Apex Focus Group Pays
The amount Apex Focus Group pays depends on the type and duration of the focus group you're involved in.
Most importantly, they don't pay you directly, they just connect you with the different available opportunities, and you get paid there directly.
In general, for sharing your thoughts on a range of products and services, you can anticipate earning:
Between $35 to $75 per hour session
$350 to $750 for multi session studies
However, the pay rate can vary depending on the complexity and popularity of the topic.
From Apex Focus Group user reviews, the pay has ranged from $50 to $100 per hour, with payments made via PayPal, check, or gift cards. The payments are fair and timely if you qualify, given the time and effort invested in the focus groups.
When compared with industry-standard payments, Apex Focus Group seems to be competitive. While some sources suggest that the average payment for a focus group participant in the US is around $100 per hour, this can fluctuate depending on the focus group's location, topic, and availability.
Highest Paying Surveys
Up to $50 per survey
Industry-leading surveys
Is Apex Focus Group a Scam?
While Apex Focus Group claims to provide paid focus group opportunities and access to similar income-generating ventures like participating in medical trials and research studies, some might question if Apex Focus Group is a scam or a legitimate way to earn extra money.
Examining Scam Claims Against Apex Focus Group
There are scam allegations against Apex Focus Group suggesting it's a fraudulent company that gathers personal information from unsuspecting users and sells it to third parties.
Some of these allegations also state that Apex Focus Group either doesn't pay its participants or provides them with low-quality or non-existent focus group opportunities.
For example here are few reviews:
"Just a scam: You apply to join one of the "focus groups" but before that they already suck out all the info and data that they need from you and you never hear about those "focus groups" again, a scam"- says Jadan from GB
"I wouldn't recommend them to anyone: I wouldn't recommend them to anyone, you sign up and constantly get bombarded with emails from 'partner' companies who are also a waste of time. You can probably make about £5 in a year if you're lucky!!" – says Mrs Agye from GB
"Literally just a site that collects your info, and keeps asking you to sign up endlessly. If you're lucky, you might one day earn 20 bucks for your 10 hours of constant forms to fill out." – says David Blair Graham from CA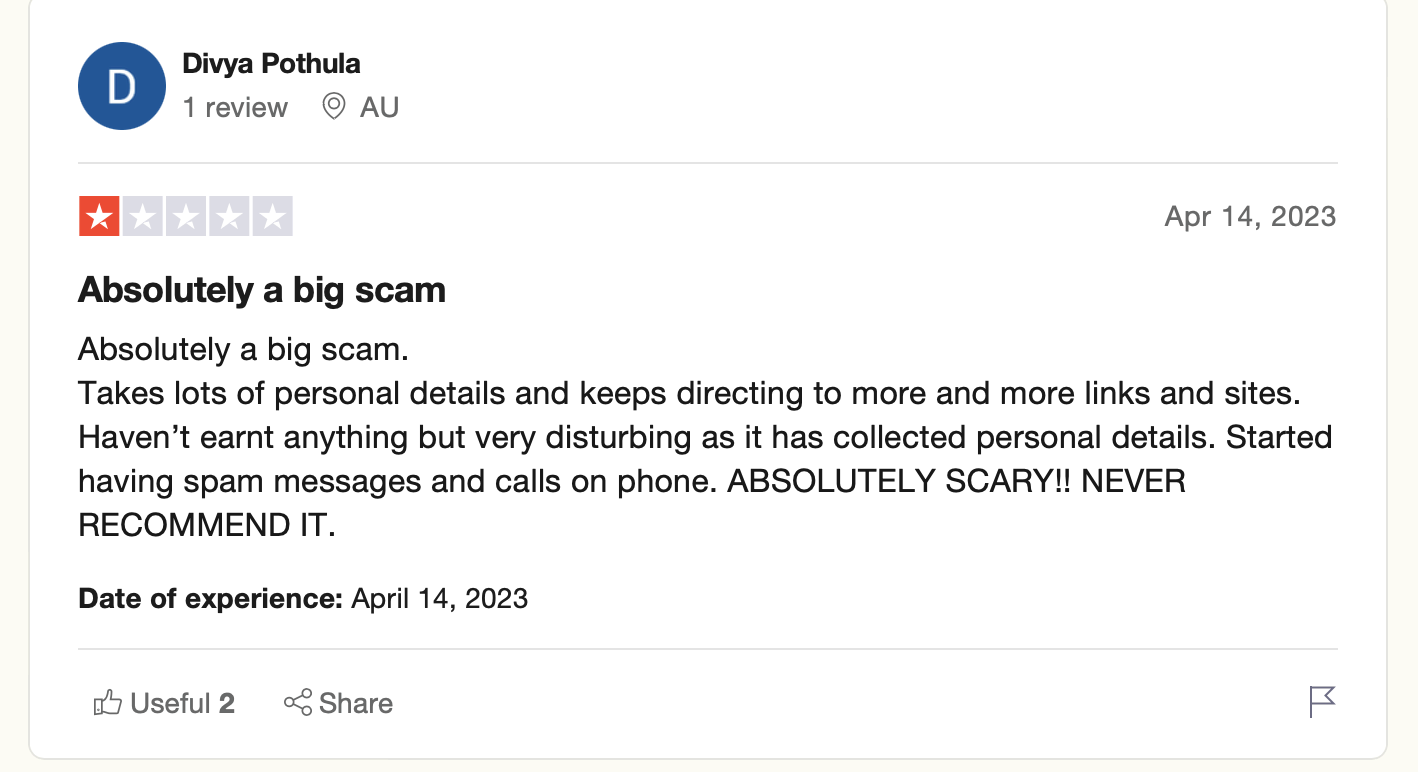 However, there are a few positive reviews as well, like this one user on Glassdoor says "I have participated in a few well paying market research studies and focus groups through them, including the latest one on cellphone brands. They provide access to quality panel opportunities as well as great service to their clients."
Evaluating Evidence Against These Claims
The evidence for or against these claims is somewhat mixed. Some users have shared positive reviews and testimonials, suggesting they've participated in legitimate, well-paid focus groups via Apex Focus Group.
However, there are also negative reviews and complaints from users who've faced issues with personal data collection, junk emails, payment, or the quality of focus groups provided by Apex Focus Group.
I found several red flags about Apex Focus Group's credibility and transparency, such as:
A lack of clear information about the company's background, history, location, or contact details on its website.
The use of multiple domains (.com and .org) with similar content but differing designs and layouts. The org domain looks like more for freelance opportunities, but why use the same domain name?
The use of generic stock photos and names for its testimonials and clients (big question mark on creditability).
Spammy and unsolicited emails to recruit potential participants.
Personal Conclusion on Scam Allegations
Based on my own experiences and research, it's tough to label Apex Focus Group as a scam company.
While it can be established that Apex focus group is a legit company and not outright scam but you can not rely on what they say on their face value considering reviews on sites like Trustpilot and above mentioned points.

Most users complain after they don't get qualified for the studies, but you should be aware of it beforehand that you will not qualify for most of the studies because such is the nature of the business.
Plus, users who are afraid to share their personal information are mostly negative reviewers. So, if you are one of those who are afraid of sharing their data you should probably stay away from the market research studies or surveys in general.
Pros and Cons of Apex Focus Group
The Benefits I've Noticed
Here are some good points I've noticed about Apex Focus Group:
Joining is a breeze. You just need to fill out some basic info and what you prefer.
There's a range of market research groups that match your interests, lifestyle, and where you live. You can choose anything from customer products, medical trials, surveys, and more.
It pays pretty well for your time and thoughts. Depending on the discussion topic and how long it takes, you could earn up to $150 per hour.
It's flexible and handy. You can take part in online or face-to-face discussion groups, depending on what works best for you.
The Drawbacks I've Noticed
And here are some issues I've had with Apex Focus Group:
It's not always consistent or dependable. Sometimes, there aren't enough focus groups available or they fill up fast.
It's not always clear and trustworthy. Some of the discussion groups are unclear or misleading, and some of the market research firms aren't top-notch or professional.
It's not always secure or private. Some of the discussion groups require you to share personal or sensitive information, like your health history or financial details.
Best Apex Focus Group Alternatives
While Apex Focus Group claims to offer paid discussion group opportunities and other similar money-making options, it's not the only game in town.
Here are some other alternatives to Apex Focus Group you might want to consider.
Respondent: This service connects researchers with people who qualify for online and in-person studies. Respondent pays well, up to $140 per hour, but has a tough screening process and a low acceptance rate.
User Interviews: This service helps companies find people for user research, usability testing, and market research. User Interviews pays between $20 and $200 per hour, depending on the study, and has a wide range of topics and formats.
Survey Junkie: This service pays you to take online surveys and share your opinions on various products and services. Survey Junkie pays between $0.50 and $3 per survey, depending on the length and complexity, and has a low minimum payout threshold of $5. But there are also options of focus groups that pay upto $150/hour.
Here's a quick review and comparison of each alternative:
| Thing to Consider | Respondent | User Interviews | Survey Junkie |
| --- | --- | --- | --- |
| Where It's Available | All over the world | US and Canada | US, Canada, Australia |
| How You Get Paid | PayPal | PayPal or Amazon gift card | PayPal or e-gift card |
| When You Get Paid | 5-8 days after study is over | Within 10 days after study is over | Right after reaching $5 |
| Average Pay Rate | $140 per hour | $50 per hour | $1 per 10 minutes |
| Range of Topics | High | High | Low |
| How Easy to Qualify | Low | Medium | High |
Final Thoughts and Tips for Potential Apex Focus Group Users
Based on our research and analysis, Apex Focus Group is legit, but it might not be the most reliable or consistent choice. It's not a scam, but it's not exactly dependable or trustworthy either.
It could be worth a shot if you have nothing else to do and you're looking for some extra income opportunities, but keep your expectations in check.
If you're thinking about joining Apex Focus Group, here's what I suggest:
Sign up with an alternate email address and complete your profile.
Regularly check your email for invites to join discussion groups or other studies.
Apply as soon as you can and answer the screening questions honestly and accurately.
Be ready to attend the discussion group or study at the set time and place.
Follow the instructions and guidelines of the moderator or researcher.
Provide honest and constructive feedback on the products or services you're testing or reviewing.
But if you're looking for a more reliable and more widely available way to make extra money by sharing your opinions, I recommend you check out Respondent.
More ways to make money:
Apex Focus Group Review
Earning Potential

Available Opportunities

Qualifying Rate

Hourly Rate

Ease-of-use
Summary
Apex Focus Group is an aggregator site that helps you find opportunities throughout the web to get paid for participating in focus groups. Can try, but don't keep high hopes!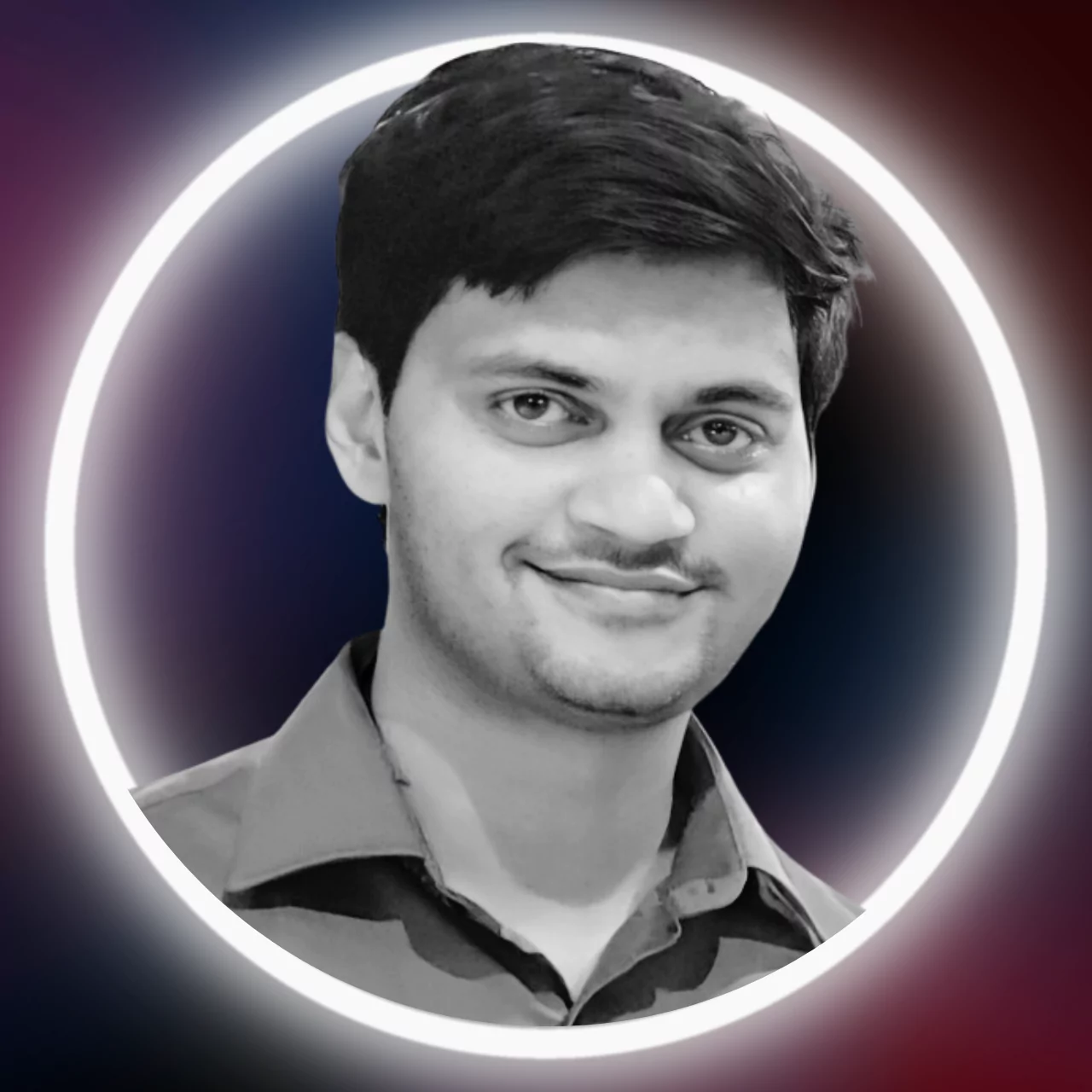 Sumeet is a Certified Financial Education Instructor℠ (CFEI®) and founder of MoneyFromSideHustle. He is an experienced side hustler who replaced his full-time income with side hustles. His work has been quoted on major finance websites like CNBC, Yahoo! Finance, GOBankingRates, CEOBlogNation, SideHustleNation, and more. He has helped thousands of people find side hustles and is here to help you find your extra source of income. More about him.