Ever thought about making money while shopping for groceries? If this idea resonates with you, becoming an Instacart shopper might be your jam.
Instacart is big in the U.S. and Canada, linking people who need groceries with shoppers willing to pick 'em up and drop 'em off, sometimes in just an hour.
As an Instacart shopper, you get some cool perks, like:
Flexibility: Pick when and where you want to work on this side hustle. Your hours, your choice.
Cash Flow: Get paid for every "batch" or order you handle. That includes a starting rate plus tips from grateful customers. During busy times, or for huge orders or great service, you could get extra bucks!
But how do you level up your Instacart shopping game? How do you use Instacart shopper tips and Instacart hacks to work smarter, zip through orders faster, and boost that income?
That's what we're diving into. Based on both research and real talk from seasoned shoppers, here are Instacart tips and tricks aimed to crank up your efficiency and satisfaction in this gig.
Use these Instacart delivery tips and Instacart shopper hacks, and you'll not only get better at your job but also learn how to make more money on Instacart.
So go ahead, give these Instacart shopping tips a try, and watch your Instacart earnings take off!
Ways to Make More Cash as an Instacart Shopper
Instacart lets you make extra money by shopping for groceries and delivering them. But not all shopping trips, or batches as they're called, pay the same. Here are Instacart shopper tips and tricks to help you make more money.
1. Picking the Right Batches
The first thing on our list of Instacart hacks is picking the right batches. When you get a batch, the Instacart app shows how much you'll make and what you'll need to do.
Here are some Instacart shopping tips to consider:
Distance: The farther you go, the more gas you burn. Aim for batches within 10 miles from the store to save on gas.
Items: More items mean more time shopping. But sometimes you get extra "heavy pay" for heavy stuff like bags of dog food. Aim for batches with fewer than 30 items or those that offer a good heavy pay bonus.
Pay: Look at the base pay, tips, and any extra incentives. Aim for batches that pay $15 or more.
Tips: Instacart tips and tricks wouldn't be complete without mentioning tips. They can be big or small and can even be changed by the customer later. So, don't rely only on tips for your earnings.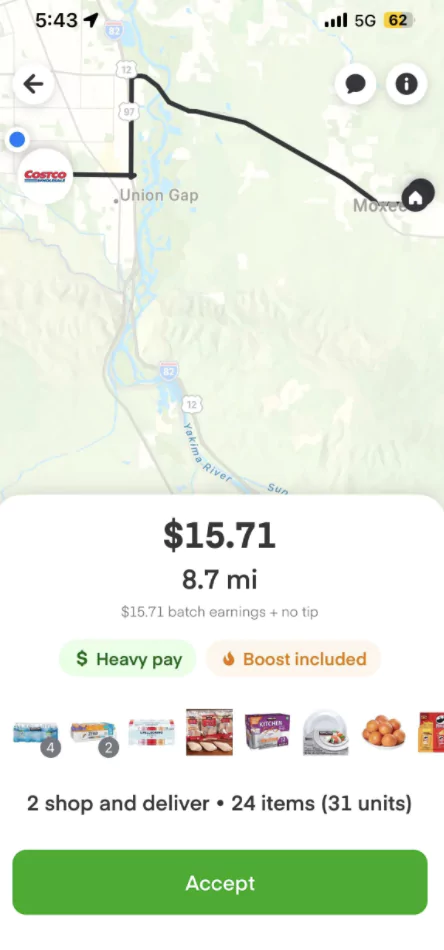 For example, let's say you see three batches:
One pays $25, has 20 items, is 5 miles away, and has a $15 tip. That's a good deal.
Another pays $10, has 10 items, is close but only has a $3 tip. It's an okay deal if you don't have better options.
The last one pays $12, has 40 items, is 15 miles away, and has a $5 tip. This is a bad deal. Avoid it unless you have no choice.
Calculate Your Hourly Rate
To know how much you're really making, divide your total earnings by your total hours worked. Also, subtract your expenses like gas to find out your net income.
---
2. Maximize Gains with Peak Pay and Incentives
One of the best Instacart shopper tips is to keep an eye out for peak pay and incentives.
Peak pay and incentives are like bonuses that Instacart gives you for working during busy hours or achieving certain goals.
Peak pay is a short-term boost in how much you make for each batch you shop, and it's based on how many orders and shoppers are in your local area.
For instance, if there are lots of orders but not enough shoppers, Instacart might throw in an extra $3 for each batch you take. This extra amount can range from $1 to $12, and you'll know about it before you accept a job. It'll be added to your total earnings after you're done shopping.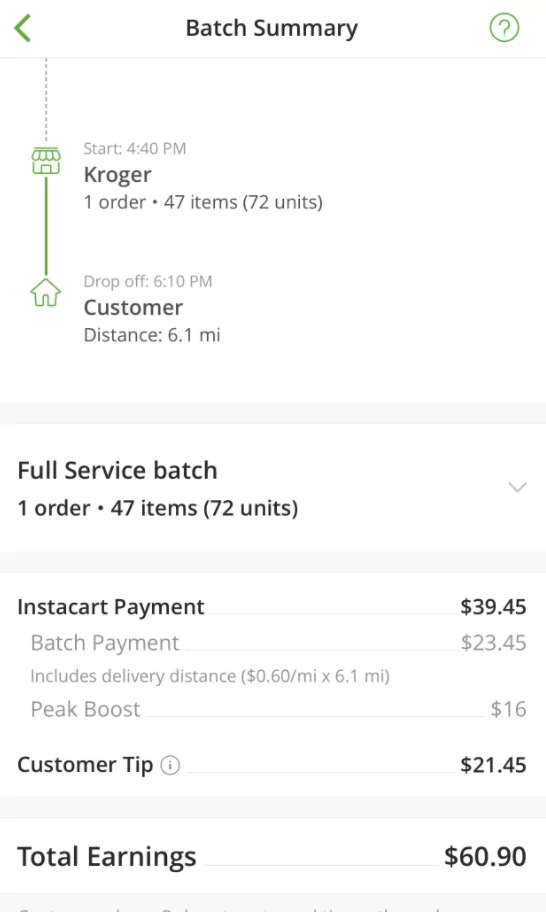 Incentives are another way to rake in extra cash.
These are special rewards that you can get for hitting milestones like completing 10 batches in a week or facing a challenge like doing 20 batches over the weekend.
These incentives can be anywhere from $5 to a whopping $500, depending on how tough or time-consuming the task is. The Instacart app shows these opportunities, and you'll get the reward after you meet the criteria.
So how to make more money on Instacart? Keep checking the app often and adjust your plans to grab these peak pay and incentive opportunities. But these bonuses can change or vanish at any moment, so they shouldn't be your only source of income.
Extra Reading: How To Get More Instacart Batches?
---
3. Improve Customer Communication for Better Tips and Ratings
Another crucial Instacart tip and trick is to be on top of your game when talking to customers. Good communication can lift the quality of your service, make your customers happier, and possibly lead to better tips and ratings.
Here are some Instacart communication hacks:
Say Hello Right Away: Once you accept a shopping batch, shoot a quick greeting to the customer through the Instacart app. Introduce yourself, thank them for using Instacart, and tell them you're on your way to the store. Also, ask if they have any special requests for their order. For example, "Hi, I'm John, your Instacart shopper. Thanks for ordering! I'm heading to the store now. Any special requests?"
Keep Them Posted: While doing the Instacart shopping, keep the customer in the loop about their order. Tell them if something's out of stock or if there are any changes. Also, get their okay for any substitutions or changes you make. For instance, "I'm sorry, but they're out of organic bananas. Would regular bananas work for you, or should I refund them?"
Last-Minute Checks: Before you finish up, double-check with the customer if they need anything else. Confirm the delivery address and ask if they have any specific Instacart delivery tips like where to leave the groceries. Example: "I'm wrapping up your order. Need anything else?
Show Gratitude: After the delivery, shoot them a quick thank-you note through the app. Invite them to rate and tip you if they liked your service. "Your order's been delivered. Thanks for using Instacart! If you're happy with my service, I'd appreciate a rating and tip."
Be Nice and Act Professional Being friendly and professional can make a difference in how much you earn and the kinds of ratings you get. Both Instacart and the customers will appreciate it.
However, if the customer does not respond after the first message don't send courtesy messages as it is clear they are not interested, just ping them only for important matters like replacement like this shopper does.

Dress Right: Dress comfortably but make sure you look neat and appropriate for the job. Wearing an Instacart shirt or hat can help people identify you. Don't forget masks and gloves, especially these days.
---
4. Be Quick and Get it Right
Speed is important when you're an Instacart shopper, but so is doing the job well. The faster and better you are, the more orders you can handle, meaning more money in your pocket.
Customers like quick, correct deliveries and they'll tip you better for it.
So how do you nail this? Plan, scan items swiftly, pack smart, and make smooth deliveries.
Planning is Key: Before you take an order, look at important details like where the store is, how many items you'll be picking, how far the customer lives, and how much you'll get paid.
Choose orders that are worth your time and skip the ones that are too far away or don't pay well.
Knowing the store layout and what the customer likes can also save you a lot of back-and-forth time. These are crucial Instacart tips and tricks to keep in mind.
Fast Scanning: Use the Instacart Shopper app to scan items as you shop. This keeps you organized, lets you confirm you've got the right stuff, and keeps the customer in the loop.
If a barcode doesn't scan, you can type in the item details manually. If an item's not on the app, add it yourself and snap a pic. These are Instacart hacks to make your job easier.
Smart Packing: Use strong, reusable bags or boxes. Sort items by type, like produce, dairy, and frozen stuff, and use different colored bags or labels to keep track.
Pack carefully so you don't crush anything. Keeping hot and cold stuff separate is another one of the Instacart delivery tips that can earn you brownie points.
Smooth Delivery: Use a good navigation app to find the best route. Let the customer know when you're on the way and when you'll get there.
Follow their instructions for dropping off the groceries. A smile and a polite greeting can go a long way.
Note: Be accurate first, then come to the speed as this shopper says.

---
5. Maximize Earnings with Receipt Apps and Coupons
One Instacart hack to make extra cash is using receipt reward apps and coupons. These are your golden tickets for cash back, points, or rewards when you scan your shopping receipts or use special deals.
Apps to Check Out:
Ibotta: Get cash back for buying certain stuff at specific stores. Open the app, see what's on offer, shop, and then scan your receipt. Once you collect $20, you can cash out via PayPal or gift cards.
Fetch Rewards: Earn points when you buy from loads of brands at any store. Hit 3,000 points and grab a $3 gift card from popular stores.
Coupons.com: This website gives you a boatload of coupons for groceries and household stuff. You can print them or just scan your receipt to get cash back.
Smart Instacart Shopping Tips:
Use the same receipt on multiple apps to get even more rewards.
Look for deals that work in the stores where you do your Instacart shopping.
Make sure the coupons and offers you pick aren't expired.
You are not spending your money on these orders, so basically, all the gift cards you are getting are free money. Though a few reward apps can ban you for this, so keep that in mind.
---
6. Choose Your Instacart Role Wisely
When it comes to how to make more money on Instacart, choosing the right role and schedule is crucial.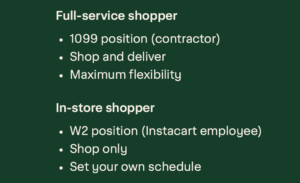 Full-Service Shopper
Pros:
Work whenever, with no batch limits.
Pick the batches you like, based on pay, distance, and tips.
Potential for higher earnings during busy times.
Write off business expenses on your taxes.
Cons:
You have to handle your own taxes, insurance, and expenses like gas and parking.
There's no promise of a minimum wage or benefits like healthcare.
Sometimes you'll have to deal with crowded stores, bad weather, or fussy customers.
Requirements:
At least 18 years old.
Legal to work in the U.S. or Canada.
Have a smartphone and a working car.
Be able to lift 30+ pounds.
In-Store Shopper
Pros:
Get an hourly wage, with no worries about gas or car expenses.
Some benefits like sick leave and workers' comp.
Cons:
Less control over your hours.
No tips, so potentially lower earnings.
Picking the right role can be a big part of your Instacart delivery tips and hacks strategy. Depending on your needs, one role might help you rake in more money as an Instacart shopper than the other.
Extra Reading: How Long Is Instacart Waitlist?
---
7. Learn From Others to Boost Your Instacart Game
If you're looking to make more money on Instacart, one of the top instacart tips is to get the lowdown from other people who are doing the same thing.
There are a ton of places where you can pick up Instacart shopper tips and Instacart hacks:
Forums: Sites like Reddit, Facebook, and Quora have lively communities where people share Instacart tips and tricks. You can ask questions and learn from other Instacart shoppers' experiences. For example, this Reddit group has over 146k members (mostly shoppers) and they share all sorts of stories and tricks.
Blogs: Look out for blogs that talk about how to make more money on Instacart, dealing with customers, and steering clear of common mistakes. Blogs like Ridester and DollarSprout are good places to start.
Podcasts: Tune into podcasts that focus on Instacart shopping tips. Shows like The Side Hustle Show and The Rideshare Guy often discuss strategies for Instacart shoppers.
Staying connected and updated is key.
---
8. Know Your Territory for Efficient Earnings
Another essential among Instacart shopper tips is to get to know the places you'll be shopping and delivering.
Knowing your stores and zones can save you time and fuel, increasing your earnings.
Check Out the Scene: Before taking on tasks, visit stores to get an idea of how big and busy they are. Scout out parking options and find out how easy or challenging it is to move around.
Use the App: The Instacart Shopper App can be a goldmine of information. It tells you important stuff like how far the store is, how many items you need to pick up, and any replacements you might need to make.
Peak Times and Zones: The app also shows you when and where you can make extra money. Orange and red zones indicate high-demand areas, and you can also see any extra pay available.
Navigate Smart: Use apps like Google Maps and Waze to find the quickest routes and avoid traffic jams. GasBuddy can help you find the cheapest gas stations along your route.
Be Choosy: You don't have to take every job that comes your way. Avoid stores that are too far or too crowded. Keep safety in mind, and consider factors like weather and time of day.
---
9. Look After Yourself and Your Ride
One of the top Instacart shopper tips is to keep both you and your car in good shape. This is key to stress-free shopping and deliveries.
A healthy you and a well-maintained car can make your Instacart experience better. Here's how to do it:
Eat Smart and Stay Hydrated: Pack nutritious snacks and water for your instacart shopping trips. These can keep your energy levels high all day.
Dress for Success: Put on comfy clothes and shoes that are appropriate for the weather and the task at hand. Don't forget Instacart delivery tips like wearing gloves, masks, and sunglasses when needed.
Car Care: Keep an eye on your car's oil, tires, and brakes. This is one of those Instacart tips and tricks that can save you from trouble later on. A clean, organized, and well-fueled car can make your day easier.
Take Breaks: Rest between your batches and do some stretching. This prevents soreness and keeps you energized, an important instacart shopper hack.
Tune In: Listen to your favorite tunes to keep the mood upbeat. Friendly interactions with customers and other shoppers can help you make more money on Instacart.
Note: Many shoppers claim insurance refuse to pay when they know you were doing Instacart or other such gig job. So, take care of your vehicle and drive safely.

---
10. Be Ready for Anything
As someone looking for Instacart hacks to improve your game, you should be prepared for various situations that might pop up during your orders.
You might run into:
Bad Weather: Rain or heat can mess up your Instacart shopping experience. Keep umbrellas, raincoats, and other weather-related gear handy.
Waiting Games: Long lines at the checkout can set you back, especially during busy hours. This could affect your customer ratings and tips.
Missing Groceries: Sometimes the items your customer wants won't be available. Knowing how to handle this situation effectively is a valuable Instacart shopper tip.
Difficult Customers: You might bump into customers who are less than pleased. Handling their feedback professionally is one of the Instacart shopper hacks that can help you in the long run.
Accidents Happen: Whether it's a car accident or damaged goods, having a plan can save the day.
What to Carry:
Weather gear like umbrellas and gloves to protect you and the groceries.
Coolers and insulated bags to maintain the right temperature for food items, a good instacart delivery tip.
Reusable bags and boxes to securely carry items.
Chargers and power banks to keep your devices up and running, one of those practical instacart tips and tricks.
A basic first aid kit for minor injuries.
Snacks and water to keep yourself energized.
Cash and cards for parking, tolls, and other unexpected costs.
Note: Take pictures of the items you deliver, because you never know. Like this shopper experienced the user reported missing item, but he had proof. In his words, " I've had 2 customers in the last week give me a 4-star with no comments, yet both reported I never delivered their most expensive items. If that were the case why would I still be deserving of 4 stars? I reported both right back as I take pictures of the contents of each bag before I walk up to the house/apartment. Both ratings were removed and I'm fairly positive those accounts are banned."
---
11. Use Store Cards and Apps for Savings On Gas
To keep more money in your pocket as an Instacart shopper, using store loyalty cards and apps is one of the top Instacart shopper tips. Many programs give you special deals, money-saving coupons, or even cash back.
Specific loyalty cards and apps you can use are:
Kroger: With the Kroger Plus Card or Kroger app, you unlock savings, collect fuel points, and get digital coupons. You can also step it up by joining their debit or credit card programs for even more perks. This is a solid Instacart shopper hack to earn more (actually save more).
Safeway: Using the Safeway Club Card or app offers personalized deals, gas rewards, and even freebies.
But never use your personal store cards or apps. It's against Instacart's rules and can get you kicked off the platform. Always use the cards or apps Instacart gives you or that the customer asks for.
Extra reading: Best apps that pay you to drive!
---
12. Deliver Alcohol the Right Way
Delivering alcohol can be a way to make more cash, and is often recommended as one of the how to make more money on Instacart tips.
Orders with alcohol generally have bigger tips and special bonuses. But there are strict rules you need to follow.
Here's how to deliver alcohol safely and by the law:
Check IDs: Make sure the customer is at least 21 and has a valid ID like a driver's license or passport. Use the Instacart app to scan or manually input this info. This is one of the essential Instacart delivery tips.
Follow Local Laws: Every state has its own rules about delivering alcohol, like what times you can deliver and how much you can bring. Check the Instacart Help Center for the alcohol policies in your area.
Avoid Problems: Never deliver alcohol to places like businesses, colleges, or to anyone who looks drunk. Also, make sure not to break, spill, or drink any of the booze yourself.
If you run into issues, reach out to Instacart's customer support right away. If you're not up for delivering alcohol, you can always say no to these orders. Just contact Instacart support or tweak your settings in the app.
---
13. Maximize Your Earnings with Multiple Apps
One of the top Instacart tips and tricks is to not put all your eggs in one basket. Consider using more than just the Instacart app.
You can also juggle Uber Eats, DoorDash, or Postmates to keep the cash flowing. The reason? Different apps have different levels of demand, pay rates, and distances for delivery.
By hopping between apps, you can make sure you're always getting the best bang for your buck.
But be cautious: never bite off more than you can chew. Accepting too many orders can lead to chaos, and you need to be aware of the terms of service for each app.
The best tip from experienced multi-rappers is to take one order and keep off the other apps till that order is done or about to be done like this shopper.

This way, you'll know how to make more money on Instacart and beyond.
---
14. Insulated Bags are Your Best Friend
One of the overlooked Instacart shopper tips is the simple use of insulated bags. They can really elevate your game.
These bags keep groceries fresh and at the optimal temperature, which boosts customer satisfaction.
When your ratings go up, so do your chances of getting more lucrative batches. These bags also help you dodge those pesky customer complaints or refund requests for spoiled items.
Where can you get these bags? You can purchase them directly from Instacart, or you might even snag some for free from certain grocery stores.
This is one of those Instacart delivery tips that can make a real difference.
Extra Reading: The Best Apps That Pay Real Money Instantly.
---
15. Don't Let Your Phone Die on You
Keeping your phone charged is among essential Instacart shopper hacks. Your phone is your lifeline in this gig, used for everything from selecting batches to GPS navigation.
Running out of battery can lead to delivery delays, errors, and missed money-making opportunities. Always pack a charger, a portable power bank, and a car adapter to keep your phone juiced up and your GPS operational.
To prolong your battery life, consider some simple phone settings adjustments. You can lower the screen brightness, turn off Bluetooth when it's not needed, or shut down unused apps.
These are more than just Instacart tips; they're universal ways to ensure your delivery side hustles run smoothly.
Extra Reading: How To Make $60 A Day.
---
16. Boost Your Tips and Ratings as an Instacart Shopper
If you're an Instacart shopper, you know that tips and ratings are your bread and butter.
Tips are those extra bucks customers toss your way for a job well done, while ratings are like your report card, measured in stars from one to five.
Both your tips and ratings decide not just how much you earn, but also the number of shopping batches you get.
So how can you level up your Instacart tips and ratings? Here are some Instacart shopper tips and Instacart hacks to consider:
Deliver Top-Notch Service: Be friendly, professional, and quick. Keep your customer in the loop from the moment you start shopping. A simple greeting message when you begin, asking for their thoughts on replacement items, and giving them a heads-up when you're on your way can make all the difference. This is a key Instacart shopping tip to remember.
Thank-You Notes: A quick "thank you" can make customers feel valued and more likely to tip well. Whether it's a message through the app or a handwritten note left with their groceries, it's a small gesture that packs a punch. Remind them to rate you and add a tip if they loved the service, this is a great Instacart tip and trick.
To keep track of how you're doing, frequently check your tips and ratings either through the app or on the Instacart website.
If you think a rating was unfair, don't hesitate to reach out to Instacart support. They have a ratings forgiveness policy for things out of your control like out-of-stock items or app glitches. You can make your case through the app or the website, and they'll decide if the rating should be removed.
You can also offer a refund for any item till the time of delivery which can save you from a bad rating and low tip, though you might need to get back to the store to return the item. For your extra effort, Instacart often pays $10 to $15 compensation.

Extra Reading: The 20+ Apps With Sign Up Bonuses.
---
17. Avoid Burnout and Stay Engaged
The life of an Instacart shopper can be rewarding but also draining. Burnout and boredom are not strangers to this job.
Burnout happens when you're running on fumes due to stress, while boredom kicks in when the job starts to feel monotonous.
Signs you might be heading for burnout or boredom include:
Feeling constantly tired or overwhelmed
Losing interest in your work
Finding it tough to focus
Irritability and low self-esteem
Physical issues like headaches or insomnia
If any of this sounds familiar, here's what you can do:
Set Achievable Goals: Don't bite off more than you can chew. Prioritize your tasks and know when to say no. Don't forget to pat yourself on the back for a job well done. This is an Instacart delivery tip that applies to life too!
Mix It Up: Doing the same thing every day can get dull. Try shopping at different stores or delivering to different neighborhoods or altogether mix up the things with different gig economy jobs. This variety can make your job more interesting.
Work-Life Balance: Your job shouldn't be your entire world. Make sure to spend time doing things that bring you joy and spend time with loved ones.
Pay Attention to Yourself: Listen to what your body and mind are telling you. If you're tired, take a break. If you're bored, look for something that excites you. If you're overwhelmed, don't hesitate to seek help.
Extra Reading: Is DoorDash Worth It For Drivers?
Final Words On Instacart Shopper Hacks
Succeeding as an Instacart shopper isn't just about filling a cart and making deliveries; it's a craft that involves excellent customer service, proactive communication, and smart work strategies.
By incorporating these Instacart tips and tricks, from keeping your customers updated on replacements to asking for reviews, you set yourself on the path to higher tips and better ratings.
Mixing up your tasks, setting attainable goals, and maintaining a healthy work-life balance can go a long way in sustaining your enthusiasm for the job.
So whether you're looking for Instacart shopper hacks to up your game or tips to keep your spirits high, the key is to stay focused, be adaptable, and keep an eye out for new ways to make more money on Instacart.
By doing so, not only will you boost your income and customer satisfaction, but you'll also find greater enjoyment and fulfillment in your role as an Instacart shopper.
Sign up to become an Instacart shopper here if you haven't already!
More ways to make money:
Frequently Asked Questions
What is the highest paying role in Instacart?
The Full-Service Shopper tends to be the highest paying role in Instacart.
Unlike In-Store Shoppers, Full-Service Shoppers both pick the groceries and deliver them, and they are also able to work an unlimited number of hours.
This allows for greater income potential, especially during peak times or when completing large, tip-heavy orders.
However, if want a stable income and employee benefits, in-store shopper role have advantage.
What is the best time to Instacart?
Based on various Instacart tips and tricks, the best times to work are during peak grocery shopping hours.
This typically includes weekends, especially Sunday afternoons, and weekday evenings after 5 PM. During these times, you'll find more batches and potentially higher pay.
How many hours a day can you do Instacart?
If you're a Full-Service Shopper, there's no cap on the number of hours you can work per day. Many people report to work over 12 hours a day to reach their earning targets.
However, for In-Store Shoppers, hours can be limited and are scheduled in advance.
In both cases, it's important to balance work hours with rest to ensure you're at your best while shopping and delivering.
How do I get more batches on Instacart?
Getting more batches often comes down to a few key Instacart shopper tips: maintain a high shopper rating, be quick in accepting batches when they appear, and consider working during peak hours.
Some shoppers also suggest keeping your app open and refreshing it frequently to catch new batches as they come in.
Can you make $1000 a week with Instacart?
While it's challenging, making $1000 a week with Instacart is not impossible, especially if you use Instacart tips and tricks to maximize your earnings.
Work during peak hours, be strategic in accepting batches, and aim for those with high tips to boost your income.
Your earnings will also depend on your location and the demand for Instacart services there.
How long should an Instacart order take?
The time it takes to complete an Instacart order can vary based on several factors, such as the size of the order and the distance to the delivery location.
On average, a medium-sized order might take about half an hour to 45 minutes to shop for and another 15-30 minutes to deliver.
Efficient shopping can speed this up, so keeping an eye on Instacart shopping tips can help. Like a few pros suggest not bagging groceries earlier and doing it at the checkout line. However, you need to be careful not to ruffle up the order which can lead to a lower rating and no tips.
How do I see busy areas on Instacart?
The Instacart Shopper app sometimes shows a heat map indicating busy areas. These are areas where you're more likely to get a batch.
Be mindful of the fact that other shoppers may also head to these busy areas, increasing competition.
How do Instacart shoppers pay for orders?
Instacart provides shoppers with a payment card that is used to pay for customer orders. This card is loaded with the money needed for orders and is watched over by the app. You can use the card only when shopping for Instacart.
So, you don't have to pay from your own pocket and wait for the reimbursement as many people think.
When do Instacart shoppers get paid?
Instacart typically pays weekly via direct deposit. You get paid every Wednesday for the week before (from Monday to Sunday). So, it takes at least 10 days to get your money when you start shopping for Instacart.
You can also cash out daily using Instant Cashout five times a day, although there is a small fee ($0.50 per transaction) for this service.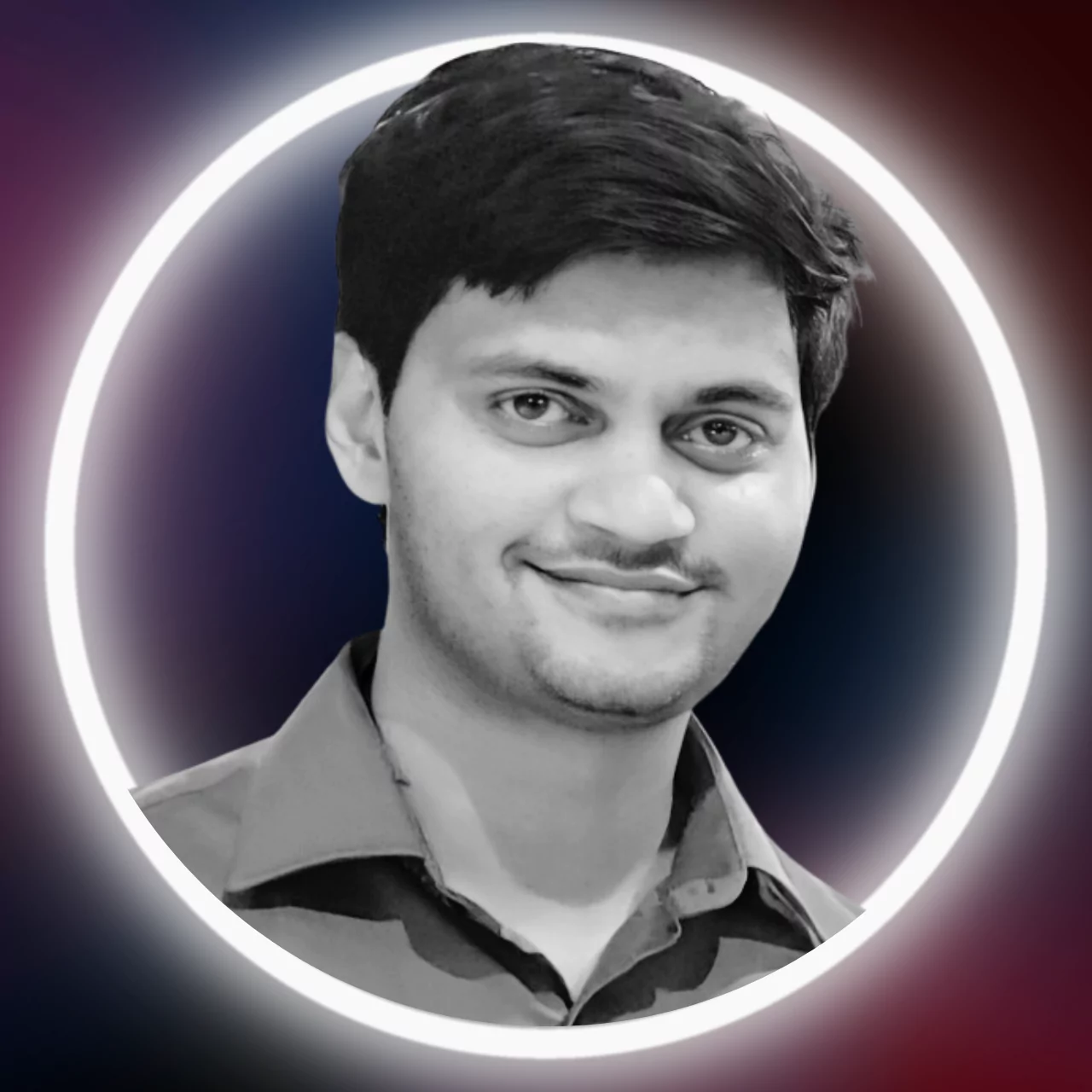 Sumeet is a Certified Financial Education Instructor℠ (CFEI®) and founder of MoneyFromSideHustle. He is an experienced side hustler who replaced his full-time income with side hustles. His work has been quoted on major finance websites like CNBC, Yahoo! Finance, GOBankingRates, MSN, Nasdaq, AOL, and more. He has helped thousands of people find side hustles and is here to help you find your extra source of income. More about him.