This post may contain affiliate links from which I may earn a commission without any cost to you. Read our policy for details.
Sweepstakes have hooked many people by dangling the promise of free money and huge wins. If you are into sweepstakes, you may have heard of Prizegrab, a web-based sweepstake site that boasts prizes like $20k and more.
Like all sites offering 'free' rewards, you might wonder, "Is Prizegrab worth my time?" or "Is Prizegrab legit or a scam?"
To answer all these questions, I signed up on the site and did some digging into other people's experiences with the site.
In this Prizegrab review, you will get answers to all your questions. You'll get the honest facts you need to make an informed decision.
So, let's get started!
What is PrizeGrab?
PrizeGrab is a website that started in 2013. Two guys wanted to make a fun, safe place for people to try and win prizes.
PrizeGrab is available for residents of the US above 18 years of age. The website says they've given away more than $2 million in prizes to many winners in the US.
PrizeGrab lets you sign up for free. You can enter different prize draws with different prizes, entry limits, and deadlines.
Users can enter up to 10 times a day for each prize, but this depends on the rules of each prize draw.
Prizes include cash, electronics, appliances, gift cards, travel vouchers, and more. The prizes change weekly and can be anything from $10 to $25,000.
To enter a prize draw, users need to click on the prize they want and confirm their email address.
Winners are picked at random by a computer and are told by email or phone. They have five days to claim their prize by giving their shipping info and proving who they are.
The website looks very flashy, with the homepage showing money all over and winner photos. The real concern is there is no data or numbers to make an informed guess, like how many people are entering a contest and what are the historic numbers for each sized entries.
These platforms want you to stick around and keep trying your luck in all kinds of prize games.
Playing these prize games can feel like guessing in the dark. Without any helpful info, it's even more of a blind game.
Steps To Play Sweepstakes on Prizegrab
Joining and entering sweepstakes is pretty easy on PrizeGrab. The site is smooth to operate for most parts other than the ads loading, causing speed issues.
Here's a breakdown of how PrizeGrab works:
Signing up
To begin, create a free account on PrizeGrab.com. You can use your Facebook or your email to make your profile. It's simple and fast. Once you're signed up, you have access to hundreds of contests.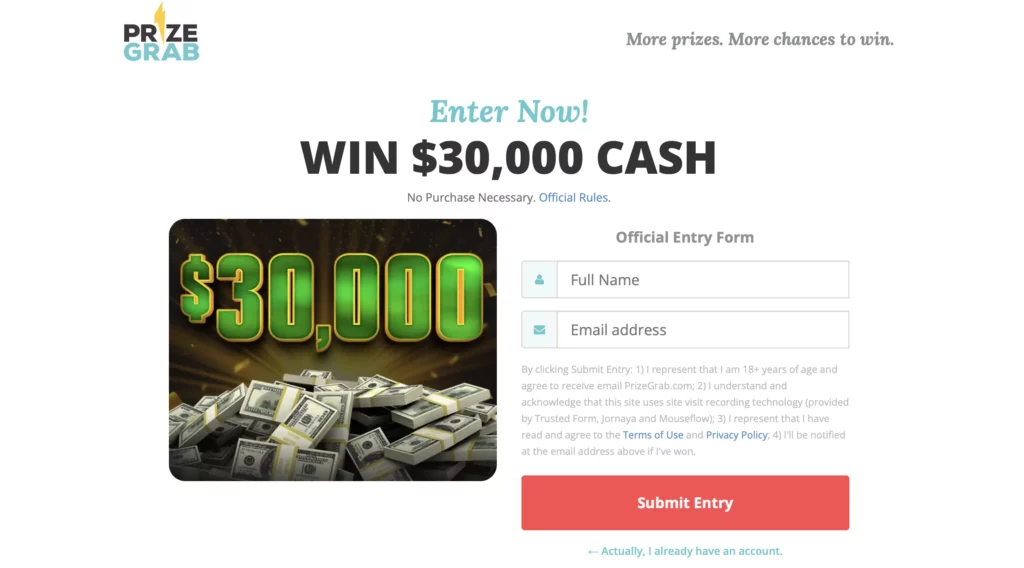 But before that, you will be prompted to join tens of their partner offers and a lot of data from your age, household income to other details like a mobile number.
Just when signing up, you will get an idea of what this website is all about. They want to get the maximum amount of data and get you to join as many partners' offers as possible.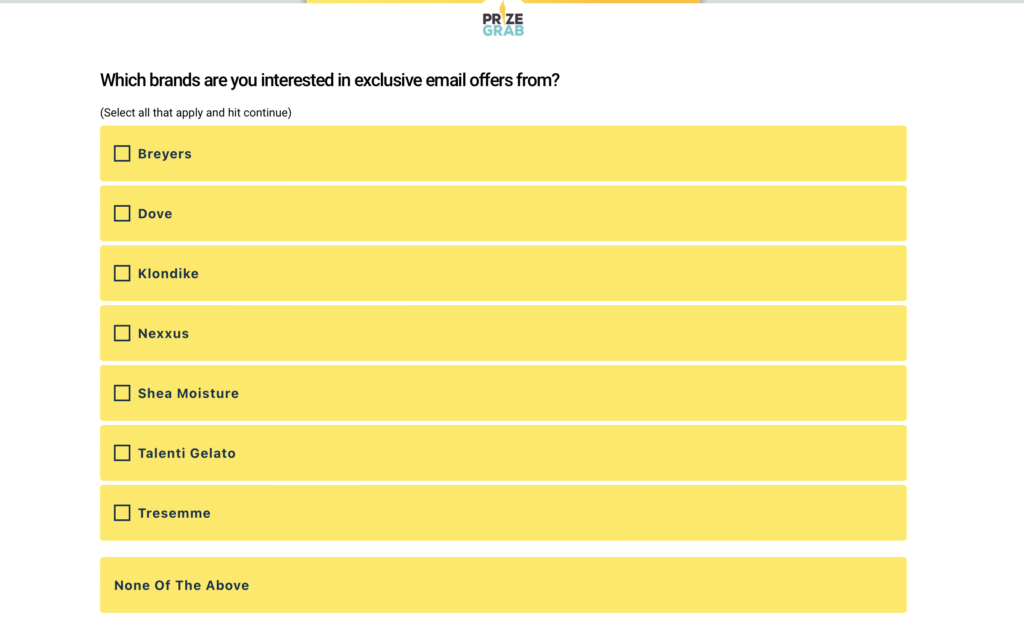 This is their business model; they get their revenue from selling your data and by getting you to join other brand offers (more on that later).
Here is what you will agree to when you sign up. I was surprised by the number of sponsors' or partners' names in the terms and conditions just below the signup details.
That means when you sign up, you are giving all these companies legal permission to contact you through email or mobile and collect your data.
Join Contests
When you're logged in, you can check out all the contests on PrizeGrab.
You can sort them by category, the value of the prize, how many times you can enter, or when they end. You can also check out the top prizes, the latest winners, and top players on the site.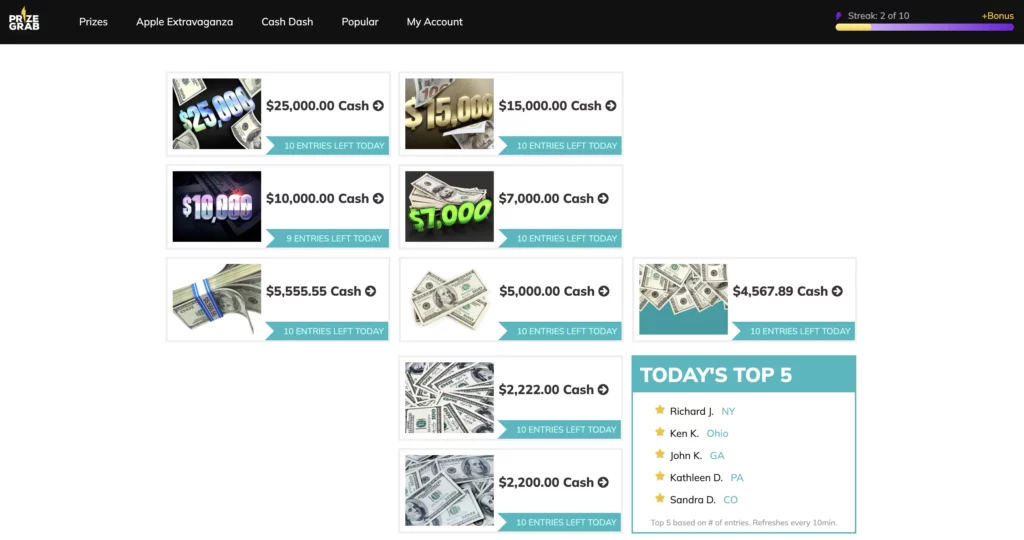 Joining a contest is easy. Just hit the "Enter" button and confirm.
Rules differ for all the entries, but generally, you can join up to 10 times per day for each contest.
Some contests may ask you to watch a video, answer a question, or share on social media for extra entries.
Winning Prizes
Every contest has an end date and time, which you can see on the prize page.
Once a contest ends, PrizeGrab picks a winner randomly from all the entries and informs them via email. You can also check the winners' page to see if you've won.
If you're the winner, you have to claim your prize within 5 days by following the email instructions.
PrizeGrab will then deliver your prize or send you an e-gift card or cash, depending on the prize. You can win several prizes on PrizeGrab, but only one prize per household every 90 days.
Keeping Streaks
PrizeGrab also rewards you for playing consistently by giving you streaks. A streak is the number of days in a row you join at least one contest on PrizeGrab.
The longer your streak, the more rewards you get, like extra entries, exclusive prizes, and special deals.
You can check your current streak and the next milestone on your dashboard. To keep your streak, join at least one contest every day before midnight ET.
If you miss a day, your streak will go back to zero, and you'll have to start again.
But the point remains, they claim that by participating in more contests, you can accumulate higher points. It's important to note, though, that these points cannot be converted into cash. They vaguely promise that you'll qualify for more points and greater "hidden" rewards, but fail to provide any specific details.
Prizegrab Prizes
You can try your luck at winning prizes like cash, gift cards, electronics, and lots more. You can play it on your computer or phone.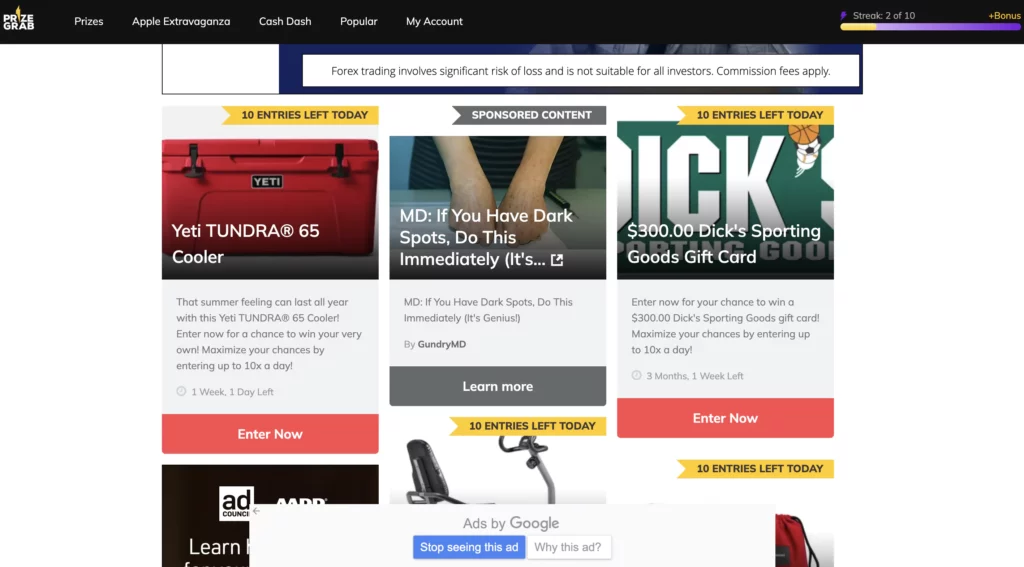 There are a bunch of different prize categories on PrizeGrab. You can pick what you're most excited about. The most loved categories are:
Cash: Winning cash prizes from $100 up to $25,000. They send cash prizes straight to your bank, PayPal, Cash App, or Venmo.
Gift Cards: Try to win gift cards from places you shop like Amazon, Walmart, Target, and Starbucks. They send gift cards by email or mail.
Electronics: You could win cool stuff like laptops, smartphones, TVs, cameras, and more. They'll ship electronics to your home.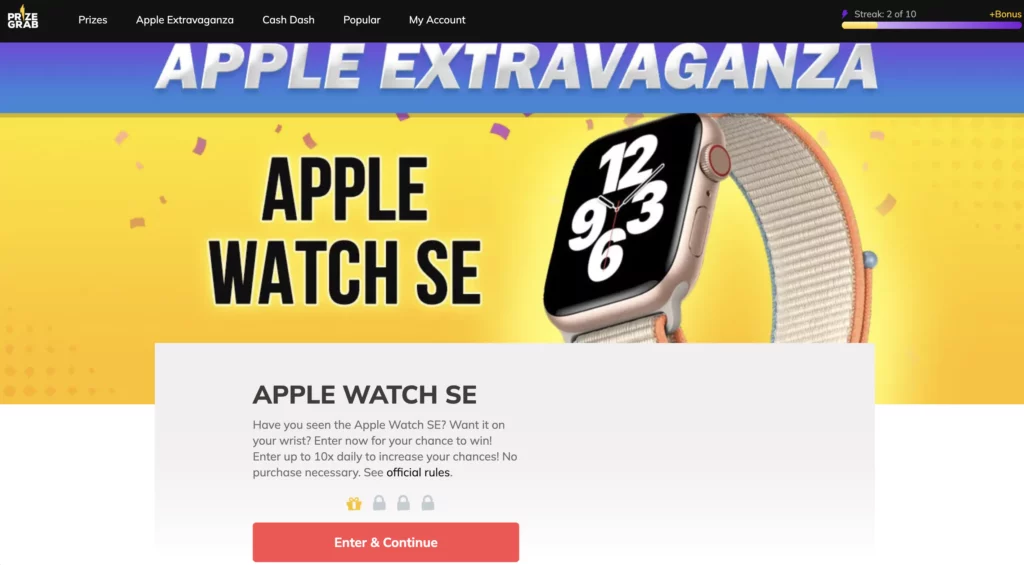 Appliances: Try to win home and kitchen stuff like mixers, coffee makers, air fryers, and more. They'll ship these right to your door.
Other: Win other stuff like travel vouchers, jewelry, clothes, books, games, and more. They send these to your home or by email. Prizes can be big or small, depending on the sweepstakes. Some prizes could be worth hundreds or even thousands of dollars, while some might be less than $100. Some contests might last a few days or weeks, and some might even last months or years.
But, as I said earlier, there are no numbers or data to make an informed guess. You don't know how many players are playing the contest which can help you decide your probability of winning.
You can look at a past few winners on the website, but there is no way to confirm that they are real or just paid reviews.
On the homepage, they flash big prizes and even show you the YouTube video of a guy winning $10k. But don't get fooled by these tactics many lottery and sweepstake sites use; these may be one of the odd prizes given out for proof of concept or just the staged videos.
If you have time, just read the comments below. You will get to know how easy it is to fool people. Most naive people think they will also win the grand 10k prize by playing these sweepstakes and dream of paying their loans or buying new cars.
But in reality, many PrizeGrab users reveal that after playing the game for years, they just managed to get $10 or nothing at all.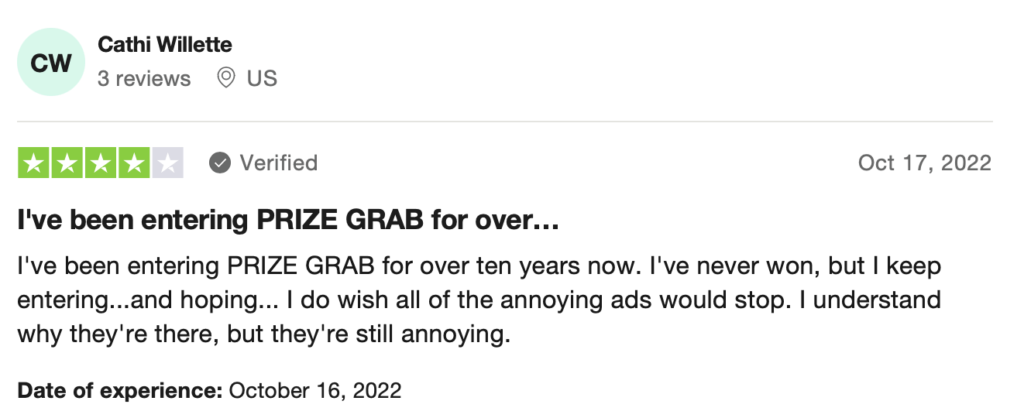 These kinds of videos are great advertisements to attract new users and get them hooked on the platform to fill in contests every day till they get sick of it and leave.
But in the meantime, there are freshers, and the cycle continues.
The only ones making money in this cycle are the company and very few random winners.
How Does PrizeGrab Make Money?
This comes to a very important question, how does PrizeGrab make money?
PrizeGrab itself doesn't charge you to enter sweepstakes. But they need to make money somehow. Here is what I think they make money by:
By Showing Ads
As soon as you open the website, you can see the ads showing up. These ads show up on their website and in emails. Businesses pay to put these ads up, hoping to catch the attention of people who might win their sweepstakes.
Sponsored Emails
These emails usually advertise sweepstakes or deals. If a user clicks on a link in the email and signs up, PrizeGrab gets a little money.
Sponsored Posts
That's right, they also make money by publishing other peoples content on their site. But the good thing is that they mark such content as sponsored, as shown below.
Sponsored Deals
When you sign up for the the PrizeGrab they show you a lot of offers of partners and if you end of signing up for these offers, PrizeGrab will get a commission.
Sharing Your Data
When you sign up with PrizeGrab, be prepared that all the information you share with them will be shared with other interesting companies. They are upfront about it; as we saw when you sign up, they slap you with a bunch of company names that can use your contact information to reach you.
You should use a new email id to sign up with the platform so that your email doesn't get overwhelmed by spam emails and you end up losing important emails.
Don't be surprised if they share your data with more places they mentioned.
Pros and Cons PrizeGrab
Like all sites, PrizeGrab has good and bad points. Here's what you need to know:
Good Things
Joining is free. You don't pay to join the contests or get your prize.
There are many prizes to win. You could win cash, gift cards, appliances, gadgets, and more.
It's quick and easy to join contests. You can enter up to 10 times per prize per day.
It's fun. You can play games, watch videos, and look at different prizes.
Bad Things
It's based on luck. You might not win, no matter how many times you enter.
It's addictive and can take up lots of time. You might spend more time than you planned on trying to win.
It's competitive. There are millions of other people also trying to win the same prizes.
Is Prizegrab Legit?
I believe PrizeGrab is a legit way to pass your time but not a legit way to make money. Sure, they are not scamming people, but they will spam your email with their own emails and many other partners.
A few people have earned money from them, but that's after years of continuous effort. At the end of the day, if you are using this platform to make money, then it's a huge time waste with almost zero return on investment.
Those hours can be spent better in so many other ways.
PrizeGrab has got lots of good reviews from users on Trustpilot because it is easy to use, fun, and a good time pass, but most higher rating reviews seem suspicious without any details of winning (You will know when you have seen thousands of reviews online).
But many people complain of getting too many spam emails, not winning anything, or having problems with the site.
In summary, is PrizeGrab a scam? The evidence suggests not. Is PrizeGrab real or fake? It seems to be real. But don't keep your expectations high, as you may invest hours only to find yourself empty-handed. It is like Flashrewards, where enticing offers such as a $750 Shein gift card may catch your eye, but in reality, the chances of earning anything are quite slim.
Other PrizeGrab Reviews
Looking at other people's experiences is one way to see how legit a platform is. I looked at various online reviews to find out other people's experiences with the platform.
PrizeGrab has a 4.5 rating from 910 reviews on Trustpilot. This is pretty high for a luck based rewards site.
While looking at reviews, most look rigged. Honest opinion where people have won something states that they have been playing for years and won one or two $10 gift cards.
Here are other users:
"I think these reviews are fake because I have been playing faithfully every day for years and ain't won crap, so yes, this is not legit I'm not ignorant I know if I have been playing for years, I should have won something by now, liars!!!!"- Kevin Jones, US
"I will not be playing anymore. Because I played since August 2017 and only won once. I see that many people who played shorter times have won more times. I feel that it is rigged." – Irene Hatfield, US
"Spammy and misleading. You have to read emails to see if you won prizes, but every email they send to you multiple times a day, is titled as if you won a prize, but they're just trying to bait you into applying for more prizes. They're hoping that if you do ever win a prize, you'll just ignore the spammy emails because they're all titled as if you won a prize; that way, they don't have to pay you. It's just spammy and annoying. Not worth your time." – John Bush, US
Here are a few screenshots.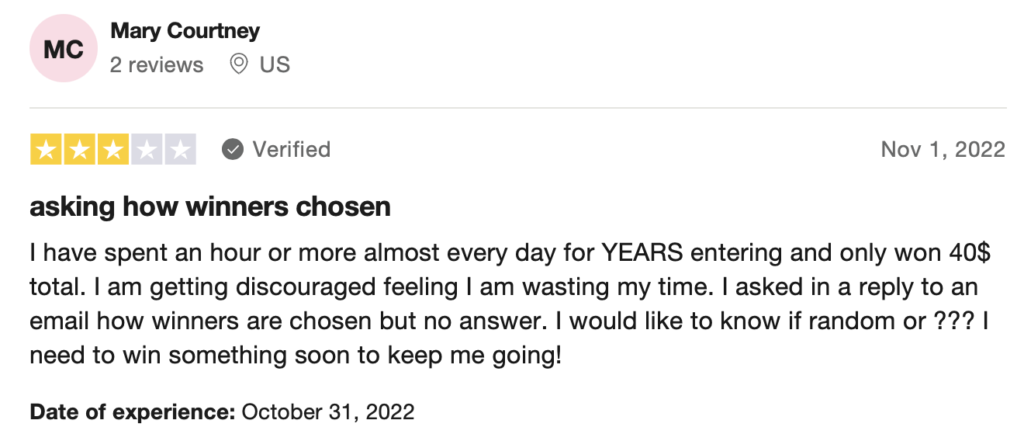 A few positive reviews include:
"Being a long-time member going on 10 years, I have won many times & there was never a charge to get the prizes! Entering is simple & the daily email gives you the bonus entries !" – Robert, US
"Prize Grab is by far the best online contest program. It's easy, safe, and fun. To date, I have won 4-5 times and will always keep entering. Customer Service is professional, responsive, and quick!" – Contessa, US
"Don't give up-your turn will come. I love Prizegrab. So many great prizes. Don't have any special way of winning other than entering almost every day, and usually, when the day comes for a prize to be awarded, I enter late, like just before midnight, so it's as close to pulling the winner as possible. I feel like I've been playing forever, but I didn't give up." – Sonya Vitas, US

Their Facebook page has a similar rating of 4.5, but reviews are even more shady. Most of these positive reviews are talking about something trading related.


Looking at all these reviews, it seems like PrizeGrab is a legit platform that actually pays its users at the end of the day, but not as much as they advertise. Most people report earning $10 to $100 from years of entering contests.
So, it's up to you to decide if you want to have fun entering for freebies with a little chance of earning or spend those hours of time someplace else that can give better returns on time.
Alternatives to PrizeGrab
PrizeGrab is a long shot at winning real cash online, but if you want to make money for sure, there are alternatives. You can join rewards sites that pay for sure doing a variety of tasks.
InboxDollars: This is a site that gives you money for doing various things online, like reading emails, answering surveys, watching videos, playing games, or buying stuff online. They give you cash or gift cards for your efforts. Like Prizegrab, InboxDollars also has sweepstakes where you can win more cash or prizes. You can join InboxDollars without paying a dime and even get a $5 welcome bonus.
Swagbucks: This site also gives you rewards for doing things online, like searching the web, answering questions, finishing offers, or watching videos. You earn points called SBs that you can change to cash through PayPal or gift cards from favorite shops. Swagbucks also has sweepstakes similar to Prizegrab. Joining Swagbucks is free; you get a $10 bonus when you make your first purchase.
MyPoints: This site gives you money for shopping online at stores you love, like Amazon, Walmart, Target, or eBay. You get points for every dollar you spend. You can then change these points to cash via PayPal or gift cards from hundreds of brands. On MyPoints, you can also play sweepstakes to win cash. You can join MyPoints free and get a $10 bonus when you spend $20 or more in your first 30 days.
Which is the best choice for you? That depends on what you like and what you want. If you like entering sweepstakes for fun and don't mind getting promotional emails, Prizegrab might be your thing.
But if you want more ways to earn rewards and like guaranteed payouts, you might like InboxDollars, Swagbucks, or MyPoints better.
These sites still pay way less money, but they at least pay for sure. If you are looking for ways to make quick money, at least minimum wage, you can join gig economy apps to do tasks like grocery shopping or food delivery and get paid even $1000 a week.
All these things are short-term ways of making money; starting a blog or Youtube channel can even get you much more money in the long term.
The best way to find out what works best for you is to try them yourself. Try my guide to find the perfect side hustle for yourself and see which ones give you the best opportunities and rewards for your time and effort.
Final Words on PrizeGrab Review
PrizeGrab has its perks and drawbacks. It can be fun and exciting to play. The thought of winning big prizes is quite appealing.
But it's not a guaranteed source of income. You may spend a lot of time without winning anything, as many people report not earning a penny after trying for years.
There are some occasional winners, but the winning is based on luck (as expected, it's a sweepstakes website).
As a side hustle, it might not be the most reliable. Always know what you're getting into.
Use it as a fun pastime if you want, but don't count on it for steady cash. Look for other side hustles, as discussed above if you need consistent money.
FAQs
Is My Info Safe with Prizegrab?
PrizeGrab claims your details are secure with them. They keep your privacy and won't sell or give your personal information to anyone without asking you first. But their business revolves around user data, so you can't be sure that they won't sell your data to others. In fact, they state on the signup page itself that a list of companies have access to your data and contact you. Plus, when you sign up, you start getting a lot of spammy emails, which means your data is being shared.
Does Anyone Win for Real on PrizeGrab?
The only place I could find the winners was only Prizegrab site and a bunch of fishy-looking reviews on Trustpilot.
So, if anyone actually gets paid can not be confirmed. They share the video of giving away a 10k prize on their site, but that can be one off incident or staged video.
So, the answer to the question is if people actually get paid, I will take it with a salt of grain.
Though there are some genuine reviews of people stating that they have won real prizes, it took them a lot of effort and time.
So, in my opinion, they might pay the prizes for real, but the odds of winning are almost impossible, and most people probably end up winning nothing.
How Can I Delete My PrizeGrab Account?
If you want to remove your PrizeGrab account, just send an email to [email protected]. Make the subject of the email "Request to delete PrizeGrab account".
You need to write your full name and the email you used for your account. They will act on your request in 30 days and send you an email to confirm it's done.
PrizeGrab Review
Earning Potential

Sweepstake Opportunities

Ease of Use

User Reviews

Odds of Winning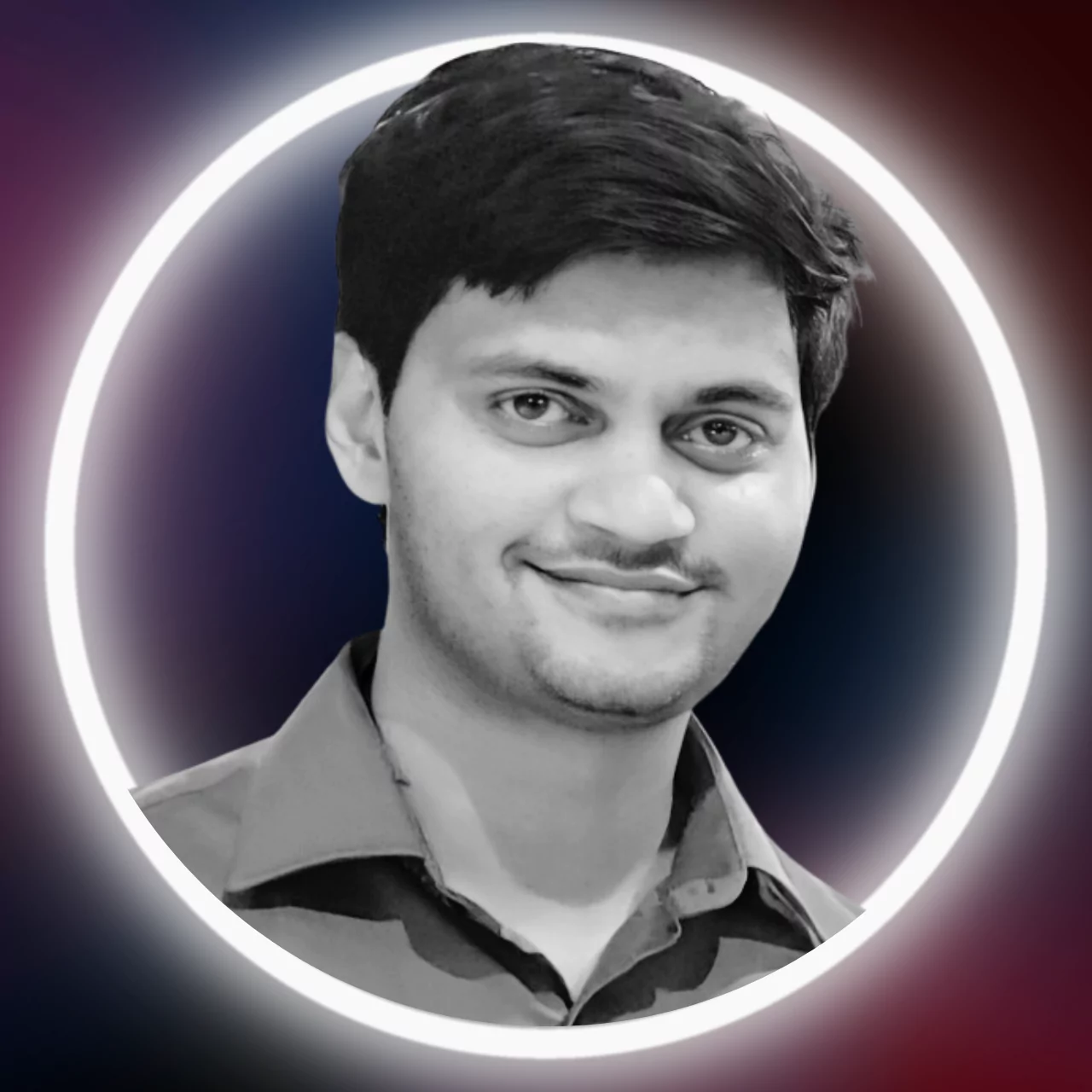 Sumeet is a Certified Financial Education Instructor℠ (CFEI®) and founder of MoneyFromSideHustle. He is an experienced side hustler who replaced his full-time income with side hustles. His work has been quoted on major finance websites like CNBC, Yahoo! Finance, GOBankingRates, CEOBlogNation, SideHustleNation, and more. He has helped thousands of people find side hustles and is here to help you find your extra source of income. More about him.