This post may contain affiliate links from which I may earn a commission without any cost to you. Read our policy for details.
When it comes to making money online, one of the most commonly recommended ways is website testing. As a tester, you can test online products and services for their maker and get paid for your opinion.
Many websites provide you with website testing opportunities, one of which is Trymata (formerly Trymyui).
They claim that you can test websites and apps, and for giving your honest feedback, you will earn $5-30 per test.
If you have heard of it or want to give it a try, one of the first questions you had will be Is Trymata legit or is it just a trick? Will it pay you money?
To answer these questions, I signed up for Trymata and in this review, I'll explain how it works and if it is a legit way to make money. We'll also look at some Trymata reviews to see if it is worth your time.
What's Trymata
Trymata started in 2010 as TryMyUI, a remote user testing service.
Over time, it added more features and capabilities, and in 2020, it rebranded to Trymata. It also added a new product analytics tool that works with its user testing service.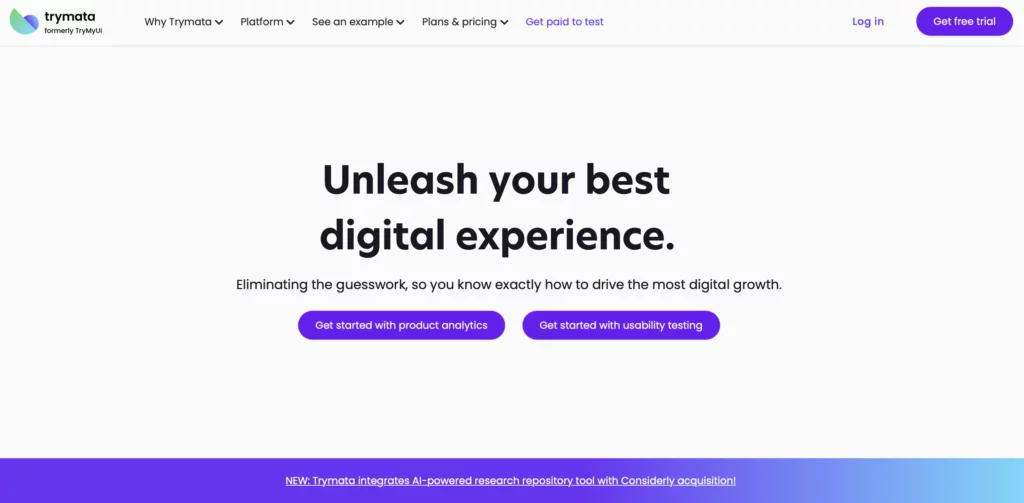 Trymata helps developers and coders working on products, user experience (UX), and marketing create online experiences that users will love. These experiences will also increase revenue, engagement, and growth.
Trymata's services help developers understand how users interact and think about websites and apps. This helps optimize them for better user satisfaction and conversion.
Trymata serves as a beneficial platform that not only rewards testers but also significantly contributes to the evolution of digital products.
Here's how it works:
Businesses create a test on Trymata
Testers are invited to participate in the test
Website testers are given a set of tasks to complete on the website or app
Testers record themselves as they complete the tasks, and provide thoughts and feedback throughout the process
Their video and feedback are sent to the business, who can use it to improve their product
If the video is approved, tester gets paid per test
Is Trymata Legit?
Trymata is a legit money-making option for website testers looking to earn, as many people have made real money working with them. They've been around for over ten years, working with big names like Google and Netflix, so you know they're trustworthy.
However, you should not rely on them for consistent income as the tests are available only occasionally, and there is a high rate of test disqualification.
In my experience, UserTesting is a better option for website testing jobs, but if you want to try something different or have exhausted options, you can try Trymata.
If you need help, their support team is available 24/7.
How to Become a Trymata Tester?
So Trymata is a legit way to make money online as a website tester, but how to get started?
Here's how to jump in. Step by step guide to getting started:
Sign Up: Steps and required details
Your first step is to register for a Trymata account. You'll need to fill in some fundamental details about yourself, like your name, email, country, language, age, sex, education level, job, and device type.
All this info helps Trymata pair you with tests matching your profile and preferences.
You also need to agree with their service terms and privacy policy and verify that you have a PayPal account for receiving payments.
Note: Sign up with the same email where you want your PayPal payments.
Receive & Accept Tests
Once you're registered, you'll start getting emails inviting you to take tests. You can also find available tests on your dashboard.
But before that, you need to give a screening test, more like an interview test, so that they can assess that you can follow instructions and complete tests.
Once you pass that, you can start getting real money-paying tests.
Tests are given out based on your profile and availability, so you may not always get the same amount of tests as other testers.
Here is one travel site template of tests you might get.
You're free to accept or decline any test offer but keep in mind that these tests work on a first-come, first-served basis, so you need to be quick if you want to grab a spot.
Also, you must finish the test within a given time frame, which is usually 15 minutes or less.
Download The Trymata Recorder & Complete Test
Before starting a test, you'll need to download the Trymata Recorder software onto your device. This program captures your screen and voice as you use the app or website you're testing.
The Trymata Recorder functions on Windows, Mac, iOS, and Android devices.
You'll need a microphone and a steady internet connection to use it. If you like, you can use headphones or earbuds too.
To finish a test, follow the instructions provided by the test moderator. They'll ask you to carry out certain tasks on the app or website you're testing, like searching for information, making a purchase, or registering an account.
While doing this, you should voice (imp: speak loudly so that can be clearly understood) your honest thoughts and feelings about the app or website.
Speak naturally and clearly, and try to avoid any background noise or disturbances.
Be specific and constructive in your feedback, and refrain from using any rude or offensive language. Your aim here is to help the website or app owners understand your user experience and enhance their product.
When you're done with the tasks, you'll need to answer some questions in a brief survey. This helps the test moderator evaluate the quality of your test and give you some feedback.
Get Paid
Once the test moderator examines and approves your test, you'll get your payment through PayPal within a week. How much you're paid will depend on the length and complexity of the test, but it typically ranges from $5 to $30 per test.
If you encounter any problems with your payment or test quality, you can reach out to the Trymata support team at [email protected].
That's all there is to it! You're now ready to be a Trymata tester and earn money online by giving feedback on apps and websites.
How Much Does Trymata Pay?
As a Trymata tester, you're paid to review apps and websites and share your thoughts.
You can complete as many tests as you'd like, but usually, a few are available each week. It's a casual gig to make extra beer money cash in your free time rather than a full-time job.
According to Trymata's website, each 20-minute test earns you $10, and a 60-minute live chat earns $30. There's potential to earn more through quality feedback and special projects.
Trymata is competitive in its pay rates, and they pay from $5 to $30 per test. It matches UserTesting's rates of $10 for a 20-minute test and $30 for a 60-minute chat.
Userlytics pays between $5 and $90 per test, varying by complexity and duration. Userfeel consistently pays $10 per test, regardless of length.
Payments to testers from Trymata are made via PayPal every weekday morning. The payment is released after your test is reviewed and approved, which usually takes a couple of days.
Testers have praised Trymata's prompt and hassle-free payment system across various online platforms like Reddit, Quora, and Trustpilot. This positive feedback suggests Trymata is indeed a legitimate platform.
Other Reviews of Trymata
Trymata or Trymyui has a 2.5 rating on the earlier version and 2.9 on the new version of the site on Trustpilot.
Many users have complaints about the platform, starting from the glitches in the website to the nonpayment of earnings.
Here is one user complaining about the terrible experience of using the app where the test keeps going away.
"Terrible recorder! The worse I've seen!: The wacky site are so unprofessional, their recorder is the worst there is as far as usability testing goes. I imagine how many testers and customers they loose on a regular. I've had to take a usability test with them and just a brief network fluctuation and their recorder interrupts and test vanished. Like 3 good times!" – Olivia Crystal, US
Then there are many user reviews claiming they didn't pay the earned money on time, and the tests were often disqualified.
"Doesn't Pay Stay Away: I have done surveys that are marked and accepted but I have not received any payment for them, I used the chat function but nobody responds" – Levi, GB
"I have been a tester since July 2020. The website is not a scam and you get paid, however the test reviewer gives very bad ratings no matter what you do, and I have noticed they rejected many tests saying it didn't upload successfully when I was able to see it in the system. The clients sometimes gives bad reviews which understood, however it doesn't affect the payment but can lower your ratings and the bad reviewers aren't any good too! Getting tests is rare and other users steal the test before you could get it after being notified."- Mila E., US
Here are a few more screenshots.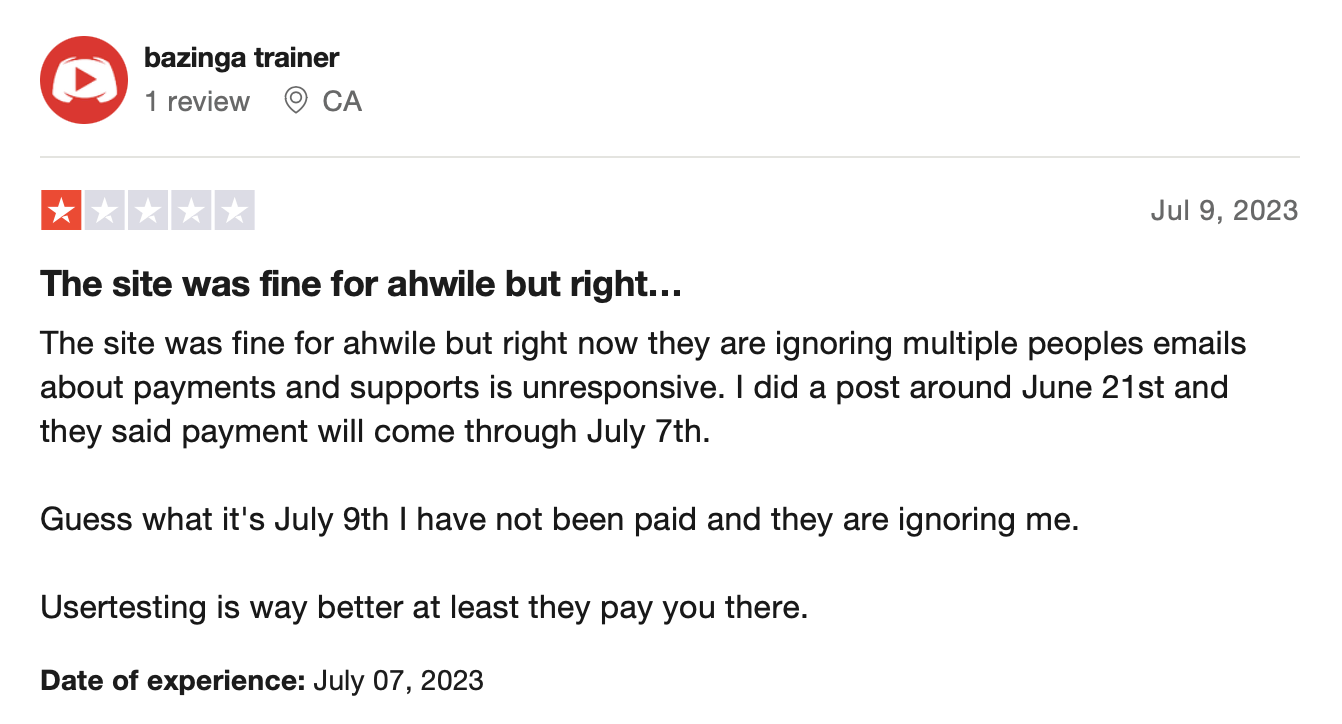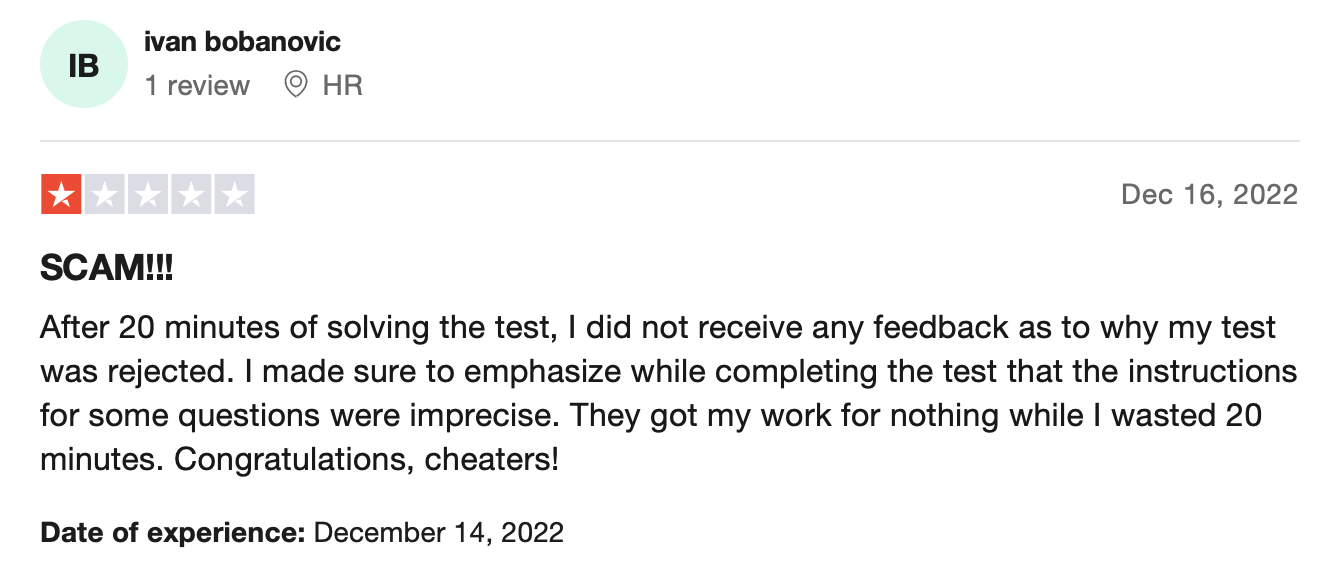 Negative reviews are very elaborate, showing their issues and problems faced. On the other hand, there are very few positive reviews, and most of them also look non-genuine as they lack any depth or why they are rating the app positively.
"This is my first time using try my u I I think it is good and u might get payed a decent amount I heard about this app on YouTube because I wanted to make some money online so let's see how it works out" – Aryaan Savjani, MW
"Beginner Experience: I heard about TryMyUi from some of my friends, so tried it, it's a really good experience, and i suggest everyone to try it" – Noor Shaikh
Here are some screenshots.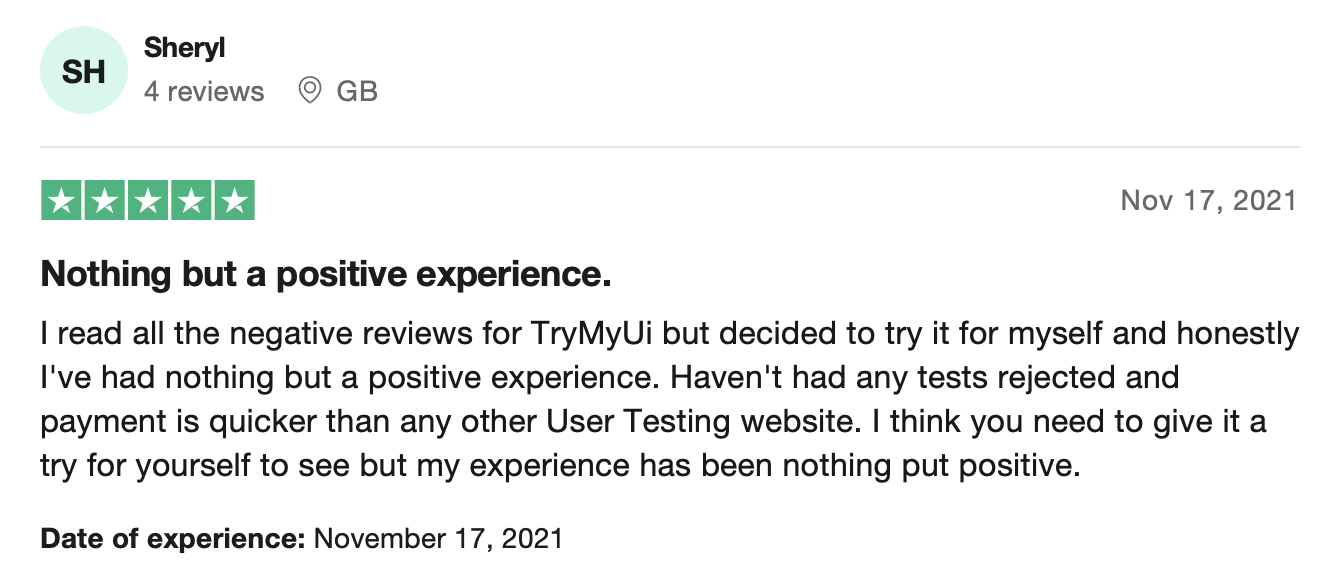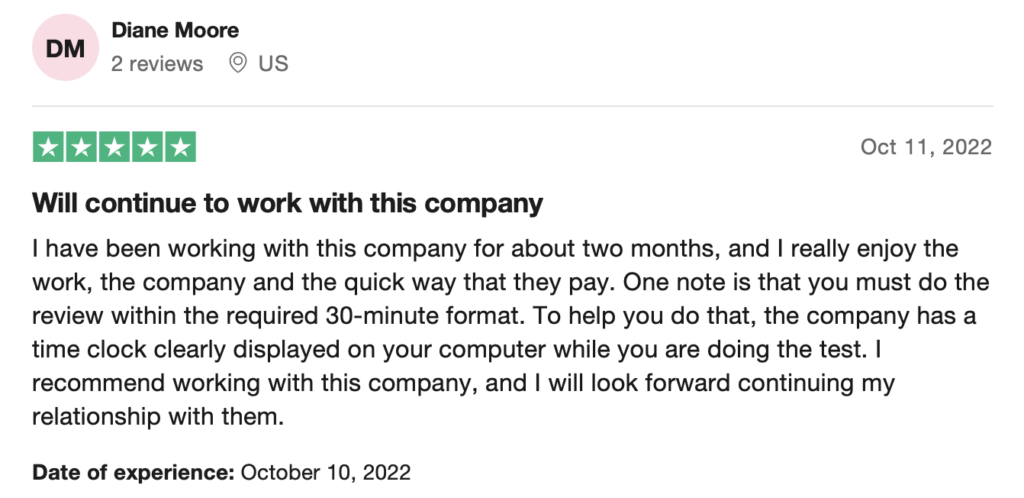 Overall, the sentiments around using the website are on the negative side. Though many people report getting their payments it is not reliable and not without technical glitches.
Advantages & Drawbacks of Trymata
Trymata is a good way to make money online and like any other way of making money online, it has both positives and negatives.
Advantages:
Flexible Work: You can take tests whenever you want, providing great flexibility to suit your schedule. This makes Trymata ideal for people looking to make some extra money in their spare time
Competitive Pay: Trymata offers competitive payment rates. You can earn $10 for every 20-minute test and $30 for a 60-minute live chat. The potential for additional income through providing quality feedback and taking on special projects can be a bonus
Consistent Payments: Trymata pays its testers via PayPal every weekday morning, ensuring regular and consistent income. They are known for their promptness and reliability in payments
User Experience Improvement: Being a tester at Trymata allows you to help improve various digital platforms by providing your feedback, which can be a rewarding experience
Disadvantages:
Limited Work: The number of tests you can do may be limited, depending on the demand. You might only receive a few tests a week, so it's not a consistent source of full-time income
Payment Waiting Time: Although Trymata is known for its prompt payments, there's still a couple of days' wait between when your test is approved and when you receive your payment
Dependent on Quality Feedback: Your income could be influenced by your feedback's quality. If your feedback isn't deemed as valuable or insightful, it could affect your earning potential
Technical Issues: As with any digital platform, there are occasional technical glitches or issues that could interfere with your ability to complete tests or receive payments
The Best Trymata Alternatives
There are other services similar to Trymata that offer usability testing and product analytics tools. Some of these that you could consider are:
1. UserTesting: A widely recognized platform, UserTesting offers a high volume of testing opportunities due to its extensive client base. Their payment rates are identical to Trymata's, but the increased availability of tests might lead to potentially higher earnings.
2. Userlytics: Userlytics offers payments ranging from $5 to $90 per test based on complexity and duration, providing an opportunity for experienced testers to take on more challenging tests for higher compensation.
3. Userfeel: Userfeel provides a consistent $10 per test, regardless of its length or complexity. This can be advantageous for testers who prefer predictable compensation. Unlike Trymata, the pay rate at Userfeel does not increase with the test duration or difficulty.
4. UsabilityHub: UsabilityHub specializes in quick, five-minute tests. While the payment per test is significantly lower (around $0.10), the tests are quicker and easier to complete. This could be attractive for those seeking a less time-intensive alternative to Trymata.
5. Testbirds: Based in Germany, Testbirds caters to multilingual testers, with testing available in numerous languages. Pay is per completed test, but the amount depends on the complexity and length of the task, offering the potential for higher earnings on more challenging tests. This offers a unique opportunity for testers skilled in multiple languages, which Trymata may not provide.
Each of these platforms offers unique advantages that can make them more suitable for different testers' needs and preferences. Exploring these alternatives to Trymata could potentially enhance your experience as a tester and increase your earnings.
Trymata Versus UserTesting
Trymata and UserTesting are two well-known companies that offer user testing services. Both companies let users test websites and apps and share their thoughts about their experiences.
Both companies pay users for completing tests, usually around $10 per test. But there are a few differences between them:
UserTesting has more tests than Trymata, but more testers are competing for these tests
UserTesting needs testers to have a minimum 4-star rating to qualify for tests, while Trymata doesn't have this requirement
UserTesting pays testers within 7 days after finishing a test, but Trymata pays within 3 days
UserTesting has more payout methods than Trymata, like PayPal, bank transfers, or gift cards
UserTesting offers more features and tools than Trymata, such as live conversations, moderated tests, card sorting, tree testing, etc.
Final Thoughts To Sum up this Trymata Review
Trymata is a legitimate company that provides user testing and product analytics tools for clients and testers. Clients can use Trymata to get valuable feedback, and testers can earn extra cash by testing websites and apps and giving honest feedback.
Testing with Trymata can be a fun and rewarding way to make money online, especially if you enjoy trying out websites and apps and sharing your thoughts.
However, my first recommendation for website testing jobs is UserTesting due to the number of opportunities available and better user feedback from fellow website testers.
So, don't expect to make moolah as you will get only occasional tests, like a couple in a week, that can count for 20 or 30 extra bucks a week.
If you want to join Trymata as a tester, you can sign up for free on their website or download their app.
Related reading:
FAQs
Is Trymata Safe?
Trymata is a trustworthy and safe company that's been around since 2010. They use secure encryption and protect your data to ensure that all your information is private and secure. They also follow GDPR and other data collection and processing regulations.
Can you earn money with Trymata?
Yes, you can earn money by becoming a Trymata tester. However, the number of available tests and earning potential is lower than UserTesting. Testers get paid to try out websites and apps and share their honest opinions. You can earn up to $30 for each test, but this depends on how long and complex the test is. Before you can start doing paid tests, you'll need to pass a qualification test. Also, you'll need a PayPal account so Trymata can send you your earnings.
Can Trymata Replace My Day Job?
No, you can't rely on Trymata as a steady source of income. Trymata gives you occasional chances to earn some extra money by testing websites and apps. The number of tests you get depends on what the clients need, and this can change. Also, testers need to meet specific requirements and follow guidelines to qualify for the tests.
Is Trymata trustworthy?
Yes, Trymata is a reliable company that big brands like StubHub, Gallup, Shopify, Adobe, and more trust. However, testers should not rely on income from them as many testers have reported disqualified tests and not getting paid on time. Trymata also has a support team that's ready to help with any questions or problems.
Is Trymata real or fake?
Trymata is a legitimate company that offers real chances to get paid for testing websites and apps. Trymata is not a scam or a fake company that will trick you out of your money or time. But like all online companies, there might be some issues like technical issues, payment delays, or a few tests.
Is the TryMYUI app real or fake?
The TryMYUI app is the mobile app for Trymata (formerly known as TryMyUI). It's a real app that lets testers try out mobile websites and apps on their phones or tablets. You can download the app on both Android and iOS devices from the Google Play Store or the App Store. The app works much like the Trymata website, but testers use their device's camera and microphone to record their screen and voice.
Trymata Review
Earning Potential

Ease of Use

Earning Opportunities

Ease of Payout

User Reviews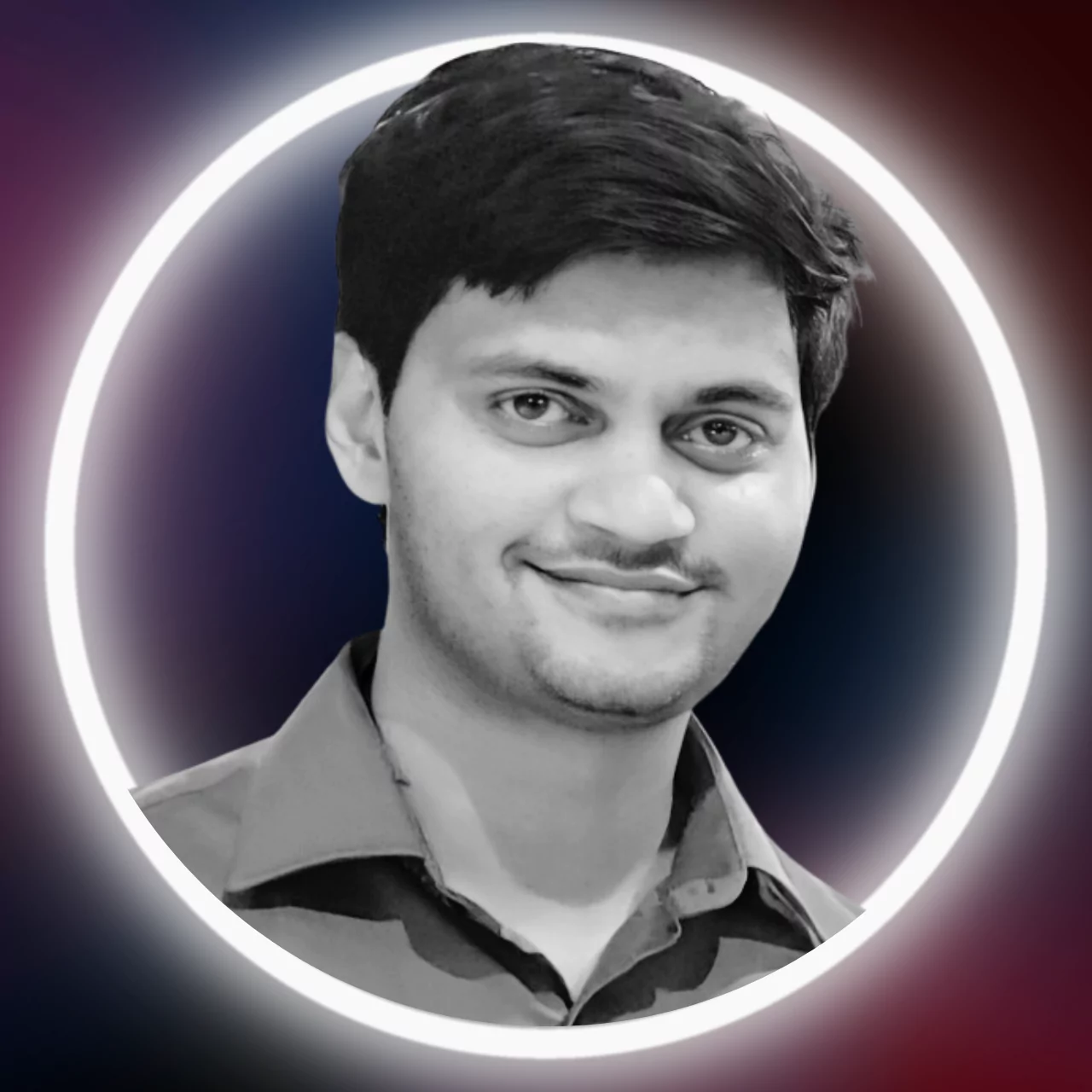 Sumeet is a Certified Financial Education Instructor℠ (CFEI®) and founder of MoneyFromSideHustle. He is an experienced side hustler who replaced his full-time income with side hustles. His work has been quoted on major finance websites like CNBC, Yahoo! Finance, GOBankingRates, CEOBlogNation, SideHustleNation, and more. He has helped thousands of people find side hustles and is here to help you find your extra source of income. More about him.